Have you ever wondered what it takes to create those swoon-worthy, picture-perfect wedding landscapes? I bet the allure of opulent floral arrangements or the fascination with rustic wooden arches gracing elegant wedding aisles has not missed your Insta-scrolling eyes.
Here's a secret – the real magic lies in the "one" standout décor feature that has brides-to-be and wedding planners abuzz – the wedding arch.
A framework of charm structure, the wedding arch is a ceremony's pièce de résistance that morphs an ordinary scene into something straight out of a storybook!
From traditional Verdego circle arches to edgy geometric designs, or grandeur-filled floral nuances, each radiates its unique ambiance that guests and photographs will love.
But there's more to the wedding arch than being just a pretty backdrop for saying "I do." It's a canvas enabling couples to imprint their personality, history, and aspirations.
Whether tastefully minimalistic or draped in unabashed luxury, embellished with memory-laden trinkets or culture-rich symbols, crafting an arch can be a journey through your love story.
Join me as we lift the veil off the art of crafting your unique and enchanting wedding arch. It's time to move from behind the camera and unleash your inner superstar!
The Artwork Behind Sculpting Your Wedding Arch
Bride-to-be, or simply a hopeless romantic, your eyes probably light up when you see a beautifully crafted wedding arch – they have that effect! But have you ever considered the meaning behind their seamless beauty? Yes, there's a lot more to these ceremonial structures than meets the eye.
From traditional rectangles to triangles and circles that breezily flirt with convention, the shape of your wedding arch is more than an architectonic element – it's the framework of your love story.
Now, in saying so, there's no one-size-fits-all answer in choosing the perfect arch; whether to incorporate one or not, then which one to pick – it all hinges on your personal taste and wedding details.
Beyond shapes, understanding how cultural heritage influences design adds another layer of complexity.
From ornate Chinese wedding arches capturing centuries-old traditions, serene Indian mandaps reflecting spiritual harmony, to symbolic Jewish chuppahs encircling sacred vows – these deep-rooted practices are styling gold.
Indeed, the art of sculpting your wedding arch is an intricate dance of aesthetics and symbolism that must meet at a sweet spot called "you." After all, it's probably going to be the most photographed part of your ceremony. So let it be something you truly cherish – authentic and timeless.
Designing Indoor Vs Outdoor Wedding Arches: A Comparision
So, the decision is made. You're going to rock that wedding arch. But wait! Where exactly is this grand structure going to nestle? Indoors or outdoors? Ah ha, those are different ball games, darling!
For indoor ceremonies, it's not just about gracing your arch with cascading floral vines! You need to first negotiate with a more practical question: "Does my venue have enough space?"
Now, don't get carried away with visions of towering arches under low ceilings. Your creativity may see an opportunity for an intimate low-arching centerpiece, but remember comfort and maneuverability for guests and the photographer!
Outdoor weddings do have the charm of sunlit vows under the open sky. But guess who decides to play spoilsport? Yes, the unpredictable weather! So while you feast your eyes on nature-bound wedding arch designs, keep a plan B under wraps for sudden rain showers or gusty winds.
Do consider the size and weight of your arch – no one wants a wrestling session with an oversized bulky structure. Also, check your venue's decoration restrictions before getting excited at Pinterest design boards, my loves!
Budget Decisions: Expense of Your Wedding Arch
Let's be honest, planning a wedding is exciting but it's also like a dance on a budget tightrope. And that perfect wedding arch you have your heart set on? It comes with a price tag, darling!
So let's talk numbers. Depending on design complexity, size and decorations, wedding arches can see their prices swaying anywhere from $50 to high triple digits or even more for lavish ones.
A quaint bamboo frame kissed with baby's breath might fit into your conservative budget, while an overgrown floral spectacle might demand some serious cash.
But hey, think savvy! Renting a wedding arch offers you the same splendor at a potentially lower cost and without those dust-collecting concerns post-wedding.
Rental prices can ricochet between $75 and $400 based on design and material. So take time to shop around – online platforms like Etsy, Amazon or home goods stores like Loews or Home Depot have a fascinating range of options.
Remember, the best wedding decisions sprout from informed choices and smart-budgeting. So go ahead, get that perfect arch without bruising your pockets!
The Charm of DIY Wedding Arches: Unique and Personal
Who says that wedding arches need to boast a hefty price tag to look stunning? Roll up those sleeves and get your creative hat on – it's time to embrace the charm of DIY wedding arches!
There's something inexplicably sweet about pouring your love and effort into creating a personalized corner for your vows. DIY arches often carry an authenticity, imbued with personal touches that store-bought or rented pieces just can't replicate.
From sourcing raw supplies, to assembling your structure, down to meticulously placing each décor element – this hands-on project can be a rewarding experience potentially saving you quite a few bucks.
Plus, think about how proud you'll feel walking down the aisle under something you've crafted with love!
For those worried about lack of skills or inspiration – fret not! Dive into the world of DIY wedding kits or start off with offbeat supplies like light-weight PVC pipes. Now tell me, isn't it exciting to think about infinite customization possibilities within budget?
And here comes the bonus: after the big day, instead of shoving it into a corner in your garage, turn it over to your garden for a sublime accent piece, donate it or sell it – making it both eco-friendly and wallet-friendly!
Enchanting Floral Wedding Arches: Beauty Redefined
Is there anything that softly whispers "wedding" more than flowers? I think not! Beautifully entwined flowers can breathe life into even the simplest arch design, turning it into an absolute fairy tale frame for your love story.
While deciding on flowers, make sure to align your choices with the overall wedding theme, personal preference, and importantly – your budget. Yes, roses are romantic and tulips so dreamy, but don't forget to count their costs as well.
Floral arch styles can swing from overflown lushness to intentionally minimalist designs. Wild grasses coyly twining around your structure might be perfect for a beautiful garden wedding or wildflower-filled backyard 'I do'. But for more traditional ceremonies, Italian Ruscus, moss and alliums could be just the ticket.
Don't miss out on the magic of night too! As the sky darkens and twinkling stars take center stage, let warm fairy lights twine around your blossoms offering an ethereal glow to your floral wonderland.
Modern Aesthetics: Geometric and Illuminated Wedding Arches
Are you someone who dances to the rhythm of modernism? Likes clean lines and sharp contrasts? Then darling, geometric and illuminated wedding arches might be your perfect match!
Imagine this, an acrylic arch with laser cut precision standing atop a velvet aisle runner – modern meets opulence! Or, let's bring the raw charm of polished woods styled into a geometric dream, adding that zing to your contemporary chic theme.
Hexagons and triangles are having their moment in the sun with modern couples – their neat edges, strong lines drawing a beautiful visual contrast against the softer elements of floral and soft fabrics. But why stop at just the shape? Add an edge (pun intended!) with brilliant accent lighting.
Don't be shy to DIY here! With some timber, nails and paint, you could craft a geometric wedding arch that's a rare combo of cost-effective and high impact design. But hold on – make sure the rest of your décor elements sync in harmony with this edgy centerpiece for a cohesive aesthetic.
Rustic Theme: The Elegance of Wooden Wedding Arches
A rustic wedding theme is an open invitation to Mother Nature! And what better way to embrace this earthiness than with an elegantly crafted wooden wedding arch?
With the natural charm and simplicity that wooden arches bring, they fit effortlessly into a serene forest nook or a country barn setting.
The nature-borrowed rawness of wood beautifully mingles with the creamy tones of ranunculus and the plush fluffs of white hydrangeas – creating an arresting palette that's sprinkled with romance!
The humble beauty of fallen oak branches tangled elegantly with eucalyptus and roses can create heart-stopping rustic magic. Oh, and have you thought about those nostalgia-laden wildflowers ducking in and out from the woodwork? A love story unfolds within every knot, twist, and turn.
Dear Brides-to-be – orchestrating a rustic-themed wedding doesn't mean compromising on elegance or sophistication. It is about celebrating the unrefined beauty around us, fashioning a cosy cocoon wrapped in effortless chic!
Frequently Asked Questions
1. Why should I consider incorporating a wedding arch for my ceremony?

A wedding arch can create a beautiful aesthetic focal point for your ceremony, offering an unforgettable backdrop for your vow exchange and numerous photo opportunities. It's a chance to express your personalities and to make your wedding decor truly unique.

2. How much will a wedding arch cost me?

The cost of a wedding arch varies widely based on its design, material, size, and decoration amount. Prices can range from budget-friendly $50 pieces up to lavish several hundred-dollar designs. However, remember that renting or DIYing the arch can prove to be cost-efficient options.

3. What different styles can I consider shaping my wedding arch?

Your imagination is the limit! From classic rectangles to modern geometric shapes, natural rustic wooden arches or gorgeous floral creations – each style evolves from personal tastes, wedding themes and budget constraints.

4. How do I choose between indoor and outdoor wedding arches?

Indoor and outdoor settings do have unique considerations. Indoor events require checking space availability in your venue, room height, meanwhile outdoor needs backup plans for varying weather conditions.

5. Can I DIY my wedding arch?

Absolutely! DIY-ing your own wedding arch can be both an engaging project with potential cost savings and offer personalized detailing to match your dream vision!

6. Can flowers really make a difference in my wedding arch design?

Flowers add significant aesthetic touches to any structure, transforming even the simplest designs into magnificent masterpieces tailored for your big day! Always remember to align flower choices with theme, personal preferences and budget.
Wrapping It Up
And there you have it – your guide to navigating the captivating world of wedding arches! Let's face it loves, selecting your perfect wedding arch demands more than just ticking design boxes – it's an embrace of your personal narratives, aesthetic sensibilities, and even touching upon cultural roots.
Whether you're entwining flowers on a rustic wooden frame or sketching angular lines for a trendy geometric masterpiece, remember – your arch has potential to be more than just a decor piece. As you walk towards it to unite with your partner, let each step echo with the love and thought that went into crafting this unique symbol of your union.
From DIY solutions and budget hacks to poring over floral arrangements and more – indeed, crafting an exceptional wedding arch is no less than a labor of love. Breathe life into your dream vision, one decorative touch at a time!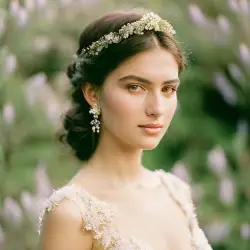 Latest posts by Rosie Liliy
(see all)