Have you ever thought of waltzing away from the same old 'pastel-this' and 'pastel-that' tradeoff? Ready for a palette that packs a punch while keeping it chic? Come with me, my darlings and let's explore the charming symphony of blue and yellow.
Now, I know what you might be thinking – "Blue and yellow? Really?" But trust me when I say, this dynamic duo is pure magic.
Imagine the warmth of a sunflower-yellow making sweet harmony with the soothing coolness of cornflower-blue. One wink at your love under a canopy streaked with these vivacious hues, and you'll see exactly what I mean.
You can practically taste the lemon tartness and feel the cool Mediterranean breeze just thinking about it!
Whether you envisage a rustic charm, or polish up for an elegant night, this pair is set to stun. Brimming with allure for both summer day-dreams and winter wonderland themes, they charm as well as they contrast.
Now buckle up! We're diving headfirst into how seamlessly blue pairs with yellow to create variations from classy elegance to boho-chic charm. Welcome to your blue and yellow embrace!
Variations of Blue and Yellow for Your Wedding Palette
Let's dive straight into this vibrant pool of blues and yellows, shall we? Remember, we're not just thinking about a single shade of blue smattered with simple daffodil yellow.
We're talking about a whole spectrum of variations from the rich depth of navy to the refreshing feel of cornflower blue. And on the other end, envision the zestful pop of lemon yellow melting into the robust nature of sunflower tone.
Imagine a beautifully elegant wedding, with dashes of deep navy against sunflower yellow, evoking tranquility and joy in perfect balance. Can you feel that Mediterranean vibe pulsing through?
Now hold on to that image. A bit too serious you say? Swish it around a bit. There's nothing stopping you from splashing your summer fantasy with some cornflower blue and lemon yellow for a lighter, more playful twirl.
Or perhaps rustic charm is more your style? Or maybe boho is your spirit animal? Crank up those creativity wheels because this palette would fit like a glove. It's all about defining your style and letting these hues narrate your love story with their distinct tones and moods.
The Charm of Blue and Yellow Flower Arrangements
Let's delve into the wonderland of flowers, a place where magic is born. Picture your wedding, adorned with the vibrant charm of daisies in full-yellow bloom dancing joyfully against elements of royal blue. If that doesn't take your breath away, nothing will!
And while we're at it, why settle just for the usual? Let's jazz up those bouquets and go styling with ribbons. A touch of blue satin ribbon around your bouquet instantly takes it from pretty to "Can't-take-my-eyes-off-you" delightful!
Don't forget to match the rhythm by incorporating yellow in unexpected spots – think blue hydrangeas with a spill of yellow ranunculus or even playful daisy chains.
But let's step it up a notch for the bride! How about stealing the show with a stunning bridal bouquet embracing heart-melting yellows, perhaps a daisy bouquet? Now that's the way to say "Here comes the bride!"
The key here is exploring possibilities and letting your creativity bloom. Flowers are more than just decor; they define the pulse of your wedding celebration, bearing witness to your love story's unfolding petals.
Playing with Patterns: Chevron and Polka Dot Wedding Cakes
Sweet lovebirds, let me introduce you to the world of chevron and polka dot patterns! They've skyrocketed into wedding cake stardom recently – decorating layers of delectable cake with playful zigzags or spots, and we're all for it!
Close your eyes and imagine this; a glorious tower of moist cake under a royal blue fondant canvas, accented with statement-making chevrons or tiny, delicate polka dots.
Pretty impressive right? A punch of black or white can break the monotony and draw all eyes to your magnificent centrepiece.
Go zesty or whimsical for a spring wedding with these trendy patterns. Or turn up the heat with a dramatic royal blue wedding cake that commands attention.
Add those contrasting elements like crisp black and white fondant stripes or fun-loving yellow cake pops for the cherry on top!
Wedding cakes have evolved into edgy pieces of art; it's time we embrace the thrilling ride. So let's slice into this delicious trend, where food meets fashion in an absolute riot!
Creating a Unique Candy Buffet
Imagine, if you will, a striking blue candy buffet, laden with jars of every imaginable sweet treat from chocolates to saltwater taffy, adding a saccharine burst to your wedding celebration.
This isn't just a table laden with candies but an embodied slice of the wedding theme that pulls in guests with its confectionery charm.
The key here is not only the assortment of candies but how you choose to present it. How about signature yellow and blue candy labels or perhaps little yellow flags perched atop lollipop sticks?
These embellishments will enhance your theme, echoing the pops of blues and yellows featured throughout your ceremony and reception.
Taking it a step further, use matching buffet tables or even signs that broadcast "Sweet Love" in bold summery tones. Such strategies boost the overall look and feel, making it an integrated feature of the wedding.
A well-conceived candy buffet doesn't just serve as a fun addition for guests but also contributes significantly towards expressing the overall theme and mood of your wedding.
Utilizing Shutter Style Doors for Creative Decor
Ever heard of "dooring" your decor? No? Well, my lovelies, allow me to introduce you to the shutter style doors!
As unusual as it may sound, these often-overlooked household fixtures can actually breathe unique vitality into your wedding decor and add a rustic touch. Not to mention the funky photo backdrops they make!
So, how do we incorporate them into our stunning blue and yellow theme? Start by painting them in hues that match your palette – think shades of lemon yellow or cornflower blue.
Add some finishing touches with draped vines, fairy lights, blooming flowers, or even chalk-written directions to the dessert stand!
Let's push the envelope a bit more – what about transforming these shutters into functional assets? Imagine using them as quirky place card holders during the reception. Accompany this set-up with a playful sign reading "Find Your Seat!" in freehand chalk script.
The potential for creativity is virtually limitless here, that's the charm of shutter style doors. A whole new level of character and charm bundled together just like you and your partner.
Choosing the Right Attire for the Groomsmen
Let's forget neutrals for a moment and step into the world of vibrancy, shall we? Groomsmen aren't just backup dancers in your wedding parade – they're an essential part of your entourage and their attire is crucial to the visual harmony of your big day.
Consider dressing your groomsmen in royal blue suits paired with gleaming yellow ties or pocket squares. And let's not forget those boutonnieres – make a style statement with sunflower or daisy bouts that sit proudly on these magnificent blue jackets.
This concoction will have your troupe looking effortlessly fashionable while strongly tying them into your color theme.
This isn't just about style but symbolism too. Your groomsmen are men you trust, friends who've stood by you, and dressing them in a way that stands out indicates their significance in this new chapter of your life. Remember, consistency goes a long way in creating unforgettably stunning visuals.
The Art of Lighting for a Themed Wedding
Lights, camera, wedding! Folks, let's not underestimate the power of good lighting. The twinkles, the glow, those soft shadows – the right kind can easily transform your venue from average to absolute magic! Each lit corner breathes life into your blue-yellow universe.
Experiment with uplighting for an inviting atmosphere. Wash your venue walls with soft yellow or dappled blue lights and presto! You have a visual symphony that subtly accentuates your color theme.
But let's not stop there; sprinkle in metallic gold or dazzling silver string lights for some glamorous glimmering effect, setting the perfect mood for your guests to dance and chatter.
Now, pay heed here – standard white lights just won't do at a themed wedding. You've got to pick hues that blend harmoniously with your chosen palette and set the ambiance you desire – is it romantic? Cheerful? Whimsical? Your choice of lighting can make all the difference.
Remember, your wedding isn't just a ceremony – it's a performance that narrates your love story and lighting sets the tone for it. So switch on that creativity and cast your wedding in its finest light!
Thrilling Thank You Favors in Blue and Yellow
You've dazzled your guests with the fabulous blues and yellows of your dreamy wedding soirée. Now, it's time to thank them for being part of your special day.
And we aren't going ordinary here, pals! Let's dish out some thank-you favors wrapped in your theme colors, leaving a sweet lingering aftertaste of your joyous celebration.
Let's dive into a whirlpool of ideas! What about giving your guests delectable macarons in shades of sunflower yellow and royal blue?
Or personalized candles housed in a blue-tint glass jar with a sprinkle of yellow on the packaging? Funky sunglasses in cool blue could also be a hit if you're having a sunny outdoor ceremony!
The trick is to bestow something that subtly whispers of your wedding colors while serving as a practical or memorable gift. Packing them in yellow and blue wrapping just adds to the charm, making your thank-you tokens look thoughtful and consistent with the theme.
Never forget, thanking your guests should be more than just formal courtesy. It's an extension of your celebration – the final note in your matrimonial melody.
Frequently Asked Questions
1. Will blue and yellow work for a winter wedding? Absolutely! There are several variations of these two colors that can be stunning for a winter setting. Think icy blues paired with warm, golden tones – a combination that exudes both warmth and cool sophistication.
2. Can the groomsmen wear something other than blue suits?
While a royal blue suit adds a more striking note to the theme, feel free to switch things up. Consider lighter shades of blue or even grey suits with bold, yellow accessories for contrast.
3. Are flower arrangements the only way I can incorporate these colors into my wedding?
Not at all! You can explore various ideas ranging from the wedding cake and candy buffet to lighting and thank-you favors. Make sure every element whispers your color theme.
4. Can I use other patterns on the wedding cake apart from chevron or polka dots?
Certainly, your cake should reflect your personal style. From intricate lace patterns to bold geometric lines, as long as it complements your color theme – it's perfectly fine.
5. What kind of candle should I use for personalized thank-you favors?
Candles in glass jars are an excellent choice, especially painted blue ones with perhaps a touch of yellow wax on top. Make sure they're scented to provide a sensory memory of your special day!
Wrapping It Up
So there you have it, lovelies – a whirlwind tour through a vibrant world bursting with the playful charm of blue and yellow. Remember, your wedding hues are more than just paint on a canvas – they're the lifeblood of your celebration, the symphony that will play out through each memory captured.
So whether you're going bold with royal blues and sunflower yellows or exploring softer notes with cornflower tones and lemony hues, let your choice reflect the essence of your shared love story.
Take these ideas and paint your own celebration canvas. Because at the end of it all, every beat of your wedding should resonate with your signature style. And let's not forget – add a pinch of creativity, a dash of courage, and voila! You've got yourself an unforgettable feast of colors that guests will be talking about even when the fairy lights have sunk beneath the horizon, and the music has faded away!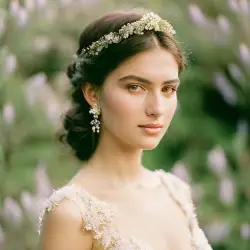 Latest posts by Rosie Liliy
(see all)