Whoever said a picture paints a thousand words must have been describing the allure of a beautifully coordinated wedding. You know, like those scenes straight out of an enchanting fairy tale book, where everything is perfectly color-coordinated and seamlessly infused.
Today, my dear readers, I'll let you in on our latest swoon-worthy find: the classic yet under-the-radar romance of Dusty Blue and Sage Green.
Getting married shouldn't just invoke feelings of love and joy; it should be a feast for the eyes too! This unique combo does just that.
Dusty Blue exudes calmness, signifying tranquility and stability while Sage Green reflects elegance, harmony and growth— perfect for setting the tone for your happily-ever-after.
Grab your notepads, future brides and grooms, because it's finally time to pull back the curtains on this breathtaking duo. Let's dive into the delicate fine art of crafting a Dusty Blue and Sage Green Wedding! Come along with me as we unveil its sweetness and charm.
Integrating Sage Green and Dusty Blue into Wedding Invitations
You don't need to be a seasoned artist to understand the power color holds. Colors can evoke emotions, tell stories, and set moods—and when it comes to your big day, they can make or break the atmosphere!
Let's be honest, receiving a wedding invitation is like peeping into the portal of the upcoming ceremony. Trust me when I say, there's more to it than merely informing your guests.
Your invitation sets the stage for your grand day ahead; it gets people talking, sparks anticipation and excitement!
Dusty Blue and Sage Green seeping through the edges of their invites—a delightful teaser to an elegant union—can you imagine your guests' faces?
Deviate from the mundane by using these color tones with a hint of watercolor design or metallic accents! This doesn't just kick things up a notch but adds elegance that's bound to leave your invitees in awe.
Infuse the color scheme into fonts, patterns, or envelope linings. Let your save-the-date cards and RSVPs build intrigue around this dazzling retro wedding palette. Every little detail counts, dear couples.
Look at wedding invitations not only as informative cards but also as art pieces representing you as a couple. Remember, first impressions never have a second chance.
Creating a Romantic Feel with Sage Green and Dusty Blue Attires
Can we talk about the stylish statement Sage Green and Dusty Blue can make in your wedding attire lineup? One look at this match and you'll be all heart eyes! The magic lies not only in the synchronized bridal party portraits but also in the individual charisma it adds.
Picture your bridesmaids, radiant in sage green or dusty blue gowns—absolute camera magnets! Let's not forget the equally dapper groomsmen, defying norms, with style oozing out of their rosettes or pocket squares reflecting these hues.
Versatility is the charm here; it's about celebrating uniqueness yet staying bonded by the color thread.
And when it comes to variety, leave your worries behind! You can easily find colors close to Sage Green or Dusty Blue under $100. With more than 150 colors and 600+ styles to choose from!
Don't fear mismatches. In fact, deck up your entourage in different styles within this color theme. Defy rules; make new ones because the aesthetic of individuality brushed up with elegance is undefeatable.
Designing Quintessential Centerpieces with A Dash of Sage Green and Dusty Blue
Yes, we're talking about those elements of decor that pull everyone into the celebrations—a harmonious blend of aesthetics and symbolism—the show-stopping centerpieces!
These crowning jewels can easily become conversation starters, wouldn't you agree?
Now, imagine bringing the clasping hands of dusty blue and sage green into your centerpiece arrangements. Oh, the sheer elegance it exudes—capturing attention like a magnet, adding an undeniable hint of romance to every corner!
We're talking cascading eucalyptus leaves bathed in shades of sage green mixed with subdued hues of dusty miller. Peeping through this foliage are the delicate white roses and mystical blue thistle—creating an ethereal balance of gentleness and boldness.
You will love how these centerpieces command admiration yet don't scream for attention. By incorporating these hues into your table arrangements, you're not only unleashing a unique aesthetic charm but also inviting your guests to imbibe in this entrancing color palette.
Isn't it delightful to think that even as everyone clinks their glasses in cheer, they get a taste of your Dusty Blue and Sage Green world?
Creating a Glamorous Setting with Sage Green and Dusty Blue Table Settings
Table settings are the unsung heroes of wedding decor, aren't they? They subtly string the theme together while adding warmth and style! And when we infuse sage green and dusty blue into them—oh boy, get ready for the jazz!
Let's weave an enchanting table tale. Picture sage green or dusty blue runners cascading down in royal grace, welcoming guests to a finely set table.
Matching cloth napkins tucked neatly—the hues gently blending with silver or gold accents—bringing opulence right onto your dining tables!
Consider complementing these tones with a dash of white from bridal gowns or green from wedding bouquets strewn tastefully around. Cohesion is key here. Nothing shouts 'elegance' more than well-coordinated color harmony!
So, darling brides and grooms, kick-start your journey into marital bliss amidst romantic tints of sage green and dusty blue. It's an unforgettable banquet that tells a tale as unique as yours!
Whipping Up Delicious Delights: Sage Green and Dusty Blue Wedding Cakes
Here's a secret – the way to your guest's hearts is not only through their eyes but their taste buds too, especially when it comes to the sugary delight—your wedding cake.
Are you ready to treat them with a sumptuous feast wrapped in elegance?
Imagine a classy, three-tiered white cake blossoming with floral accents matching your sage green and dusty blue theme. Picture your guests' astonishment as they savor these colors in their very first bite of the celebration!
Perhaps you're more minimalist? Then consider tiny accents of these darling colors etched elegantly on frosting or brushed artfully on fondant.
For extra flair, consider adding fresh greenery or dusty blue sugar flowers strewn perfectly onto your creamy masterpiece.
Whether it's simple sophistication you're after or flamboyant artistry, don't let this canvas go to waste. Remember, a wedding cake is more than just dessert—it's an edible monument of your nuptial bliss!
Offering Aromatic Memories with Sage Green and Dusty Blue Wedding Favors
Wedding favors are small tokens of appreciation for your beloved guests, who've celebrated with you. These tiny details string together moments of your Big Day, leaving behind a fragrant trail of memories.
And with sage green and dusty blue as your colors, you've got a chance to take these keepsakes from routine to remarkable.
Dive into the realm of exquisite wedding favors radiating these elegant hues—delicate macarons in soft sage green or pretty little candles casting a dusty blue glow.
Once unwrapped, let these aromatic treats fill the room with tender remembrances of your special day.
It's about letting the echoes of your wedding linger on in their homes—a sensory reminder of the fun and frolic they were part of. More than just thank-you gifts, favors are pieces of the magical world you crafted for your wedding.
Darling brides and grooms, seize this opportunity to etch your gratitude on their hearts while showcasing your flair for elegance!
Creating a Stunning Backdrop with Sage Green and Dusty Blue Arch for the Ceremony
Ready to score some extra style points? Let's talk wedding arch—the majestic framework around which you utter your heartfelt vows. Your backdrop is no less significant than your foreground, dear couples, and we're going to master its design today.
Envision a floral arch; it's composed of green foliage and twinkling blue flowers. It stands tall at your alter—beaming with sage green and dusty blue charm.
Each strand of leafy green twisted along the framework, each cluster of blue flowers woven in between—they all contribute towards creating a fairytale atmosphere.
As you exchange vows under this majestic arch, you embrace not just each other but also the captivating essence of your chosen color combo.
With the right touch of sage green and dusty blue, you can transform an ordinary wedding arch into a spectacular magic gate marking your passage into the realm of wedded bliss.
Embracing Natural Looks with Sage Green and Dusty Blue Floral Bouquets
Bouquets don't just hold flowers; they clasp emotions, embody elegance, and narrate beautiful stories. One look at the bride's bouquet can capture her unique persona—and we're here to tweak ours with the touch of sage green and dusty blue!
Visualize an arrangement where dusty blue flowers sing harmoniously with sage green leaves—encapsulating the raw beauty of nature.
It serves not as just a 'pretty addition' to your bridal look but weaves in an aura that is earthy, chic, and oh-so-charming!
Include a variety of blooms that echo the chosen color palette—blue hydrangeas, perhaps? Or hop on a more unconventional wagon and pin hopes on thistles for that bluish punch?
Intertwined with indigenous foliage in varying shades of sage makes your bouquet vibrant and verdant.
Transforming your bouquet into an emblem of earthy charm, these colors not only compliment your bridal ensemble but become a reflection of the innate elegance you uphold.
Signage Making a Statement! Incorporating Sage Green and Dusty Blue in Wedding Signage
Think signage is just about directions? Think again! Not only do signages guide your guests around the venue, but they can also highlight your wedding theme and enhance the overall aesthetic.
Yes, that's right; even signages can sing the sage green and dusty blue melody!
Let's step up our game with a smooth blend of wedding signage infused with these mood-altering hues. Envision welcome signs, menu details, or table numbers adorned with calligraphic fonts—each piece echoing the soft whispers of sage green and dusty blue.
This subtlety does wonders by giving your guests a taste of your color palette even before they've stepped into the venue. The dazzle lies in these detailed inclusions where colors unify every aspect of the ceremony.
The magic of sage green and dusty blue signage leaves behind an imprint—a collaborative masterpiece that resonates well over time!
Frequently Asked Questions
Why choose a sage green and dusty blue color scheme for a wedding?
The combination of sage green and dusty blue is ideal for those who appreciate elegance and wish to incorporate a unique charm into their wedding day. These colors offer a classy nod to nature while ensuring your wedding décor emits an aura of stylish serenity.
How can I incorporate sage green and dusty blue into my bridesmaid dresses?
There are several creative ways to integrate these hues into your bridesmaid dresses. You could opt for gowns entirely in either color, or you might consider accents, ombre designs, or color-blocked dresses. Remember, it's about striking the right balance with your overall theme.
Can only flowers be used in the wedding decor?
Absolutely not! While flowers make stunning additions to any wedding decor, feel free to get creative. Consider using sage green fabrics in your table settings or dusty blue ribbons on your chairs. The sky's the limit when it comes to innovative décor!
How do I ensure uniformity while using two key colors?
Maintaining visual coherence when using two main colors like sage green and dusty blue can be attained through repeated use across different aspects. From invites to attires, from table settings to floral décor—let these colors gently ripple through!
What if I want edible favors in my color scheme?
That's very possible! Macarons or frosted cookies in sage green or dusty blue make delightful favors. Or, use packaging that matches the theme for an engaging aesthetic touch!
Is it necessary to have colored signage at my wedding?
While not mandatory, colored signage helps pull your color scheme throughout every element of your ceremony, offering another layer of uniformity and elegance.
Never shy away from thinking outside the box! After all, you're designing a day that speaks volumes about you as a couple.
Wrapping It Up
Dear couples, let's take a moment here. Just imagine the swoon-worthy visuals that dusty blue and sage green can knit together! Walking down the aisle has never felt more like strolling through an enchanting fairy tale. Every corner, each detail is breathing your chosen hues, etching together a story that's uniquely your own.
From the elegance of your invites to the charm carried by bouquets, from the stylish attires you don to the enchanting backdrop you tie the knot against—dusty blue and sage green work their magic everywhere.
Believe me, making memories was never so magical, and life's key moments were never captured with such splendor before. Bow down to the timeless elegance of Sage Green and Dusty Blue; it's your time to steal the limelight!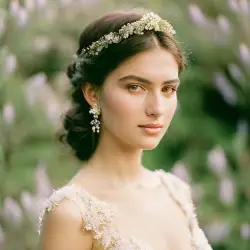 Latest posts by Rosie Liliy
(see all)