Bring the drama and sophistication to your special day with an enchanting color palette of black and purple.
Dive right into the plush luxury of even the darkest hues breaking away from conventional pastels and embracing sensuous elegance instead. Think glimmering black table settings, amethyst toned botanicals, romantic purple illuminations, all wrapped up in a spectacular cornucopia of opulent regality.
Where do you begin, you ask? With everything from your centerpieces to your invitations able to sing this gorgeous color melody, fear not!
As we journey together unrolling the rich velvet carpet of inspiration laden with gems of knowledge along the way. Pep up your bridesmaid army's flair with mismatched attire tales that blend personal style into our royal theme.
Keep an eye out for modern gold calligraphy saviors, the magic of trailing silk ribbons around wild bouquets, and new friends like footed vases.
See how additional colors like silver or gold lend their royal touch to this majestic medley. No detail is too small when creating your unique love tale, so cherish each one in crafting your dream wedding!
And voila! Uncover layer by layer, your wedding vision told through a black and purple tale, each chapter more elegant than the last! Stay tuned as we explore and unfold this divine color tale together!
Unleashing the Drama with Black and Purple Palette
Who said weddings have to be all about pastels? It's time to wave goodbye to "traditional" and hello to a palette that's dramatic, tasteful, and oozing with sophistication. We're talking black and purple here – the perfect glamorous duo for your memorable day!
Now, let's not confine ourselves within the classic wedding vibes. With black and purple at our disposal, we can dip our toes into darker wedding themes or even flirt with a touch of gothic style.
Don't forget that these luscious hues lean towards bold expressions of love, so it's worth giving your special day a thrilling twist!
Dig into how our Pinterest comrades are utilizing these colors for their weddings – yes, all 16k followers can't possibly be wrong when it comes to black and purple's potential. And while some might raise their brows at the unconventional choice, trust us – this elegant duo will leave them awe-struck!
Unique Decor Elements for a Black and Purple Wedding
No stage set yet? Let's dive right into the décor sea and discover what makes a black and purple-themed wedding immensely unique. It's all about balance here, mixing modern lines with organic shapes, finding harmony in contrasts.
Picture a tablescape adorned with plush indigo table cloths offset by jet black centerpieces, laden with deep hue florals. Observe how strikingly the purples emanate their warmth against the cool backdrop of coal-black accents.
Let botanical elements play a crucial role – think lavender sprigs or violet sprays sneaking into your table arrangements or wreaths, creating an eclectic mix of hard metallic and soft nature.
This is where our color story weaves its most intense tale –cribbing notes from The Pink Bride's gushing account of black and purple weddings as startlingly creative. If they could talk, they'd chant – Be bold! Be different!
Soak up these inspirations, and let them fuel your décor decisions; remember to make strides in balancing the modern nuance of black and the unmatched vitality of purple.
Modern Gold Calligraphy – a Decor Savior
Looking for an ace card to rescue your décor from the plain-Jane syndrome? Enter, modern gold calligraphy. A simple yet dramatic twist of the wrist can tie your black and purple theme together, sending sparks of eye-catching sophistication across your wedding venue.
Here's an idea – think beyond paper. Enliven practical elements like the seating chart or menu with golden strokes – an inventive way to up the elegance of deep tones.
Gold calligraphy on a bold, black backdrop or highlighted against a rich plum setting would create a sense of luxury and style straight out of a fairy tale.
Push boundaries – consider gilded words spun across dark-hued glass or scrawled elegantly over deep tones placemats. And watch how these tiny details subtly elevate the vibe, creating a wedding that history books would write poems about!
Tailoring Mismatched Wedding Attire: Unwind Your Creativity
Let's talk about the wedding attire – the real game changer to the style quotient of your wedding! Puzzled? Don't be. Let's dive deep into our noir-purple palette, translating it into an amazing array of wardrobe possibilities.
First stop – bridesmaids. Forget matching outfits and let individuality shine! Break free from rigid style bounds and drape your bridesmaid squad in different styles of purple and black dresses.
Floor-length gowns, cocktail dresses, or even chic jumpsuits – unleash a creative wave and let them twirl in the mismatched trend. The result? An eclectic mix that adds edginess to your wedding aesthetics.
Same goes for our handsome groomsmen. Swank up their look with a deft blend of black and purple – be it suave suits, eccentric socks or stylish lapel pins.
Fact: Black and purple together instil an exquisite fusion of drama and elegance, perfect for creating the tingling anticipation every wedding thrives on!
Incorporating Sophisticated Dining Table Styling
Table styling – the GPS to your wedding's destination elegance! An often overlooked arena where accents of black and purple can create marvels!
Start with a canvas of classic black tablecloth, lending it a warm and contemporary touch with purple napkins neatly folded or elegantly draped along the dining plate. Or flip it, place beautiful amethyst-toned cloth under onyx plates – either way, our two protagonists steal the show.
Sprinkle in some magic with enchanting black lanterns as centerpieces, casting garden gnome-sized shadows that dance around in the flickering light. But wait, don't just stop there, let them share space with florals in varying shades of lilac and deep indigo – an instant mood lifter.
Whether you opt for minimalist or opulent styles, make sure your purple-black love story unfolds at each table setup. And trust us – when your guests finally settle down to toast for you, all they'll see is an impeccably styled dining setting whispering tales of classy romance.
Embracing Graphic Wallpaper and Footed Vases in Decor
Want to give your decor a design upgrade? Try weaving graphic wallpaper and footed vases into your wedding narrative, creating an immersive experience like no other.
Reimagine the use of graphic wallpaper. Get adventurous and harness the power of black and purple geometric shapes or abstract floral designs.
Use it to create visually layered backdrops behind your cake table or drinks bar – a fantastic way to introduce your theme without uttering a word!
Next, footed vases – those chic little items that make a huge impact when used creatively. Imagine a cluster of footed vases filled with an artist's palette of purples, from shy lavender to daring grape – an attractive centerpiece good enough to steal Instagram glory!
Not limited to tables, they'll add dimension to staircases or aisle benches as well.
Remember, these elements are more than decor pieces; they're storytellers, vehicles ready to express the spirit of your wedding theme. Harness them well!
The Charm of Trailing Silk Ribbons and Wild Bouquets
Spinning a more ethereal vibe into your wedding scene, let's revere the charm of trailing silk ribbons intertwined with wild bouquets. You see, this is no sheer whimsy – the suggestion exudes the thematic palette while dancing on the chords of free-spirited elegance.
Imagine your bride tribe gliding down the aisle, each carrying a bouquet tied with an undulating black or purple ribbon which sways gracefully to their pace. The vision promises cashmere soft warmth blending effortlessly into our bold theme.
Now head over to those checked-off footed vases, but this time, let's fill them up with wild local blooms. Dark violets peeping out from the sea of leaves bound beautifully by a flowing sash – a vivid portrayal of untamed beauty at its best.
Deploying these elements subtly aligns you into the black and purple realm while adding an organic feel – all sure to make your wedding look like a million-dollar painting!
Crafting Memorable Black and Purple Invitations
Invitations – your story's prologues, stirring the curiosity for the grand event – should reflect your unique black and purple theme. So let's ditch the ordinary and trek on a creative path to craft an invite that draws a gasp of admiration even before it reads "You're invited."
Believe in the magic of harmony between black, purple, and perhaps a softer touch of white or cream as your card base.
You could leap into bold choices with solid black cards adorned with a mystic purple florals border or maybe take a subtler route – frosty white cards graced by a well-crafted noir-purple design. Either way, ride on the wave of creativity!
Let's talk about the writing – different fonts play different roles. While bold block letters command attention, cursive writing leads you gently into the occasion details. Explore these against our chosen canvas and be assured, each invite would gleam with underlying elegance and light-hearted mystery.
Take away: Crafting memorable invites is more than pairing colors; it's about harmonizing elements that together spin an intrigue for your wedding celebrations.
Complementing Your Theme: Additional Color Choices
So, we've got black and purple as our color superstars, but to truly glisten from the usual – let's welcome a few guest colors! Now, just because they're guests doesn't mean they can't rule – when wielded right, they can take your wedding aesthetics up a notch!
Want your palette to shimmer? Welcome aboard metallic colors like silver or gold. Glistening cutlery against ebony placemats or golden calligraphy on the plum invites – such combinations can boost your theme's elegance by leaps and bounds!
Or yearn for something softer yet striking? Blend in shades of green or even pastel pink. Subtle foliage across the dining space or ballet slipper pink roses adorning the bouquet gives an interesting contrast and lightens up the otherwise intense canvas.
Remember, these hues play an important role in highlighting your primary colors while breaking their monotony. Use this hack to embolden your black and purple dream!
Visualizing Your Wedding Vision: A Step-by-step Guide
Embarking on the journey of planning a wedding is exciting, daunting, and yes – quite overwhelming! Fret not; assistance is on your way in the form of the Wedding Vision Builder – an ally that helps you visualize the big day down to its every detail.
Imagine a digital guide that pegs in step-by-step procedures, helping you to preview your entire celebration. For those curveballs, when you're drowning under tons of inspirations but failing to see the holistic picture – the Vision Builder tosses in a lifejacket, enabling you to unlock your wedding's perfect look!
With our black and purple theme at hand, use this guide to experiment with various elements. Play around with it until every tablecloth, evening gown, and centerpiece aligns brilliantly with your vision.
Setting this pre-visualization stage will boost your confidence and assist in making informed decisions. So grab a digital download for a mere 5 dollars, and step into freedom from "planning stress"!
Frequently Asked Questions
1. Aren't black and purple a bit dark for a wedding?
Surprisingly, no! In fact, these hues can create a dramatic yet tasteful combination suited for a modern, stylish wedding. The possibilities range from dark themed weddings to those leaning towards the Gothic style.
2. How can I incorporate the black and purple theme in the decor?
Think about elements such as centerpieces, tablecloths, floral arrangements, lighting setup and even graphic wallpapers. Integrate botanical elements balancing clean modern lines with organic shapes – it's all about creativity!
3. I want my bridesmaid looks to be stylish but different from each other. Any ideas?
Absolutely! Lean on the charm of black and purple for their gowns. Try different styles – maybe a cocktail dress or even chic jumpsuits in shades of black and purple.
4. What are the potential additional color choices to complement black and purple?
Try introducing silver, gold, or even shades of green or pink to bring in more depth and vibrance to your overall palette.
5. How can I visualize my black and purple-themed wedding before deciding on decor and attire?
Go digital! Use a Wedding Vision Builder guide – this tool enables you to preview every element in your chosen hues before making decisions.
6. What details should I pay attention to when planning a black and purple wedding?
Every detail counts from invitations, table styling, matching wedding attire to music and food choices. Ensuring these elements match your chosen theme will create a cohesive look and feel to your celebration!
Wrapping It Up
There you have it, folks! A deep dive into creating a mesmerizing affair with a black and purple wedding theme. Remember, your wedding is an expression of your taste and love scape where bold meets elegance.
From avant-garde adornments to wild bouquets and edgy attire – each element can mirror this dramatic yet classy palette. So get set to leave your guests in awe and pave the way for weddings that break the mold. Fearlessly embrace these dark tones, because let's face it – love shines the brightest in the dark! Let your happily-ever-after kick start with a dash of drama right at the aisle.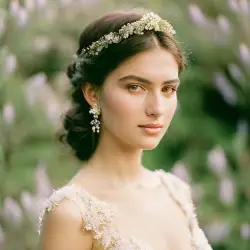 Latest posts by Rosie Liliy
(see all)