Hey there! If you're planning your summer wedding, I bet you want it to be unforgettable. After all, this is one of the most special days of your life – don't you want it to sizzle?
Well, fear not: we have just what you need. Here are 10 stunning summer wedding themes that will make your big day sparkle and shine like never before. From classic elegance to modern flair, these ideas are sure to impress everyone in attendance.
So read on for some inspiration and get ready for a magical celebration!
Tropical Paradise: A Lush Getaway For Your Summer Love Story
The balmy summer breeze, the sparkling blue ocean, and a lush tropical paradise — there's nothing quite like it for your dreamy wedding day.
Imagine exchanging vows in an outdoor ceremony with dramatic palm trees swaying overhead, or taking photos on the beach as the sun sets behind you. From vibrant colors to airy fabrics and exotic flowers, there are so many ways to bring this vision of romance alive.
You can create a truly unique look by incorporating elements from different cultures around the world. Incorporate traditional African prints into your bridesmaids' dresses or have Moroccan lanterns hanging from tall poles at your reception.
Brightly colored saris could be used to decorate tables, while floral leis make great favors for guests. There is no limit to what you can do!
And don't forget about food! You could serve up delicious island-style dishes like jerk chicken and coconut shrimp, or feature more modern takes on classic favorites such as mango salsa over grilled fish tacos. Whatever you choose, it will be sure to delight all of your guests!
With these ideas in mind, let your imagination take flight and craft a beautiful tropical paradise wedding that shines with love and joy.
Romantic Vineyard: Toast To Forever In A Breath Taking Vineyard
"A picture is worth a thousand words," and this rings especially true for vineyard weddings! If you're looking to have an unforgettable wedding day, hosting it in a romantic vineyard could be the perfect choice.
With stunning backdrop of rolling hills, lush greenery, and picturesque grapevines that seem to stretch on forever, it's easy to see why so many couples are charmed by these venues.
From sipping your favorite vintage while you walk down the aisle or enjoying freshly-picked grapes during cocktail hour, there are endless ways to enjoy a rustic-chic atmosphere at your vineyard wedding.
And with their naturally serene settings, most vineyards provide plenty of beautiful spots for photos—so don't forget to take advantage of them! Let nature be part of your celebration as you make memories that will last a lifetime.
No matter what kind of décor you choose for your big day, a romantic vineyard setting can add an extra layer of elegance and beauty to any style. After all, when else do couples get the chance to host their nuptials among such enchanting scenery?
Whether you opt for a cozy outdoor ceremony or an intimate reception under twinkling starlight, let yourself get lost in the beauty of this special moment as you toast to forever with those nearest and dearest.
Beach Bliss: Celebrate Your Love With Sandy Toes And Ocean Breezes
If you're dreaming of a beach wedding, it doesn't get much better than this. From the sound of the waves to toes in the sand, there are endless ways to make your beachside nuptials unique and unforgettable for both you and your guests.
Start by choosing an inviting venue with plenty of room – whether that be an open oceanfront lawn or a hotel terrace overlooking the water. If you're feeling adventurous, bring along some fun props like a surfboard "guestbook" or seashell place cards!
For décor, think beyond just blues and whites; coral pinks, greens and yellows evoke the perfect summery-seaside vibe for your special day. Keep things simple but still beautiful by accenting tables with clusters of sea glass bottles filled with wildflowers or lanterns strung up between palm trees.
And don't forget about food that celebrates local seafood – oysters on ice as well as lighter fare such as shrimp cocktails are sure to please everyone at your reception!
Your ceremony should also reflect this relaxed coastal atmosphere. Exchange vows beneath driftwood arches hung with greenery or maybe even incorporate elements from Hawaiian culture into your celebration (think: Lei exchanges and hula dancing!).
To finish off a memorable evening, send off your loved ones with custom sunglasses sporting retro frames – they won't soon forget their time spent celebrating under the sun together.
Garden Party: An Enchanting Floral Affair To Remember
If your dream wedding involves an elegant garden setting, then a Garden Party themed summer nuptials is the perfect choice.
With lush greenery and stunning floral arrangements, you can create an enchanting atmosphere to celebrate your big day. From colorful blooms to delicate décor, there are endless possibilities when creating a garden party theme.
One of the best ways to bring this style alive is through gorgeous bouquets and centerpieces. Choose vibrant colors that will pop against the backdrop of lush foliage and nature's beauty. You can also incorporate unique elements like potted plants or hanging succulents for added texture.
When it comes time to decorate the reception area, consider incorporating wildflowers in unexpected places—from wall hangings to table runners.
When planning out your menu, think light and seasonal fare with plenty of fresh fruits and vegetables from local farms. Don't forget signature cocktails crafted with herbs from your own garden!
Embrace outdoor dining as much as possible by providing seating areas around trees or benches for more intimate conversations among guests.
To top off your special evening, opt for sparklers outdoors instead of fireworks indoors for a magical send-off into matrimonial bliss.
No matter what combination of flowers and decorations you choose, remember that a Garden Party themed wedding should feel effortless yet sophisticated all at once – just like falling in love.
With these tips in mind, you'll be sure to have an unforgettable celebration that celebrates both your romance and connection with nature on your special day.
Lavender Fields: Embrace The Serenity Of Summer In A Field Of Lavender
If you're looking for a more subtle, yet still stunning summer wedding theme, then look no further than embracing the beauty of lavender fields. Lavender is known to be one of the most calming and serene colors in nature and can provide your guests with an unforgettable experience on your big day.
Here are some ways to bring this dreamy hue into your event:
Incorporate flower arrangements that feature lavender as their main color. This will create a soft ambiance throughout the venue space and give it a romantic feel. You can also add other shades such as white or blush to balance out the palette.
Use ribbons or fabric sashes in varying shades of purple to accentuate table settings and decor pieces around the room. They'll look beautiful when cascading from centerpieces or lining chairs for added texture.
Serve light-colored cocktails like rosé spritzers or mojitos at cocktail hour to keep guests feeling refreshed during your special occasion. Or if you're having an outdoor ceremony, offer up homemade lemonade stands complete with paper straws adorned with tiny bunches of lavender blooms!
Don't forget about using candles! Place them down walkways or along tables so that they cast a warm glow over everything else in sight – perfect for those sunset photos!
These simple touches will help evoke the tranquility of being surrounded by fragrant flowers while creating a unique atmosphere for your celebration that won't soon be forgotten.
Summer Soiree: A Chic And Elegant Celebration Of Summer Love
A summer soiree is a perfect way to celebrate your special day. It gives you the opportunity to be creative and have fun with all the colors, textures, and elements of summer. Here's how to make sure your celebration lives up to its name:
| Emotion | Description |
| --- | --- |
| Joyful | Incorporate bright colors for an upbeat vibe like pink, yellow, or orange hues throughout your decor. |
| Dreamy | Create a dreamy atmosphere by using flowing fabrics such as sheer curtains or gauzy table runners. Add glimmering accents like candlelight and string lights around the venue. |
| Elegant | Opt for timeless touches that bring sophistication – think white florals with lush greenery in glass vessels, tall gold candelabras dripping in pearls and crystals, shimmering chandeliers hung from the ceiling…you get the idea! |
To top it off, select signature drinks that fit the season like strawberry daiquiris or cucumber-infused gin cocktails with fresh herbs. Summer desserts are also great conversation starters at any wedding reception; serve light treats like mini ice cream cones or lemonade popsicles on each guest's plate.
With these simple tips, you can create a chic yet elegant soiree that will wow your guests and last long after your big day has passed.
Nautical Adventure: Sail Away Into The Sunset On Your Wedding Day
For couples who dream of a nautical-themed wedding, there are endless possibilities for creating an unforgettable experience. From seaside venues to sailboat decorations, the possibilities are truly limitless!
To start planning your big day, begin with a stunning color palette inspired by the ocean's blues and whites. Then add in some fun details like rope accents or anchors scattered throughout. For guests, consider providing beach towels as favors so they can relax poolside after their ceremony.
When it comes to food and drinks, serve up classic seafood dishes with a modern twist. Think grilled shrimp skewers served with homemade cocktail sauce or fish tacos topped with mango salsa.
You can also get creative with signature cocktails like margarita floats or mojitos garnished with starfish stirrers. And don't forget about your cake – design one that looks like a lighthouse or boat to really wow your guests!
The most important part of any wedding is having fun and making memories, so be sure you give yourself plenty of time for activities on the water if possible.
Rent paddle boats for photos or kayaks to explore nearby islands together as newlyweds! No matter what kind of adventure you choose, your wedding will definitely be one to remember when you set sail into the sunset on your special day.
As the sun slowly sets over the horizon, let those feelings of love linger in anticipation of tomorrow's sunflower dreams: a summer celebration of bright love and joyful moments.
Sunflower Dreams: A Summer Celebration Of Bright Love And Joyful Moments
Your summer wedding can be a dazzling and vibrant affair, like the sunflower fields in full bloom. The golden hue of this beloved flower brings to mind the beauty of bright love, while its many petals represent joyous moments shared with family and friends.
Choose simple yet romantic décor that embraces the spirit of sunflowers. Adorn your ceremony site with potted plants featuring these cheerful blooms, or frame the aisle entrance with tall garlands woven from yellow flowers.
Matching floral centerpieces for each table can add an extra touch of color and elegance. For accent pieces, consider terrariums filled with succulents surrounded by sunflowers in glass vases or framed wall art depicting a field of wildflowers.
For the bride's dress, look no further than classic white lace adorned with delicate daisies or tiny sprays of blossoms around the neckline and hemline. Complete the look with a jeweled headpiece or sparkling hair comb set off by subtle hints of gold accents – perfect accessories for any goddess on her special day.
The joyful energy created by a sunflower-themed celebration will create memories to last forever – just as beautiful and radiant as those sunny days spent basking in nature's warm embrace.
Country Charm: A Rustic And Intimate Celebration Of Love In The Countryside
What could be more romantic than a rustic, country-style wedding? With its intimate atmosphere, surrounded by nature and the beauty of the countryside, there's nothing quite like it.
There are so many ways to add a touch of country charm to your special day – from mason jars full of wildflowers as centerpieces to burlap table runners and wagon wheels hung with string lights. You can even have bales of hay for guests to sit on!
And if you want something truly unique, why not rent out an old-fashioned barn or stable for the ceremony itself?
When planning this style of wedding, don't forget about the little details that make all the difference. Choose neutral tones in shades of cream and wood accents to create a soft and cozy ambiance.
For your reception décor, consider using natural materials such as twine wrapped around glass vases filled with flowers or dried lavender bundles along the tablescape. Keep things simple yet stunning for an intimate celebration that won't soon be forgotten.
Your guests will love taking part in this beautiful outdoor setting, where they can relax and share stories beneath fairy lights strung from tree branches.
Capture these timeless moments forever with photographs taken against dramatic backdrops – perhaps overlooking rolling hills or alongside wild meadows swaying in the breeze – before heading inside for dinner and dancing under starlit skies.
Midsummer Night's Dream: An Enchanting And Ethereal Experience Under The Stars
The stars are calling, beckoning you to an enchanted place of joy and beauty. Let your imagination soar as the night sky twinkles above for a truly magical midsummer wedding theme. As guests arrive, they will be mesmerized by the ethereal atmosphere that awaits them.
Create a dreamy fairytale-like experience with white lights strung up in trees or draped from pavilions and elegant flower arrangements adorning tables. Soft music playing in the background adds to the ambiance of this special celebration under the stars.
For décor, incorporate delicate elements like candles and pampas grass to bring life to your vision. Add accents of gold throughout the venue for an added touch of luxury and glamour.
If possible, host alfresco events such as cocktail hour or dinner outside so that guests can take in their breathtaking surroundings while enjoying delicious food and drinks.
To complete your Midsummer Night's Dream look, ask each guest to wear a hint of white – perhaps a pastel dress or suit jacket – which will create continuity among all attendees and add to the airy feel of your summertime nuptials!
With these touches, you'll be sure to have an unforgettable wedding day that is both romantic and whimsical.
Frequently Asked Questions
What Type Of Decorations Should I Use For My Summer Wedding?
Here are some tips for choosing the perfect decor to make your summer wedding really stand out.
First off, consider what type of atmosphere you want to create on your big day. Do you imagine an outdoor garden party with lush floral arrangements and romantic lighting? Or maybe a boho-chic style reception under string lights? Whatever look you decide on will dictate the kind of decorations that work best.
Next up: get creative! There is no shortage of unique DIY projects that can help bring your vision to life. Think outside the box when selecting materials – use items such as paper lanterns, fabric swags, vintage furniture pieces, or even potted plants instead of traditional centerpieces and aisle markers. Plus, these kinds of touches add a personal touch to any event space and make sure guests feel at home.
Finally – take advantage of seasonal elements like flowers and foliage! Summertime brings lots of vibrant blooms that can be used throughout the ceremony and reception areas for pops of color. And if you don't have access to fresh bouquets from local flower markets or greenhouses, faux flowers are always an option too! They come in all shapes, sizes and varieties so finding one to match your theme should be easy peasy lemon squeezy.
No matter which route you choose for decorating your summer wedding, remember that simple yet thoughtful details will go a long way towards making it extra memorable for both yourself and your guests.
What Type Of Music Is Best For A Summer Wedding?
Choosing the music for your summer wedding is a big decision! It sets the tone and atmosphere of your special celebration. Your guests will be on their feet all night, so you want to make sure they're grooving to tunes that are tailored to them. From swing bands to upbeat pop songs, here's what type of music is best for your summer wedding:
Get down with some classic swing band beats
Add some retro style with vintage vinyls
Put together an upbeat playlist featuring modern hits
Give it a personal touch by incorporating family favorites
When picking out tunes for your big day, consider who'll be attending. For example, if there are lots of older relatives coming then maybe opt for something more traditional than an EDM set during dinner service. You don't want anyone feeling out of place or uncomfortable! On the other hand, if younger generations dominate the guest list then don't be afraid to throw in some top 40 tracks – just make sure everyone has room to dance.
It's also important to think about how long each song should go for and when different types of music should play throughout the evening. This helps ensure there's no awkward gaps between songs and that everything runs smoothly from start to finish. If you feel like this is too tall an order – never fear! Booking a DJ or live band can help ease any anxiety over musical choices as they know exactly which genres work best at different points in the night.
No matter what kind of music you decide on, remember that it's all about having fun! So put together a soundtrack that reflects both you and your partner's personalities while making sure everyone has time to let loose and boogie until dawn.
What Are Some Cost-Effective Ways To Plan A Summer Wedding?
Planning a summer wedding on a budget can be tricky, but it doesn't have to mean sacrificing your dream day. There are plenty of ways you can save money without cutting corners – and still plan an amazing event that you'll remember forever! Here's what we suggest:
Prioritize: You don't need everything all at once, so figure out where you want to splurge and where you can skimp in order to get the most bang for your buck. Decide which elements are important to you and focus on those first; if there's something else that isn't completely necessary, leave it off the list until later.
Shop around: Look into vendors who offer discounts or special packages that might fit within your budget. Don't forget about online resources too – they can often be cheaper than physical stores and help cut down costs significantly.
DIY: Get creative with DIY decorations and touches here and there; these little details will make your big day feel even more personal (and cost-effective!). From homemade centerpieces to favors made by hand, doing things yourself adds a unique touch while keeping costs low.
So don't let a tight budget keep you from throwing the party of your dreams! With some careful planning and creativity, having an unforgettable summer wedding is totally possible – no matter how much money you're working with!
What Type Of Clothing Should Guests Wear To A Summer Wedding?
Here are some tips for finding the perfect clothing that your guests will feel comfortable in while still looking their best:
Consider the formality level- Is it an outdoor garden party or a black tie affair? Make sure your outfit reflects that.
Take the weather into account- If it's going to be hot out, lightweight fabrics like linen and cotton will help keep you cool (and stylish!)
Don't forget about accessories- A great hat or pair of sunglasses can really pull an outfit together without breaking the bank.
Planning a summer wedding isn't always easy — but with just a few simple guidelines in mind, you're sure to find something appropriate for all your guests! Whether they choose something casual and fun, or more formal attire, there's no doubt that everyone will look fabulous as they celebrate your special day!
How Can I Make My Summer Wedding Unique And Memorable?
I'm sure you want your summer wedding to be unique and memorable! After all, it's one of the most special days in life. When planning a wedding, there are so many ways to make it stand out from the rest. From decorations to activities, there's no limit on how creative you can get with making your big day unforgettable.
One great way to add an element of surprise is by having interactive elements throughout your ceremony or reception. Think outside the box when creating these activities—you could set up a photo booth with props for guests to take pictures together, or even arrange lawn games like corn hole or bocce ball for everyone to enjoy during cocktail hour. You could also create custom signage that serves as both decor and entertainment for guests–like an oversized game board they can use to play tic-tac-toe or hangman while mingling at the party.
In terms of decoration, think about what will truly reflect your personalities as a couple and bring that vision to life through florals, textiles, lighting, table settings and more. Incorporate colors that represent who you are and textures that speak volumes about the tone you're trying to set – whether it's romantic vibes with lots of rose gold accents or rustic touches with mason jars filled with wildflowers. It's all about finding small details that will make each moment feel extra special!
Your summer wedding should capture not only who you are but also why this day matters so much–it's definitely worth taking some time to plan ahead so everything turns out just right!
Conclusion
When you're planning a summer wedding, the decorations, music and attire all work together to create an atmosphere your guests won't soon forget. With these 10 stunning summer wedding themes, we hope that you can make your big day sizzle!
From beach-chic vibes to bohemian flair, there are so many fun options for making your special day truly unique. We love the idea of having a luau-inspired reception or using colorful paper lanterns as part of your decor. And don't forget about adding some great music – think upbeat folk songs or light jazz tunes to get everyone in the mood to celebrate. Finally, be sure to let guests know what type of clothing they should wear by providing them with dress codes on their invitations.
With careful attention to detail and creativity, you can craft a beautiful and unforgettable celebration that will have your friends and family talking for years to come. So go ahead: pick one of these amazing wedding themes and start creating some magical memories this summer!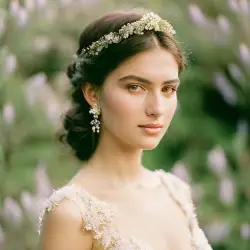 Latest posts by Rosie Liliy
(see all)