If you're planning a destination wedding in Hawaii, or simply want to infuse some island vibes into your special day, a Hawaiian-themed wedding is the perfect way to do it.
Not only is Hawaii a beautiful and romantic destination, but the culture and traditions of the islands offer endless inspiration for creating a unique and unforgettable wedding experience.
Here are 16 Hawaiian wedding theme ideas to help you plan the tropical celebration of your dreams:
Beachy Blues and Greens
One of the most obvious ways to incorporate Hawaii into your wedding theme is through the use of beachy blues and greens. From the ocean water to the lush greenery that covers the island, these colors can add a serene and natural touch to your wedding décor. Incorporate these shades into your floral arrangements, table settings, and bridesmaid dresses. You can even have a wedding arbor or altar decorated with tropical leaves and flowers in shades of green and blue.
Tropical floral decor
When it comes to a truly exotic wedding, one cannot leave out the extravagant Hawaiian flower decor. From showstopping hibiscus and bird of paradise to dainty plumeria and orchids, Hawaii boasts an array of stunning blossoms that will make your wedding decorations come alive! Experiment with diverse floral colors and arrangements for a lush tropical feel – you can suspend flowers from the ceiling, craft a gorgeous archway draped in blooms or create beautiful bouquets and centerpieces. Don't be afraid to go bold when it comes to your Hawaiian wedding theme!
Beach-inspired bridal attire
Let the tranquil atmosphere of a beach wedding be reflected in your attire! For an effortless and relaxed look, opt for a lightweight white maxi dress or breezy sundress. If you'd like to keep it classic with a traditional gown, add some seaside flair by accessorizing it with flower crowns and leis. The groom can also play up the laidback theme with either light linen suit or simple trousers paired shirt.
Luau-themed reception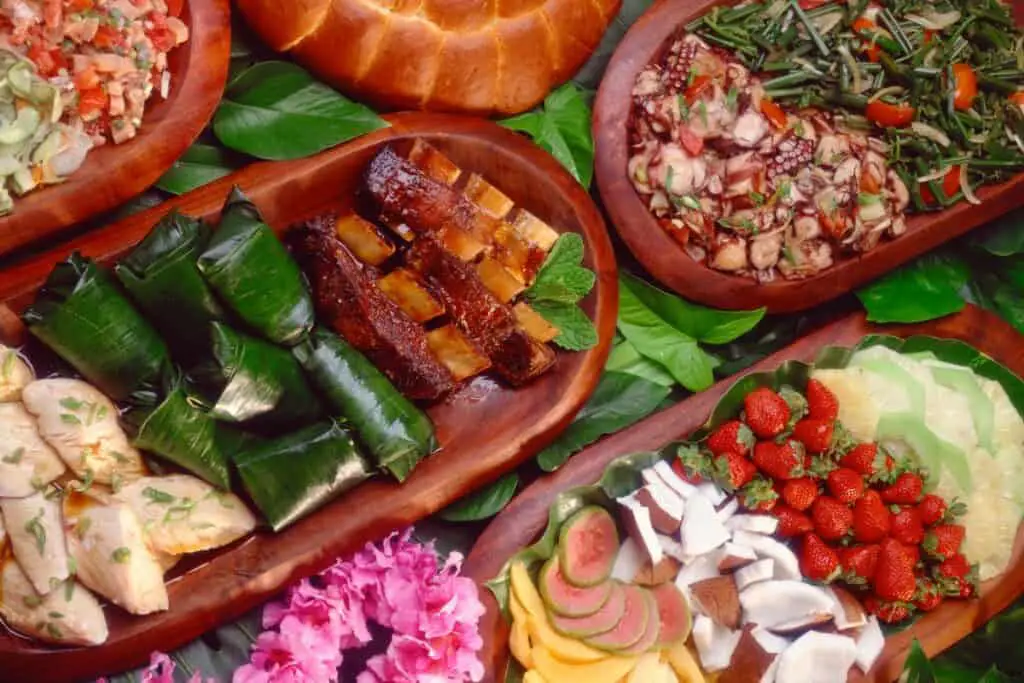 Make your reception one to remember by throwing a classic luau complete with a pig roast, hula dancers, and a live band playing authentic Hawaiian music. Your friends and family will adore this unique celebration that immerses them in the culture of Hawaii – it'll be an experience they won't soon forget! To further emphasize the atmosphere, you can decorate with Tiki torches, colorful Hawaiian-print linens, and tropical palm fronds.
Traditional Hawaiian lei ceremony
If you're looking for an elegant way to add a touch of Hawaiian culture into your wedding, consider incorporating the lei ceremony. Exchanging colorful leis is a symbolic gesture of love and friendship that will make your special day even more memorable. You can use it as part of the traditional ceremony or as unique alternative favors at the end of the reception – either way, exchanging beautiful, fragrant flowers are sure to brighten all guests' hearts on this joyous occasion!
Tiki bar setup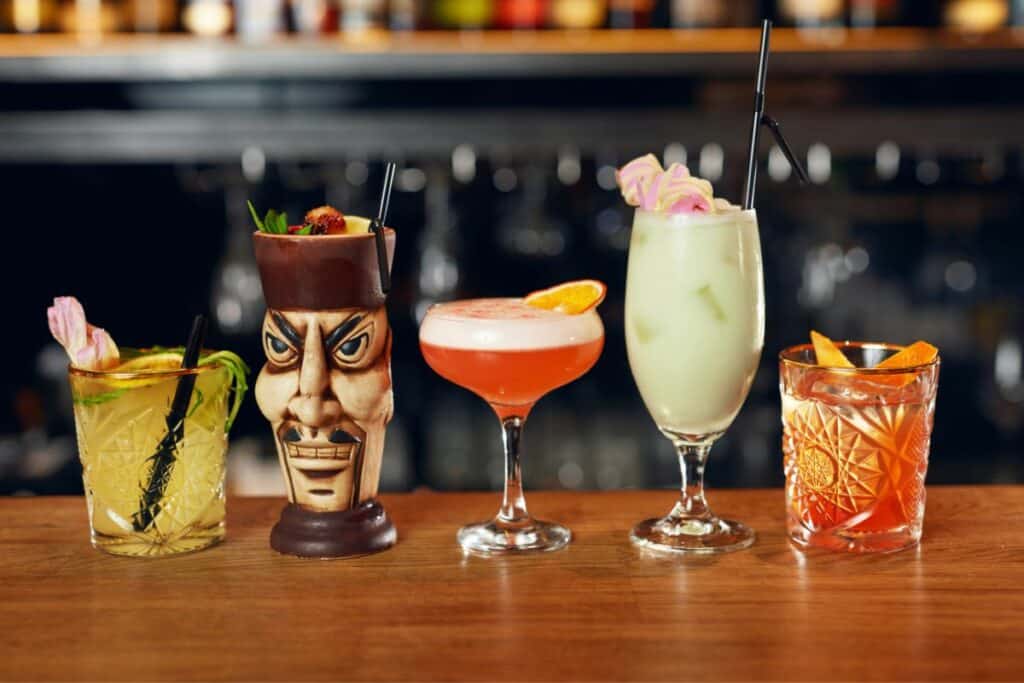 Put a unique spin on your bar setup by installing a vibrant Tiki bar! Filled with beachy decorations like palm fronds, Tiki masks and other tropical accents, this addition will take any event to the next level. Not only that – you can also serve classic drinks like Mai Tais's, Pina Coladas and Blue Hawaiians for an unforgettable experience. Create fun memories at your special occasion with a festive Tiki Bar—it's sure to guarantee that everyone is having the time of their lives!
Hawaiian music and entertainment
Make your Hawaiian-themed wedding truly unforgettable with live music and performances. Hire a band to play traditional island tunes during the ceremony, or opt for an energizing steel drum performance at the reception. And why not add some extra flair? Invite hula dancers in their iconic grass skirts to mesmerize guests as they sway gracefully – you'll be sure to have everyone up on their feet!
Tropical fruit and drink stations
Bring a touch of island life to your wedding by adding tropical fruits, juices and drinks. Set up a pineapple juice bar as an added treat for guests or go all out with traditional Hawaiian beverages such as Mai Tais and Pina Coladas; provide exotic fruit like papaya, guava and mango at the dessert table too! Allow your guests to truly feel transported to Hawaii with the perfect blend of sweet flavors.
Island-inspired wedding favors
Give your guests a taste of the tropics by gifting them Hawaiian-inspired wedding favors! Small bottles filled with sand and shells from a special beach, Kukui nut leis, mini Tiki mugs – these are all perfect for capturing Hawaii's beauty. Or you could even go one step further and add in some local culture to your favor boxes: cookies or candies that evoke the Aloha spirit will be sure to put smiles on everyone's faces.
Palm leaf and bamboo accents
Make your wedding a paradise in the comfort of home by bringing some tropical Hawaii decor to it! Incorporate palm leaves and bamboo for natural, organic centerpieces or as backdrops behind the head table. Consider designing an archway with these elements for your ceremony entrance or creating a Tiki bar out of them to excite your guests. The choices are limitless and can make any wedding feel like a true oasis!
Sunset beach ceremony
For the most romantic and captivating wedding, plan a sunset beach ceremony in Hawaii! Here you will be blessed with some of the world's most awe-inspiring sunsets. To make it even more perfect, choose an isolated beach to host your special day so that the alluring colors of dusk may be appreciated without distractions. For decorating purposes, keep things simple; just add a few flowers or lanterns to bring out Mother Nature's beauty.
Hula and Lei Making Activities
Make your wedding an invigorating and immersive experience for all of your attendees by incorporating hula dancing lessons, performances, and lei-making activities. Not only do these events enhance the Hawaiian theme but they also provide a unique opportunity to share smiles with family and friends! Guests can learn how to dance hula or watch a talented performance before crafting their own beautiful leis to wear at the event – creating lasting memories for everyone involved.
Hawaiian-style wedding cake
If you plan to have a Hawaiian-themed wedding, why not take the opportunity to include some delicious tropical flavors in your cake? Consider adding pineapple, coconut, and other fruits for an island twist. Or go all out with a traditional Hawaiian poi wedding cake –a sweet dish made from taro root that is beloved by locals. With this unique flavor combination on your special day, it's sure to be one of the most memorable desserts ever!
Fire dancer performance
Make your wedding reception truly unforgettable with a mesmerizing fire dancer performance! These trained professionals will bring excitement and drama to your special day as they gracefully dance around the flames of their fire sticks. The warm ambiance created by the blazing light, in combination with the elegant movements of these talented dancers, are sure to have all your guests talking about this unique experience for years to come!
Hawaiian wedding attire for groom and groomsmen
Take your wedding to the next level and fully embrace a Hawaiian theme by having the groom and groomsmen dress in vibrant shirts paired with trousers. Not only will it look great, but make for memorable photos that you can cherish forever! Or opt for something more traditional; why not have them adorned with a Haku lei headpiece or maile lei? Either way, this unique touch is guaranteed to add an extra special element of fun to your ceremony.
Uniting of the sands
To make your wedding a truly Hawaiian-themed affair, incorporate some of the islands' customs and traditions. A great way to commemorate the union between bride and groom is through an "uniting of the sands" ceremony, where sand from both honeymooners' hometown beaches are blended together in a unity vase. To honor their bond further, consider incorporating a 'hoʻailona', which serves as an enduring symbol that will be treasured by them and their families.
In Conclusion
If you're looking for a way to make your wedding unforgettable and reflect the beauty of Hawaii, these Hawaiian-inspired theme ideas are just what you need! From lush tropical flowers as decor to an authentic lei ceremony, there is no shortage of unique ways to incorporate traditional island culture into your special day.
Whether it's a destination wedding or simply wanting the islands present in spirit – creating an interactive and festive celebration with a Hawaiian twist will be something that both you and all your guests will remember forever.
Take a leap of faith and let your creativity come alive as you plan an exotic Hawaiian-themed wedding that will leave your guests mesmerized for years to follow. Whether it's the food, decor, or entertainment – think outside the box!
No matter what ideas and elements you choose to include in this special occasion, we guarantee that with just a bit of imagination and innovation; your celebration is sure be a spectacular one. Aloha!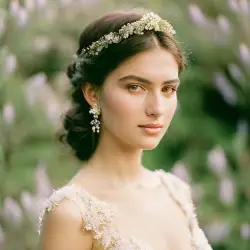 Latest posts by Rosie Liliy
(see all)