If you are a big Star Wars fan, then it is likely that you will want to incorporate this into your Wedding day.
When you love Star Wars, you don't simply love it, you feel this franchise in your bones.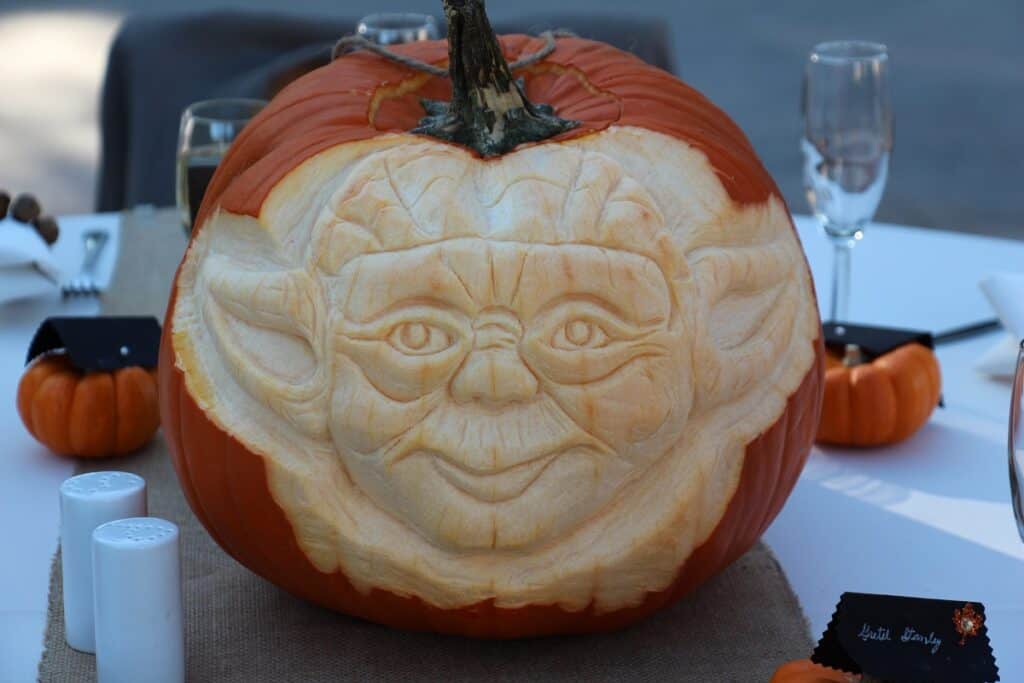 So, it is understandable that you will want to feature Star Wars on your special day. 
You may opt for a wedding that is entirely based around a Star Wars theme, or you might simply want to add a little dash of Star Wars in the decor.
No matter whether you want a subtle nod to Star Wars or a centerpiece that will tie your theme together, you are in the right place. 
In this guide, we'll be taking a look at 16 of the best Star Wars centerpiece ideas that you'll love. So if you want to find out more, keep on reading!
If you are thinking of introducing a Star Wars theme to your wedding day, there is likely one quote that you are thinking of including.
That quote is, of course, "I love you" "I know". This quote is the perfect quote for a wedding, and that's why we love this centerpiece. 
It is rustic and simplistic, and perfect for anybody who is going for a woodland theme (as well as a Star Wars theme).
You can easily make this centerpiece yourself, and it won't break the bank either! So it is definitely one to consider.
In contrast, if you want a centerpiece that is more of a showstopper, then you should check out this Epic Star Wars wedding centerpiece.
If you want to impress your guests, then this centerpiece is guaranteed to be a hit.
With bits of greenery too, this centerpiece is the perfect balance between Star Wars and weddings, so it is guaranteed to make everybody happy.
We love this centerpiece, and we're sure you will too.
On a completely different wavelength, we have these simplistic Star Wars centerpiece jars.
As the name suggests, these centerpiece jars are nice and simple, so much so that you could easily make them yourselves for minimal cost. 
Once again, this is a great option for anybody who wants to subtly add Star Wars to their wedding.
Plus, you can likely use materials that you already have around your home to make them.
Simply customize the crystals with the color that matches your theme, and these will look great as centerpieces for your special day.
Another great centerpiece option is this Star Wars Detailing Centerpiece. Our favorite thing about this centerpiece is that you can really customize it to suit your special day.
The Star Wars detailing is on the pot itself, so you can add flowers and other decorations to it to tie in with your theme. 
And what's better is the fact that you can easily reuse these pots once your wedding is over.
Just think about adding fake plants to those pots as a feature for your home – it really would be the perfect way to remember your big day. 
There are all sorts of great centerpiece ideas that you can make using fish bowls, and this Star Wars centerpiece is just one of them.
There is something about a fish bowl that just draws the eye, so it is perfect for your big day.
Customize these centerpieces to match your table names.
So, if each table is a different area that features in Star Wars, you could make the centerpiece match the description of that area.
It is a great way to tie your Star Wars themed wedding together. 
On a similar theme, we absolutely adore this Han Solo and Princess Leia centerpiece.
The great thing about this centerpiece is that you can make the Star Wars reference as bold or subtle as you wish through the items that you add to the glass dome. 
So, if you are having a full blown Star Wars wedding, then you can go all out.
Then by the same degree, you can easily tone it back and have a subtle Star Wars theme in your centerpiece. The choice is entirely yours.
If you liked the idea of number 4, you will also love this Darth Vader flower centerpiece.
Just like with number 4, the Darth Vader pot used for this centerpiece could easily be reused in the future, allowing you to keep a memento of your special day for your future. 
Again, one of the best things about this centerpiece is that you can add whatever flowers you want to it. So, you can easily tie these into your color scheme for a subtle Star Wars centerpiece. 
One of the most iconic things in the Star Wars fandom is the Millennium Falcon. So why not feature this iconic moment in your wedding day.
These centerpieces look incredibly fancy and they have a great finish, but you could also easily make them yourselves. 
Use spray paint to spray your fish bowl silver, then add the star detailing with a fine paint brush and some white paint.
Then all that is left is to add your Millennium Falcon to the side, and your centerpieces are good to go.
Speaking of making centerpieces yourself, you can also do this with this easy DIY Star Wars centerpiece idea.
If you are on a budget, you can easily utilize glass items from around the home to make these centerpieces. 
We love this idea because you can customize it to display whatever iconic Star Wars moment you love best. 
Speaking of iconic moments, you could instead create this light saber feature centerpiece.
Light sabers are easily one of the most iconic things in the Star Wars franchise, so why not light up your special day with this stylish design?
Another great choice is this R2D2 centerpiece.
One of the best things about this centerpiece is that it features a combination of different things, but still holds R2D2 at the heart of its design. 
You can easily customize this design to match your theme, and we can guarantee that your guests will love it.
This rustic, vintage Star Wars centerpiece is perfect if you want a nice and simple wedding day.
Sometimes less is more, and this centerpiece is a testament to that. 
With a combination of a few simple items, you can easily create this centerpiece and it will tie your wedding theme together beautifully.
Or, if you want to make Star Wars the central theme of your wedding, you will adore this string R2D2 centerpiece.
This centerpiece if you want to go down the homemade route, and have a very cozy wedding. 
We're sure your guests will love it as much as we do. 
In the image, this "Rule the Galaxy" centerpiece is featured as a cake topper, but we think that it would work perfectly to transform a regular flower centerpiece into a Star Wars themed centerpiece. 
You can simply choose flowers that match your color scheme, then pop this centerpiece topper into the pot to make your wedding feel out of this world. 
However, some of the best centerpieces in this guide have featured iconic Star Wars moments, so it seems only fitting that we include a Death Star centerpiece in this guide. 
Quite a few of the designs that we have looked at so far have been pretty complex to create, but this Death Star lamp is simple.
All you need to do is buy the lamp and it is ready to go as your centerpiece. We really love this if you are looking for a stress-free option.
Finally, we have this lightsaber in a glass centerpiece.
We know that we have already looked at one lightsaber centerpiece, but when we saw this one we had to include it.
This centerpiece is a real feature, and your guests will be in awe of how good it looks. 
While this centerpiece looks fancy, it is actually pretty simple to create. So, if you want a centerpiece that is easy to make, but incredibly effective, this is the one for you! 
Summary
If you are getting married, and you are searching for the perfect Star Wars themed wedding centerpiece to add to your big day,  you are in the right place. 
In this guide, we have taken a look at 16 different Star Wars centerpiece ideas that will be perfect for your special day. 
We hope that you find them helpful. May the force be with you!

Latest posts by Jodie Messines
(see all)