If you and your husband or wife-to-be are in agreement that you both want a star wars themed wedding, remember that you can be as subtle or as luxurious as you want.
As you want to make the occasion a memorable one, why not start off with some star wars themed wedding invites that you can customize to give your invites a personal touch that family and friends are going to adore once they receive them?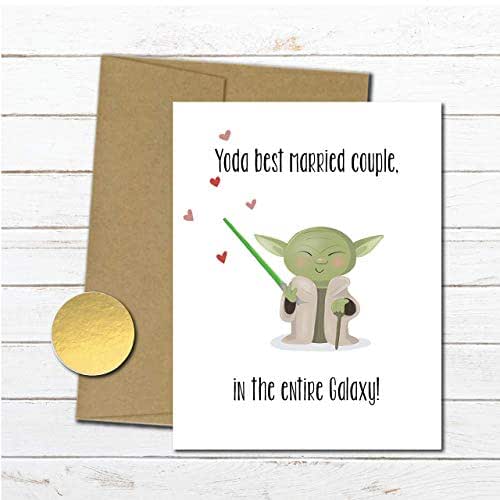 In this article, we'll give you some ideas that can combine your love for the rebellion or a touch of the sith empire if you're feeling particularly inclined that way.
Read on to find some inspiration for invites that will add a splash of color to your celebration.
Here is an excellent idea that you can put your own twist on as you can have a striking white text on a perfect cosmic-looking background that you can have fun with.
This design also comes with a matching RSVP card that your guests can mark and can choose the force or turn to the dark side. 
This design adds to the geek-chic theme of your wedding, as you can incorporate many emblems from the franchise that we think is a cute touch and will set the tone that you're looking for.
The RSVP that comes with this set can be customized to add some of your own personal touches.
We love the use of the empire in this invite as it encompasses simplicity and a nice neon design in the form of a heart.
Some might say it's a bit cliché, but it's your special day, and you could go for a different design to signal your love for the dark side. 
What better way to announce this stage of your life than having a design based on the iconic planet of Tatooine, which looks and sets a beautiful tone?
You have that classic star wars design that would suit those die-hard fans, and the colors complement each other well.
This invitation design incorporates that classic opening text that scrolls down the screen, so why not use the font and design for your own celebrations?
You can customize the text to add in as many millennium falcons and film quotes as you like, which we're sure your guests will appreciate.
We like how classy and sophisticated these look, as well as a nod to the death star and the R2-D2 outline that follows the details and RSVP cards.
This can be great if you want to mark the occasion in a way that avoids too much flair and stays true to the out-of-space design.
We thought that we'd add a digital design here as not everyone wants to go to the trouble of finding addresses and sending out the invitations.
You can still incorporate the star wars look with the RSVPs, which will make it almost impossible for people to decline the invite.
Here's an idea for those who want to keep the design of the invites simple but still incorporate the look and font of the iconic franchise.
They also come with nice clean envelopes that you could swap out for something else that incorporates your theme even further.
We find these invites to be too adorable for words, with the two heads on the top that adds a nice touch to the awesome about to go into hyperspace background.
Here you can have fun with different fonts and colors to really make your invites stand out.
This one might look simple, but with the touches that allude to a galaxy far, far away and a reception under the stars, we couldn't resist adding it to this list.
We also like how refined and simple the cosmic background is, as who said a wedding invite had to be all glamorous?
You could add your own background design to go for a more deep space look and add all your favorite characters into the blend as well, to create something that only you could've thought of.
If you happen to have secured a wedding date of May 4th, what better way to carry over this theme to your invites, showing you're a true fan of star wars day?
If you haven't been able to secure this date, there's nothing wrong with you using the design and making some of your own tweaks to be fitting to your special day.
What makes these invites stand out is the C3PO gold color, that's a nice touch to an already unique invite design.
Here's an idea for those who need a bit of inspiration for the main invites or if you haven't secured the details of your venue yet.
This design can be a great indicator of what to expect when the main invites turn up at your guest's houses.
When you do come to create your main invites, this card will pair well with the opening text-themed invitations that we mentioned earlier in this list.
This is a great design for those who want to want more options on things like color, font sizes, images, and tweaks to their invitations.
You can use the Han Solo and Princess Leia silhouettes or come up with your own ideas, which the designer would surely be able to help you in changing the design.
Be as daring as you wish, but when consulting with a designer, make sure your instructions are clear and suggest any sub-themes that you think will make these invites truly stand out.
This design is for those who want to show their appreciation for Yoda, one of the many iconic characters, and who could turn down an invitation that has such a wise character as this?
Don't feel that you have to stick to the design shown, as you can look around for a Yoda design that works well for you as there's no shortage of creative Yoda designs out there.
We also like that there's a ceremonious touch to these, as we're sure that's what Yoda himself would also want. 
If you're a long-time fan, why not show some love for the original trilogy, that is a sure way to invoke some much-needed nostalgia.
We think the design really makes it stand out and sets a well-respected tone that you can follow up at your venue in subtle or flamboyant ways.
The great thing about these is that they look even better on closer inspection, as you begin to notice the star designs in more detail, which wraps up an already special invitation.
We thought we'd save the best for last, as you have here a truly unique invitation that you're going to want to hold on to for a keepsake.
They come in a nice sleek box and have a nice millennium falcon or fighter ship emblem that you pull to reveal the invitation.
These might look small, but we guarantee you that they will leave a lasting impression on those who want to take off to the stars with glee when filling out their response cards.
What If I'm Not Completely Happy With These Ideas?
Of course, not everyone is going to like these designs, but there isn't anything stopping you from starting from scratch.
Sites like Etsy or Vistaprint allow you to connect with designers and use templates that you can start with a blank template and add all the details until you're happy with the end product.
You can also go with a design from a traditional design if you like the boarding or lettering, for example.
Conclusion 
If you're still in the preliminary stages of your wedding planning, it's never too early to start thinking about what sort of invitations you'll have, as you want something decorative, as well as commemorative.
Remember that these ideas are a guide and that you don't have to stick with these designs, as you can likely ask the designer or a letterpress company near you to tweak the design.
This way, you can add your own little touches that can be attributed to your tastes.
With this out of the way, you might find it easier to coordinate the rest of your reception with this theme so you can show everyone just how passionate you are about star wars.
May the force be with you always.

Latest posts by Jodie Messines
(see all)