So you've decided to have a Star Wars themed wedding!
Now that you have decided on your theme, it's time to make a start on choosing your decorations.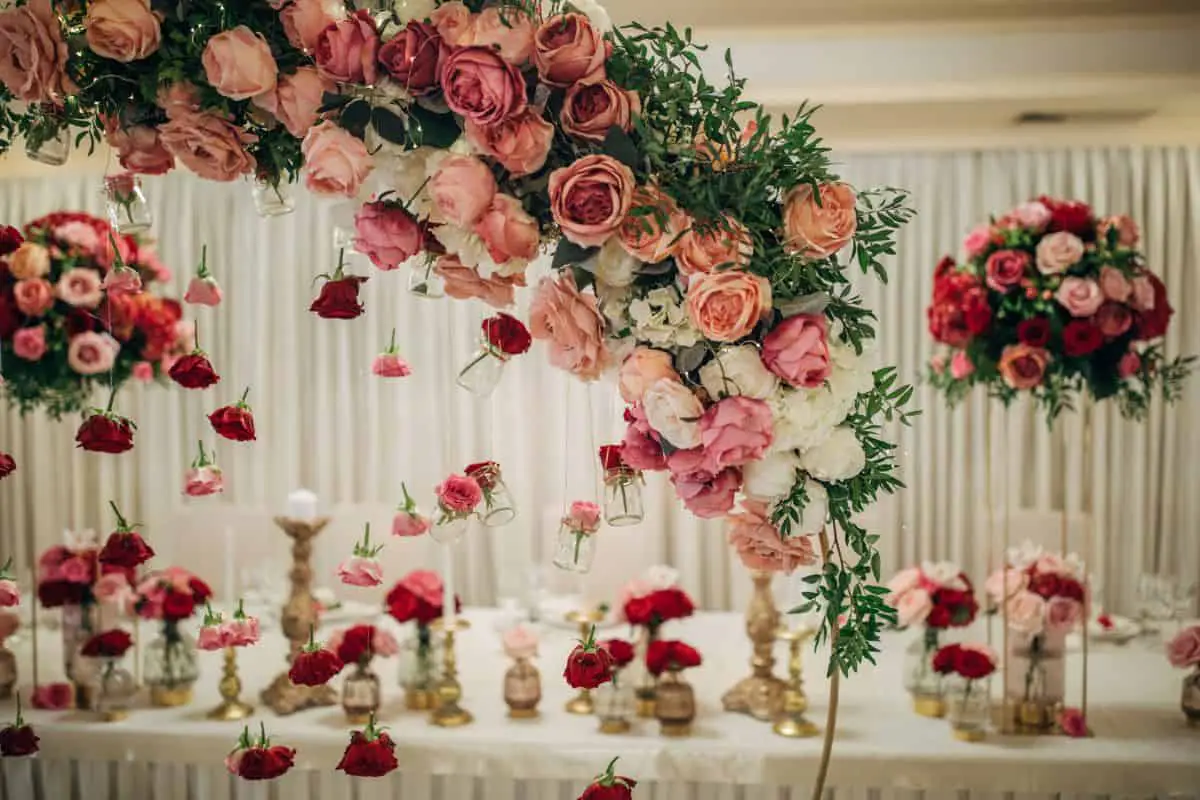 Having a themed wedding can be a little difficult to choose decorations for, as there is the fine line between fun and gaudiness that can be difficult to walk on.
With a franchise as bombastic as Star Wars, it can often be even more taxing to maintain that balance when you find yourself walking on that line. 
With this in mind, we are going to be looking at sixteen sophisticated- but still fun- Star Wars themed decorations to help you get started on the brainstorming! 
This amazing AT-AT centerpiece is not only an eye-catching model to be displayed on the table for a Star Wars themed wedding, it is also a piece of art in its own right! 
The model has a bronze, aged look that makes it look like it has weathered as storm or two, whilst the additions of moss and greenery create an ancient, relic like style, so much so that the model looks like a find from an ancient dig site!
This is the perfect example of how to make a standard model look like a sophisticated, artistic wedding decoration. 
If you want your decorations to be Star Wars versions of traditional wedding fare, then consider these lightsaber flower bouquets! 
The bouquets are made up of regular flowers, but rather than a regular vase or holder, the flowers are placed within a lightsaber base to create a unique and creative lightsaber bouquet.
Relatively easy to create and stylishly subtle, these lightsaber bouquets are a fantastic choice for Star Wars fans. 
Whilst we are on the topic of bouquets, this brooch bouquet is the perfect DIY crafting project for Star Wars fans as well as beautiful wedding decoration. 
The brooch bouquet is made up of various crafting items- such as fabric flowers, buttons and pearls- alongside mini Star Wars themed items, such as a small model Millennium Falcon and an AT-AT.
The bouquet is put together in a lightsaber holder, finishing the look off perfectly. 
These small decorations are a subtle but creative touch to any table at a wedding, offering a hint of the artistic, too. 
These particular character cards have an old-timey look to them, which is oddly well suited to the Star Wars franchise. 
For a quick and easy way to decorate a table for a Star Wars themed wedding, these cards are the perfect choice. 
If you want something that is a little more eye catching and a huge amount of fun, these LEGO Star Wars themed centerpieces for tables could be just what you are looking for. 
The LEGO models sit within glass bowls on the table, with each table having a different scene from the franchise being played out by the figures inside the bowl. 
The example here is from Star Wars Episode III: Revenge of the Sith, wherein Obi-Wan Kenobi and Anakin Skywalker have a showdown on the lava planet of Mustafar that leaves Anakin more than a little toasted and Obi-Wan with the high ground. 
This is such a creative way to spice up a Star Wars themed wedding, but also one that allows you the freedom to create whatever scene you want. 
The "I Love You, I Know" exchange between Han Solo and Princess Leia is an infamous one from the Star Wars films, so it is no surprise that there are tons of wedding decor items that utilizes the saying. 
There are all sorts of decoration choices with this motif on it, such as this simple block that features the phrase as well as the date of the wedding and a sweet silhouette of Leia and Han. 
Many weddings have signs for the guests to read, with some directing them to the right place and others purely there for fun.
This Yoda sign airs on the side of fun, with a nod to the famous method of speaking that the ancient Jedi uses. 
The great thing about signs like this is that they are cost-effective, but still an excellent way to decorate a Star Wars themed wedding. 
This Death Star themed flower pot centerpiece is another great way to do a usual wedding decoration- in this case, displaying flowers- and put a Star Wars twist on it. 
The rounded design of the Death Star makes it well suited to become a flower pot, and that is what it is used for here.
It is then placed on a table to act as a sweet yet still somewhat menacing Star Wars wedding centerpiece. 
If you are able to offer multiple lightsabers for guests to take, then this idea is a great way to encourage some active participation in the Star Wars themes. 
They don't necessarily need to be the real deal, as that would be incredibly expensive.
You could simply make a bunch of DIY lightsabers and paint them different colors to give your guests the chance to play along with the theme. 
FUNKO Pops are adorable, collectable action figures and when placed on top of a wedding cake, they instantly become a cute wedding decoration as well as cake topper all in one! 
The choice of FUNKO Pop is up to you, but this example shows Princess Leia and Han Solo Pops to emphasize the themes of romance.
There are FUNKO Pops available for a wide range of characters throughout the franchise, though, so the choice is yours. 
In the Star Wars series, lightsabers are made from glowing crystals known as kyber crystals, and these centerpieces replicate the look of these crystals before they become lightsabers. 
They sit in lightsaber style holders and have a brilliant glow to them, which is sure to light up any table. 
This is a great example of a simple and subtle choice of Star Wars wedding decoration.
The Star Wars themed books are combined with a candleholder and a mini X-Wing to create a sophisticated and comforting decorative centerpiece. 
Aisle runners are not something that will immediately come to mind when you think of wedding decorations, but they are certainly an element that can be customized, much like this Star Wars themed aisle runner!
This runner is inspired by the opening text scroll that appears at the beginning of every film in the series, but is personalized to offer some insight into the couple getting married. 
A clever and relatively simple decoration, this opening text scroll aisle runner is a fantastic option for a Star Wars themed wedding. 
Simple yet attention grabbing, these Stormtrooper helmets not only make for great table centerpieces at a Star Wars wedding, but also as general decorations. 
The helmets can easily be dotted around the wedding venue in all sorts of places and- of course- be worn as well!
Some weddings include a guestbook where guests will write messages to the happy couple, and this book offers a Star Wars style take on the guestbook.
The book is not actually a book, but is instead a large wooden frame in the shape of the Millennium Falcon.
The frame comes with lots of mini R2-D2's that the guests are asked to sign and then place within the wooden frame so that the couple can remember who attended their special day. 
Not only is this a creative and unique take on the standard guestbook, it is also an excellent decoration for a Star Wars wedding. 
If you are looking for some decorations to spruce up the outfits of your Star Wars wedding, then these LEGO Star Wars figures for men's buttonholes could be exactly what you're looking for. 
The buttonholes have the same standard look as traditional wedding buttonholes, with pieces of lavender, wheat and flowers put together.
The main difference here is that each buttonhole has a cute LEGO Star Wars figure attached! 
The great thing about this decoration is the customization options, with any and all characters able to be attached, so long as you have the right LEGO figure. 
Final Thoughts
There you have sixteen different Star Wars wedding decorations.
From the simple and subtle to the eye catching and bold, these decorations are sure to take your Star Wars wedding to a galaxy far, far away!

Latest posts by Jodie Messines
(see all)