If you have always dreamed of having a Disney-themed wedding reception, it can be overwhelming to know where to start.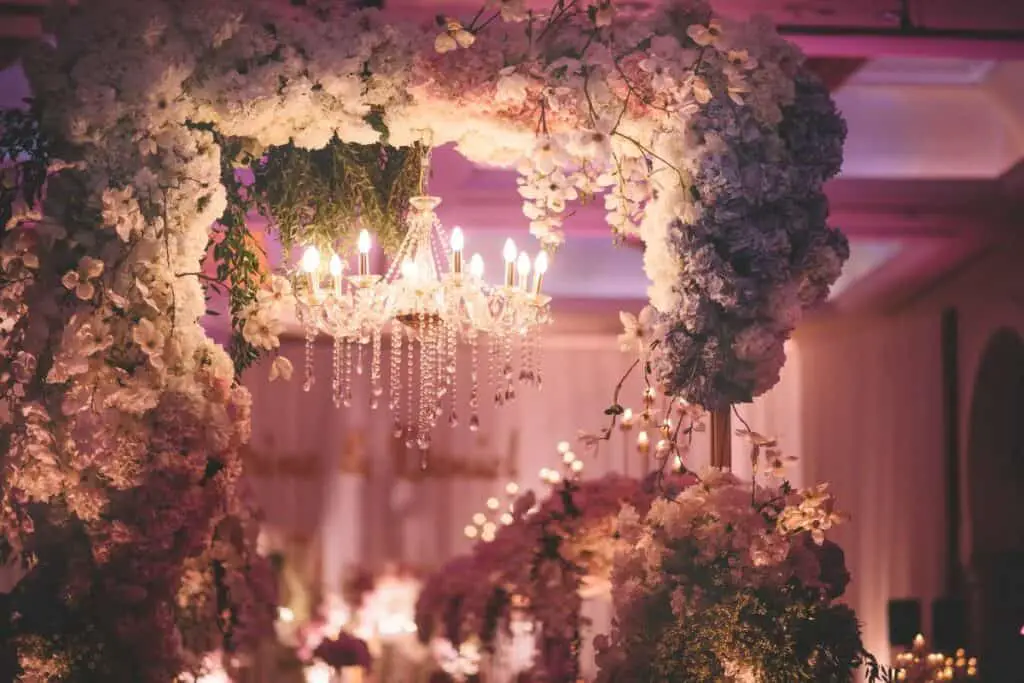 There are so many ideas on the internet that it can be difficult to decide which aspects you want to include in your reception and how to create the right balance so as to not make your venue look like a Disney store.
In this article, we will look at the 10 best Disney wedding reception decoration ideas that will make you fall even more in love with your venue.
Bunting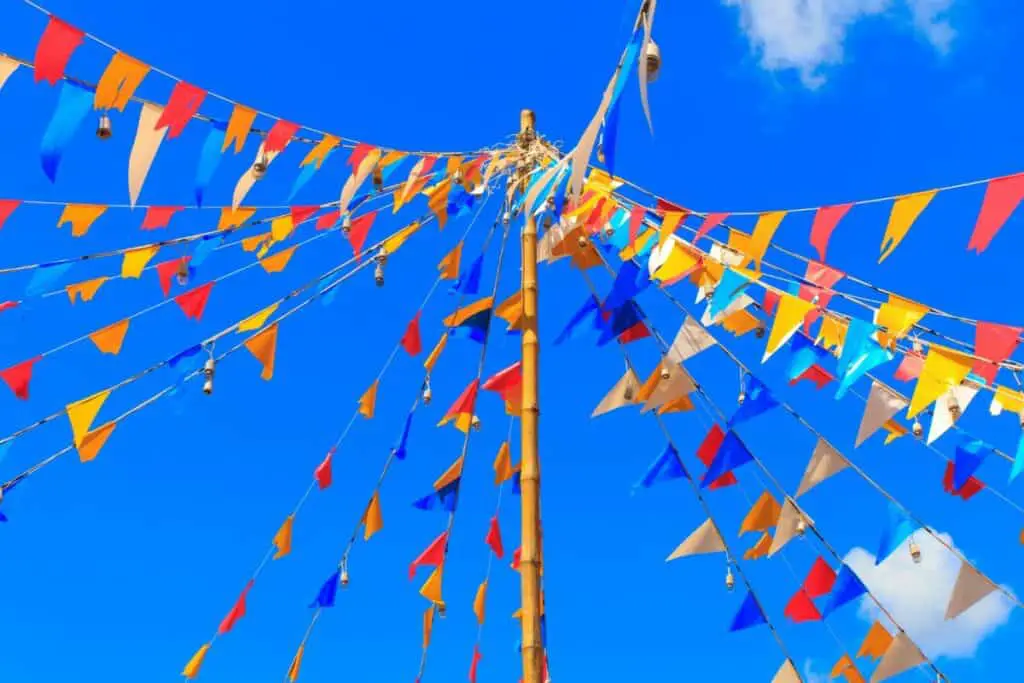 One of the most effective ways to add color and personality to your reception venue is through the use of bunting.
While there are many different types of wedding bunting available, they are often quite generic and tend to be white or neutral colors.  However, you can now purchase or make your very own Disney bunting for your wedding. 
The design on the bunting and the color can be anything you want. The background color can reflect your favorite film or character, for example, if Ariel is your favorite Disney character, you might choose purple and turquoise bunting.
Alternatively, if your favorite movie is UP you might choose to have rainbow bunting to represent the balloons.
If you want to have the initials of you and your betrothed on the bunting you could write them in the Disney font or the font of your favorite Disney movie to add to the theme.
Centerpieces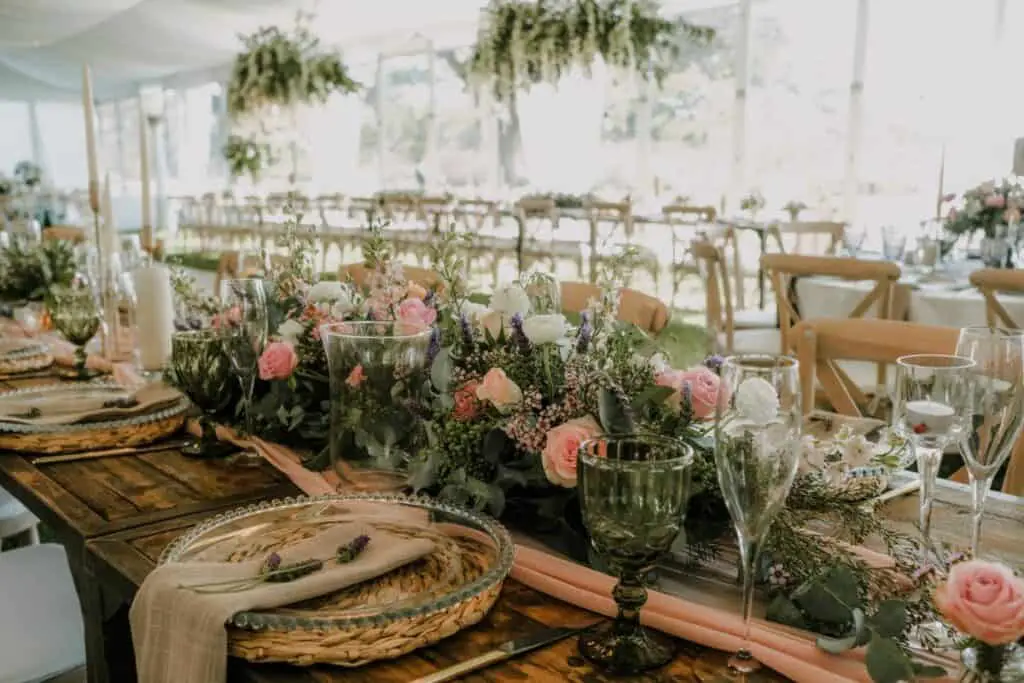 Another great option for adding Disney decorations to your reception is through the centerpieces.
There is so much scope available with your centerpieces that can create a wonderful Disney theme for your reception. 
If you are a fan of a specific Disney movie, you can create your centerpieces to reflect various aspects of that movie. For example, if you are a fan of Alice in Wonderland, you can create centerpieces based on iconic objects from the film.
Clocks, potion bottles, hats, and playing cards can all make a great disney-inspired centerpiece for your tables.
Alternatively, if you are a more general fan of Disney movies, each table's centerpiece can be based on a different movie.
For example, you could create a Little Mermaid centerpiece featuring shells, a fork, or even a small fishbowl.
Another table could display a centerpiece that is inspired by Pocahontas that contains leaves, feathers, foliage, and even an arrow or hummingbird. This is also a great way to identify your tables to help your guests figure out where they are sitting. 
Guestbook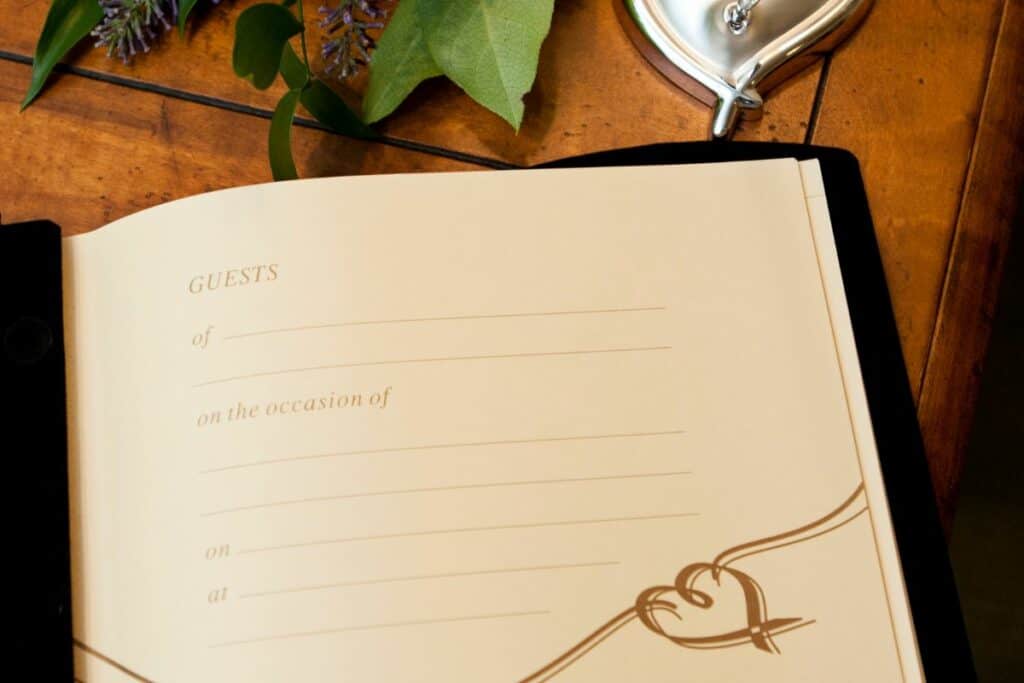 Guestbooks do not have to simply be a book for your guests to write their well wishes in. When you are organizing a Disney-themed wedding reception, there are so many more creative options that you can go with. 
A great option for an out-of-the-box guest book idea is a board that is inspired by the movie UP.
Get a wooden board that has the house from UP carved into it, you can then ask your guests to write their messages and well wishes on small balloons or heart-shaped pieces of wood that can later be added to the board to look like the balloons that lift the house.  
Alternatively, a drop box guest book that is shaped to look like the famous Mickey head, or the Disney castle can be great options for a more generic Disney theme.
This can also be extended to any specific Disney movie depending on the design of the drop box.
Signage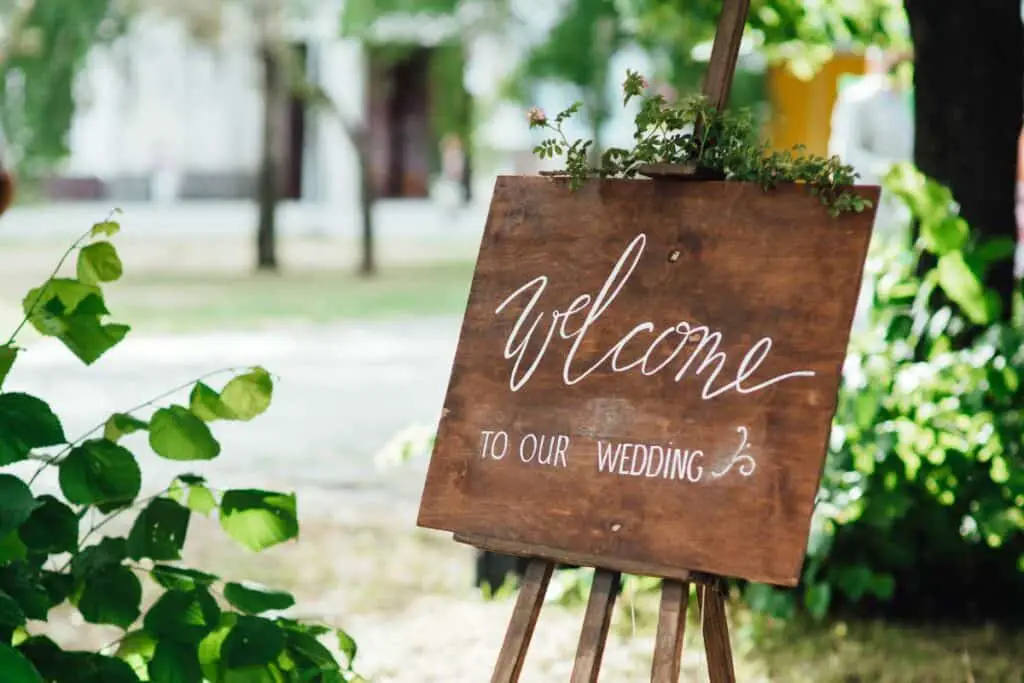 The signage at a wedding reception is a really important aspect that helps things to run smoothly and lets guests know what is going on, when things are happening, and where they are supposed to go.
Signage can also be a great way to incorporate the Disney theme into your reception. Disney is well known for its range of fonts that are used to identify different movies.
It is also known for its original, distinctive font that identifies the brand as a whole. This means that there are lots of options for the font used in your signage.
If you are going for a more general Disney theme, your signs could feature the classic Disney typography that everyone will recognize.
However, if you are basing your theme on a specific movie, you can use the font that is used for the title as the typography for your signs.
For example, if you have a Beauty and the Beast theme, using the font Caslon 540 Roman will give your signs a Beauty and the Beast feel.
Confetti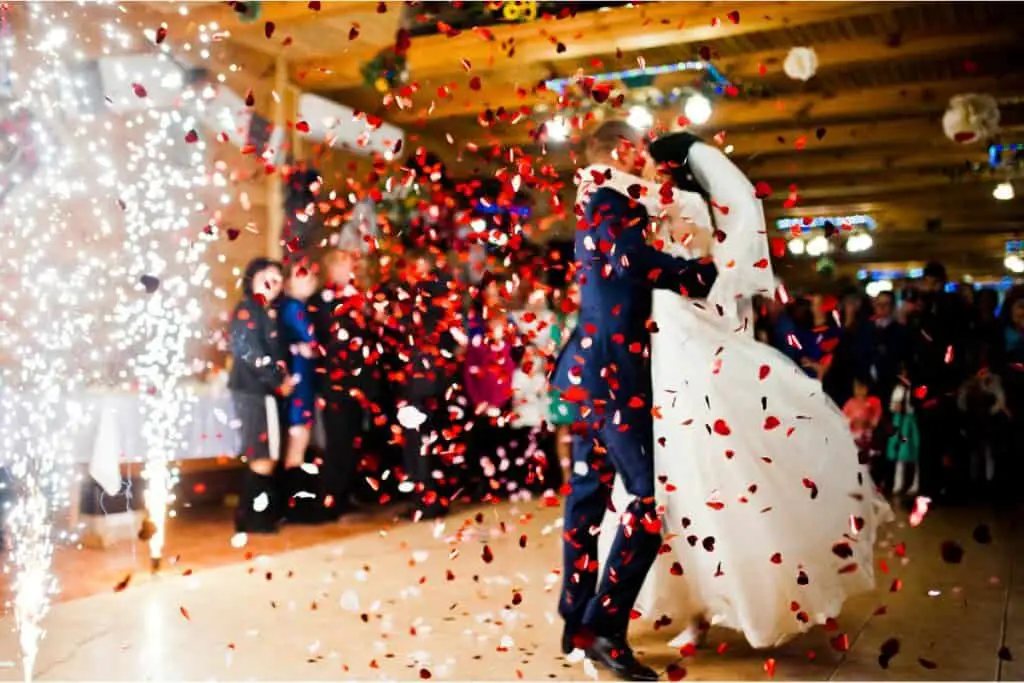 Whether you want your guests to throw confetti over you and your new spouse, or you simply want to use it to adorn the tables at your reception, there is a vast array of designs that can feed into your Disney theme. 
Luckily, we live in an age where almost anything can be personalized, the same goes for confetti. If you have a generic Disney theme at your wedding you can stick to the iconic Mickey Mouse head and the Disney D for your confetti.
However, if you are focusing on a specific Disney movie for your theme, you can have confetti made that is cut into the silhouette of your favorite characters.
For example, you can have confetti made in the shape of Rapunzel and Flynn, or WALL-E and EVE, whoever your favorite Disney couple is. 
Place Settings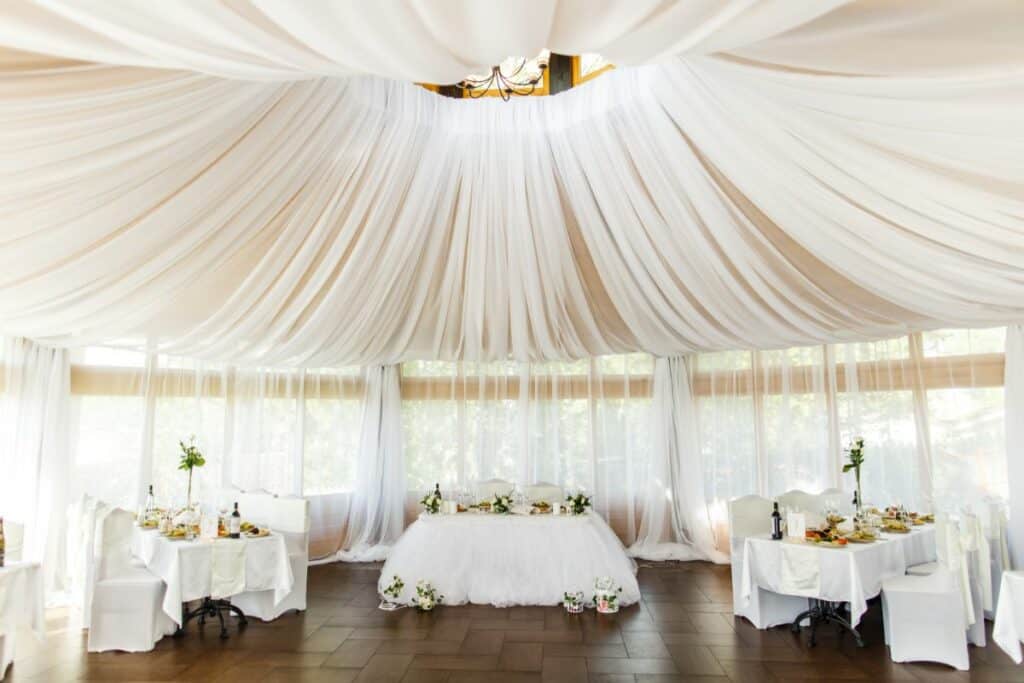 The place settings at your wedding reception can be a really fun way to incorporate the Disney theme into your day. It is also an option that is great if you are focusing on specific movies that Disney has produced.  
Whether you are focusing on a single movie for your reception or want to incorporate many movies, there are plenty of options for unique place settings.
A great option for subtle Disney-themed place settings is to use flowers.
Most Disney movies feature different flowers in them, for example, the enchanted rose from Beauty and the Beast, the golden flower from Tangled, and even the Plumiera that Moana wears.
Photo Props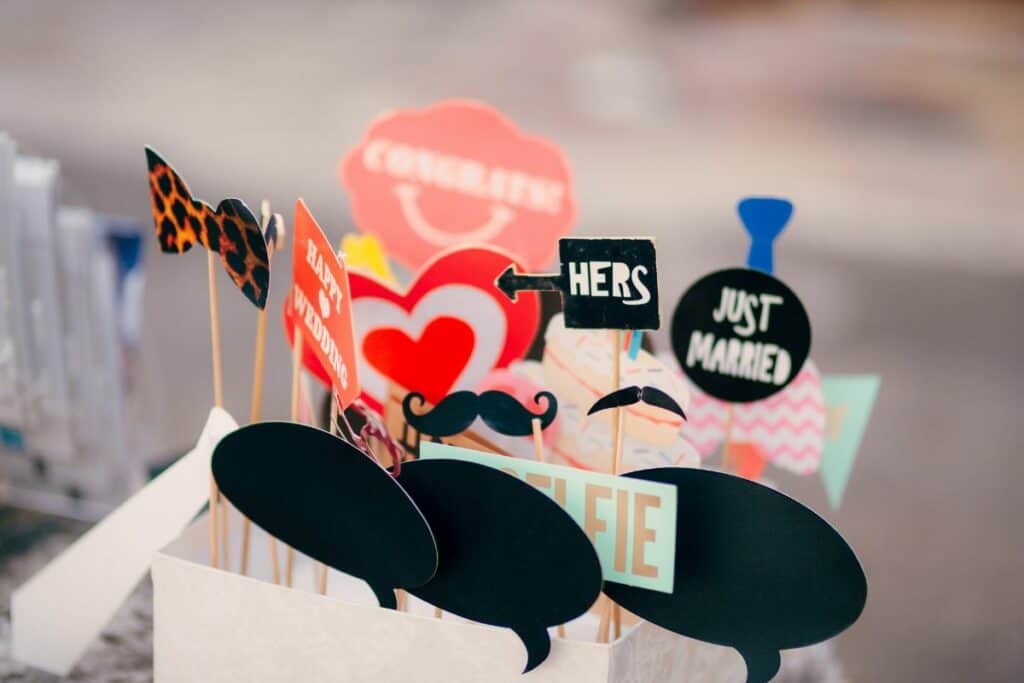 No Disney wedding reception is complete without some fun, Disney movie-inspired photo props for your guests to use.  
Disney-themed photo props can range from Mickey and Minnie Mouse ears, all the way to iconic hats from the Mad Hatter to Robin Hood to Donald Duck.
You can also include objects such as carriage clocks, roses, and mirrors. Placing some disposable cameras near the props can be an interesting way to get some unique and funny photographic memories from your reception.
Table Cloths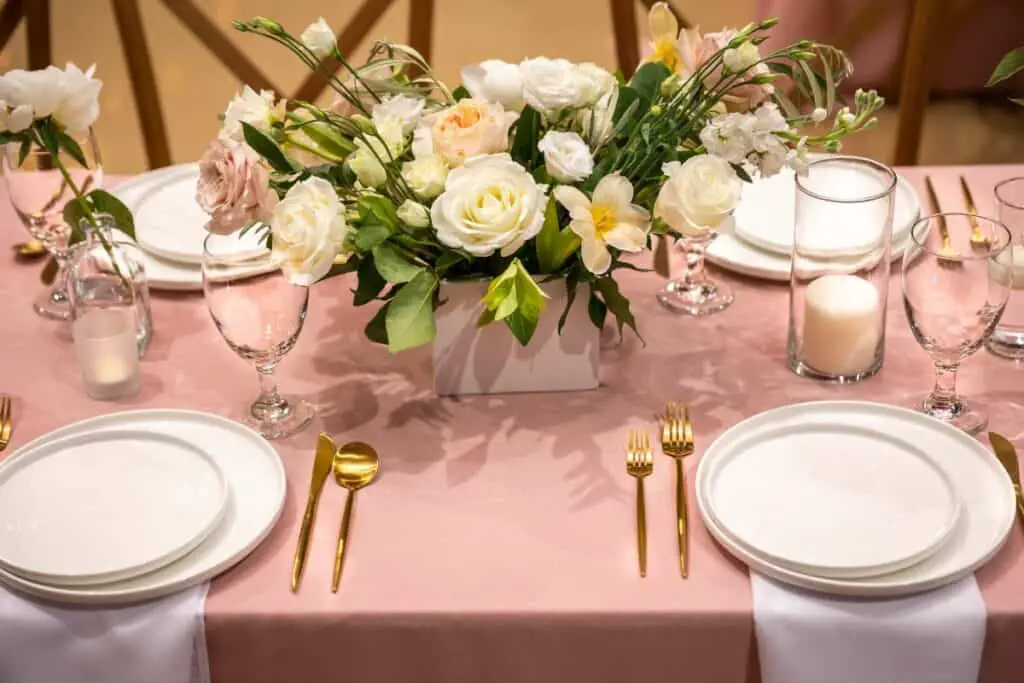 If you are inviting some children to your wedding, a great way to include them in the theme is to provide table cloths that feature drawings of various Disney characters.
The children, and adults, can then occupy themselves by coloring the images on the table cloth.
Not only is this in keeping with the Disney theme of the reception, but it is also a great way to keep your younger guests entertained during the quieter parts of the reception.
Additionally, you will end up with tablecloths that provide wonderful memories of your special day and your loved ones.
Lighting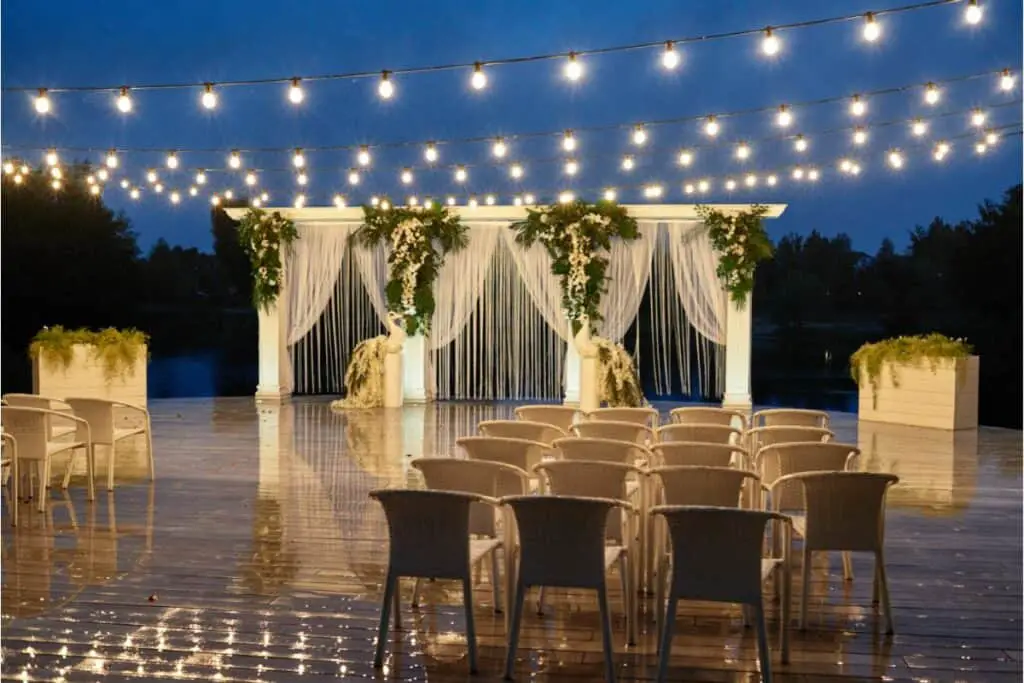 The lighting that you have at your wedding reception can be a great way to incorporate your Disney theme. There are many online stores where you can purchase Disney-themed fairy lights and lamps.  
Whether you want some broadly Disney-themed string lights in the shape of Mickey's head or a more specific themed light such as balloon lamps that are reminiscent of the balloons from UP, there is something to make your wedding reception feel special.
You could also light your tables with Lumiere-inspired candelabras or light up Genie lamps to further your theme.
Cake Topper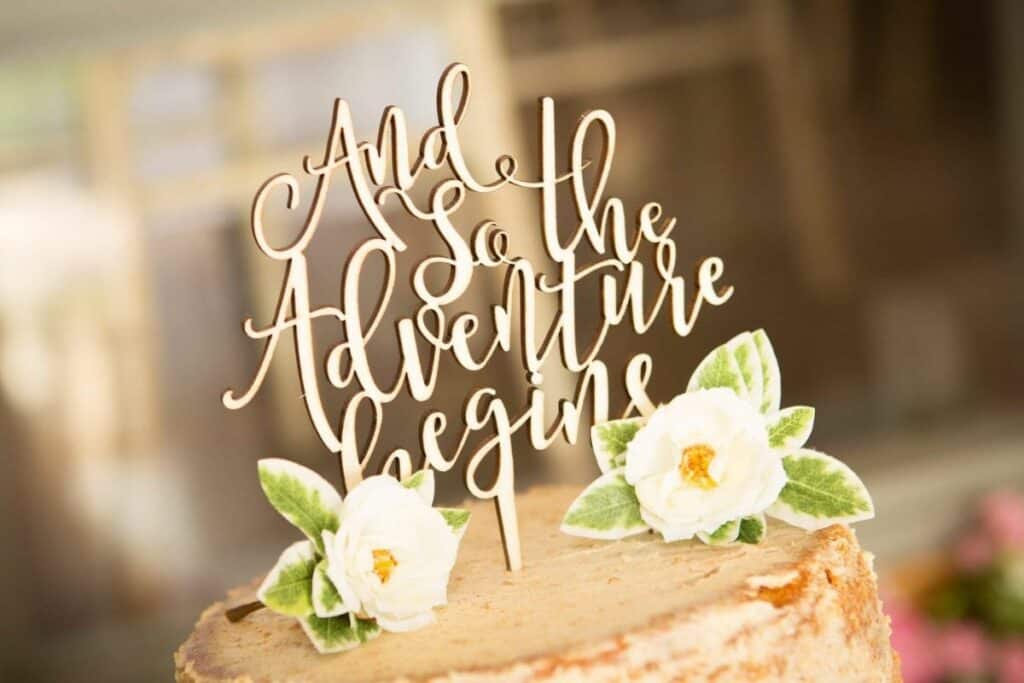 One of the most fun ways to incorporate a Disney theme into your wedding reception is to forgo the traditional cake topper couple and replace them with something that has a Disney twist. 
There is a wide range of Disney cake toppers available online. If you prefer a simple design, you can have a Disney quote such as "Tale as old as time" or "Happily ever after" written in a 3D Disney font on top of your cake.
However, if you want something more extravagant or personalized, you can have yourself and your spouse made into figures dressed as your favorite Disney couple.
Final Thoughts
There are many ways in which you can incorporate a Disney theme into your wedding reception that you and your guests will love.
Whether you decide on a broad Disney theme or prefer to focus on a specific movie that holds a special place in your heart, there is no shortage of ideas to make your wedding day even more memorable and magical.

Latest posts by Lisa Plaitt
(see all)