Disneyland is widely known as the most magical and happiest place on Earth. There's nothing like walking down Main Street, and seeing the castle illuminated by fairy dust ahead of you.
So, it goes without saying that you would want to get engaged here or have your engagement pictures at Disneyland.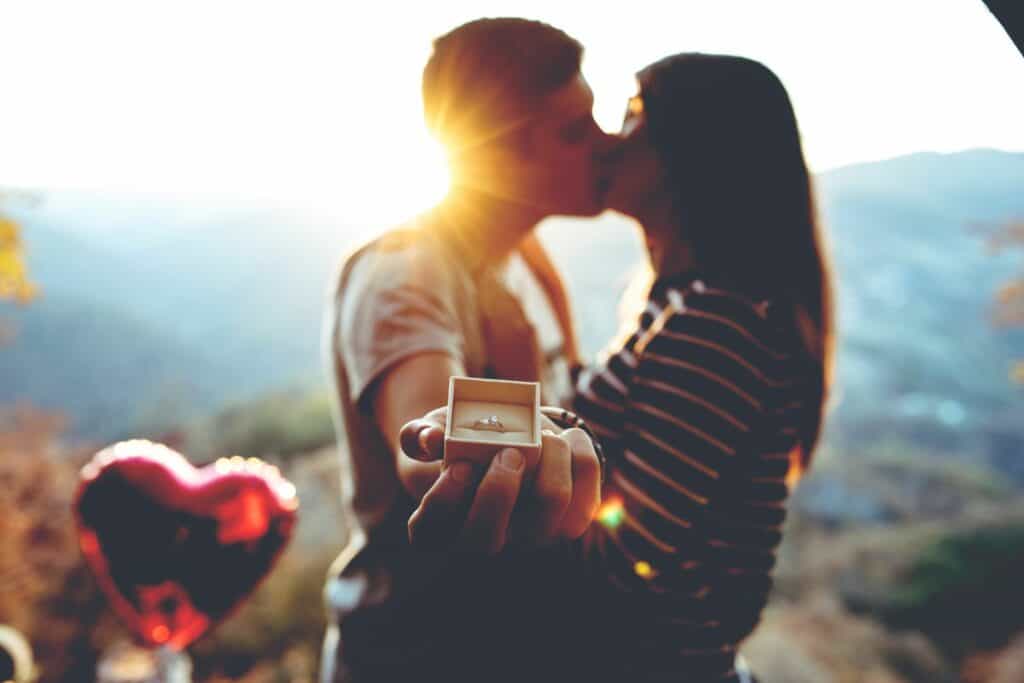 Why not experience one of the happiest moments of your life in a place filled with laughter, adventures and magic? 
If you want to start married life like a fairytale, then there are many places in Disneyland to get that picture perfect snap of the moment you get engaged.
Alternatively, you can use these places to announce your engagement to friends and family with a romantic picture. 
Most Romantic Engagement Photo Spots At Disneyland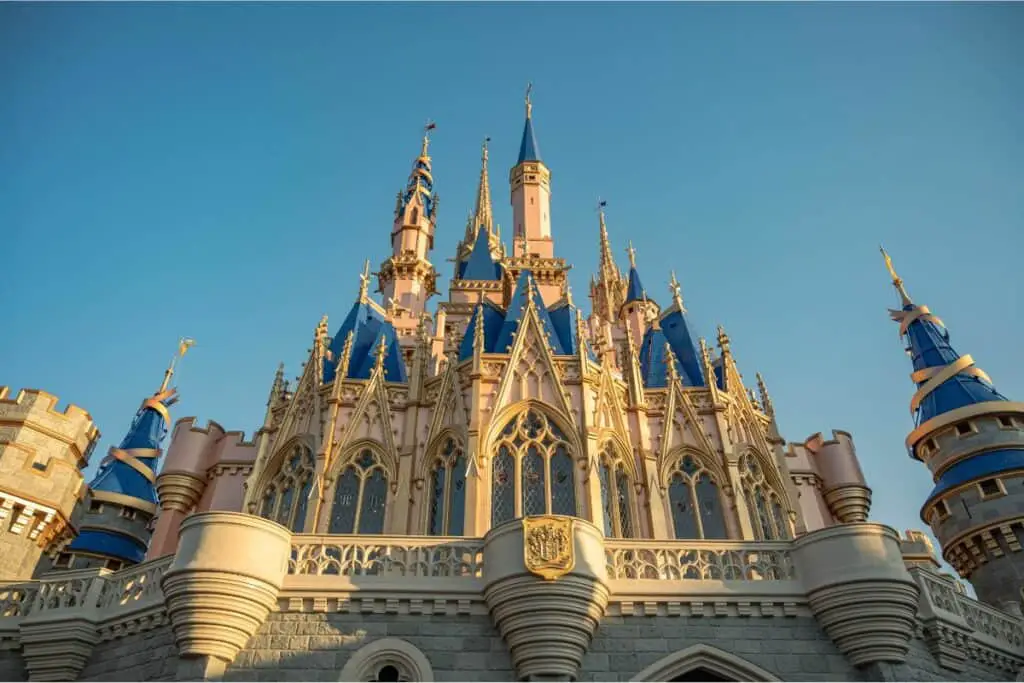 For the purpose of this article, we're going to talk about Disneyland Anaheim, but some of these locations can be found in Walt Disney World, Florida and in Disneyland Paris and other parks around the globe. 
Sleeping Beauty Castle
How could we not talk about Sleeping Beauty Castle? We've all dreamed of a fairytale moment, and this is it.
How about holding hands walking through the castle gates together, or a little smooch by the plaza with the castle in the background? This is a firm favorite for Disney lovers. 
Snow White's Wishing Well
Just at the eastern end of the moat surrounding Sleeping Beauty's castle is Snow White Grotto.
Here, you will find a bridge and a walkway with a beautiful wishing well from the movie, along with gardens and a waterfall adorned with stone sculptures of Snow White and the dwarves themselves.
It's the perfect spot for a special moment. 
Mad Tea Party, Fantasyland
Another iconic spot is the Mad Hatter's Tea Party from Alice in Wonderland. This is right next to the Matterhorn at the edge of Fantasyland.
The colorful cups make for an eclectic look, and the attraction is enclosed by a netted roof, with vines and flowers over the top and pretty lanterns falling down from above.
In addition, you can spot the Matterhorn in the background. This place looks even better at sunset or nightfall as all of the cups and lanterns are illuminated. This place will have you spinning to say yes. 
Main Street USA
Main Street USA is another prime location. It could be the nostalgia of this turn of the century styled street, or the historical, vintage vibes, but it's a great choice.
You could be serenaded by the Dapper Dans, or even dress up for Dapper Day to have your engagement pictures done here.
With pastel colored shop fronts, decorated doorways and porches, it's the cutest spot in Disneyland. 
Blue Bayou, New Orleans Square
Aside from the exclusive Club 33, Blue Bayou is one of the most high end establishments in Disneyland. You can dine on the Bayou inside of the Pirates of the Caribbean attraction itself, and watch boats go by on the lagoon.
Every table is lit with a small hurricane lamp for a romantic and calming atmosphere, or you could make use of the beautiful architecture of the building itself. This is perfect for an intimate engagement photo. 
It's A Small World, Fantasyland
If you love bright colors, then you have to head to It's A Small World for your photos.
The pale pink, white, sky blue and gold colors of the exterior building, surrounded by engulfing gardens make for the sweetest engagement spot. 
King Arthur's Carousel, Fantasyland
Want to feel whisked away into your childhood again? Have your engagement photos on the King Arthur's Carousel in Fantasyland!
This looks great at night too with all of the warming, gold bulbs to illuminate your happy faces! You may even find Mary Poppins riding along with you. 
Haunted Mansion, New Orleans Square
Of course, how could you plan a wedding without consulting Disneyland's resident and eternal bride of the Haunted Mansion?
If you prefer things a little more spooky yet lighthearted, then have pictures outside of the Haunted Mansion.
The architecture of this old Antebellum mansion is simply stunning, and its ghostly white exterior makes the perfect backdrop. 
How To Take Engagement Pictures At Disneyland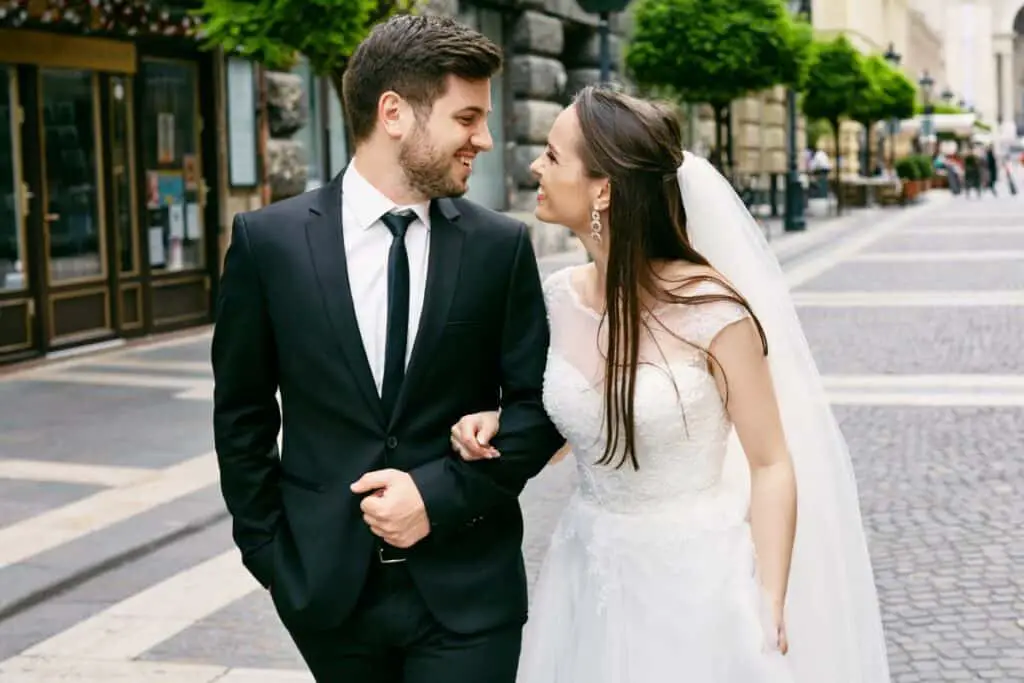 To take the perfect engagement photos at Disneyland, you have to first choose a location that reflects you as a couple. We hope the above provided some inspiration for you!
Then, choose a good date and time for the best chance of good weather and lighting. This is also great for picking times when the park is not going to be at capacity. 
It's also a good idea to have a change of clothes once in the park. Go in in your casual clothes and change into your chosen outfit for the pictures.
You can also pick up some of the cute bride or groom Mickey ears to wear for your Disney themed photo! 
Photographer
You have a few options when it comes to the photographer. You could either visit the park with a friend, and during that special moment get them to capture everything.
In the moments after you show off your engagement, you can use your photographer or tech-savvy friend to take some posed pictures in front of your favorite attractions.
Alternatively, you can use Disneyland's PhotoPass service, where skilled photographers will take beautiful images for you for a fee.
Be sure to let them know beforehand that you're going to be proposing, or having your engagement photos taken there. 
On the other hand, you can hire a photographer that will go into the park with you for a cute photo opportunity. There are many in the area that offer Disneyland Engagement Photography. 
If you're on a budget, then we have seen some proposals with signs prepared for the ride photographs, much to the surprise of their partner when they go to check out the photos after the ride is over! 
Poses
Depending on the location, you can try a variety of poses. Try sitting in the teacups together, as if leaning in for a kiss. Or stand hand in hand by Snow White's Wishing Well.
We love the idea of a romantic kiss by the castle, where one partner dips the other as if dancing. On the other hand, you could have one where one partner holds the other in the air in front of a pretty background at Disney. 
We also recommend an 'almost kissing' pose, where the moment feels far more romantic and intimate. There's always the actual proposal pose to try too!
We find that a simple embrace in front of your chosen location does the trick just fine, but have fun with it and try a few to see which reflects your relationship best. 
Candid
This depends on whether you can get someone to take sneaky engagement photos of the moment, but you may want some candid shots of you smiling, laughing and celebrating this life changing moment.
This means that they are not posed or staged, but in the moment. 
Summary
There are many ways you can take romantic engagement pictures at Disneyland. Whether it's choosing the right backdrop, pose, photographer or location, we've got you covered.
For a romantic, magical moment, there's no place like Disneyland. Lastly, just be yourself and you'll get that perfect, romantic shot.

Latest posts by Lisa Plaitt
(see all)