Finding that special someone to share your life with is a truly magical experience, and realizing that you are ready to spend the rest of your life with them is a life-changing experience and one that requires planning and creativity – as well as the perfect ring.
The engagement ring is one of those things that will always hold a special place in our hearts. It's an important part of the proposal process, and it's also something your beloved will enjoy for the rest of their lives, as a wonderful symbol of your love.
Cartier rings are known for being some of the most beautiful and luxurious jewelry pieces around, so if you're looking for a stunning piece for your significant other to show off to all your friends and family, then this is definitely the way to go!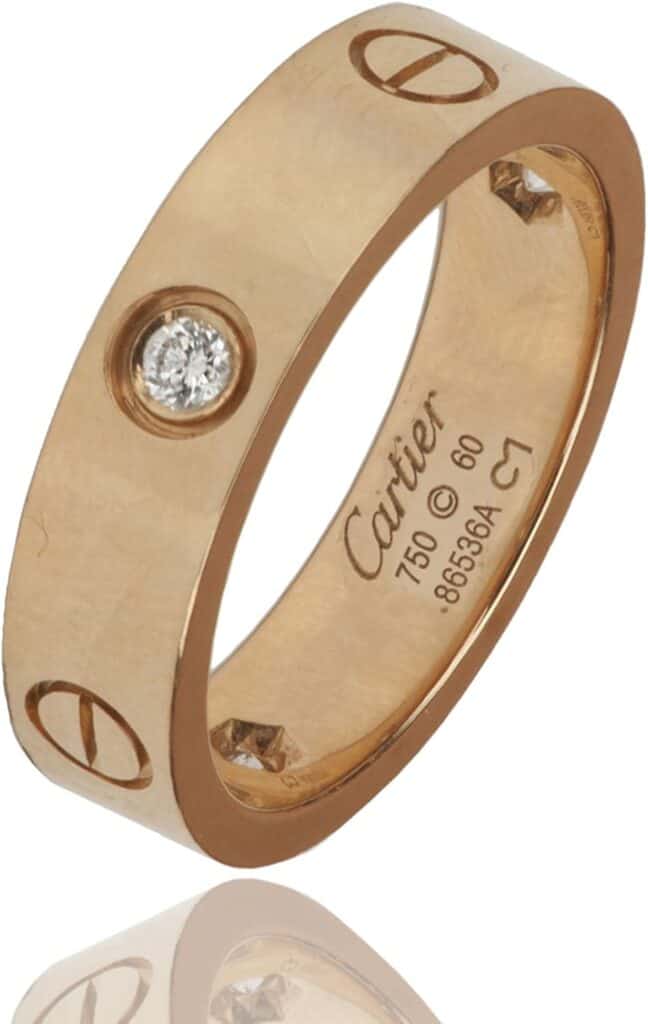 But how much does a Cartier engagement ring cost? We took a closer look at the average price of a Cartier engagement ring and compared it to other popular brands.
On average, a Cartier engagement ring will cost from $1,500 all the way up to $25,000 depending on the style of the ring.
If you want to know more about what makes a Cartier engagement ring unique or are 
even just curious about the history of Cartier, we've got you covered. Here's everything you need to know about Cartier engagement rings.
How Much Is A Cartier Engagement Ring?
So you have settled on Cartier for your significant purchase – but how much can you expect this to set you back? The answer varies depending on the model of ring that you opt for.
On average, a Cartier engagement ring can cost anything from around $3500, right up to the five-figure mark for top-end models- this varies depending on whether you are buying new or vintage.
Costs will depend on a variety of factors, including the model and the material chosen, as well as a number of other aspects such as the cut and carat of the diamond involved.
To help you get a better idea of the price ranges you will be playing with, we took a closer look at some of the most popular models in the Cartier engagement ring range, as well as the key features of each.
Solitaire 1895 Diamond Engagement Rings
At the top end of the price range sits the solitaire diamond engagement ring – this is one of the most traditional designs available, and it is often seen as the epitome of elegance. 
Solitaire 1895 rings are easily identified and distinguished by their stunning design and feature a single center stone surrounded by smaller stones.
This particular model comes in a wide selection of metals, stone shapes, and sizes, so you can find something that perfectly matches your personality and budget.
You can also choose from a variety of gemstones, including emeralds, rubies, and sapphires, as well as a traditional diamond.
They are popular thanks to their timeless appeal, and because they make an ideal choice if you want to wear a ring that has the potential to be passed down through generations.
The popularity and quality of these rings do mean that they come with a hefty price tag – expect to pay around $15,000 for a secondhand ring, and anything up to $35,000 for a brand-new model.
Solitaire Cartier Destinee
For a real statement piece, the Solitaire Cartier Destinee is a great option. It combines the classic solitaire design with a modern twist. The center stone sits above a row of diamonds, which creates a dramatic effect when viewed from different angles.
This model is available in a variety of precious metal options, including white gold, yellow gold, platinum, and rose gold. They are also available in a variety of gemstone choices, including emerald, ruby, and sapphire.
On average, you can expect to spend anywhere between $10,000 and $30,000 for a new ring, or $5,000 to $20,000 for a used one – this tends to be the category that offers the most variety and choice when it comes to pricing.
Cartier Solitaire Love
Another super popular model for engagement rings is the Cartier Solitaire Love, and this is a design that stands out.
It features two rows of brilliant round diamonds, creating a beautiful contrast against the smooth surface of the band, and really highlighting and showcasing the central stone to its full advantage.
These rings are available in white gold or rose gold, allowing you to choose the perfect combination of style and color for your special occasion.
As an added bonus, these rings tend to sit at the lower end of the price spectrum when it comes to Cartier rings – expect to fork out around $3000 to $3500 for a new ring, and less for a used version. 
This helps to ensure that you still have the option to buy a high-quality Cartier ring without breaking the bank, and without compromising on style or quality.
Trinity Ruben Solitaire
If you're looking for a more unique engagement ring, then look no further than the Trinity Ruben Solitaire.
This model features three rows of entwined, round brilliant-cut diamonds set into a simple yet elegant frame, evoking the timeless style of a classic, clear-cut rose shape to symbolize your eternal love and devotion, with the option to weave the band around a majestic centerpiece formed of a large, clear diamond.
This model is made from white gold, but you can also opt for a rose gold alternative upon request.
These rings are available in a range of sizes, starting from 7 to 10mm, and are a pricey option, with costs starting at around $7500 for a new band, with costs climbing as you add customization and detailing.
Solitaire Étincelle De Cartier
The Solitaire Etincelle de Cartier is another stunning example of the Cartier brand's ability to create truly exceptional pieces.
This model features a single row of dazzling round brilliant-cut diamonds, set within a delicate etching pattern that lends itself perfectly to the natural beauty of the stones themselves, balancing pure simplicity in a single-band design with the ultimate in luxury and elegance.
Despite the stunning presentation, this comes in as a mid-range ring – expect to pay $7500 or more for a brand-new piece in this range.
Solitaire Ballerine
This is a breathtaking model that perfectly encapsulates the freedom of wild dance, the balance of love, and the harmony of two souls coming together as one.
The Solitaire Ballerine features a single row of sparkling round brilliant-cut diamonds encircling a center stone that sits atop a sleek, modern band, and the stone is available in a range of cuts, allowing you to customize the look to suit your personal taste.
This model is available in both white gold and rose gold, and will cost you an average of $5000, depending on the size and details selected.
What Makes A Cartier Engagement Unique?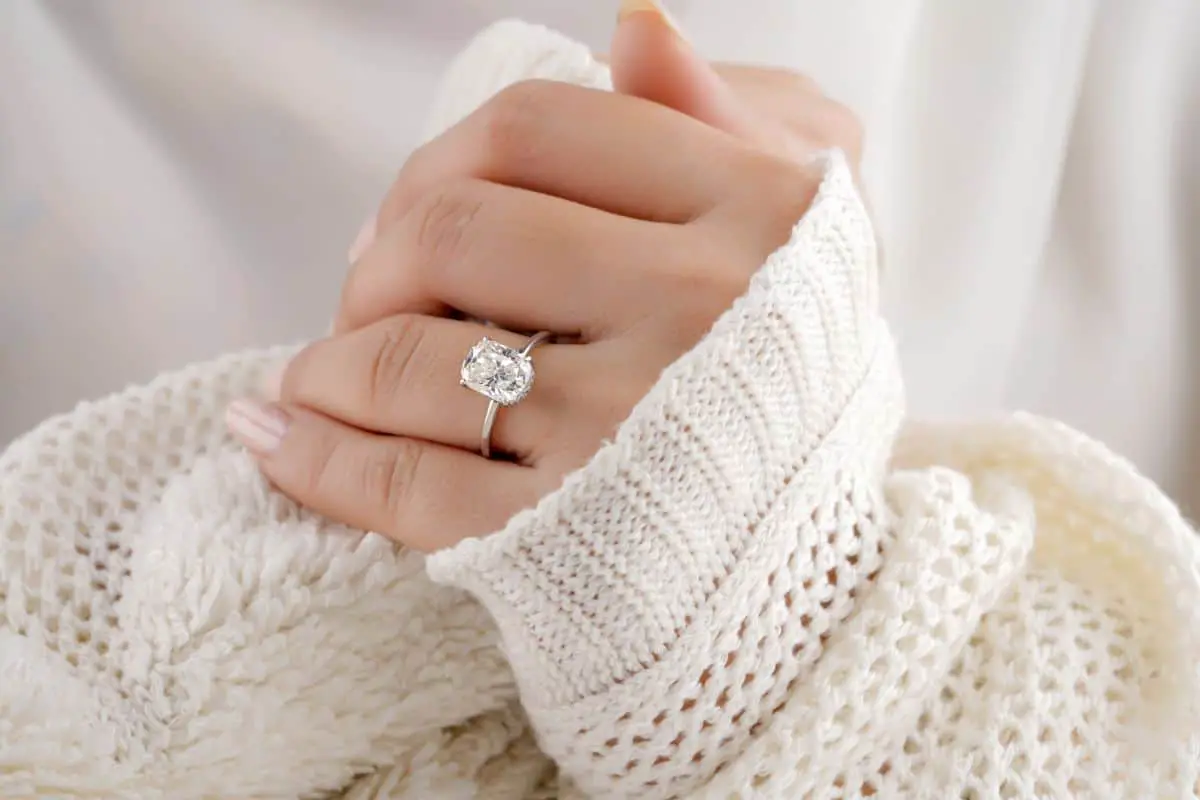 Cartier is a brand known for representing the epitome of luxury, and their engagement rings have been worn by royalty since the beginning of time.
The brand was founded in 1847 by Louis-François Cartier, and established a lifelong connection with royalty – King Edward VII once referred to Cartier as "the jeweler of kings and the king of jewelers", and issued the brand a royal warrant in 1904.
Since then, Cartier has continued to grow and develop into one of the world's leading jewelry manufacturers, and today they produce over 50 different styles of engagement rings.
Their designs are inspired by nature, art, architecture, and fashion, and each piece is crafted using only the finest materials and craftsmanship.
Cartier engagement rings are available in a wide range of precious metals including white gold, yellow gold, rose gold, platinum, silver, and titanium. They can be set with rubies, emeralds, and sapphires, as well as traditional diamonds.
How To Choose The Perfect Cartier Engagement Ring
Now that we have taken a closer look at the wide range of Cartier rings on the market, you may be wondering just how to go about choosing the perfect ring for your special someone.
There are a number of factors that go into this decision, and to help you get started, here are some tips to consider before making your final choice:
Metal
One of the main considerations when choosing an engagement ring is the metal which forms the basis of the design, and there are two main types of metal commonly used in engagement rings: white gold and yellow gold.
White gold is typically a little less expensive than yellow gold, but it tends to tarnish more easily. Yellow gold is considered a classic choice because it looks great on everyone, regardless of skin tone.
Carat Weight
Another factor to take into consideration is carat weight. Carats are the units of measurement for diamond weights, and they represent the weight of the stone.
It is worth noting that two diamonds with similar carats can appear very different in size, as the appearance depends largely on the cut.
Diamond Cut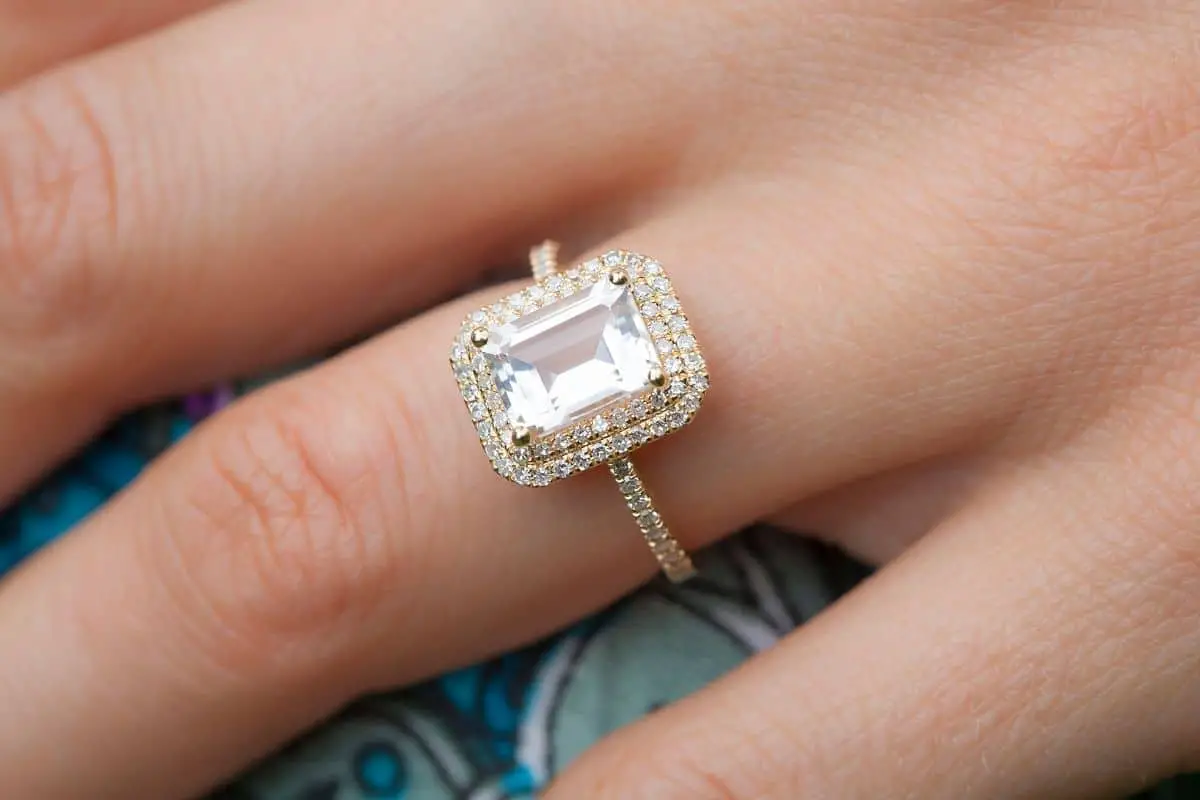 The cut of the diamond is another key aspect of any engagement ring, and it determines its overall appearance. There are three basic cuts: round, princess, and marquise. 
Round diamonds are the most common cut, and they tend to give a polished finish. 
Princess-cut diamonds are slightly larger than round diamonds, and they create a brilliant effect. Marquise cut diamonds are longer and slimmer than round diamonds, and this shape creates a beautiful contrast between light and dark areas.
Setting Type
The setting type also plays a large role in determining the overall appearance of your engagement ring. There are four main settings: prong, channel, half-prong, and invisible. 
Prongs are small spikes that hold the diamond securely in place, while channel settings are a variation on this, where the prongs are curved instead of straight.
Half-prong settings consist of two parallel rows of prongs, while invisible settings are completely hidden inside the band.
Designer Style
Finally, you should consider what style of engagement ring best suits your personal taste.
There are hundreds of designers who specialize in creating unique engagement rings, and some of them include Harry Winston, David Yurman, Van Cleef & Arpels, Tiffany & Co., Bulgari, Boucheron – and of course, Cartier.
Budget
Before you start shopping, take a moment to think about what you can afford. Your budget will play a major role in the ring you choose, and it is important not to go over budget – no matter how tempting this may be. 
Final Thoughts
As you can see, there are many factors to consider when selecting an engagement ring, so make sure to do your research first.
While you may initially believe that a Cartier ring is out of your reach, our simple guide shows that there are rings available in a wide range of prices, from under $15,000 up to well over $30,000.
This gives you the freedom to make the perfect pick no matter your budget and ensures that you get exactly what you want to mark that lifelong commitment that will help to shape the rest of your lives.

Latest posts by Jodie Messines
(see all)