A destination wedding is a dream come true for couples who want to get married away from home.
The idea of being surrounded by loved ones on their special day, while basing in a gorgeous, tropical paradise is true bliss, and the perfect way to celebrate your love.
Despite the numerous perks, there is no denying that planning a destination wedding can be stressful, especially if you're not sure what to pack or where to start.
It is important to ensure that your guests feel welcomed and valued, and extras such as welcome bags are the perfect way to achieve this.
To help, we have put together the ultimate guide to destination weddings – including (see also: The Ultimate Best Man Speech Guide (Examples And Templates Included))the must-haves to include in your welcome bag to ensure that every guest leaves with a smile!
What Is A Destination Wedding?
A destination wedding is when two people tie the knot somewhere other than their hometown. This could be anywhere in the world, but most commonly happens on an exotic island, beach, or even city break.
There are a number of great benefits of opting for a destination wedding, and these include:
Stunning Location
Destination weddings can technically be anywhere, but the term has typically come to be associated with locations like islands, beaches, or cities.
These places offer beautiful scenery and unique experiences, which make them ideal for getting hitched.
The location also offers plenty of opportunities for fun activities, whether it's exploring the local culture or taking part in water sports.
Opting for a destination wedding, therefore, allows you to marry your love while enjoying beautiful surroundings and a built-in vacation, and offers your guests the chance to explore a stunning new setting.
Great Value
Though it may seem counterintuitive, a destination wedding could actually help you to cut costs and enjoy a cheaper wedding that offers more for your money.
You will find that many destinations offer packages that include essentials such as accommodation, food, drinks, and entertainment, as well as the wedding itself, so there's no need to spend a fortune on separate elements to bring your wedding together.
In addition, many destinations also extend these deals to your guests, and this means that you and they can save even more money by inviting friends and family to join you on your big day.
Easy Planning
Planning a destination wedding is much easier than planning one back home because you don't have to worry about finding a venue, organizing catering, hiring caterers, decorating, and much more – as we mentioned, this is usually taken care of as a package provided by your chosen destination.
Instead, all you have to do is book your flights, pick up your rental car and head off to your honeymoon spot.
This makes it easy to plan ahead and ensures that everything runs smoothly on the day without any last-minute stress, giving you time to relax and prepare yourself, and helping you to avoid any last-minute panic attacks.
What Are Wedding Welcome Bags?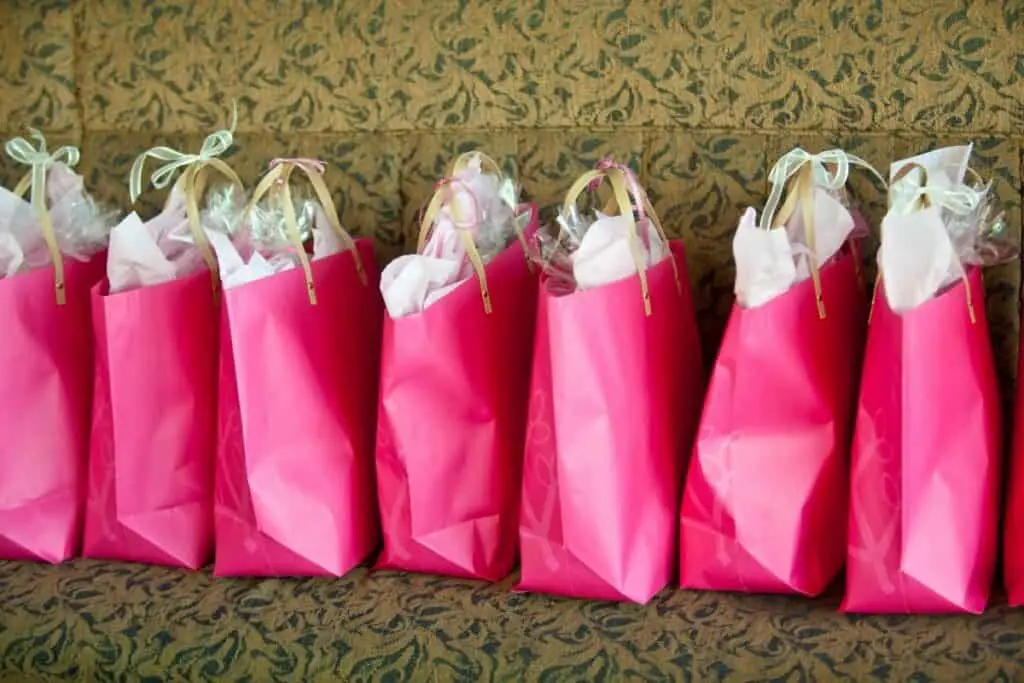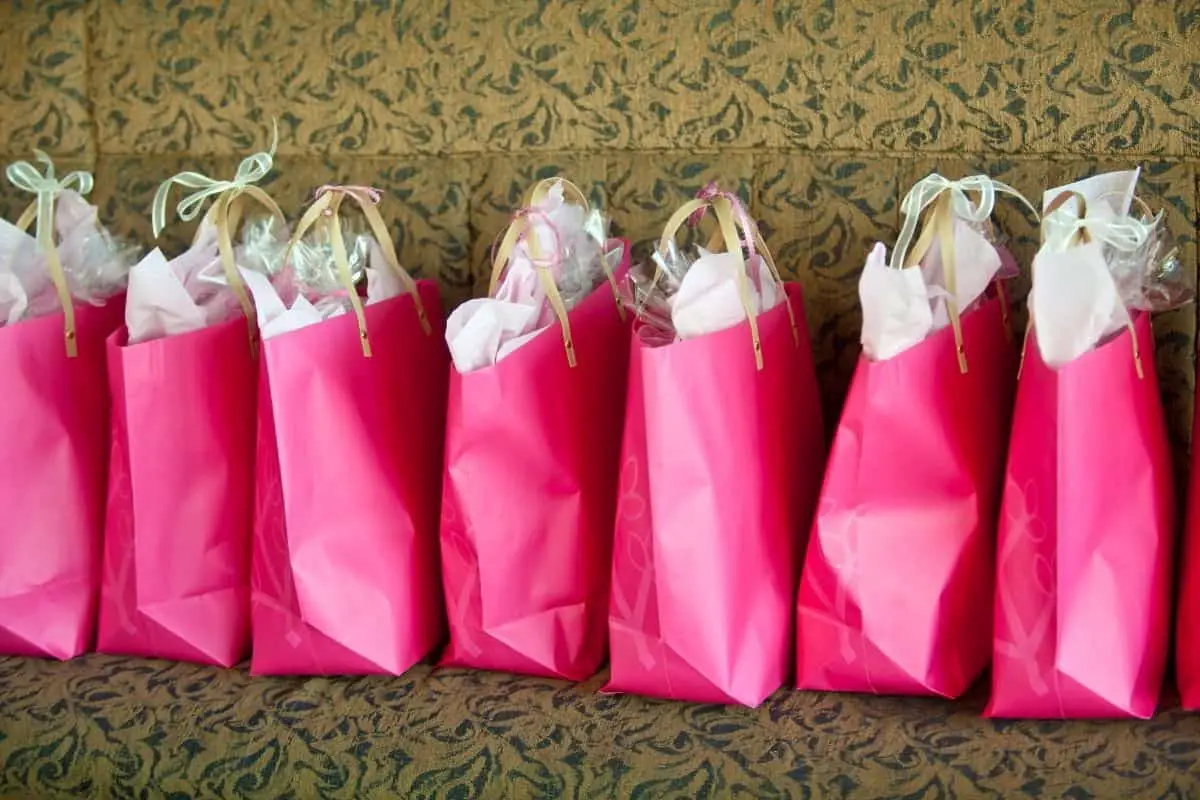 Wedding welcome bags are a fantastic idea for anyone who wants to give their guests something extra special at their wedding.
As the name suggests, these are small gifts that are given out to guests when they arrive at the venue, or at a welcome get-together once everyone has arrived, but at a time prior to the ceremony itself.
Ultimately, wedding welcome bags are a nice opportunity to show your appreciation and gratitude to your guests for attending your wedding – particularly if they have traveled a long way – and can help you to create lasting memories by sharing a small but precious memento.
How Do I Choose The Right Wedding Welcome Bag?
Choosing the right wedding welcome bag for your guests can be tricky, especially if you're looking for something really special. There are a number of factors that are likely to influence your decision, and these include:
Your Budget
Your budget is perhaps the most significant consideration when planning and choosing your welcome bags, as this will determine what you can afford.
Remember that even if you can't afford to spend a fortune, there are thoughtful additions that you can use to personalize and customize the bags – we will take a closer look at this later on.
Your Guests
The nature and number of your guests will also impact the welcome bags. Consider their likes and dislikes, their ages and interests, and whether they are traveling alone or with others.
If you are inviting a wide, varied range of people, you could put together a variety of bags for different groups, for example, one for children and one for adults, one for men and one for women, or one for the bridal party and one for general guests.
The number of guests will also play a part, particularly if you are sticking to a budget.
The Distance
The destination and location of your wedding will also play a part in choosing the right wedding welcome bags – particularly if your guests will have to fly home.
Remember that not everyone will check a bag when heading to your wedding, and many guests may be traveling on hand luggage for ease and convenience, as well as cost savings.
This means that they will be limited as to what they are permitted to carry back on the plane – certain items such as gels, aerosols, and other flammable materials must be stored separately from hand luggage, and they will not be able to take large bottles of liquid.
When choosing the contents of your welcome bags, therefore, this is something that you will need to consider, and it's important that you choose items that won't present any problems for your guests.
It might be worth considering some smaller items like mini-bottles of wine or champagne -make sure these fit under the travel limit – personalized items; we will explore some ideas for this in just a moment.
If you are going to be giving your guests their bags after your wedding, then you should think about how you will get them home. Will you be sending them home with someone else, or will you be taking them yourself?
If you are taking them yourself, make sure that you have enough room in your car trunk, and that you have enough time to do so before your guests leave. You don't want to arrive home late and find that your guests have already left!
Sustainability
Sustainability is a key consideration for all of us in the modern world, and this can extend to the welcome bags you offer your guests – especially if you are having an environmentally conscious wedding.
Opt for eco-friendly treats and gifts such as reusable water bottles, reusable cutlery, and biodegradable paper products.
These will help reduce waste and keep your wedding environment clean – as well as allow you to gift with a clear conscience.
What Should I Include In Wedding Welcome Bags?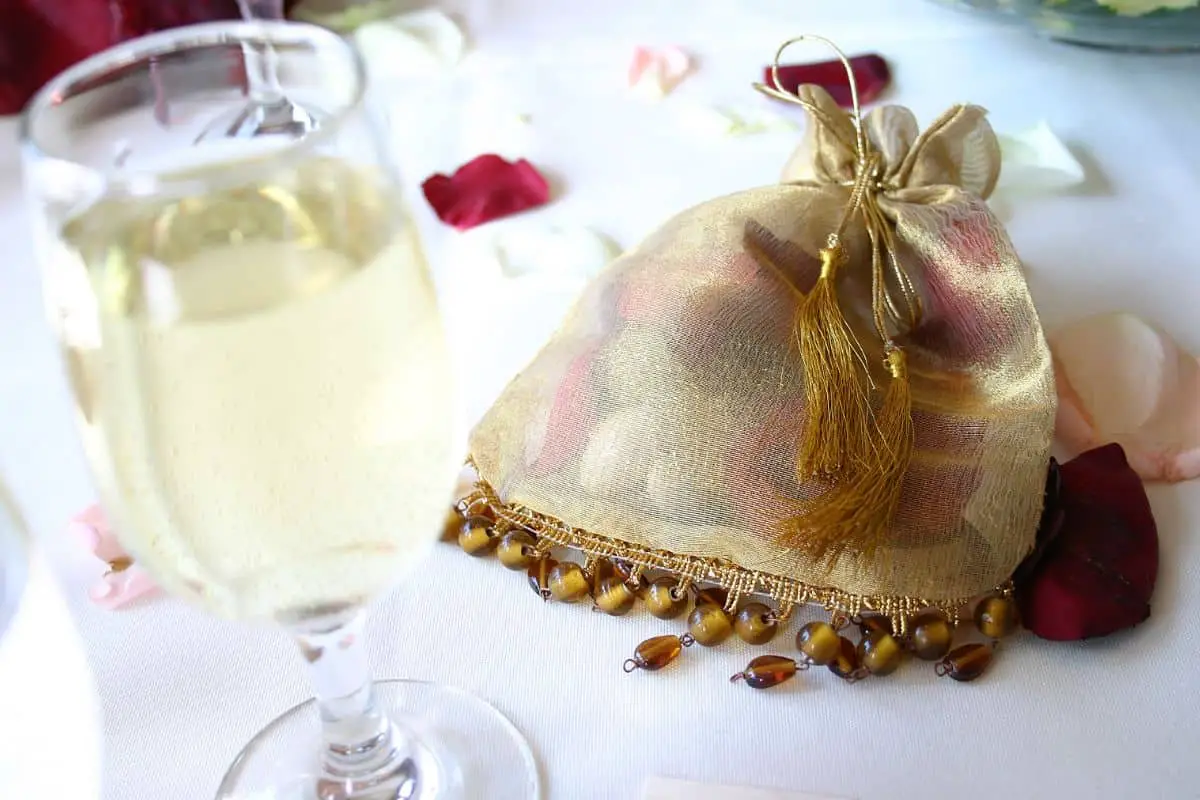 Now that we have taken a closer look at the considerations that come with putting your wedding bags together, you may be wondering just what you should include inside to make your guests smile.
To help inspire you, we put together a few cute ideas:
Personalized Gifts
These are always popular with guests, and they can really add a personal touch to your wedding. Personalize your bags by including small gifts such as personalized pens, mugs, coasters, or even personalized sweets.
Mini Wine & Champagne
You can also include a selection of mini bottles of wine or champagne in your wedding bags.
Mini bottles are perfect for those who are flying home because they are easy to store in a suitcase without causing too much hassle, allowing your guests to join in on the fun without being inconvenienced.
Gift Cards
Another great idea is to give your guests gift cards to use towards future purchases.
This could be anything from clothing stores to restaurants, and it gives your guests a chance to treat themselves while still supporting local businesses- this is a perfect option to say thank you for coming, and is guaranteed to help ensure that your guests feel really valued!
City Or Location Guides
Part of the fun of a destination wedding is taking the chance to travel to far-flung shores, so why not help your guests to make the most of this by including a city or location guide in their welcome bag?
Whether you're looking for places to eat, things to see, or where to stay, there's bound to be something useful for everyone in there, and this helps guests to really make the most of their time on their trip.
Personalized Stationery
Personalized stationery is another cute, creative gift, and can take many forms, including postcards, notepads, pens, and pencils.
Why not include some stationery that has been specially designed for your wedding, such as invitations, menus, thank you notes, or even a special menu card for your reception?
These can act as cute keepsakes and are guaranteed to brighten up your guests' days when they open them.
Beach Gear
If your wedding and reception are on a beach, make sure your guests are prepared by supplying them with essential beach gear in their welcome bags!
You can include sunscreen, hats, sunglasses, towels, flip-flops, cover-ups, and other essentials to ensure that your guests are comfortable during their stay – this is a great way to say "welcome to our wedding!"
Note Of Appreciation
Finally, don't forget to include a note of appreciation in your wedding bags. It doesn't need to be long, but it does need to be sincere
A simple note thanking your guests for attending and wishing them a wonderful day will go down very well and will show your guests that you appreciate their presence.
How To Personalize Your Wedding Welcome Bags?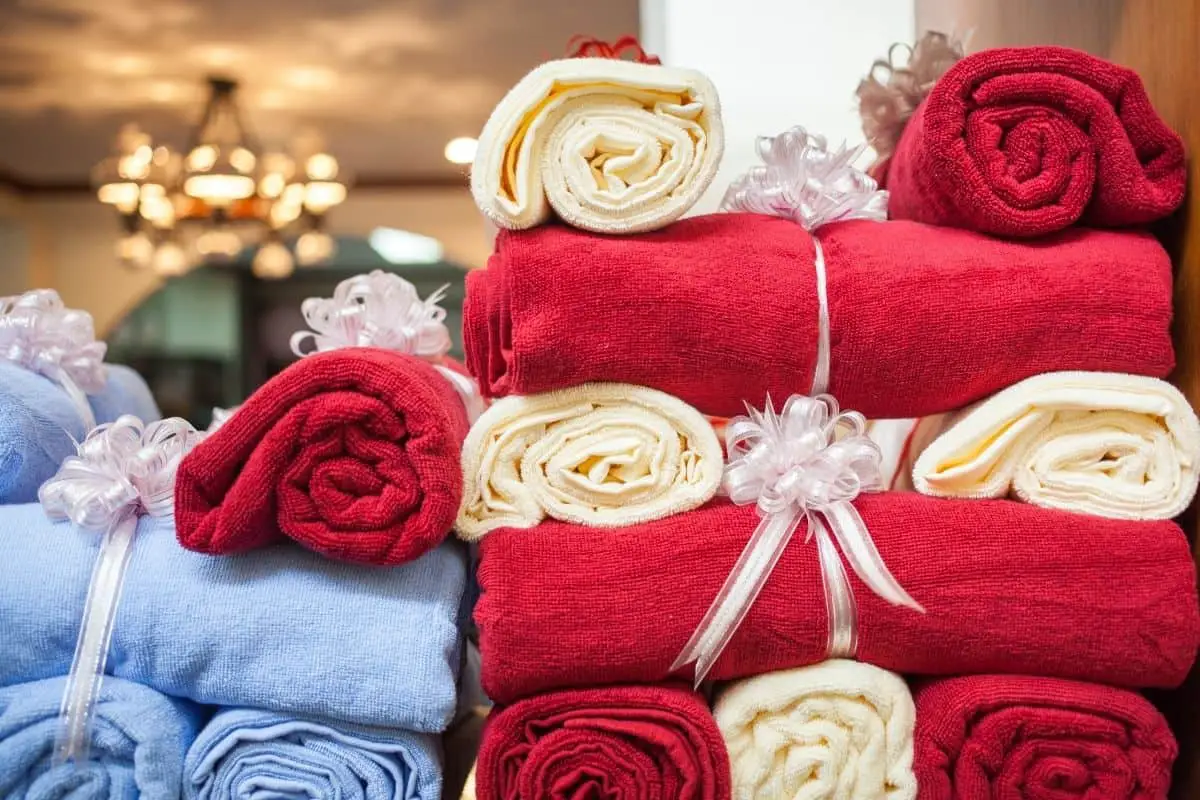 Why not take your wedding welcome bags to the next level by adding some personal touches to each? Some great ideas for customization include:
Include a map of the area surrounding the venue, along with directions to the hotel/airport
Include a list of local attractions and activities (such as golf courses, museums, etc)
Include a list or itinerary of nearby restaurants
Include a list and directions to local beaches, parks, and other tourist attractions
Include a list with contact details for local hotels, car rental companies, and other services
Include a list containing important phone numbers and email addresses, for example, the hotel, bride, groom maid of honor, and groomsmen,
Include a list outlining any gifts or donations made by your guests
Include a list detailing the names of all those who have helped plan the event
Include a list highlighting your favorite memories from the rehearsal dinner, ceremony, and reception
Why Should You Use Wedding Welcome Bags?
Adding wedding welcome bags to your special day can offer a number of benefits, and these include:
They Help Guests Feel Valued
By giving your guest a welcome bag, you are showing them that they matter to you. This goes a step further than simply saying "thank you" at the end of the night.
By providing them with something useful and thoughtful, you're letting them know that you care about them enough to provide them with items that will help them enjoy their time away from home.
They Are Fun
Wedding welcome bags are fun! They add an element of surprise and excitement to the proceedings, which makes them a great addition to your big day.
They Allow Guests To Take Part In Events
As we mentioned, you can fill wedding welcome bags with treats such as city or location maps, flip flops, and even beach towels, and this allows your guests to get involved in the planning process.
They can also use the contents of their bags to keep themselves occupied during the course of their trip, and this is perfect for helping them to feel more involved.
They Can Be Customized
You can customize your wedding welcome bags however you like, creating a personalized, special memento for your guests to remember your wedding forever.
Final Thoughts On Wedding Welcome Bags
We hope that our guide has helped you choose the best way to approach wedding welcome bags.
We've provided you with plenty of information on what to look out for when choosing the right products, so now all you need to do is decide how you want to present them to your guests, and decide what to include to give your guests a perfect treat!

Latest posts by Lisa Plaitt
(see all)