For many people across the world, Disney movies have been a staple of their childhoods. From Aladdin to The Lion King, these films are a part of our culture and history.
Depending on when you were born, you may have grown up with specific characters and songs from these movies.
90s kids will have grown up alongside Beauty and the Beast and The Little Mermaid, while the younger generations will have a special connection with the live-action remakes, or even the Marvel and Star Wars movies.
Some older movies, such as Snow White and The Seven Dwarfs and Cinderella, have remained influential for decades upon decades, still leaving a mark on children to this day.
Disney is also known for its merchandise, which are often just as popular as the movies themselves.
Mickey Mouse merch is still commonly sold, worn, and collected, even to this day, despite the fact that it has been many years since a movie starring Mickey Mouse has been produced.
Do you know someone Disney-mad who is getting married soon? Or, perhaps you are the Disney enthusiast and your guests are asking what they can gift you on your special day. 
We've got a list of 30+ perfect wedding gifts for all those Disney fans out there! From personalized art prints to Mickey Mouse waffle makers, we've got something for everyone in this guide.
So, let's get started.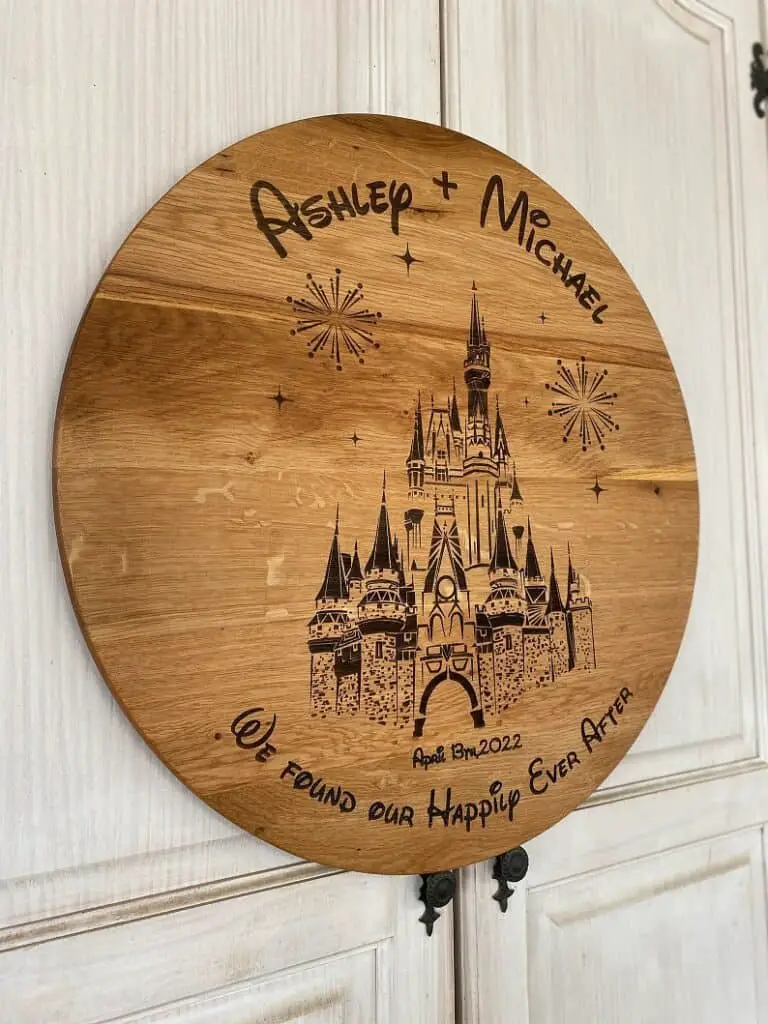 This engraved cutting board is an ideal way to show off your love for Disney movies at home.
It features a wooden circular or rectangular cutting board with an engraved picture of the iconic Disney castle, along with the text: '[Insert Name] + [Insert Name] – We found our Happily Ever After'.
This board can be placed on display in a person's home, or it can be used as an actual cutting board.
Whichever use you decide on using it for, there is no doubt that this is a unique and personalized gift idea for anyone who loves Disney.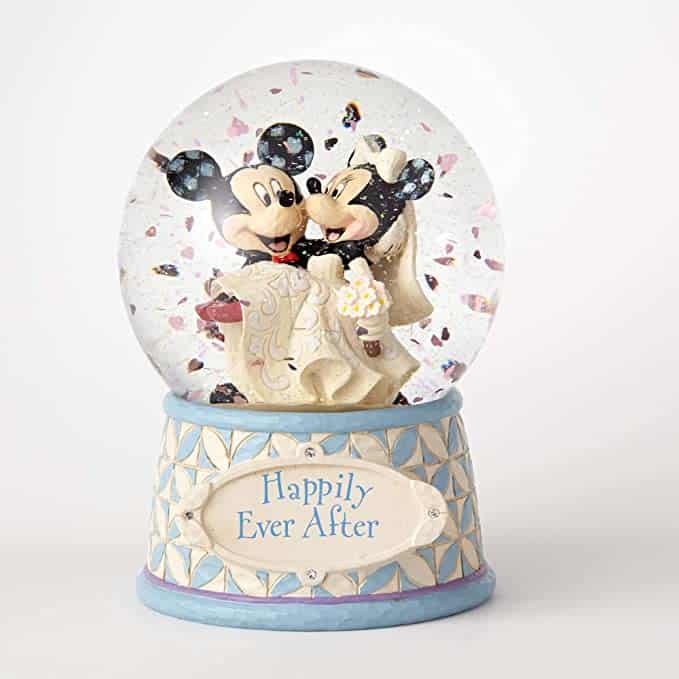 If you want to give your loved one a truly memorable present, then why not go for a snow globe featuring two of the most famous Disney characters together?
The Disney Traditions Mickey & Minnie Snow Globe includes both Mickey Mouse and Minnie Mouse after they have gotten married.
When shaken, heart-shaped pieces of pink, white and black glitter will fall down into the glass, creating a beautiful scene of the couple embracing.
This is a great gift for any Disney fan looking for a thoughtful and unique gift.
It would make a lovely addition to any room in a house, but if you're planning on giving this as a gift, make sure you place it somewhere where it won't be damaged by water.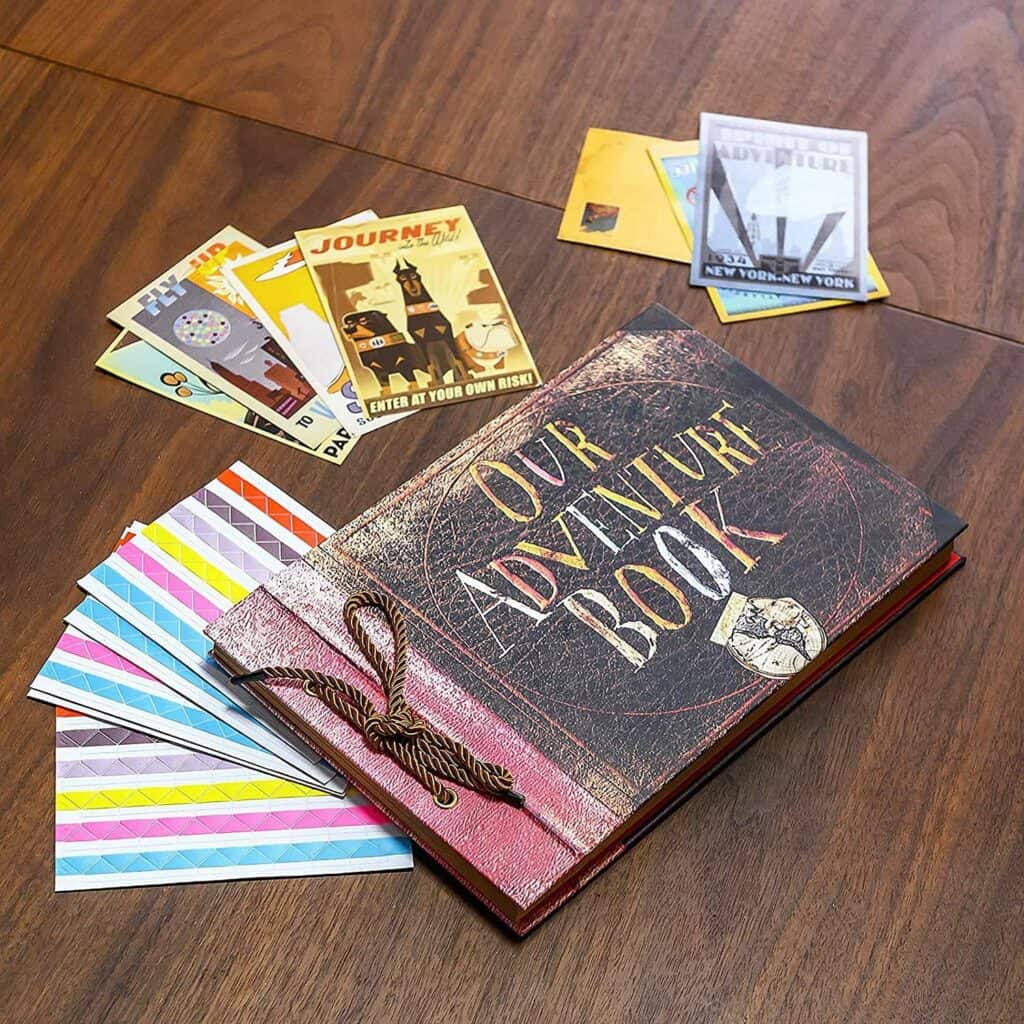 For those who grew up watching Up, this scrapbook is a wonderful keepsake that will remind them of their childhood memories.
The book is designed to replicate the book that Carl and Ellie used in the movie, and it comes complete with stickers and other items to help recreate the experience.
It contains over 100 blank pages that can be filled with stickers, photographs, and whatever else the recipient wants to add to create their own personalized memory book.
The recipient may decide to ask their wedding guests to add notes inside, or they could fill it with photographs and memories of their relationship with their future spouse.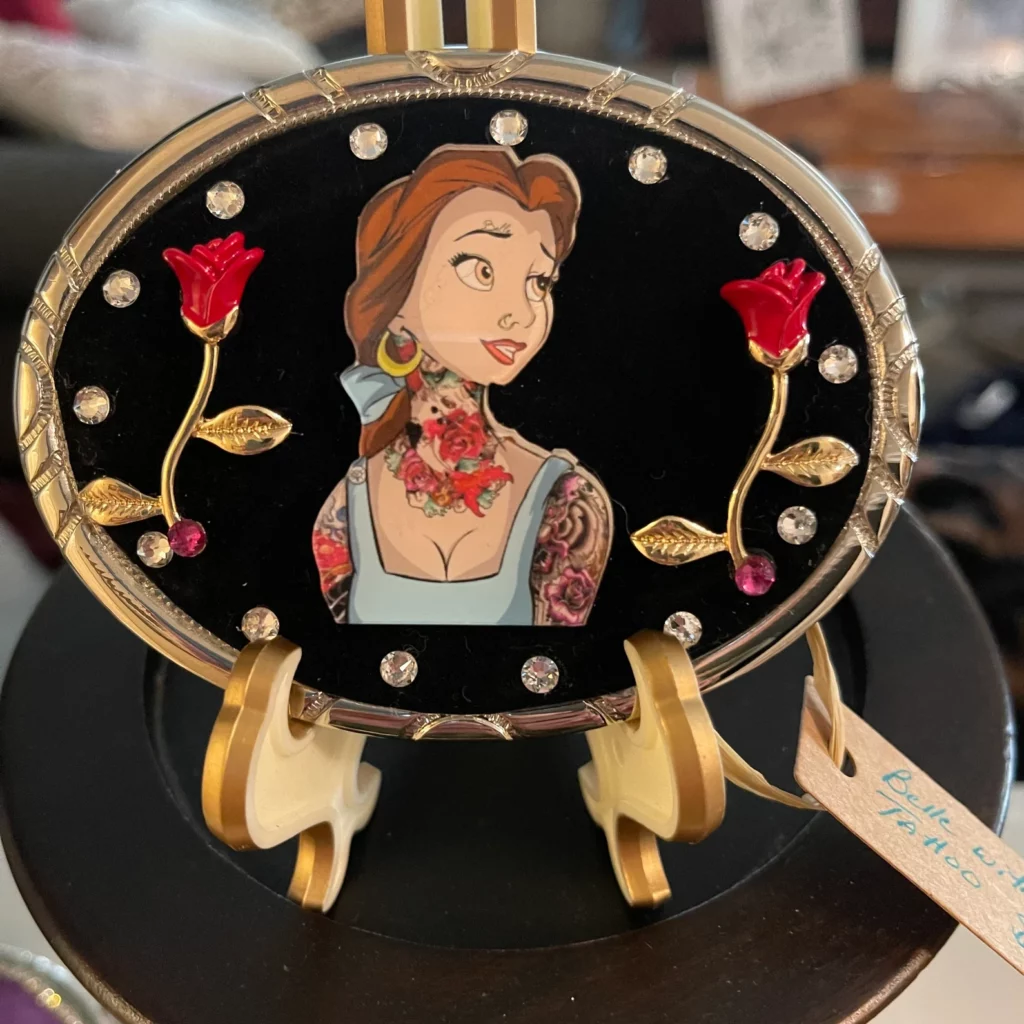 A fan of all things Disney (and Beauty and the Beast) and a lover of tattoos? Then this is surely the best gift out there to mix both.
This very unique tattooed Belle buckle makes an unmatchable gift for that special person which would surely make them smile from ear to ear.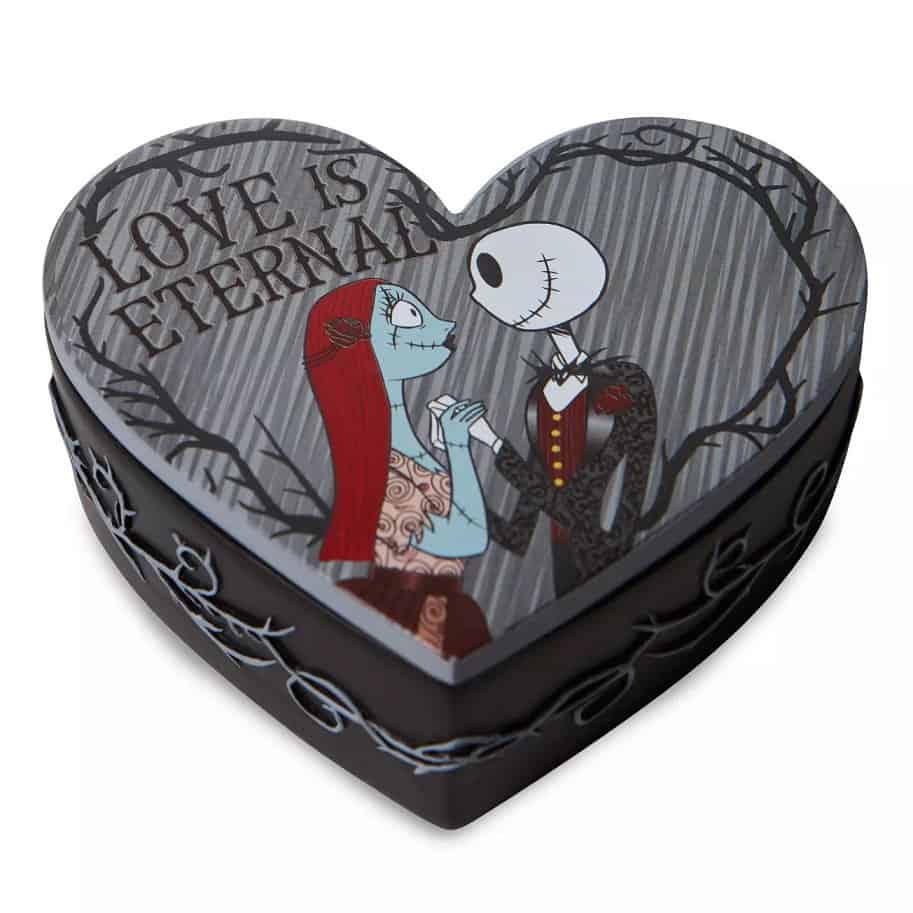 Who doesn't love Halloween? This set from The Nightmare Before Christmas is a fun and quirky way to celebrate the holiday, as well as celebrating the start of a married couple's new lives together.
Inside the wooden box, which has been engraved with an image of Jack Skellington and Sally with the words 'Love You to Death', are two glasses, two coasters, and a bottle opener.
The one glass has a design of Jack Skellington on it, while the other has an image of Sally, making them the perfect couples glass set.
This is a perfect gift for couples who are getting married soon, or even for couples who just like spooky things.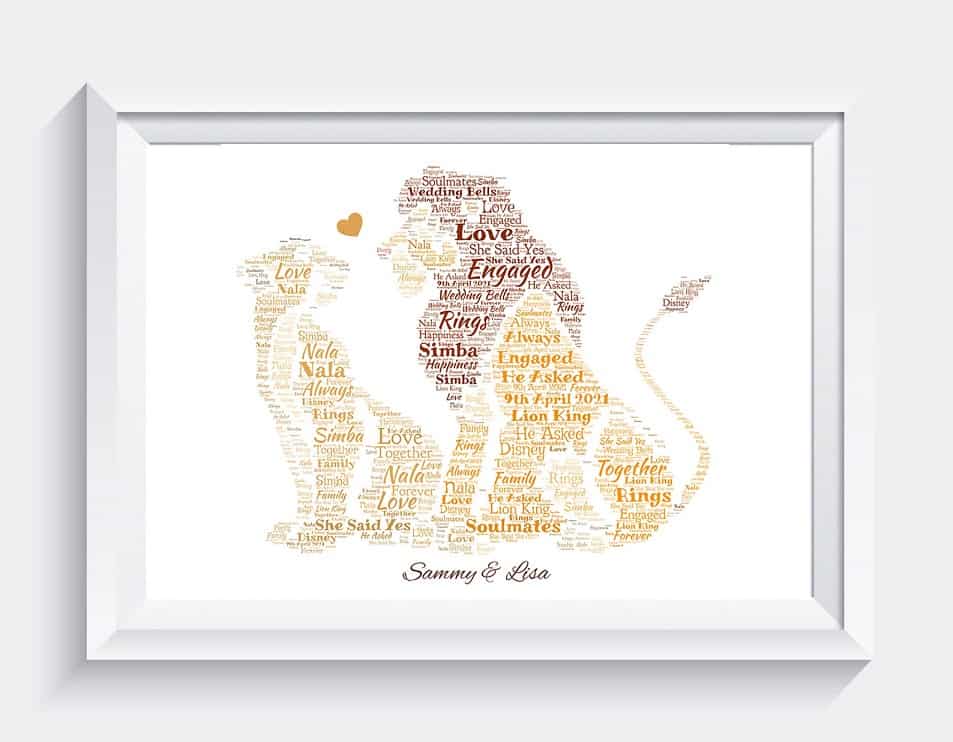 If you know someone who is obsessed with The Lion King, then this print is a must-have item for them.
The print features an image of Simba and Nala from The Lion King, created by grouping together a load of words and sentences.
These words and sentences can be personalized, so you can include the couple's names, important dates, and anything else that you think might be special.
This is a fantastic gift for anyone who loves Disney movies, and it makes a fabulous personalized birthday gift too.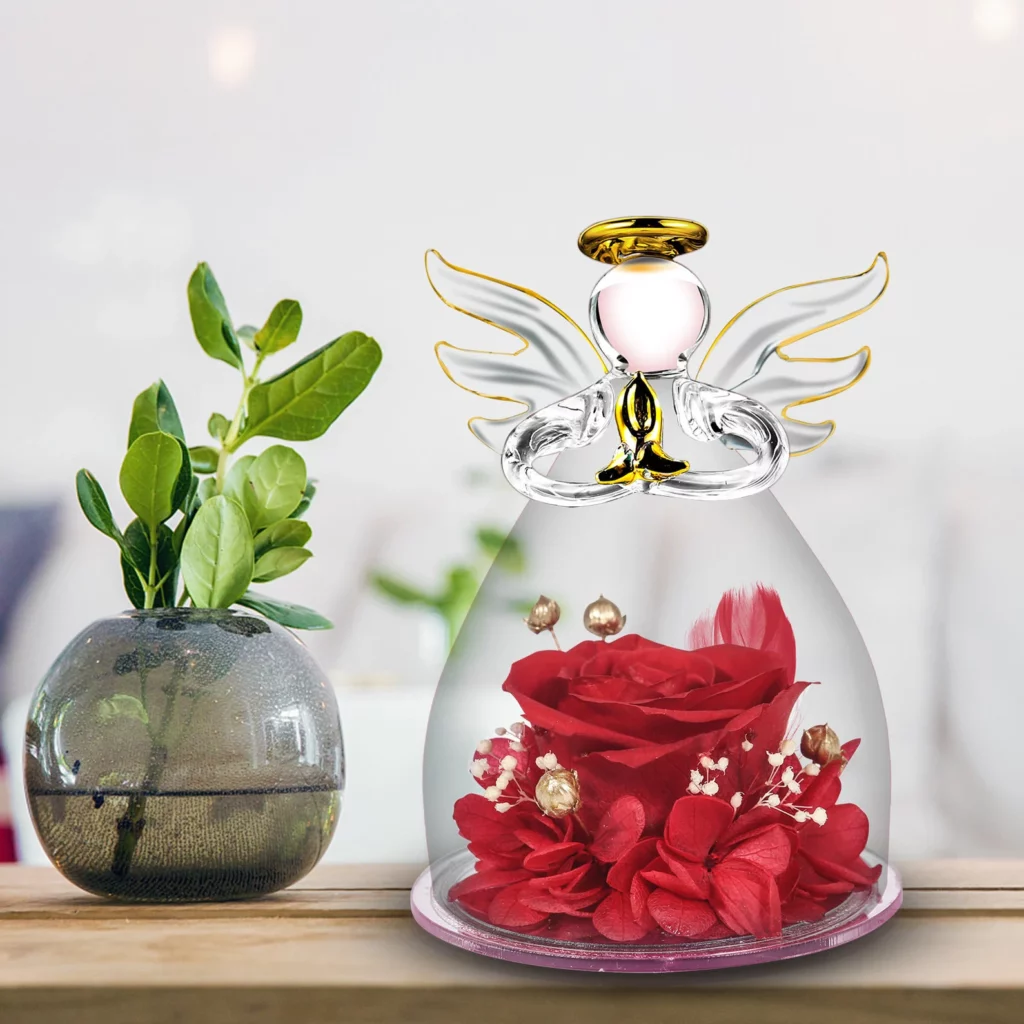 As a symbol of everlasting love, a rose is a perfect gift for a romantic Beauty and the Beast touch.
Gift your loved ones this décor piece that they can keep and cherish for a long time. What better than a beautiful rose you can keep forever? 
The glass is heat-resistant and durable which makes for a quality gift. As a bonus, this comes with a luxury gift box.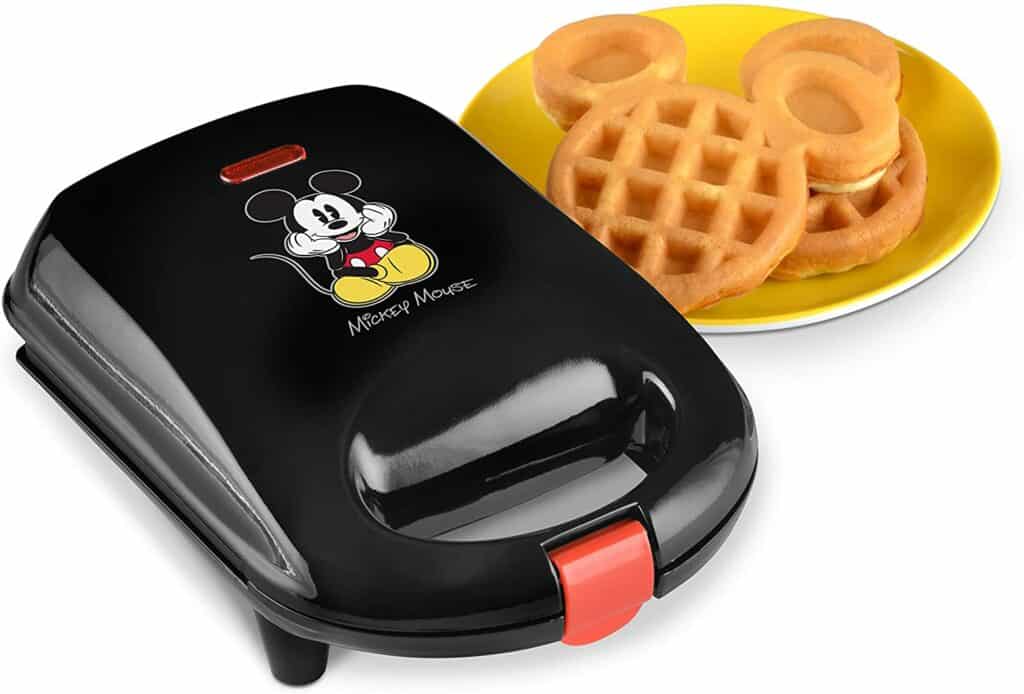 If you know someone who loves waffles just as much as they love Disney, then this is a terrific gift idea for them.
The waffle maker itself looks cute enough alone: it is black and red with an image of Mickey Mouse on the cover.
However, the main attraction is the fact that, by using this machine, you can create waffles that are shaped like Mickey Mouse's face.
This is a great idea for newlywed couples who are looking for gifts for their new home, as they will be able to have a Disney-themed breakfast whenever they feel like it.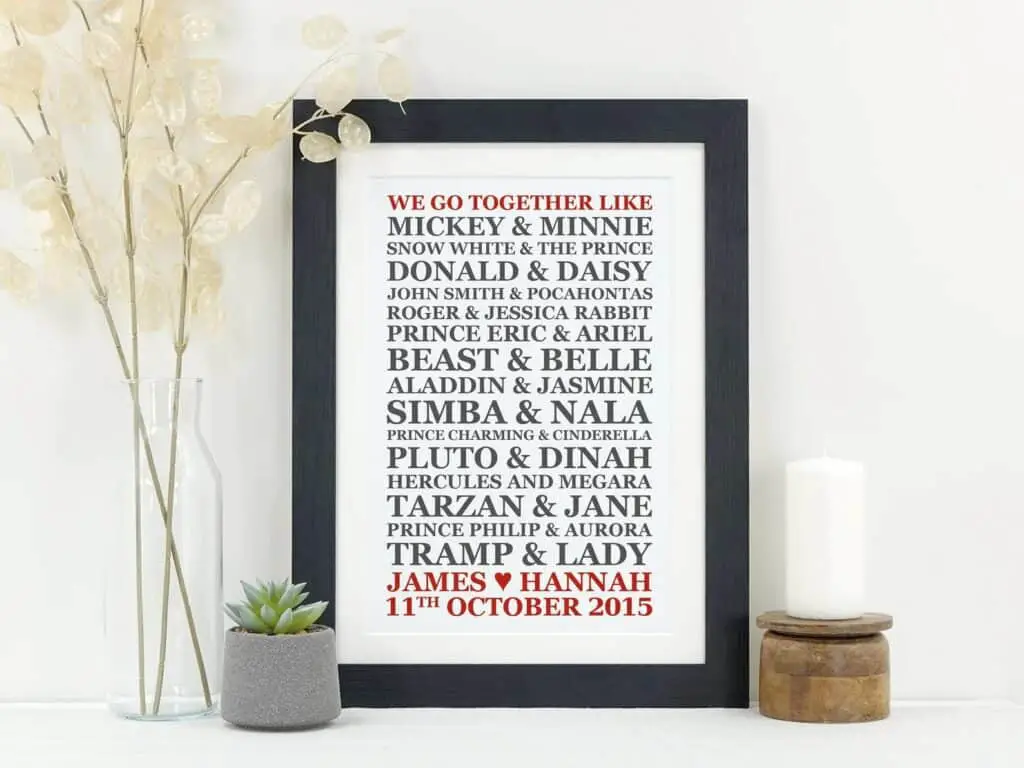 Another great gift idea for couples who want to show the whole world how much they love each other… and how much they love Disney movies.
This is a print with the words 'We Go Together Like…' written at the top, followed by the names of 15 Disney couples from over the years. Some of these names include:
Prince Eric and Ariel
Prince Charming and Cinderella
Tarzan and Jane
Lady and Tramp
This print is available in A3, A4, and A5, and it can be ordered with or without a frame. You can also personalize the color of the text, with 24 colors to pick from.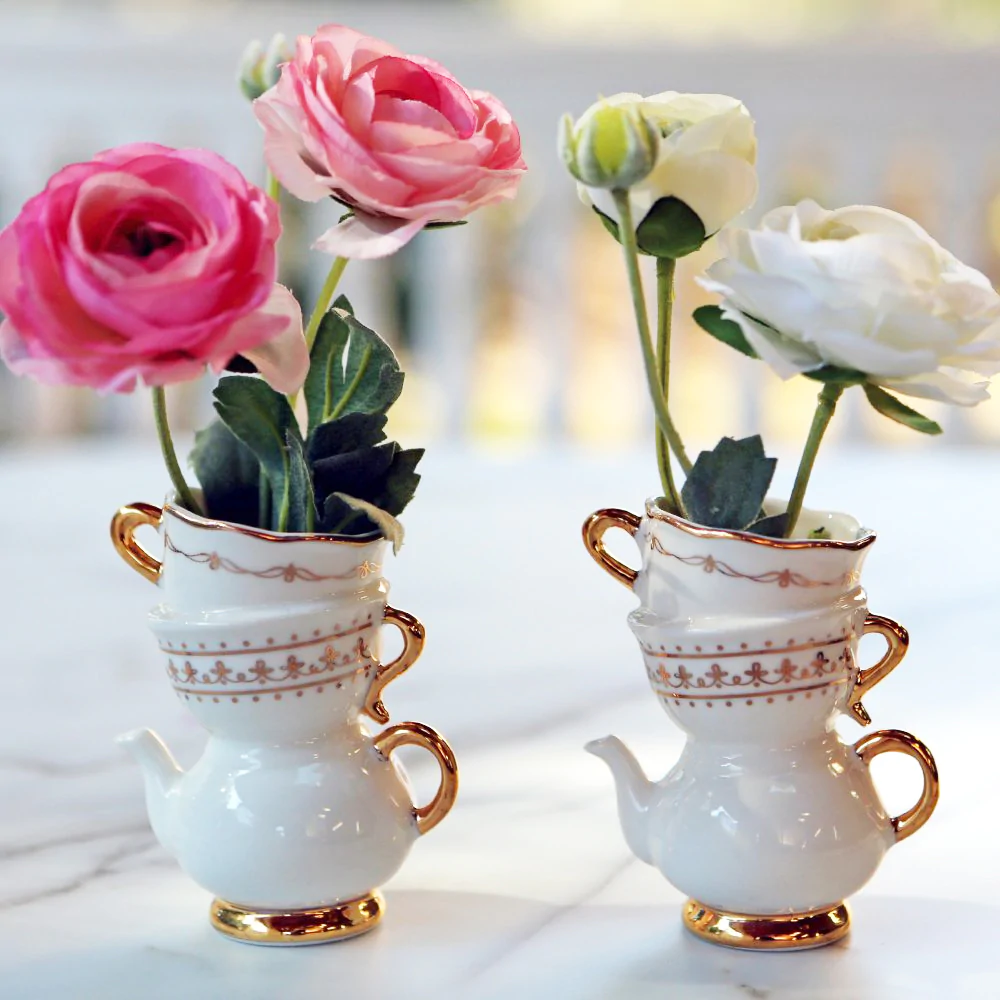 If your giftee likes quirky Disney decor items, they'll love these whimsical stacked teacups (like the ones from Alice in Wonderland) on teapot (looking like Chip and his brother and Mrs. Potts).
As a practical flower vase, this would surely bring a smile or two! This comes in a set of two with a great price, which can be used for either one lucky person or made into two separate gifts if on a budget.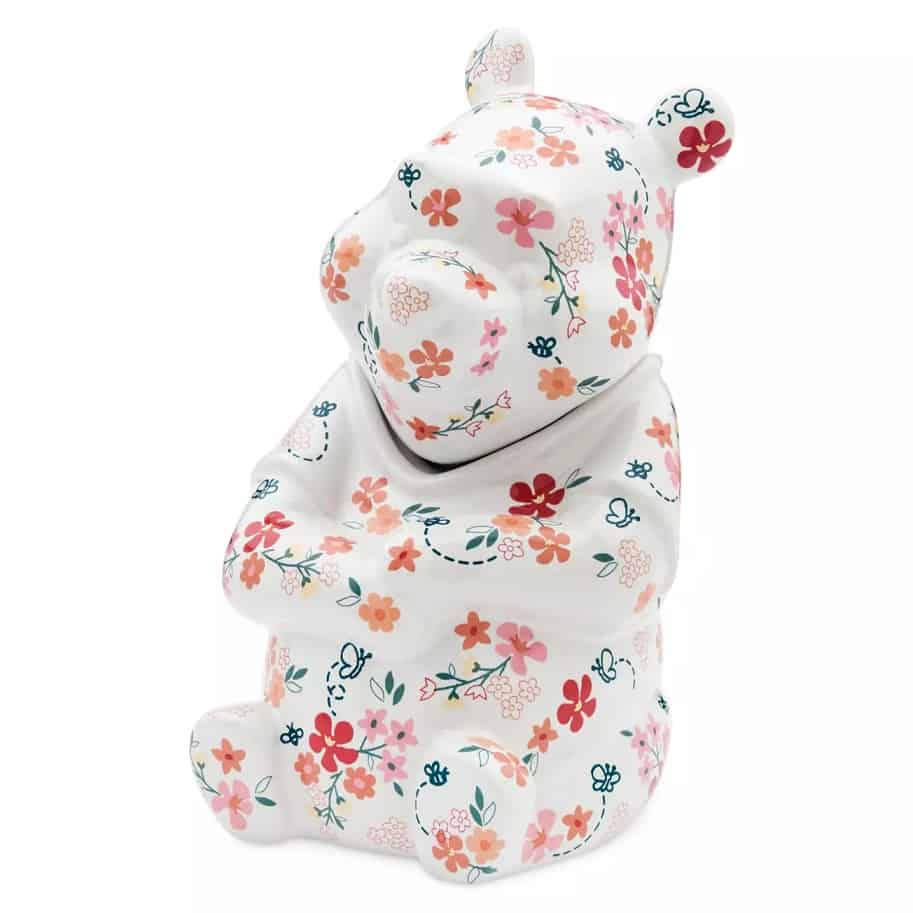 Sometimes, the best gifts you can give to a newlywed couple are the ones that they can use at home. This is a great example!
For those who enjoy baking cookies, this cookie jar is a wonderful addition to any kitchen. It comes complete with a removable lid, which is Winnie the Pooh's head.
There is a floral pattern around the outside of the jar, and inside there is a compartment where you can store all the cookies that you like.
It would make a lovely wedding present as well as a housewarming gift.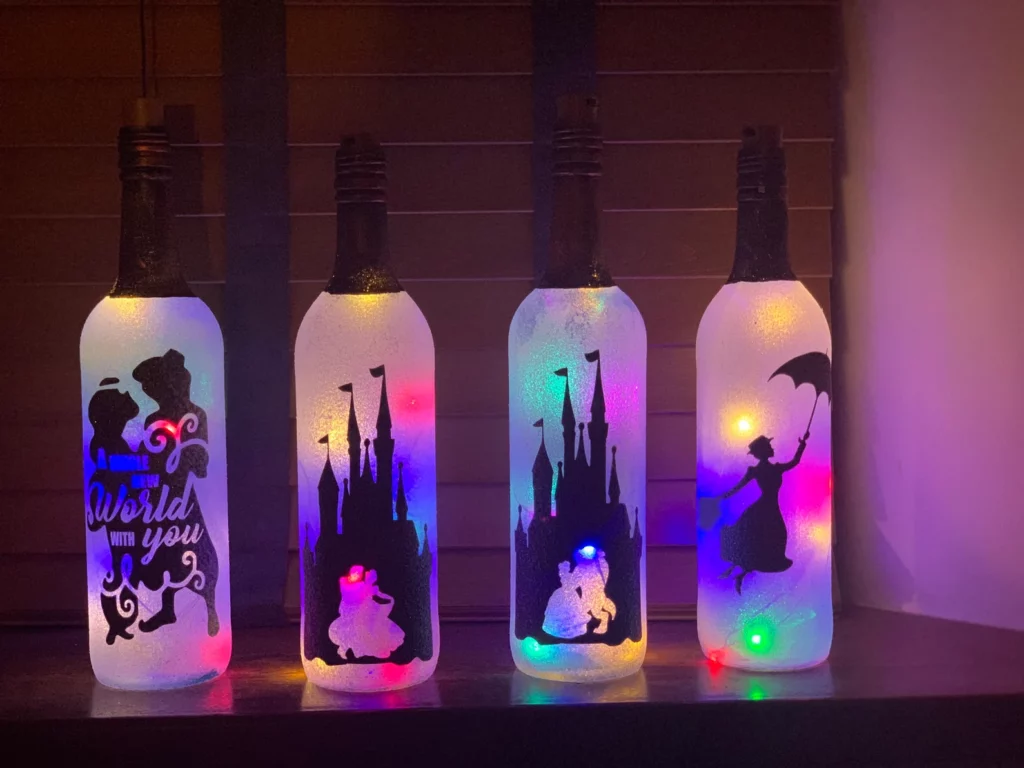 Finding it difficult to spot that rare Disney-themed gift for the fan who already has everything Disney? Look no further!
These very creative Disney Princess inspired bottle lamps are sure to make them satisfied as they enjoy a cosy dark night indoor.
A number of Princess themed bottles are available, including Belle, Cinderella, Mary Poppins, Ariel, Jasmine, Mulan, Moana, and more.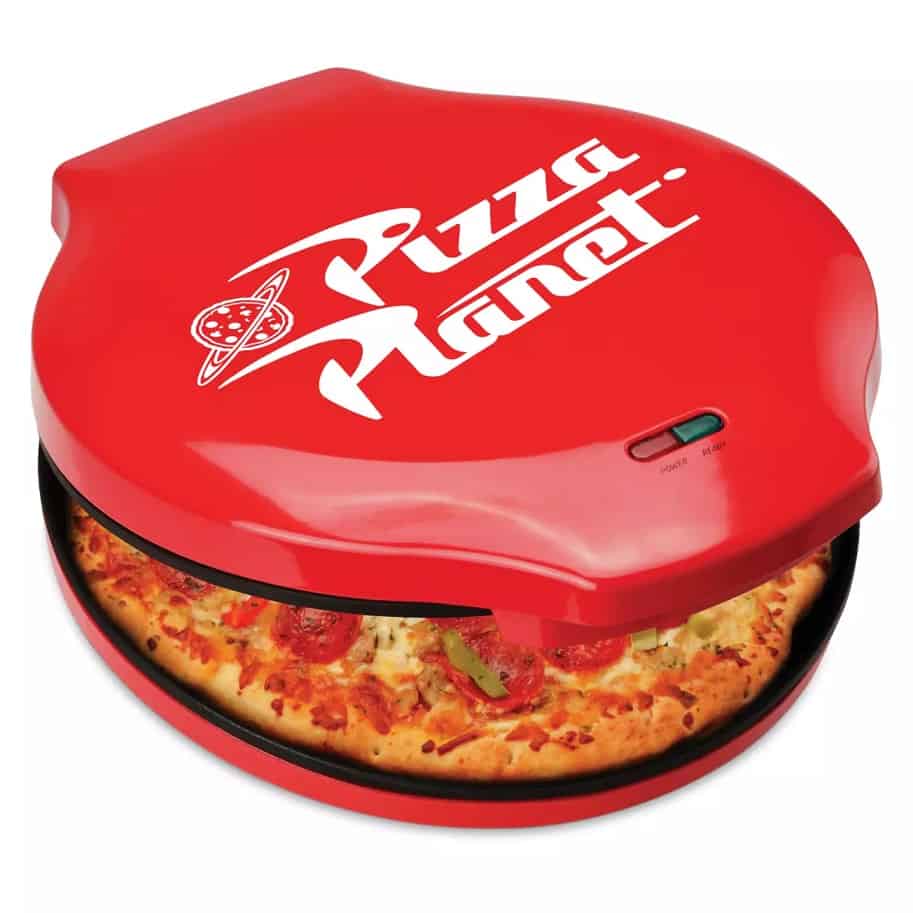 This is, yet another, extremely useful gift that any Disney-loving couple will surely appreciate.
This pizza maker has the Pizza Planet logo on the front, along with a large handle that allows you to easily carry it around.
Inside, there is a compartment in which you can place any 12 inch (30.48 cm) pizza, either frozen or handmade at home.
This pizza maker is so versatile that it can even be used to heat up nachos, quesadillas, and plenty of other foods that can fit inside. Get creative!
A lovely Mulan-inspired gift idea. This delicate cherry-blossom fan adds a magical oriential touch which can be suitable as a light yet posh gift.
It can also be gifted on the wedding day as a wedding favor.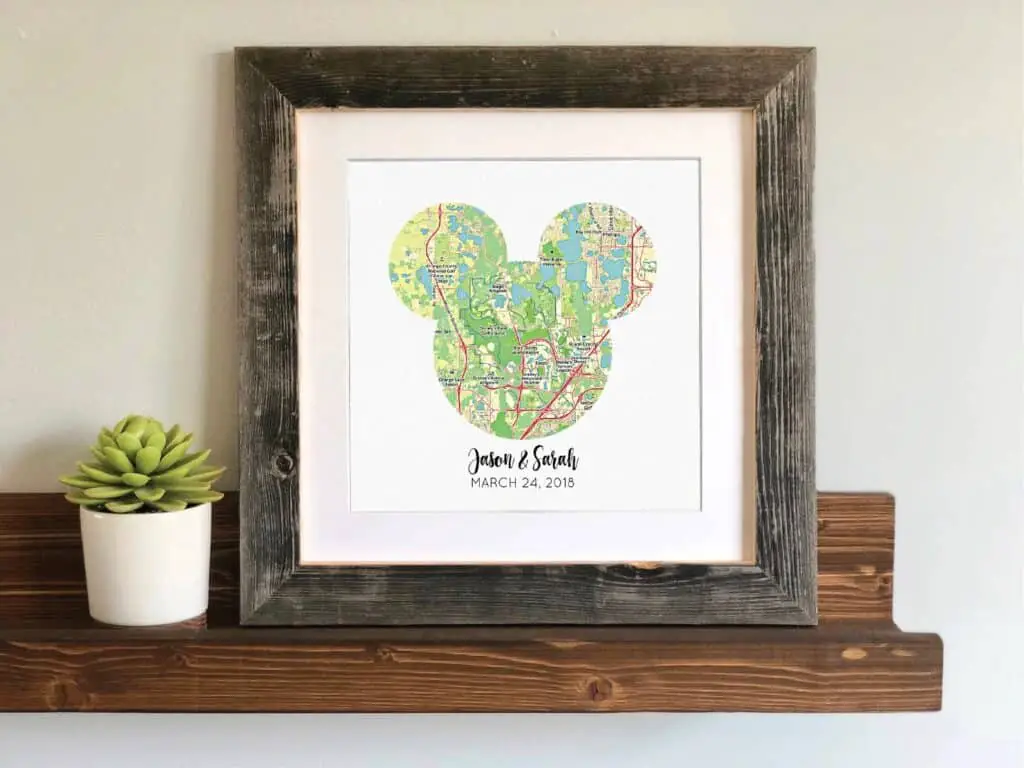 Do you know a soon-to-be married couple who either met at Disneyland, got engaged at Disneyland, or will be getting married at Disneyland? If so, this may be the perfect gift for them.
The print includes a map of Disneyland, shaped like Mickey Mouse's head, on a white sheet of paper.
The couple's names are printed just below the map, along with the date that they met, got engaged, will be getting married, or any other significant date.
If you want to add your own special touch to the art, you can write a message underneath the map, or draw something yourself.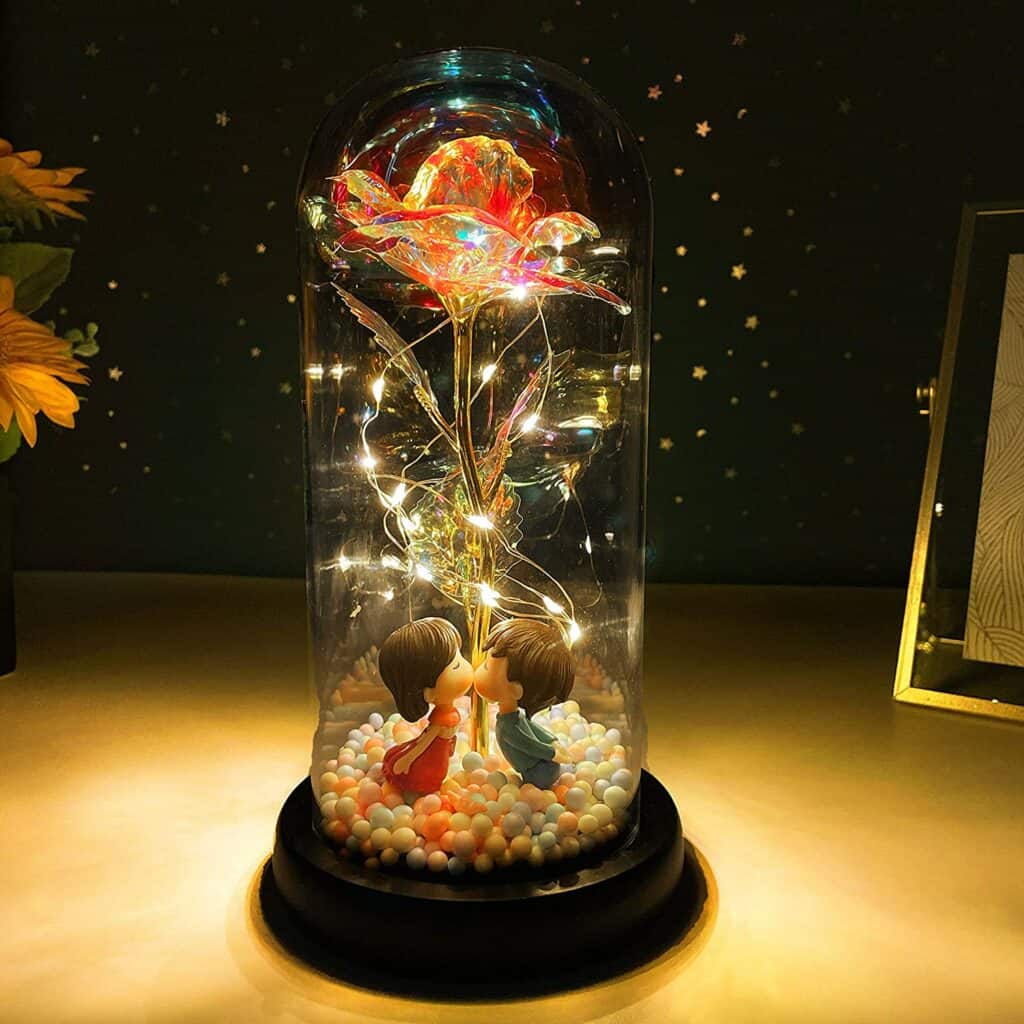 While this gift wasn't created by an official Disney brand, there is no denying its resemblance to the Beast's rose in Beauty and the Beast.
This beautiful glass dome features a colorful glass rose with a golden stem, with figurines of a couple stood at the base, sharing a kiss.
The best part? Unlike the Beast's rose, this one will never wilt, meaning that it will last forever. This ornament will look beautiful in the newlyweds' home.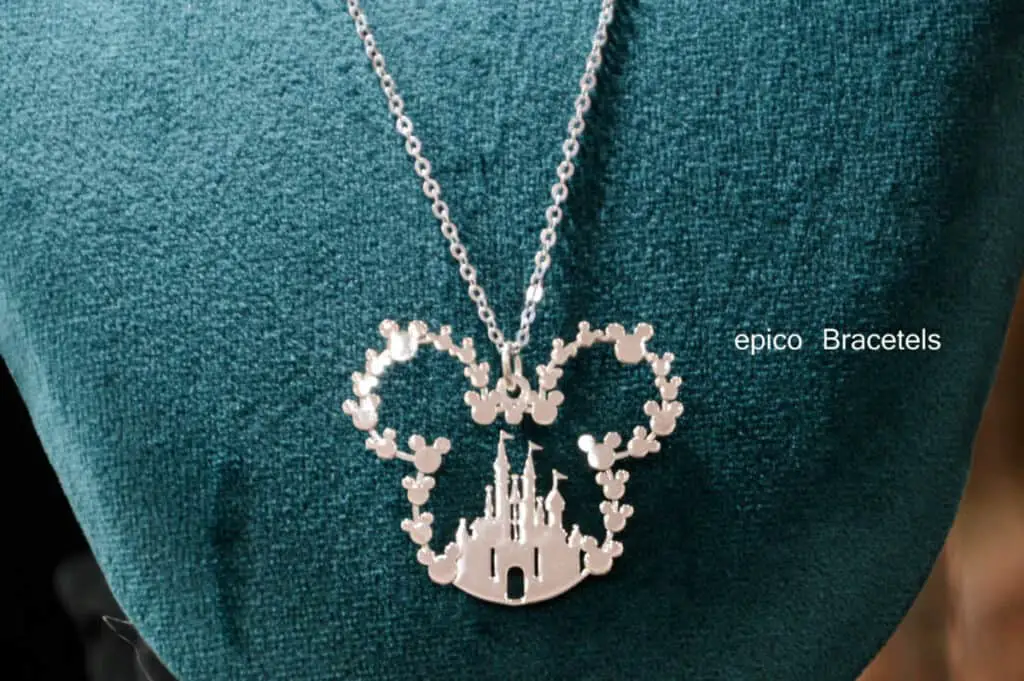 If your loved one is big on necklaces, this silver Special Edition Disney necklace is just for them.
It is fully handmade from 925 sterling silver with a 2 in 1 Mickey Mouse and Magical Kingdom design, which can make them feel extra special.
What better way to welcome someone into your home than with this delightful Disney Castle Doormat!
This doormat was inspired by the castle that appears throughout the parks, displaying the word 'HOME' with the castle as the 'O'.
It measures at 30 × 18 inches, and is made from durable fabric material.
This fun doormat is sure to brighten up anyone's day, whether they've visited Disneyland in the past or not. With this doormat, they will feel like they are visiting the Disney Castle every day!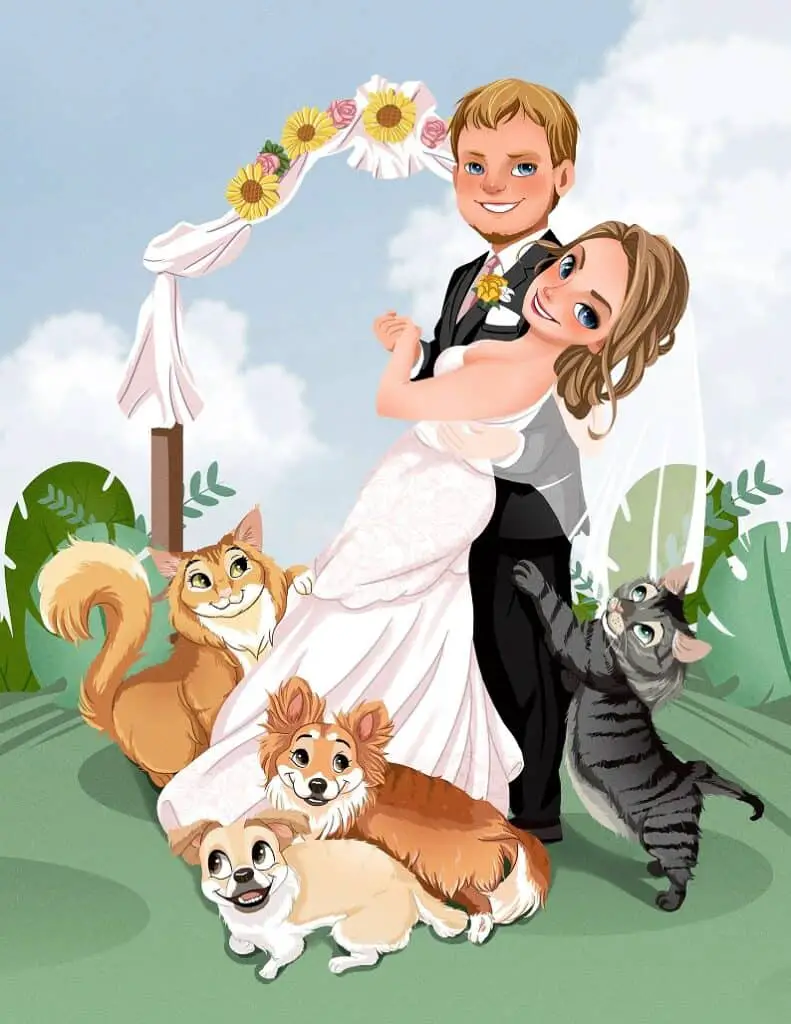 Another great gift idea for a Disney-loving couple is this personalized cartoon portrait.
It comes with several personalizing options, including whether you would like to add a pet to the portrait or not.
All you need to do is send the creator a photograph of the couple, so that they can create a custom cartoon portrait.
The portrait will be sent as a JPEG file which you can then print off at home, and place in a frame.
You will also be sent several proof designs beforehand, so that you can decide whether you would like the picture to be changed or edited before being sent the final design.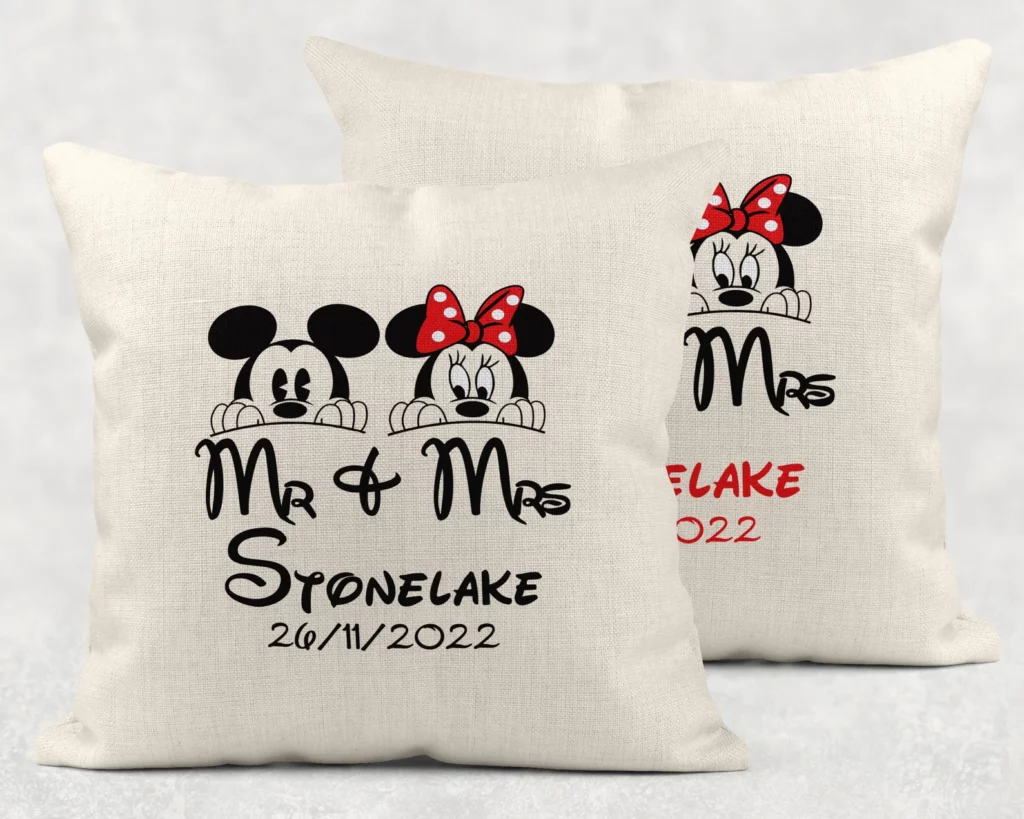 If you're looking for a 2 in 1 gift for the bride and groom, what better than a reminder of the day they became Mr. and Mrs.?
This customizable Mickey-Mouse themed cushion cover can do just that as a brilliant addition to their bedroom/lounge. These are 40 x 40 cm and can come in either red or black.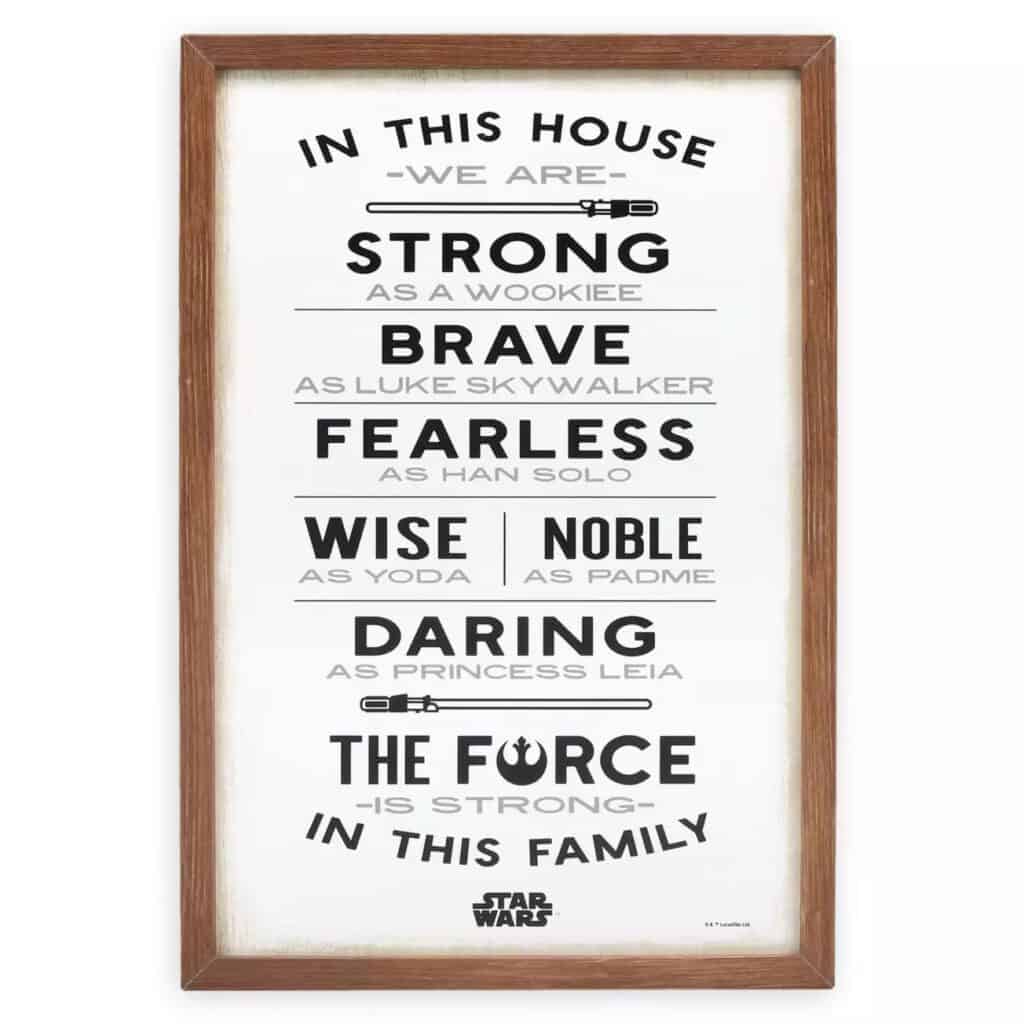 For couples and families who love all things Star Wars, this framed artwork is the perfect gift.
The print includes the text 'In this house, we are…' and then goes on to list several traits that are linked to certain characters from the Star Wars universe. Some of these include:
…brave as Luke Skywalker
…wise as Yoda
…daring as Princess Leia
The final piece of text at the bottom of the piece reads 'The Force is Strong in This Family'.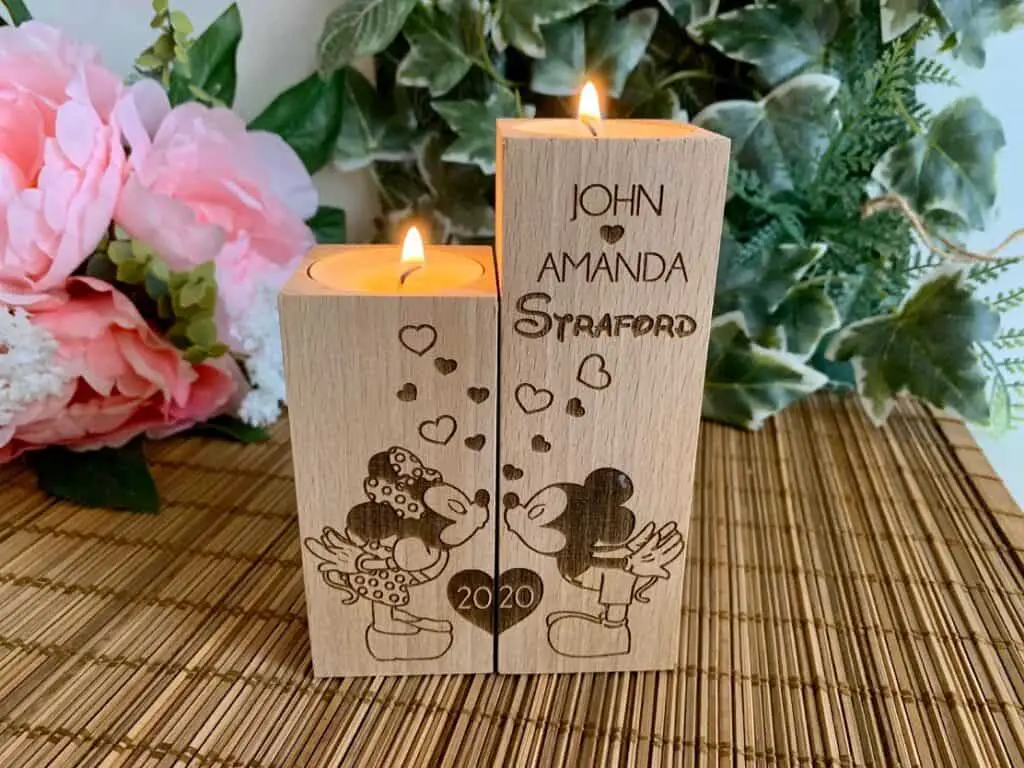 If you're looking for a sweet gift idea for a special occasion such as a wedding, this adorable pair of candles could make the perfect choice.
These two Mickey and Minnie Mouse shaped candles come with their very own personalized labels, displaying the couple's names and the year that they met, or got married.
Mickey is engraved onto one candle while Minnie is engraved onto the other, and when placed next to each other, it appears that they are kissing each other.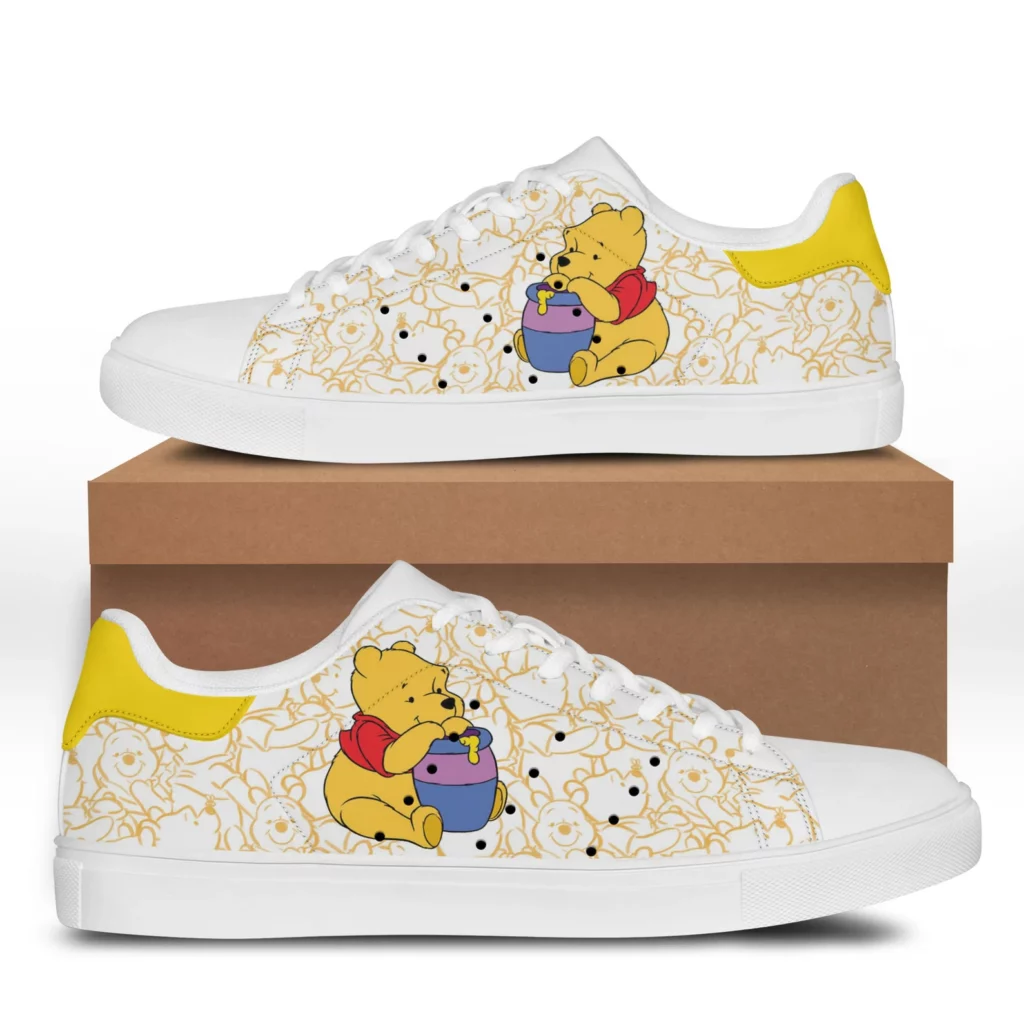 Whether you're gifting a bride-to-be or a guest who is a Disney fan, you can't go wrong with these unisex Disney patterned sneakers featuring Winnie the Pooh.
They are perfect to be paired with dresses or a schick suit. If you're looking for a practical and stylish Disney-themed wedding gift, (see also: How Much Cash Should You Give As A Wedding Gift?)you can't go wrong with these.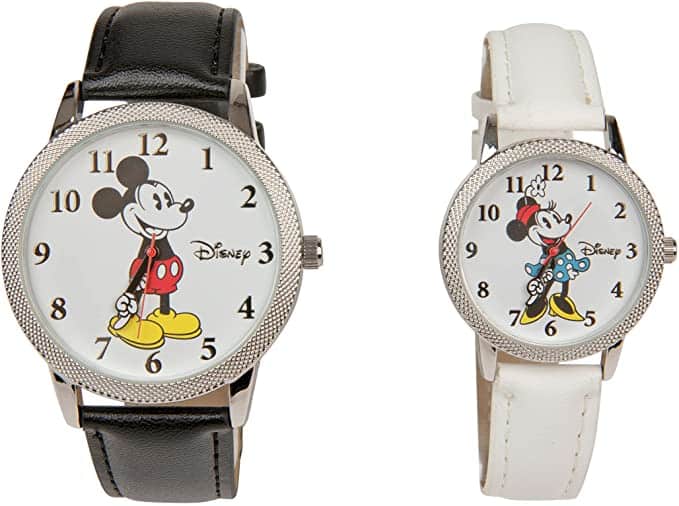 A fantastic gift idea for any couple who loves Mickey and Minnie Mouse is this set of watches.
Each watch has a Mickey Mouse face and a Minnie Mouse face, and both watches have different colors.
The 'his' watch is black with an image of Mickey Mouse on the face, while the 'hers' is white with an image of Minnie Mouse.
To make the watches even more fun, the minute and hour hands are designed to look like Mickey and Minnie's arms, pointing to the numbers.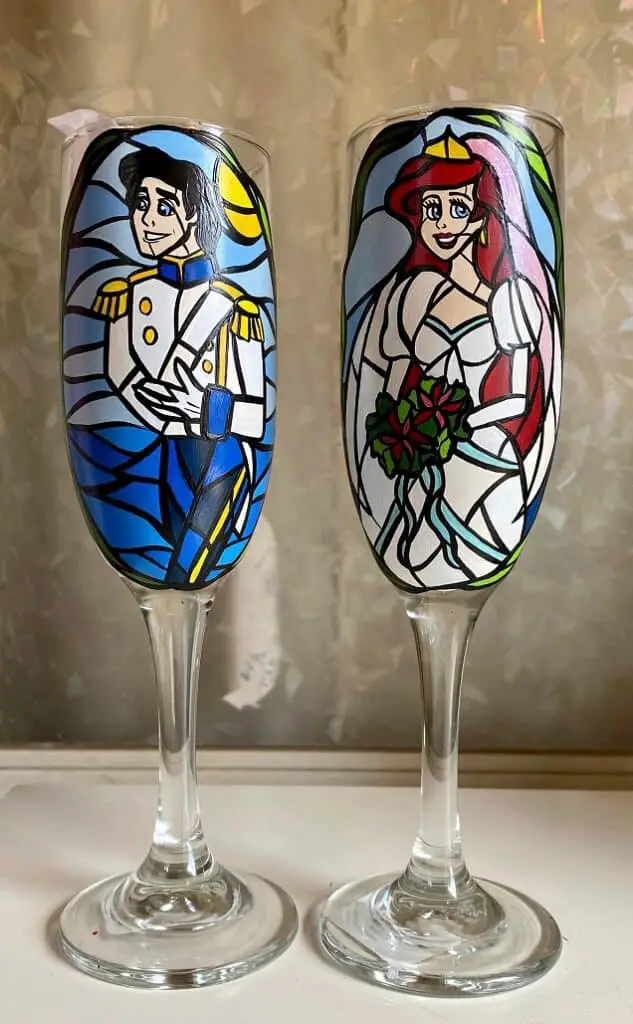 This glassware makes a wonderful gift for a Disney-loving couple. It features Ariel and her prince Eric, along with some of the items that she used during her adventures in the ocean.
The two glasses are designed for both members of the couple, with one glass featuring Ariel, and the other featuring Eric.
Both glasses are hand-painted with a stained-glass theme, and feature images of the characters wearing the clothes they wore at their wedding.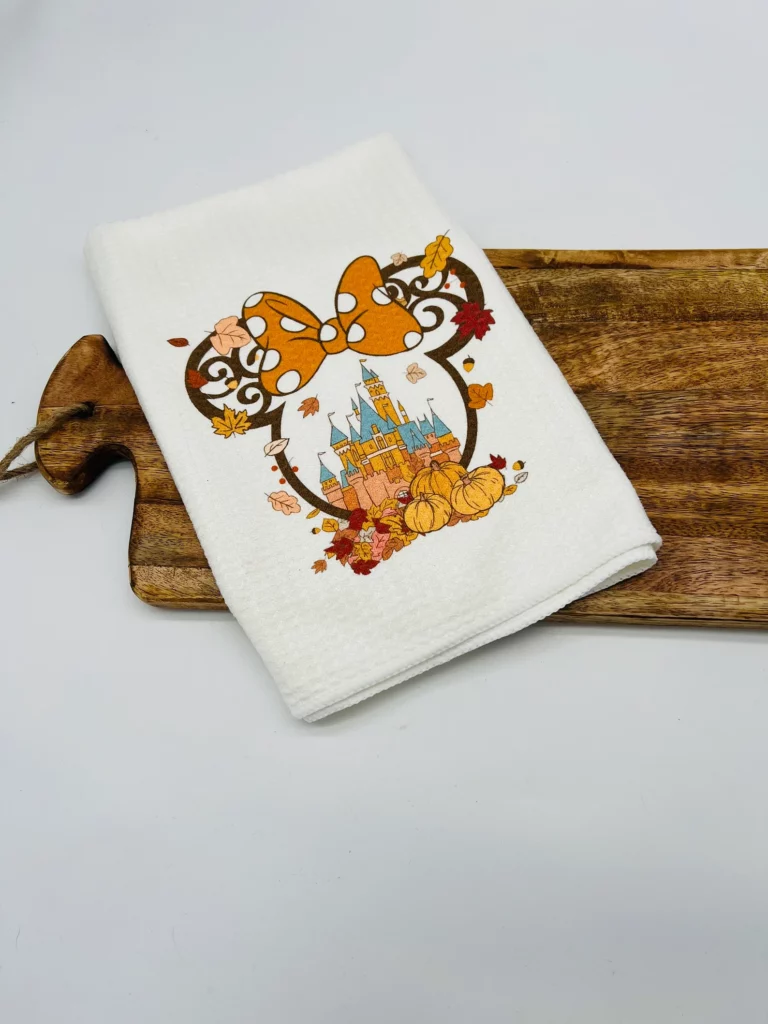 This Disney Tea Towel is a great gift for those who fancy Disney-themed kitchen decor.
The creative combination of the fall colors and the magical Disney Castle make this a special addition to a friend's collection and are sure to remind them of you whenever they step in the kitchen.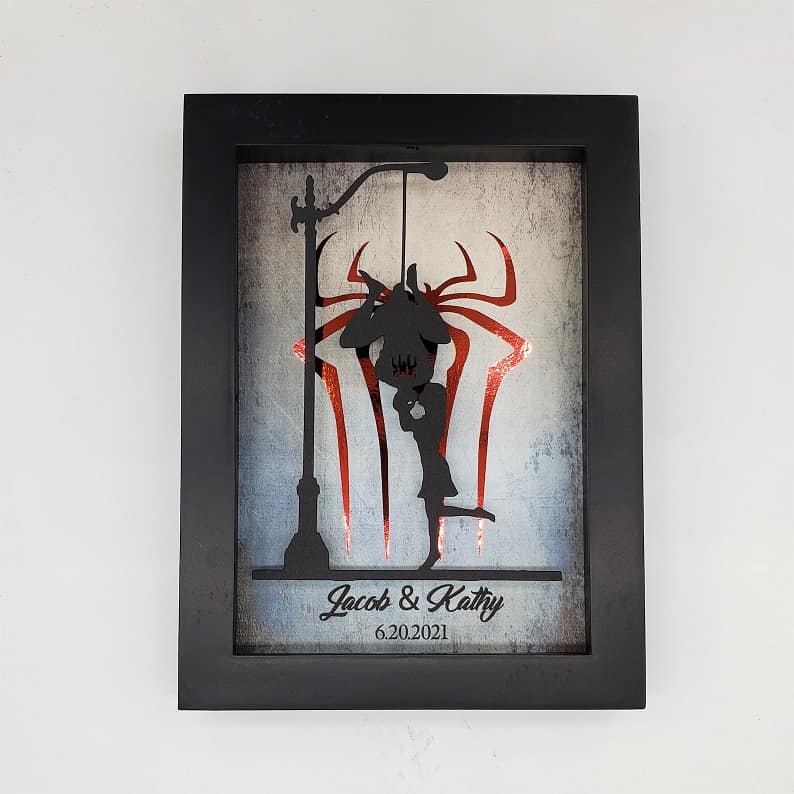 Only recently, Spider-Man has become a part of the Disney product, as the character is still mainly owned by Sony. However, Marvel fans will enjoy this unique gift idea.
The shadowbox displays Spider-Man and Mary Jane sharing their infamous upside down kiss from the first Spider-Man movie (technically making this a Sony gift rather than a Disney one…).
It can be personalized by adding the couple's names at the bottom, along with the date they met, or the date they will be getting married.
Looking for something a little spicy? This Rapunzel-inspired garter set makes a lovely gift and is sure to make them feel special.
It is made with lavender lace and gold ribbons featuring a handmade charm. This also makes for a beautiful keepsake they can keep forever and remember that special occasion.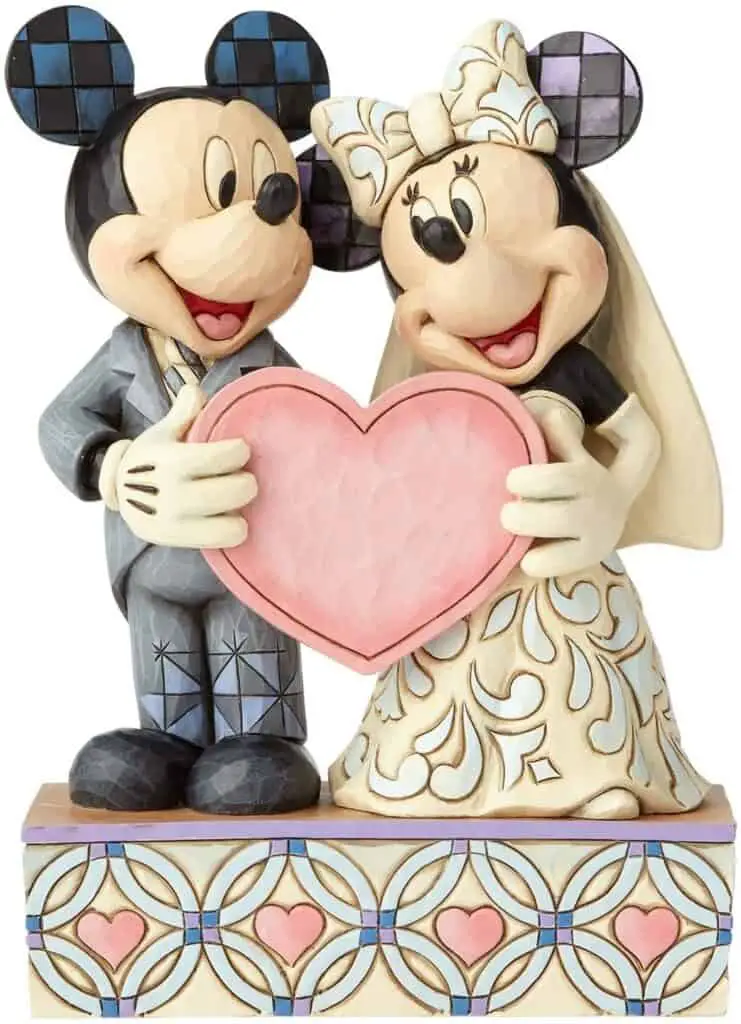 For couples planning to get married, this ornament would make a great gift idea.
It features figures of Mickey and Minnie Mouse wearing their wedding attires,(see also: Church Weddings: What You Should And Should Not Wear, With Examples) and holding a pink heart. It is very pretty and romantic, and will look great in the home of any newlywed couple!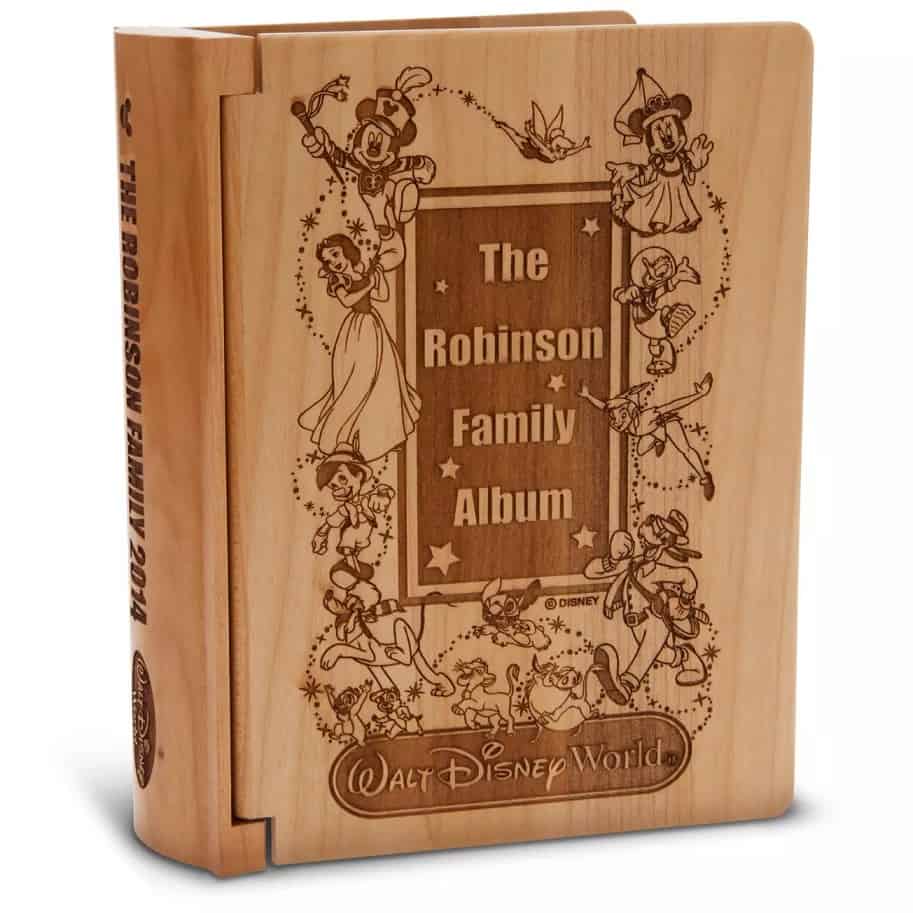 Last, but not least, we have this wooden photo album. This item is sure to be a hit with any couple who plans to visit Walt Disney World soon, or visit there often.
It features several characters that have been engraved into the book cover, including Mickey Mouse, Peter Pan, Pinocchio, and Tinkerbell. In the center of the book cover, you can add the names of the couple.
Inside, the couple can add prints of photographs to cherish forever. 
Final Thoughts
These 30 gift ideas are just a few of the many options available when looking for the perfect Disney wedding gift.
There are so many wonderful products out there, and you are sure to find something that your loved ones will adore.
We hope you enjoyed our list, and if you found anything useful, please share it with your friends.
Happy shopping!

Latest posts by Lisa Plaitt
(see all)