So, you're daydreaming of the ultimate fairy tale wedding and being whisked away on your happily ever after, Disney-style. Trust me, I get it! But let's get real: tying the knot in the "most magical place on Earth" comes with its own set of numbers to crunch. Fear not, my enchanting brides and grooms-to-be; we're about to unravel this mystical world of Disney wedding costs!
Grab your glass slipper and saddle your noble steed – things are about to get royally interesting as we delve into gorgeous venues, banquet selections fit for a king (or queen), melodious tunes that will make birds sing, and so much more.
Ready? Great! This adventure is just beginning, and by the end, you'll have all you need to figure out if a Disney wedding fits within your royal budget. Let's dive in and unlock all those enchanted secrets before Cinderella's midnight curfew strikes!
Choosing the Perfect Disney Wedding Location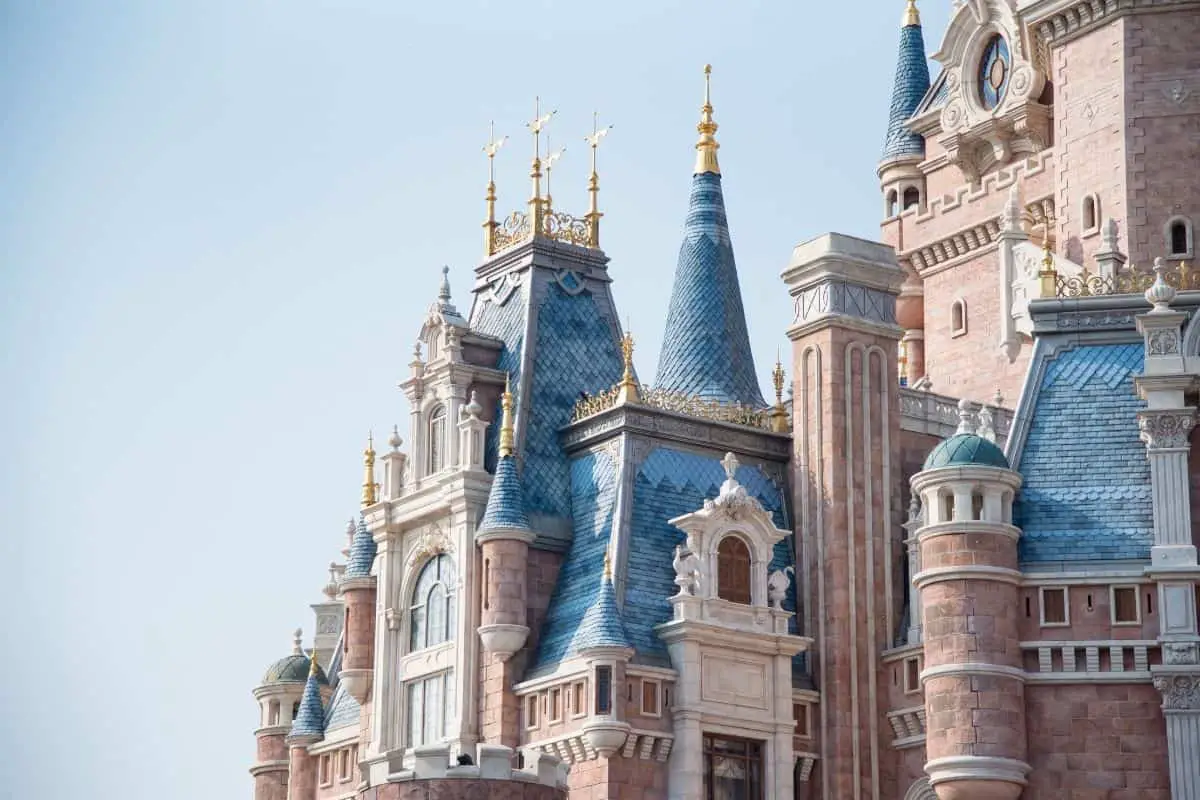 Alright, folks, it's time for a magical whirlwind tour of your potential Disney wedding locations. After all, choosing the perfect spot to say "I do" is no small feat. But don't worry – I've got you covered with everything you need to know about venues and pricing. So buckle up and let's Goofy-foot our way through this!
Walt Disney World vs Disneyland
Ah, yes – the age-old dilemma of Walt Disney World in Florida versus Disneyland in California. While both parks offer unforgettable experiences, remember that the cost for your dream wedding will vary based on their different locations.
Walt Disney World tends to be more budget-flexible, with ceremonies starting at just $5,000. Meanwhile, those enchanted nuptials at Disneyland have a starting price of $15,000. So if you're trying to keep your purse strings in check – like Cinderella after shopping for pumpkin carriages – consider opting for Florida's sun-soaked park.
Venue options and pricing
Let's talk all things venue-related! At both Walt Disney World and Disneyland resorts, there are plenty of options that cater to a range of budgets and styles.
For minimalists who adore serene waterfront scenes, feast your eyes on the Conch Key Marina or Luau Pointe (starting around $5k!). Want something extravagantly regal? The Disney Wedding Pavilion ranges from $10k to $35k.
But wait – there's more! If you truly crave an unparalleled fairy tale experience without a fairy godmother bankrolling it (we wish!), imagine exchanging vows with Cinderella Castle as your backdrop. Be warned though: this picturesque scene at Magic Kingdom can set you back between $20k and $50k.
By now, you've dipped your toes into the enchanting world of Disney wedding venues and pricing. As always with any dream-come-true affair: choose wisely and make it uniquely yours! After all, this is where your storybook romance begins.
Understanding Event Minimums and Ceremony Fees
Alright, my Disney-loving friends, now that we've explored wedding locations and venues, it's time to discuss the finer details of event minimums and ceremony fees. Trust me – understanding these costs will help you gain a better grasp of your overall budget. So, without any further ado, let's jump right into the magical world of moolah matters!
Factors affecting event minimums
You might be wondering: what on Earth is an event minimum? Simply put, it's the lowest total cost for your wedding experience at Disney. Factors that affect this number include venue choice (we discussed that earlier!), day of the week (Mickey Mouse Mondays are typically cheaper than Snow White Saturdays), and even time of day.
Food and beverage selections also contribute to the magic number: opting for brunch might save you some money compared to a full-on dinner feast! The good news is that by mastering these variables, you can create a tailor-made experience within your budget.
How ceremony fees contribute to total cost
As if managing Mickey finance wasn't enough, we mustn't forget about the ceremony fees! These costs primarily depend on your chosen venue and whether it's a prime or non-prime date – and they go towards meeting those crucial event minimums we chatted about earlier.
For example, imagine getting married in the enchanting Disney Wedding Pavilion with an average ceremony fee ranging from $4k to $6k. Just keep in mind that this only covers the use of your dream location – decor, food & beverage minimums as well as entertainment options still need factoring in.
Finding the Right Disney Wedding Package for You
Now that we've dipped our toes into the magic-infused pool of Disney wedding costs, from venues to ceremony fees, let's embrace our inner Fairy Godmother as we transform mere dreams into reality with Disney wedding packages. With customizable options for budgets and styles alike, I promise something magical awaits around every corner!
Memories, Escape, and Wishes packages explained
Poof! Pumpkin carriages welcome you to three splendid package options: Memories, Escape, and Wishes. Let's dive into what each one has to offer:
1) The Memories package is ideal for intimate affairs with a guest count of up to 4 (excluding the lovebirds) starts at $3,500.
2) An Escape package caters up to 18 guests (including the couple), featuring an average price range of $7k – $10k.
3) For the ultimate fairy tale festivity – enter the Wishes Package starting at approximately $12k (with no guest cap!).
Each package consists of various combos of services like photography, officiants, cake & beverages. Your task? Weighing each option's charm against its price.
Customizing your package to fit your budget
Your Disney wedding should be a reflection of your unique love story – and that includes customization! The beauty of these enticing packages lies in their adaptability; imagine working closely with a stellar team of Disney wedding planners to achieve an unforgettable dream-styled day without leaving anyone bibbidi-bobbidi-broke.
From adding extra enchantment like Cinderella-worthy glass slippers on your cake or selecting affordable food alternatives (who doesn't fancy finger sandwiches?), personalize your experience as creatively as you wish!
Disney weddings are all about transforming fantasies into once-in-a-lifetime celebrations. With these glittering guidelines on hand (and perhaps a spoonful of sugar!), you'll have what it takes to craft the perfect magical melding of dreams and budgets.
Catering and Food Options: What's Included and What's Extra?
It's time to take a scrumptious journey through the land of Disney wedding cuisine – where love and taste buds intertwine in fantastical harmony! We'll discover how catering and food options can impact your big day's bottom line, so grab your fork (or quill) and prepare for a flavorful experience!
The impact of time of day: brunch, lunch, or dinner
Did you know that the banquet hour at your Disney extravaganza can sway overall costs? Serving up an earlier meal like brunch could be friendlier to your budget compared to a traditional dinner.
For example, brunch meals come with prices ranging between $100-$150 per person, while evening feasts may easily double those numbers. Don't forget that magical weekends will also bump up expenses! It's crucial to weigh appetizing options wisely while keeping an eye on financial happily ever afters.
Food and beverage minimums
Now let's talk about "foodtastic" fine print in more detail. You'll need to meet specific food and beverage minimums depending on the venue, which are included in event minimums. Brunch typically hovers around $125 per person; meanwhile, lunch rings in at approximately $150 per person, and dinner sends those dollar signs climbing north of $175 per person.
However, don't fret – as long as you've selected a package deal that accurately reflects your needs (remember our wonderful Memories, Escape, and Wishes?), navigating these costs should be smoother than Prince Charming moonwalking across Cinderella's ballroom floor!
Aspiring Disney wedding planners: remember that customization is key – both regarding delicious delicacies served *and* their dollar impact! Flexibility mixed with culinary creativity will help you savor every moment without sacrificing flavor or enchantment.
Don't Forget About Flowers, Music, and Entertainment!
Once upon a time, in a magical blog post just like this one, we encountered the enchanting realm of flowers, music, and entertainment options for a Disney wedding. So polish your tiara and don your dancing shoes – it's time to uncover how these lovely extras can enhance your special day without summoning dragon-sized expenses!
Costs for different floral arrangements
Say it with me: every royal or fairy-tale-inspired shindig deserves spectacular blooms! Don't forget that floral arrangements play their part in cost calculations. Expect to shell out anywhere from $500 for simpler bouquets to $3k (or more) for lavish centerpieces fit for Sleeping Beauty's table.
Ultimately, it's about striking that balance between "storybook blooming" dreams and financial reality to bring life to your unforgettable event.
Choosing music for the ceremony and reception
Will you be serenaded by starry-eyed singers? Perhaps having pianists tinkle away as your guests twirl? Or maybe hiring a DJ who makes the whole kingdom dance till dawn?
Musical delights consist of many flavors – and price tags! Live musicians could cost between $3k – $5k, while DJs may hover around the $1k – $2k range – so choose according to both ambiance preferences and budgetary constraints.
Add-on entertainment services
From photo booths filled with pixie-dusted props (averaging around $2k), quirky caricaturists at about $1k per four-hour session, to live performers like a roaming magician potentially costing you upwards of several thousand dollars – additional entertainment 'spells' can certainly add up!
Creating Your Fairy Tale Look: Attire and Photography
As we venture deeper into this Disney wedding planning realm, let's not forget one crucial aspect: both you and your partner looking and feeling like true royalty! From dreamy dresses to capturing every precious moment, here's how attire and photography come into play – with a splash of cost considerations sprinkled throughout.
Disney-inspired wedding dresses
Who hasn't dreamed of walking down the aisle in a jaw-dropping gown? Waltzing into the world of Disney wedding fashion, prepare yourself for price tags that range from $1.2k to $10k (or more) for designer creations inspired by our beloved princesses.
While budget-conscious brides may need their Fairy Godmother's assistance (aka wisdom) for these regal wears, remember that there are affordable alternatives out there that still exude enchantment!
Pricing for photography and videography packages
Those magical moments on your special day are priceless – but candidly capturing them often isn't! Photography services usually fall between $3k-$5k+, while videography options can start at around $4k.
Be mindful of additional fees, such as extra hours or an engagement session, which might accompany these visual keepsake packages. But never fear! With careful planning and a hint of pixie dust, you'll secure those memories in high-quality imagery without losing sight of budgetary bounds.
Transportation Options: Getting Around on Your Big Day
Let's zoom into the wonderful world of Disney wedding transportation! In this part of our exciting cost journey, we'll uncover how you and your guests can glide around with ease during your magical day. So fasten your seatbelts and soar through Disney skies as we discuss these helpful travel tidbits!
Options within park grounds
On your fairy tale wedding day, shuttling between venues is essential (and potentially dazzling!), but do consider the costs involved. From elegant horse-drawn carriages ($2.5k+) to whimsical monorail transport, you might need to wave your magic wand on various options – while staying in harmony with bank accounts, of course!
Keep in mind that not all locations offer specialty rides like Cinderella's Carriage, but fear not – there are still plenty of customizable options for every magical style and budget.
Airport transportation services
Before anyone can start humming "Be Our Guest," airport transfers should make it onto this enchanted itinerary – after all, that's where most folks will arrive from lands far, far away!
Transporting a squad from Orlando International Airport (MCO) or Los Angeles International Airport (LAX) may involve hiring shuttle vans ($300-$600 each) or even booking a luxurious limo ($800+), depending on group size and preferences. But remember – practical alternatives like rideshare apps are also at your service when reigning in the realm of expenses.
Overall Strategies for Saving Money on a Disney Wedding
As we've discovered throughout this curated cost voyage, Disney weddings can comprise diverse elements with quite the range of expenses. So, let's sprinkle a little pixie dust on smart financial strategies that can turn your happily-ever-after into reality – without leaving anyone feeling like they're under Maleficent's spell!
Deciding what's essential vs non-priority items
The key to unlocking budget-friendly magic is prioritizing what truly matters to you and your lovebird. Start by listing everything you dream of incorporating and then categorize the need-to-haves, nice-to-haves, and those pesky "made-me-overspend" extras.
Remember, each couple has unique expectations for their fairy tale wedding – so always trust your instincts when conjuring up these wish lists.
Tips for making adjustments to reduce costs while keeping a magical experience
With priorities sorted like morning dew upon enchanted rose petals, it's time for practicality! Here are some helpful tips:
Weekday Weddings and Off-Peak Seasons
Take a lesson from Cinderella – timing is everything! Opting for a weekday wedding can save you big, as Disney's minimum expenditures are lower compared to weekends. Additionally, consider the off-peak seasons for cooler savings as well.
Choosing a Morning Ceremony
Look to Aurora for inspiration, and wake up early to exchange vows at sunrise! Mornings typically cost less than afternoons and evenings, letting your budget bask in the early sunlight.
Less Popular Venues & Time Slots
Think beyond Cinderella's Castle – choosing a less popular venue or booking during non-prime hours could save you some royal treasure.
Every Beauty needs her Beast – but not necessarily an entire kingdom of guests! Keep your guest list in check to reduce catering and reception costs without compromising your dream celebration.
Break free from the castle walls! Having your reception off site might not only be more affordable but also allows for unique celebrations that still ooze Disney magic!
DIY Floral & Decor Extravaganza
Channel your inner Rapunzel and get artsy with DIY floral arrangements and decorations. Personalize every nook of your wedding while preserving precious pennies!
Look Beyond Disney for Photo & Video Services
Fly farther than Neverland to find affordable photography and videography options outside of Disney's offerings – after all, capturing those special moments shouldn't break the bank!
Tap into Digital Discounts with Disney Gift Cards
Unleash your wedding Aladdin-style by purchasing discounted Disney gift cards ahead of time; they can help cover part of your overall cost without rubbing any genie lamp!
Prioritize Budget Items Wisely
Assemble important elements à la Snow White: start with must-haves then transition to desirable items, ending with things that may stretch your budget. Remember, it's all about balance in happily ever after!
Consult Your Disney Wedding Planner
Your Fairy Godmother (aka Disney's free wedding planner) is only a pumpkin ride away! Work with them to embrace cost-saving strategies while manifesting the magical experience you and your partner deserve.
Above all else? Stay true to yourselves as a couple while navigating financial decisions during these magical wedding journeys. With heart-to-heart chats about must-haves and unique bridal visions, that storybook celebration will indeed become an unforgettable reality!
Summing Up
And so, dear Disney dreamers, we've journeyed through a land of love, laughter, and sensible budgeting in the realm of fairy tale weddings. By embracing these budget-friendly adventures alongside your own creative spark, achieving that perfect "happily ever after" doesn't have to involve raiding Scrooge McDuck's vault!
Remember: like all great Disney stories, the magic lies within you – from choosing the right time slot and prioritizing essential elements to trusting your Fairy Godmother (or wedding planner) with their sage advice. So step forth and let your love story unfold in true Disney style while reigning over a kingdom of thriftiness! Happy planning, and may your magical day become a reality beyond your wildest dreams!

Latest posts by Lisa Plaitt
(see all)