Imagine walking into a room brimming with brightness, warmth, and pure joy. That's the essence of a sunflower bridal shower, and who wouldn't fall in love with it? We're here to help you dive headfirst into planning an unforgettable celebration full of laughter, love, and those show-stealing beauties – sunflowers.
This isn't your typical garden party – oh no! We're all about infusing that dazzling sunshine vibe into every aspect of the event. From invites that scream "sunny days ahead" to irresistible treats adorned with edible flowers, we've got you covered.
Let's dive deep into 10 fantastic blooming sunflower ideas that will transform your bridal shower into a floral wonderland. So buckle up, friends! It's time to make some magic happen as we embark on this spectacular journey filled with tips and inspiration aplenty for an awe-inspiring sunflower extravaganza.
More sunflower wedding ideas: 15 Creative Sunflower Wedding Ideas To Let Your Love Bloom
Setting the Tone: Sunflower-Inspired Invitations and Stationery
Let's talk invitations, because every great party begins with an irresistible call to action. It's your first chance to give guests a taste of the sun-drenched adventure that awaits them. To nail this, think playful color palettes, whimsical fonts, and gorgeous sunflower artwork.
Don't stop at just invitations, though! Carry that captivating theme throughout all of your stationery. Consider elements like welcome signs, place cards, menu designs, and thank-you notes. This cohesive look will effortlessly guide your guests through their journey from arrival to departure.
Pro tip: Opt for eco-friendly materials or even seeded paper that can be planted after use – adding another touch of sunshine to the lives of your attendees.
Color Palette Perfection: Choosing the Perfect Shades to Complement Your Sunflower Theme
When it comes to colors in a sunflower bridal shower, dazzling yellows are the star of the show. But don't limit yourself—there's a whole spectrum waiting to enhance those brilliant petals!
Consider deep greens for added depth and drama – like rich foliage cradling those stunning buds. Searching for a lighter touch? Soft pastels mix well with sunflowers' vibrancy without overwhelming the space.
Be bold and daring—combine contrasting shades such as purple or royal blue. These hues beautifully harmonize with golden yellows while conveying sophistication in every decor piece or fashion statement.
Experiment with textures too! Linens that feature bold patterns or luxurious fabrics can elevate both rustic and elegant settings alike.
Dress to Impress: Chic Attire Ideas for a Sunflower Themed Bridal Shower
What you wear sets the mood beyond anything else! Bring cheery vibes into play by encouraging attire reflecting vibrant yellows or earthy greens from our sunflower friends.
Think about lovely sundresses adorned with subtle floral patterns or lively, patterned accessories. Feeling adventurous? Don those bold shoes with that elegant dress; statement-making footwear can embrace your stunning color palette with pizzazz.
A simple, adorable touch for the guest of honor can be a pretty sunflower corsage or hair accessory – making her shine brighter than anyone else in the room.
Remember, you're crafting an environment meant to inspire joy and creativity while celebrating love. So let everyone express themselves and have fun with their outfit choices!
Related: 13 Stunning Sunflower Wedding Dress Ideas
Floral Arrangements that Wow: The Art of Incorporating Sunflowers in Centerpieces and Bouquets
Let's get down to the main attraction—those showstoppers known as sunflowers! They're more versatile than you might think when it comes to arrangements.
For centerpieces, incorporate varying heights and fullness to create dynamic visual interest. Mix sunflowers with other blooms like lavender, baby's breath, or thistle for a wildflower look bursting with rustic charm.
Thinking grander? Create tall arrangements featuring branches adorned with sunflowers (both real and faux), hanging Edison bulbs for a warm ambiance, or even succulents nestled amongst our floral stars.
Let's not forget about bouquets! For the bride-to-be (or bridesmaid brigade), consider including smaller sunflowers among roses or peonies for added dimension. Tie it all together with a ribbon featuring colors from your chosen palette for that perfect finishing touch.
Seeking something playful? Float sunflowers atop water-filled glass vases surrounded by tealights!
Just remember—the possibilities are endless when it comes to incorporating these beauties into your celebration. Explore all the stunning options until your heart is content, and watch your space transform into that dreamy sunflower haven.
Capturing the Moment: Creative Photo Booth Setups and Backdrops
These days, no event is complete without photo opportunities aplenty! Capture the fun-filled moments of your sunflower-themed bridal shower with a fantastic DIY backdrop or photo booth.
Combine extravagance and simplicity by choosing an exposed brick wall draped in lush greenery and those golden beauties. Set up baskets filled with whimsical, sunflower-inspired props like sunglasses or garlands for an extra dose of fun.
Looking for something rustic? Create a cozy spot using hay bales, vintage quilts, and sunflowers galore. Your guests will love snapping sweet photos while sipping on delightful refreshments.
Or embrace boho-chic vibes: a wooden trellis covered in climbing vines crowned with sunflowers—a fairy tale scene for your special day. Make sure your designated photographer is ready to capture those candid moments that will last a lifetime!
A Taste of Sunshine: Delicious Sunflower-Themed Food and Drink Ideas
Nothing unites guests more than fantastic food and drinks, so let's make sure they remember yours! Embrace the sunflower theme through scrumptious offerings, starting with appetizers. Think savory cheese boards adorned with sunflower-shaped crackers alongside fresh fruit and veggies.
Create signature dishes that incorporate sunflower seeds for a delightful twist; there are tons of options to choose from, like pesto pasta or hearty salads. And don't forget our vegan friends—sunflower seed butter on toast points makes for a tasty snack.
For decadent desserts, indulge in lemon bars, cupcakes topped with frosting sunflowers, or even delicate macarons customized to match your event's colors for that visual WOW factor.
Drinks should follow suit! Concoct a custom "Sunflower Spritz" cocktail featuring glowing ingredients like Prosecco or ginger beer. For non-alcoholic options, try creating refreshing infused water stations adorned with—you guessed it—more sunflowers!
Provide personalized Mason jars as drinkware (and favors) because who doesn't love a little something extra at a party.
Blooming Activities: Fun-Filled Games and Entertainment with a Sunflower Twist
We're all about interactive experiences at this floral fantasy! Plan engaging games and fun-filled entertainment that reflect your chosen theme. Here are some surefire hits:
First up, Sunflower Pictionary! Create an art station where guests have to illustrate anything involving blooms or flowers – making hilarious memories all around.
For another crowd pleaser, set up blind taste tests featuring different flavors of snacks containing sunflower seeds. This unique spin will delight everyone's tastebuds while keeping them on their toes.
If DIY décor is part of your shower plan, why not make it interactive? Have each guest create their custom flower arrangement using sunflowers (and others) from a designated "flower bar" stocked with vibrant blossoms and pretty vases.
The pièce de résistance? Hire local musicians to play live, acoustic tunes for a laid-back yet festive atmosphere. Can't go wrong there!
Fun with Favors: Memorable Sunflower-Inspired Gifts for Guests
Guests should depart with a lasting impression of your incredible sunflower fiesta – and what better way than to send them off with thoughtful, themed favors?
Fill mini canvas bags or tins with sunflower seeds (edible or plantable), label them "Let Love Grow," and tie them up with twine for an eco-friendly keepsake.
For something cozy, gift sunflower printed tea towels, coffee mugs, or custom scented candles emitting that enchanting floral aroma.
On the indulgence side of things, present irresistible chocolate truffles in petite boxes adorned with paper sunflowers that mark this event as uniquely special. The sky's the limit here, folks!
Remember key elements—practicality, uniqueness and lovely presentation—when crafting these treasured tokens.
DIY Delights: Crafting Easy and Affordable Sunflower Décor for Your Bridal Shower
Don't shy away from a bit of hands-on creativity; adding personal touches can make or break any event. That said, let's jump into some fantastic DIY projects!
First stop — table runners! Sew together various fabrics featuring sunflowers or complementary colors for a stunning visual effect. This charming addition to dining tables showcases both thoughtfulness and style.
Ready for the next masterpiece? Create wall decorations featuring phrases like "Love in Bloom" using wooden letters painted in your color palette surrounded by enchanting silk sunflowers – lending that perfect ambiance.
Take it one step further: string together floating balloons filled helium complete with flowing ribbon tails dotted by artificial sunflowers at varying heights—an eye-catching display without breaking the bank.
Never forget: you're the creative force behind this world of sunshine and flowers, so go ahead, let your imagination run wild!
Light Up the Night: Magical Sunflower-Themed Lighting Ideas for a Dazzling Bridal Shower
Last but most certainly not least—let's chat about how to infuse dreamy lighting into your sunflower haven. Because let's face it, nothing sets the mood quite like illuminating touches.
String up enchanting fairy lights entwined with sunflower garlands far and wide. This ethereal glow accentuates greenery, floral decorations or a grazing buffet spread; transforming your venue into pure magic.
Consider rustic lanterns adorned with sunflowers interspersed among your space for an intimate yet elegant setting. Or opt for a cluster of hanging Edison bulbs surrounded by lush foliage and floral arrangements from the ceiling to elevate any environment.
And if you dare – think bigger! Hire professionals to cast projections of swirling blooms on walls or floors – creating breathtaking patterns that dance along in tandem with laughter and joyous festivities.
No matter which route you choose, remember: these magical touches will forge long-lasting memories filled with warmth and happiness at this blooming sunflower bridal shower paradise.
Conclusion
Well, my sunflower-loving friends, we've journeyed across a landscape brimming with delightful ideas for your swoon-worthy sunflower bridal shower. From dazzling florals to scrumptious treats and whimsical favors, this event promises to captivate every guest (and yourself) from start to finish.
Just remember – at the heart of it all lies your unconventional spirit, creating a breathtaking homage to love and happiness that flourishes in the presence of these vibrant, smiling blossoms.
So seize this opportunity to unleash your creativity and let love truly bloom as you craft an unforgettable celebration that's uniquely you. And don't forget – when it comes to weddings and events, always follow your heart past the beaten path towards sun-drenched magic waiting just for you.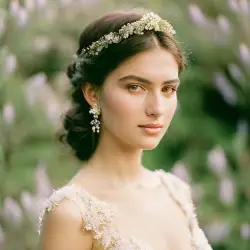 Latest posts by Rosie Liliy
(see all)