Watching your friends and loved ones thrive can be an extremely satisfying part of life and a major call for celebration.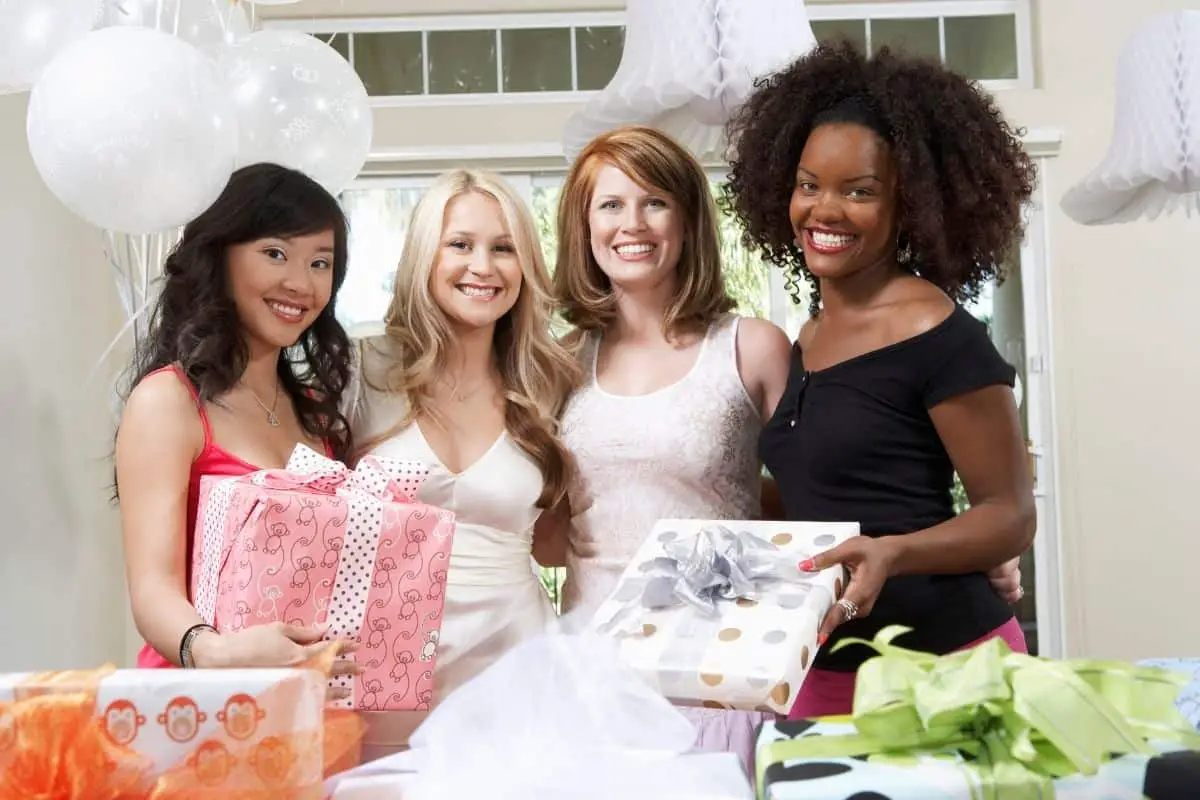 However, there's nothing that quite matches the feeling of finding out that one of your closest friends is getting hitched!  
If you've received an invitation to the bridal shower, it's time to start thinking about buying a gift.
But if you're unsure of how much to spend, and what to gift, don't worry! This article will tell you all you need to know.
Bridal Shower Vs Wedding Gift
There is a large misconception about bridal shower gifts and wedding gifts.
Many people believe that if you choose to purchase a gift for the bridal shower (which is generally quite inexpensive), you then don't need to buy one for the wedding.
However, this is completely untrue! There is no connection at all between the bridal shower gift and the wedding gift.
According to proper wedding etiquette, you should purchase separate gifts for both events.
If you're struggling to think of something to buy for the couple as a wedding gift, you can always give them money or buy them a fun experience such as a night in their honeymoon hotel, or a date night at their favorite restaurant. 
The same ideas can be applied to a bridal shower. However, gifts for this event should be given according to only the bride's preferences.
How Much Should You Spend On A Bridal Shower Gift?
Generally, as an attendee of a bridal shower, you can expect to spend roughly between $25 and $75 on a gift for the bride. The appropriate bridal shower gift amount is around $50.
Closer friends and family might spend upwards of around $100 on a gift. However, the total amount spent is completely up to you. Make sure it fits within your budget.
One of the most important things to remember is that you don't have to splurge to purchase a nice gift.
There are plenty of low-budget options out there from beauty and skincare products to clothing items that the bride might love!
Should You Buy Off The Registry?
According to standard etiquette, all bridal shower gifts should come from the registry. But they don't have to if you have a great alternative.
Of course, if you have a very close relationship with the bride, you can purchase or make a highly personalized gift for her to enjoy.
This could be a handmade recipe book full of her favorite foods, or a gift card to her favorite restaurant.
Monetary Gifts
Buying bridal shower gifts (see also: Bridal Shower Gift Basket Ideas)can be a fun and enjoyable experience at the best of times, but it can also be extremely stressful if you aren't sure where to begin looking.
Gifting money will always be a great option – especially if you don't know what to buy. This gives the bride the control to purchase something that she likes.
Monetary gifts are most appropriate for a bridal shower only if the circumstances call for it, or if that is what the bride has specified.
The greatest gift amount is anywhere from $50 to $100, but this number could be higher or lower.
Cash gifts aren't necessarily as personal as other gifts, so you will want to make sure you are being generous.
Gift Cards
Another option if you are at the end of your tether in frustration is a gift card. This is also a great last-minute gift if you are a procrastinator or have been invited to the function on short notice.
When we say "gift card" we don't mean a $15 card for your favorite online retailer. Instead, you should think about the bride's favorite places, whether that is a particular store or a restaurant she loves.
You can also write a nice card with a heartfelt message for the bride so that she can store it away as a keepsake of her bridal shower. 
Summary
The gifting options for a bridal shower are seemingly endless, to the point where it can be stressful trying to narrow down your options.
If you keep your spending within the range of $25 to $75, and take all of the bride's preferences and likes into consideration, then you can't go far wrong!

Latest posts by Jodie Messines
(see all)