Finding the right words to honor your friends and loved ones on special occasions can be difficult. You want to express the appropriate feelings and don't want to sound like a greeting card. So what's the right thing to say when congratulating a bride-to-be on the day of her wedding shower?
Bridal shower wishes, quotes, and greetings to express your heartfelt congratulations don't have to be poetic, flowery, lengthy, or even original. They just have to express their authentic feelings simply and earnestly in a voice that the bride-to-be will recognize as yours.
This article will list 38 ideas for bridal shower wishes, quotes, and greetings to write in cards and messages for the bride-to-be. I will include religious and non-religious messages, humorous ones, and famous quotes about love. 
Bridal Shower Wishes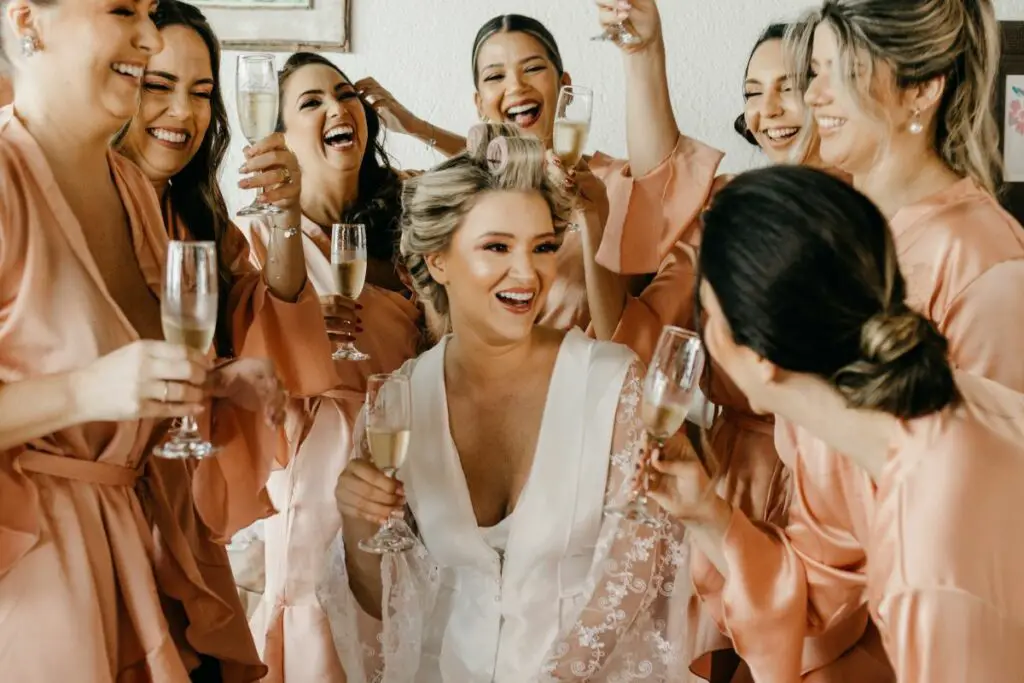 Sometimes the best bridal shower wishes are the simplest! Wishing the couple happiness is essential! In addition, expressing appreciation for the bride and acknowledging that she and her partner deserve the best are great ways to warm her heart in your bridal shower message. 
Below are examples of such wishes written in a casual, personal tone. However, suppose your relationship with the bride is more distant. In that case, the tone of these messages may be too personal and informal. If so, you use the same sentiments but rephrase them in language that matches your relationship better. 
You couldn't have chosen a better man, and he couldn't have chosen a better woman. I hope the two of you are deliriously happy together! You deserve it. 
Sometimes it seems like there aren't that many truly good people in the world – but you're one of them! I'm so happy you found the love of your life. Congratulations!
I knew when I first met (groom's name) that he was going to be the one to finally put a ring on it. It was there in his eyes when he looked at you. I'm so happy for you, and I know you two will make each other happy!
I can't believe you're getting married! I mean, I can because you're terrific. In fact, you're almost too good to be true, which is why it's so miraculous that you found a man who actually deserves you! 
You're starting a whole new life! It's so exciting and probably a little scary, too. But you've always been a unique, capable, and beautiful person, inside and out. I know you will also be outstanding in this next phase of life! Congrats!
Advice for Bridal Shower Wishes
It's traditional for the bride-to-be to receive plenty of advice at her bridal shower about how to live married life for the best! This could include relationship advice, parenting advice, and more. Suppose you're an older relative, friend, or co-worker who's already married and has some wisdom to impart on the topic. In that case, the following messages might be right for you.  
Also, if you have experience and advice not mentioned here, feel free to include that in your own message! These are just some general ideas. 
It's easy to get tangled up in conflict when times are stressful. Remember that you're allies, not opponents. Don't fight. Problem-solve. Fighting is about winners and losers. You can't resolve anything if you're divided. 
Don't expect anybody to be perfect, including yourself. You'll both make mistakes, and that's okay. Forgive, grow, adapt, and don't give up!
Surround yourself with those who support your marriage rather than undermine it. Negative comments from trusted friends and family members can start problems where there are none! Set boundaries with whoever needs them. If necessary, cut the criticizers out of your life, even if they're close to you! Both parties have to put the marriage first to make it work. 
Remember that you're both still individuals with individual interests and pursuits. You don't have to do everything together. It's about quality time over quantity! 
Not every marriage looks the same. Find the rhythm and style that works for you. And don't let anyone tell you what works for you is wrong. What matters is that you're both happy!
People say marriage works when everything is 50/50, but really it should be 100/100. If you're not giving it everything you've got, it will never go the distance.
They say you should never go to bed angry, but that's nonsense. If you're angry, chances are, you're not listening. And if you're not listening, you can't fix anything. Do whatever you need to do to return to your partner calm and ready to find a resolution. 
Pick your battles! Your partner will do many things that annoy, irritate, and upset you. But you can only confront them on some things, or they will start to feel nitpicked and unloved. Both parties must learn which issues are worth confronting and which can slide. 
Keep the spark of romance alive by doing new things together. Spend time apart and come back together. Find little ways to surprise each other. Go out of your way to make your partner feel seen, appreciated, and desired. You'll be surprised how much of a difference it makes. 
Religious Bridal Shower Wishes
For those who are religious, offering blessings and including religious quotes is perfectly appropriate in a bridal shower message. Below you will find some generic ideas for religious bridal shower wishes, plus some proverbs and quotes from the Bible and the Kabbalah. You can adjust the language or choose quotes from other sacred texts to reflect your chosen religion. 
Congratulations! God bless your marriage and all the years you share with (husband's name). 
May God watch over you and your future, guiding you through every challenge and shining His light on every precious moment. 
May God grant you love and happiness together for all your days!
The strongest marriage is one with God at its center. I pray you both keep Him in your hearts.
I pray you will love each other unconditionally, as God loves you. Bless you and your marriage. 
Have faith in each other and keep your faith in God. If you do, I know your marriage will be strong and full of joy!
"Delight yourself in the Lord, and he will give you the desires of your heart." – Psalm 37:4.
"Love is patient, love is kind. It does not envy, it does not boast, it is not proud. It is not rude, it is not self-seeking, it is not easily angered, it keeps no record of wrongs. Love does not delight in evil but rejoices with the truth. It always protects, always trusts, always hopes, always perseveres. Love never fails. . .And now these three remain: faith, hope and love. But the greatest of these is love." – 1 Corinthians 13:4-13.
One who has found a wife has found goodness, and has brought forth favor from God. – King Solomon, Proverbs 18:22.
"A husband and wife are one soul, separated only through their descent to this world. When they are married, they are reunited again." – The Zohar, I91a
Humorous Bridal Shower Wishes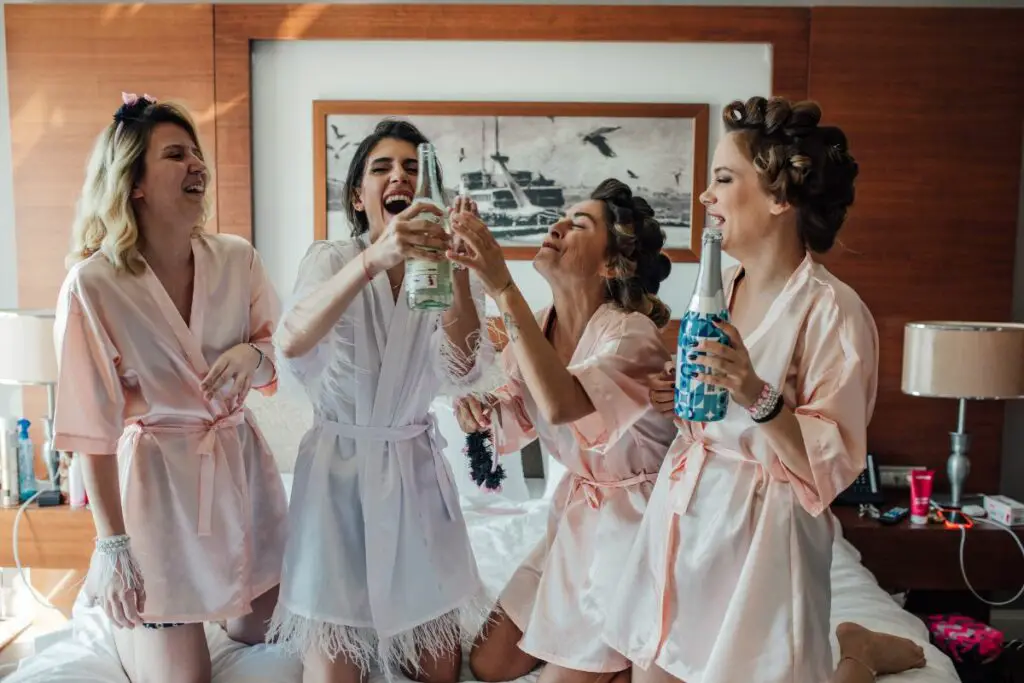 A humorous message is a great idea if you're close to the bride. All the heartfelt wishes and congratulations can be heavy and emotional, so a humorous note will likely be a refreshing change much appreciated by the bride! But keep a sincere undertone of love and support to make her feel cared for.  
Humorous bridal shower notes generally reflect the giver's love and protectiveness towards the bride, including playful threats about what will happen to the groom if he doesn't treat her right. They may also express playful jealousy and sarcasm. Just make sure to keep it light! 
We've been friends forever, and I know I don't have to tell you how much I love you. However, (groom's name) better tell you how much he does every day or we're going to have problems!
Tell (groom's name) that if he doesn't treat you like a queen, I'm going John Wick on his ass!
You're the type of woman any man would want – which is why I'm glad you're finally out of the dating pool! 
You know I'm not one for weddings, but for you, I'll do anything…so long as there's free food and an open bar!
Listen, I have dibs on that bridal bouquet. If you don't throw it to me, I'm taking back the very tasteful set of salt and pepper shakers I bought for your wedding gift. 
Bridal Shower Wishes with Quotes
Sometimes it's easier to express your honest feelings through someone else's words! Otherwise, what good are poets and writers? Below is a list of quotes about love, marriage, and relationships. Each one includes a personal message adapted from the quote. 
However, there are hundreds, if not thousands, of beautiful quotes about love and marriage online. Feel free to use these as inspiration for adapting other quotes not listed. 
When you realize you want to spend the rest of your life with somebody, you want the rest of your life to start as soon as possible. – "When Harry Met Sally."  Congrats to you and (groom's name). I hope that feeling of passion and excitement never fades and you end up being the kind of wrinkly old couple who kisses and hold hands in public at age 90! 
You know you're in love when you can't fall asleep because reality is finally better than your dreams. – Dr. Seuss. I know you've been dreaming of this love for a long time, and now you finally have it! Congratulations! May your marriage be all you dreamed of and more. 
Love recognizes no barriers. It jumps hurdles, leaps fences, penetrates walls to arrive at its destination full of hope. – Maya Angelou. I know it's sappy, but I hope you and (groom's name) really do love each other without barriers! May you successfully clear every hurdle and penetrate every wall to live a long, happy life together!
Unless you love someone, nothing else makes sense. – E.E. Cummings. Love is the greatest gift of life, and I'm so glad you have it! You deserve to be showered with love for all your years, and I hope (groom's name) can make it rain!
Being deeply loved by someone gives you strength, while loving someone deeply gives you courage. – Lao Tzu. May you and (groom's name) have all the love, strength, and courage you need to make this marriage a long and happy one!
To love and be loved is to feel the sun from both sides. – David Viscott. I want you to remember this quote because this is how (groom's name) should make you feel every day – Like you just woke up on a cold morning, and your whole body is embraced by warm sunlight. That's what you deserve!
What greater thing is there for two human souls than to feel that they are joined for life–to strengthen each other in all labor, to rest on each other in all sorrow, to minister to each other in silent unspeakable memories at the moment of the last parting? – George Eliot. Love is more than sharing a bed, a house, and a bank account. It's tag-teaming those burdens and leaning on each other when things are hard. It's thinking the same thing at the exact moment and knowing it with nothing more than a look. It's two individuals becoming exponentially more than they were on their own. I know you and (groom's name) will live that kind of life together. I'm so thrilled for you!
It's not what we have in our life, but who we have in our life that counts. — J. M. Laurence. (Groom's name) has one of the best, most beautiful, and most compassionate women alive. I hope he appreciates you!
Love has nothing to do with what you are expecting to get—only with what you are expecting to give—which is everything. – Katharine Hepburn. You are a great friend and I know you'll be a great wife, too, because you have so much to give and you give it so freely!
Final Thoughts
A bridal shower is a celebration of love and union, a time to toast the bride-to-be and shower her with love, support and good wishes for her future. It's an opportunity to express your heartfelt congratulations in a fun, creative and festive way.
Whether you're looking for a quote to touch the bride-to-be's heart or a playful greeting to make her laugh, these 38 bridal shower wishes, quotes, and greetings will do the trick. So, let's raise a glass, grab a pen and get ready to make the bride-to-be feel like a star on her special day!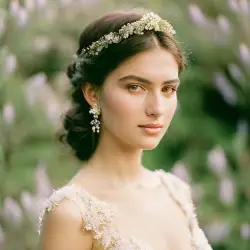 Latest posts by Rosie Liliy
(see all)