If there is one thing that is true of any event it's that they are much easier to plan if you have a theme to base them on.  This is especially true of important, one-off events such as bridal showers.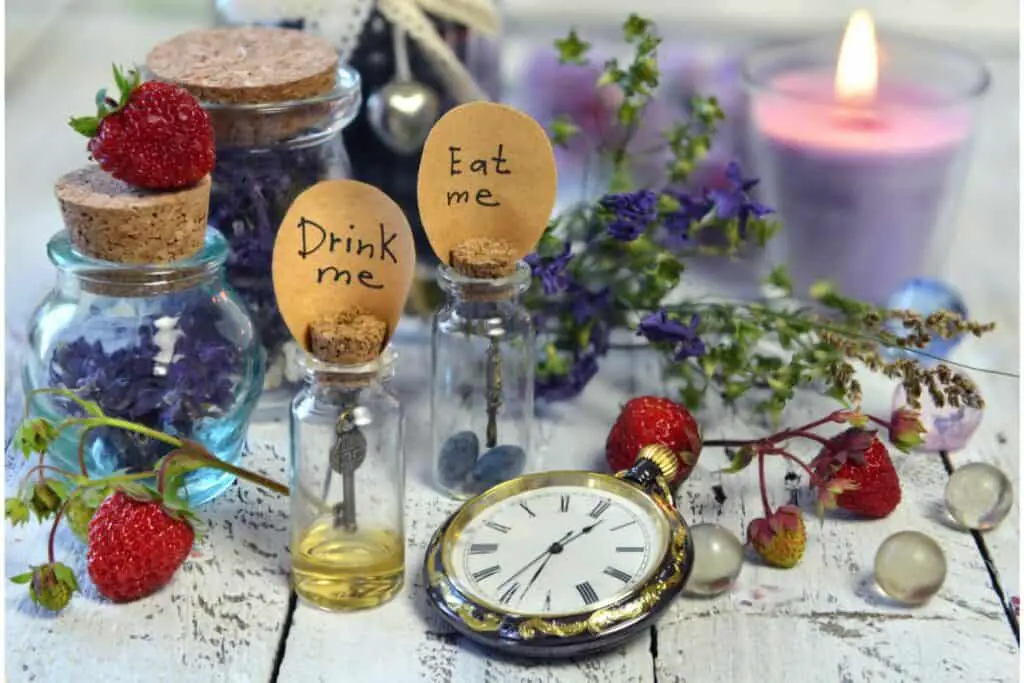 A great theme for bridal showers is the bride-to-be's favorite childhood movie. This can be a great way to celebrate the person she was growing up and the person she has become as a result.
If your bride-to-be is a huge Alice in Wonderland fan, there can be no better theme to go with for her bridal shower.
In this article, we will look at some of the best ideas for an Alice in Wonderland themed bridal shower (see also: Ideas For A Tea Party Themed Bridal Shower)that the bride will love.
Why Alice In Wonderland Is A Great Theme
Alice in Wonderland doesn't only make a great theme for Disney loving brides, it is also a great theme for any celebration that features any kind of food or feast.
The theme naturally lends itself to wonder and whimsy, allowing the organizers to let their imagination run wild and insert little nods to the upcoming nuptials in a fun and eclectic way.
There is so much scope with an Alice in Wonderland theme that allows you to tailor the event to the bride while keeping all of the guests entertained all afternoon.  
Furthermore, an Alice in Wonderland theme automatically takes care of some of the bigger decisions that need to be made when organizing a bridal shower, such as whether it is going to be a tea party or dinner atmosphere, and allows you to focus on the important details such as decor and activities.
Alice In Wonderland Centerpieces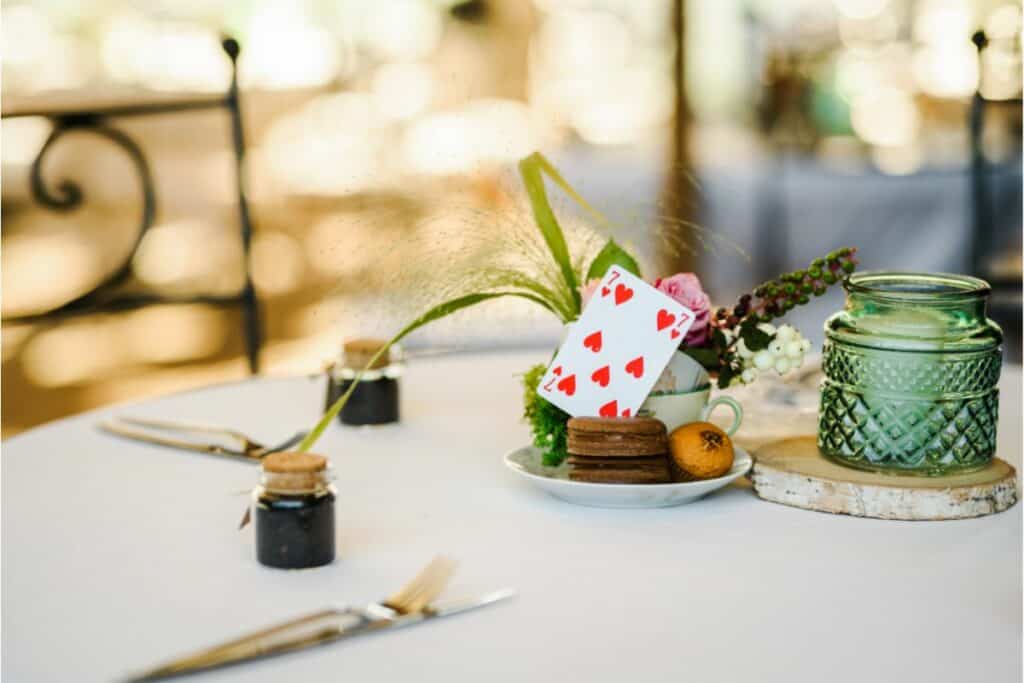 One of the most fun aspects of planning an Alice in Wonderland themed bridal shower is the centerpieces.
Rather than trying to ensure that the centerpieces are the right balance of sophistication and representative of the bride, you can have a lot of fun with them.
Because the scope of Alice in Wonderland is so broad, you really can go anywhere with this detail. 
If the bride is partial to a floral centerpiece, red and white roses can be a great choice for the theme. If you wanted to you could even dab a little bit of red paint onto the white roses to create the illusion of the red ones having been painted.  
The Queen of hearts and her playing cards are also an integral part of Alice in Wonderland and can be a great theme for the centerpieces.
Creating sculptures from playing cards that have the illusion of movement can be a great option for adding some Wonderland magic to the tables. 
Alice In Wonderland Decor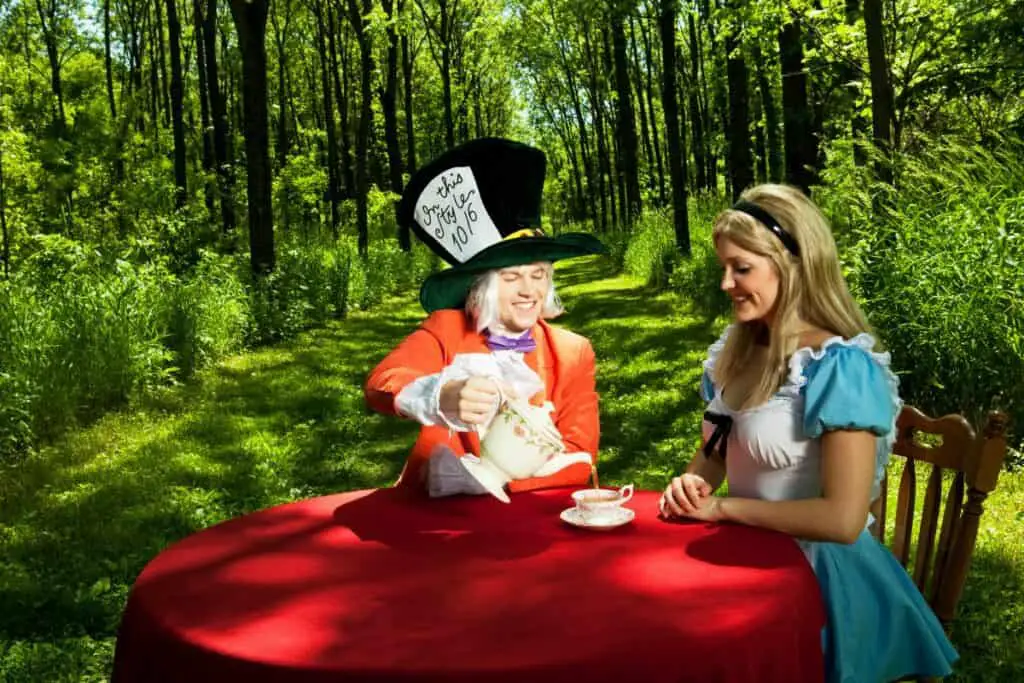 The decor is another area in which you can really let your imagination run wild with this theme.  
A great option for decor with an Alice in Wonderland theme is lots of clocks. They can be watches, large clocks, alarm clocks, or vintage clocks, they don't even have to be working. Clocks can also be great to work into the activities of the bridal shower.
Another great Alice in Wonderland decor idea is tea cups, the smaller, the better.
Thrift shops can be a great place to get lots of cute tea cups and saucers that can give the shower a proper tea party feel.  Even some broken tea cups can be useful for this theme.  
If you want to give your guests the feeling of falling down the rabbit hole, you can even modify your entrance so that people have to crouch or crawl in order to enter the venue. The more immersive the experience, the better. 
Alice In Wonderland Food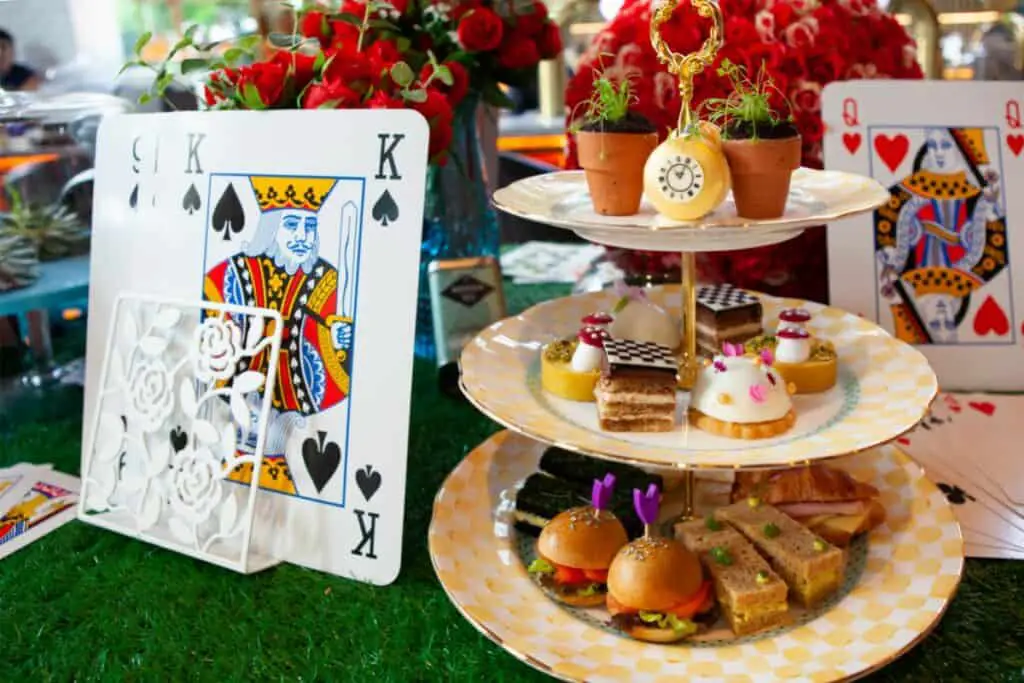 The food that you choose to serve at your Alice in Wonderland themed bridal shower is a great way to link directly to the movie.
Cakes marked with labels that say "EAT ME", sugared almonds that represent the pebbles Alice eats, and toadstool mushrooms that are made from eggs and tomatoes are all fun ideas.  
You can also make heart-shaped jam tarts and cucumber sandwiches as cute nods to the movie and the mad hatter's tea party.  
Alice In Wonderland Cake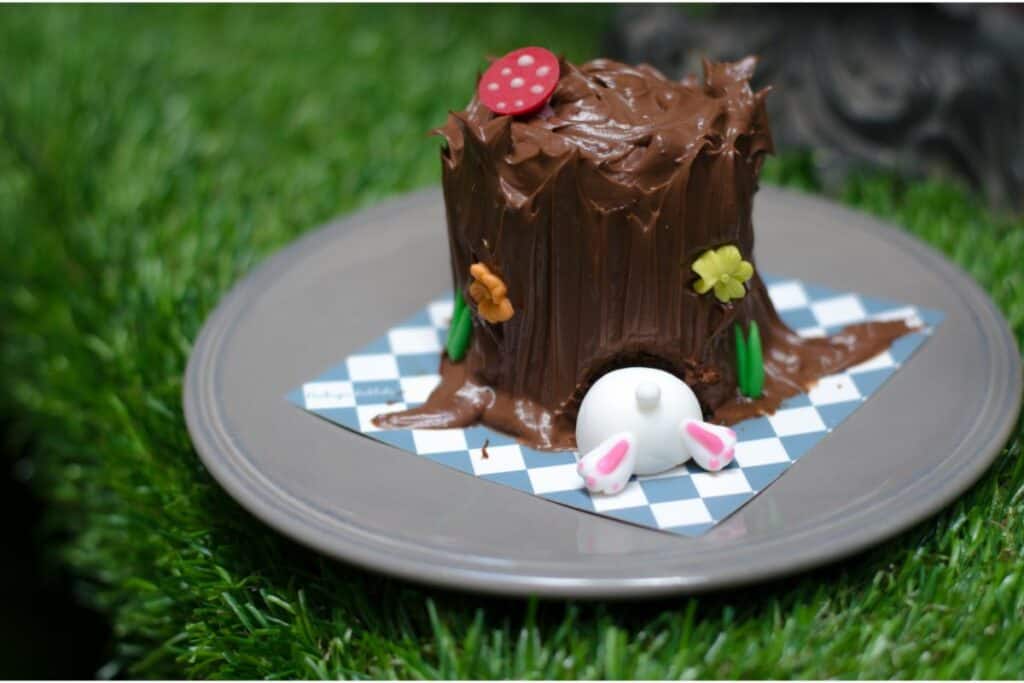 The cake at the bridal shower is another area where you can get as creative as you like and the only restriction is your budget.  
A popular option for the cake is often the mad hatter's hat,  it makes for a generous-sized cake and can be relatively simple to make.
Alternatively, you could opt for a cake that looks like a giant teapot, and if you want to get really creative, a teapot that is pouring tea over stacked teacups that are also made of cake.  
Alice In Wonderland Drinks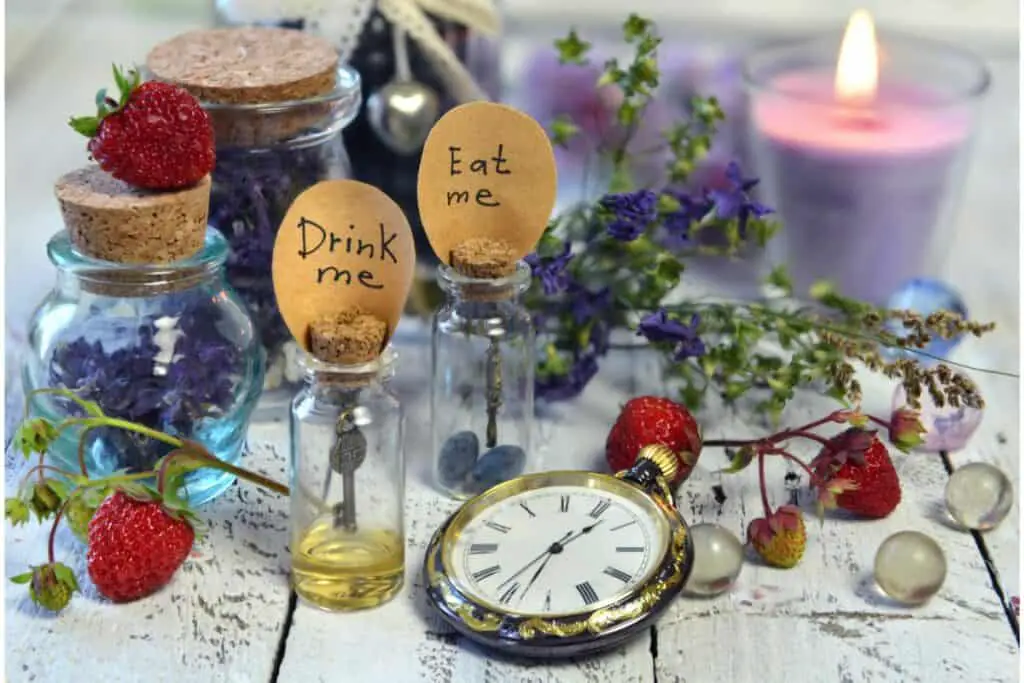 Continuing the theme of creative ideas, the drinks at an Alice in Wonderland themed bridal shower can be as imaginative as you want them to be.
The obvious choices are tea that is served in vintage tea cups, and small bottles that are adorned with tags that read "DRINK ME" for cold drinks,  
However, you can take it a step further and incorporate some cocktails and mocktails that are brightly colored to give the true appearance of a magic potion.
You can even design a drinks menu that has Alice in Wonderland themed names such as a Queen of Hearts strawberry daiquiri or a Through the Looking Glass mojito.
Alice In Wonderland Photo Props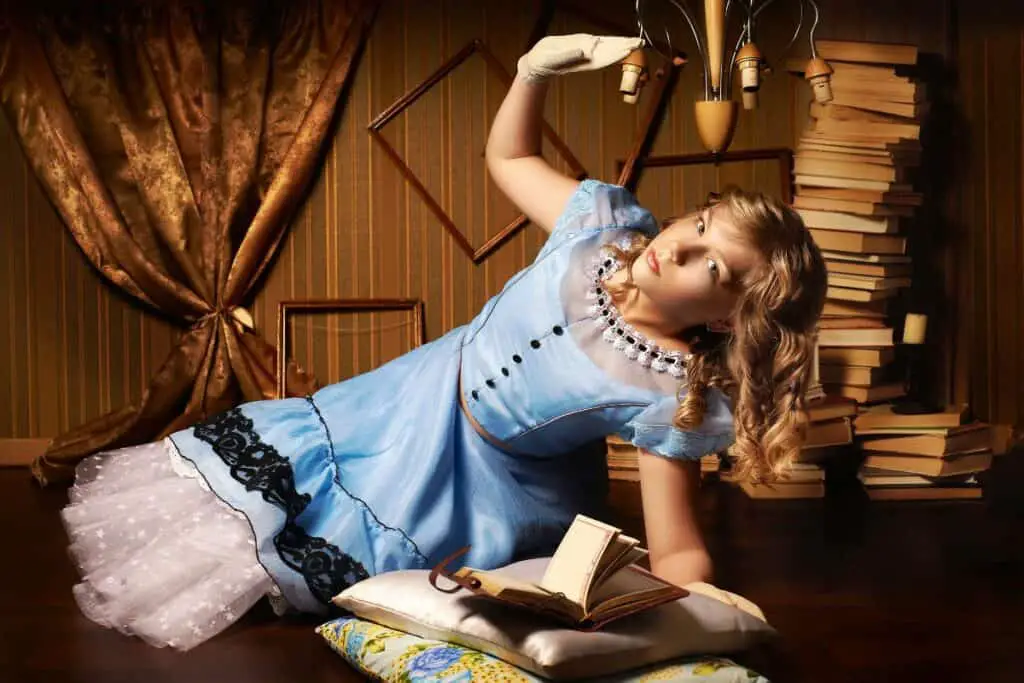 No bridal shower is complete without the opportunity to take lots of memorable photographs and what better way to achieve that than with themed props?
For the Alice in Wonderland theme, props such as oversized clocks, teapots, tea cups, large and funny hats, and even rabbit ears can be great choices to make some great memories. Hand-held signs with famous lines from the movie can also make great props. 
If you really want to create one-of-a-kind Alice in Wonderland photographs, an old doll's house from a thrift store can be used to recreate the scene where Alice grows while inside the house. 
Alice In Wonderland Games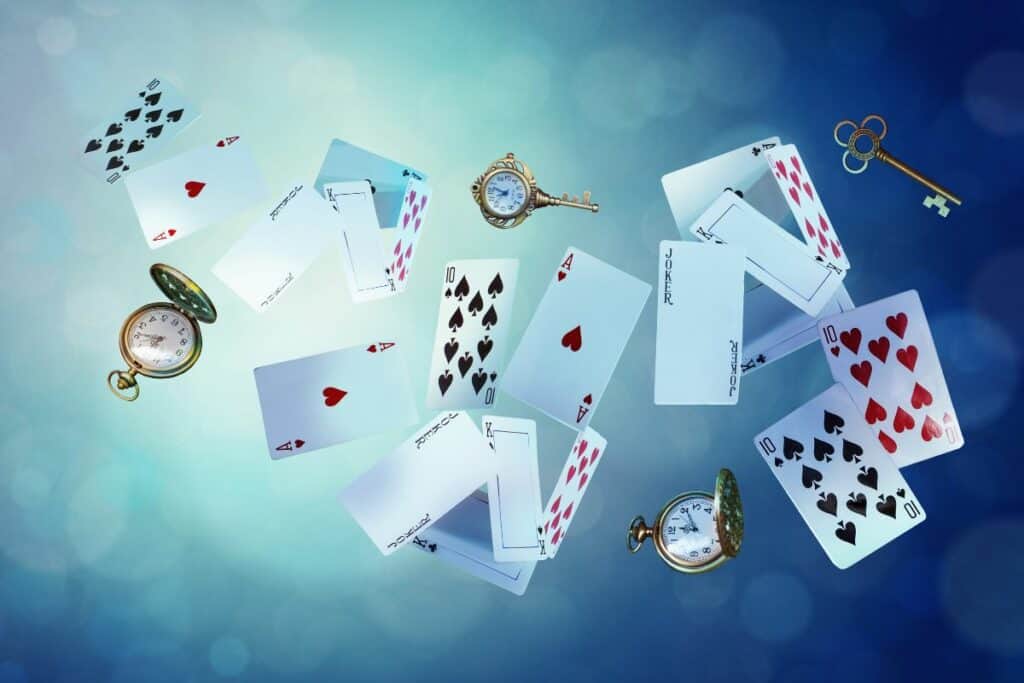 While the food, drinks, and decor are all important aspects of a successful bridal shower, people also want to be entertained.
There are many games that fit into the Alice in Wonderland theme that can be played by your bride and guests.  
A great option for an Alice in Wonderland game is croquet. You can either use an ordinary croquet set or, it is possible to get Alice in Wonderland croquet sets that use flamingoes as the mallet. Another great option is to play pin the grin on the Cheshire Cat.
Alice In Wonderland Outfits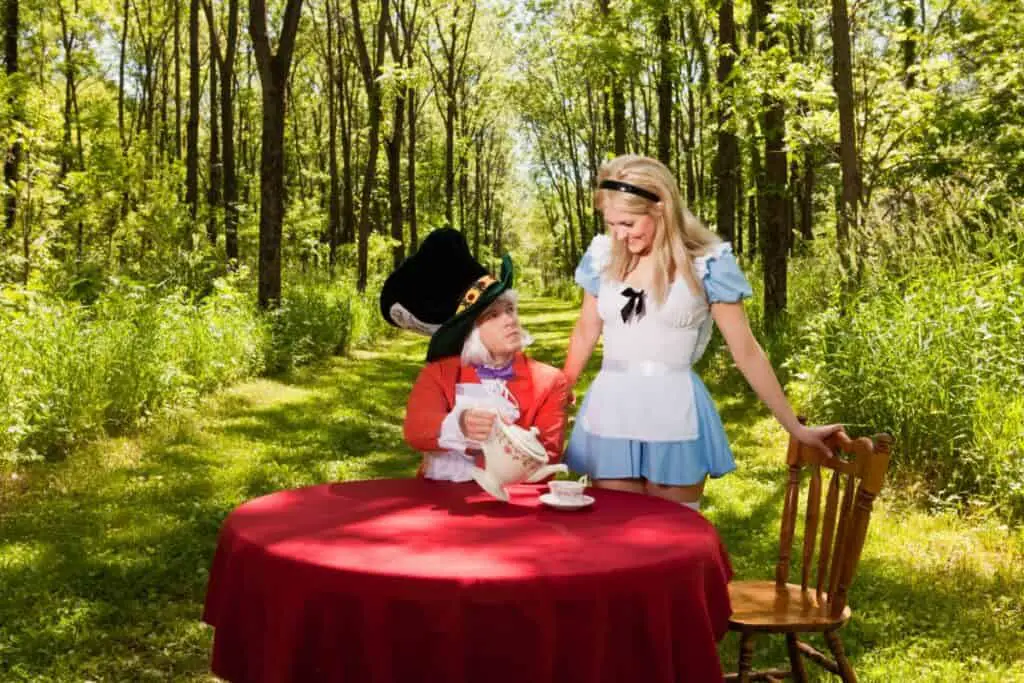 The Alice in Wonderland theme for the bridal shower can spread as far as the outfits as well.
While it makes sense for the bride to come dressed as her favorite character from the movie, whether that is Alice herself, the Cheshire Cat, or even the Queen of Hearts, the other guests can also get dressed up.  
Depending on how outgoing your bride and guests are, the Alice in Wonderland dress-up can range from as simple as a mad hatter-style fascinator, to a full-blown fancy dress with a complete cast of characters. 
Alice In Wonderland Favors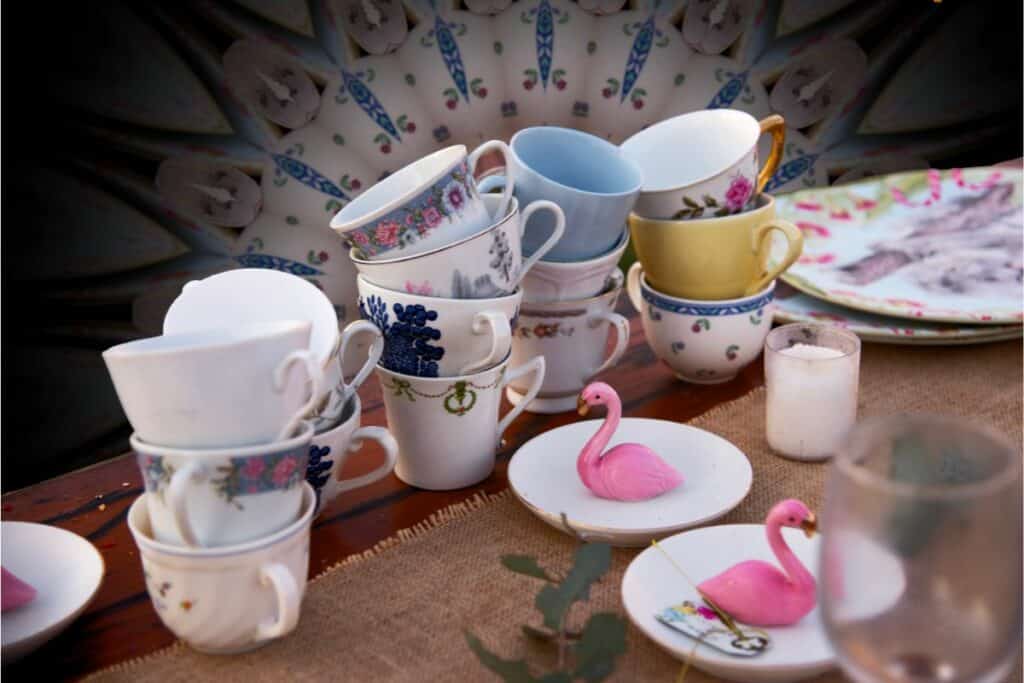 No bridal shower would be complete without cute party favors for the guests to take home. With an Alice in Wonderland theme, the favors can be as cute or creative as you want.  
A great idea for Alice in Wonderland party favors is a tea cup with some miniature sweet treats inside.  You can wrap the cup and its contents in clear plastic wrapping that is secured with a ribbon. This can also be another opportunity to use "EAT ME" labels as a nod to the film.  
Alice In Wonderland Activities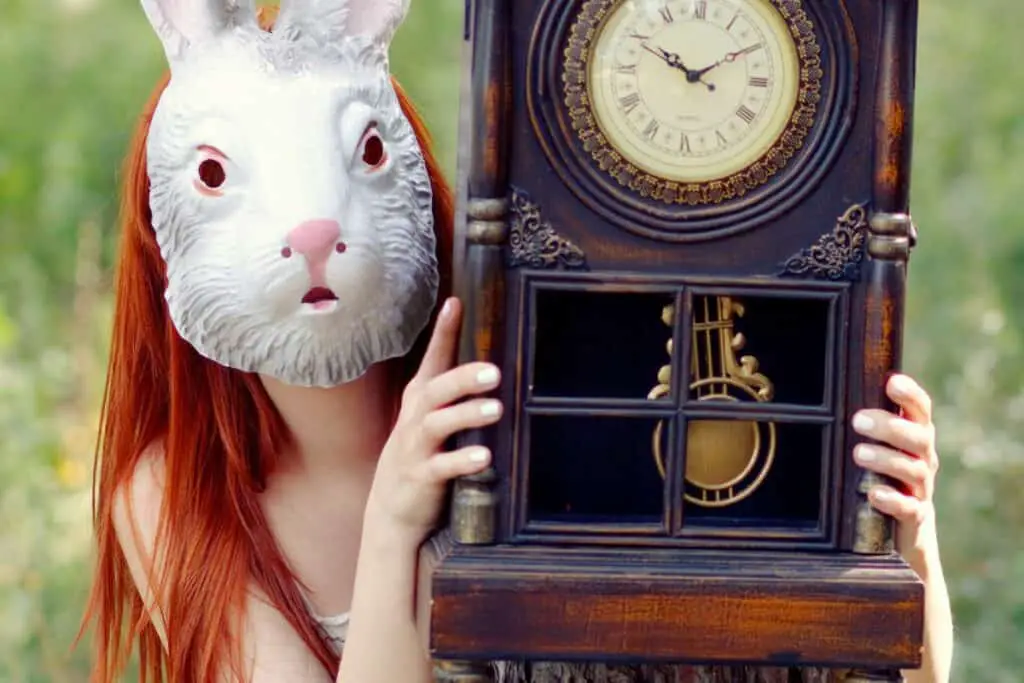 If your bride and guests are less into games and more into sit-down activities, there is no shortage of fun Alice in Wonderland themed things to keep them entertained.
If your bride is crafty and artistic, painting tea cups can be a great activity that is in keeping with the Alice in Wonderland theme.
This also allows the guests and the bride to have permanent keepsakes from their pre-nuptial celebrations. If there are enough of you at the shower, the tea cups that are painted could also play a starring role in the wedding reception.
Paper roses and a mad hat competition are also great options to keep your guests entertained and create a great sense of competition and friendship between them. This is a good option if some of your guests do not know each other very well.
Final Thoughts
An Alice in Wonderland themed bridal shower provides a huge scope of creativity and imagination that can be used to create a truly unique bridal shower for your bride and guests.
Don't be afraid to delve into the more obscure elements of the film to make your bridal shower one that people will remember long after it is over. And remember, don't be late!

Latest posts by Jodie Messines
(see all)