Bridal showers are fun traditions for the women of the bridal party to attend. There are a lot of themes you can choose from when creating the perfect bridal shower for your bride.
A really popular theme that a lot of people choose from is a tea party themed bridal shower. 
There are a lot of sub themes to a tea party bridal shower. This can include a traditional tea party with beautiful china, an English Afternoon Tea Party, or an Alice in Wonderland, mad hatter tea party. 
Tea parties are often seen as a very refined occasion, but you can customize the party to suit the bride's personality and guests. Usually, with a bridal tea party, these can be a small occasion with just the bridesmaid presents. 
However, you may host a larger party with more female family members or friends of the bride. Either way, tea parties are associated with more feminine and lighter cuisine and the decor.
In this article, we will discuss all the possibilities you have and considerations when it comes to a tea party themed bridal shower.
Venues For Holding A Tea Party Themed Bridal Shower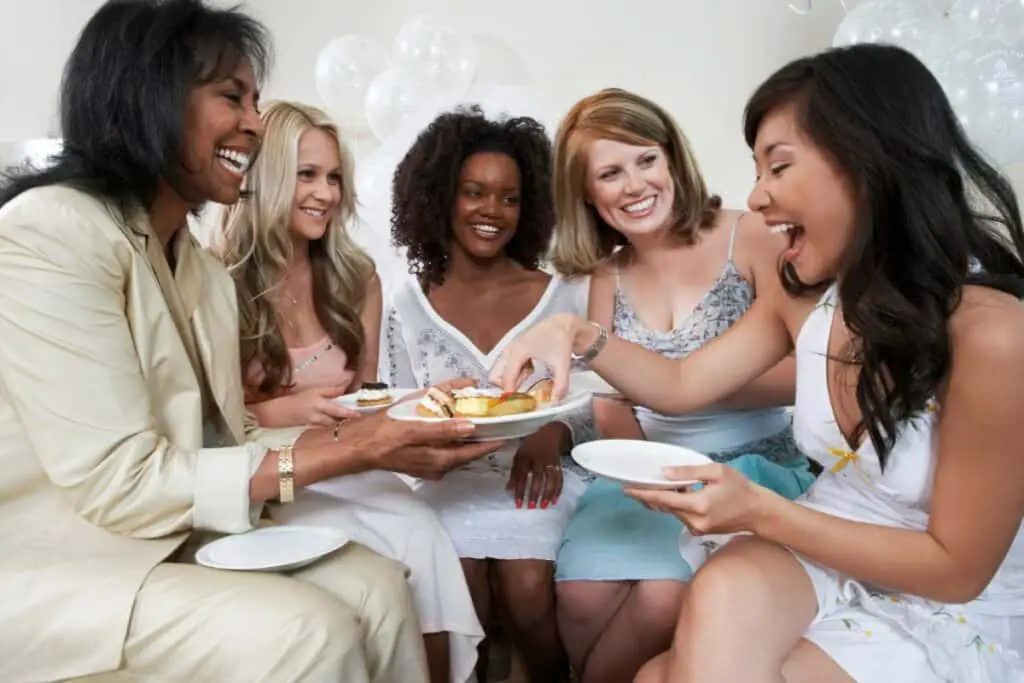 Bridal tea parties can be as formal or informal as the host prefers. A wonderful bridal shower can be staged in a lavish hotel tearoom with china.
Yet, so can a relaxed get-together in a backyard with collapsible tables. Making sure guests are in a comfortable environment is the most crucial factor. 
It can be difficult to conduct an event outside if it's raining, scorching hot, or windy. Therefore, if the weather isn't cooperative on the day of the wedding shower, you want to make sure there is an inside backup plan.
Is There A Specific Time A Tea Party Should Begin?
Tea Parties are derived from In the United Kingdom, in which case, it would be held at teatime, which is at 4:00 p.m.
However, it doesn't matter whether you are from the UK or not, you can host a tea party themed bridal shower at any time you wish, or whenever it suits you. An Afternoon Tea Party can be whatever you want it to be.
You can serve tea, coffee, or even mimosas or prosecco with the teatime nibbles!
Typically, scones, finger sandwiches, and desserts are offered for tea. You may begin your bridal party at any time that suits you best. Also, this kind of food is perfect when consumed at any time of the day. 
You may want to host a lunch or brunch bridal shower, or, you can start your celebration in the afternoon if you wish to have your shower later on in the day, so you can serve alcohol with the finger/party foods.
The choice is really up to you and what suits you and your guests the best. 
Who Can Be Invited To A Tea Party Bridal Shower?
The focus of any bridal shower is the bride, no matter the theme of the bridal shower. Therefore, it is typical to invite only her closest friends and family. Sometimes, the closest female relatives of the groom are also invited.
There is no requirement to invite plus ones, coworkers, or acquaintances of the prospective spouse. As this event is more private than a wedding.
A tea party is typically thought of as a more feminine event. Although, that doesn't mean the bride's male friends have to miss out on this wedding party, either.
What Kind Of Food Do You Offer At A Tea Party?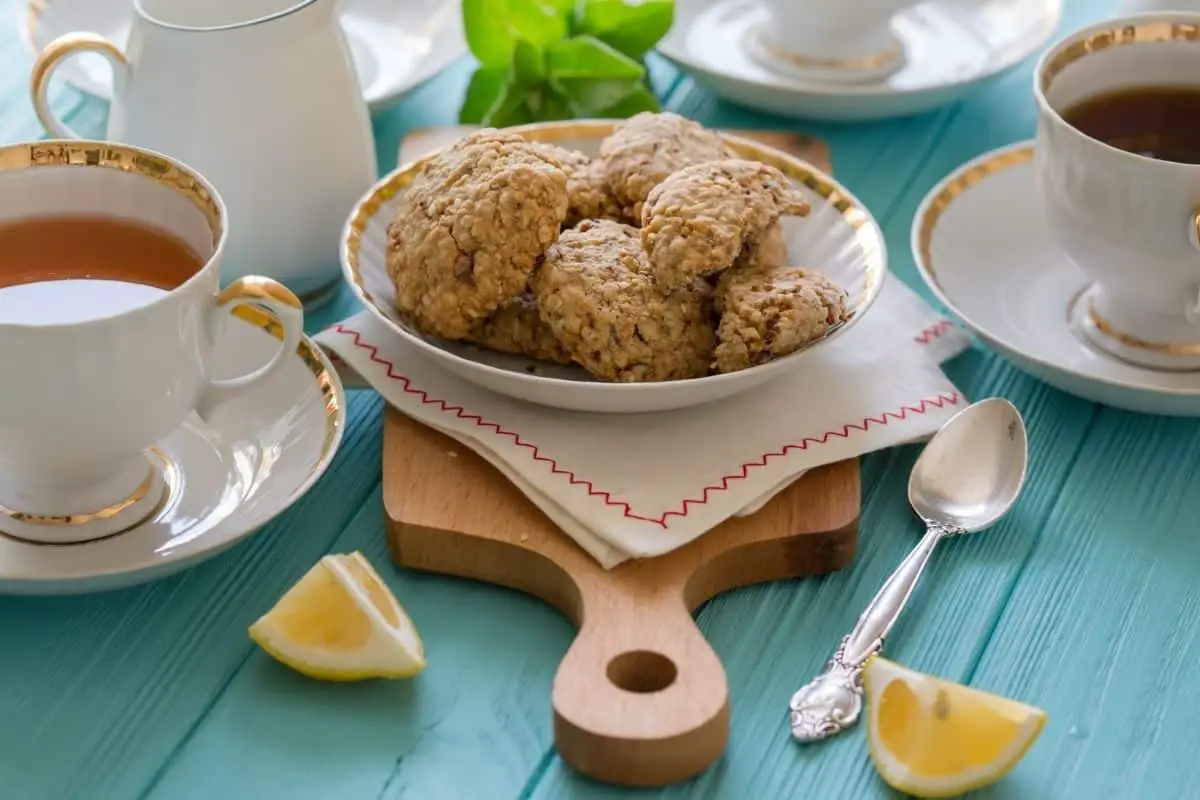 A three-tier cake stand is often seen when serving the three meals of a typical afternoon tea. Finger sandwiches, scones and a range of desserts cover the stands. Clotted cream, butter, marmalade and jam should all be served alongside this.
In most cases, the bottom stand has the savory foods, the middle will have cakes and scones, whereas the smallest stand will have small treats such as chocolates, macaroons and more. 
You can arrange the meals buffet-style if you don't have any three-tier serving stands. Place your sandwiches, scones, and treats on serving plates lined with paper doilies. This way, your visitors may assist themselves.
When it comes to the finger sandwiches, some of the most popular fillings include smoked salmon, cucumber, chicken salad, cheese and chive, and egg and cress. Yet, you may choose any combinations that you and your guests like.
These are just the most traditional flavors seen at professional tea parties. 
Tea parties are a great option for any bride with a sweet tooth. You can present a broad range of cakes, madeleine's, macaroons and petite fours.
In fact, you could create any sweet treat that your bride likes, as long as they are served in smaller portions. It can be fun to do a tea party with all of the bride's favorite foods as an homage to her final hurrah at her bachelorette party!
How Much Food Will You Need?
With tea party food, it is usually bite size. Thus, you will need more food to feed all your guests. With that being said, you need to keep in mind how many guests will be attending your bridal shower. As this will affect the amount of food that you need as well. 
When it comes to how much good each person should have, there is a general rule of thumb when it comes to tea party food. Usually, you would allow each guest to have about 4 or 5 finger sandwiches, depending on their size.
This is alongside a couple of sweets or cakes and scones per person. A good idea is to serve one afternoon tea stand between 2-3 guests. 
In addition to this, if you are presenting your tea party as a complete meal, not just small finger food. Then you may wish to include side dishes as well.
You may include fruit trays, cheese trays, chips and dip,macaroni salad, potato salad, and other options to make it a complete meal.
Finally, there is always a cake at the bridal party. You might select a classic Victoria sponge cake as the bridal shower cake. Furthermore, you might pick a flavor that suits your theme or decor, like strawberry, chocolate, or a frosted cake.
Then have the cake decorated to fit your theme too.
What Drinks Are Served At A Tea Party Bridal Shower?
As it is a tea party themed bridal shower, people will expect tea to be served. However, you can offer a broad range of teas, from classic teas to herbal and green teas. Furthermore, you may want to offer coffee or fruit juices if some guests aren't a fan of tea. 
Just because it is a tea party, that doesn't mean you can't serve some alcohol. You may want to offer champagne when speeches are being made to the bride.
With that being said, you could keep this party a nonalcoholic event, but there is an option to have a glass of bubbly as well. 
Do All Your Tea Sets Need To Match?
As you are hosting a tea themed bridal shower, you will obviously need various tea sets. Now you may wonder if your tea sets need to match. The answer to this can vary depending on how many guests are invited and expected to turn up. 
Ideally, you may want all your tea sets to match. However, this doesn't mean they all have to be from the exact same sets. You may choose tea sets that all feature similar colors so that they all tie in together with your table decorations.
You could also rent tea sets – most of the time these are floral patterned or have victorian style china. These are fine to mix and match with other tea sets. 
The important part is to try and get the 3-tier stands, as this is what really makes it a tea party. Also opt for tea cups that have saucers, as mugs don't really have the same cute appeal. 
With this being said, if you can't get all your tea sets to match, it doesn't matter either. Tea sets are beautiful and really delicate, so your guests won't care if they don't all match.
Tea Party Themed Ideas
There are a lot of ways to really take on the tea party theme. You can easily turn your venue, whether that is just your backyard or a function room, into a real tea party themed area.
To help make your tables look not only beautiful, but elegant. Why not fill teapots that won't be used with either real or fake flowers. This will not only add a bit of color but a natural element to your tables.
While also, these teapots are really attractive to look at. 
If you are trying to create a more regal tea party, then you should consider filling your tables with huge bouquets of flowers and candles. This creates a really romantic setting and fits perfectly the feminine theme that is associated with bridal tea parties. 
It is up to you if the flowers are real or fake. Yet, you can choose the color that the bride enjoys the most. Hence, you can make it as personal as possible. 
Everyone needs an invitation to know when the tea party bridal party will be taking place and where. There are a lot of free templates available online, that you can adapt and customize to suit your tea party theme.
However, by creating a tea party inspired invite, this will let people know the theme of the bridal shower.
The invitations may include pastel colors and images of mugs of tea for a more classic tea party. However, if you are going for a mad hatter vibe, you may include brighter colors and striking images that are associated with Alice in Wonderland on the invitations.
Tea Party Bridal Favors 
Usually, at a bridal party, at the end all the guests are given a favor. Now the tea party theme can be carried over to the favors.
Why not create these delicate tea cup candles. It is a great way to help remind everyone of the amazing bridal party thrown for the bride. The candles can be used, then afterwards the cop can be kept as a keepsake. 
Additionally, you may want to offer each guest a small bag full of loose tea. This may be the tea that was served to the bridal party. Then wherever your guest uses this tea at home, they will think of this bridal shower. 
While you could just lay your food out on simple platters, why not make them look extra special. Get your hands on some cake stands of various sizes to present all the sweet treats on.  
Adorn the top of your cake stands with either flowers or a large teapot. Although, if you are going with a mad hatter themed tea party, you may top your cake stands with playing cards, large stopwatches and teacups. 
Welcome the bride and guests to her bridal party with a welcome sign. This sign could be as easy as a chalk board or a large cardboard sign. You keep the sign simple, with images of teacups.
Or you could draw or add the Cheshire cat's smile if you are going with a mad hatter theme.
There are a lot of ways to make the welcome sign personal to your tea parties theme. In addition to that, you can save money by creating it yourself or hire someone to make it for you. This is another great keepsake to remember the day, as well.
Things To Remember For A Tea Party Themed Bridal Party 
When it comes to any bridal party, no matter the theme, there are a few things that you need to keep in mind.
Host – It is important that someone is selected as the host. They will be in charge of organizing and planning everything to do with the bridal party. This doesn't have to be one person, but this responsibility usually falls onto a family member or bridesmaid. 
Although, if no one wants to take this responsibility, you may decide to hire a professional event planner to help. 
Guests – The host and the bride should work together to create the guest list. When it comes to this guest list, it will usually consist of the bride's closest friends and certain family members. 
Venue And Setting Up – You can hire a venue that will offer you an afternoon tea if you wish. Or you can simply use your own backyard to create your own tea party. It is important you give yourself plenty of time to set up before guests drive, so that everything looks perfect. 
Again, you don't have to do this alone. This could be a task solely for the host, or friends or family members of the bride may help you. 
Additionally, a lot of people forget that with a tea party, they need to have hot water on the go. Thus, you need to ensure that there is at least one person on hot water duty.
This is to ensure there is plenty of hot water for all the tea that the bride and her guests will be consuming. 
Food And Drinks – You want to ensure that there are plenty of food and drinks that cater for everyone. When it comes to the food, you don't have to make everything yourself, you could easily pick up a lot of the treats from the supermarket, cafe, or from a bakery. 
Conclusion 
A tea party themed bridal party is a great way to celebrate the bride's bachelorette party. Whether you want to have a mad hatter themed tea party or a more regal, regency period Bridgerton themed tea party, you can really have some fun with it.
There is a lot of planning when it comes to a tea party bridal shower, but you don't have to do everything yourself. 
Tea parties are a really classy way to celebrate the bride on her upcoming marriage. We hope this article has given you a better insight into how to create the perfect tea party bridal shower.
There are a lot of options out there when it comes to decorations or ideas to be inspired by. 
Your bride is going to love her tea party themed (see also: How To Plan The Perfect Engagement Party: Themes, Activities, And Decorations)bridal shower that you throw for her!

Latest posts by Lisa Plaitt
(see all)