It's no secret that weddings can be a money pit, especially with rising costs, and companies all too willing to cash in on people's special day. 
However, in contemporary nuptials, there is a growing trend for couples looking to spice up their wedding on a budget – and luckily there has never been more choice when it comes to dresses, clothing, flowers, and decorations. 
One such trend is the 'rustic' wedding, but what exactly does this mean, and what options are there for couples looking to achieve this and come under budget? 
What Is 'Rustic' Style? 
In terms of design, the term rustic refers to 'natural, rough, aged, and casual' – although the term has been stretched and adapted to include anything vaguely 'country living' inspired or natural in appearance. 
The rustic style tends to embrace the traditional – that is, a kind of roots, earthy style that harks back to the idealized time we are all familiar with – the Hallmark card, rural, country cottage style that leaves that warm, fuzzy feeling in your stomach. 
And luckily, this is a really accommodating design style with a lot of scope, and one that is definitely accessible to people with all manner of budgetary requirements. 
What Themes Are There? 
When choosing the theme, it is important to pick an aspect of the rustic style that you and your partner particularly connect with. 
This could be anything, but some popular examples include: 
Country music. 
Country living. 
Seasonal themes – i.e. spring, summer, fall, winter. 
Woodland themes – for example specific trees and leaves. 
Woodland creatures. 
Insects – dragonflies, butterflies, fireflies etc. 
Cowboy themes – boots, hats etc. 
Bohemian themes – country hippie styles etc. 
Wildflowers and nature. 
Barbecue themes – food, camping etc. 
Water – lakes, rivers, streams, ponds etc. 
What About Clothing & Dresses? 
When it comes to clothing, this very much depends on the theme you have chosen as a couple. Luckily though, the design style has a lot of scope for experimentation, and can be quite accommodating towards a lot of different sub styles of fashion and wedding attire. 
Country Western Style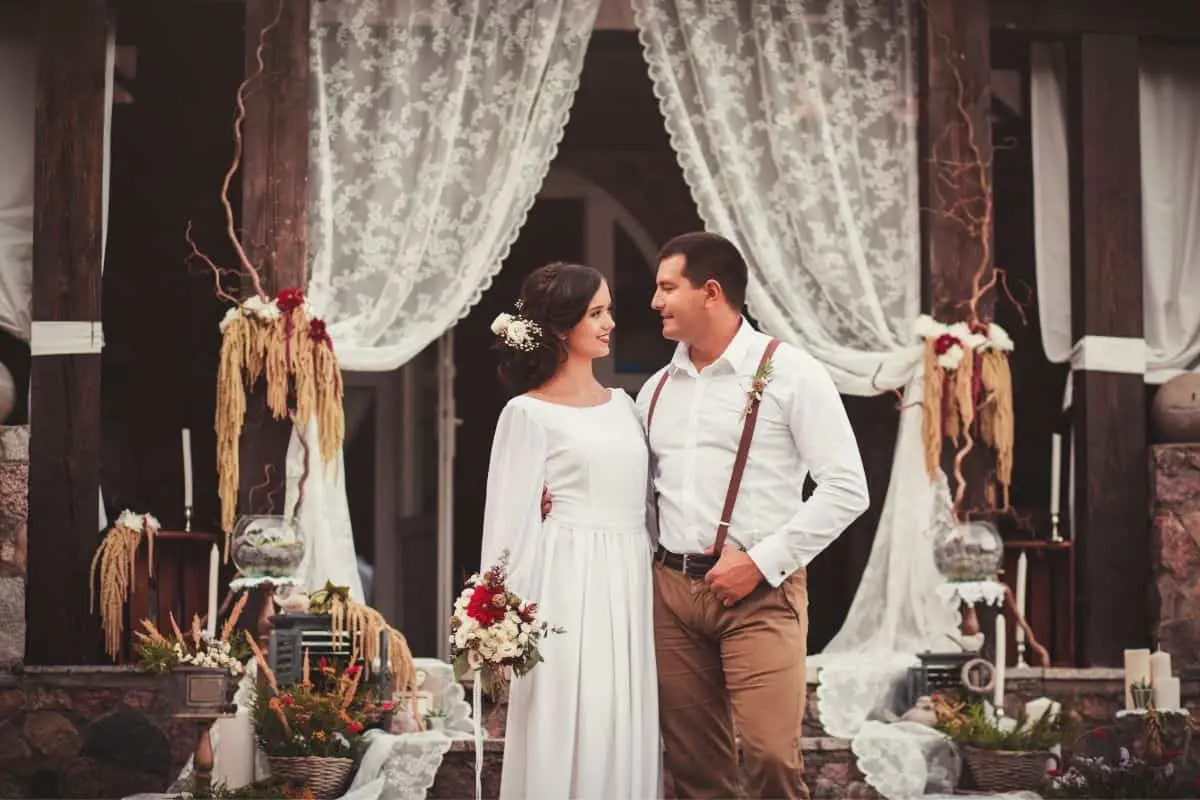 If you are having a rustic barn wedding, then what better way to finish things off than by instating a country western clothing style for your wedding.
This can be a great way to remove some of the anxiety about dressing up, and can also be a great way to create memories with family and friends. 
As you can probably guess, this is also quite a loose and open design style, and can encompass anything from the groomsmen wearing cowboy hats, boots, and bolo ties, to the bridal party being dressed in vintage, country living inspired dresses.
Fantasy Style
With the countryside comes a close association with fantasy, myths, and legends, and this adds a whole new dimension to wedding attire. 
Nothing sums up natural, ethereal beauty like elven inspired clothing – encompassing everything a rustic style could want, including wildflowers, natural flowing materials, earthen and pastel colors, and a natural, demure beauty that will make every bride look like the queen of her own woodland kingdom. 
Vintage Style
Of course, with the rustic style, there comes a close association with all things vintage and obscure.
This can extend to the clothing worn by both parties, and can be a great way of highlighting individualism and style while still remaining classy, attractive, and downright beautiful. 
Think simplistic, flapper-inspired dresses from the 1920s and 30s, and think sharp three piece suits that could be right out of some bootlegging crime caper.
This is great for accessories too, and can blend seamlessly with the wider rustic style, incorporating natural woods, wildflowers, and tasteful, earthy decorative styles.
Bohemian Style
Of course, you might wish to opt for something slightly more timeless – and the bohemian style achieves this more than most. 
The hippie style has become somewhat intergenerational – easily representing the Middle Ages, the 1960s, or the more modern countercultural trends. 
This means wild flowers, natural fabrics, and embracing all things nature, and it means allowing a sense of freedom and timeless beauty that all your guests will love and appreciate – both from a design sense, and with regards to their own personal styles. 
How To Find The Perfect Venue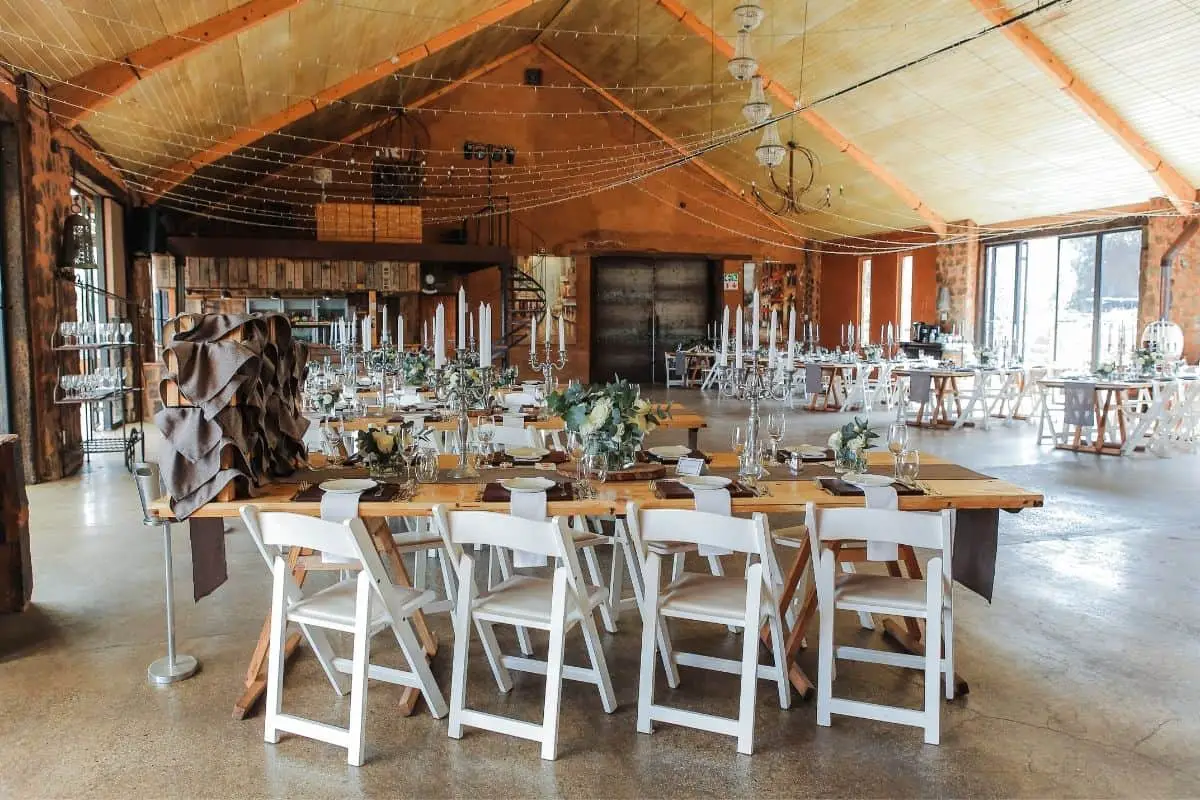 When choosing the right wedding venue to match your chosen rustic design, there are a few things you need to plan and check before committing. 
Rental Fee
First and foremost, you need to examine how much it will cost to rent the room or space for the duration of the service – as well as any after party you intend to have. 
It can be easy to get caught out or pressured into paying more than you are comfortable with, which is why care needs to be taken when searching. 
Food & Beverages
When looking for food and beverages on a budget, the best thing to do is to look local. This can be local businesses who might cut your bargain, or it could be a family member or friend who owns their own business. 
You can also sweeten the pot by offering them free advertising, handing out coupons and flyers for the business in the reception goodie bags, or otherwise just promoting their business.
Don't forget, the guests trying their food is also a really good advertisement for their business, and one that could get them more business down the line. 
Minimum & Maximum Capacity
You also need to find a location that can host the number of guests you have coming. If there is a maximum occupancy – as most indoor spaces have – then you need to make sure you won't exceed this. 
Likewise, if the venue has a minimum number of guests to be rented, then you will need to check to see you qualify. 
What Outdoor Rustic Venues Are There?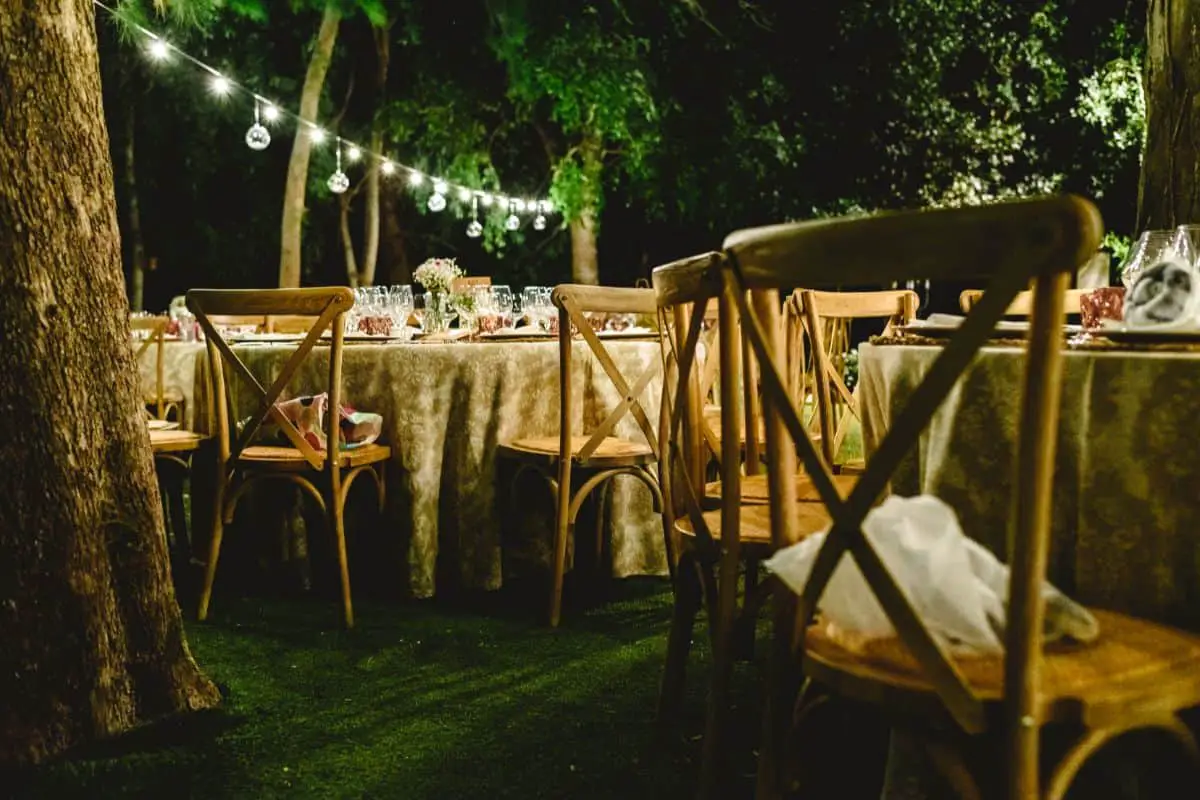 Of course, when it comes to choosing the perfect venue to match your rustic wedding style, there are a number of things you can choose from. 
Ranches & Farmland
Many large properties rent out their land for events and occasions, and if you are a rural family yourself, you might know someone who will let you use their land for a discount. 
This is the perfect way to incorporate nature into your big day, and can make it a memorable occasion for all. 
Meadows & Gardens
Likewise, if you live in a location with grasslands and gardens, then why not try and incorporate this into your big day? 
This could be public land or private, but just make sure you get all the permits and permissions you need to make this dream a reality. 
Beaches
If you live close to the beach, or have the perfect coastal location in mind, then why not have this as your venue? 
This goes great with bohemian, rustic styles, and can be a memorable day for all your guests to enjoy. Just bear in mind that beaches are generally public, and so other people might be present. 
What Indoor Rustic Venues Are There? 
Of course, for those seeking an indoor venue, there are also numerous things to choose from. 
Barns 
This is a rustic classic, and can usually be attained quite cheaply depending on the location. These are large spaces, and can usually be made to feel quite homely and accommodating after a little jazzing up. 
Lodges & Cabins
You could also opt for a lodge, country cabin, or lake house retreat for your wedding. These are better for smaller gatherings, and can be the scene of many memorable times for you and your guests. 
Greenhouses
What better way to incorporate nature into your big day than by holding the event inside a greenhouse? 
These are rarer to find than other locations on this list, but can be things of pure beauty – especially on a sunny day. 
How To Decorate Your Rustic Wedding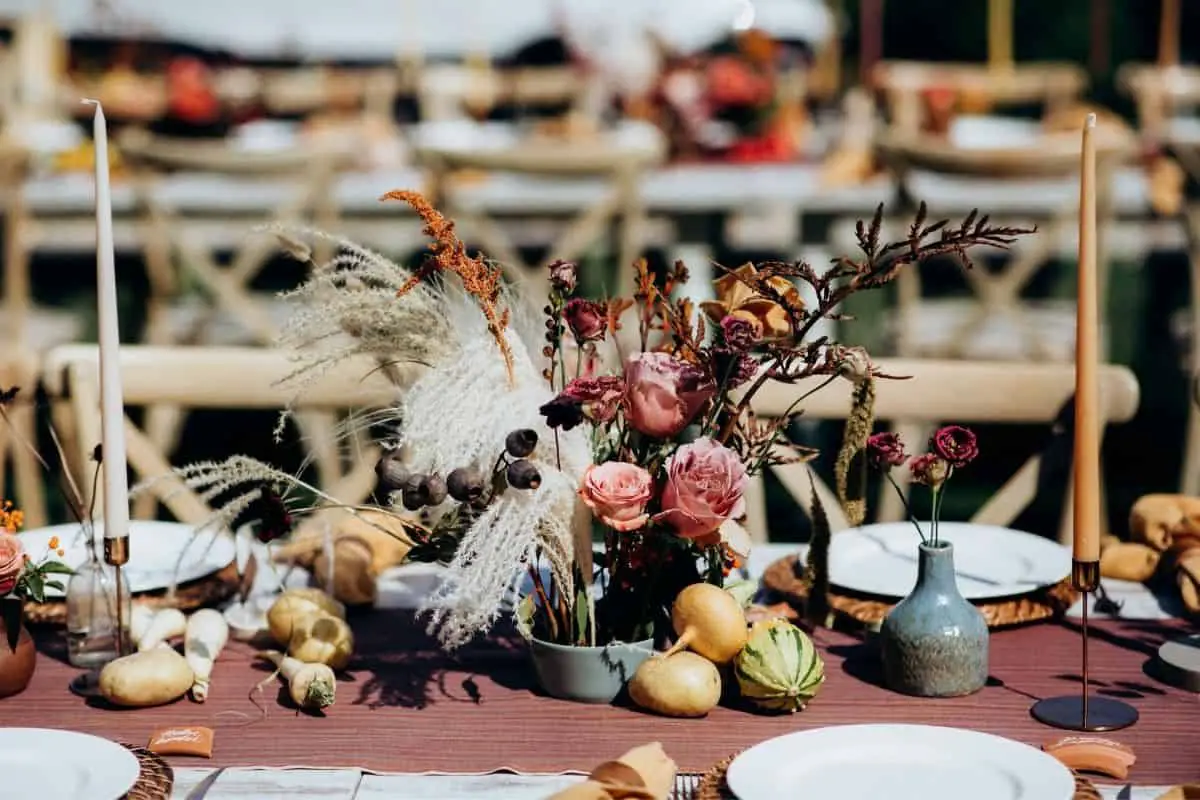 When it comes to decorations, there are numerous ways to make a special occasion without breaking the bank. 
Wildflowers
Wildflowers are a great way to jazz up any rustic wedding event, and can really give a sense of nature and homeliness to any occasion.
These can usually be sourced yourself – especially if you have a large garden, or you could have friends and wedding party members picking them to use as decorations. 
Alternatively, they can usually be purchased for reasonable prices from registered suppliers. 
Natural Wood
That natural, earthy feel is a characteristic of the rustic style, and one that really gives a sense of character to any wedding event. 
This means renting natural wood tables, chairs, and decorations – the simpler the better, and laden with natural charm. 
Subtle Colors & Materials
You can then dress your tables with simplistic materials in earth tones or natural, pastel colors. These can really add a sense of demure natural beauty to any event, and can usually be attained at a reasonable price if you shop around. 
This also lets you play with textures and patterns, and add that bit of individuality to your big day. 
Final Thoughts
And there we have it, everything you need to know to plan the perfect rustic wedding (see also: How To Plan Your Wedding – Everything You Need To Know)on a budget!
In modern times, with rising costs, it is common for people to do things their own way, and there no longer has to be this expectation of an expensive, lavish wedding. 
So, if you are looking to plan a rustic wedding on a budget, then why not give some of these a try? Something tells me you won't be disappointed!

Latest posts by Jodie Messines
(see all)