If you want your outdoor wedding to feel like a fairytale, then you need to pick a theme and work on getting all the details right.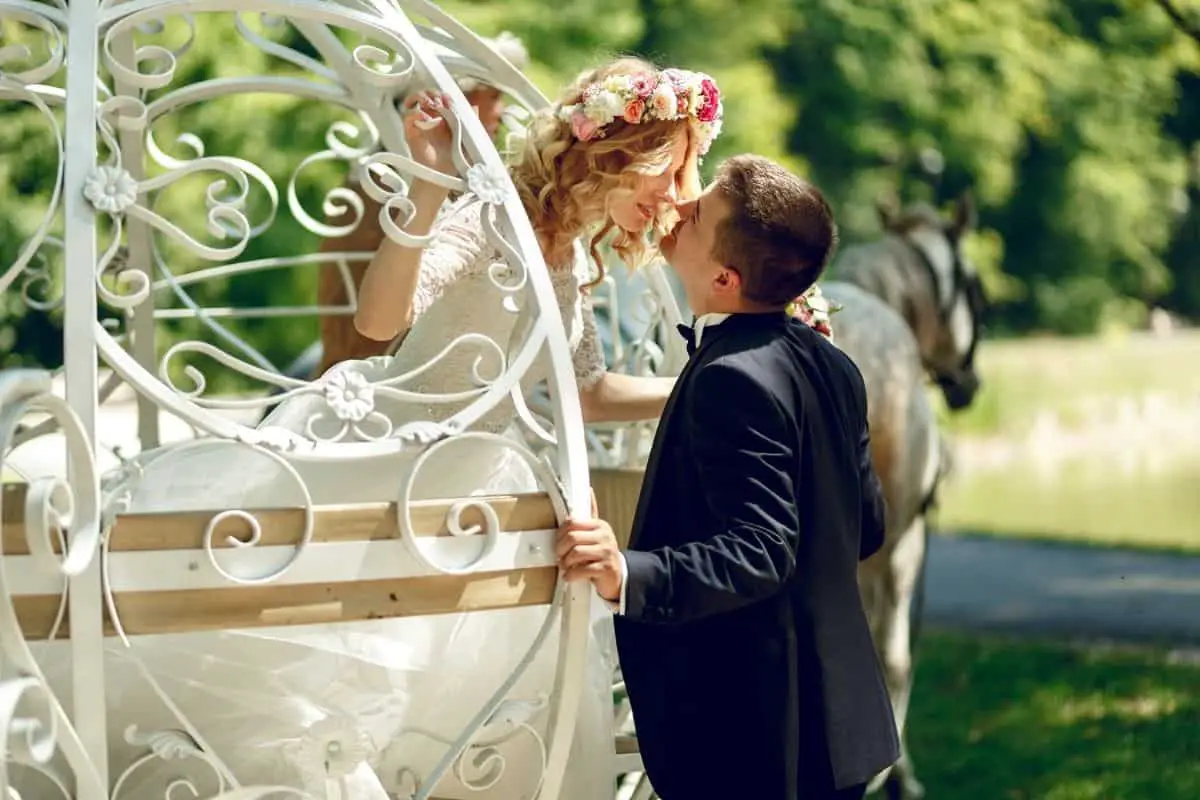 Here are 14 fairytale themes to use at your wedding. 
#1 – Green House Wedding 
Option 1 is to channel your inner herbalist and get married in a large greenhouse.
This offers all the benefits of an outside wedding, with the added protection of having a roof over your head. 
If you think of shelves full of plants and potions when you think of fairytales then this is the perfect theme for you. 
Decorate the greenhouse with large bouquets of flowers and a range of plants that you wouldn't usually expect to see at a wedding. Why not serve botanist-themed cocktails at the bar? 
#2 – Enchanted Forest Wedding 
Bonus points for a winter-themed enchanted forest wedding. 
This is one of the most classic forms of an outdoor wedding but it has stayed popular for this long for a reason. You will need to find a venue that has a clearing big enough to seat all your guests. 
Then make sure to stock up on string lights, candles, and lush floral arrangements that complement the area you are getting married in. 
Being surrounded by the towering trees and the nature that lives among them will make you feel like a child in a fairytale wandering through a magical forest – watch out for the big bad wolf! 
#3 – Belle's Library Wedding
Just because you are having an outdoor wedding, it doesn't mean that you have to ditch the books that we all associate with fairytales. 
Why not create an outside library for your guests to wander around before and after the ceremony.
Don't forget to add a sliding ladder, so we can all live out our dreams of being Belle from beauty and the beast. 
You could decorate your outdoor space with furniture inspired by books, have a giant guestbook for people to write in, and maybe even incorporate books into your wedding arch. 
#4 – Alice In Wonderland Wedding
Red roses. White rose. Playing cards. Rabbits. Chess. Tea parties. Madder hatters. And giant cats. 
Lewis Carrol's Alice In Wonderland stories are full of so many iconic characters and a lot of breathtaking imagery.
They have been so impactful on our society that many of us see them as the touchstone for fairytales and magical stories now. 
There are many different ways you could trow an Alice In Wonderland themed wedding – from having an intimate one-table dinner to having drink-me cocktails at the bar. 
The key to pulling off this theme is to make sure that you and everyone who attends are having fun. 
#5 – Vintage Garden Party Wedding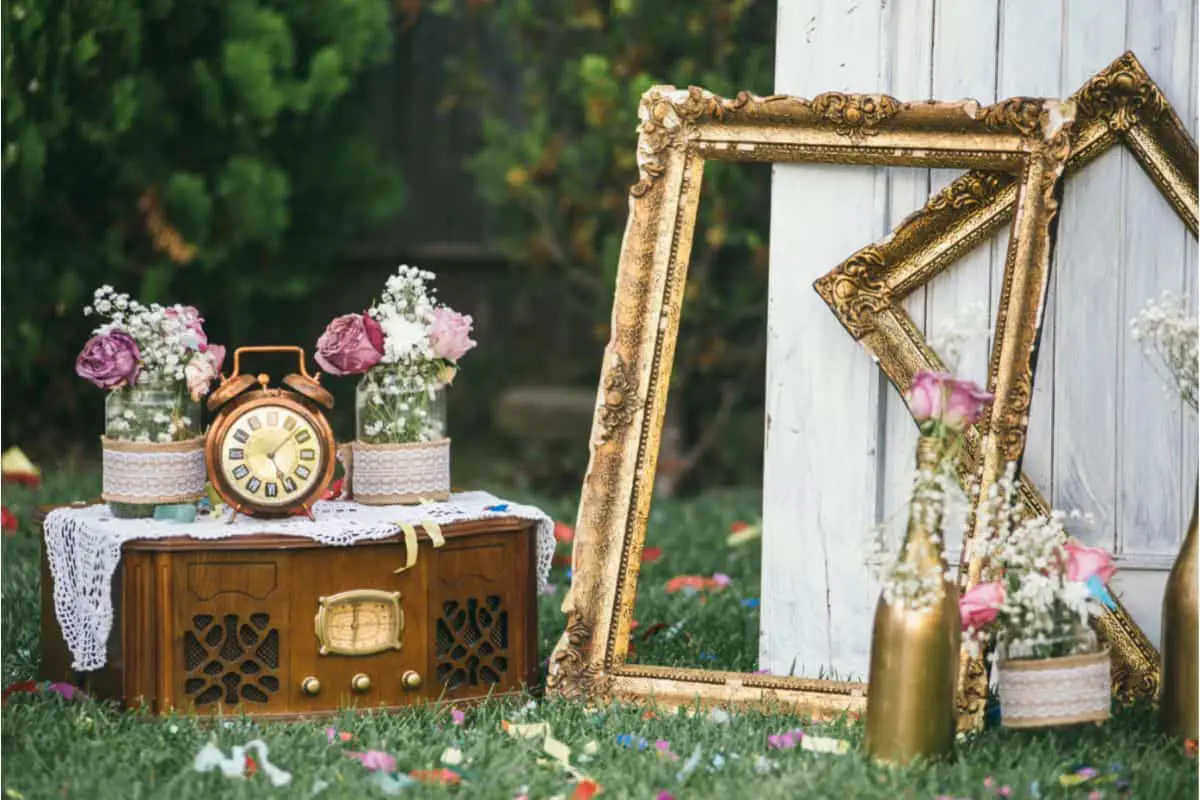 Speaking of parties, why not have a vintage garden-party-themed wedding. 
You could try to capture the excitement of something like Bridgerton or Pride and Prejudice. Or you could go for something a bit more lavish and take inspiration from the French Royal Family. 
Be on the lookout for vintage crockery, velvet couches, picnic baskets, and anything else that sparks your vintage joy. 
Why not get an outside bar that serves drinks inspired by the era you are recreating. Don't forget to collect as many vintage glasses as you can find.
You might want to ask everyone coming to dress in a vintage manner as well. 
#6 – Villain Wedding 
Sometimes, the most exciting and fabulous characters in a fairytale are the villains. 
We know that some of you love the villains a lot more than the heroes, so why not lean into that for your fairytale wedding. 
You could pick a particular villain to theme the wedding around, or you could go for an overall darker theme. 
Villain weddings have large, dark floral arrangements. The food is decadent and delicious. And the drinks are, of course, strong but addictive. 
Why not have a Dracula-inspired wedding? This will allow you to combine dark colors with vintage themes. 
#7 – Coastal Wedding 
If you are a fan of mermaids or Vikings then a coast wedding is the perfect option for you. 
We don't mean a beach wedding, although, if that makes you happy then you do that. What we mean is a wedding inspired by the rouged coasts of Scandinavia or Scotland. 
Why not make your decorations out of sea glass? Use seashells to make candles for the table. Make your floral arrangements out of coastal plants like thistles, heather, and long grass. 
With a wedding like this, you don't need to rely on the weather, in fact, an overcast day will just make everything more atmospheric. 
#8 – Cottage Core Wedding 
Cottage core has become all the rage in the last few years. It combines the simplicity of country life a few hundred years ago with the small magic of fairytales. 
A cottage core wedding should be held at a farmhouse or a similar venue. The food should be locally sourced. Expect there to be a lot of herbal tea and homemade lemonade. 
You might find a few fairytale elements hidden around the wedding – like a fairy circle of toadstools, beautiful floral arrangements, dreamcatchers, and a few potions.  
#9 – Mushroom Wedding 
Speaking of toadstools – why not throw a mushroom-themed wedding. 
Mushrooms are an important part of many fairytales – fairies live in them, they are used for spells and potion-making, and they can transport you to different worlds – like the feywild. 
There are so many adorable mushroom-themed decorations that you can make that will make your guests feel like they have stepped onto the page of a fairytale. 
You can use vintage botanical drawings to find inspiration, these also make beautiful decorations if you print them out and frame them. 
You can even make floral arrangements with cute mushrooms mixed in. 
#10 – Disney Wedding 
We won't spend long talking about this type of wedding because you probably have a good idea about what they entail.
However, we can't talk about fairytale weddings without talking about Disney because they have recreated so many of our favorite fairytales. 
If you want to throw a Disney wedding then you need to decide which parts of Disney you want to include. Do you want to theme your wedding around the princesses or just around Snow White? 
Once you have narrowed down your theme, you can start to rewatch the film and pick out design elements that you want to include on your special day. 
#11 – Witchy Wedding 
If you are a witchy person who loves natural magic, crystals, and the power of the moon – then why not show this off at your wedding. 
You might even want to hold your wedding at night on a full moon if this is important to you. 
If you want to throw a witchy wedding, think about the spells, items, and crystals that are more important to you.
Add crystals to the table that bring good luck, and have sage candles burned throughout the ceremony. 
Remember, if you are not a traditional person then you do not have to throw a traditional wedding. You want to have a wedding that will make you happy – don't worry about what other people think. 
#12 – Greek Myth Wedding 
The Greeks had their own range of fairytales and mythology – these stories fascinate many of us and people have been reading about them for thousands of years now. 
You might be tempted to have your wedding in Greece, but if that is not in your budget there is a lot you can do at home to recreate the feeling. 
There are many amazing stories, creatures, and outfits that you can use as inspiration for your wedding – on this theme, Pinterest will be your best friend. 
#13 – Elvan Wedding 
This is the perfect wedding theme for fans of Lord of the Rings, Dungeons & Dragons, many video games, and fairytale lovers. 
An Elvan wedding should feel light, airy, and timeless. You will want to look for well-crafted and intricate decorations.
You will want to embrace the more natural side of wedding decoration. You might want to combine this wedding with an enchanted forest theme. 
You might want to add a few water features to your outside space. Why not hire a harpist or another more traditional musician to set the atmosphere up correctly. 
#14 – Castle Wedding 
When we think about fairytales, there is nothing that sticks in our minds more than the amazing castles. 
You may want to get married in the garden of a castle. One of the good things about doing that is that you know there will be a working kitchen is nearby.
Lots of castles also have amazing gardens that create the atmosphere that you want without you having to spend $1000s on decorations. 
Your wedding photos will look amazing with a towering castle in the background. 
Summary
You can combine a castle wedding with any of the themes we have mentioned about to make your wedding feel more like a fairytale adventure. 

Latest posts by Jodie Messines
(see all)