When you spend so much time thinking about how you want your wedding to look, it can be hard to come up with more ideas to decorate for your rehearsal dinner.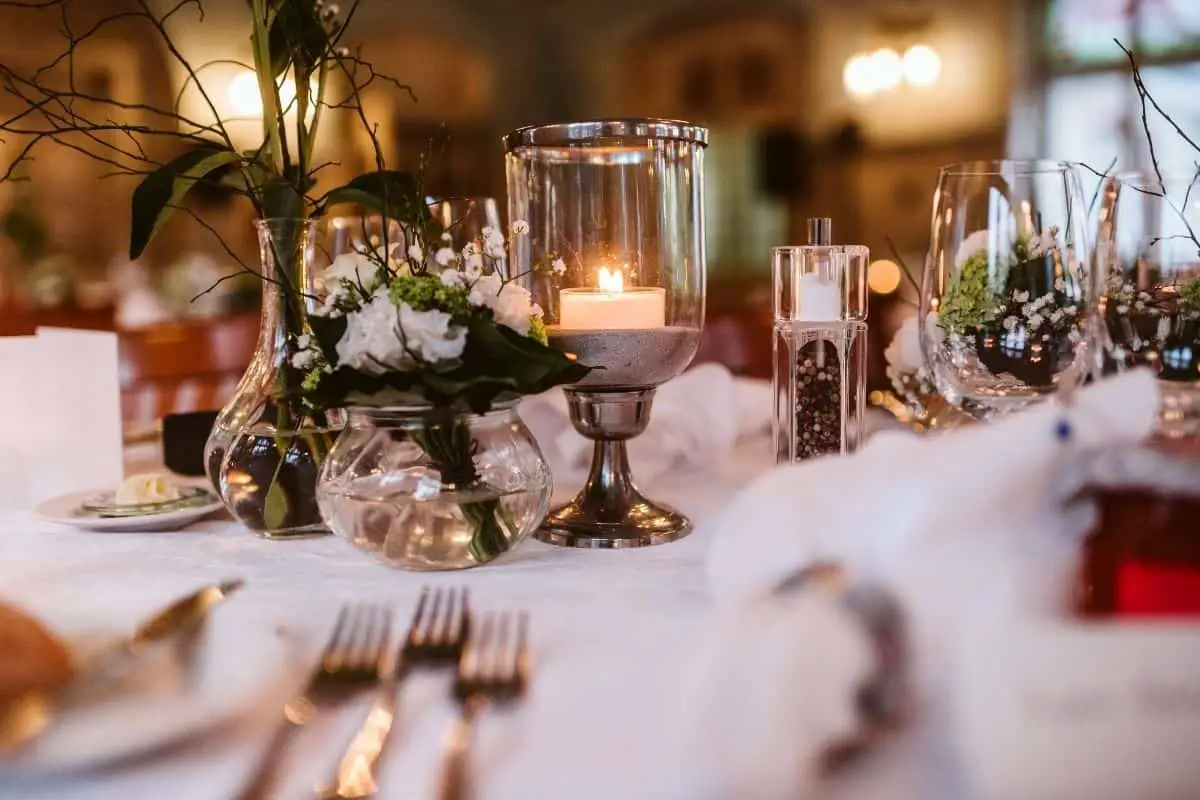 Do you go with something that compliments the rest of the wedding or something a little bit different?  
If this sounds familiar, then look no further, here are 10 amazing ways to decorate for your rehearsal dinner. 
#1 – Personalized Drinks Bottles For Each Guest 
As your rehearsal dinner will be a smaller affair than your wedding, it is an opportunity to make each guest feel welcome. 
Why not take their drinks orders in advance and serve them up in personalized bottles.
You could paint their names onto the bottle, put a picture on them, or write a little message about how much they mean to you. 
You could take it a step further and make a series of custom cocktails to serve up in these glasses – for example, you could have one cocktail for the bride's family and another for the groom's. 
#2 – Long Table Dinner 
Your rehearsal dinner it's going to be a lot more intimate than your wedding –  instead of spreading your guest out across multiple tables, why not seat everyone at one long table. 
This will not only make the whole event feel more special, more compact, and more intimate, but it will allow you to see all of your guests attending the meal. 
When you are laying this table you will want to make sure that none of your table decorations are too tall or too large.
You do not want your view with your guests blocked and you want everyone to be able to talk freely without having to maneuver around large vases of flowers, tall candles, or decorative lamps. 
There is nothing worse than being after dinner and not being able to see the person you were trying to talk to you across a table. 
#3 – Mediterranean Serving Plates 
If you do choose to have your rehearsal dinner on one long table, then you might want to think about making the meal more interactive.
You might want to try and mimic a large family meal at home –  even if you're at a nice hotel or restaurant. 
You can do this by having the caterers serve food on large sharing platters. We love these bright, handmade Mediterranean serving dishes. 
There is nothing more fun than sharing a meal with family and friends you love.
You can take this up to another level by having everybody serve each other food, passing the plates around from one end of the table to the other, and pouring each others' drinks. 
You'll want to make sure that you have large pieces of wooden cutlery to help the guests serve up their food. 
#4 – Eucalyptus Center Pieces 
Your wedding day it's going to feature a lot of flowers, if you want to set your rehearsal dinner apart a little bit why not skip the flowers and opt for some more unique centerpieces on your table. 
At dinner,  you should try and keep the centerpieces small so that the guests have an easier time seeing each other.
But that doesn't mean you should skimp out on them. Why not try something a little different? 
Make your centerpieces out of foliage and string lights and they will have a big impact without taking up a lot of space. 
Our favorite types of foliage to use are leaves from the eucalyptus plant. They smell great, they look great, they last for a long time, and they look much more expensive than they are. 
They are really classy options, that always look like you spent a long time preparing them even when you haven't. 
#5 – Horizontal Floral Arrangements
Alternatively,  if you want to give your guests as much space as possible at the rehearsal dinner table –  then you should consider making horizontal floral arrangements.
You can also make horizontal foliage arrangements. 
Instead of building your floral arrangements up, lay them flat along the full length of your dining table. 
Along the rest of the table, you can use a few minimalist decor items –  a few in candlesticks, rolls of fabric, and maybe a few bottles filled with infused lemon and mint water. 
Horizontal floral arrangements look best When they run the whole length of the table and spill over at either side. You want your Floral arrangements to look up abundant and like they are overflowing. 
If you are going to use flowers,  you might want to make them match the flowers you going to use on your wedding day. 
#6 – String Light Canopy 
If you are hosting your rehearsal dinner at night, why not forgo the bright overhead lights and replace them with something a little more gentle and romantic.
Like a canopy of string lights hanging above the whole rehearsal dinner. 
 We love string lights because they are so versatile and easy to decorate with. 
It will only take you a few minutes to set up this canopy but it will look fantastic evening and you'll be sad when you have to take it down.
You might even find yourself wanting to recreate it in your own home when you get back from your honeymoon.
You can also use string lights to decorate the table, or you can opt for a handful of candles if the venue allows it. 
#7 – Personalized Couple Candles 
Scent is one of the most powerful memory aids. You have probably experienced this at least once in your life, you catch a smell in the wind and you're taking back to the time you thought you had forgotten. 
Our weddings are times that we want to remember. So why not choose a scent that will bring back all of those precious memories for you. 
You can do this by picking out a wedding candle –  we love this one from Yankee Candle because it is designed specifically for weddings, they will allow you to customize the jar,  and when you finished the candle that you used on your wedding day you can buy another one for your home. 
#8 – Gold Leaf Glasses 
Many people choose to go for a Minimalistic theme at the rehearsal dinner because they have put a lot of effort into decorating their wedding.
There is nothing wrong with this we've put together this article to help you add a little bit more magic to your rehearsal dinner. 
One of the ways you can do this is by serving the drinks for the evening in some special glasses? We would recommend using some glasses that have been decorated with gold leaf. 
Gold is it gorgeous color and it perfectly matches the theme of all weddings which is eternal love. Your wedding bands are going to be cold after all. 
We love these golden glasses –  they are special,  they are classy,  but not too over the top for a rehearsal dinner.
You should also be on the lookout for serving jugs that match the glasses you pick out. 
You could even use gold-colored candlesticks as the main form of decoration on the tables at your house or dinner. 
Keeping things simple will only make the gold stand out more. 
#9 – Overnight party favors 
If you are bored the night before your wedding,  then you might want to put out party favors. This is a great way to get everyone excited for the next day. 
For the women,  you could put out a bag of skincare samples that they can use before they go to bed and wake up looking glowing on the big day.
In this bag, we would include a rose face mask, an overnight moisturizer,  a toner or essence, and a little sample of rose-scented perfume for them to wear the next day.
For the men, a sample of shaving cream,  some gel and eye masks,  some hair pomade,  and a little sample of aftershave. 
The people who have traveled to your wedding will find party favors like this very handy. 
#10 – Mason Jar S'more Station 
If you have a sweet tooth then we can honestly not think of a better way to end your rehearsal dinner and to start a bonfire and open the S'more making station. 
Yes, you read that correctly a S'more making station. 
To make your S'more station you will need three large mason jars –  one filled with marshmallows,  one filled with pieces of chocolate,  and one filled with crackers. 
You probably want to have some spare crackers on hand.  you will then want to have a small jar of cocktail sticks on hand so people can melt their S'mores. 
Next to your station of chocolatey goodness you want to have some kind of bonfire. If you have little ones at your rehearsal dinner,  you will need someone to keep an eye on the fire. 
Summary 
Just because your rehearsal dinner is going to be more low-key than your wedding, it doesn't mean that it can't be a magical night. 
Above are 10 ways to make the evening that little bit more special.

Latest posts by Jodie Messines
(see all)