The Rehearsal Dinner should be a fun and much less stressful version of your wedding day feast.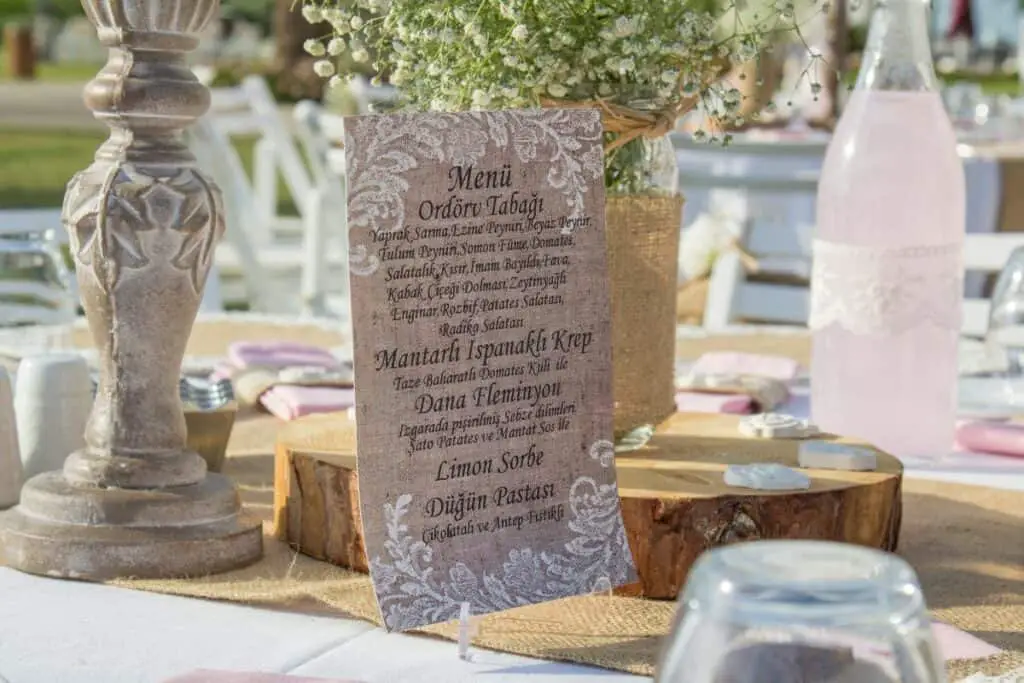 It's a time for you to get used to the idea of what your wedding reception will have in store, a day for you to experience different menus and find something that will be perfect for your big day. 
But trying to choose the perfect dinner menu for the rehearsal dinner can be difficult.
How can you be sure that you've picked something that everyone will love? If you're finding yourself overwhelmed by the choices available, then don't worry! You've come to the right place!
In this article, we're going to break down 15 rehearsal dinner menu ideas that are sure to be crowd-pleasers!
We've also made sure to include a short FAQ that will help answer some other questions about this issue! 
Let's get right into it!
General Tips For Rehearsal Dinner Menus 
There are a lot of things you'll need to think about when it comes to rehearsal dinner menus.
We're going to start off by breaking a few of these down so that you can feel more confident in your planning.
Food Choices
You're going to want to try and pick something that will be easy for guests to dig into.
If you have a big family spread out across a vast distance, or different groups of friends who've never met one another before, they're not going to want something that is unfamiliar or difficult to eat. 
Courses and Timing
You'll want to pick a menu that has a similar theme to what you'll be serving on your big day, especially to do with the number of courses. Typically, it's best to pick a simple 3-course meal with easy-to-eat entrees.
Casual VS Formal
Depending on the kind of wedding and rehearsal dinner you're staging, you might want to pick something that is more casual.
A three-course meal can be great, but depending on the tone of your event and the budget you have available it might be better to just have a singular station for guests to help themselves. 
Top 15 Rehearsal Dinner Menu Ideas 
Starters, Mains, And Stations 
First off, we're going to give you a selection of ideas that are perfect for starters, mains, and stations.
We've picked some of the most common food ideas that your guests are sure to love. 
1. Spanish Tapas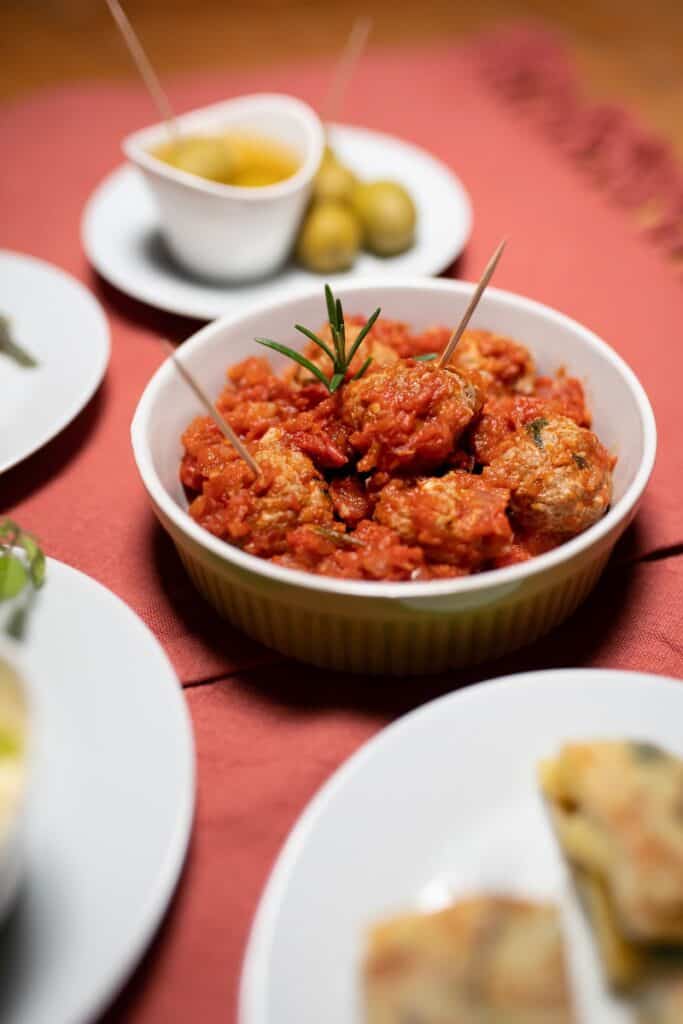 Tapas is a sure-fire crowd-pleaser. With lots of little meals across a table, you'll be able to pick something that people will be able to choose from and find something that they enjoy.
Tapas can work well as a main course and because of the way it is usually served, guests are sure to feel at ease and that the whole affair is a lot more casual than they expected.
Tapas tends to involve lots of small dishes such as chorizo, olives, bread and cheese, chopitos, or calamares. 
2. Sushi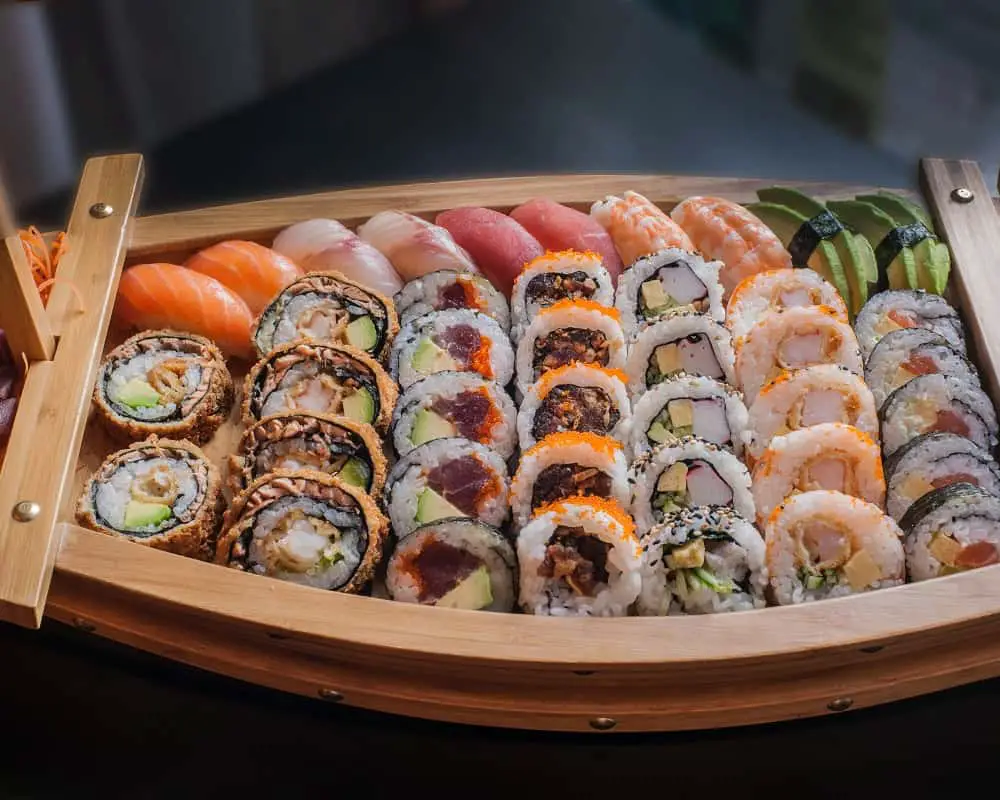 If you're looking to add an Asian twist to your rehearsal dinner, sushi can work well as either a starter or a main.
One of the best things about sushi is that it tends to be served in small portions with a gorgeous presentation.
Although not every guest you have will be accustomed to eating sushi, it's simple enough to get into and can give the table a wonderful communal experience. 
3. BBQ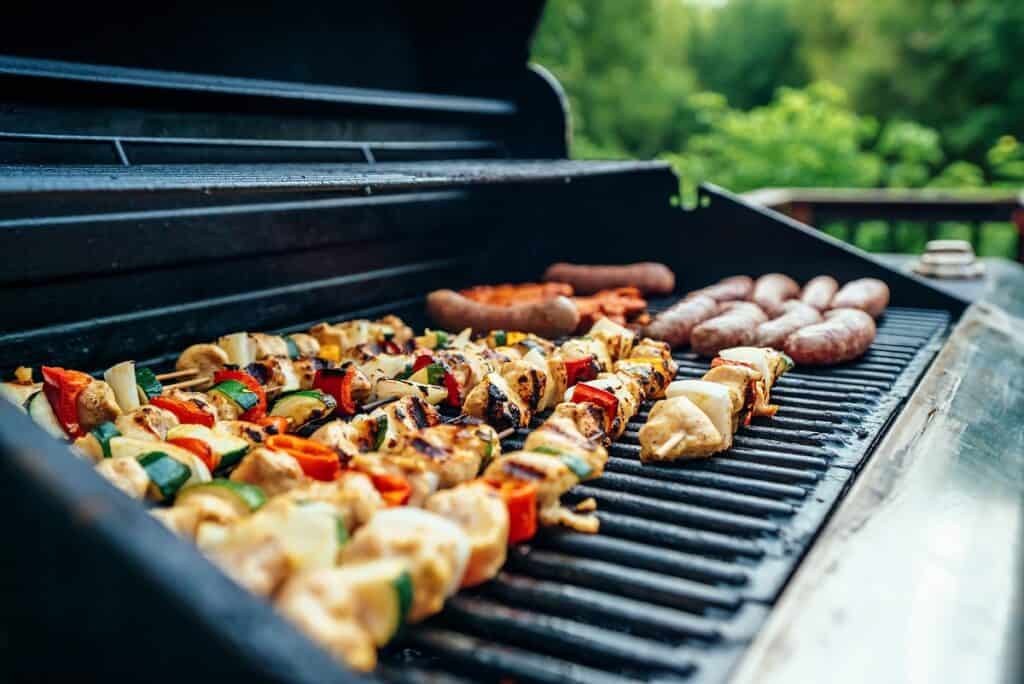 Barbecue is an amazing fit for a more casual rehearsal dinner. Perhaps you're not looking to go for the three-course dinner and you want something that guests can simply help themselves.
There are a lot of caterers that will offer BBQ stations featuring favorites such as burgers, steaks, brisket, and ribs.
This is a great opportunity to set the tone for your rehearsal, and it will allow guests to feel at ease and socialize without worrying about their dinner etiquette. 
4. Salad Bar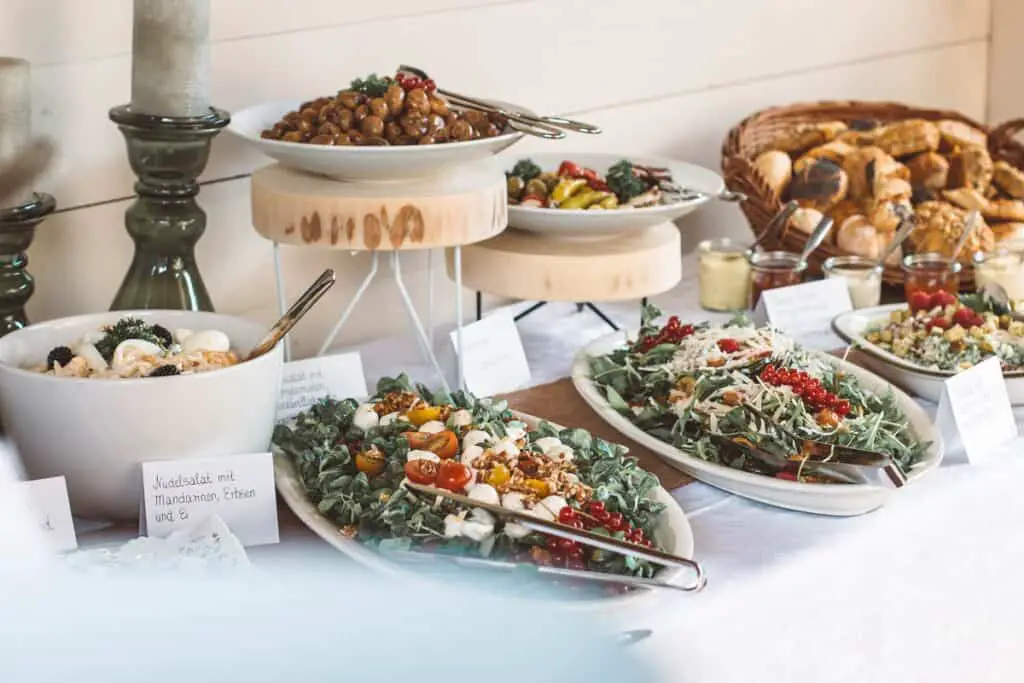 Another casual menu idea that is perfect for a healthier option, is a salad bar.
This can be set up at the side of your rehearsal space and allows guests to build their own healthy meal.
A salad bar would involve a series of mixed greens with smaller meat options, allowing guests to pick and choose as they please.
It also means that you can easily cater for any vegetarian or vegan guests you might have in attendance.
5. Italian Food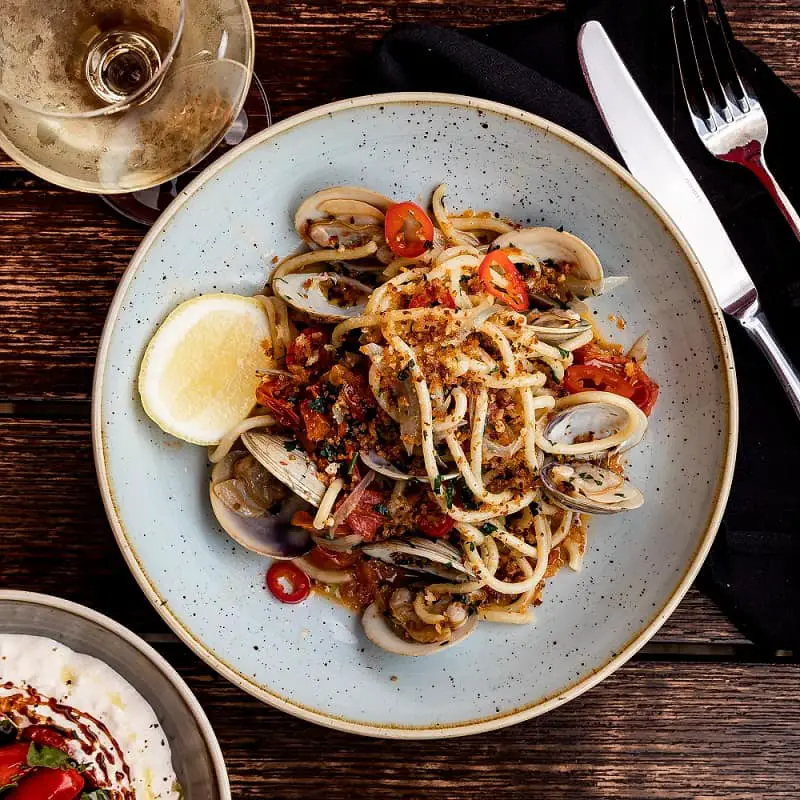 In a more formal setting Italian Food is an easy pick that is bound to be a favorite.
Italian food is perfect for a three-course dinner that will give some great dishes that people will recognize and love.
Italian food is one of the most popular types of food in the world, and there's nothing better than digging into a  gorgeous spaghetti bolognese or creamy tagliatelli.
It also gives you a chance to have simplistic starters such as garlic bread or caprese salad. 
6. Pizza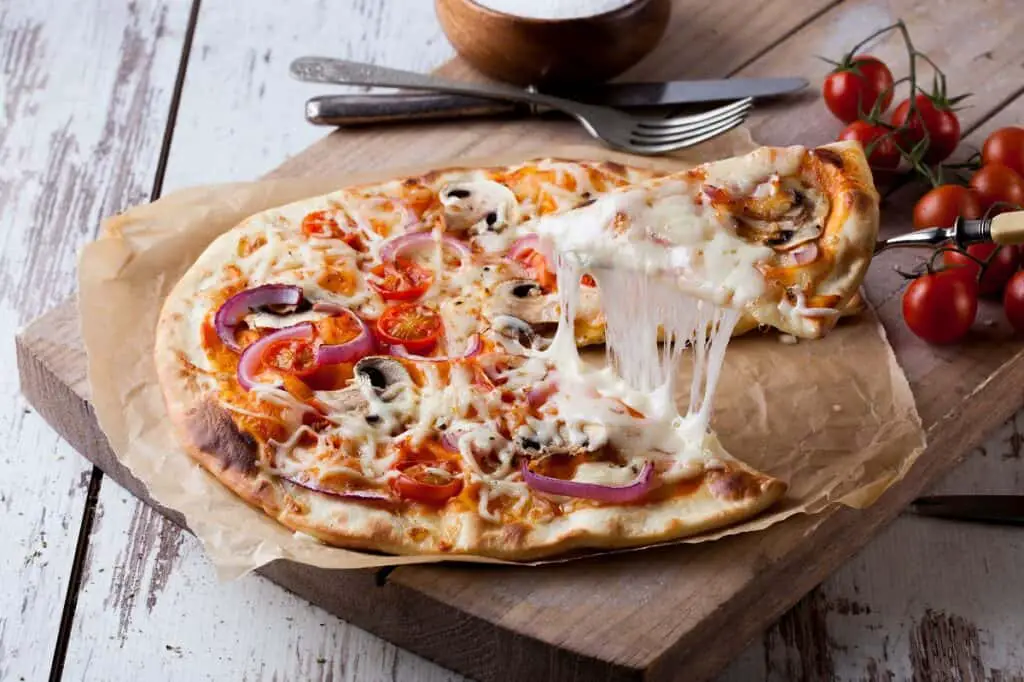 Looking to go super casual? Well, then pizza is sure to be a hit! You're unlikely to have guests that won't like pizza at least a little.
A great option here would be to hire a caterer who has a stone oven.
From here guests will be able to choose their own toppings, instantly putting them at ease and making sure that there is something for everyone.
It is worth noting that you should probably have an alternative for guests who don't eat animal products or for those who don't like pizza!
7. Mexican Food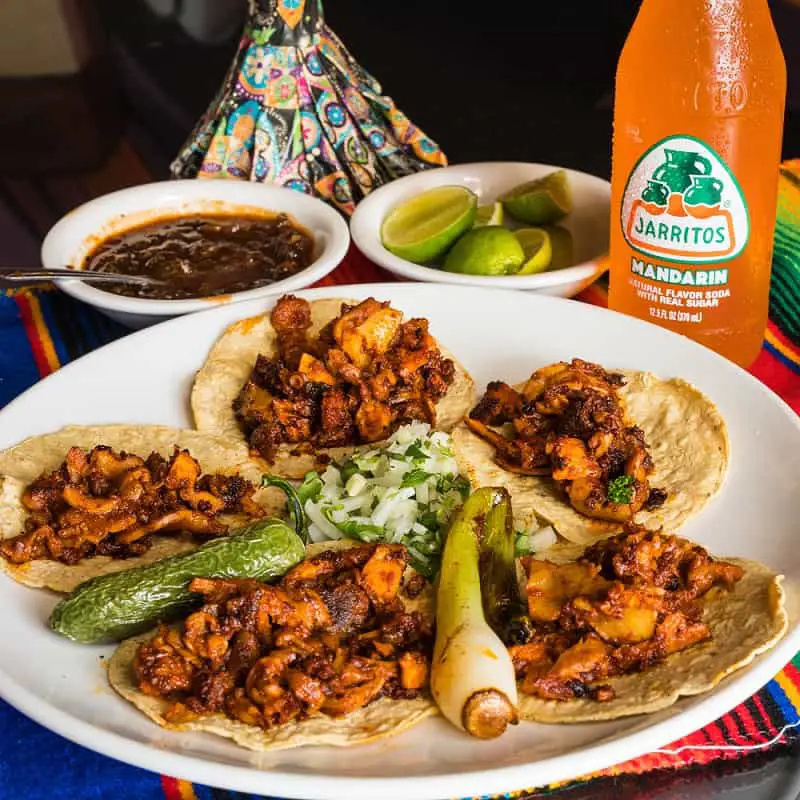 Mexican food can be approached in two different ways.
Like some of the other casual options we mentioned above, it can be a great way to set up a station where guests can help themselves to their favorites, but it can also be presented as a proper 3-course meal.
Whatever your decision, menu items such as tacos, wraps, burritos and nachos are sure to be crowd-pleasing! 
8. Burgers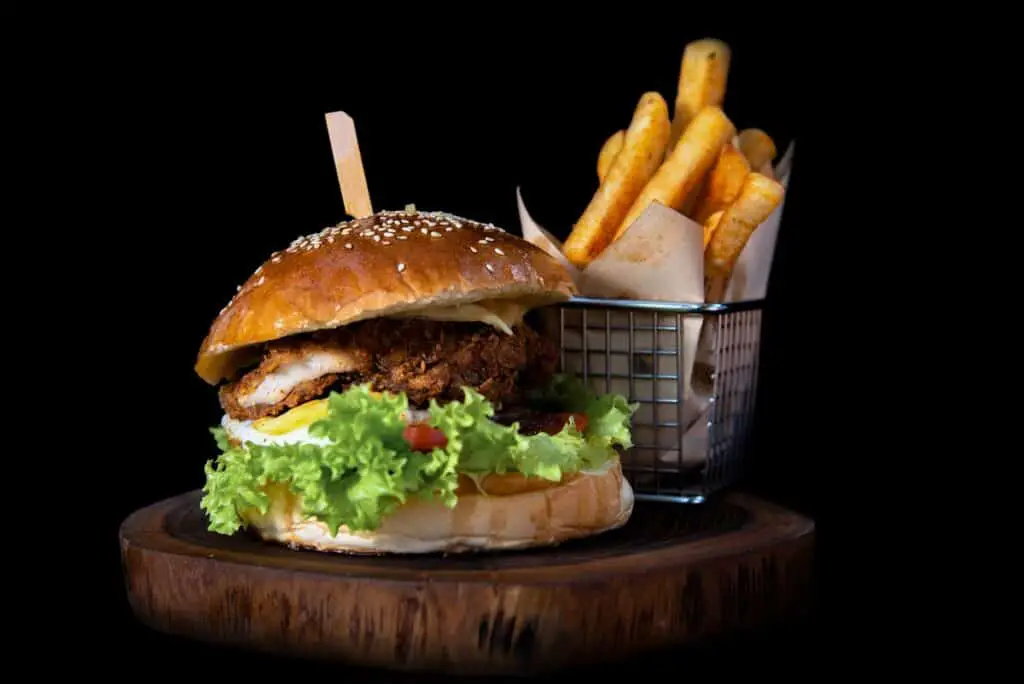 A 'make your own' burger station can be a perfect comfort menu item that is sure to make guests feel at ease.
You can get a selection of different options for guests to choose from, and allow them to make their own choices.
When it comes to burgers not everyone has the same preferences, so a selection of different meats and toppings is a great way to accommodate different tastes. 
Desserts 
For the rest of our list, we're going to be giving you some great dessert ideas.
9. Cheesecake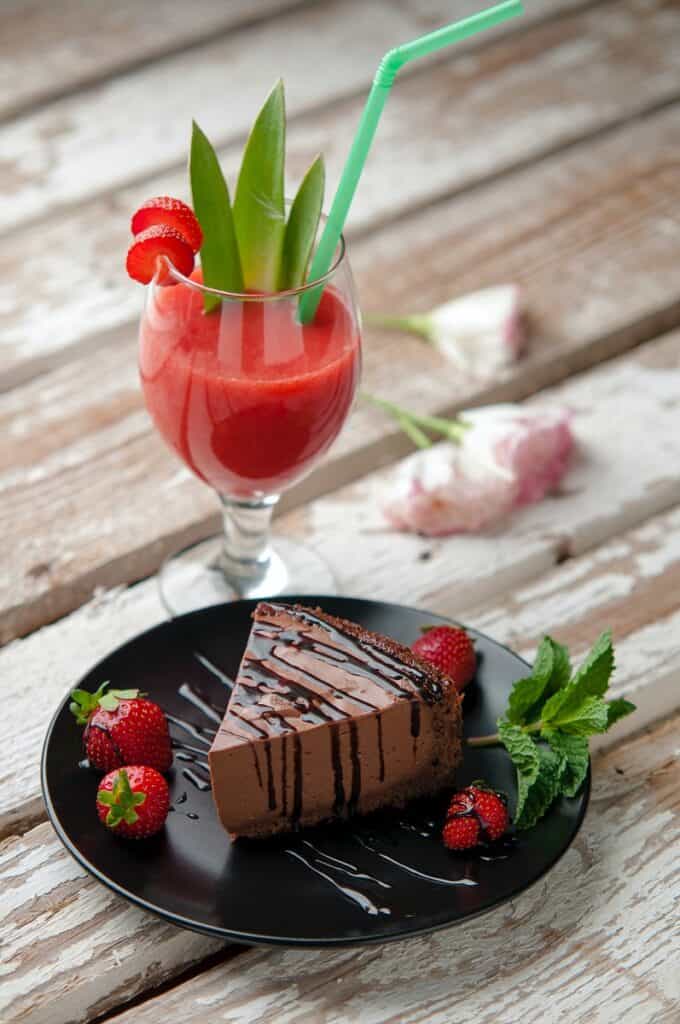 First up for our dessert section is cheesecake. It's a simple, inexpensive dessert that is hard to turn down.
Cheesecake can be made with a variety of different flavors, from fruit to vanilla to chocolate, and no matter what you choose there's bound to be something that everyone will like.
We would suggest creating a list of several different cheesecake flavors so that guests will be able to pick their own. 
10. Cake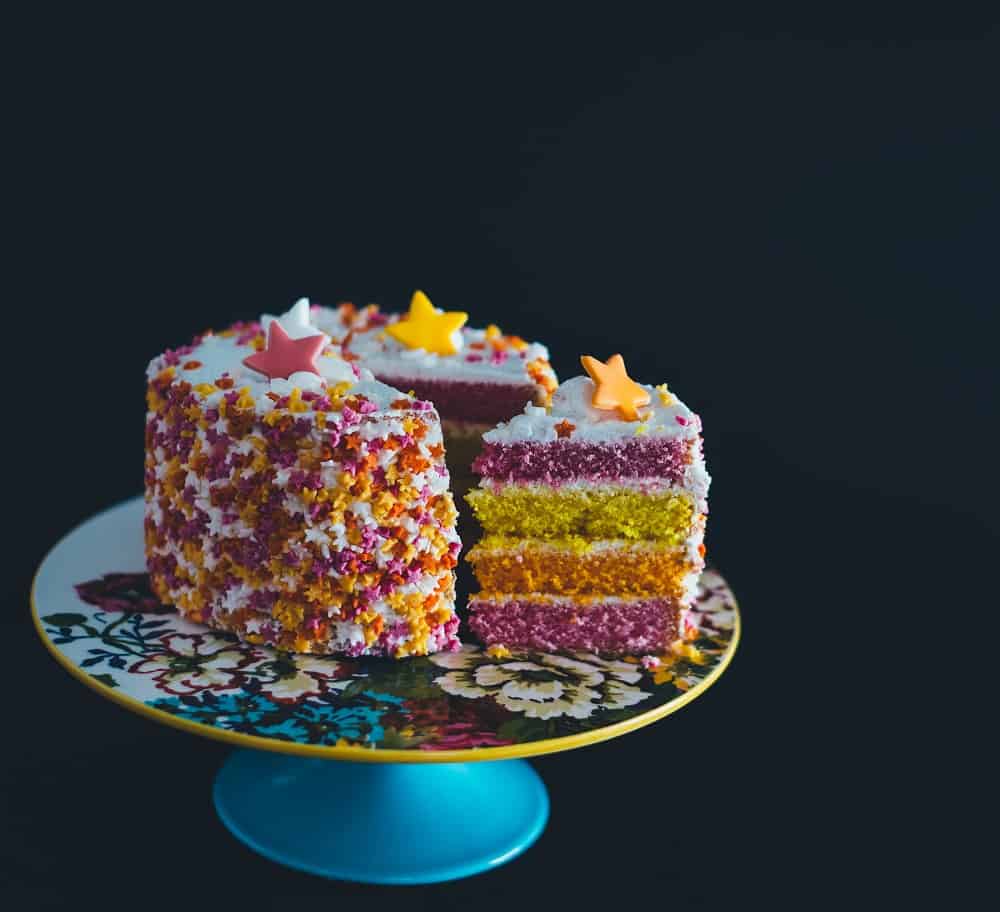 'Cake' might cover a wide range of different desserts, but that's why it's a great idea to add to your rehearsal dinner menu.
One of the things you can do here is to try out the caterer you're looking to use for your wedding cake.
Perhaps hire them to make a different dessert to see the kind of skill they have.
There is a huge variety of different cakes to choose from, but almost everyone likes cake, so it's a good idea for a dessert course! 
11. Cupcakes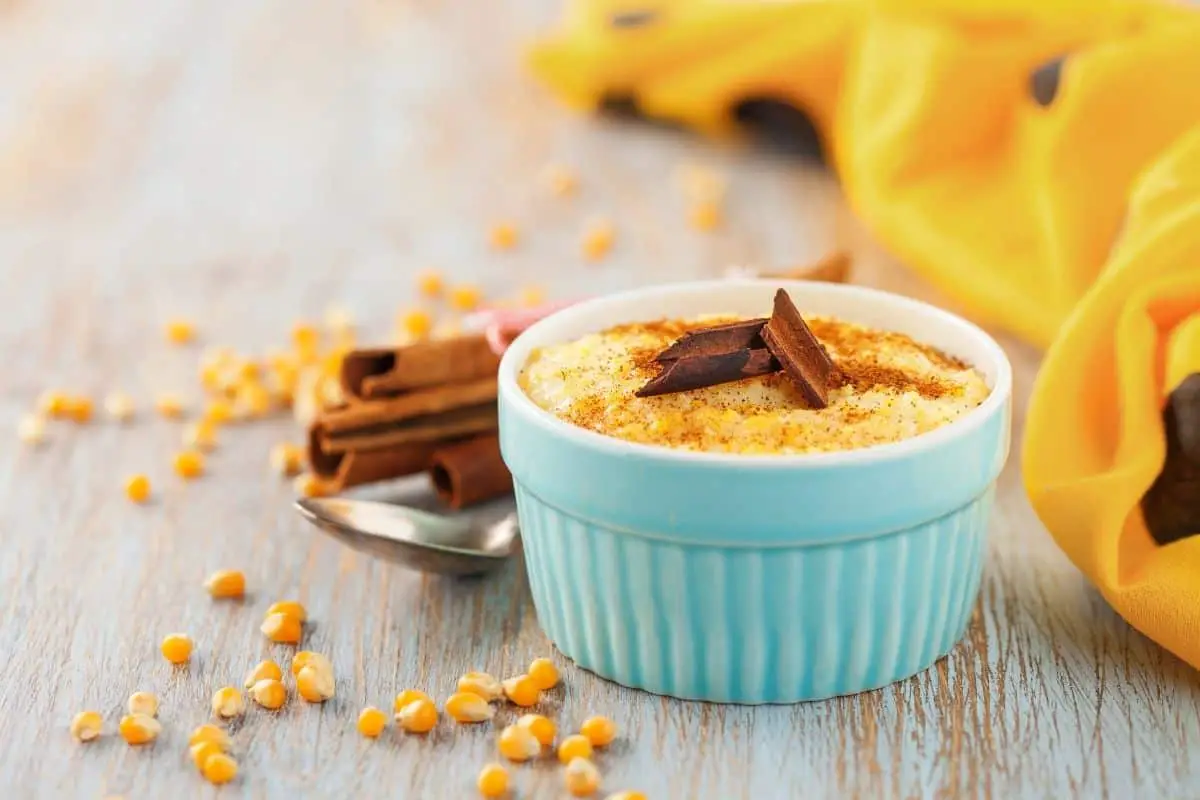 We've separated these from the general 'Cake' section because cupcakes work a little differently.
For a more casual dessert course, you can simply have a selection of cupcakes out on a table for guests to choose from.
Some typical flavors include chocolate chip, strawberry, blueberry, vanilla, carrot, red velvet, or lemon drizzle. 
12. Ice Cream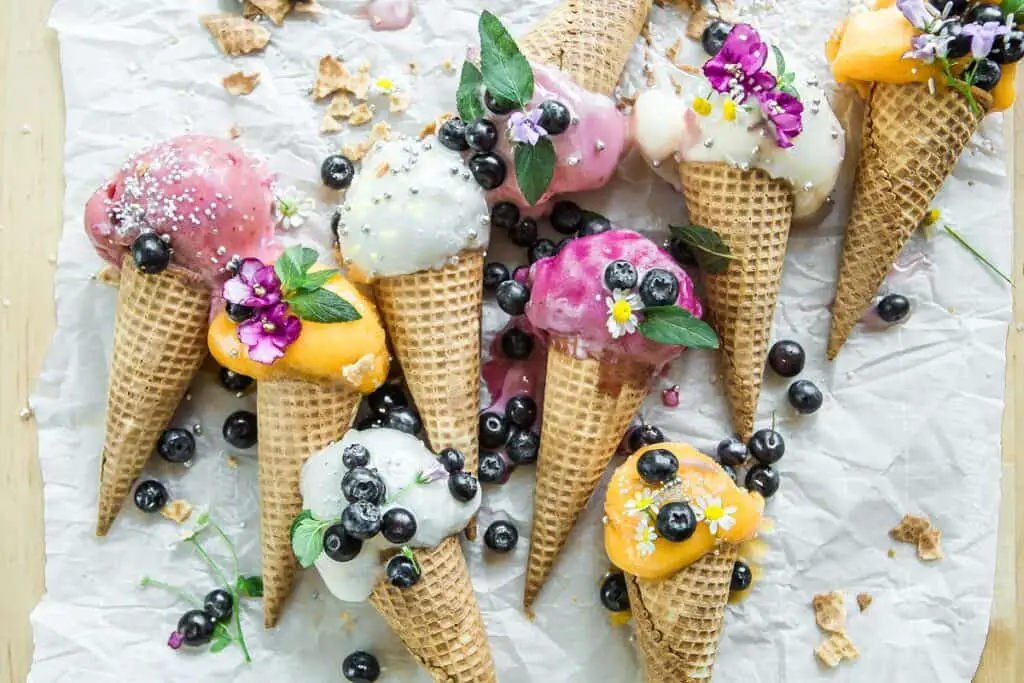 Who doesn't like ice cream? This is a simplistic menu idea (see also: Cheap Wedding Menu Ideas For Your Reception)that if – done well – is sure to delight your guests.
We would suggest having a selection of different ice cream flavors for guests to choose from.
You can also have ice cream as a side option for a selection of different warm desserts, such as our next idea…
13. Brownies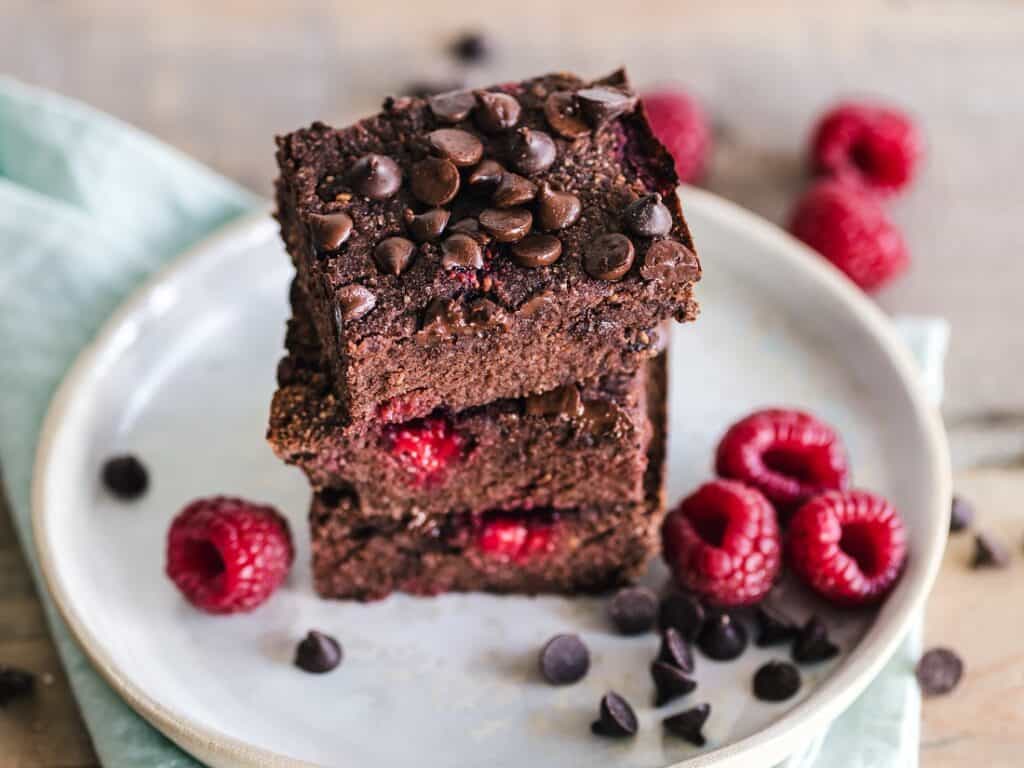 Chocolate brownies are another great casual dinner rehearsal menu item that will make everyone feel at home.
Brownies are simple to make/outsource and great when served with ice cream or double cream.
Brownies also work well as a dessert for a simplistic, formal menu, and can be eaten with a fork at a table. 
14. Jell-O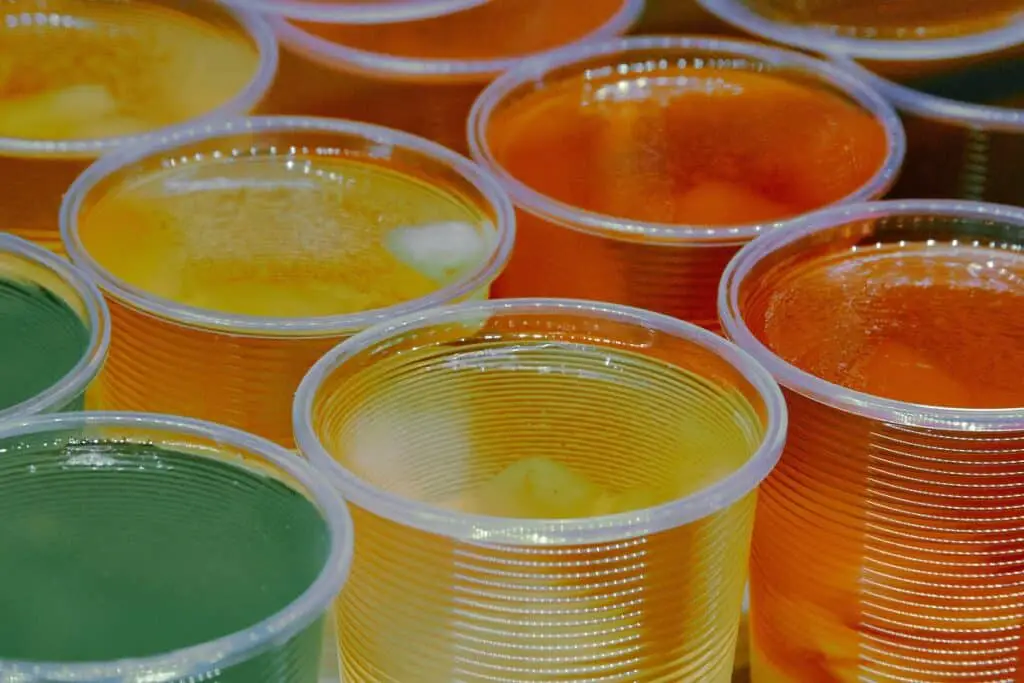 Looking for something inexpensive and as casual as can be? Well, Jell-O is a great idea for this.
Jell-O means that you can get a series of unique flavors that look great and that will take guests back to their childhood! 
15. Tarts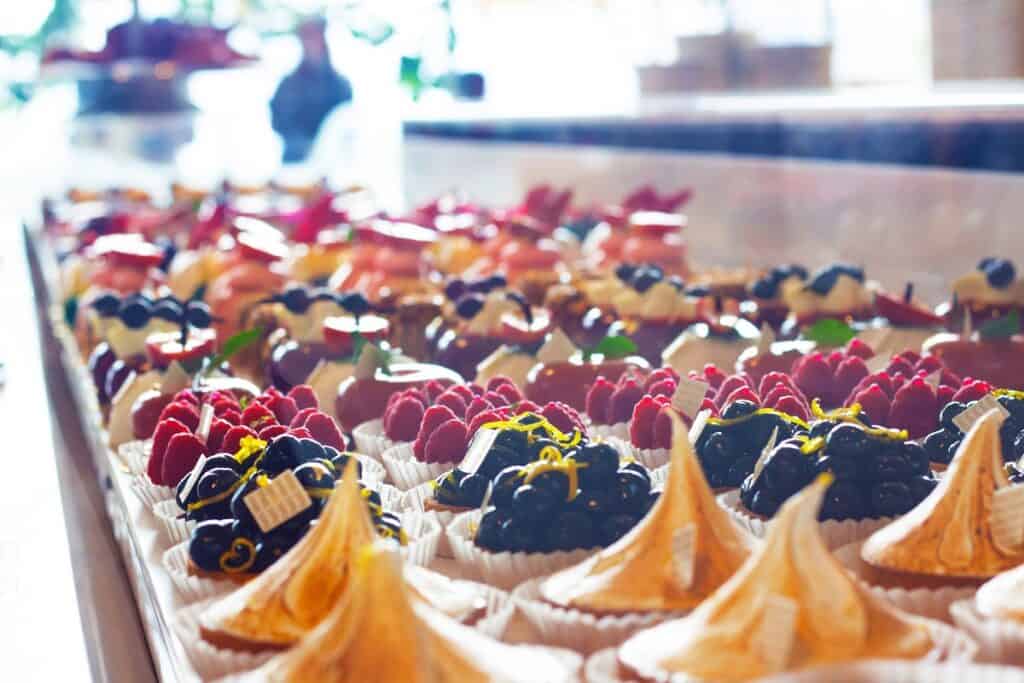 Tarts are a great formal idea for a dessert that offers a solution to any guest with a seriously sweet tooth.
A well-made tart can feature either fruity flavors or chocolate delights.
Tarts also look great in a formal setting, and depending on who you have baking them, can have all kinds of gorgeous additional artisanal features. 
Final Thoughts
We hope that this guide has given you some ideas for your rehearsal dinner menu. Generally, you're going to want to consider the guests in attendance and whether or not your menu will suit them.
As long as you do this, anything you pick is bound to be a crowd-pleaser! Remember not to take your rehearsal dinner too seriously.
After all, it's supposed to be a time for you and your guests to relax, get to know each other, and prepare for the big day to come!
Best of luck and thanks for reading!

Latest posts by Jodie Messines
(see all)