One of the many costs incurred with planning a wedding is the food that you will serve to your guests. The reception food costs quickly add up, especially if you have many guests.
If you're looking for a way to cut down your wedding budget, then there are cheap wedding food options you can try. This includes choosing cheaper meals, simple menus that can please everyone or using affordable ingredients. 
In addition to this, the way in which you serve your food will also affect how much your wedding food will cost. A buffet or food station where guests can serve themselves is far more affordable than a plated and seated dinner.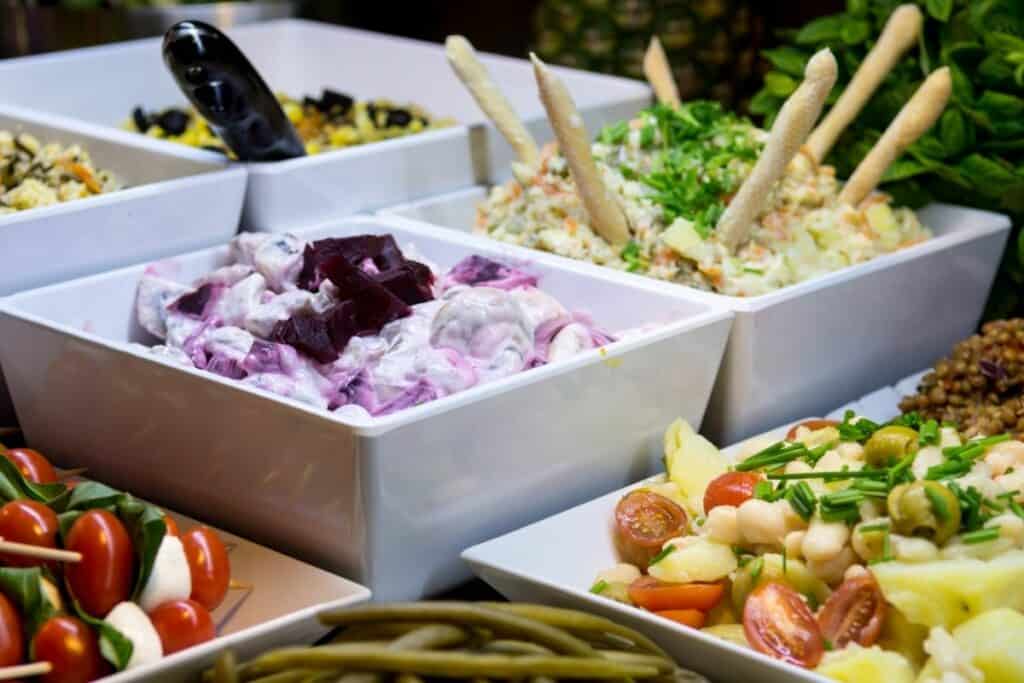 Whether you make the food yourself or hire a caterer, this will affect how much you will end up paying as well.
To help you save money on your wedding food, in this article, we have collected together sample menus of cheap wedding foods you could serve. Each dish is low cost but still tastes great and fit for a wedding meal. 
DIY Wedding Food And Menu Ideas
Cooking the meals yourself is one approach to reduce the cost of your menu. In this case, you would be in charge of preparing and providing the food and beverages.
As well as the main courses, dessert, and appetizers that will be served to your guests. You don't have to create everything from scratch, though. 
You can use this option to calculate the cost of each dish, pick your favorites, and base selections on price. An example menu for a self-catered wedding reception that is simple to prepare would be as follows:
Beverages
Wine,
Beer,
Soft Drinks,
Water.
A great technique to reduce expenses is to provide a limited bar. Water, beer, wine, and soft drinks are typically the least expensive options to provide in a bar while still being popular choices. 
An excellent method to save money is to purchase a selection of these drinks when they are on sale before the wedding.
Starters And Appetizers
Mini quiches,
Mini hot dogs,
Cheese and crackers.
Pick cheeses that are less expensive. Also, lots of big-box retailers offer frozen veggie quiches that just need to be warmed up before serving.
Main Meals With Sides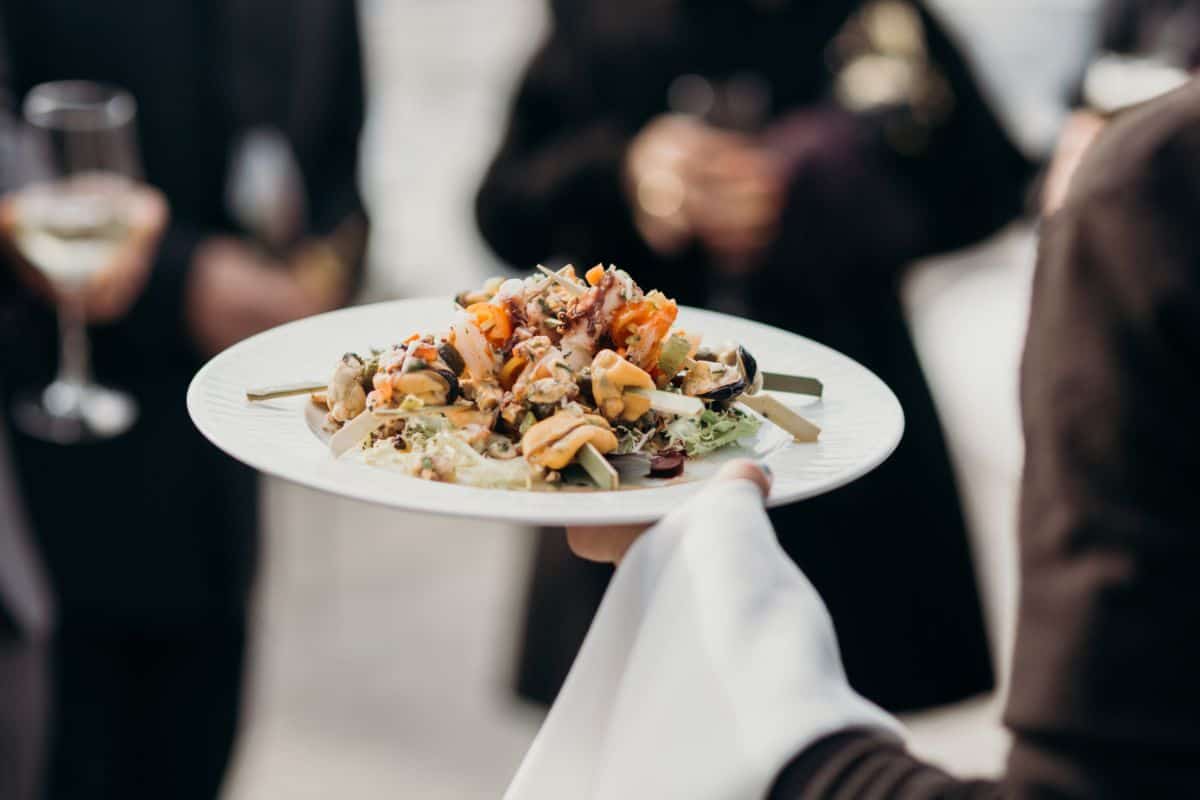 Roasted chicken breasts,
Various salads,
Vegetables,
Mashed potatoes.
You may buy many types of salad greens in bulk. You can purchase fewer tomatoes and use them in your salads by slicing cherry tomatoes in half.
Balsamic vinegar, salt, olive oil, and pepper are all readily available and inexpensive components that can be used to make balsamic vinaigrette in large quantities.
Many big box vendors sell bulk purchases of chicken breasts. You can buy numerous boxes and cook them all in the same way. Either by sautéing them in your preferred sauce or by pouring a prepared sauce over them. 
Furthermore, carrots are a cheap vegetable, thus you can serve a couple to each visitor for a reasonable price.
By mashing a few potatoes with milk and butter, you can stretch them to accommodate more visitors than if you offered each one a baked potato separately. In slow cookers, the chicken with mashed potatoes can be kept warm until serving.
Dessert
Cupcakes.
Homemade wedding cake
You can make quick and simple DIY cupcakes that are ideal for any wedding celebration. Simply use a couple of boxes of cake mix and store bought or homemade icing.
Low Cost Caterer Wedding Menu
Hiring a third-party caterer is an additional choice for your wedding menu. Although this option is typically more expensive than preparing the meal yourself.
You can still keep the cost down by paying close attention to the ingredients and the meals that will be served. 
By hiring a caterer, you might select complicated dishes that could be a little more challenging to prepare but are still affordable. An example menu for a catered reception might include:
Beverages
The majority of the time, caterers can produce a non-alcoholic punch in addition to a selection of specialty cocktails. If you want to save as much money as possible, it is important that you avoid any drink alternatives that ask for fresh fruit or fruit juice. 
In addition to that, you want to make sure that your caterer is using the cheapest brand of alcohol for the signature drinks. 
Appetizers
Red onion crostini,
Mozzarella balls with tomato and basil.
Only toasted baguette pieces, tomato sauce, and a few slivers of red onion are needed to make crostini. While, small mozzarella balls on toothpicks are topped with basil and a cherry tomato half.
This allows your guests to each have an individual serving that is also very affordable. 
Main Meals With Sides
Roasted chicken or grilled white fish,
Rice,
Side salads,
Tilapia is typically a fairly affordable fish that can be topped with thin pieces of caramelized red onion after being grilled or baked. While white rice is affordable, and can easily be prepared by any caterer.
Also, it is easy to feed a large amount of people with only a small amount of rice. 
A small amount of greens, a cucumber slice, or thin carrot slices with vinaigrette can make up a simple yet delicious side salad.
Dessert
Small cake to cut,
Sheet cake.
A simple wedding cake without a filling or many decorations can typically be made by caterers for a reasonable price. Ask your caterer if they can provide a little cake that you can cut and serve to just you and your new spouse in order to save money.
Then ask if they can provide sheet cakes, which can be divided and served to guests. 
By only providing sheet cake to everyone instead of a cake for you to cut, you can save even more money.
Semi-Self Catered Wedding Menu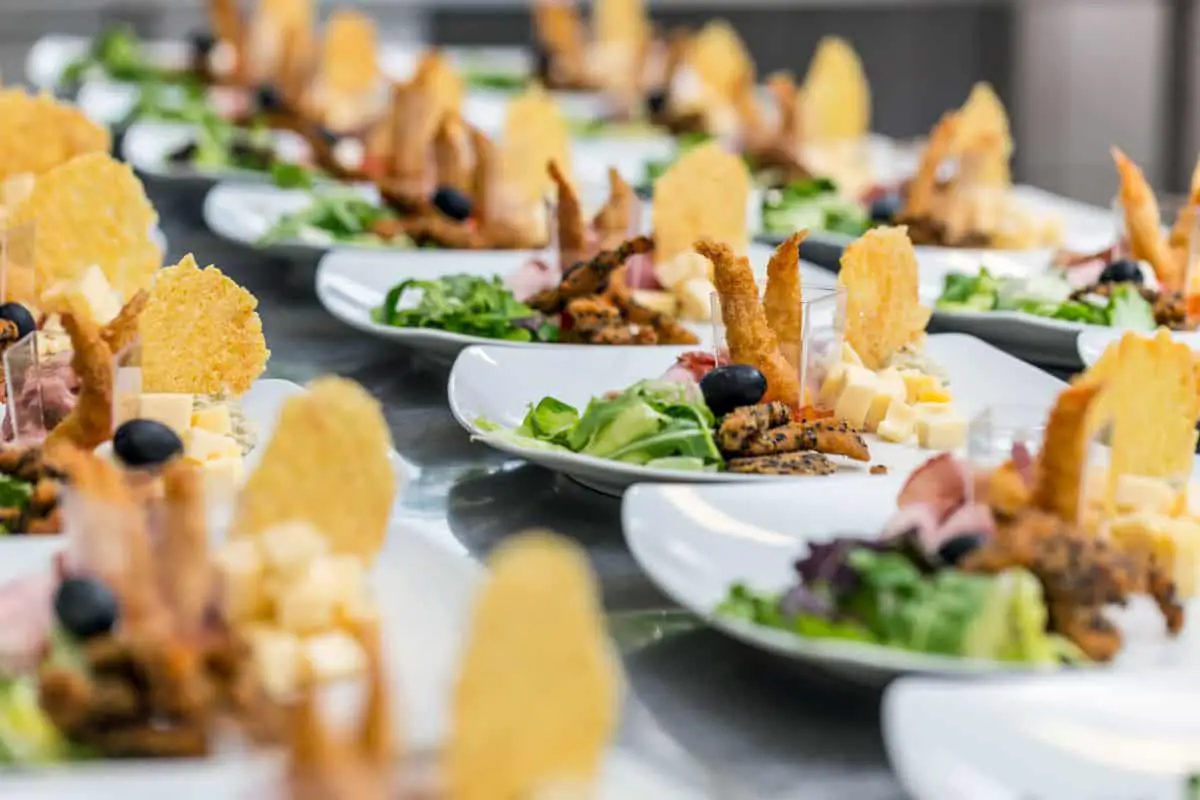 Making part of the food yourself while also hiring a caterer to serve other dishes is another choice. With this choice, you can still save money by forgoing paying a caterer to prepare every dish on the wedding menu.
While also avoiding the stress of doing it all yourself. 
A sample menu in this case might resemble:
Your Responsibility 
Beverages – Without completely giving up alcohol, providing each guest with a glass of champagne for toasting avoids the need to provide a fully stocked bar. Add water and soda that you buy to the menu as well.
Appetizers – Create a station with vegetables with dips. Making huge batches of dip is frequently economical and doesn't require much cooking expertise. Moreover, you can select affordable vegetables to go with the dip.
Wedding Cake – You can typically find a bakery that sells straightforward wedding cakes for affordable prices. In reality, many grocery stores' bakery sections sell wedding cakes.
By choosing this option, you can save money on a cake without having to prepare it yourself or pay a caterer to create it. Which is frequently more expensive.
Caterer Responsibility
Appetizers – Pulled pork tacos allow you to provide your guests with a meat appetizer without spending loads of money. This is because each taco only needs a small quantity of meat.
Tacos are simple to make and typically only require affordable components.
Main Meal With Sides – Catering firms can quickly prepare pasta with meat and a tiny Caesar side salad. These dishes are ideal for a caterer to offer because they need some advance planning. Yet, they still use budget-friendly ingredients.
Other Cheap Menu Options To Consider
Above were all sample menus that you may want to consider for your wedding reception. Yet, there are various cheap and affordable food options that you may select from.
It's all about using affordable ingredients to keep the costs as low as possible.
Beverages
Alcoholic beverages can dramatically increase the costs of a previously affordable wedding celebration. A cash bar is sometimes frowned upon, so think about buying cheap bulk alcohol and a keg for guests. 
Otherwise, consider holding an alcohol-free reception and serving punch or mocktails as a substitute if you want to save even more money.
Appetizers
For the guest's pre-dinner munchies, buy bags of mixed nuts and candies. Bread rolls with butter are another inexpensive yet satisfying way to welcome guests to the table.
Main Meals With Sides
Pasta – Due to its inexpensive cost and capacity to help satisfy large appetites, pasta is seen as the most popular wedding food options. Whether you desire fettuccine Alfredo or a variation with marinara sauce, making pasta in large quantities is very simple.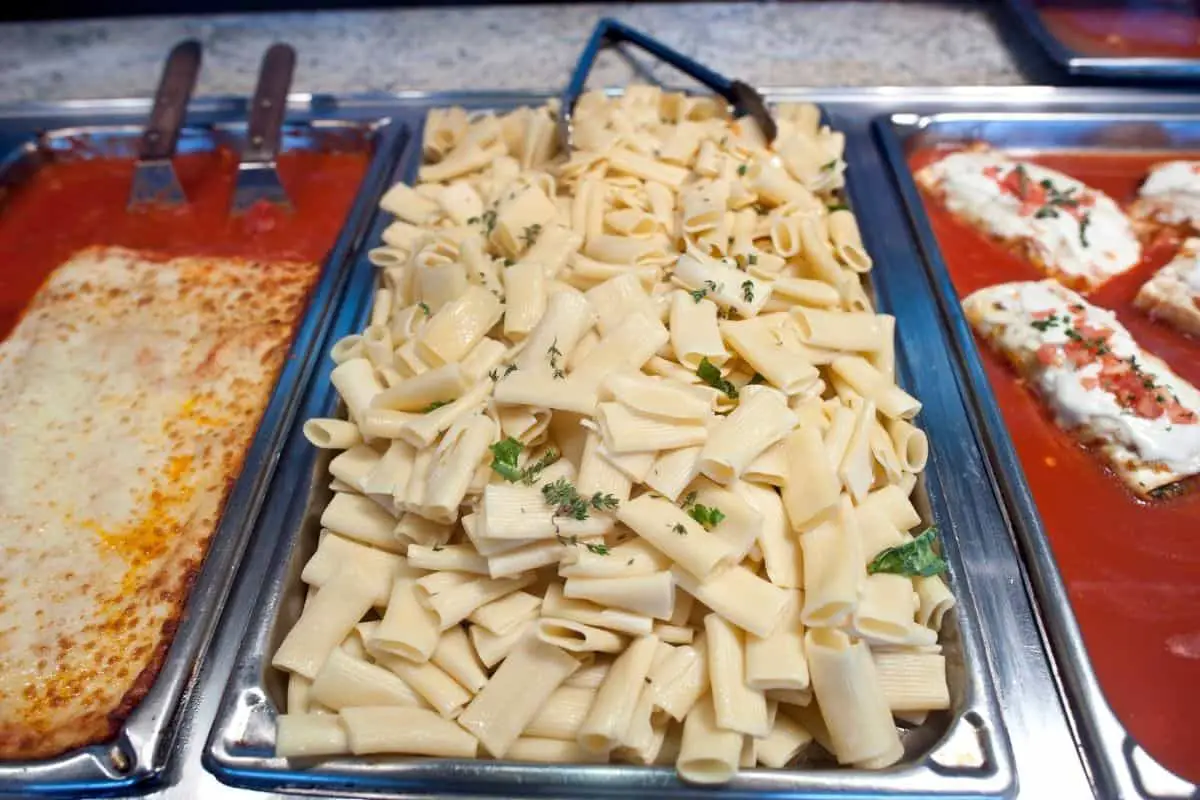 Casseroles – Broccoli casseroles and tuna casseroles are two delectable casserole alternatives which your guests will love. The flavors are amazing, and your guests wouldn't even know that they were created using affordable ingredients. 
Barbecue, hamburgers and hot dogs – A good barbecue is enjoyed by almost everyone. You're set if you add bread rolls and servings of macaroni or potato salad.
Tacos – Tacos are often well-liked and relatively inexpensive to produce. This is done because large purchases of meat and spices can be mixed together. While wheat or corn tortillas are reasonably inexpensive.
Let guests create their own tacos, by thinking about providing a taco bar that includes all the fixings.
Dessert
When it comes to dessert, you could just stick with your wedding cake. However, you don't have to go mad and purchase a huge cake. Simple tray backs can be enjoyed by your guests, which is way more affordable.
Additionally, you could make the cakes yourself.
Instead of slices, you could create cake pops, so much less cake is needed to feed all your guests. Cake pops are a fun and easy way to serve your guests a piece of cake. 
Conclusion 
When it comes to your wedding food, it doesn't have to be overly expensive. It is important that you keep an eye on the ingredients that are used in the dishes to keep the costs down.
Also, once you know what you would like to have for your wedding meal, you need to consider whether you create your own wedding reception (see also: If I Use Plastic Plates At My Wedding Reception, Is This Considered Tacky?)food, or do you hire a caterer. 
As you can see, there are a lot of options for you to choose from to create an affordable wedding meal menu. We hope this article has been helpful, and the sample menus have given you some inspiration for your own cheap wedding food.

Latest posts by Lisa Plaitt
(see all)