Are you getting ready for a tropical getaway to attend the Hawaiian wedding of your dreams?
Picture yourself basking in Hawaii's warm sunshine, with its fresh breeze blowing through your hair and the sound of steel drums playing in the background – it's a moment that deserves an outfit that reflects your festive mood.
Whether you're attending as a bridesmaid, guest, or just celebrating from afar, one thing's for sure: You want to look and feel your absolute best!
With this guide, you'll be able to rock any Hawaiian-themed wedding by creating a look that matches the occasion perfectly. Read on for inspired ideas on how to go from 'wow' to 'aloha!' at Hawaii's next big event.
Understanding Hawaiian Wedding Customs and Etiquette
Before we talk about what to wear to a Hawaiian wedding, it's important to understand the customs and traditions of this special occasion. Hawaiian weddings are steeped in cultural tradition and are a beautiful expression of love and commitment.
One of the most important aspects of a Hawaiian wedding is the exchange of leis, or garlands of flowers, between the bride and groom. This symbolizes their love and connection, and is often accompanied by a traditional Hawaiian chant or song.
Another important custom is the blowing of the "pū," or conch shell, which is used to call the gods and ancestors to bless the union. And, of course, no Hawaiian wedding would be complete without a hula dance performance, which tells the story of the couple's love and journey together.
Understanding these customs and traditions is important not only out of respect for the culture, but also to fully appreciate and participate in the beauty of a Hawaiian wedding.
Appropriate attire for a Hawaiian wedding
When you attend a Hawaiian wedding, the most crucial factor to consider is dressing appropriately for the occasion.
Although it's cool to incorporate tropical colors, patterns and fabrics into your ensemble – remember that this is still a formal event!
To truly make an impression, opt for bright vivid hues, island-inspired prints or breezy materials; but never go overboard with distasteful trends that don't reflect the solemnity of marriage.
When accessorizing think fun yet sophisticated pieces such as colorful leis or floral crowns – anything to add just enough Hawaiian flair without compromising respectability.
For men, dress up your look with a collared shirt and trousers or khakis. To feel the island breeze, pick an exuberant colored Hawaiian printed top. A lei is also a good choice to complete this festive ensemble!
Women can wear sundresses or a smartly tailored top and skirt to embrace the tropical atmosphere. Select vibrant colors for a bright appearance; or alternatively, go for breezy fabrics that will dance in even the slightest whisper of wind!
Accessorize with flower adorned headbands or jewelry made from fresh flowers – either way you'll be sure to create an unforgettable impression!
For Hawaiian weddings, it's best to keep your accessorizing simple and delicate. An appropriately subtle lei completes any outfit for both men and women; however, be sure not to overpower the beauty of Hawaii with too many extras! The landscape is a gift in itself – no extra frills necessary.
Is there a dress code for Hawaiian weddings?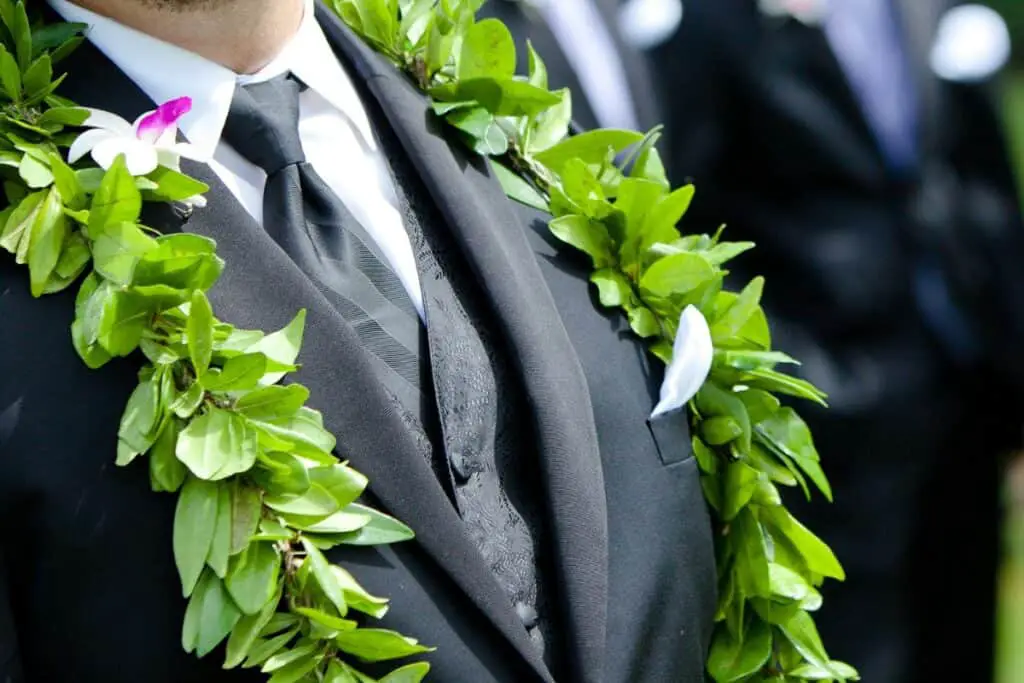 When it comes to dress codes, it's always best to check with the couple hosting the wedding for any specific requests or guidelines. But in general, Hawaiian weddings tend to be more laid-back and casual compared to traditional weddings.
Hawaiian weddings offer a unique and relaxed environment, where the dress code is often just as carefree. Though you should still make an effort to look presentable for such an event, there's no need to go over-the-top with your attire—something comfortable yet tasteful will do perfectly!
To fully immerse yourself in the beauty of a Hawaiian wedding, it is essential to be mindful and respectful of Hawaii's culture and traditions. Therefore, refrain from wearing any apparel or jewelry that could potentially offend them, such as garments with symbols depicting Hawaiian gods or goddesses on them.
Although there are no hard and fast rules when it comes to the length of your attire, remember that you'll be exposed to a variety of temperatures outdoors. Therefore, choose garments that will not restrict movement while keeping you cozy in any weather condition.
How to stay cool and comfortable in Hawaii's warm climate
With its beautiful landscape, Hawaii can be an ideal location for a wedding. However, during the summer months the climate may become very warm and humid.
To ensure you remain comfortable while attending a Hawaiian wedding, selecting fabric that is both breathable and lightweight are essential. Ultimately this will help keep your cool in any tropical environment!
Lightweight, breathable fabrics such as cotton or linen are the ideal option for hot weather. These materials provide your skin with plenty of air and will keep you feeling cool during those sweltering days.
Conversely, steer clear from heavier fabrics like wool and synthetic material; these items just trap heat around you resulting in uncomfortable perspiration.
In addition to choosing the correct garments, it is equally as important to drink enough water and shield yourself from the sun's rays. To avoid dehydration and discomfort due to sunburns, bring a bottle of water with you to the wedding and make sure to apply sunscreen regularly throughout your day.
Are beach wedding attire and Hawaiian wedding attire the same?
Beach weddings, as opposed to traditional nuptials, generally call for more laid-back and casual attire.
Hawaiian weddings, on the other hand, involve some additional elements – here bright colors and tropical patterns crafted from airy fabrics are often ideal, and adding a lei or flower crown gives the look an authentic touch! Hawaiian wedding attire is also often more formal than beach wedding attire.
How to dress for both:
To dress for a Hawaiian wedding on the beach, you can combine elements of both beach and Hawaiian wedding attire. Opt for a light and airy sundress in a tropical print or a bright color, and accessorize with a lei or flower crown.
Accessorizing Your Hawaiian Wedding Outfit: Flowers, Leis, and More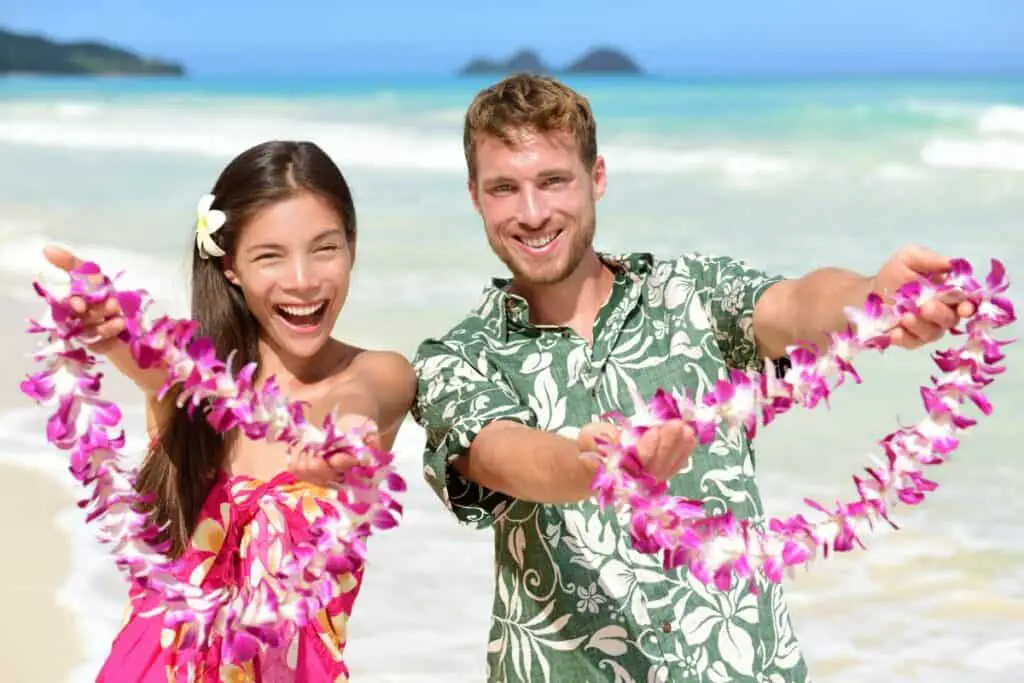 A Hawaiian wedding is truly an exotic paradise, complemented by the vibrant and gorgeous flowers and leis. Use them to add a unique touch to your ceremony or reception by decorating yourself, your bridal party, or even just as decorations – it's up to you!
And if you don't know how best to wear one of these traditional garlands? The classic way is to drape it over the head, with the flowers resting on your shoulders. However, there are many alternative ways, such as wearing around your neck or as a bracelet or anklet!
In addition to leis, you can also accessorize your Hawaiian wedding outfit with a flower in your hair or pinned to your clothing. Choose a bright, colorful flower that matches your outfit, and have fun experimenting with different styles and placement.
Can I wear a flower crown to a Hawaiian wedding?
Yes! If you're looking for the ideal way to express your joyful spirit at a Hawaiian wedding, definitely consider wearing a flower crown.
Whether you go with an authentic style made of tropical flowers such as plumeria or hibiscus or opt for something more modern and minimalistic by using just one band adorned with few blooms, there's no doubt that they'll help bring out all the Aloha vibes.
If you're feeling crafty, making your own flower crown is a fun and easy way to personalize your wedding attire. All you need is a basic floral wire and some fresh or artificial flowers. You can find tutorials online on how to make a flower crown.
Should I wear a Hawaiian shirt to a wedding?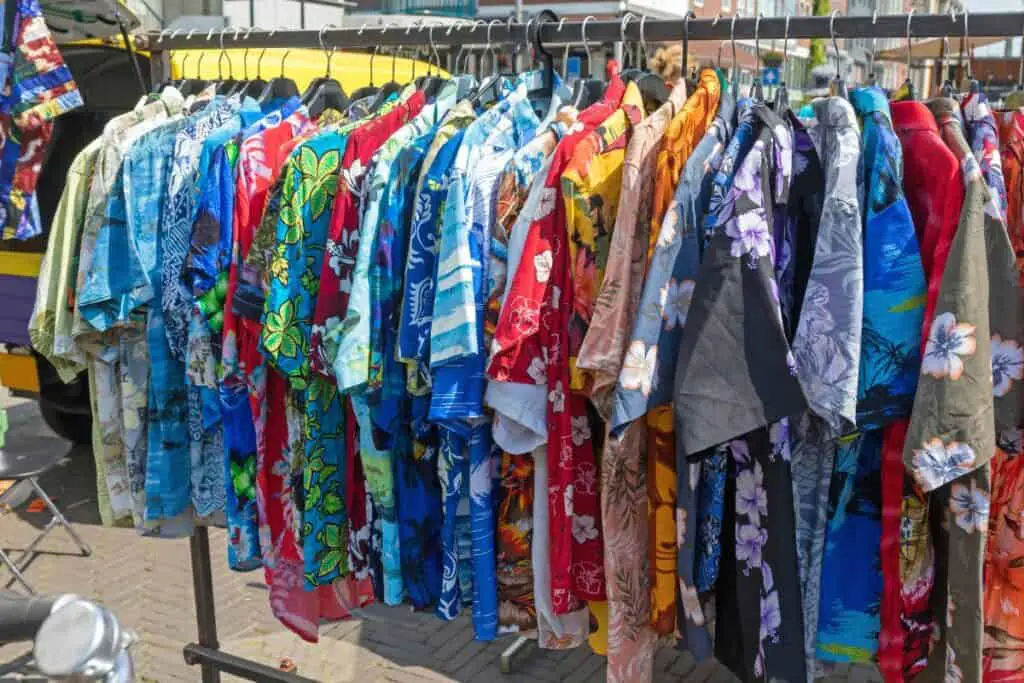 Hawaiian shirts can make a unique addition to any Hawaiian wedding, however the level of formality should be taken into consideration.
When taking part in more formal ceremonies, it is advised that you opt for an outfit consisting of a collared shirt and dress pants or khakis instead. However when dressed down affairs are on the agenda, wearing one of these fun and festive garments could be just what's needed!
If you want to wear a Hawaiian shirt for a wedding, dress it up with some tailored trousers or khakis and accessorize subtly with either a lei or flower crown. That way, you can keep the look formal yet fun without overwhelming your entire ensemble.
Can I wear flip-flops to a Hawaiian wedding?
Yes, flip flops are a popular and appropriate choice. They're comfortable, casual, and perfect for embracing the island spirit.
It is important that you take into account the formality level of the event as well as any requests or dress code set by the couple. Lastly, make sure your footwear is comfortable enough for an entire day – there's nothing worse than uncomfortable shoes!
Should I wear a hat to a Hawaiian wedding?
Hats are an ideal and fashionable choice when it comes to dressing up for a Hawaiian wedding. Not only do they keep your head protected from the sun's rays, but they add a fun element of festivity to any ensemble.
When selecting a hat, there is no lack of alternatives; you can opt for either a classic straw option or something more modern such as baseball caps. In terms of wearing them, personal preference holds the key – wear yours with the back tilted slightly towards one side or at full attention on top!
Conclusion: Celebrating Love and Culture in Hawaii
Attending a Hawaiian wedding is a truly special experience, filled with beautiful customs, traditions, and of course, stunning tropical scenery.
By understanding the customs and etiquette of a Hawaiian wedding, and choosing the right attire, you can be sure to have a wonderful time and fully appreciate all that this amazing culture has to offer.
So whether you're attending a formal or casual wedding, on the beach or in a traditional setting, remember to embrace the culture and customs of a Hawaiian wedding, and have fun celebrating the love and commitment of the bride and groom. Mahalo, and congratulations on your upcoming Hawaiian nuptials!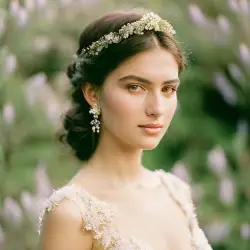 Latest posts by Rosie Liliy
(see all)