When it comes to picking out a wedding dress, every bride wants to feel special and unique. If you're looking for a way to stand out on your big day, why not consider wearing a Hawaiian-inspired bridal gown? Whether you decide to go all out with a traditional muumuu or take a more subtle approach with a hint of island flair, the options are endless. 
Natural fabrics like linen, cotton, or silk are best when it comes to Hawaiian-themed dresses. They'll help keep you cool in the hot weather while still looking elegant and stylish. If you feel like adding some color to your look, consider choosing a fabric with an eye-catching tropical print or floral pattern. For added detail, opt for delicate beadwork or embroidery inspired by traditional Polynesian patterns. 
For modern brides who want to incorporate elements of Hawaiian culture into their look, try mixing in subtle details like bright floral prints, bold color palettes, and gauzy layers of tulle or chiffon fabric. This style can be easily incorporated into any kind of dress—from ballgowns to tea length styles—so you can stick with the silhouette that suits your aesthetic best while also giving it an island twist.
Here are some ideas for inspiration.
Color Palette for Hawaiian Wedding
When it comes to selecting a color palette for your Hawaiian-themed wedding, you have plenty of options. Bright colors such as pink, yellow, and green are commonly used to capture the vibrancy of Hawaii's tropical climate. However, if you want something more subtle, choose from muted colors like brown, white and grey. These colors work well in any outdoor setting and will give you a tranquil vibe for your special day. 
Accessories for Hawaiian Wedding Dress
The right accessories can take any wedding look from drab to fab! When it comes to accessorizing your Hawaiian themed wedding dress, there are lots of ways to play up the details without overdoing it. Or if you really want to make an impact, try wearing loose braids adorned with flowers or pearls—a classic way to give any bride an ethereal look that will have everyone swooning!
Pick jewelry pieces that feature shells or pearls – these accents will bring out the beauty of Hawaii even more. You could also opt for floral hairpieces or garlands – think tropical flower crowns or leis – to add even more island flair to your ensemble! Finally, don't forget about shoes! Sandals or wedges are great choices depending on how much sand walking will be involved in between photos and dancing!
This dazzling white muumuu designed with beach weddings in mind features an off-the-shoulder neckline, short sleeves and a ruffled bottom hem that adds sophistication and style. The exquisite fabric of this dress is ornamented with an entrancing hibiscus pattern in a creamy hue that will make you glow as you stand at the altar's grand entrance.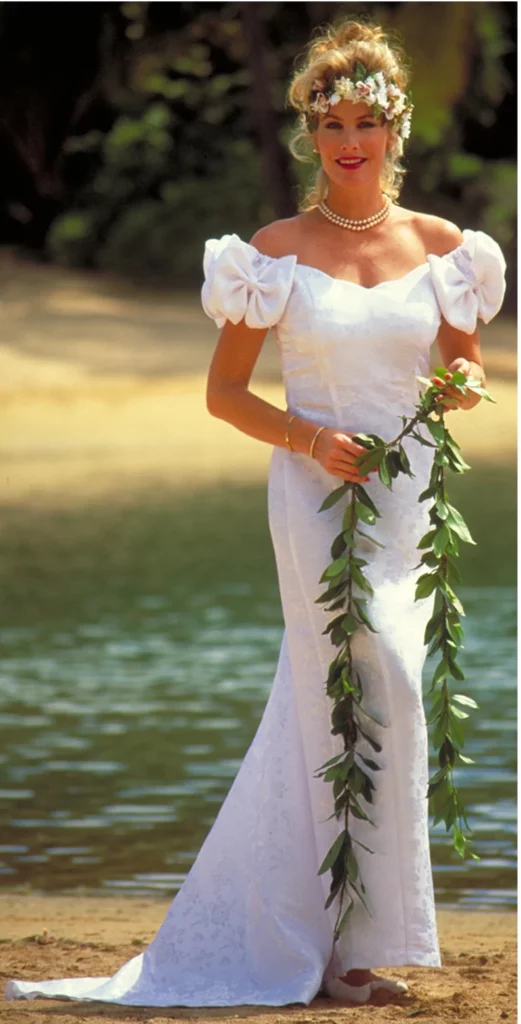 An exquisite choice for your special day, this one-of-a-kind design is a timeless charmer with its original scalloped neckline, exquisite bow sleeve detail and chapel length peacock fan style train. Striking yet classic, this is surely a remarkable design.
Exuding sophistication and extravagance, this magnificent Muumuu dress with its slightly mermaid-style silhouette is a beautiful option. The stylish ruffle trim is a unique touch that completes its exquisite look. Channeling Hawaiian spirit in every aspect, it's sure to make you stand out from the crowd!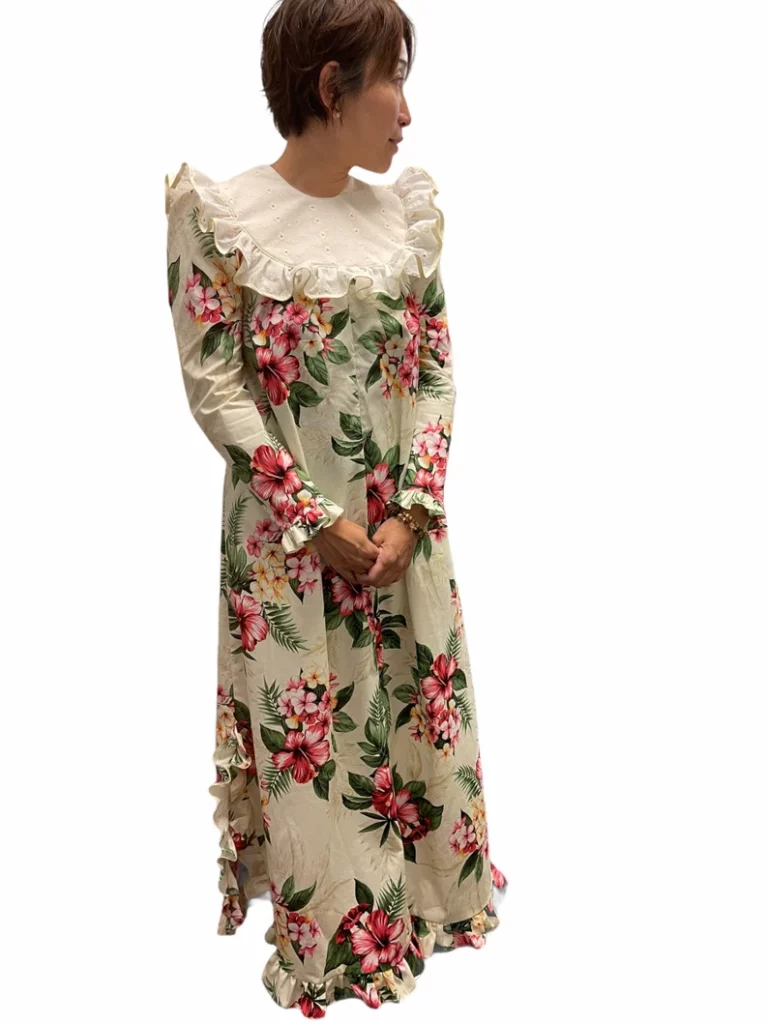 If you're all about vintage and comfort, this cotton Hawaiian wedding dress features a crew neck style and graceful long sleeves. The side hem has a refined slit accented by pretty ruffles, which paired with the cream palette and gentle pink floral patterns makes this an elegant option.
If you're looking for a Hawaiian style with a modern twist, this is an inspiration. The delicate floral pattern celebrates the beauty and vibrancy of the Hawaiian Islands with vibrant hibiscus flowers and tropical anthuriums. This stunning dress has a round neckline, front and back darts for shape, a side leg opening for added detail, and a matching print on the back. 
This colourful A-line dress is just lovely. The fancy off the shoulder style is great to highlight your chest area and add elegance to your look.
This floor-length elegant white dress is a delight for the bride who prefers a combination of cream and white with floral patterns. The gorgeous hemline design perfectly matches the elegant sleeves. A beautiful inspiration for your big day.
If you're a bride who is looking for something a bit different and Hawaiian, this unique semi A-line semi mermaid design is fantastic. This dress has an elongating effect for brides who wish to create a taller look.
Dare to show off your stunning shoulders in this sultry, tropical sundress! Featuring elasticized sleeves that can be worn on or off the shoulder, it flatters any figure with its slimming vertical flower pattern and voluminous ruffled bottom. So go ahead – take a chance and rock this ravishing look!
This vibrant orange ruffle dress is surely a head turner if you're wanting a colourful option. The dreamy design is great if you want to stand out from the crowd and make for a memorable night.
In Summary
Whether you decide on a bold print, vibrant color scheme, or delicate details; there are many options available when choosing the perfect dress for your Hawaiian-themed wedding ceremony. Choose your favourite neckline, dress length, silhouette, colors and patterns from a thousand different options and make a unique dress that is sure to stand out.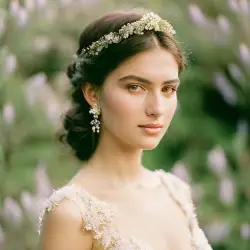 Latest posts by Rosie Liliy
(see all)