Whether it's for a wedding, special occasion, or party, the Moroccan Caftan is an integral part of every Moroccan woman's wardrobe.
Moroccan caftans boast the perfect combination of comfort and sophistication. This long-sleeved dress style mostly features luxurious fabrics like silk and velvet with intricate embroidery in motifs such as Brocade, Mobra, Jewel Thlija – giving you a classic elegance. 
Perfect for brides who wish to wear a traditional and modest wedding dress with more cover, yet dream of a lot of elegance and beauty. Contrary to modern western wedding dresses, Moroccan wedding robes are almost never plain white, and come in a variety of colors both in the main fabric and the embroidery, in addition to a belt. Here are some examples of Moroccan wedding robes to help you see for yourself.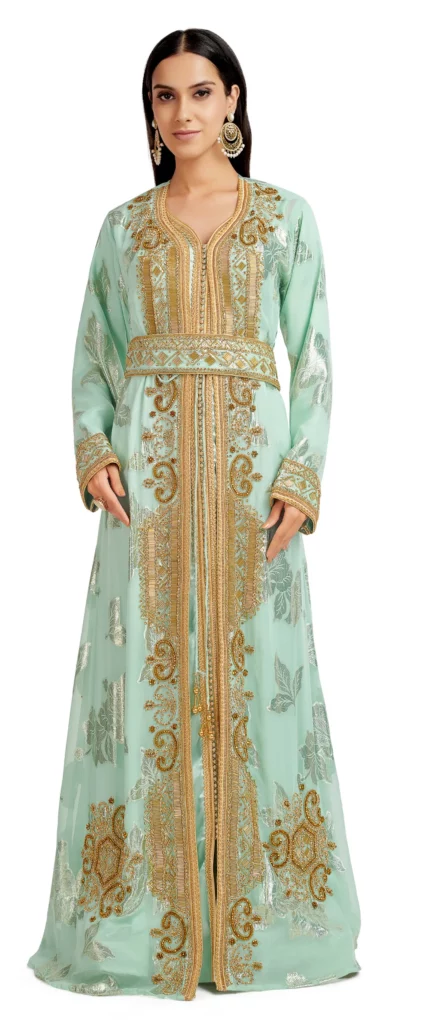 This gorgeous three-piece set features expertly handcrafted golden crystal bead embellishments, making it exceptionally unique and eye-catching. Made from ultra-soft and lightweight Braso fabric, this caftan comes with a V-neckline and buttons for closure along the chest.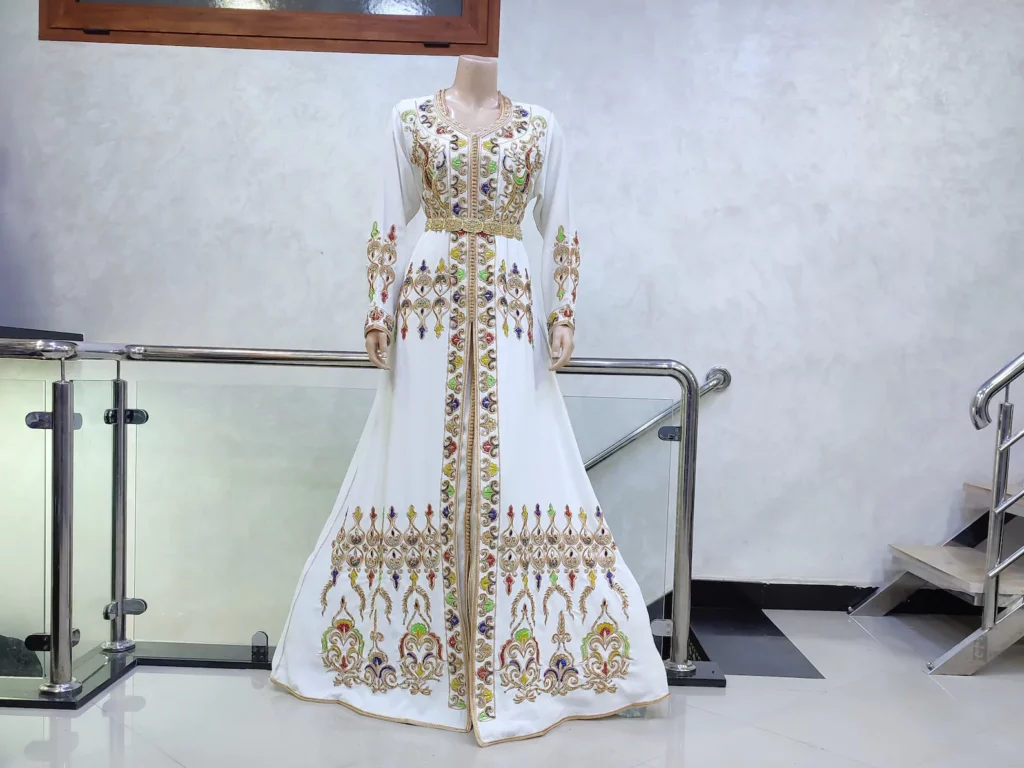 If you're looking for a classical design with a vintage feel, this white A-line Moroccan dress with colourful and gold detailing and a golden belt is a great idea. The robe – Caftan – is semi closed on the front for more flexibility.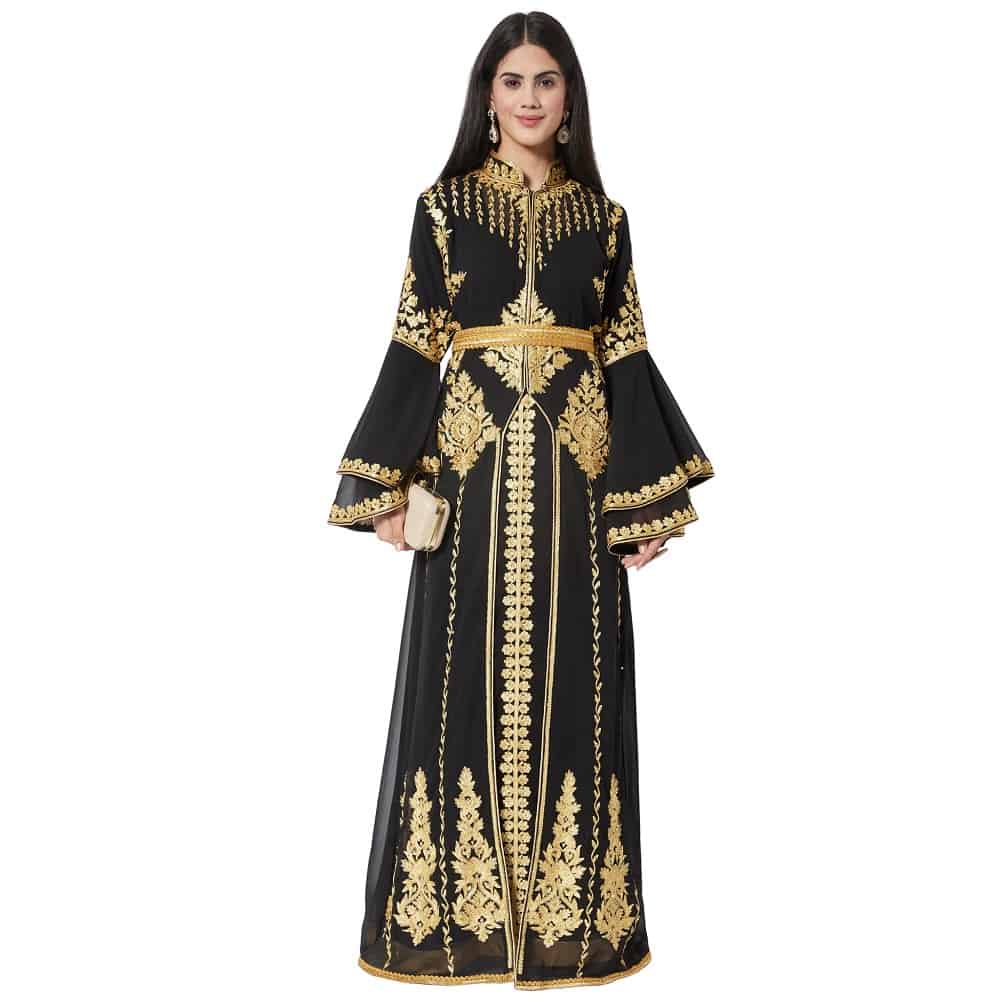 This exquisite gown is the perfect choice for a modern bride looking to make an unforgettable impression! Made with superior georgette fabric, and elegantly lined on the inside for ultimate comfort, this dress has a luxurious feel that will flatter any figure. The collared neckline further enhances its timeless beauty.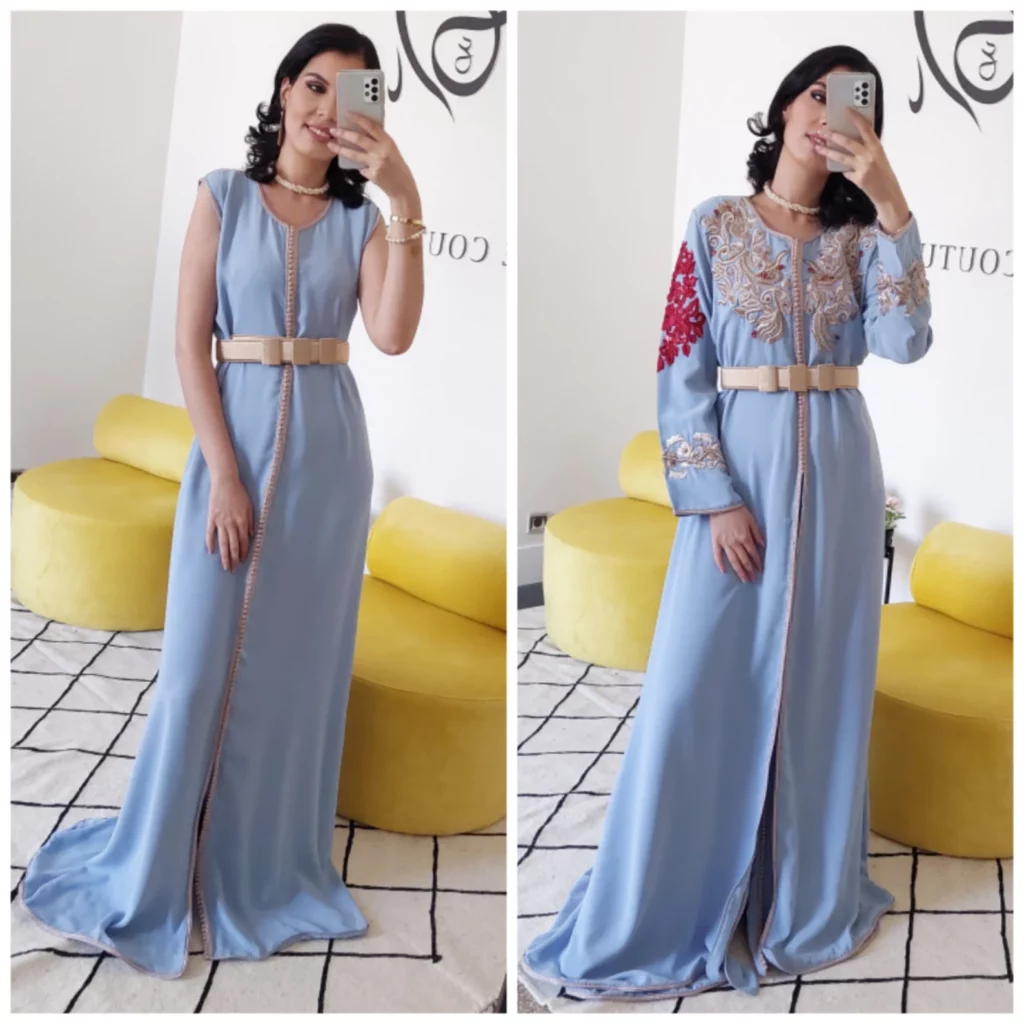 This exquisite Moroccan caftan is a luxurious statement of refinement and elegance. Crafted from premium silk crepe with dafira (sfifa braid) and âakad (handmade buttons), this two-piece set has a good level of detail that characterizes haute couture.
Embroidered in pure thread "squelli" bronze, burgundy silk threads and beautiful hand beading complete the intricacy of this piece. Feel confident in luxury when you wear this captivating haute couture caftan. The adjustable belt is included.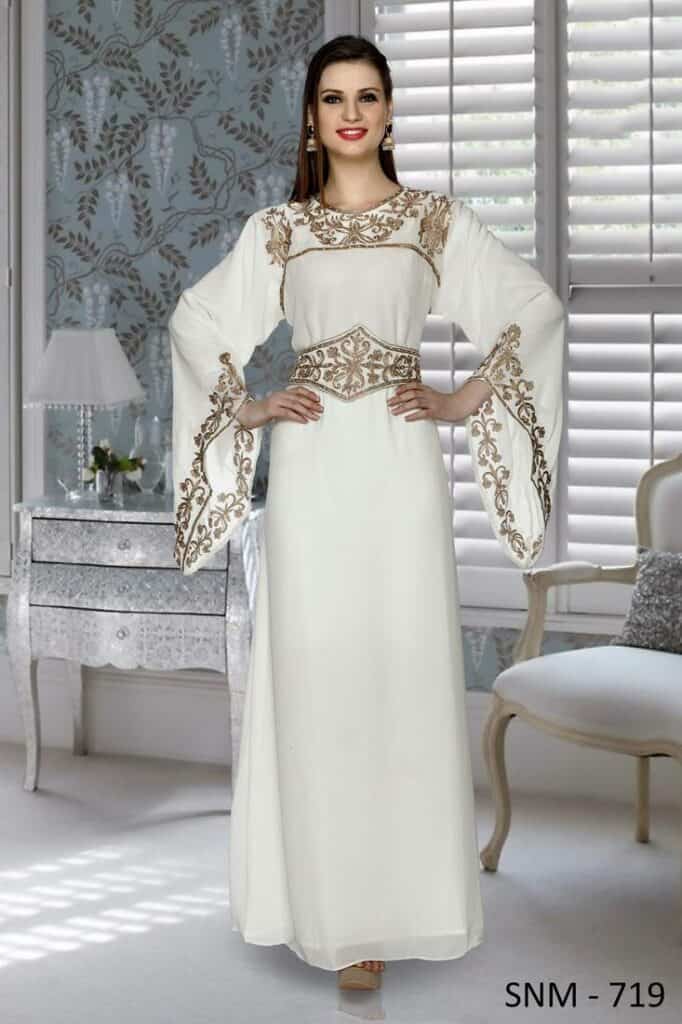 For brides who like the traditional white colour on a Moroccan wedding dress, this is a great option. Majestic sleeves highlight the arms and the gold detailing on the waist is a spot-on addition to this beautiful dress.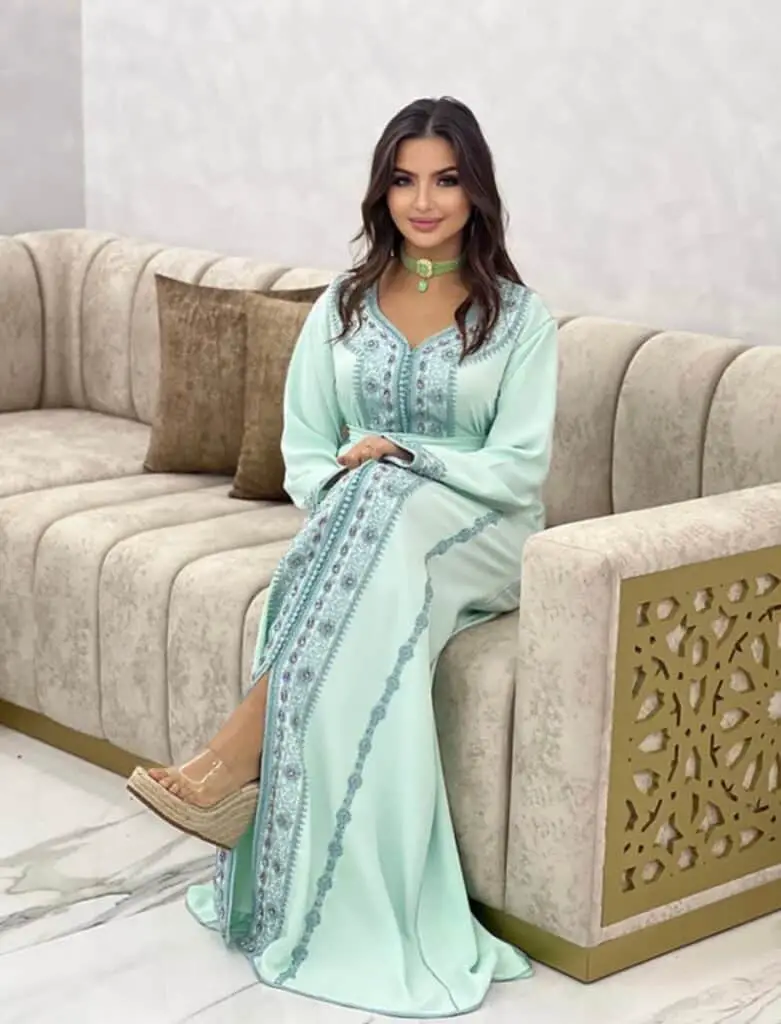 Bold, beautiful, and fearless. This kaftan maxi modern wedding gown enables you to wear a long dress while maintaining that loose-fit feeling, keeping your body comfortable no matter the temperature.
So look stylish while staying cool with this high-end fashion dress! The kaftan also has long loose sleeves and a modern silhouette that flatters every figure type.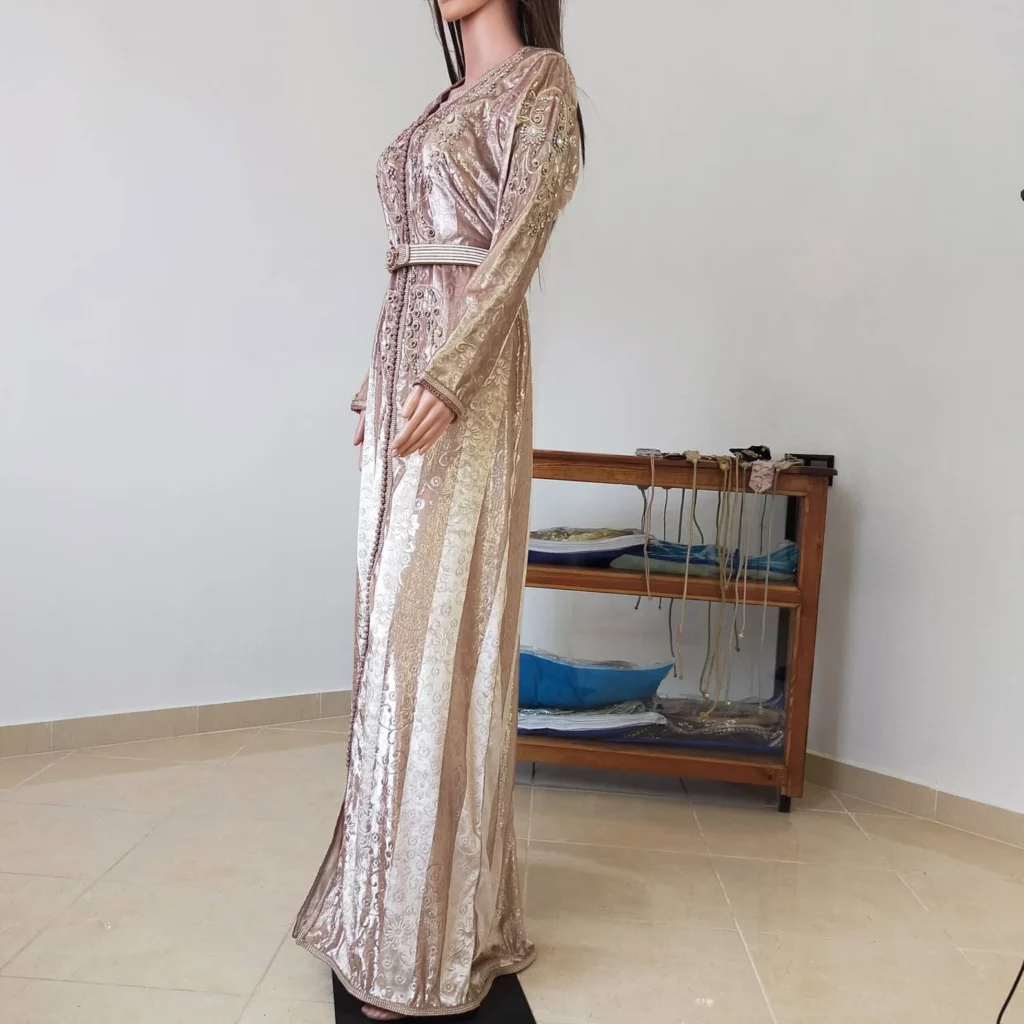 Designed with an eye for detail, this kaftan showcases exquisite embroidery work, perfect for a beautiful bride.
The elegant ivory-colored material is accentuated by golden aqads and sfifa. The fabric is also embellished with stunning golden hand-embroidered details featuring crystal accents and completed with a complementary belt that completes the look.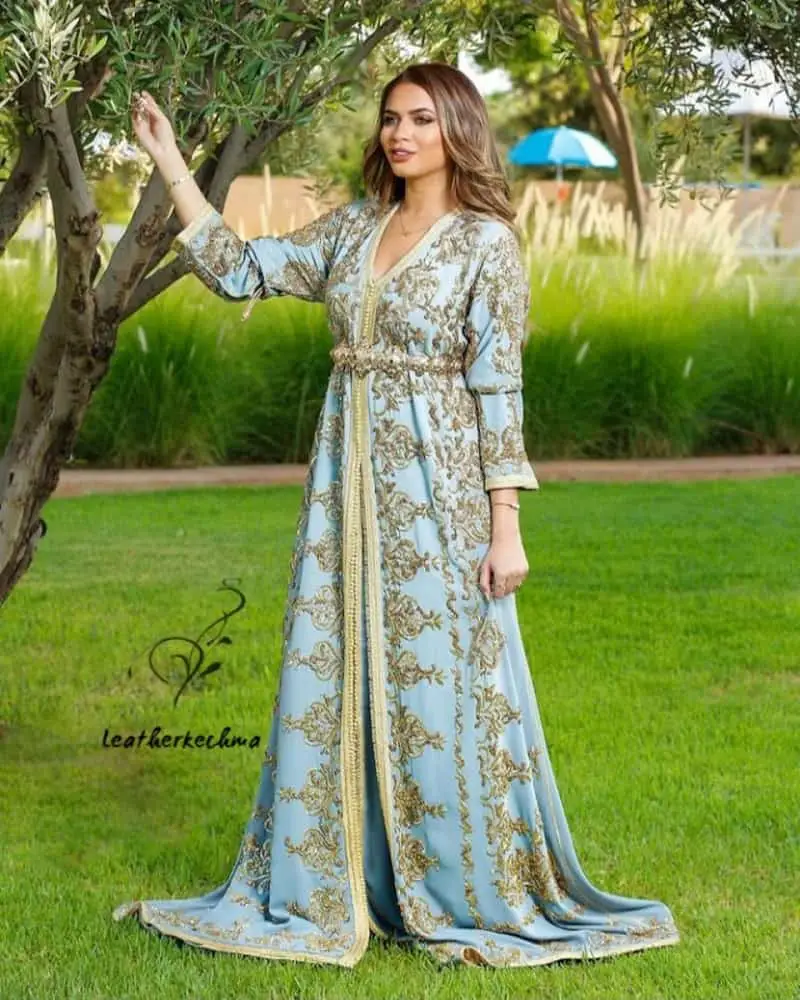 This luxurious caftan is perfect for a royal Moroccan wedding and is exquisitely handcrafted with crepe silk. It features exquisite embroidery patterns that are created using the traditional sam hor technique of hand treatment, making it ideal for your wedding day.
With its unique design, this kaftan will make you stand out on your special occasion with a look that is nothing short of majestic.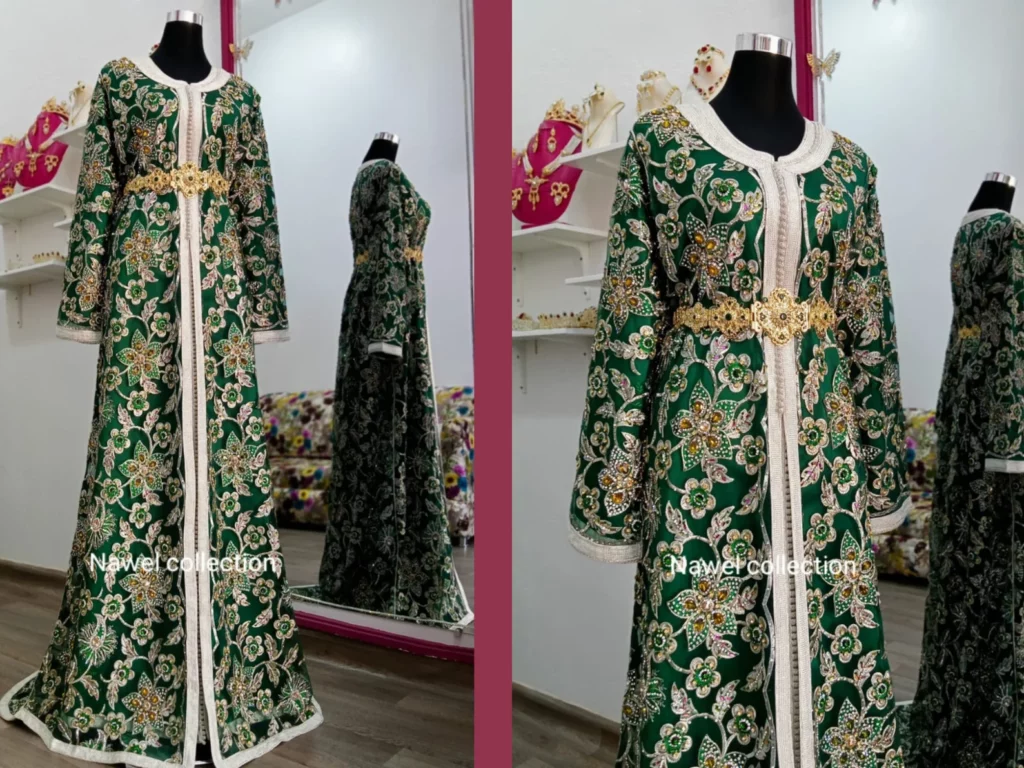 This stunning two-piece takchita is the perfect accompaniment for a special bride, boasting high-end craftsmanship and luxurious detail that will draw attention from all.
Expertly crafted by hand with fine embroidered fabric and dazzling beading to catch the light – you'll look nothing short of exquisite at your next grand wedding!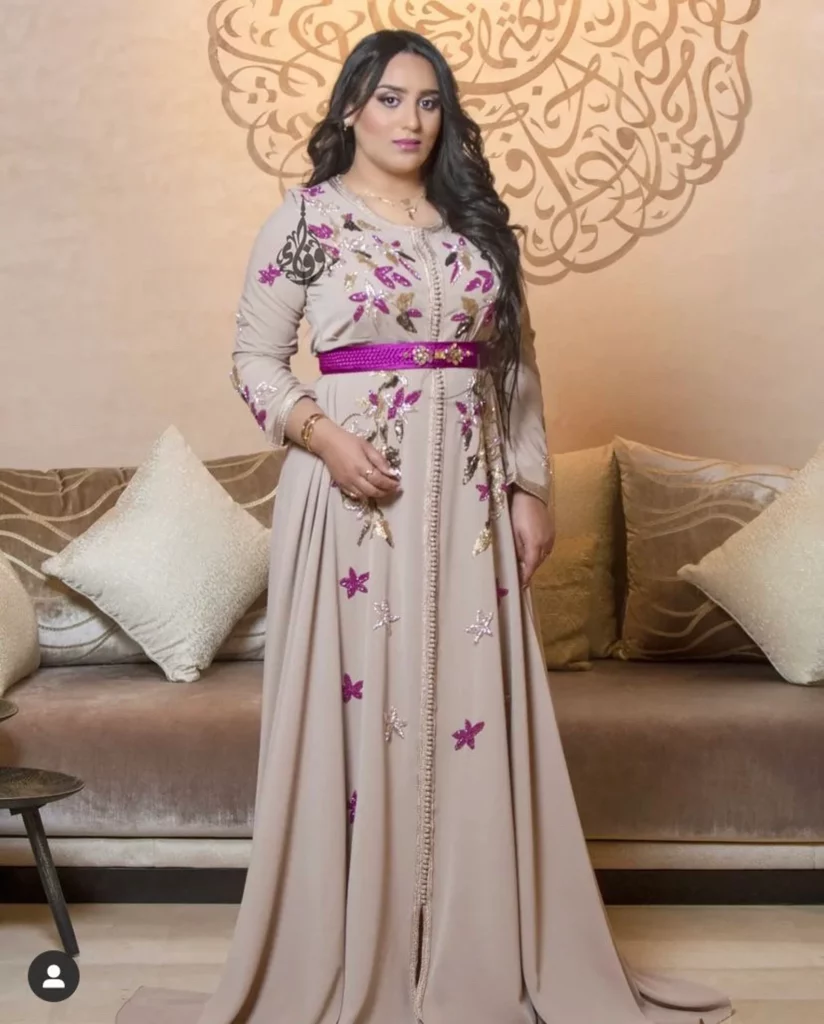 A combination of white, gold, purple, and light brownish beige, this fantastic Morrocan wedding robe is an inspiration for the bride who is looking to stand out. 
Choosing The Best Moroccan Wedding Dress For You
Brides searching for a luxurious and eye-catching look on their wedding day should consider opting for a Moroccan dress. Moroccan wedding dresses are a great option for those looking for elegance, tradition, and modesty. The vivid handiwork and marvelous detailing makes these dresses truly stunning!
To decide on your Moroccan dress, first choose a dominant color that will be the color of the main fabric. You may opt for a color that matches your skin tone best. Then choose how much detailing, embroidery and handiwork you like. You can opt for none to a full dress of detailing! You have to also choose the style of the details and the embroidery plus their colors. 
Gold is a favorite color for these. Almost all Moroccan wedding dresses come with a belt that compliments the dress and the waist. Not only can you choose the style of the belt, but also the color. In most cases, designers prefer the belt to be in the same color as the detailing or embroidery. 
How Do Moroccan Caftans Differ From Western Wedding Dresses?
Moroccan wedding dresses stand out from traditional Western styles with their vibrant colors and elaborate details. From intricate beadwork to luxurious fabrics such as silk or satin, Moroccan dresses provide an array of opulent embellishments that would make anyone feel like royalty on their special day. In comparison, Western wedding gowns typically come in subdued shades of white or ivory and feature minimalistic designs for a more subtle look.
On top of that, Moroccan wedding dresses tend to have more coverage than western dresses, in the form of a long robe with sleeves, due to religious and cultural reasons. The robe is often closed in the front and has a belt that compliments the main color theme of the dress. Unlike western wedding dresses that are not typically tied to specific cultural or religious practices, Moroccan wedding dresses are often representative of the culture and religious beliefs in Morocco.
Final Thoughts
Whether you're tying the knot in a traditional Moroccan ceremony or simply seeking a captivating dress for your big day, a Moroccan wedding dress is a stunning choice.
From modern twists on the classic style to more traditional designs, these dresses offer a diverse range of options for brides seeking a truly unique and breathtaking look.
So if you want to stand out on your special day with a dress that truly captures the spirit of Morocco, consider adding a Moroccan wedding dress to your list of options.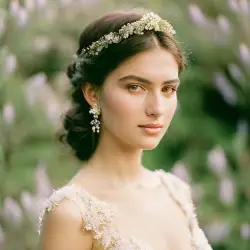 Latest posts by Rosie Liliy
(see all)