3D floral wedding dresses and gowns are setting a new trend that is irresistibly stylish. A delicate mix of tradition and modernity, every bride is sure to find a 3D flower design and colour mix that matches their dream. 
These one-of-a-kind creations are breathtakingly beautiful; incorporating luxuriously intricate details into each fabric creation. Just imagine walking down the aisle in a unique dress made from bold colors, soft petals and elegant embroidery – it's sure to make an amazing impression that won't soon be forgotten!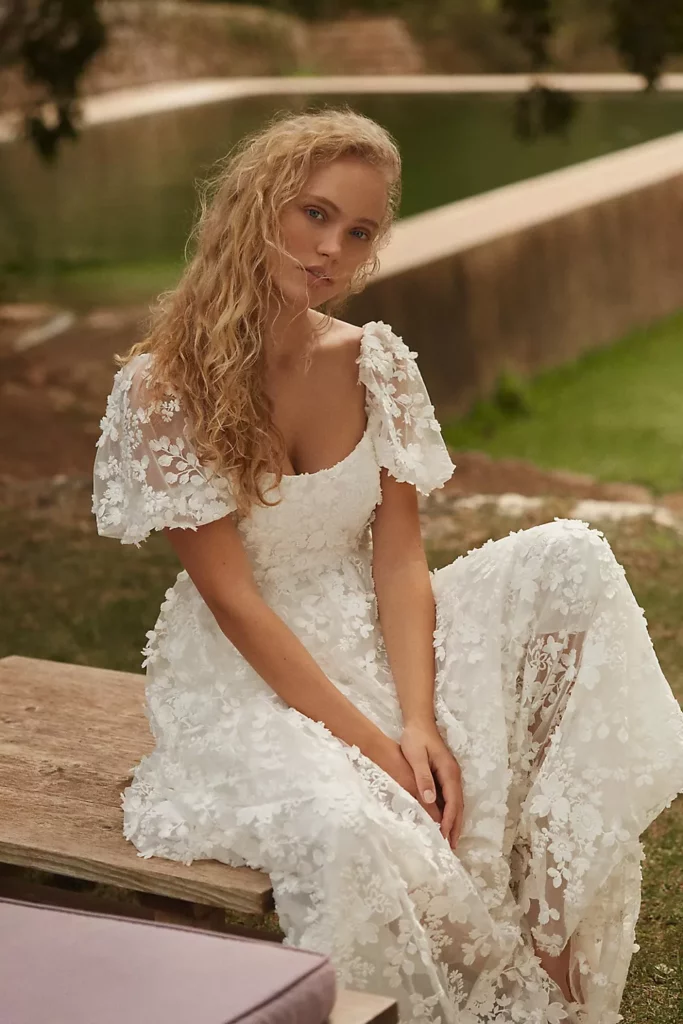 Crafted with love and intricate detail, this beautiful A-line gown is a dream come true for the romantic at heart. Adorn yourself in delicate allover florals, which bring surprising dimension and charm to this stunning design. 
The romance doesn't stop there; it continues with the dress' lustrous puff sleeves that can be worn on or off the shoulder for added drama. A sheer back reveals intricate embroidery, adding a subtly glamorous touch.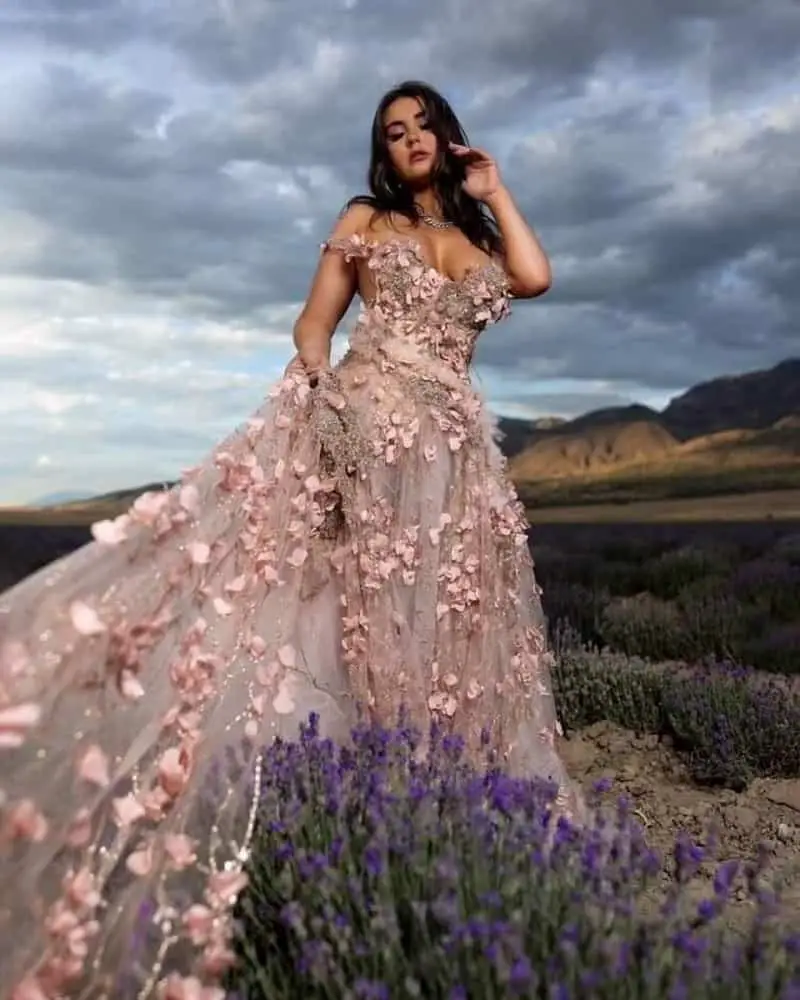 For moments you'll want to remember forever, create a beautiful look with the Verity 3D Floral Lace Wedding Ballgown Set. This stunning set features a soft, blush colored tulle bodice that is intricately embroidered with shimmering crystal beads for an ethereal effect. 
Whether you dream of being a regal princess on your special day or simply want to make heads turn, this wedding ballgown set is sure to leave an indelible impression.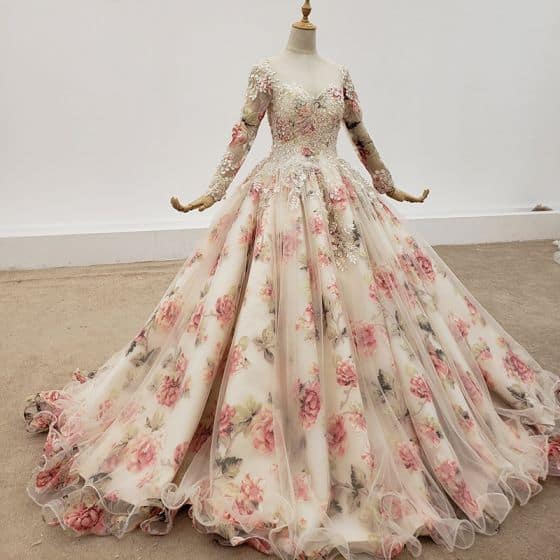 Are you looking for an eye-catching, one-of-a-kind wedding dress? Look no further! This unique and creative gown is sure to make waves on your special day. 
Showcasing a stunning U-neck style with an ankle strap backless design and handcrafted 3D lace appliques, this dress is truly exquisite. The gorgeous multi-color palette pairs hues of ivory and blush perfectly together for an unforgettable look.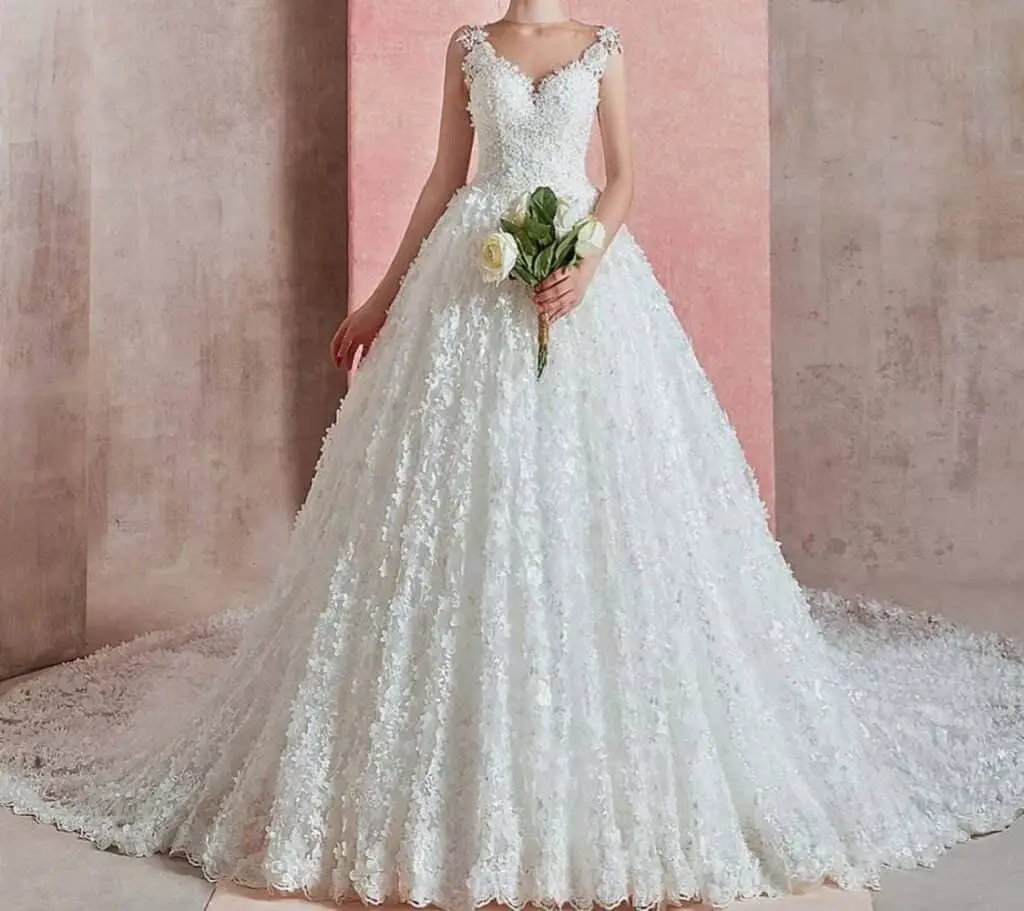 Dream of being a princess on your big day? This V neckline dress is crafted from luxurious lace and accented with beaded lace applique.
The long train adds an ethereal and romantic touch that will take your breath away. The exquisitely embroidered tulle, satin lining and beadwork are all exquisitely finished in delicate detail. Step into this dreamy dress and feel like royalty.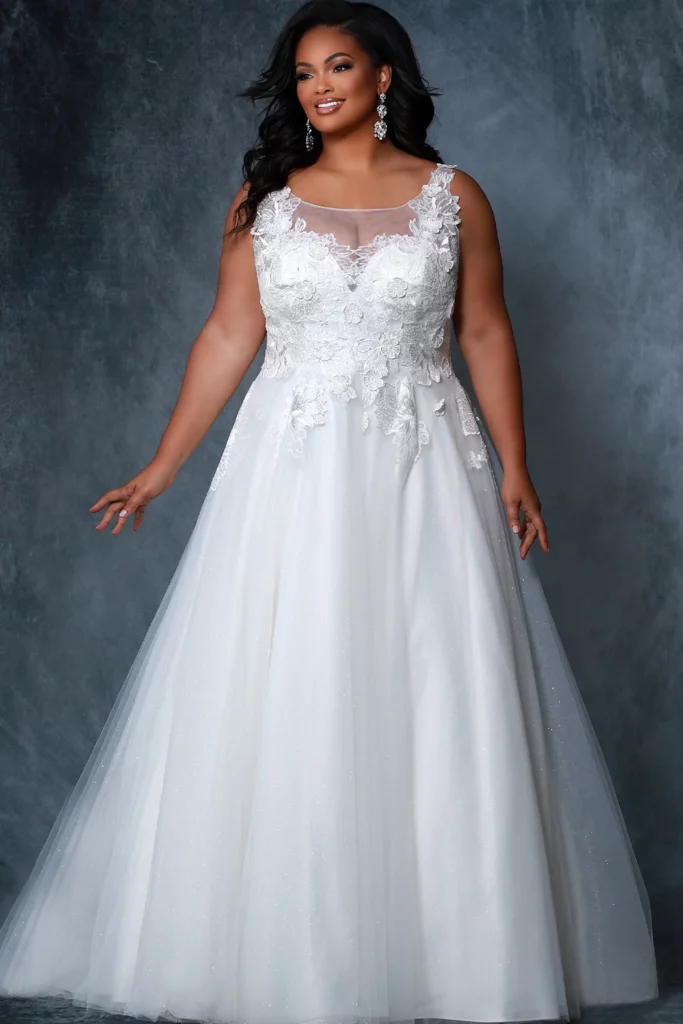 The Lucie Bridal Gown is the perfect blend of modern elegance and old-fashioned sophistication. It features a stunning 3D lace applique with delicate petals which adds depth and texture to the look, creating an eye-catching design that's sure to make you stand out on your big day. 
To add a Vintage touch, several dozen crystal buttons are sewn down the center back, and glitter has been added to the second layer of tulle skirt. With its mix of modern and traditional styling, this dress is sure to be unforgettable!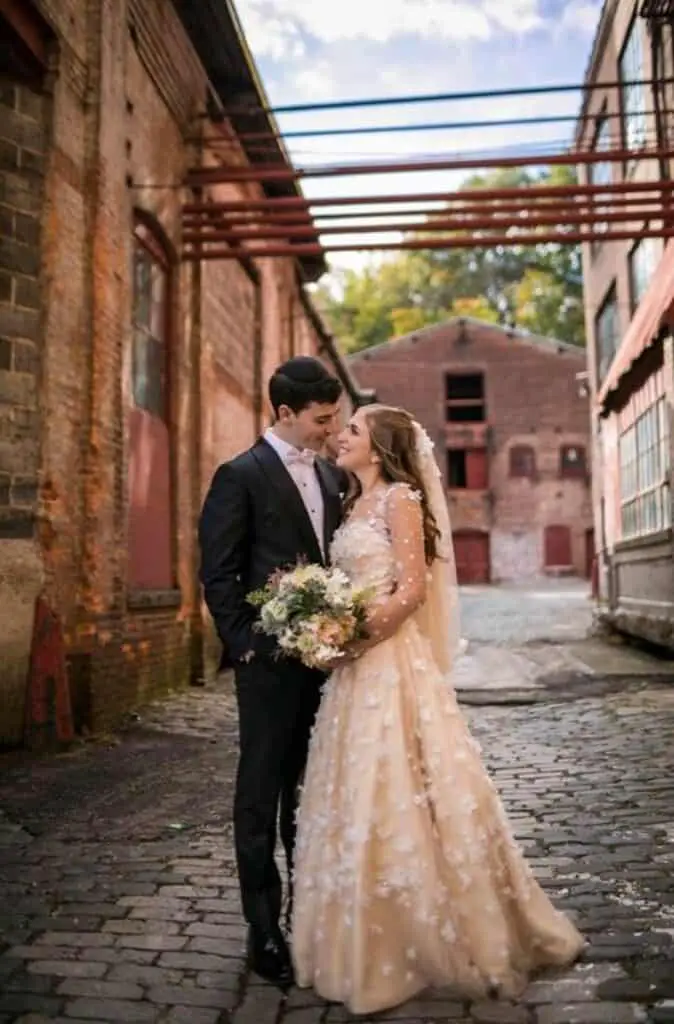 Say "wow" with this ultra-trendy 3D Flower Wedding Dress Bridal Gown with Sleeves! This sensational custom designed bridal gown will surely have you feeling like a vision of beauty as you walk down the aisle.
The couture-inspired base of the gown is created with a luxurious cream lining and an overlay of stunning netting featuring unique hand sewn ivory flowers in all different shapes and sizes. A nude-colored netting covers the neckline and sleeves to finish off this stylish look.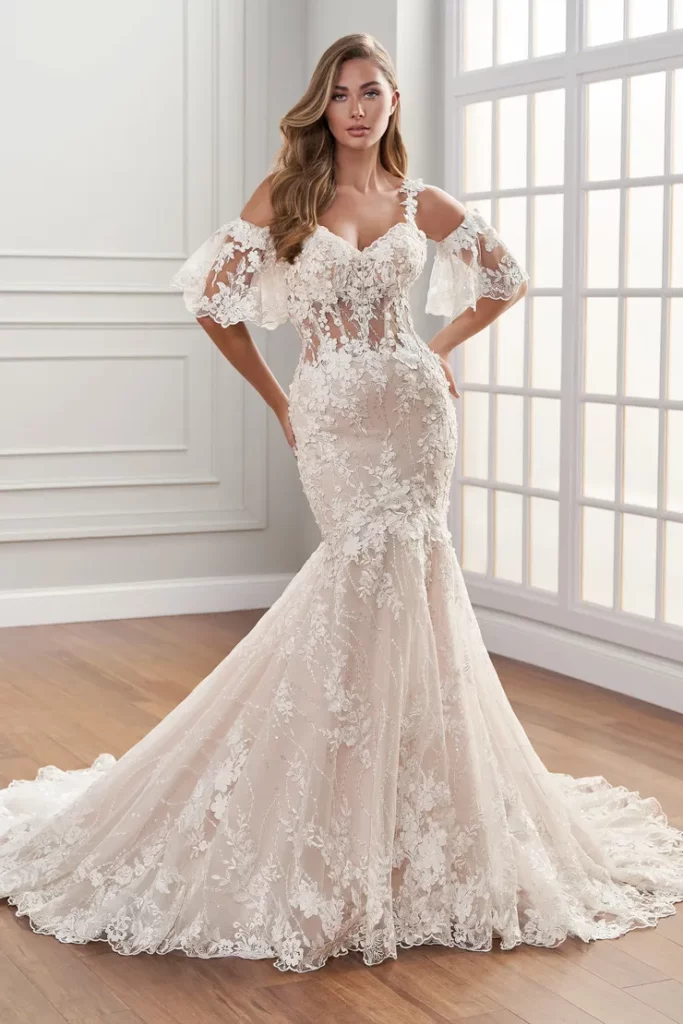 Make your wedding look unforgettable in the Martin Thornburg Fit and Flare gown. You'll love the ultra-feminine romance brought by this chic style. 
The semi-sheer corseted bodice is adorned with astonishing three-dimensional Schiffli lace applique that will make you truly feel like a bride. To add a touch of whimsy, separate sleeves give this stunning silhouette an extra dose of charm.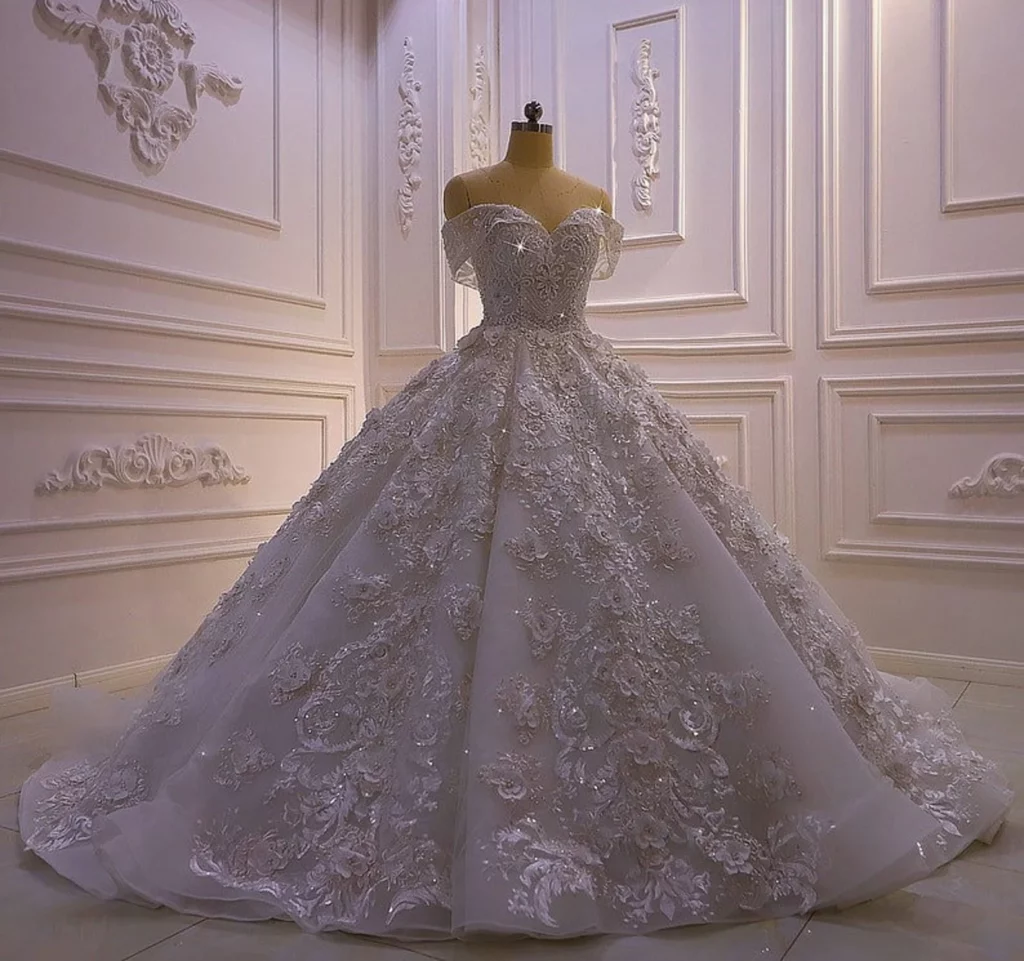 This unique, one of a kind look is sure to make you stand out as the center of attention. Its elegant neck style will make you feel like royalty as you float down the aisle with an air of grace and poise.
The detailed embroidery is sewn with intricate precision and creates sparkling 3D outlines on the bodice for a glorious and eye-catching effect.
Whether you're walking up to a grand ballroom or a breezy beach ceremony, this show stopping gown will take your breath away! With its off the shoulder princess style and unique detailing, this wedding dress is sure to delight.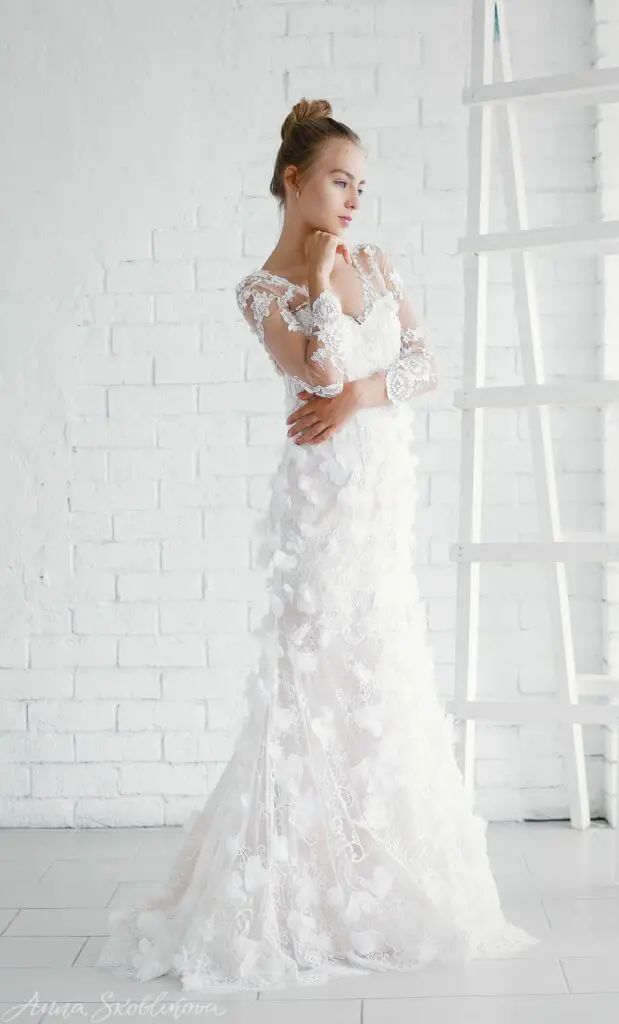 Walk down the aisle in a dress that is nothing short of beautiful! This Luxurious Wedding Dress with 3D Flowers will create a stunning statement sure to make heads turn as they gaze in awe. 
Adorned with hand-embroidered lace elements and 3D flowers, this captivating creation is guaranteed to become the standout piece of your big day. The dress has been made using silks and laces of the highest quality, making it feel as good as it looks.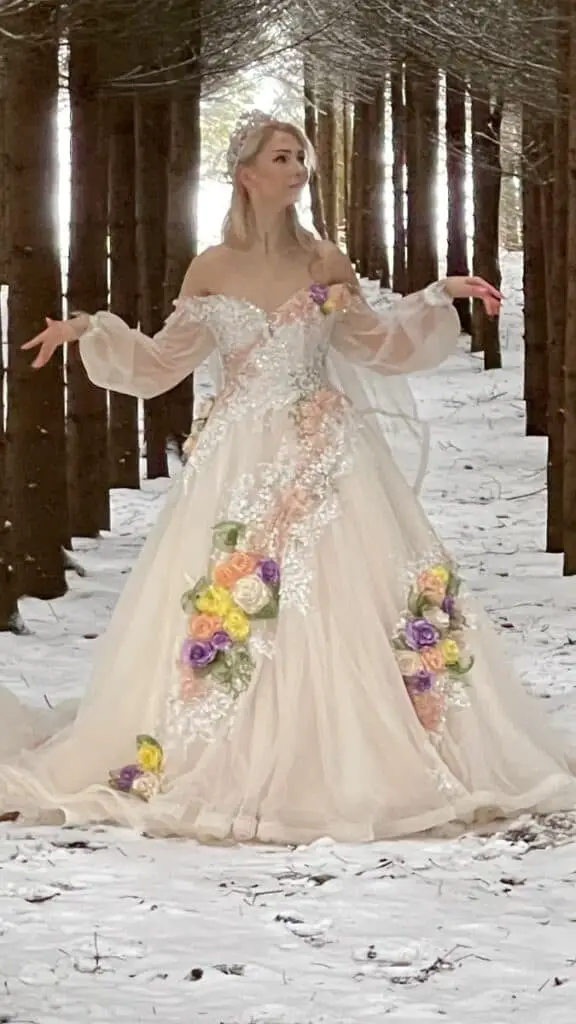 The divine combination of colors in this divinely beautiful dress is truly captivating. An amazing craftsmanship and glamorous design, it's no wonder to see praise after praise and a five star for Inga (designer) on Etsy. 
If you're looking for specific colours and flower patterns or want specific detailing, the designer is happy to truly make a dress just for you, and create a dress from your dreams. The colour palette can be customised to your heart's content, you can choose from a range of beautiful colours to create the perfect dream dress.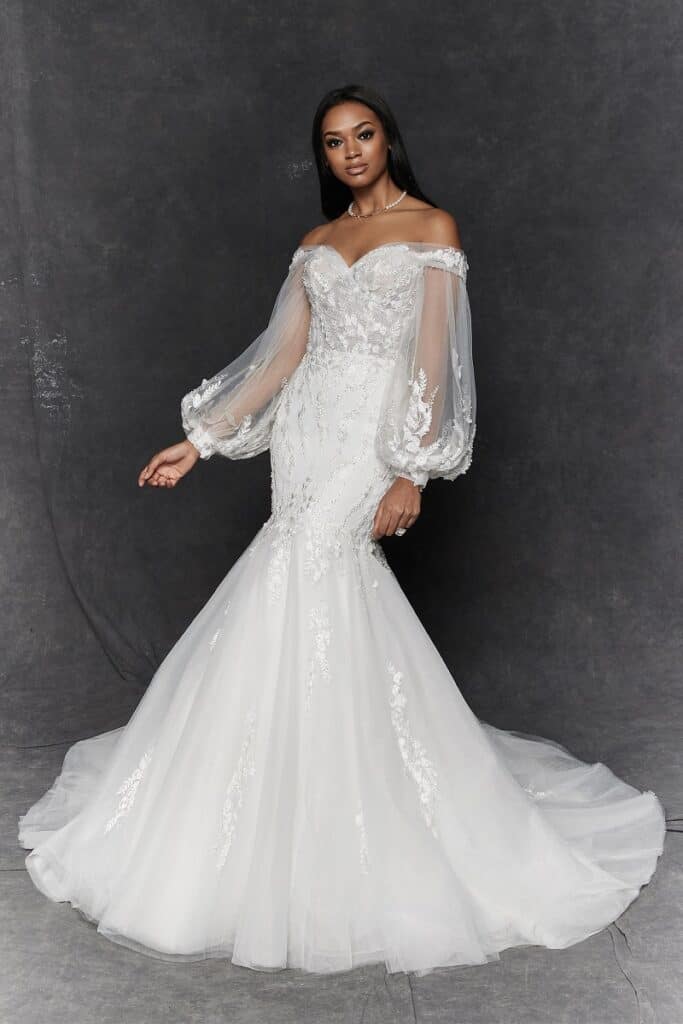 Show your romantic and elegant side with this breathtakingly beautiful off-the-shoulder trumpet gown! This delicate and tasteful design features softly pleated tulle at the neckline, billowy detachable blouson sleeves, and exquisite flower lace appliqués blended with hand beaded embroidery.
The subtly stunning light chiffon flowers add 3D texture to the look, creating an ethereal effect as they float down the soft satin body onto the dreamlike frothy tulle skirt. As if that were not enough, this gorgeous dress also includes a showstopping V-back finished off with covered buttons, culminating in a chapel length train. Perfect for any momentous occasion!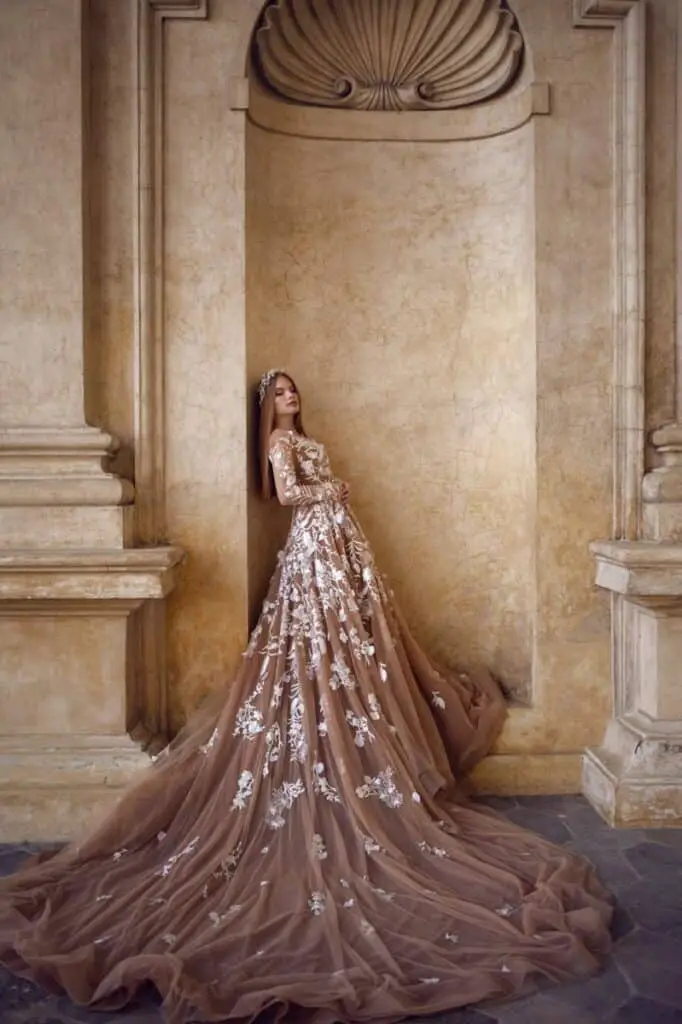 Forget fairy tales—you're the star of your very own winter wonderland in this exquisite wedding dress! Timeless elegance, dreamy romance, and glamorous beauty come together seamlessly in this one-of-a-kind design.
The luxuriously intricate 3D floral lace and long tulle train create a breathtaking look that will leave your guests stunned. Revel in its ethereal handcrafted details—subtle highlights add depth to the soft hues of the skirt, while lace appliques with delicate 3D flowers delicately adorn the silhouette.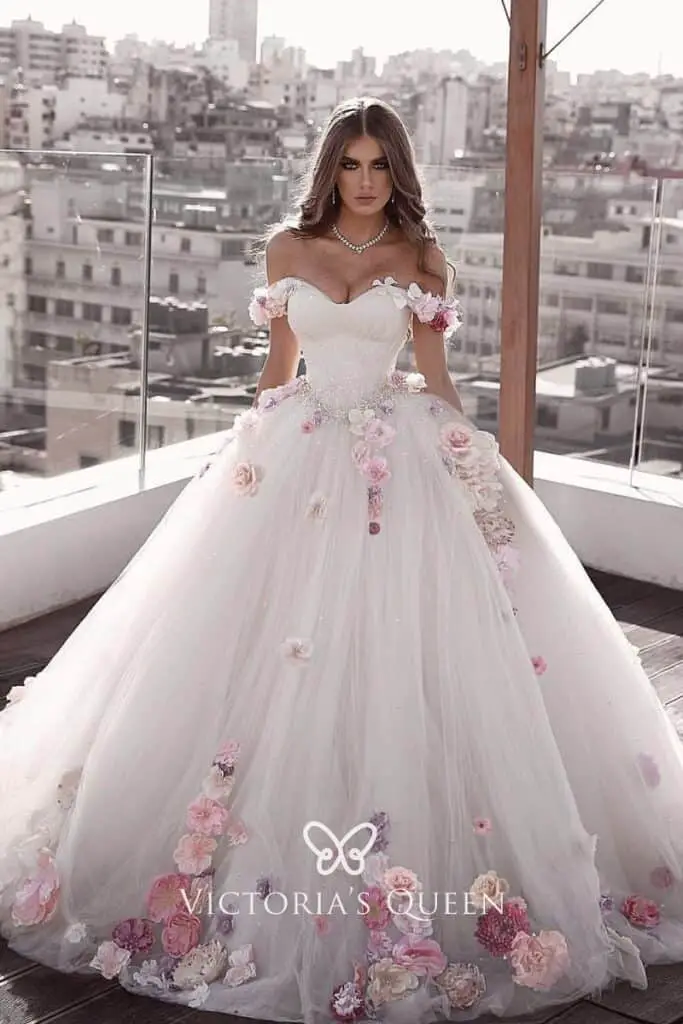 Imagine the most romantic wedding dress! Absolutely stunning flowers in different shades of pink, this exquisite ivory tulle gown is gorgeous. With an off-the-shoulder sweetheart neckline, a beaded belt at the antebellum waistline, this lovely gown can be worn in any season.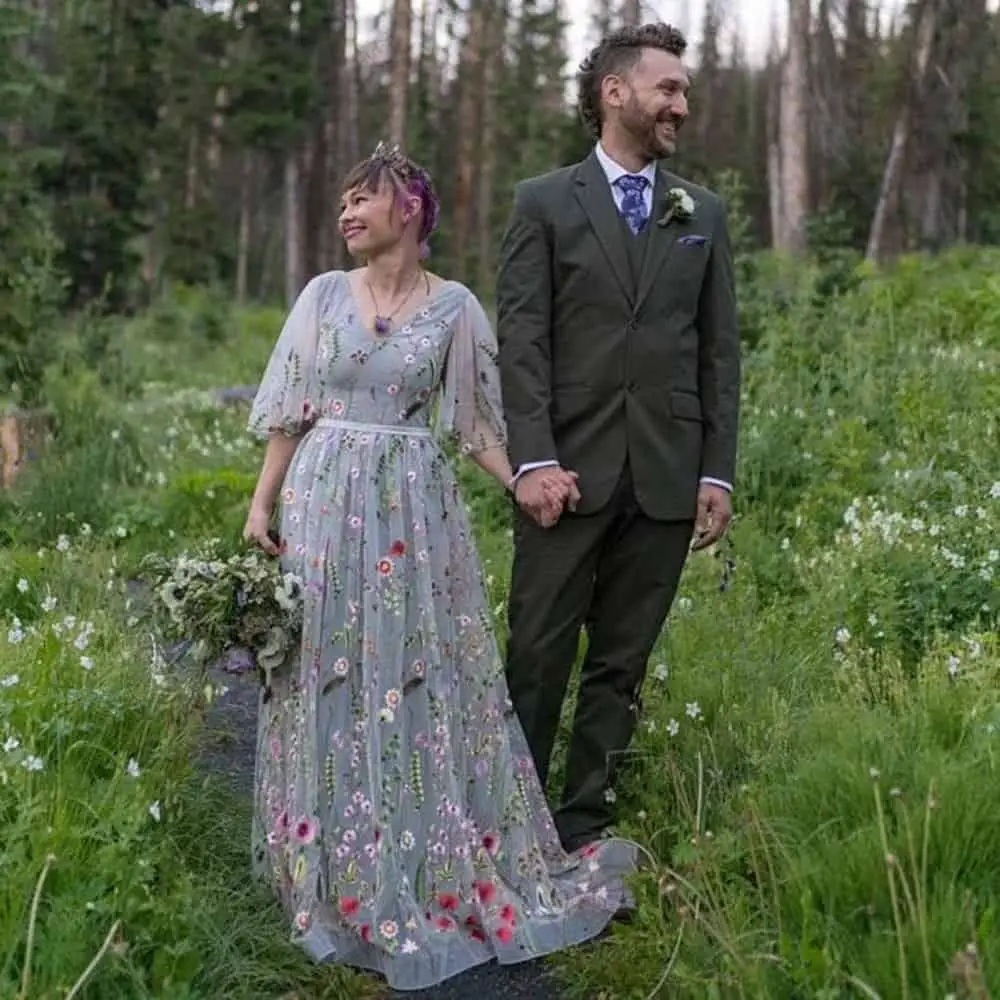 Step into something magical with this stunning Gray 3D flower dress. This exquisite wedding dress features romantic, bohemian details that bring a sense of ethereal beauty to your special day. The unique embroidery fabric is covered in tiny floral motifs and custom-built corset will hug your curves in all the right places. 
This ensemble has tons of positive reviews from happy brides who said they received compliments left and right while wearing this beautiful piece. It's easy to see why this perfect wedding outfit will leave you feeling glamorous, powerful, sexy and beautiful all at once!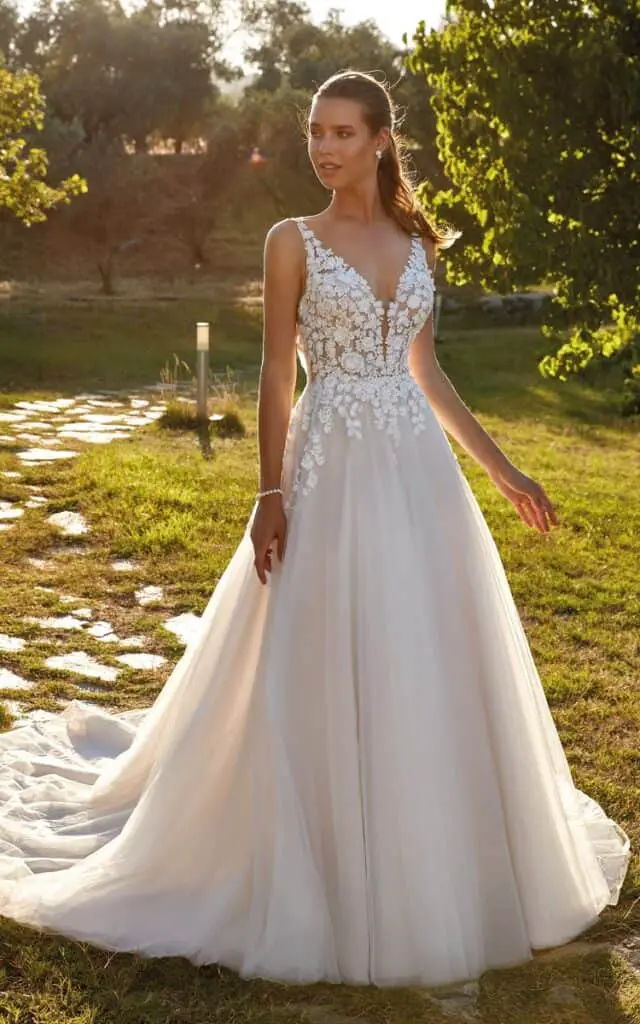 This lovely design features a bare back, V-neck style with an A-Line gown. The ivory lace is adorned with sparkling 3D appliqués over delicate ivory tulle. The Dust Satin lining is sleek and comfortable, while the unlined skin/champagne bodice goes stunningly well with the Chantilly Lace at the top.
To finish off this lovely look, beaded buttons are added that go all the way down to end of train for an extra charming effect.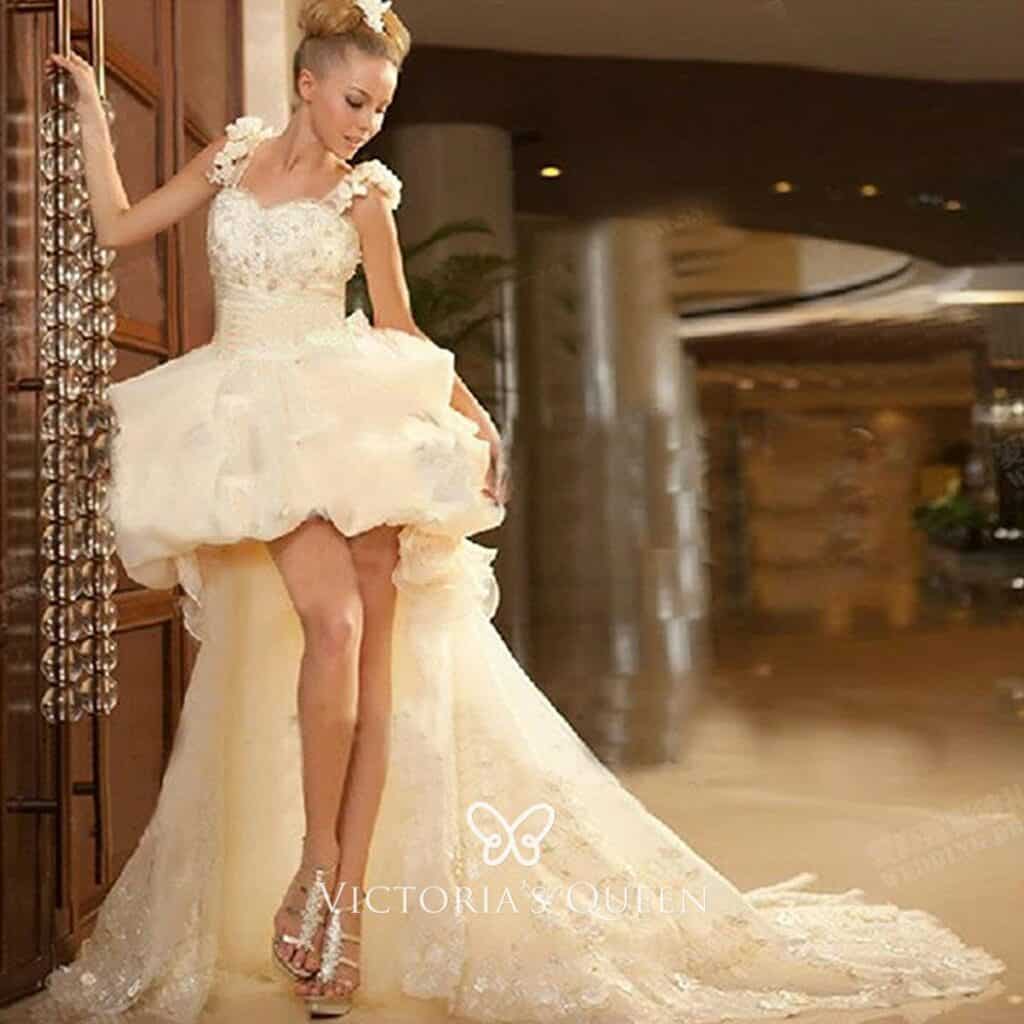 If you are dreaming of a wedding dress that has a unique and jaw-dropping flair, this stunning spring/summer wedding gown is a showstopper.
The asymmetrical dramatic design has 3D white flower detailing on the top portion and large flower ruffles at the lower back. The high-low skirt shows off your beautiful legs while tastefully keeping some mystery. You'll love the chapel train in this vintage silhouette that is sure to impress.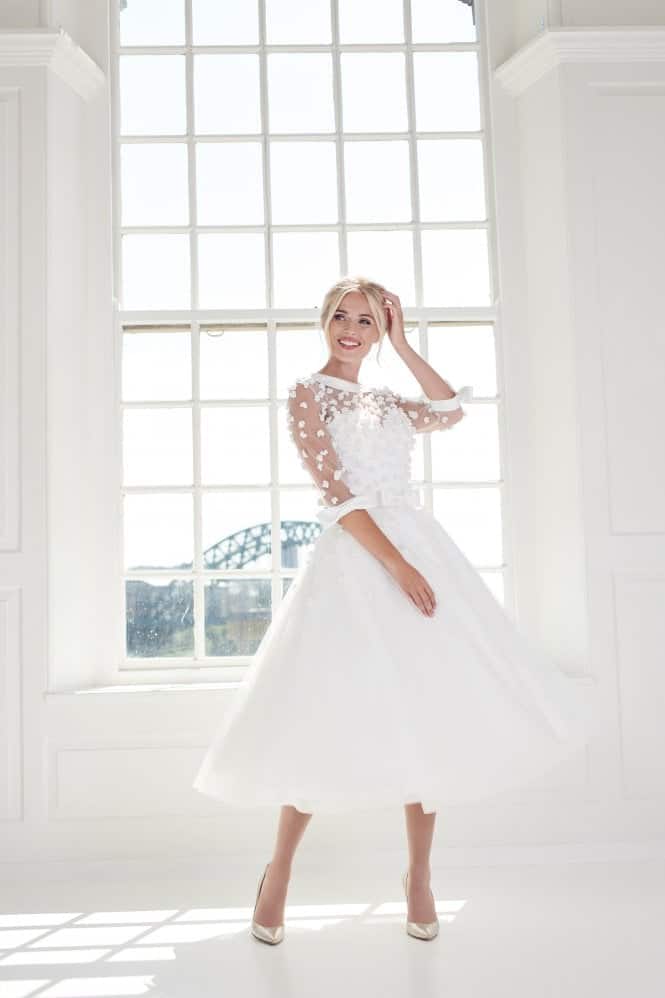 Short and sweet, this is the perfect vintage tea-length wedding dress for those who like a shorter yet charming dress! Delight in this unique style with its wide neckline, 3D flowers, and bows on the sleeves and belt. Feel 1950s with this lovely dress.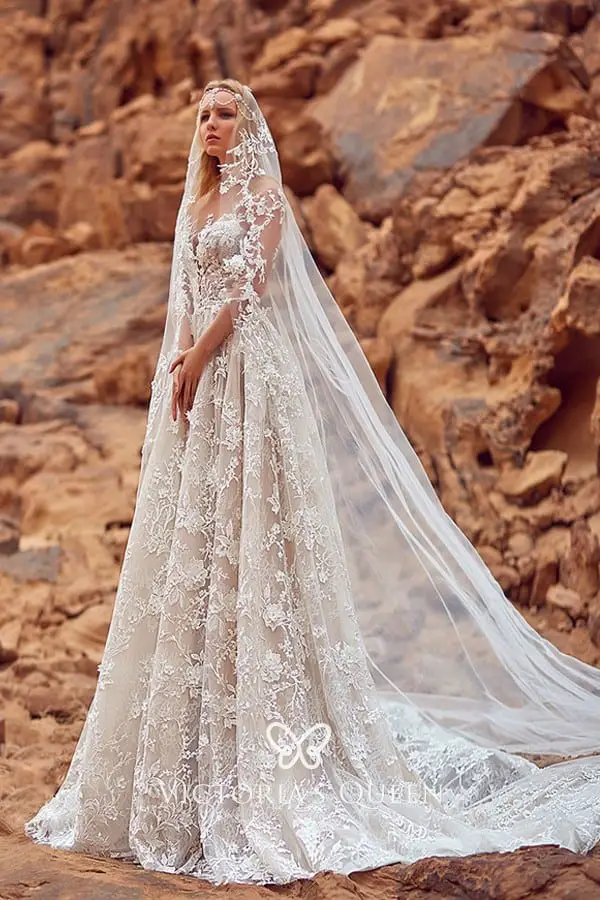 Accented with a stunning 3D flower lace applique and delicate floral details, this dress is truly one-of-a-kind. The illusion neckline and A-line silhouette add elegance. With a chapel length train, you're sure to make a statement.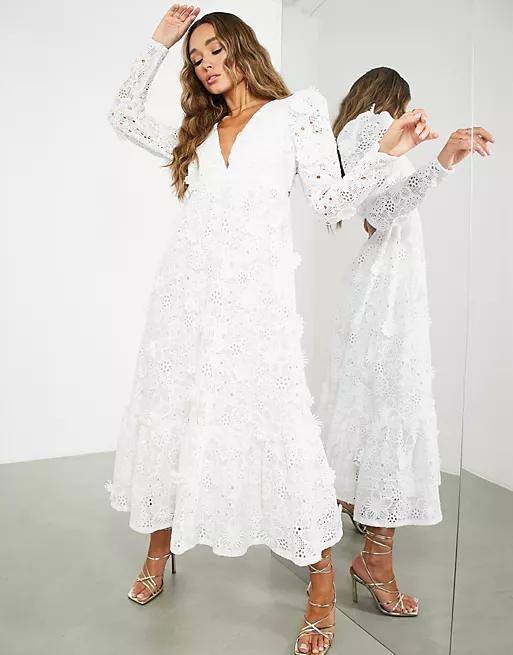 This simple, modern and budget-friendly dress is not exclusively made for brides; however, it can very well be a lovely dress for the bride who is looking for a practical option with flower detailing. This is great for unconventional brides looking for simplicity in a manageable yet beautiful white dress marking the occasion.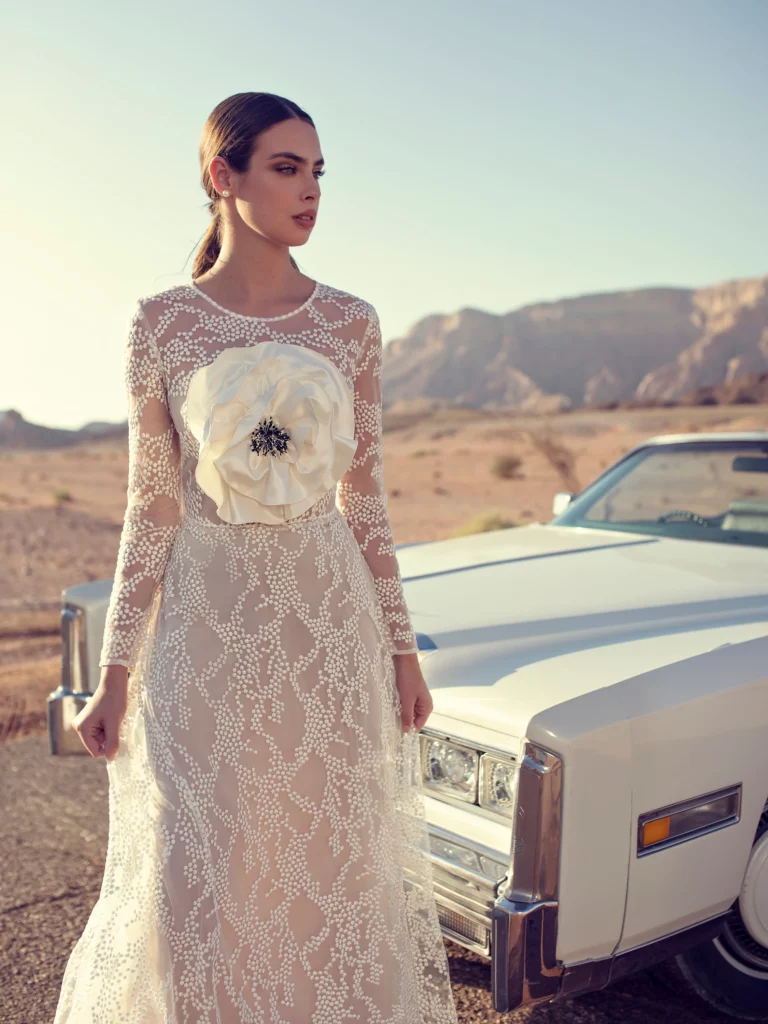 If you're looking to make a statement, yet prefer a simple design, this is a great dress for you. The large center 3D flower is surely to turn heads. The lace beaded long sleeves gives the extra coverage for brides who prefer a more modest yet trendy look. You can choose between frappe and milk for colour tones for this dress.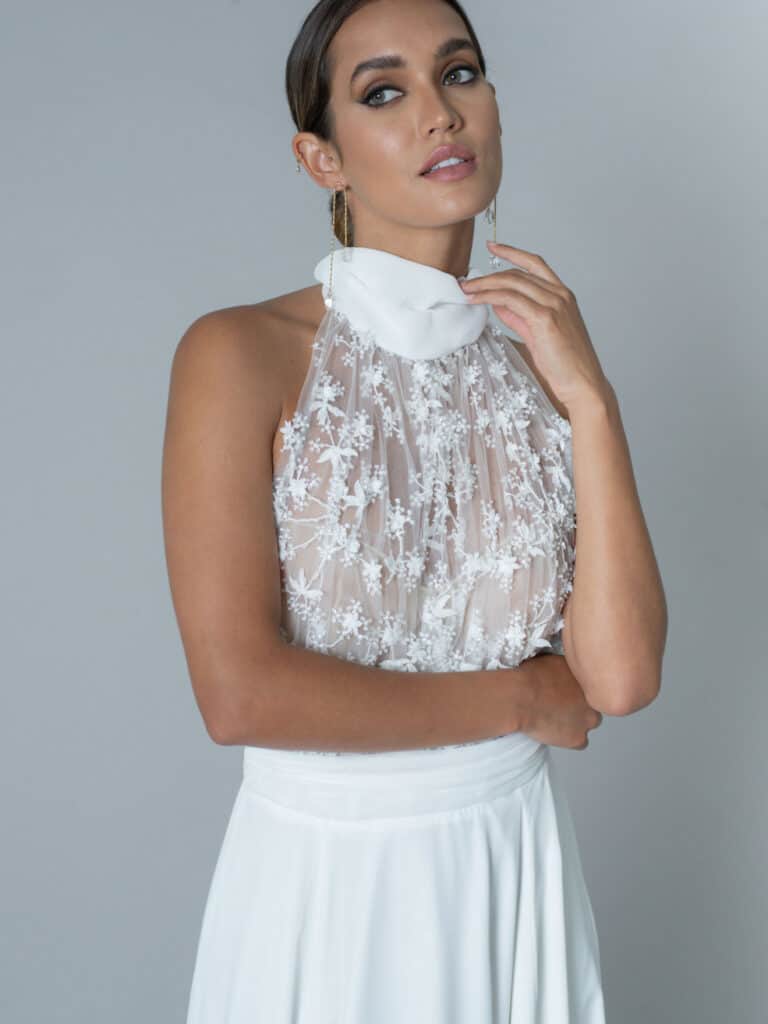 Fancy a beautiful high-neck wedding dress that highlights the back with a bow on the neck? Made entirely in muslin, this gorgeous dress is unique, unconventional, and stylish.
The high neck design shows off your face while the low back draws attention to your beautiful silhouette. Exuding elegance and flair, this dress is sure to set you apart. The muslin skirt creates magnificent volume and falls gracefully to the floor as you move, while the left side slit offers a subtle look of sophistication.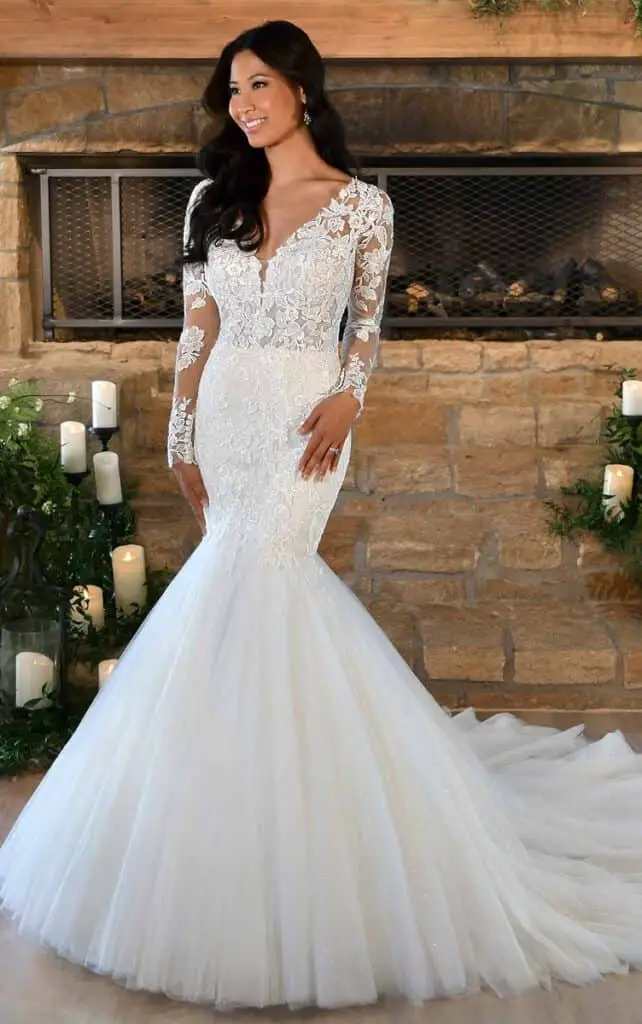 Romantic and vintage, this off-shoulder v-neck dress with lace floral-detailed sleeves is perfect for brides who fancy a bit of both worlds: the classical and the modern. The long sleeves add the vintage element while the neckline design and the mermaid twist, add modern flair.
This exquisitely crafted gown is perfect to add whimsical touches of femininity to her look. Sheer details offer subtle sexiness, and layers of tulle flare out below the hips – making it ideal for twirling on the dance floor all night.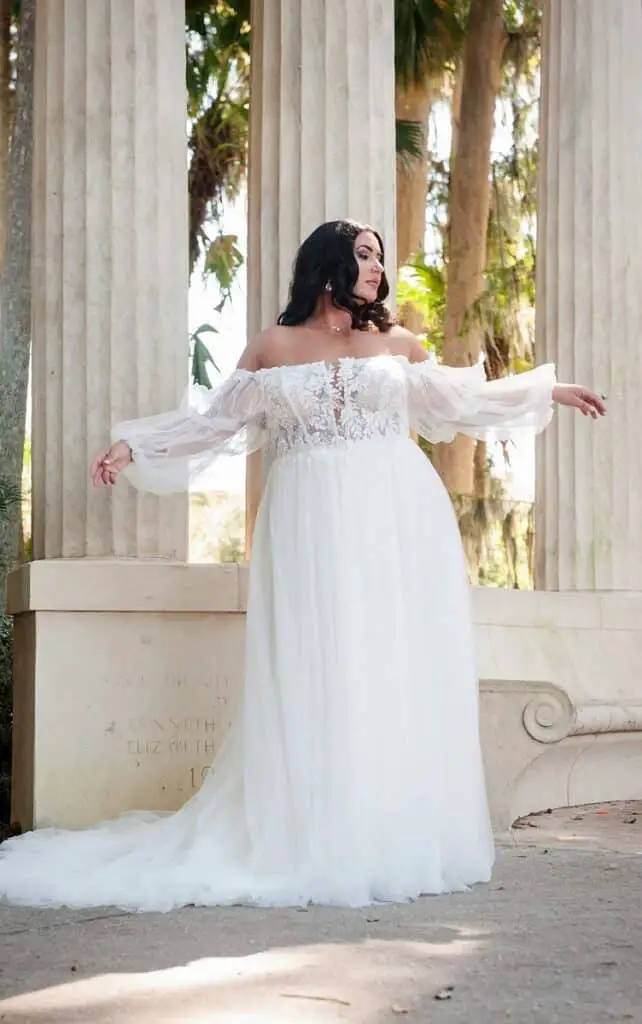 For the bride with a dreamy, fairytale style, this plus size Boho wedding dress is designed to mesmerize.
It features an all-over lace bodice with corset-style boning for an old-world charm, as well as a sexy plunging neckline and large organic floral lace. The detachable off-the-shoulder long tulle sleeves help create an air of romance that works in perfect harmony with the ethereal tulle skirt which gracefully flows.
Whether you're getting wed at a white sand beach or walking down an aisle strewn with rose petals, this lovely gown is generously crafted to make your special glamorous. 
Taking Spring as its inspiration, this wedding gown features gorgeous petals of a cherry blossom in bloom.
First layer tulle is elegantly enhanced with lace appliqué and 3D effect tulle, while second layer techniques include fabric painting, followed by the third layer of handmade fabric flowers and embroidery. Walk down to aisle wearing this special piece and you'll capture all eyes.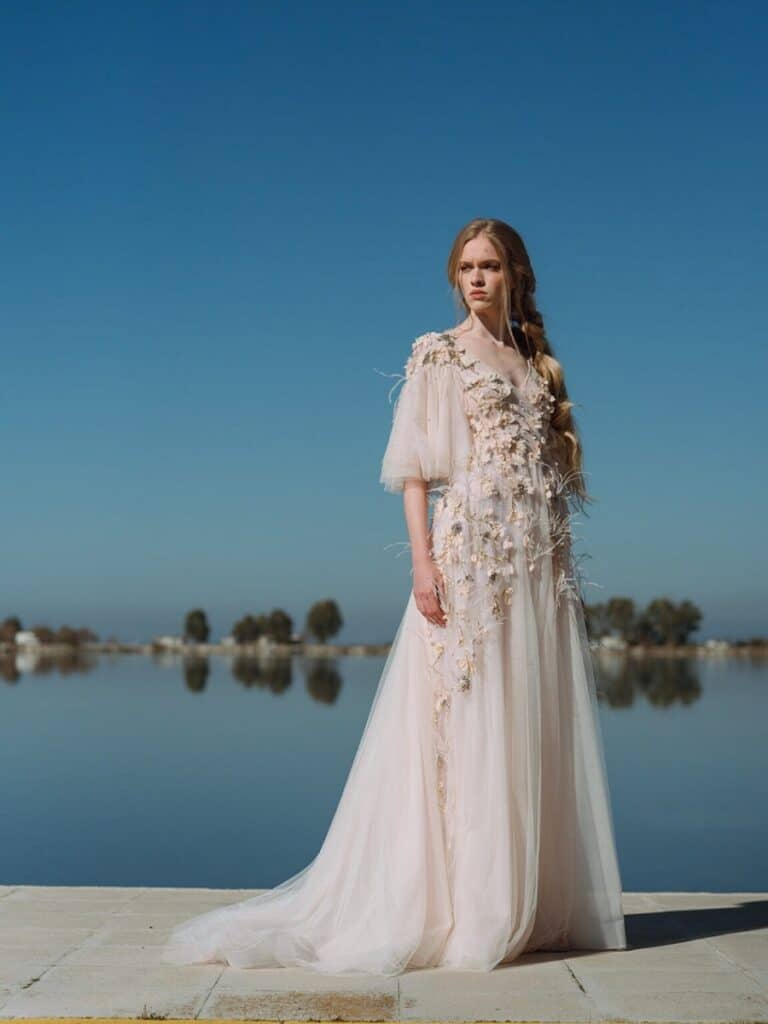 Romantic and feminine. Embellished with peach 3D petals and beads that become fuller around the bodice before gracefully fading into the skirt, this dress is dreamy.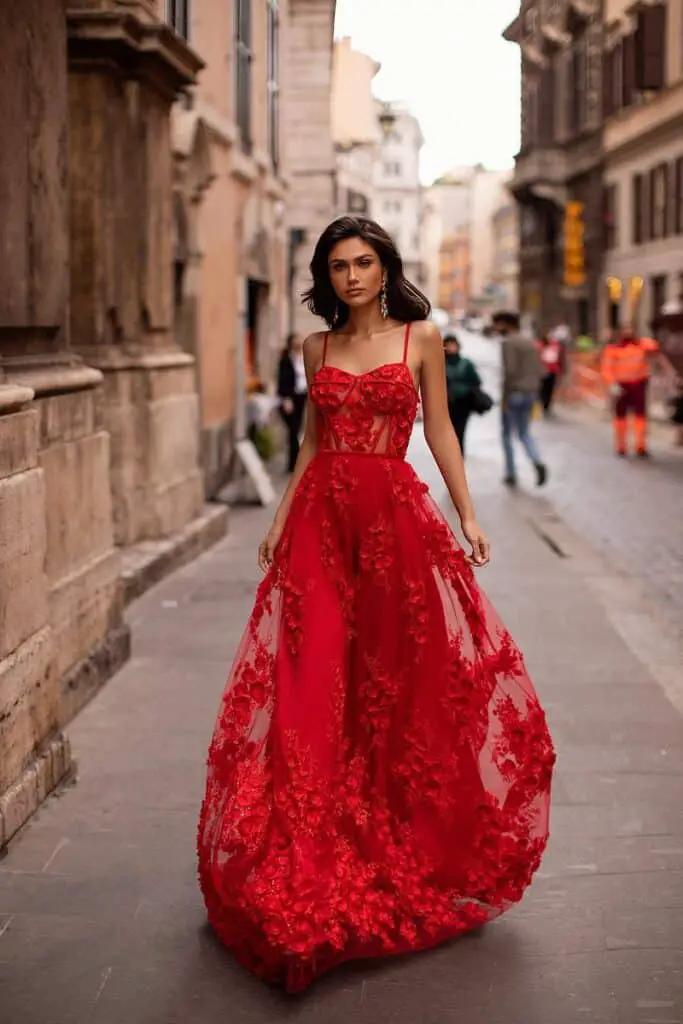 For unconventional and bold brides who are looking for a revolutionary dress, this is an inspiration. Great for those wanting to highlight their chest and arms. The strong color of this dress resembles a red rose.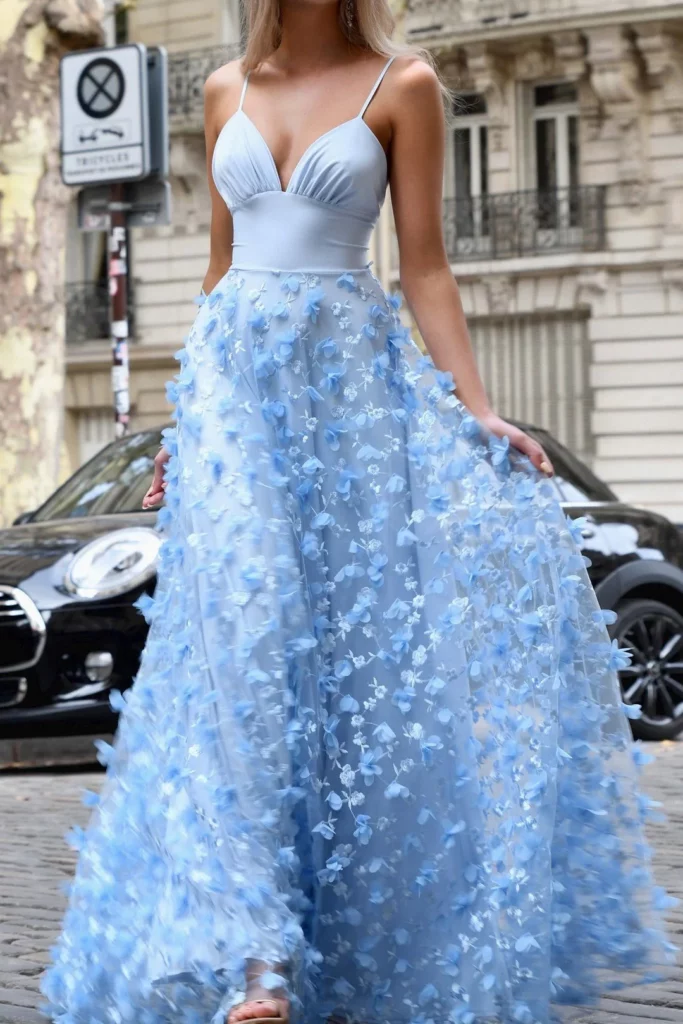 This timeless bridal gown blends the traditional classic A-line silhouette design with a modern twist. The sweetheart neckline paired with spaghetti straps accent the simple and ageless bodice flawlessly.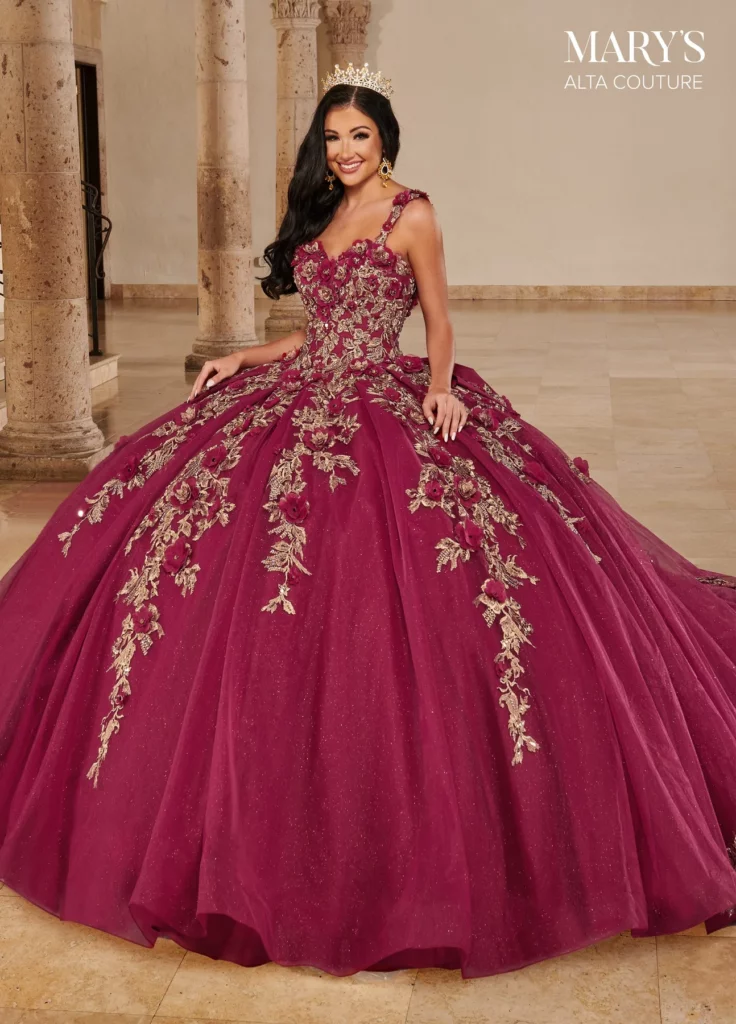 Majestic! Take the unconventional bride a step further to this glamorous red gown with large 3D flowers and gold detailing. A large bow sits on top of a set of ruffles at the back making this gown truly a piece of art. 
In Summary 
3D floral dresses are a unique and visually stunning fashion choice that can add a touch of whimsy and elegance to any outfit. From bold and colorful designs to more subtle and romantic styles, there is a 3D floral dress for every taste and occasion.
Whether you're looking to make a statement at a formal event or simply want to add a touch of flair to your everyday wardrobe, these dresses are sure to turn heads and bring a smile to your face. So why wait? Step out in style with one of these stunning 3D floral dresses today!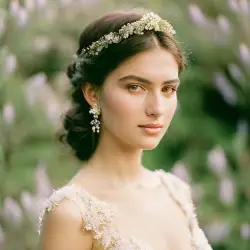 Latest posts by Rosie Liliy
(see all)