Congratulations to the happy couple! This is a momentous occasion and a beautiful new chapter in life for those who are newly engaged.
It's definitely one of those special situations where you just want to grab someone, give them a big hug, and express your excitement with cheerful words of congratulations.
Whether you're looking for something funny or sweet; heartfelt or lighthearted; traditional or unexpected — we've got 70+ sentimental engagement wishes that will make this joyous milestone even more memorable.
We will also feature some essential tips to follow when writing and sharing your engagement wishes, whether your friend, sibling, or child is getting married.
So pull up a chair and settle in because here is all the inspiration you need to craft your very own beautiful message of joy.
Happy Engagement Wishes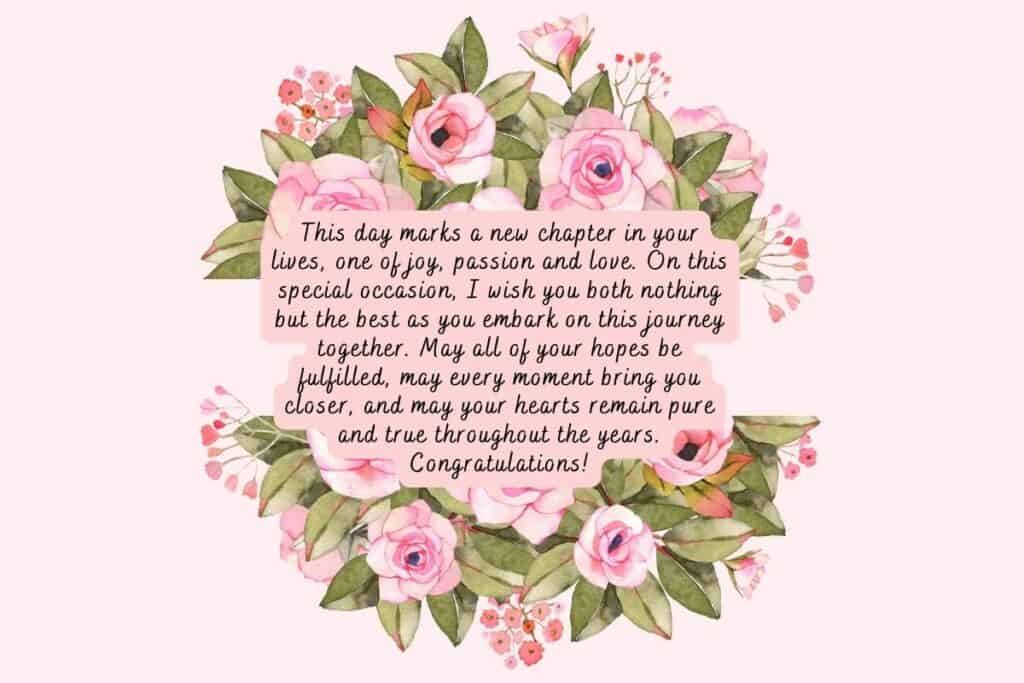 Congratulations on taking the next step in your journey together – may your love continue to blossom throughout the years!
Never forget that true happiness comes from having each other's love and support. Congratulations on your engagement!
Congratulations on your engagement! May you have a lifetime of love, laughter and never-ending awesome adventure together!
Falling in love is like a roller coaster ride, so buckle up and enjoy the exciting journey ahead! Congratulations on your engagement!
This day marks a new chapter in your lives, one of joy, passion and love. On this special occasion, I wish you both nothing but the best as you embark on this journey together. May all of your hopes be fulfilled, may every moment bring you closer, and may your hearts remain pure and true throughout the years. Congratulations!
May life bring each of you infinite sweetness, as embracing each other's hearts will be a treat. And may your future be bright, as you both have a beautiful start. Congratulations!
Cheers to a wonderful future filled with endless love, companionship, and happiness. May the journey ahead bring you closer together as you embark on this new adventure as one.
Hopping on the engagement train? Congratulations! You and your partner are in for a wild ride. Have fun, enjoy the journey, and don't forget to buckle up!
From the bottom of my heart, I wish you a lifetime filled with all the mushy gushy love that your soul desires!  May your engagement be everything and more than what you ever dreamed it would be. 
Short Engagement Wishes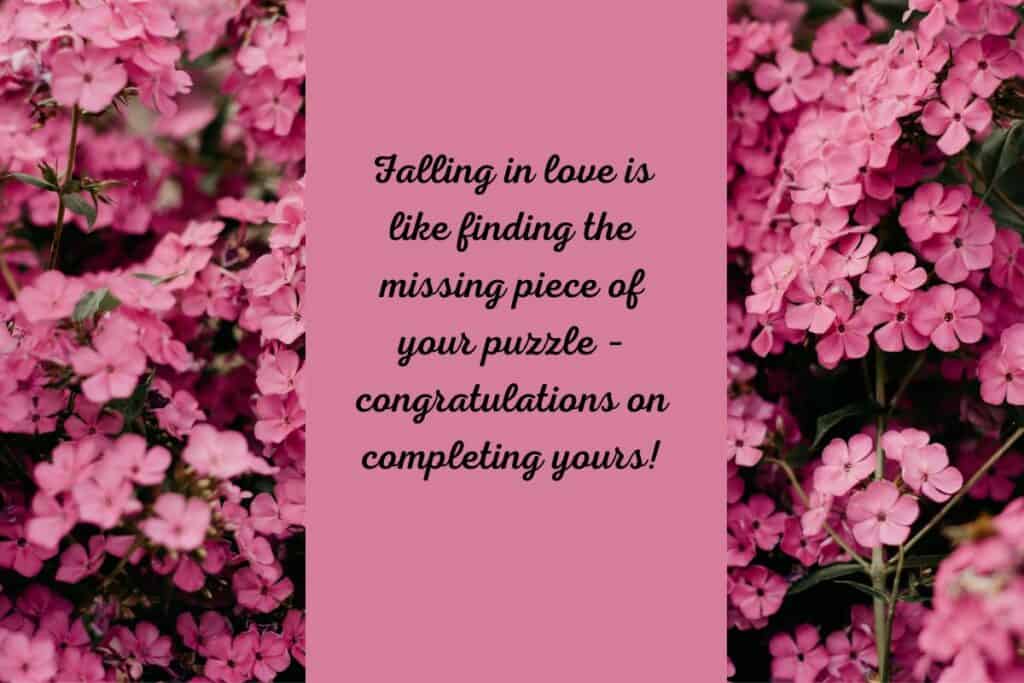 Once in a lifetime moments deserve an eternity of joy. Wishing you the best on your special day!
May your hearts be forever intertwined as you embark on this beautiful journey of love.
Here's to the two of you taking a leap of faith together – may your hearts remain tethered forever!
Sending you all the luck and love in the world for your engagement – may your future never be dull!
Cheers to starting your life together – may your love story be as beautiful as you both are!
Falling in love is like finding the missing piece of your puzzle – congratulations on completing yours!
Let the sparks fly! May your future be as full of romance and sweet memories as a Disney movie!
May your love story be one for the ages, with never an uncooperative page! Happy Engagement!
Once in a lifetime, two lovebirds are meant to be together – and it looks like you're one of them! Congrats!
Sharing this special moment with you fills my heart with joy – congratulations on your engagement!
Funny Engagement Wishes
If you want to take the humorous route when writing a speech for your friend or sister's engagement, it's always a good idea to add a bit of sentimentality so that there's still a deeper significance while making people laugh.  
Here are some examples:  
"Thank God for Tinder, or my best friend would still be buying loads of cats and drinking alone on a Saturday night! You guys give me a reason to dust off my online dating profile and get back out there."
"I'm so happy that now I can always be a third wheel to a married couple who never makes me feel like a third wheel." 
"I'm so glad you both found each other and share such a great love story – and, now, you can bore each other with Star Wars, so I don't have to listen to how great it is anymore. Phew!" 
"I'm 95% happy and 5% jealous of your happiness." 
"It's wonderful to find someone to share your life with… who is legally bound to being there. Congratulations on being stuck together for the rest of your lives!" 
"As you embark on your wonderful life together, remember that having a successful marriage and making your partner happy comes down to five important words: I'll take out the garbage."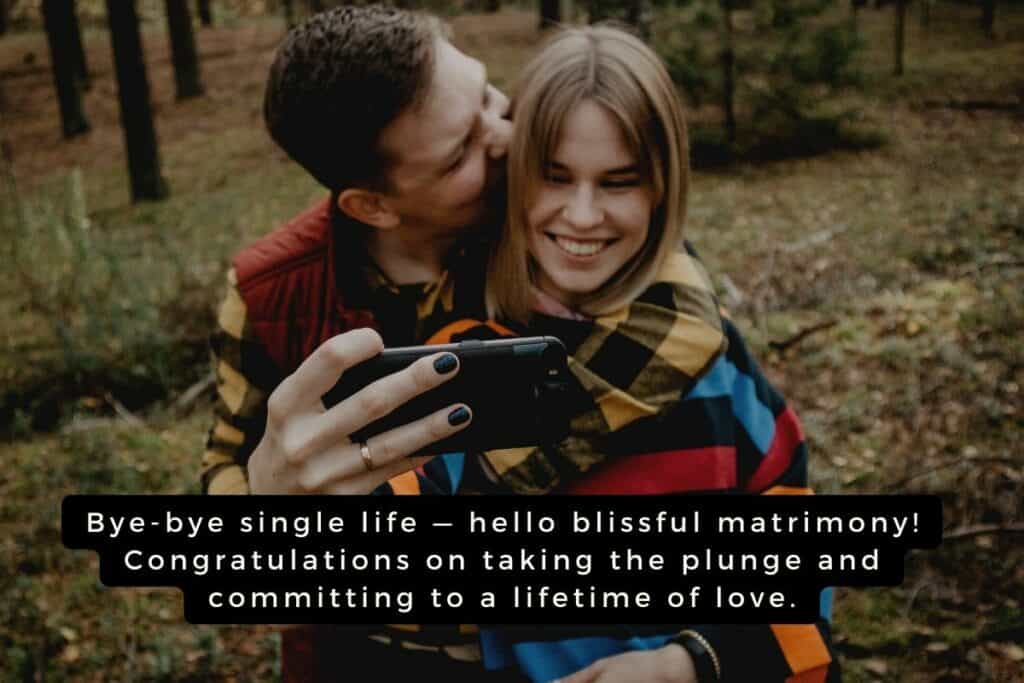 Congratulations on finding the one person who puts up with your annoying habits! Now you can annoy them back for a long long time.
Oops, I think someone just got engaged—looks like it's time to break out the bubbly!
Nevermind tying the knot, let's just skip straight to being forever knotted! Congrats!
Congrats on your engagement! Wish you a lifetime of love, happiness, and never having to check Tinder again.
Nobody puts love in a corner – not even during a pandemic! Congratulations on your engagement! Wishing you both all the best.
May your love for each other always be strong, just like the wifi signal in this Zoom call! Congrats again.
Why settle for a ring when you can have a lifetime of laughter with your partner? Congrats on your engagement!
Hopping on the engagement train like I'm catching the Hogwarts Express! I just can't afford to miss this. Congrats, buddy!
Being engaged is like being a stage-5 clinger, so congratulations on taking the plunge! Have fun and make sure to keep your hands above the waistline.
This engagement is no small feat – it takes two to tango and you two are doing the cha-cha! Congratulations!
Bye-bye single life — hello blissful matrimony! Congratulations on taking the plunge and committing to a lifetime of love.
Do you know what the secret ingredient to a lasting relationship is? Knowing when it's time for your partner to do the dishes! Congratulations on finding that special someone who'll take care of all your dirty plates. Wishing you both loads of laughter and love throughout this amazing journey called life.
Although humor is a great way to get the happy couple and guests laughing, remember to be tasteful in your message. There's a thin line between being funny and embarrassing. The last thing you want to do is embarrass your loved one by sharing a story they're sensitive about or want to hide from their significant other. 
Engagement Wishes For Friend
Complimentary Wishes
Now's the time to make your friend feel special, so tell them how important they are to you. An example of how to do this is to say something like, "Beth, you're one of the most amazing and important people in the world to me, and I'm so blessed to get to see you so in love." 
It's a good idea to include your friend's partner in the celebratory message, which shows that they're being warmly accepted into the social circle and family. For example, "Matt, you're amazing, and I had a feeling from the moment I met you that you were right for Beth. You both complement each other so well, and I'm so happy that you've decided to share your lives together."  
News of an engagement is a celebration. You want to show the happy couple tying the knot that you're excited. You can do this by focusing on your feelings. Here are some examples of what you could say: 
"I'm so glad that you have found your soul mates. It makes me smile and feel blessed to witness such a beautiful love." 
"I love hearing good news, and this is the best news in the world!" 
"Yes! I punched the air with happiness when I heard the exciting news of your engagement. It's about time, and I'm so happy for both of you." 
Wishes that Focus on the Future
While it's easy to speak about the upcoming wedding, sometimes it's even more meaningful to mention the couple's future. This also helps you create more unique engagement messages. Here are some examples:  
"I am so happy you've decided to get married, and I can't wait to see you become a family." 
"You have both gone through so much together, so I have no doubt that your love will protect you and keep you happy against the storms of life. While we are celebrating your engagement, it brings me joy to think of how you'll celebrate a happy marriage." 
Personalized Wishes for Friends
When giving your engaged friend good wishes, make sure you keep the message personal based on the relationship you have, as The Knot reports. For example, you could say, "I'm so thrilled to hear about the news of your engagement, and I can't wait for us to finally get to enjoy the wedding party we've always dreamed of!" 
Another example is to take a trip down memory lane and include memories you've shared with your friend. For example, "Beth, we've been best friends since we were seven years old, and we've seen each other through many celebrations over the years. I'm so glad I get to enjoy this great celebration with you, which is by far the biggest!"  
Relatable Wishes for Friends
If you're giving a speech at your friend's engagement party, it's wise to make your words relatable to everyone in the room instead of just the couple you're celebrating, as Brides reports. An easy way to do this is to focus on some love lessons and universal truths. You can combine these with a personalized message for your friend. 
Here are some examples to consider: 
"Beth and I were convinced we would end up alone, but we learned an important lesson in our 20s: you can't settle because then you'll sacrifice your happiness and be alone anyway. I'm so glad she held out for the best man who makes her happy!" 
"When John told me he was planning on proposing to Beth, I asked him how he knew she was the one. He told me, 'I know she's the one because I can be myself with her.' That is real love right there and my new dating standard." 
More Engagement Wishes for Friends Examples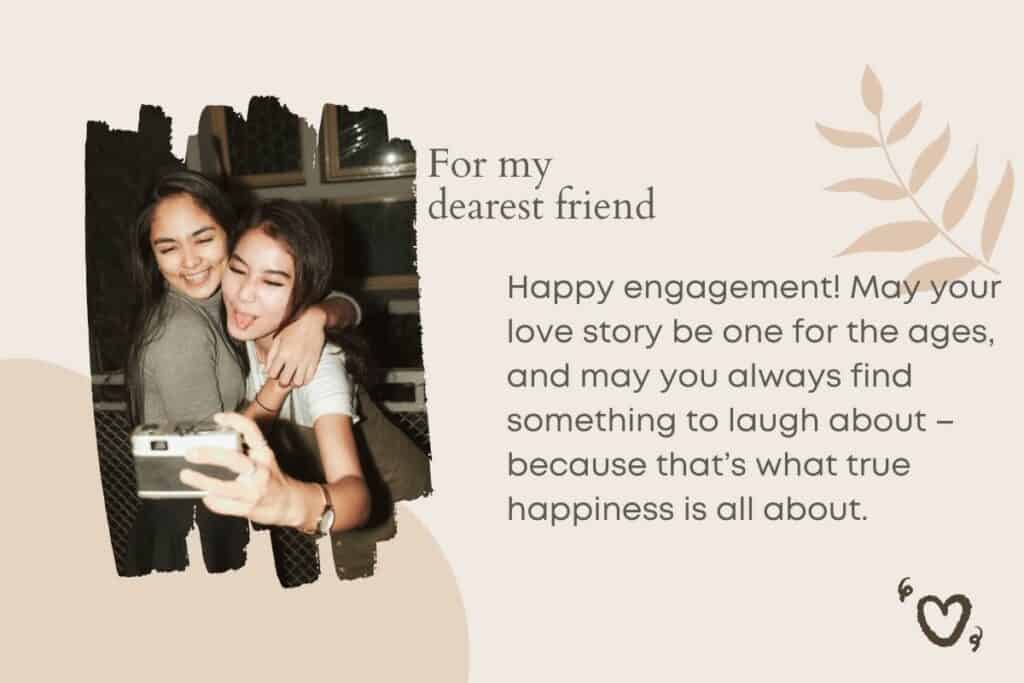 The moment you got engaged was so special; it's like fate finally found you a soulmate! Congrats, my friend – may your love last forever and ever!
You are the only one who could make me laugh and cry in the same day – congratulations on your engagement! Let the happy tears flow.
Don't ever forget the magic of life, my friend. Let it sparkle in your heart and guide you to your brightest days. May love be ever present and joy always overflow, helping you see the beauty of life on each new day that dawns! Wishing you a life full of adventure and sweet moments. Congratulations on your engagement!
Happy engagement! May your love story be one for the ages, and may you always find something to laugh about – because that's what true happiness is all about.
May your life together be filled with happiness and joy,
Full of fun moments and a lifetime's worth of blissful memories to deploy.
Wishing you both a life full of laughter and cheer,
And many days of love, each and every year.
Best wishes to you on this special day,
My wonderful best friend – have a happy engagement!
Congratulations on your engagement! Wishing you two lovebirds all the best on this special day and many more to come! May you share your hearts with each other in an everlasting bond that is built upon unconditional trust and affection.
Happiest of engagements to you and your beau – may you two keep each other's hearts smiling for many years to come!
Life is like a symphony, each day an ever-changing melody. I hope your engagement will be like a beautiful song – full of life, spirit and harmony. May all the best things come to you two on your special day! Congratulations!
Pretend I'm your fairy godmother and let the engagement ring be your magical wish come true! Have a happily ever after!
Engagement Wishes For Son/Daughter
As a parent, it's always a good idea to express the happiness you feel for your son or daughter getting engaged. You can do this by sharing the dreams you had for them. 
Here's an example: 
"We always dreamed that our daughter/son would find someone so special with whom they could share their life. We're so happy it's you, and welcome to the family!" 
This is a heartfelt message that shows love to both your child and their partner.  
Nostalgic Engagement Wishes
You've been there for your child since they were born, and you've held their hand through so many experiences in life. Mentioning this can make your engagement wishes so much more sentimental and meaningful. 
Here are examples: 
"It feels like just yesterday I was changing your diapers and getting you ready for school. It feels like just the other day I was helping you with your math homework and holding your hand through your first heartbreak. Now you've blossomed into an amazing person and found your soul mate. I'm so excited to share this special day with you." 
"I'm so glad my son finally changed his 12-year-old views that girls are 'gross'!" 
Engagement Quotes for Son/Daughter
 If you're stuck when writing your engagement wishes and you're not sure what to express, it can be useful to focus on marriage truths and quotes that everyone can relate to. You can also use an inspiring quote about love to speak about what you've learned. 
For example:  
"'It's not chains that hold a marriage together but threads, hundreds of tiny threads that sew people together through the years.' This quote by Simone Signoret is something I've learned about love, and it reveals an important truth about marriage that I hope you'll remember so that you grow stronger and love each other more as the days pass." 
Your child's engagement is the perfect opportunity to share what you've learned about life and love and impart wisdom to the happy couple! 
Wishes that Focus on Their Love
Everyone wants to know that their parents support their engagement and see how special their relationship is, so keeping this in mind when writing a speech or engagement wishes will make your words memorable.  
For example: 
It's every parent's greatest wish for their child to be happy. I'm so glad that you have found the happiness you deserve. I see how much you love and care for each other, and it warms my heart." 
You can go into greater detail about how you can see that they're perfect for each other, which will prevent cliched or generic wishes that they're likely to get from other people. 
Wishes to Give Advice 
It can be useful to think about what advice will help the happy couple as they embark on the new chapter of their lives together. Although getting engaged is an exciting celebration, some stressful events will follow, such as when planning a wedding. 
So, you could say something like: 
"Enjoy every minute of planning your wedding and life together. I know things can become stressful, but a good way to stay focused is to think about why you're doing this and how beautiful your life together will be."
"Don't let the stress of wedding planning get you down. What's even more important than the day you get married is the exciting marriage that awaits you!"  
More Engagement Wishes for Daughter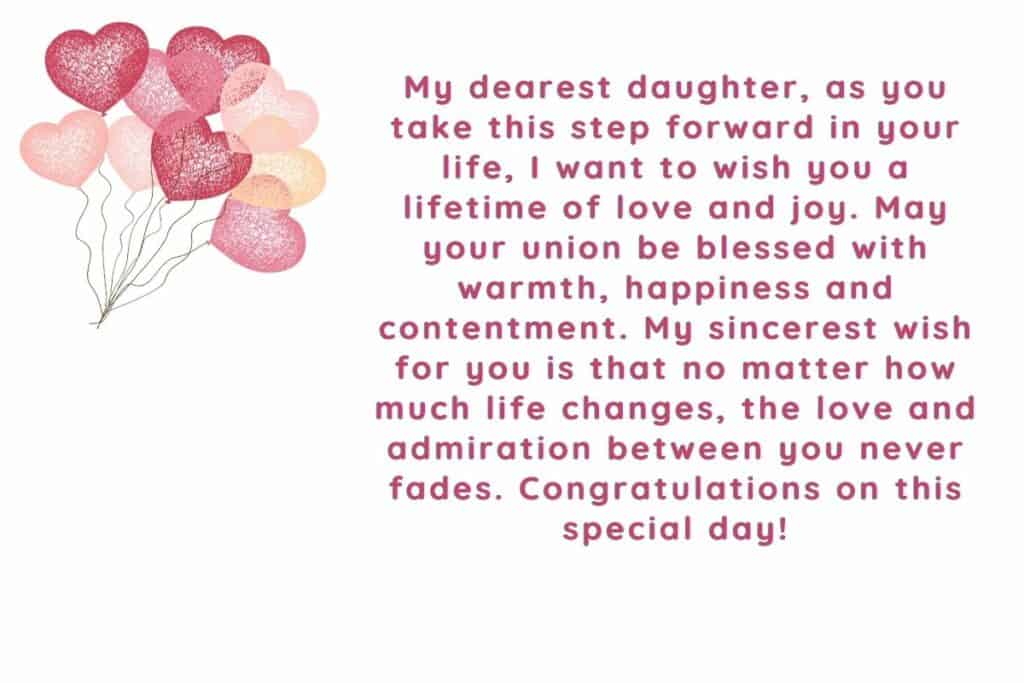 Falling in love is easy, but staying in love is harder than solving the world's most difficult crossword! Congratulations on your engagement.
My dearest daughter, as you take this step forward in your life, I want to wish you a lifetime of love and joy. May your union be blessed with warmth, happiness and contentment. My sincerest wish for you is that no matter how much life changes, the love and admiration between you never fades. Congratulations on this special day!
Wishing you only the sweetest of dreams and fondest of memories on this special day, my daughter. I'm so happy for you and your soon-to-be spouse. May the love between you two continue to blossom and grow, bringing happiness and fulfillment in equal measure! Best wishes on this joyous occasion.
I wish you a lifetime of happiness with your fiancé, my dear daughter — may it be as sweet as the honey in a beehive!
Planting a happy and sweet seed in your heart, I wish for you to have the most enchanting engagement experience. Let this special occasion bring you lovely moments to cherish for a lifetime.
Time to start scouting for rings – the search for your perfect match is over! Congratulations on getting engaged, may your journey together be just as beautiful and sweet.
Buckle up, love! May your engagement be as magical and exciting as a rollercoaster!
My darling daughter, I'm so proud of the amazing woman you have become. As you and your partner embark on this new journey together,  I wish you both infinite love, understanding, and companionship. Congratulations on your engagement – may it bring you infinite happiness!
My dear daughter, you bring so much beauty and light into the world. Congratulations on your engagement! Wishing you and your fiancée a lifetime of happiness in your new journey together. May all of your dreams come true as you both embark on this exciting adventure. Love always.
Reaching this beautiful milestone in your life is so exciting, and I'm overjoyed to be a part of it. As you enter into this stage of love and commitment, may each day bring special joys and moments that will last forever. Wishing you untold happiness as you embark on this new journey together. Congratulations!
Engagement Wishes For Sister
Wishes for Sister that Mention Memories 
You grew up with your sister, so you have a wealth of memories you've shared. It will be sentimental to mention some of the memories you've shared and then link them to the engagement party. 
For example, you could say, "My dear sister, it feels like just the other day we were playing with dolls and pretending the tree house in the garden was our home. Now you can start a real family and build the house of your dreams." 
Another example, which includes your sister's partner, is to say: "To the happy couple, I wish you so much joy and happiness. John, thanks for making my sister so happy. I always wanted a brother, and you have been one to me since I met you years ago in college."    
Relationship Focused Wishes for Sister
If your older sibling is getting married, it can be a nice touch to mention how you've always looked up to them. For example, "I always saw you as my guiding light growing up, and now I feel so happy to see how you're glowing on this special day." 
If you have a younger sibling, a different approach could include sharing how you've watched them grow over the years. For example, you could say something like, "I have loved being your big sister and watching you grow, and you have grown into a beautiful woman with a heart full of gold. It's no surprise that you've found a soul mate who's so wonderful."  
Wishes for Sister that Show Your Support 
Make your engagement wishes meaningful by expressing how much you support your sister in this new adventure. It's even more special if you focus on how you're going to be the couple's biggest cheerleader, not just on their engagement or wedding day but throughout their lives together. 
Here's an example of how to show your support: 
"My sister, you always dreamt of finding your special soul mate, and now that dream has come true. I'm just so glad that I get to see you embark on this exciting journey and stand by your side. I want you both to know that I will always support you and be your biggest fan." 
It's important to show that you're cheering on your sister. Every bride-to-be wants to know that they have all the love and support of those around them who are just as excited about their wedding and marriage.  
If you know your sister's partner, such as if you all grew up together, you might wish to make your engagement wishes more personal by talking about your shared history. For example, you could say something like, "I remember when you guys were little kids, annoying me and getting up to mischief. Now you're all grown up and sharing your lives together, and it makes me so happy to see." 
Another example: 
"My sister is my best friend, and we've gone through many experiences together, of which there were ups and downs, but we always had each other's backs. John has also been there for years, helping and guiding my sister. I feel secure knowing she'll always have someone else looking out for her and loving her. And I'll always be here for both of you."  
More Engagement Wishes for Sister Examples
Sis, you've found the one that makes your heart sing and your toes tingle. Now it's time to make it official. May every smile bring special moments of joy that will last throughout eternity – and may you two kiss with love and laughter each day. Congrats on your engagement!
Congratulations on taking this momentous step in life – it's sure to be an amazing journey. Wishing you two a lifetime of magical memories and everlasting joy! Love ya, sis.
A thousand congrats to you sis! Bless this day with a million laughs and may the joy of engagement never wear off.
Cograts on your engagement, sis! May your happily ever after never be boring. Here's to all the shared Netflix binges, late-night ice cream runs, and memories yet to come! Cheers to the best adventure of your life!
Dang, sis! You got yourself a real keeper. Congrats on finding someone who can put up with all your auntie's endless questions! May the newly engaged bliss last forever and may you always have something to laugh about (especially when you're stuck in long lines at the DMV). Congrats on taking this big step together!
Eeeeek! I can't believe my baby sis is getting engaged! Congrats! May your love always be as sweet as honey and your relationship full of adventure.
Every day I'm thankful to have you as my sister. You light up my life and bring so much joy! Congratulations on getting engaged! Cheers to you and your fiancé.
Falling in love is like climbing a mountain. You take two steps forward and one step back, but with determination you will get to the top! Congrats on finding your summit partner, sis! Wishing you both a lifetime full of adventure and achievement.
Final Thoughts
An engagement is a special and exciting time for both the couple and their loved ones. It marks the beginning of a new journey together and the start of a lifetime of love and happiness.
These sentimental engagement wishes serve as a reminder of the love and support that surrounds the couple as they embark on this new chapter in their lives. Whether you choose a heartfelt quote or a personalized message, any of these wishes will surely make the couple feel loved and appreciated on their special day.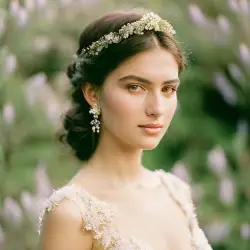 Latest posts by Rosie Liliy
(see all)