Today marks your best friend's special day: their wedding. Whether you've known each other since childhood or only a few years, this is an unforgettable moment in your friendship — and you want to give them the perfect words of congratulations.
Whether you're there in person or sending a message from afar, offering your best wishes will make it feel even more special. For that reason, we put together 60 of the sweetest wedding wishes to help you express your deepest emotions and good wills as they begin their marriage journey.
Warm Marriage Wishes For Friend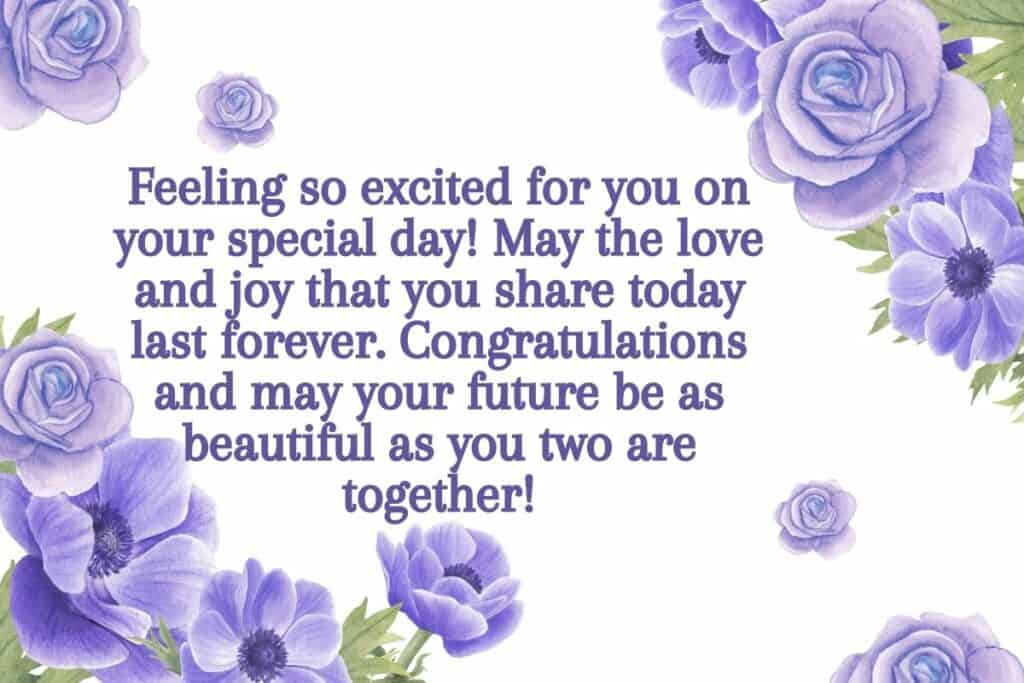 Wishing you a lifetime of love, laughter and happily ever afters!
Congratulations to you and your new spouse! May today be the start of a lifetime of joy and happiness. Wishing you both all the best with this next exciting chapter in life.
Happy wedding! Enjoy every moment to the fullest, and may your bond grow stronger with each passing day! P.S. Dance like nobody's watching tonight – it'll be an adventure!
Congrats on your big day! May you always find comfort in each other's arms and walk through life hand in hand. Wishing you all the best as you start this amazing journey together!
Raising a toast to your special day! Congratulations, my best friend. Here's hoping that the road ahead is paved with joy, laughter and lots of love. May you be blessed with an eternity of happiness together. Cheers!
Congratulations! Wishing you all the happiness in the world today and every day!
Feeling so excited for you on your special day! May the love and joy that you share today last forever. Congratulations and may your future be as beautiful as you two are together!
Blessings upon your special day, my dearest friend! As you embark on this journey together, cherish each moment and always look forward to what lies ahead. Wishing you boundless happiness as you unite with your beloved! Congratulations!
Ermagerd! You're getting married! Congratulations my best friend. I'm so happy for you and your partner and can't wait to celebrate this special day with you both. Sending all the best wishes your way for a lifetime of bliss, love and incredible journeys! Here's to an amazing life ahead as newlyweds! Cheers!
Cheers to the start of something truly special. Let this day be one that neither of you ever forget! All the best to both of you in your new journey together.
Nestled in each other's embrace, cherish every moment shared today and every tomorrow. Wishing you a lifetime of joyous occasions and uproarious laughter as newlyweds!
May your love always remain strong, through all the ups and downs that life may bring. Congratulations and best wishes to the new couple!
Once upon a time, two souls were destined to meet. Today, that dream is made real! Congratulations to my best friend on their wedding day! Here's to two hearts beating as one, beautiful memories, and all life's happiness.
Go on and jump into this married life with both feet! It's been both an honor and a delight to witness your beautiful relationship blossom. You two are truly meant for each other! Wishing you all the best with all my heart. Love ya lots!
Messages of Congratulations To Friend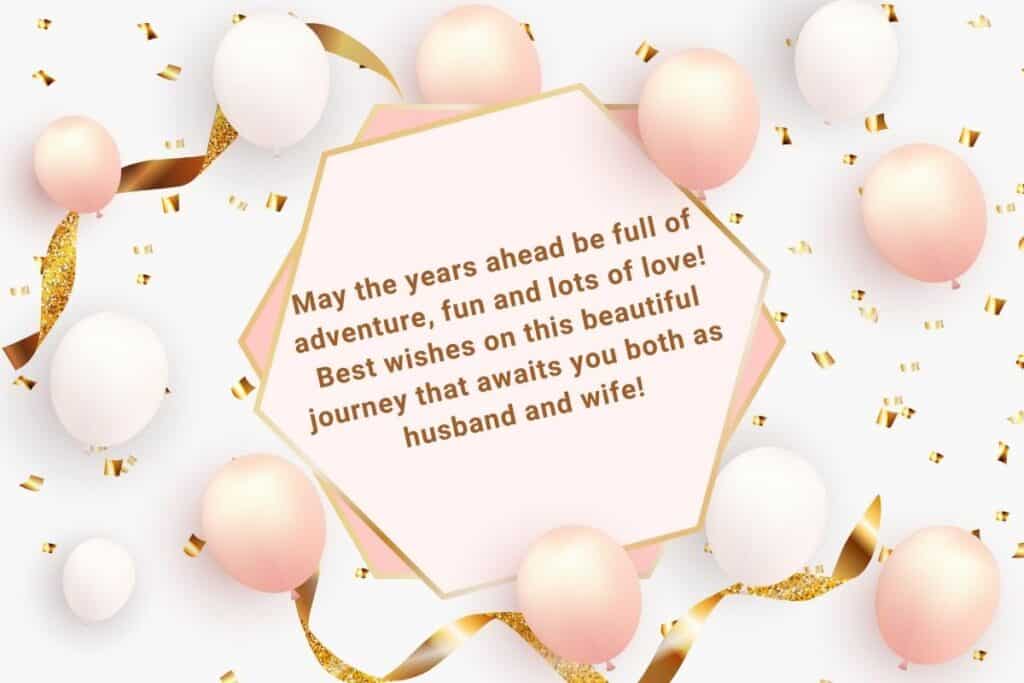 Cheers to your new life together – may it always be filled with an abundance of smiles and joys, and enough macarons for all occasions. May you never go to bed angry, may your love only grow stronger each day and may your life together be full of adventure and fun!
On this very special day, my wish for you both is that your love will always blossom like a rose in springtime. May all the days ahead of you bring lots of laughter, music and wine. Congratulations on this beautiful new chapter in your lives!
Congratulations on your special day! I'm so happy to be here celebrating with you. May this union bring joy, laughter, and lots of love into your lives. Here's to the new adventure that awaits you two — may the road ahead be filled with nothing but sunshine and rainbows! All the best for a lifetime of happiness together!
Congratulations on your wedding! May this be the start of something beautiful and unique. May you never have a dull moment in the years to come together! Let's break all the rules and dance 'til we drop – may you always share happy vibes, enjoy life to its fullest, and never forget to laugh at yourself from time to time. Best wishes for an amazing marriage!
May the spark never fade from your relationship and may you always find ways to keep each other smiling. Congrats!
Wishing you both a lifetime of love and happiness! May your days be filled with shared laughter, joyous adventures and countless memories. Here's to the best wedding ever! Congrats on graduating from single life to double trouble 😉  Cheers!
Blessings and best wishes to you on the most special day of your life! May this occasion be a beautiful start to a lifetime of love and adventure, and that you enjoy every moment of this wonderful journey. Congratulations.
Vows are for life, but this wedding wish is for just one night! Wishing you a day so magical that it rivals the stars in the sky. May your love be a never-ending flame that illuminates your heart and home. Cheers to you both!
Reach for the stars, my friend! I hope your wedding day is so magical that the genie appears and grant you three wishes. Congratulations on finding the one you want to spend forever with. Wishing you a lifetime of happiness and love!
Leaving single life behind and jumping into the world of marriage is a wild ride! As your best friend, I just want to wish you two the very best in this next step. May your lives be filled with love and understanding. And in moments of doubt, may you take refuge in each other's arms! Cheers to a lifetime of happiness together!
Congrats on being brave enough to tie the knot– especially during this crazy year. May every day bring more love than the last. And may your home remain a safe haven for you both to find comfort in!
May the years ahead be full of adventure, fun and lots of love! Best wishes on this beautiful journey that awaits you both as husband and wife. Have an amazing wedding day and may it just be the start of a wonderful life together!
Eleven years ago, you asked me to be your best friend. Now here you are, getting ready to ask someone else to do the same thing! Congratulations on finding the one and taking the plunge into matrimony. Best wishes for a lifetime of smiles, cuddles and corny jokes shared with your partner.
Let's raise our glasses and make a toast to the happy couple! I wish you both years of adventure that will be just as wild as your love for each other. May every sunset bring with it new memories to cherish and moments of joy that never fade away. Let's be honest, no one can ever come between you two – not even a pandemic! Congratulations and best wishes! Cheers!
Ratings are out of 5 stars and I give your wedding 5 sparkles! Let's raise a glass to your happily ever after and that this marriage is just the beginning of an even better friendship. Here's to entertaining us all with funny stories, impromptu adventures, and late-night conversations! Cheers!
You two were made for each other, like two peas in a pod! You've had your ups and downs together but that's all part of the adventure. Congratulations on tying the knot. Here's to an eternal bond of laughter, joy and affection! May your marriage be full of peace, contentment and passion. May you always remember to put ketchup on both sides of the French fries. Cheers!
Funny Wedding Wishes For Friend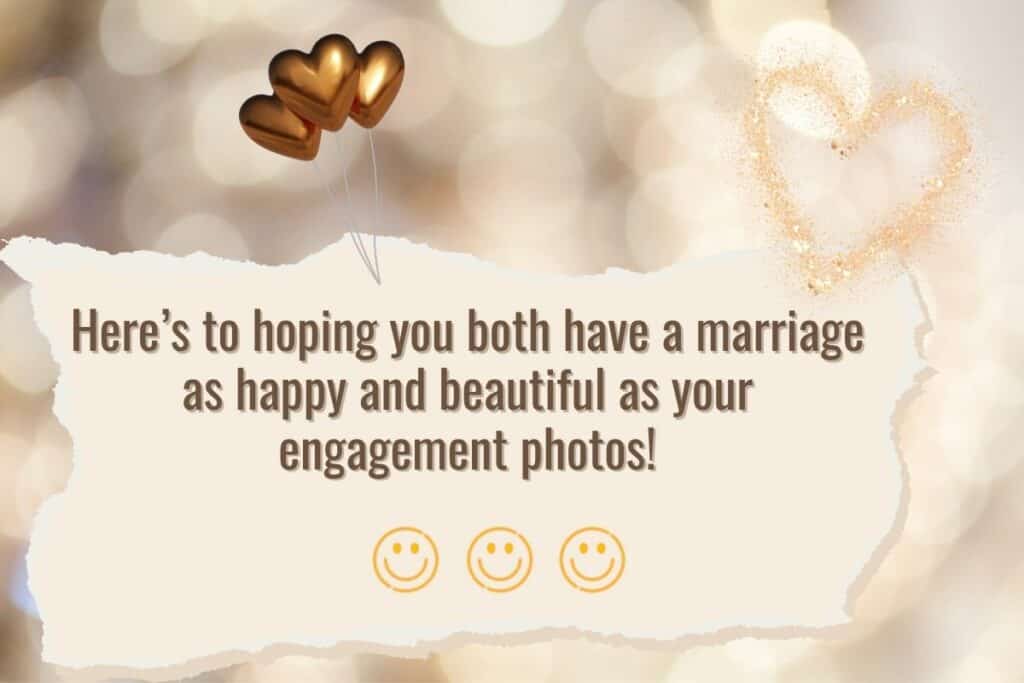 Congratulations on tying the knot – here's to a lifetime of happiness and never having to look up wedding hashtags again!
May your marriage be as sweet as the cake you'll eat on your wedding day!
May your married life be filled with sweetness, delight, and all the pickles you can handle!
May your married life be as sweet and smooth as a glass of champagne with no hangover the next morning!
Congratulations on tying the knot! Here's to a lifetime of saying 'I do' to each other and 'I don't' to everyone else.
Here's to hoping you both have a marriage as happy and beautiful as your engagement photos!
May your marriage be like a roll of toilet paper: long, useful, and (hopefully) never runs out!
Wishing the both of you a lifetime of love and bliss. May all your dreams come true!
May you and your partner always argue who loves each other more!
Congratulations on tying the knot! Now you two are legally bound to share a bathroom. Enjoy your happily ever after!
Congratulations on finding the one you love – now enjoy your lifetime of asking each other "where did I put my keys?"!
Cheers to an unbreakable bond filled with unconditional love and joyous memories.
Elevate the status of "best friends" to something even greater – soulmates! Congratulations on your union and may you live happily ever after.
Falling in love is easy, but staying in love takes true commitment – congratulations on finally making it official! I am so happy for both of you.
Glad you two found each other, now may your marriage be as sweet as a double scoop of ice cream!
Nailing the 'til-death-do-us-part part of your wedding vows should be just a walk in the park! Congratulations to you both.
Bless this union with lots of laughter and a minimum of arguments – may you both forever be the best of friends!
Caution: Your marriage may cause extreme levels of happiness. Wear protective gear! Wish you two a happy ever after!
Catapult your love to the moon and back, and never forget that you two are meant to be!
Mr and Mrs, may your love keep you together forever – like the glue that's holding this gift together! Best wishes for a long and happy marriage.
Marrying your love is like winning a lottery – the jackpot of happiness! Congrats, buddy!
Kiss conventional marriage goodbye and make this union one that's truly unique – Congratulations!
Poetic Wishes For Your Friend's Wedding Speech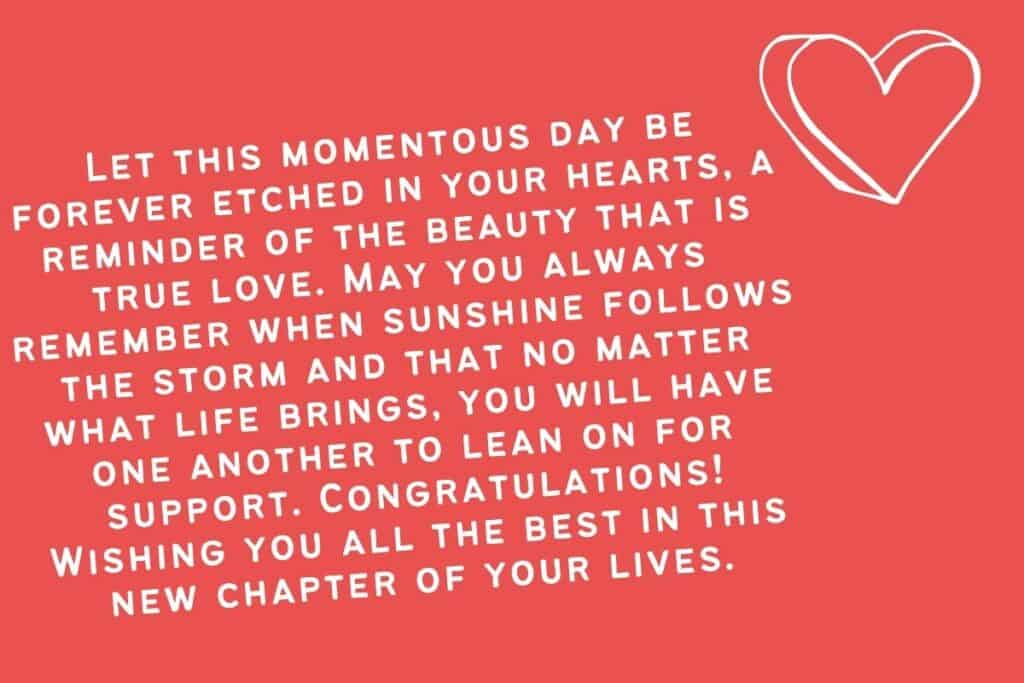 My dearest friend, as you embark on your life-changing journey together, may your love be a beacon of joy and serenity for years to come. May your friendship grow ever stronger, your devotion remain unyielding and the smiles that fill your home never cease to lighten the darkness. Congratulations! Wishing you a lifetime of happiness.
May your love evolve with each season, changing and maturing like a fine wine, ever strengthening its bond between the two of you. May the gentle waves of gracefulness surround you both in tender moments and help guide your steps through life's difficult paths.
Let this momentous day be forever etched in your hearts, a reminder of the beauty that is true love. May you always remember when sunshine follows the storm and that no matter what life brings, you will have one another to lean on for support. Congratulations! Wishing you all the best in this new chapter of your lives.
Vows of joy, love and adoration, let your hearts be filled with a deep devotion. On this glorious day you both will wed, as your lives intertwine may beauty fill your head. Let every kiss bring forth new life, and all the days to come brim with delight. Wishing you both true love everlasting, always together never again apart. With this, my blessing I do impart. May all your dreams come true and never fade away, congratulations on your special day!
Glad tidings to you and your beloved! May the love that binds you together only grow more steadfast with each passing day. May your union take you on an ever-unfolding journey of joy, adventure, and true companionship as you explore life together. Wishing you all the best in this beautiful new chapter of your lives!
Kisses of joy to the happy couple! May tenderness and love always fill your home, may you never tire of each other's embrace. May life's sweetest moments be doubled by two, and all its sorrows soothed away. Congratulations!
A warm embrace,
A never ending love of grace.
May your life together be blessed,
By the joys of true happiness.
Let your wedding bring forth a new day,
Where your hearts can forever stay.
Wishing you both much love and peace,
As you journey on this path to bliss.
Blessed be your love, as deep and vast as the oceans. May you explore its depths together and find joy in each journey. May each sunrise bring forth new hope, each sunset remind you of the promise of the day before. May the warm embrace of your love keep you safe and comforted. Congratulations on this most special of occasions!
Final Thoughts
Congratulations to your best friend on their special day! As the big day approaches for your dearest best friend, it's important to find the right words to celebrate their love and commitment.
Whether you opt for a sweet and sentimental message, a hilarious inside joke, or simply a heartfelt "congrats," it's the thought that matters most.
As you raise a glass and bask in the joy of their union, take a moment to let your BFF know just how much they mean to you.
After all, their wedding is a celebration of their bond, and your presence and well-wishes mean the world.
So cheers to the newlyweds, and here's to many more years of friendship and love.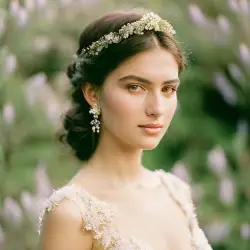 Latest posts by Rosie Liliy
(see all)