You've watched your niece grow over the years, and now she's found love, embarking on a new journey. You're filled with emotions, surely, and may be struggling to find the right words as you wish her well. 
Sweet wedding wishes for your niece include those that wish her the best and let her know how happy you are for her. The most important thing is to speak honestly and from the heart. Focus on uplifting her, wishing her the best in her married life, and telling her how much you love her.
This article will guide you if you want to congratulate your niece on a beautiful union. It will give you 13 different well wishes to convey the love and happiness you have for your niece. Read on to find the message that best speaks to you.
Loving Wedding Wishes for Niece
You are my sweetest niece, and it has been both a blessing and an honor to watch you grow into the beautiful woman you have become. I wish you two all the happiness this world has to offer. 
If you have the time – and space – for a longer message, this one will serve you well. It showcases how much you have appreciated watching your niece grow over the years while still offering a congratulation at the end of the message. This message is best if you only have one niece, or you may need to tweak the wording a bit. 
My dear niece, I hope the love and happiness of this day stay with you always. 
You may envision watching your niece walk down the aisle and exchange vows with the love of her life. She is understandably glowing and filled with happiness. Your only wish for her is to feel this level of joy and love over and over. This sweet and simple wedding wish encapsulates all of that. 
To my niece, I wish that you two write the most beautiful love story together. 
This message may be better suited if you or your niece have a whimsical view of love and marriage. While it is both short and sweet, it does not fall short of letting your niece know how happy you are for her and the direction her life is taking her.
Such a treasure it is to fall in love, and I wish you two the happiest life together. 
Love is a gift; some may see it as a treasure. Use this message for your beloved niece to show her how happy you are for her new life. 
She will enjoy such a heartfelt note from a family member who loves her very much.
Oh, how time flies. A big congratulations on your wedding day!
Sometimes, you just need a short message. These two simple sentences pack a big congratulations as you reminisce about your niece growing right before your eyes. Let her know how happy you are to have been a part of her life all this time.
My dearest niece, may you fill each other's lives with endless love and happiness. 
Again, this message may be best if you only have one niece; otherwise, you may have some explaining to do. 
Nonetheless, two things you may wish for such a beautiful person in your life are love and happiness as she embarks on a new chapter in her story.
Always have faith in the Almighty, and may your marriage be filled with happiness and love.
If you, your niece, or perhaps her spouse are religious, then she may greatly appreciate this message from you. Those who are religious tend to center their marriage around their religions. This message calls her to draw on her faith in a higher power to provide strength in her new marriage. 
My niece, I have watched you grow, and it is with a joyous heart that I now watch you get married.
Perhaps you have had a front-row seat to your niece's blossoming into a woman. You saw her through babyhood, childhood, teenage years, and early adulthood. Now, you are witness to her as she sets off into a new, incredible journey in her life- marriage. You want her to know how much you have appreciated watching her grow. 
To my dear niece, may today only be the start of a long, happy marriage filled with love and laughter. 
This particular message begins with a sweet greeting for such a lovely person. The wedding day is the first day, but marriage is a lot more work. This message acknowledges that fact and extends a wish for longevity, happiness, love, and laughter. 
Here's to a life of love, laughter, and a bond that only grows stronger. My niece, I love you. 
Marriage is intertwining your life with another person's life. This message ensures that this union of two separate lives brings fulfillment through love and laughter. You also hope they only continue to connect on a deeper level over time. Finally, this message ends with love and a sweet affirmation of your own affection for your niece. 
A special congratulations to my beautiful niece as you begin a life filled with love, laughter, and pure happiness.
Your niece is beautiful both inside and out. You want her to know that this beautiful version of her is how you will always see her. Use this message to wish her all the best as she exchanges vows on her big, special day. 
Congratulations, my dear niece. Wishing you a lifetime of joy. 
Again, you may be looking for a nice, short message. Your niece means a lot to you, and you both know it. This message both congratulates her and her spouse and wishes them a lifetime of nothing but pure happiness. And it doesn't use a lot of words to do it, so it's perfect for those who don't love speaking in public.
To my niece, congratulations. You deserve all the love in the world, and I am so happy you have found just that. Here's to a beautiful beginning.
Your niece is so special to you and many others. She deserves so much love, and you know that. You are sure that she will be well-loved. Her wedding day is only the start of a long and happy life full of good things to come.
Light-hearted Wedding Wishes for Niece
Congrats my beautiful niece and bride-to-be! May your wedding day be as stunning and radiant as you are. Wishing you all the love and happiness in the world.
Congratulations on finding your Prince Charming! May your love story be a fairy tale that never ends. Don't forget to invite me to the castle-warming party!
To my favorite niece: As you say "I do," I do too – I promise to always be here for you through thick and thin. And to make sure that the groom behaves himself!
A wedding day is just one day, but your marriage is forever. May your union be filled with laughter, adventure, and lots of pizza (I know it's your favorite).
Happy wedding day, my dear niece! May your love be as strong as your coffee addiction and as sweet as your baking skills. Can't wait to try the wedding cake!
Here's to a lifetime of love, laughter, and inside jokes that nobody else understands. Congratulations on your big day, and remember – he's stuck with you now!
May your marriage be as fun and silly as your childhood memories together. And may you continue to make new ones for many years to come. Cheers to the happy couple!
As you start this new chapter of your life, I hope it's filled with endless happiness, overflowing love, and lots of furry friends (I know how much you love dogs).
Wishing you a wedding day that's as magical as your imagination and a marriage that's even more enchanting. May you always be each other's best friend and greatest adventure.
Congratulations, my sweet niece! May your wedding day be just the beginning of a lifetime of love, laughter, and happily ever afters. And remember – you're always welcome at my place for Sunday brunch.
Hey there, gorgeous! I can't believe you're getting hitched. It feels like only yesterday we were playing dress-up in your mom's closet. Congratulations on finding your forever partner!
You're about to embark on an adventure of a lifetime, my dear. Just remember to pack lots of patience, humor, and snacks for the ride. Wishing you and your new spouse all the happiness in the world!
May your wedding day be filled with love, laughter, and lots of cake. And may your marriage be filled with even more love, laughter, and cake (but don't forget the vegetables).
As you take this next step in your journey, I have to say, your fiancé is one lucky person. Not only are you stunningly beautiful, but you're also kind, funny, and smart as a whip. Congrats to the both of you!
My dear niece, I'm so excited to see you tie the knot. Just remember, if you ever need someone to help hide a body, I'm your girl (but hopefully it never comes to that).
Here's to finding your lobster, sweetie! May your love be as strong as Ross and Rachel's, but without the "we were on a break" drama.
As you join forces with your partner-in-crime, may your love be like a fine wine – only getting better with age. Congrats on the wedding!
To my beautiful niece on her special day – I wish you a lifetime of laughter, love, and happy tears. And if there are ever any sad tears, just remember, there's always chocolate (and me).
Your wedding day is just the beginning of a beautiful journey. I can't wait to see all the amazing things you and your new spouse will accomplish together. Congratulations, my dear!
As you say "I do" to your forever partner, remember that you also say "I do" to all the wonderful moments, challenges, and adventures life has in store for you both. May your love always shine as bright as the sun on a summer day.
Final Thoughts
Congratulations on your niece's special day! There is no better feeling than watching our loved ones find their happily ever after. All of us at some point dream of walking down the aisle with someone we love and cherish, and it's amazing to witness live this occasion with your niece as part of its magic.
Sending your niece sweet wedding wishes filled with blessing and good luck helps her understand how much you care about her. Hopefully these positive messages guide her on the journey ahead as she embarks on a brand new chapter in life – one of great joy, blissful happiness, laughter, and unconditional love. Here's to a lifetime of prosperity and contentment for the newlyweds!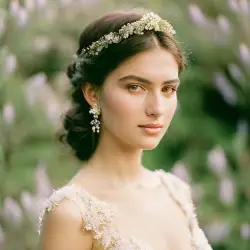 Latest posts by Rosie Liliy
(see all)