A bachelorette party cannot be missed. It's an important and unforgettable tradition, where you can have one last hurrah as a single woman with all of your friends before getting married. 
Your bachelorette party should be unmissable, and a great way to get all of your girlfriends together for a weekend of fun, or maybe even a trip away. As a bachelorette party is such a rite of passage, why not commemorate the event with a social media hashtag? You may be asking yourself- why do I need a hashtag for my party?
Why You Need A Bachelorette Party Hashtag
Well- using a hashtag for sharing photos, tweets or posts can make it easier to find the pictures and posts on Facebook, Twitter, Instagram or even YouTube. 
When you create a post and use a specific hashtag, you can use search functions with that hashtag, and you will easily find all of the posts on your feed. This is perfect for reminiscing about the night…unless you would rather forget it! 
Not only will it make it easier to beat the algorithm to find your posts again, but using a Bachelorette Party Hashtag can also generate more likes, shares, comments and general engagement with your images and posts. 
Finally, if you let everyone know which hashtag to use, you will have lots more photos of the event, as everyone will be posting memories which you could have missed during the chaos of the night! Having a hashtag keeps all of the pictures in one place.
How To Make Your Own Personalized Bachelorette Party Hashtag
If you want your bachelorette party to stand out from the crowd and the masses of photographs from a range of bachelorette parties, then you should make a custom, personalized bachelorette party hashtag. 
While our list can make choosing a bachelorette party hashtag so much easier, you may be looking for a way to make your own to make the day/night extra special. Luckily, we've got a few tips for you to follow.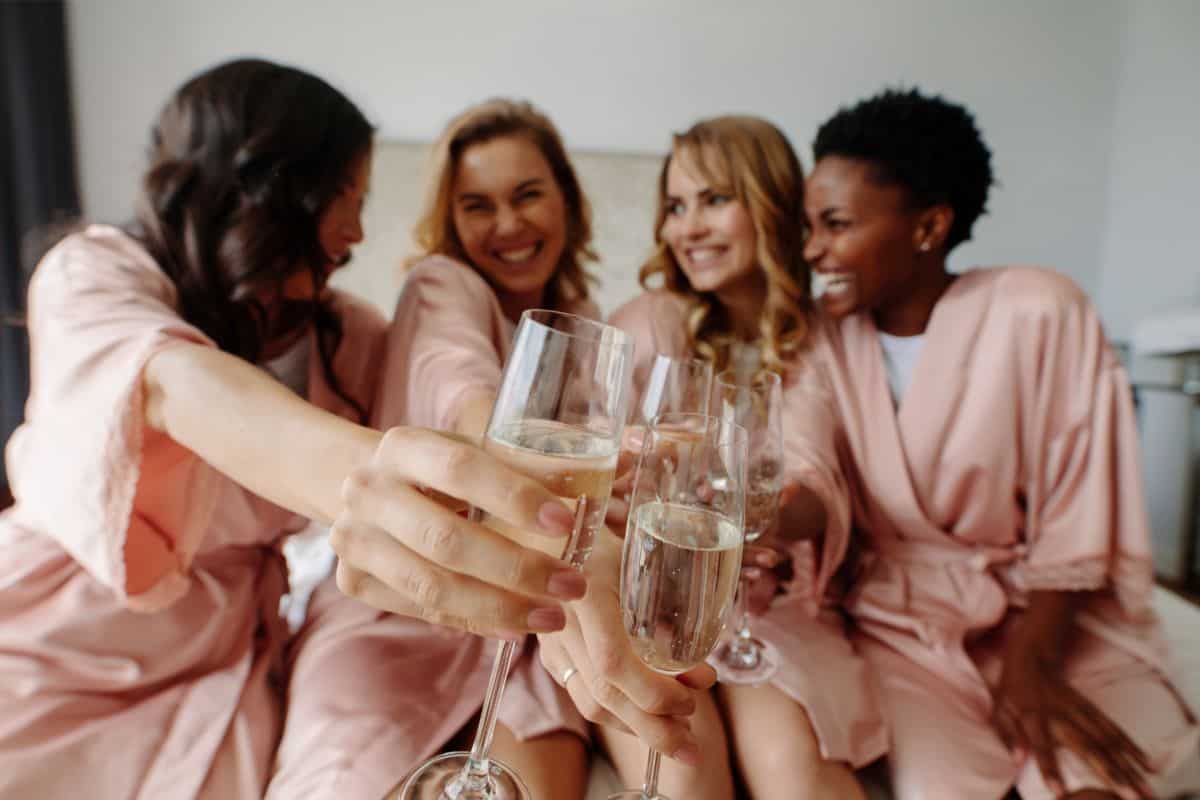 Narrow Down The List
Our list of bachelorette party hashtags is pretty extensive, so it can be hard to narrow it down, but you can also mix them up and change them to suit your needs! So, the first step is to narrow down your favorites to find the best ones that suit you and your bachelorette party. 
Make It Different
You will also want to ensure the bachelorette hashtag is different from others if you want to find the pictures and posts easily in the future. To do this, you may want to include your name, your nickname, the groom's name, or the date of your engagement, wedding or bachelorette party.
For example, you could use
#EmilysBacheloretteParty
#BritneysBrideTribe
#SheSaysYes070122 (month/date/year) 
#KatiesGettingHitched101222
Adding the date can make it extremely personalized, and ensure no one else uses the same hashtag as your bachelorette party, for this once in a lifetime celebration! In addition to this, the longer the hashtag is, the less likely it is that someone else will have used it before. 
For example, if you are looking for something on Instagram, you tend to search for short, abbreviated, and to the point hashtags as this will make it more likely that you will find what you are looking for. The more precise the hashtag, the less results that come up because it is not a trending hashtag that many people are using or searching for. 
Therefore, if you go for something long and detailed such as #BritneysLastRodeoBeforeIDo then it is unlikely that many have used those specific words in sequential order for a hashtag before, and only your bachelorette party images and posts will come up when searching. As a result, you have your own dedicated hashtag on Instagram that no one else has used before! 
Make It Easy To Read And Use
Try to avoid hard to spell words or phrases, as people could spell your hashtag wrong and it wont's show up when you search for it spelled correctly. You will also need to capitalize the first letter of the words so that you can see clearly what the hashtag is. 
Tell Your Party
Then, you'll need to tell your bachelorette party and bride tribe (see also: 118 Of The Sassiest Bachelorette Party Quotes For The Bride And Her Tribe)what the hashtag is. Make sure they know exactly before you get started on your celebrations, and everyone can use it with ease then. 
The final step is to keep sharing the hashtag. Whether it's on Twitter posts, Facebook posts, or Instagram, ensure the hashtag is used so that you can keep track of all of the events that took place! The more the hashtag is shared, the more people it will reach, for more likes, comments and the easier it will be to find the images after the bachelorette party is over, so that you can relive the fun all over again!  
Your first options for a Bachelorette Party Hashtag is to use the bride to be's name or the groom's name in a fun way. This way, there's no losing the pictures online, as you can pull them up easily with a personalized hashtag
#(Insert Bride's name) 's Bachelorette
#LastDayAsA (insert bride's maiden name)
#Match Made In (insert place the couple met)
#Team (insert bride's name)
#LastCallFor (insert bride's name) 
#RaiseAGlassFor (insert bride's name) 
#(insert bride's name) MetHerMatch
# (insert bride's name) 'sBridalSquad
#(insert bride's name) 'sParty
#HeresTo (insert bride's name)
#(insert bride's name) IsGettingHitched
#(insert bride's name) IsGettingMarried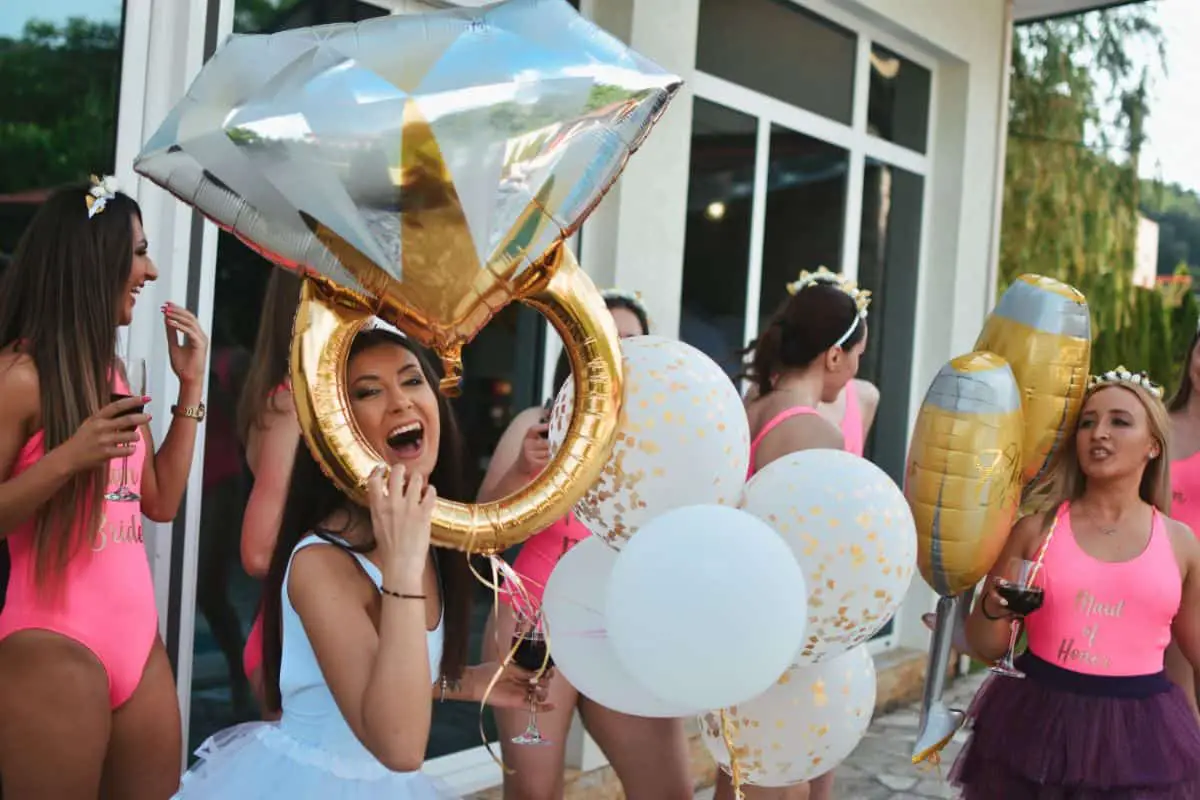 If you don't want a personalized name, and you would prefer fun bachelorette themed hashtags, then this list is for you. 
#BrideTribe
#BrideSquad
#MissToMrs
#MissTheGirl
#LastFlingBeforeTheRing
#HelloMrRight
#IDoCrew
#TeamBride
#EngagedAF
#QueenToBe
#BossBride
#SameGroomForever
#PartayAllDay
#BoozyBride
#FutureMrs (insert groom's name)
#PoppingBottlesCauseHePoppedTheQuestion
#She'sGettingMarried
#TheLastRodeo
#BridesLastRide
#She'sGettingHitched
#(Bride's name) Happily Ever After
#PartyLikeAPatriot
#WifeyToBe
#BridezillaBachelorette
#FeyonceKnowles
#FutureWifeOf (insert Groom's name) 
#TheBachelorette
#BridalPartyBachelorette
#BridalSquad
#BridalBrewCrew
#BacheloretteSquadGoals
#SheSaidYes
#TimeToParty
#YouCantSipWithUs
#SheWontRememberTonight
#PopTheChampagneShesChangingHerName
#GirlsTrip
#NoMenAllowed
#Bached
#BFFSForever
#ForeverBesties
#BridalBesties
#MeAndMyMaids
#SistersByChoice
#SistersForLife
#AlwaysBetterWhenWereTogether
#GirlSquad
#BacheloretteGirlsSquad
#SheFoundAKeeper
#ShesGetttingMarriedInTheMorning
#BuyUsAShot
#NotOverUntilSheSaysIDo
#ImTheBride
#BootsWereMadeForWalkingDownTheAisle
#BridesRideOrDies
#BacheloretteWeekend
#WeddingBridalPartyInProgress
#GotARingOnIt
#GotANiceRingToIt
#InBacheloretteMode
#ItsBrideTime
#HereComes (insert bride's name)
#Bride&Co
#TheBridalBunch
#HerSideOfTheFamily
#BridesmaidsInCrime
#FriendsOfHonor
#BridalPosse
#(insert brides name) 's BacheloretteEntourage 
#BacheloretteDreamTeam
#LetsHearItForTheBride
#PartnersInWine
#SheGotTheHubbyWeGotTheBubbly
#DrunkInLove
#BridalPartySinceBirth
#BacheloretteVIPs
#KeepCalmAndPartyOn
#WalkingOnTheBridesSide
#CowgirlBachelorette
#FinalSiesta
#AlohaBeaches
#SunSandAndARingOnHerHand
#CheersBeaches
#(insert Bride's name) LastSplash
#BibbidiBobbidiBacheloretteParty
#LastSailBeforeTheVeil
#WhatHappensInVegas
#LastBashInNashville
#(insert bride's name) 's Nashelorette
#LastHoedownBeforeHerGown 
#TheLastOle
#NachoAverageBrideTribe
#TacoBoutAWedding
#MargaritasWithTheSenoritas
#AllAboard(insert Bride's name)sBacheloretteParty
Summary 
To summarize, a bachelorette party is a rite of passage for every bride and her bridesmaids. It will be a night to remember, especially if you have a bachelorette party hashtag dedicated to the event, so that you will get way more pictures from everyone, and your own personalized hashtag to search for on Instagram, Facebook, or Twitter. 
That way, in the run up to the big special wedding day, you can look back on all of the pictures, remember the fun times, and see wonderful memories of all of your bestest friends and bridesmaids having the time of their lives. It will be a last hurrah to remember. 

Latest posts by Jodie Messines
(see all)