Are you a bridesmaid or MOH (that's Maid of Honor, for the uninitiated) looking to throw an absolutely unforgettable beach bachelorette party for your ride-or-die bride? Well, my gorgeous gal pals, grab your sunnies and SPF because I am going to share with you 10 sizzling ideas that'll make this celebration hotter than the sand beneath your toes!
As a lover of all things beachy and having been both a bridesmaid and bride myself, I know how important it is to create everlasting memories while basking in that sun-kissed glow.
So get ready to dive headfirst into these jaw-droppingly fabulous ideas that will ensure your bride tribe makes some serious waves from dawn 'til dusk (and beyond!).
Let's go surfing on this wave of awesomeness together!
See also: 20 Unforgettable Beach Bachelorette Party Destinations
Why Choose a Beach Bachelorette Party?
Calling all bridesmaids, MOHs, and beach-loving babes! Planning an unforgettable bachelorette party for your bestie is no easy feat. But if there's one theme that screams fun, relaxation, and "let's get our tan on!", it's definitely the beach!
As someone who has witnessed (and participated in) countless wedding celebrations, let me assure you – a beach bachelorette extravaganza offers so much more than just sandcastles and seashells. You'll create lifelong memories with laughter echoing through salty air and balmy summer nights spent bonding with the girls.
Trust me: a sun-kissed celebration sets the scene for some serious bride tribe bonding before your favorite gal takes the plunge into married life.
Sail Away on a Private Yacht or Catamaran Adventure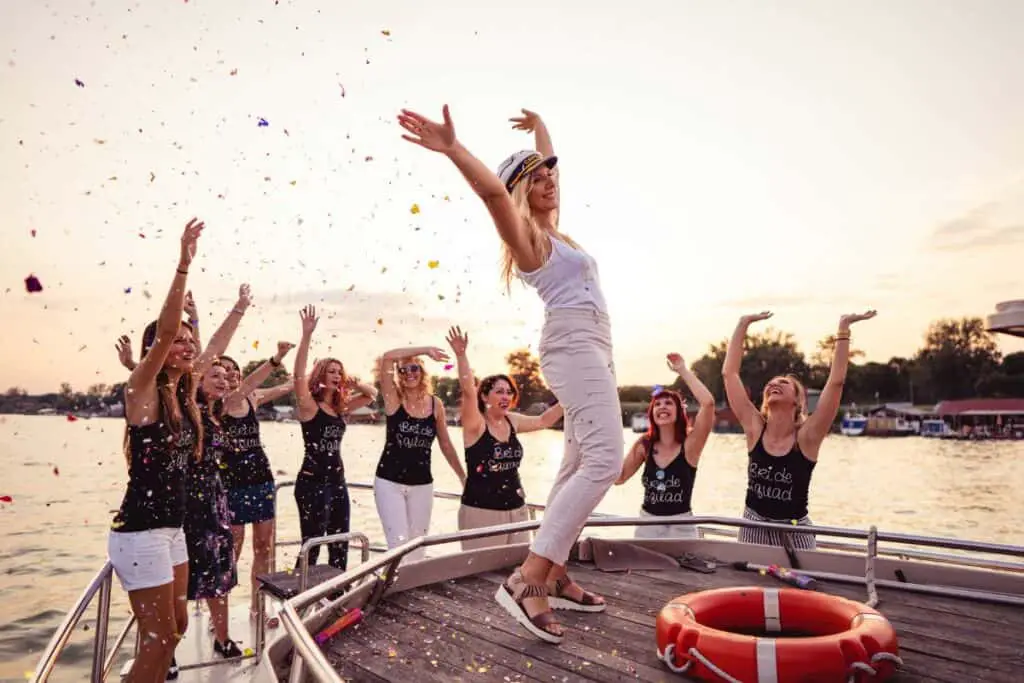 Prepare to embark on an epic oceanic adventure – because nothing says "bachelorette luxury" quite like a private yacht or catamaran cruise! Sail into serenity with your bride tribe by booking an exclusive voyage specially designed to celebrate your best girl.
Fill our yacht with colorful balloons, personalized banners, and delicious cocktails – plus all the Insta-worthy moments that come along when you're living the maritime high life.
Picture yourself lounging on deck while passing picturesque islands or diving off board for impromptu swim sessions in crystal-clear waters. And don't forget about those unforgettable group selfies posing under that vibrant sun umbrella!
Oh! And throw in a refreshing mimosa-laden breakfast or decadent sunset dinner prepared by your personal onboard chef – pure bliss!
Pro tip: If yachting isn't within budget, don't fret! Find a local boat rental company and assemble the squad for a day filled with sun-soaked exploration on whatever sea vessel floats your boat.
Host a Beachside Glamping Experience for Your Bride Tribe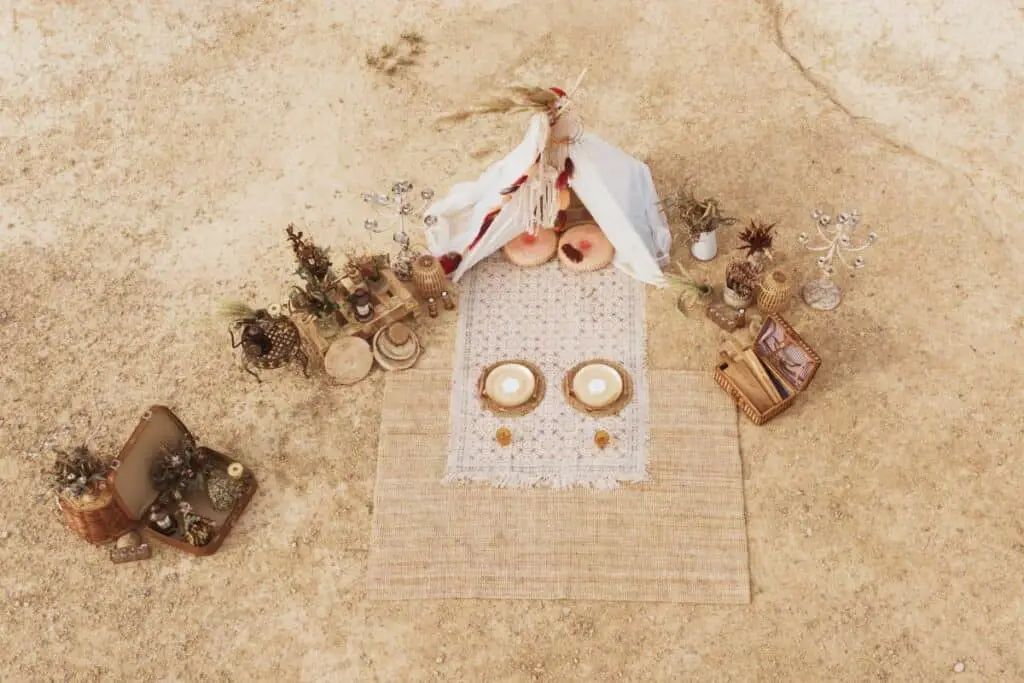 Whoever said "the more, the merrier" must've been a camping enthusiast – especially when it comes to glamping! Trade heels for flip-flops and opt for an upscale campout by the water as your unforgettable bachelorette getaway.
Picture posh tents adorned with fairy lights and plush blankets on the beach under a starry sky. Or think about renting a high-end RV or beach cabana to give you that coastal sanctuary vibe away from buzzing city life.
And let's not forget: luxurious late-night convos by the fire pit or roasting marshmallows for s'mores with your gal pals. There's that raw intimacy only nature can offer, creating long-lasting memories while sharing stories in between laughter and secrets.
So why not take your outdoorsy bride-to-be on a beach glamping trip that marries luxury with adventure?
Dive into Fun with a Surfing or Paddleboarding Lesson
Feeling adventurous? What better bonding experience than learning how to catch some waves together? Sign up for group surfing or paddleboarding lessons at the nearest surf school before hitting those enticing swells!
As someone who once learned how to surf (and still tries!), let me tell you: there's nothing more exhilarating than connecting with Mother Nature while getting cheered on by your besties.
Not only will your bride tribe learn new skills, but who could resist comparing wipeouts over cocktails afterward?
Surfing not her speed? Try stand-up paddleboarding (SUP) to mix physical challenge, balance, and BFF conversations on calm waters while soaking up that vitamin sea! Plus, it's an absolute killer workout–hello sun-kissed mermaid abs!
Relax and Rejuvenate with a Seaside Spa Day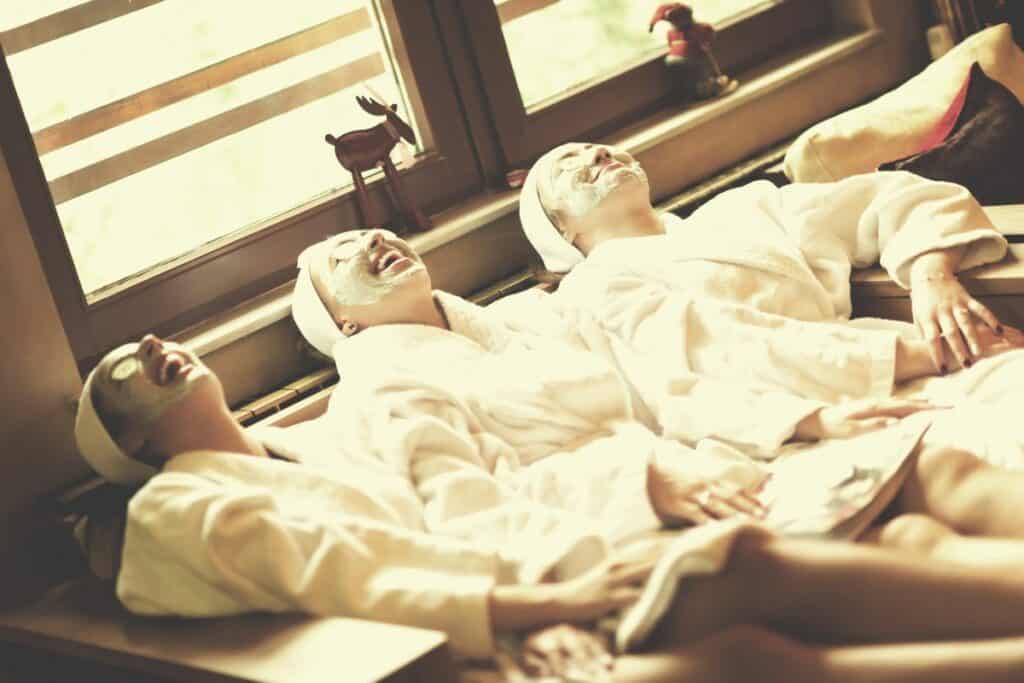 Okay, bridesmaids–let's powwow about something important: pampering our soon-to-be-married buddy before the wedding whirlwind commences.
Listen, we all know how crucial relaxation is before the big day – so hit rewind with a gorgeous seaside spa experience designed for maximum rejuvenation.
Book a group of cabanas or lounge chairs on the beach, where professional masseuses cater to your pampering needs – ah, pure serenity. With sounds of ocean waves gently caressing the shore and fresh sea breeze, you're creating a relaxation oasis that might as well be an advertisement in top wellness magazines!
And don't forget those cucumber-infused ice water pitchers, refreshing fruit platters, and luxurious face masks. Your bride-to-be will feel like a true beach blue-blood royalty embracing self-care while surrounded by her closest confidants.
Remember: sometimes it's more than just the saltwater that heals–it's laughter and heart-to-heart talks with our crew under the sun!
Plan an Exotic Luau-Themed Bachelorette Bash
Aloha, bridesmaids! Let's talk luau-themed bachelorette bashes for a moment, shall we? If your beach-loving bride is all about vibrant colors, exotic vibes, and fire dancers – this one's for her!
Transform your beach party into a tropical oasis with tiki torches lining the sand, hibiscus flowers intertwined with string lights, and grass skirts swaying to the sound of ukuleles. Oh – and let's not forget the quintessential palm tree centerpiece!
Create signature cocktails like mai tais or piña coladas – served in coconut shells, obviously. Organize a limbo contest because what's a luau without some flexible fun?
And as the sun sets on your Polynesian playground of paradise, gather everyone for an oceanside dinner feast featuring fresh seafood and irresistible Hawaiian delicacies. Build new memories while you dig into that deliciously sticky Kalua pork.
Get Crafty with Beach-Inspired DIY Activities and Workshops
Ready to get those creative juices flowing? Captivate your bride tribe with unique DIY workshops that double as bonding experiences AND personalized keepsakes to cherish forever.
How about having each gal pal create their custom mermaid crown using wire, pearls, seashells – basically anything oceanic they can get their hands on? Or perhaps design beach wine glasses adorned with colored sand and tiny nautical trinkets?
Feeling extra crafty? Sign up for a group workshop where everyone can paint their own sunset masterpiece on canvas or participate in pottery classes under palm trees.
These artistic endeavors are about more than just creating decór – it's capturing laughs shared over brushes dipped in paint or manifesting love through textured clay.
Just imagine gifting your bride-to-be at the end of this sandy soiree; it'll be priceless!
Embark on a Scavenger Hunt Along the Shoreline
Seeking adventure? Get your explorer hats on because it's time for a beach-themed scavenger hunt to uncover hidden treasures while strengthening friendships – trust me, I've seen many hunts unfold into laughter-filled walks alongshore.
Compile a list of unique beach finds – be it unusual shells, buried trinkets, or even mysterious messages in bottles. Take it up a notch by throwing in some cheeky bachelorette-themed items and personalized challenges designed to leave everyone in stitches.
Divide your gals into teams with matching swimsuits or colorful bandanas and unleash them upon the sandy playground. Think outside the box with two-way radios to communicate cryptic clues.
Don't worry; just like any thrilling treasure-hunting tale, this one ends with sparkling prizes! Reward the winning team with fun goodies like rose gold inflatable swans or DIY beach necessity kits.
Dance the Night Away at a Beachfront Club or Bar Crawl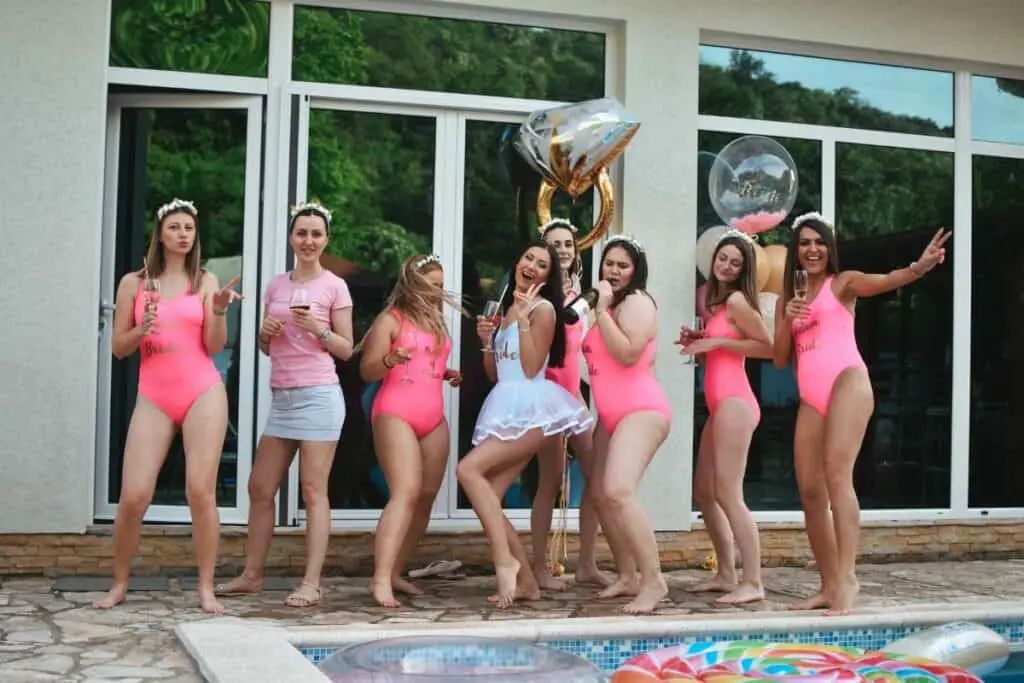 Oh yes, those vibrant sunsets may be iconic heart-stealers – but we all know that nights spent under twinkling stars are where memories are truly made!
Turn up the heat with an evening of fist-pumping beats at a beachfront club where bare feet dance on burning sand. Sway to rhythmic tunes while laser lights complement crashing waves beneath that warm moonlit sky.
Are club vibes not quite her pace? Don't fret! Organize an oceanside bar crawl featuring eclectic watering holes decked out in coastal-chic attire. Hop from venue to venue as you sip from mason jars filled with delightful concoctions garnished with tiny paper umbrellas.
Pro tip: Book your favorite lounge spot for a private VIP experience – we're talking velvet ropes and ocean breeze-infused cocktails served by tanned bartenders sporting sarongs. Admit it; you're sold!
Capture Memories with a Sunset Photoshoot and Personalized Hashtag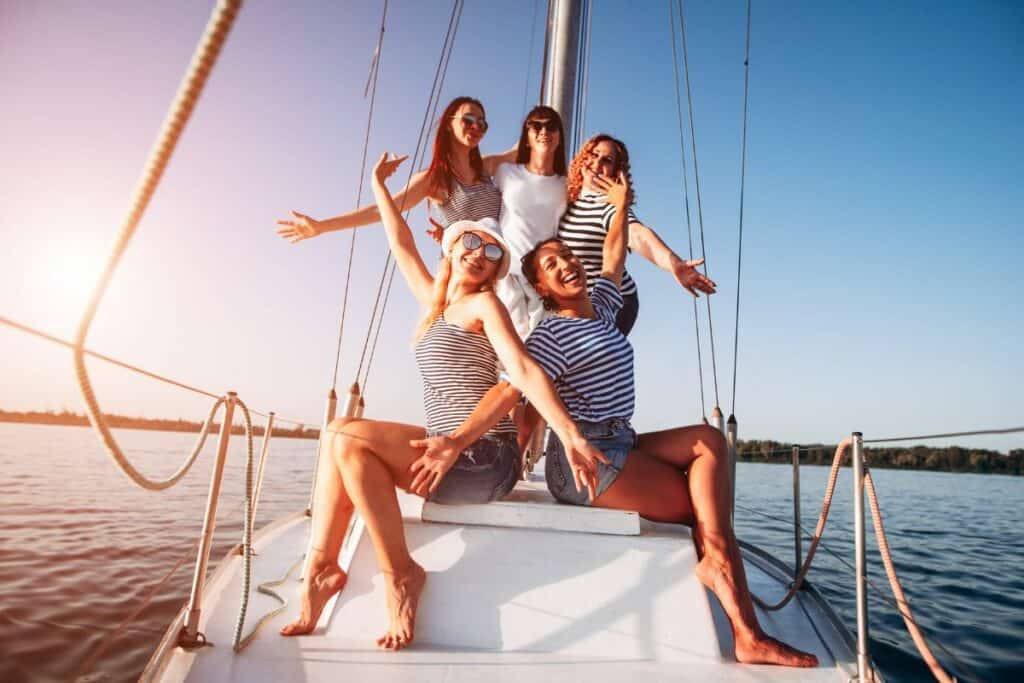 Alright, my camera-ready gals – let's talk about capturing those sun-kissed smiles for eternity! A picturesque sunset photoshoot will not only preserve treasured memories of your beach bachelorette party but also create stunning shots that scream #SquadGoals.
Enlist the help of a professional photographer (or designate one seriously talented bridesmaid) to snap those golden hour gems. Experiment with various fun poses like leaping in unison through sparkling waves, holding hands while strolling along the shoreline, or simply laughing together with champagne flutes raised high.
And let's stroll down Hashtag Lane for a moment because we all know you can't have an epic beach shindig without an Instagram-worthy personalized hashtag! Create a unique phrase that captures your bride-to-be's love of sand and surf, while still tying it to her big day.
A catchy hashtag like #BeachinBrideTribe or #TropicLikeItsHot can make each post shareable and easily findable on social media platforms.
Just imagine the way your bride will light up when she glances at these stunning images –it's about basking in friendships forged under sunsets that burn memories into our hearts long after vacation tans have faded away. So strike a pose and say "ocean breeze"!
Delight Your Bride Tribe with Beach Bachelorette Party Favors
Step aside, generic party packs – it's time to show your beach-loving bridesmaids just how much they mean to you with thoughtful bachelorette party favors.
Get ready for jaws to drop and hearts to melt as they unwrap tokens of appreciation that'll remind them of the sun-soaked memories shared during this seaside celebration.
First, let's dive into personalized treasures: from monogrammed beach tote bags perfect for stashing sunscreen and flip-flops, to custom-made hair tie sets featuring clever puns and vibrant colors – these heartfelt goodies will be cherished by your girls even long after those tan lines fade away.
Looking for an eco-friendly option? Gift your bride tribe reusable water bottles or insulated tumblers complete with their names and your creative hashtag – because what better way to sip cocktails while basking in the sun than being environmentally conscious?
Don't forget about pampering presents too! Deluxe sand-inspired scented candles or miniature tubes of luxurious after-sun lotion are ideal for soothing sun-kissed skin while evoking memories of laughter-filled beach strolls.
These favors are more than mere trinkets – they're tangible reminders of love sparked on sandy shores and friendships eternally illuminated by glowing campfires beneath star-studded skies. So go on, shower your beloved bride tribe with gifts that encapsulate the essence of your unforgettable beach bachelorette adventure!
Indulge in a Gourmet Beach Picnic or Seafood Feast
Last but certainly not least, indulge that oyster-loving bride-to-be with a culinary experience that's the epitome of beach luxury. I'm talking about personalized gourmet picnics on the sand or decadent seafood feasts with ocean vistas as your backdrop.
Envision embroidered picnic blankets laden with mouthwatering hors d'oeuvres, chilled champagne, and handpicked delights from local markets – all nestled into artisanal wicker baskets for that fanciful touch.
Sun feeling too warm? Stake out some quaint oversized umbrellas or even create an Insta-worthy tent filled with billowy cushions under swaying palm trees. Voilà! Your own seaside dining room with limitless foodie possibilities.
On the other hand, take your taste buds on an aquatic journey by reserving a table at a premier waterfront eatery featuring the day's freshest catch paired with fine wine selections – all while waves serenade everyone in attendance.
Either way, you'll be savoring more than just scrumptious flavors; it's the ambiance of friendship enveloped in laughter (and maybe just a drop of white wine spilt on linen pants) which has me saying – bon appétit!
Bonus Tips for Planning the Perfect Beach Bachelorette Party Experience
Alright, beach babes, I've shared some incredible ideas to treat your bride-to-be like the radiant sun goddess she is – but let's dive into some insider tips to make this sandy celebration blast off on a wave of success!
Tip #1: Timing is everything! Research optimal times to visit your desired beach location, considering factors such as weather conditions and seasonal crowds. The cozy off-season could be a fantastic option for more intimate settings.
Tip #2: Be flexible with plans. Although we want our itinerary to go swimmingly, sometimes Mother Nature can have her own agenda. Always prepare backup activities in case tides turn or storm clouds loom.
Tip #3: Don't forget about special touches! Personalize the experience by customizing matching swimsuits, tote bags, or even sunscreen bottles. Your bride tribe will surely adore these thoughtful mementos from their sandy escapade!
Tip #4: Delegate tasks among bridesmaids. Remember that planning a bachelorette party doesn't have to be a solo mission – involve everyone in creating magical memories by delegating specific duties according to their interests and strengths.
Now go forth and craft that unforgettable beach bachelorette shindig – I'm rooting for you!
Conclusion: Make Waves and Create Unforgettable Memories
And there you have it, lovely ladies of the sea! With these sizzling beach bachelorette party ideas and memories waiting to unfurl like sun umbrellas along golden shores, your task is clearer than a crystal ocean. Dive headfirst into creating the perfect sun-kissed celebration for your beautiful bride-to-be – remember that laughter beneath palm trees and friendships forged in salty air will be as eternal as those sun rays.
Channel your inner mermaid, gather the squad around cozy bonfires, and toast to love as infinite as the vast open waters before you. The beach awaits, my friends – let's seize those waves and make every moment count because this adventure is sure to leave an everlasting sparkle in your heart! #EndlessBeachLove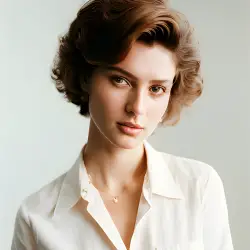 Latest posts by Carol Chatham
(see all)