Honorary bridesmaids are a great way to include a family member, friend, or significant figure in your life without giving them too many duties. Because of this, they can be given smaller roles leading up to the wedding, or be a key member of the wedding party. 
The key thing to remember when you are assigning roles for your wedding party is that each person's responsibilities will vary depending on your wedding.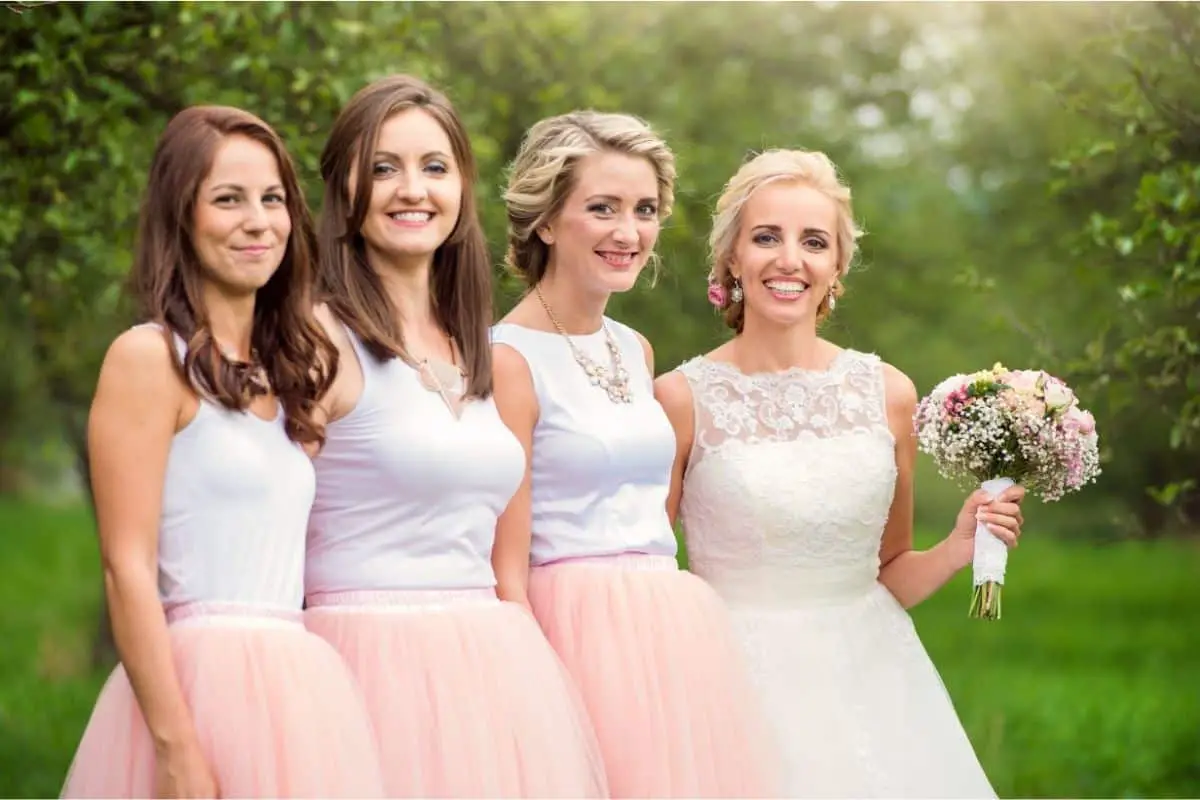 Make sure you are clear when you are asking people to be your honorary bridesmaids, so that they understand what is expected of them. 
This is a look into the role of the honorary bridesmaid, and what duties they carry out. Remember that the events of your wedding are up to you, and you need to find something that works best for you and your partner during the planning process, and on your wedding day. 
What Is An Honorary Bridesmaid?
The term 'honorary bridesmaid' first became popular in the South. Brides wanted to include people that she is close to, without extending the bridal party too much.
An honorary bridesmaid is commonly assigned to someone who the bride wants to honor, as the title suggests, on the big day. 
These are typically older relatives who are less likely to be as involved in things like bachelorette parties, bridal showers, or anything in particular leading up to, and on, your wedding day. 
Honorary bridesmaids could be an aunt that you want to include that won't want to wear the matching bridesmaid dresses. Another option is if a member of your partner's family helped plan the wedding, then the honorary bridesmaid role can be a nice way of including them. 
Some people may also choose to make up their main bridal party using family members, and have their closest friends as honorary bridesmaids. It could be worth doing this, or the opposite, depending on your relationship with each group. 
Honorary Bridesmaid Duties
Of course, your wedding day and specific arrangement will depend entirely on you. Make sure you are putting the needs of yourself and your partner first when it comes to planning the day's events. 
Depending on these, an honorary bridesmaid can be put in charge of anything that feels appropriate. This could be keeping children in check, walking down the aisle with your dog, or keeping parents from dozing off during the ceremony. 
Some brides like to put their honorary bridesmaids in charge of other duties leading up to the big day. This could be something as small as getting the napkins in your wedding colors, making sure each guest knows how to get to the venue, or something bigger like finding the perfect wedding dress. 
The key thing to keep in mind when it comes to planning your wedding, is whether the appropriate people have been accounted for.
This means including every family member that wants to be, and thinking about roles for them to carry out leading up to the wedding. 
This could be something small or large, depending on your wedding party, the venue, and particular risks that need to be taken into consideration. If you don't want as many bridesmaids, then an honorary bridesmaid can be ideal. 
Is It Rude To Have An Honorary Bridesmaid?
This is a pretty complex question to answer, because it depends on your relation to the person and what type of role they would be expected to carry out.
For example, brides that assign a college or childhood friend as their honorary bridesmaids could feel isolated from the other members of the bridal party. 
This is especially true if your main bridesmaids consist of close friends. Because of this, it is worth assigning the role to someone who is a stand-alone figure or to multiple people who are happy to have a 'secondary' role within the wedding. 
This is why most people tend to make older family members their honorary bridesmaids, so that they do not feel left out in any way.
In order to avoid this, it could be worth speaking with your intended honorary bridesmaid about the role and why you selected them to do this, rather than being a main bridesmaid.  
What Should An Honorary Bridesmaid Wear?
The short answer is something that they feel good about themselves in. It could be a suit, a formal dress, or their favorite piece of clothing that is comfortable and stylish.
Another reason why brides like to assign the honorary bridesmaid role to older family members is so that they don't have to worry about wearing a bridesmaid's dress. 
These gowns may not be something that they would typically wear or feel comfortable in. If you choose to have multiple honorary bridesmaids, then it could be fun to get them to wear outfits that are the same color or similar styles.
They don't need to match completely, but it could be fun to have your honorary bridesmaids co-ordinating. 
Frequently Asked Questions
Does An Honorary Bridesmaid Have To Walk Down The Aisle? 
They can if you want them to, and if it is something that they feel comfortable doing. Some honorary bridesmaids will walk down the aisle after the bride's parents, before the bridesmaids, or not at all. 
Another reason why somebody could be named an honorary bridesmaid is if they are unable to attend your wedding. Knowing that they have a special place in your heart regardless of where they are in the world is a great way of including them in your bridal party. 
It is important to remember that the main duties of an honorary bridesmaid are less strict than that of the best man or regular bridesmaids.
This means that you can ask them to do more unusual tasks like get snacks for your bridal party, or help you use the bathroom when you are wearing a big wedding dress. 
Should Honorary Bridesmaids' Dress To Match The Bridal Party?
It depends on what you think would be appropriate for your wedding. You could have everybody co-ordinating in the wedding colors, or get your honorary bridesmaid to wear something that they feel confident and comfortable in. 
It is, however, recommended that you make the time to have a look at this person's planned dress, suit, or outfit beforehand. This can allow you to check that there won't be any big clashes or clothing issues on the day. 
If you are planning a wedding with large crowds of people, it can be useful to get your honorary bridesmaids to wear the same color or specific outfit.
This can allow you to spot them in a crowd easier when needed. Consider the color worn when you are preparing. 
How Many Honorary Bridesmaids Is Acceptable?
The short answer is that there is no predetermined figure. There isn't a specific cut-off point, but it is worth thinking about the type of role you need this person to play on your wedding day. 
Having more than five honorary bridesmaids can make the role feel less special, and it can be hard to think of roles for that many people during the build up to your wedding.
Of course, larger ceremonies with hundreds of guests would benefit from more than one honorary bridesmaid to keep everybody in check. 
On the other hand, smaller ceremonies will feel more special and personal with fewer honorary bridesmaids. 
Summary
When it comes to preparing for your wedding, the list of items and tasks to get done can seem endless.
If you have a smaller bridal party, or if you want to give family members a different role to close friends, then the honorary bridesmaid role could be a great option. 
Consider the different duties that can be given to them, and make sure that you discuss the expectations that come with that role. It is also important to mention the outfit options and requirements, if you have any, for your honorary bridesmaids. 
The role of an honorary bridesmaid is a great way of including family members or friends when your bridal party consists of close friends. It can allow you to avoid any hurt feelings, and take several duties off of your shoulders when your big day finally happens. 
Honorary bridesmaids can walk beloved pets down the aisle, keep problematic family members in check, or care for small children when necessary. 

Latest posts by Jodie Messines
(see all)