While there are many opportunities during the wedding planning process to celebrate a couple as they venture into married life, there's only one event that solely focuses on celebrating and honoring the bride: the bachelorette party.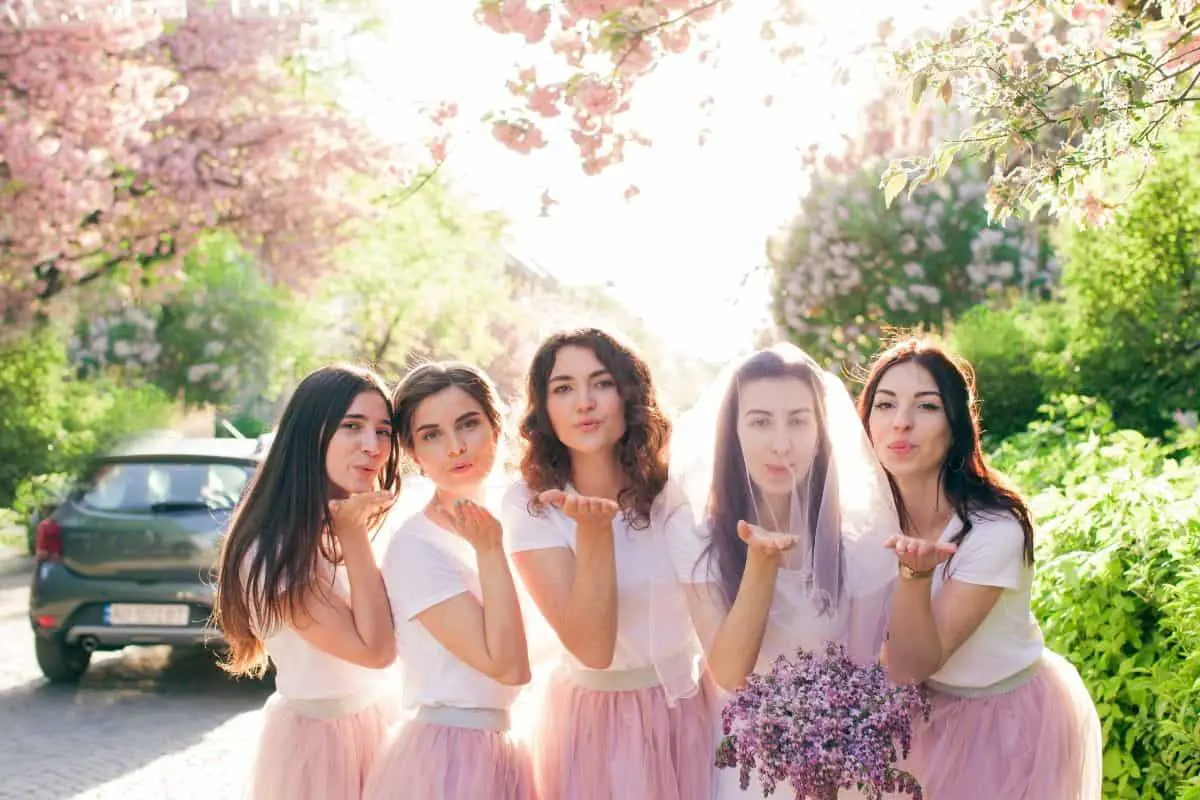 Usually hosted by the maid of honor, this event has transformed from a low-key affair to a weekend of full-on partying fun.
With expectations high, it only takes one thing to disrupt the celebrations. 
Thankfully, you can set up and follow an itinerary to keep things on track.
What Is A Bachelorette Party Itinerary?
A bachelorette party itinerary is essentially the plan for the weekend's events.
It will consist of a breakdown of the places you will be going to, the events that will take place, and the times that these will occur to keep everything on track and running smoothly.
This itinerary can be sent out in a variety of ways. It may be sent digitally, handwritten, or might even be printed and then handed out to the people in attendance at the bachelorette party.
How To Make An Itinerary
Before you make an itinerary for a bachelorette party weekend, you should have a detailed plan for everything so there are no surprises.
1. Determine Guest List
This is a great excuse to bring family and friends together. Brides should decide on the attendees before figuring out a location for the party.
The size of the group will impact the type of activities and accommodation.
2. Pick Your Location
Many things go into choosing a destination (or two) for a bachelorette party. You'll have to consider activity preferences, climate, and the general vibe.
But you'll also need to think about the weather and whether you want alcohol to be present.
You will also need to worry about the cost of flights and the time of year to make sure everything is appropriate. Asking these questions can help to narrow options down. 
3. Figure Out The Date
The host should work collaboratively with the bride to select a handful of the appropriate dates that work best for her.
The next step will be sending out a poll to invitees to see which dates they would be able to attend. The final date can then be selected.
4. Book Lodgings 
This is an important step for all bachelorette weekends, but especially for destination ones.
For larger groups (15+) you might want to look at renting a group house instead of a hotel. It's more ideal because of the increased space.
Lodging will take up a bulk of the overall budget for the weekend so make sure to clarify how much the attendees are willing to pay before booking any accommodation.
5. Plan Activities
For a regular weekend, you should aim to book only a handful of activities alongside some scheduled downtime.
This could include anything from karaoke nights to cocktail-making classes.
It's easy to get caught up in the excitement of a bachelorette party, so make sure to pencil in some downtime.
6. Confirm Attendance
A couple of months before the event, the host should know the general costs of accommodation and activities.
Contact all attendees at this point with estimated costs so they can decide whether to attend or not.
Examples Of A Bachelorette Itinerary
Bachelorette Weekend 
A weekend bachelorette party might follow the following schedule:
Friday
11:00 AM – Arrive At The Hotel
11:30 AM – Have Lunch And Drinks
4:00 PM – Relax Beside The Pool
5:30 PM – Get Ready
7:00 PM – Go Out For Dinner
9:00 PM – Fun Girls Night In
Saturday
10:00 AM – Get Nails Done 
1:00 PM – Go Shopping!
4 PM – Time To Relax!
7:00 PM – Cocktail Making Class And Dinner
10 PM – Head To A Club
One Night Bachelorette Party
A single night for a bachelorette party may go as follows:
7:00 PM – Dinner
9:00 PM – Drinks At Claire's House
11:00 PM – Girls Night Out
Summary
If you're making the itinerary for the bachelorette party (see also: 118 Of The Sassiest Bachelorette Party Quotes For The Bride And Her Tribe)weekend, you must remember that planning is essential.
Ensure reservations are made far in advance to guarantee available space for your party.
Then, closer to the time of the bachelorette weekend, double-check all bookings and make sure things are set in place.

Latest posts by Jodie Messines
(see all)