The bachelorette party is not about celebrating the wedding, it's about celebrating the bride, and about being happy for your friend and her choices.
A woman only has one bachelorette party in her lifetime, so you have to be sure to make it memorable. And one such way to do so is with sassy bachelorette party quotes.
You can print the quotes on T-shirts, or use them as drinking toasts, or make them the theme of the weekend, and use them with the people you meet during the party, or for making a digital scrapbook with the party photos.
Here's a hand-picked selection of some of the sassiest bachelorette party (see also: The Best Hashtags for Your Bachelorette Party)quotes around! (See if you can spot the themes!)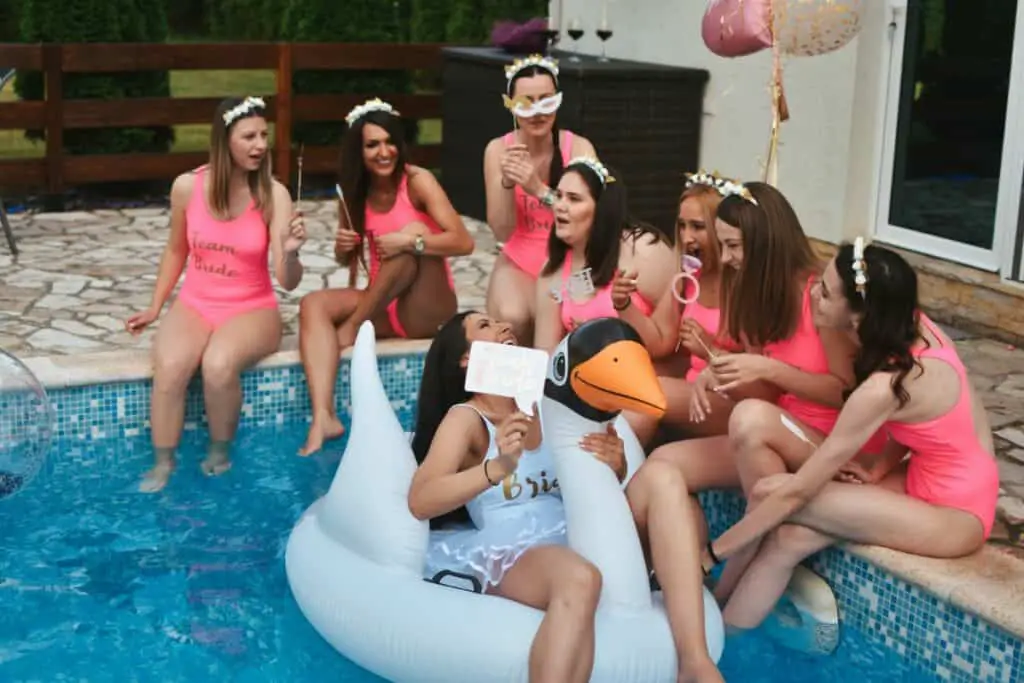 Buy me a shot, I'm tying the knot!
Bach, please!
We solemnly swear we're up to no good.
Kiss the miss goodbye!
Engaged AF!
Last Fling Before the Ring
Miss to Mrs. with all my b*tches
Look like a beauty, party like a beast
It's girl's night out, so you better watch out!
Weekend diet: Champagne!
Bach and boujee!
Bach S**t Crazy
She's getting hitched & we're getting lit
One more night, let's do it right
Before the romance, we will party and dance
'Til death do us party!
To love, laughter, and happily ever after
Bridin' Dirty / They See Us Rollin', We're Celebratin'
A drink in one hand and a ring on my other
Hit me baby one more wine
This Sure Beats Wedding Planning
He popped the question, so we're popping bottles
Caution: [Bride name] may contain alcohol
It's My Party, and I'll Wine if I Want to
Bride or Die
Last splash, before her dash down the aisle
Stilettos, Martinis and big diamond rings, these are a few of my favorite things
Brews before "I Dos."
From Miss to Mrs. with all my b*tches
Champagne Campaign
Future Mrs. Drink Up B*tches.
"From Miss to Mrs, with our best wishes"
Before the ring, let's dance and swing!
Wine flies when you're having fun.
Always a bridesmaid, never a sober one
Rosé All Day
Let's get ready to stumble
"Raising hell before wedding bells".
Before I say I do, I want to party with you!
Miss behaving
Look like a beauty, party like a beast
Wed, White and Boozed
Sun sand and ring on my hand
"Trust me, you can dance." – Alcohol
Help Us Tank Her Before the Anchor
Call her Feyoncé
This bitch is gettin' hitched
When I Sip, You Sip, We Sip
Hangovers last a day, memories last forever!
She's out to play before we give her away
The final flamingle, because she's no longer single
Future Mrs., cheers b*tches
Pop The Champagne, I'm Changing My Name!
Arizona is hot, but my girls are hotter.
Proud to be with the bride-to-be
Before she walks down the aisle, let's make this night worthwhile
Looking on the bride side
Out to play before we give her away
Pop the Bubbly, She's Getting a Hubby
Vino before vows
Tonight, it is for the final thrill – before she says "I will"
Heels, diamonds and pearls, It's a night out with my girls!
Let's get nauti!
The party before the party
Last Ride Before She's the Bride
She a Bach, b*tch
Friends are like bras: close to your heart and there to support you
The wedding's on its way, so dance the night away
Last sail before the veil
Something borrowed, something blue, we party harder than you
My Last Margarita as a Señorita
We slay together and stay together
A wedding's near; buy me a beer!
Ask Me If I Want Another Shot. I'm practicing saying "I Do."
The one where we drink all the champagne
Let's get toasted
No Time To Siesta, It's My Final Fiesta 
Let's go girls
It's my party, and I'll wine if I want to
Before the big day, let's party away
One last splash for the Bach
Save water – drink wine!
Fiesta, Siesta, Tequila, Repeat
This witch is getting hitched
Sexy in the City
Before she's a bride, spend a night by her side
On cloud wine
Let's Get Ship Faced
Cheers my dears
Drinking margaritas with my señoritas
Last Swing Before the Ring
Rise and wine
Bridezilla
Vegas now, vows later
It's a girl's night out, so you better watch out
Sweet Wishes for the Soon-to-be Mrs
How Merlot can you go
Slots and Shots
Shotgun shells and wedding bells
Last Splash, before her dash down the aisle
Let's pop the top, she's tying the knot
Final hoedown before the showdown
A final toast to the single life before [name] becomes a wife
She found her hunk, so we're getting drunk
Wine girl wasted
Namaste and Cabernet 
Besties, wine, and bed by nine
Pour the wine. His last name is mine
Beer with us, she's getting married soon
I can't keep calm, Bachelorette party in progress
One tequila, two tequila, three tequila, floor
Nothing screams "I don't trust you" like a combined bachelor/bachelorette party!
Mischief far from managed
This Party's Gone Bridal!
Bride Pride
This Is How We Roll
She Said Yes, We Said Vegas Baby
You had me at Merlot
Wrap Up
So as you can see, there are plenty of really sassy bachelorette party quotes you can use for the party and for your Instagram photo collage. And don't worry, you don't have to choose just one!

Latest posts by Lisa Plaitt
(see all)