Your wedding is an amazing opportunity to spend time with those you love, celebrate your relationship with your significant other, and share your special day with those who are closest to you.
Bridesmaids are a key element of many wedding days and often act as a pillar of support and guidance to a busy, stressed bride.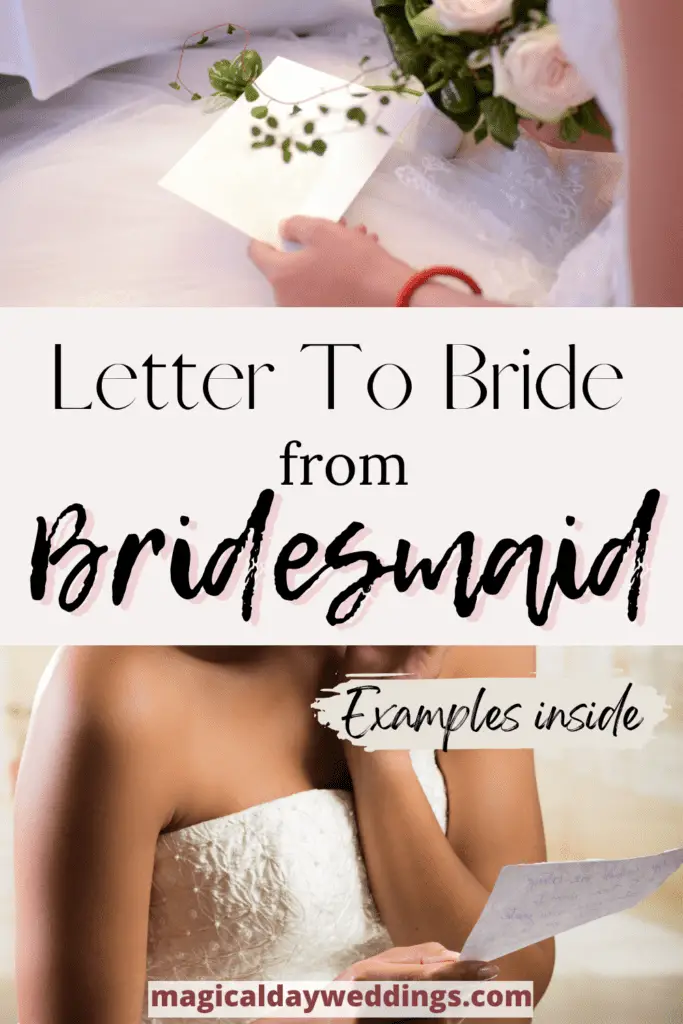 If you are a bridesmaid, writing a letter to the bride is an amazing way to show them how much they mean to you, but it can also be a great opportunity to thank them for letting you be part of the big day!
In this article, we will talk you through penning the perfect bridesmaid to bride letter, and ensure that your bride feels appreciated, loved, and cared for.
What To Write In A Letter To A Bride? Top Tips
If you are looking to write a letter to your bride, here are some top tips to help you craft the perfect letter.
Be Personal
It's easy to fall into the trap of writing generic letters that sound like they came from a template.
However, if you really want to send a personal message, then include details about yourself and your relationship with her.
This will help build a connection between you two.
Include Details About Her Life
If you are sending a letter to your bride, then there is no harm in including information about her life.
You can share stories about her childhood, her family, and even things that you know about her personal life.
For example, if you know that she loves reading books, then you could mention that you read the same book as her.
Or maybe you have seen her wearing the same dress as her mother.
These small details are fun ways to connect with her and let her know that you care about her.
Make It Short And Sweet
A good rule of thumb when it comes to writing a letter is to keep it short and sweet. If you have something to say, then say it.
Don't go overboard with long paragraphs or rambling sentences. Keep it simple and direct so that it doesn't come across as too formal.
Get The Right Tone
When writing a letter to your friend and bride, you need to set the right tone. You don't want to come off as being overly cheesy.
Instead, you should aim to be sincere, honest, and straightforward.
As mentioned above, one of the best things you can do when writing a letter to your bride is to share memories.
If you have any old photos or videos that you would like to share with her, then these can add a really personal touch to the letter.
Send It With Love
Finally, always remember to send your letter with love. After all, you are writing to someone who means a lot to you.
So, if you want to express your feelings, then try using words such as "I love you," or "You're my favorite person."
What Should I Include In A Bridesmaid To Bride Letter?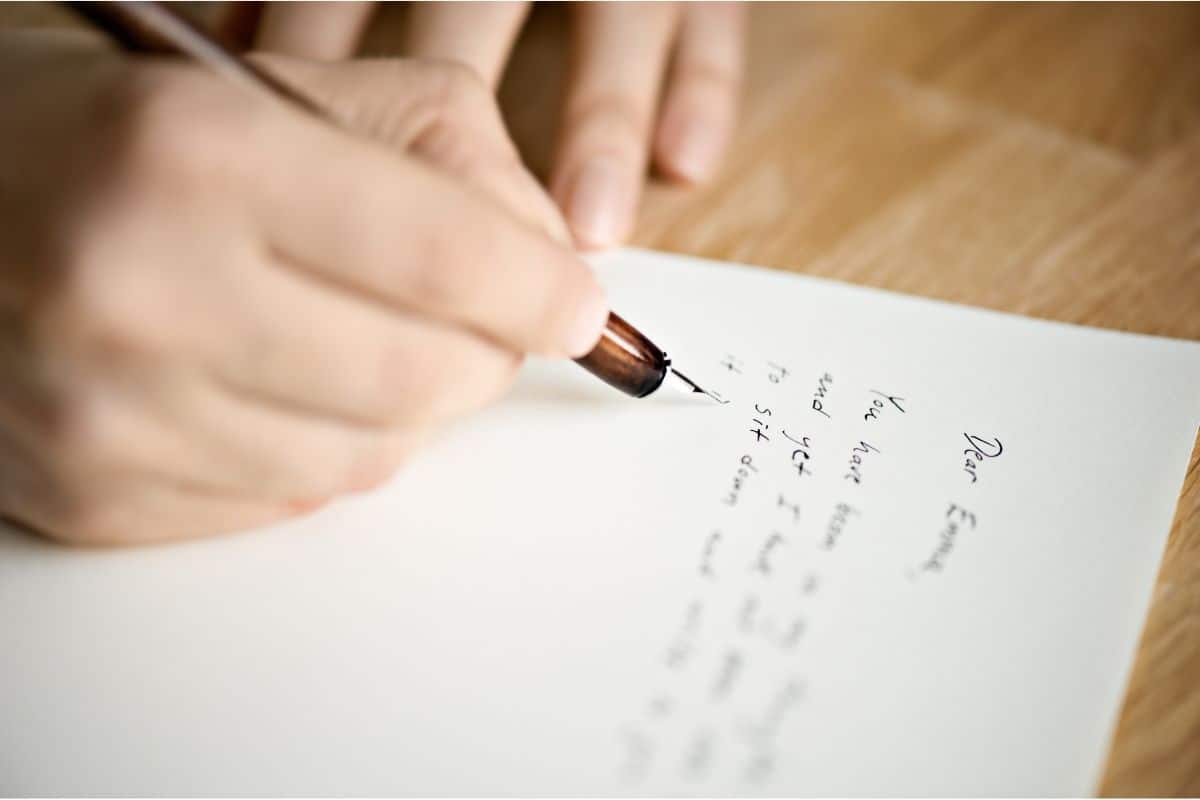 Writing a letter from a bridesmaid to a bride is very personal, but there are a few things that you could include.
Here are some ideas to get started:
Thank her for all she does for you and your family. Tell her what she means to you and how important she is in your life, and thank her for asking you to be part of your special day.
Reassure her that you are doing all you can to ensure that things run smoothly during the wedding planning process.
Tell her about something she did that made you laugh or smile. This will make her feel like part of the celebration even more.
Ask her if she has any advice for you before the big day. You might want to ask her about anything from makeup tips to dress shopping.
If you have a photo of yourself together, send it along so that she can see just how close you two are. This is also a great way to share some special or funny memories ahead of her wedding day.
Letter To Bride From Bridesmaid Examples
Now that you know what should go into a bridesmaid to bride's letters, here are some examples to inspire you.
Remember that these are just suggestions; you don't need to follow them word-for-word.
Feel free to add your own touches and customize the letter according to your needs.
Example 1
Dear Bride,
I am so excited for you on your wedding day!
It was such a joy to watch you grow up over the years and become the beautiful woman and beautiful bride that you are today.
I remember when you first told me that you were going to marry your best friend, and I couldn't believe it.
We've been friends since high school, and I'm so happy that our friendship has continued throughout the years.
You're one of the most kindhearted people I know, and I'm sure that you'll continue to be that way after you tie the knot.
I look forward to celebrating your wedding with you and your new husband.
Love,
Your Bridesmaid
Example 2
Dear Bride,
Congratulations on getting married! I cannot wait to celebrate with you and your new hubby.
I hope everything goes smoothly, and I wish you both nothing but happiness in your future.
I wanted to take a moment to tell you how proud I am of you.
Growing up, I always knew that you would find someone special someday, and now that you found him, I'm thrilled for you.
I'm glad that I got to be your maid of honor, and I hope that I can help you plan your dream wedding.
I'd love to hear about your plans for the ceremony and reception. Are you looking for a specific venue?
Do you have a favorite food or drink? What music do you prefer?
I'd love to give you my input, and I'm confident that we can work together to create an unforgettable experience for you and your guests.
Best wishes,
Your Maid of Honor
Example 3
To the Bride:
Thank you for inviting us to be a part of your special day! We are honored to be included in this very important event.
Your wedding is not only a time to celebrate your marriage but also a time to show off your style and personality.
I am so excited to help you plan your big day, and make sure that you have the perfect chance to celebrate your love – you are a truly wonderful couple, and will be a beautiful bride.
As your closest friends, we want to make sure that you have all the best possible ideas and resources available to you.
So, please feel free to contact us at any time with questions or concerns.
We look forward to helping you plan the perfect wedding!
Sincerely,
Your Bridesmaids
Final Thoughts
Sending a letter to your bride can be a great way for the two of you to connect before the big day.
However, keep in mind that there's no right or wrong way to write a bridesmaid to bride letter.
Feel free to use any of the sample letters above as inspiration, and prepare to support your bride on her special day.

Latest posts by Lisa Plaitt
(see all)