Being a maid of honor at a wedding is no small feat. If a friend is getting married and they have nominated you as the maid of honor, then that is a sign of great trust in you!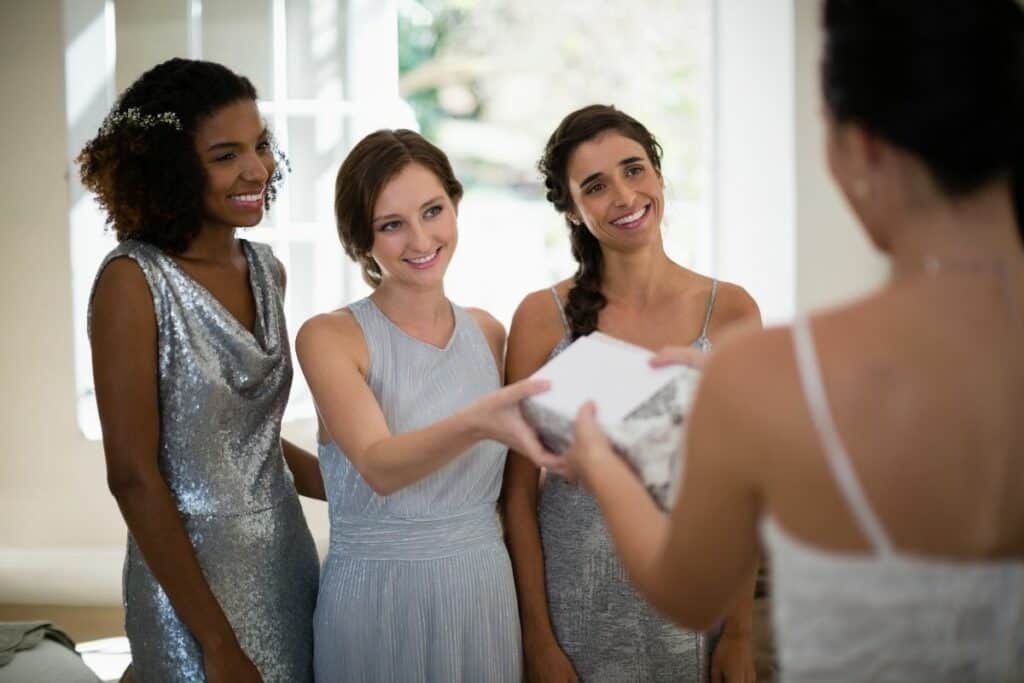 However, this also means that, because the relationship between the maid of honor and the bride is so strong, the chosen gift needs to be absolutely perfect!
But how do you pick a perfect and unforgettable gift for the bride?
How do you pick one that will really resonate emotionally and one that will stand as a testament to your friendship? 
It's a tall order, but with the right guide, you can definitely make the right choice.
So you have definitely come to the right place because we are going to take an in-depth look at some of the best gifts you can get for the bride-to-be!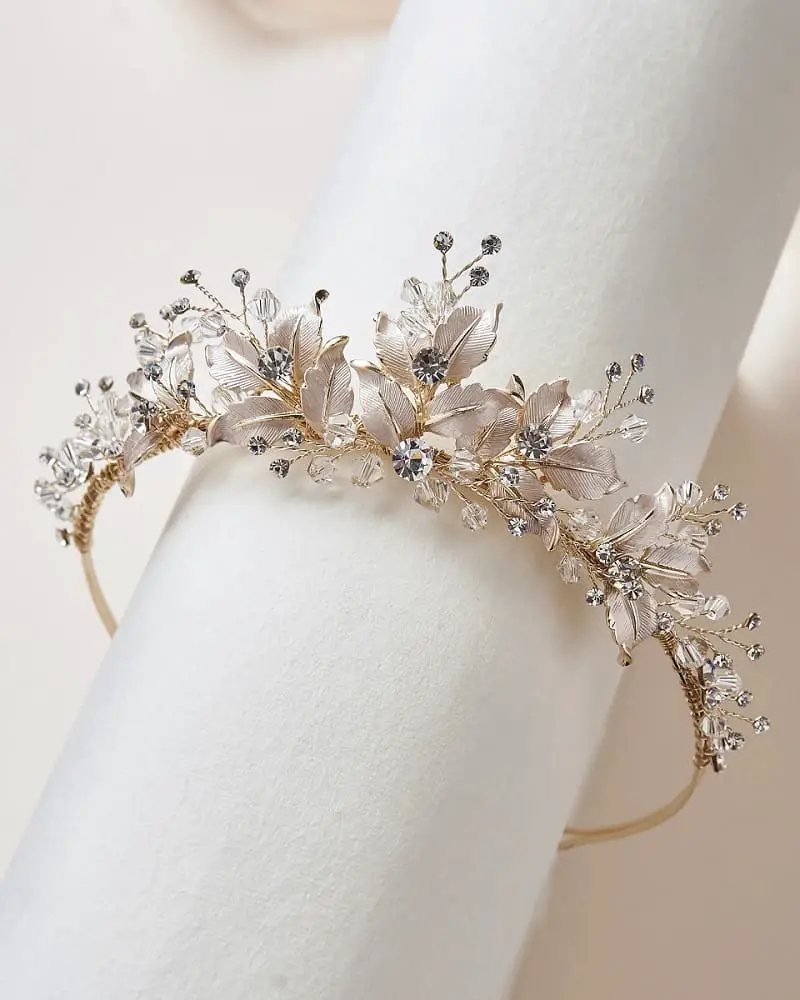 This stunning tiara is sure to go down a treat with any potential bride, thanks to how it looks like it has been pulled right from a classic fairytale.
Donning this beautiful floral tiara is sure to make the bride feel like a woodland princess, which will help to make their special day all the more special.
The best thing about this tiara is that it is entirely handmade, and can be purchased via Etsy.
It will also look good even when it is not currently being worn, so the bride can very easily display it in their home years after the ceremony!
It's a truly beautiful and magical gift that you don't want to pass on the opportunity to grab! 
This amazing idea from the creative minds at Minted will definitely make the bride feel special and beloved.
The puzzle itself takes on a heart shape, which makes it very engaging and fun to put together.
You could even do the puzzle together as a bonding activity. But what really makes this adorable gift shine is that you can choose to print onto it an image of both you and the bride, to make for a permanent keepsake of your friendship.
We love this gift because the finished puzzle will also look good when displayed afterwards.
The bride could very easily display it in a frame after completing it.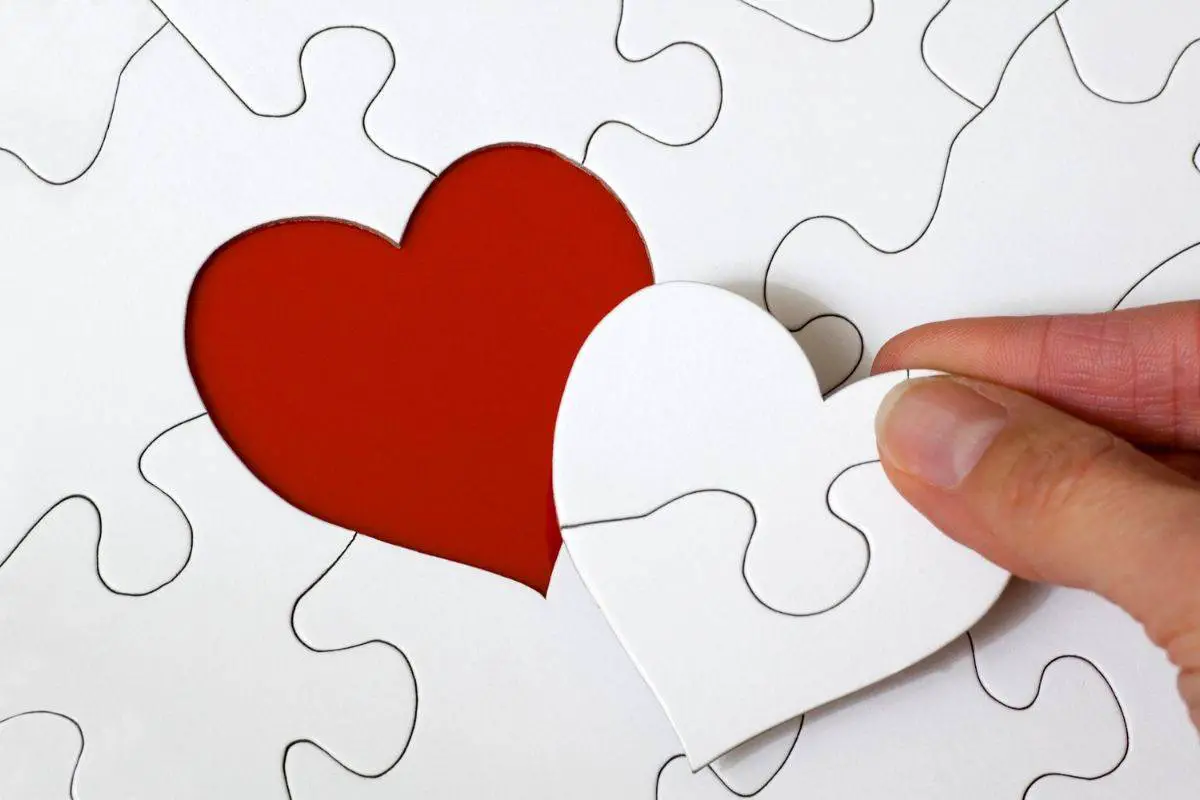 Nothing quite beats a gift that also serves a functional use.
Thus, you really can do no better than grabbing a personalized pillow for the bride.
There are many different personalized pillows that you can purchase across the internet, but none quite caught our eye like this one from Etsy. 
You can very easily have any message written onto the pillow so that you can really make a gift that is full of meaning.
You could put a message from you, or even write the name of the bride and groom and the day they married!
This particular gift is great because it is a beautiful keepsake that also serves a practical function thanks to how comfortable it is!
Here comes another perfect idea from Minted. This particular gift idea is great because it allows you to get very involved to create something wholly unique and special to both you and the bride.
Choose around 30 of your favorite photos of you and the bride, or maybe some photos of the bride and groom, and they will automatically be arranged in a sweet collage with a heart shape!
If you were planning on doing a photo gift but you weren't sure which photos to choose, then this is a perfect idea, because it allows you to choose loads of your favorites!
Want to get something for the bride that is immediately useful but is also incredibly stylish and will suit any home?
Grab them this amazing ring dish from Kate Spade.
It may have quite a hefty price tag, at around $31, but this is thanks to its beautiful design which features light gold elements that blend beautifully with the creamy white look of the whole dish.
This dish is perfect for keeping small rings or other pieces of jewelry from going missing and is a perfect place to drop them at the end of the day. 
Treat the bride to this dish, as the 'Miss to Mrs' design serves as a beautiful and cute reminder of the special and magical wedding day!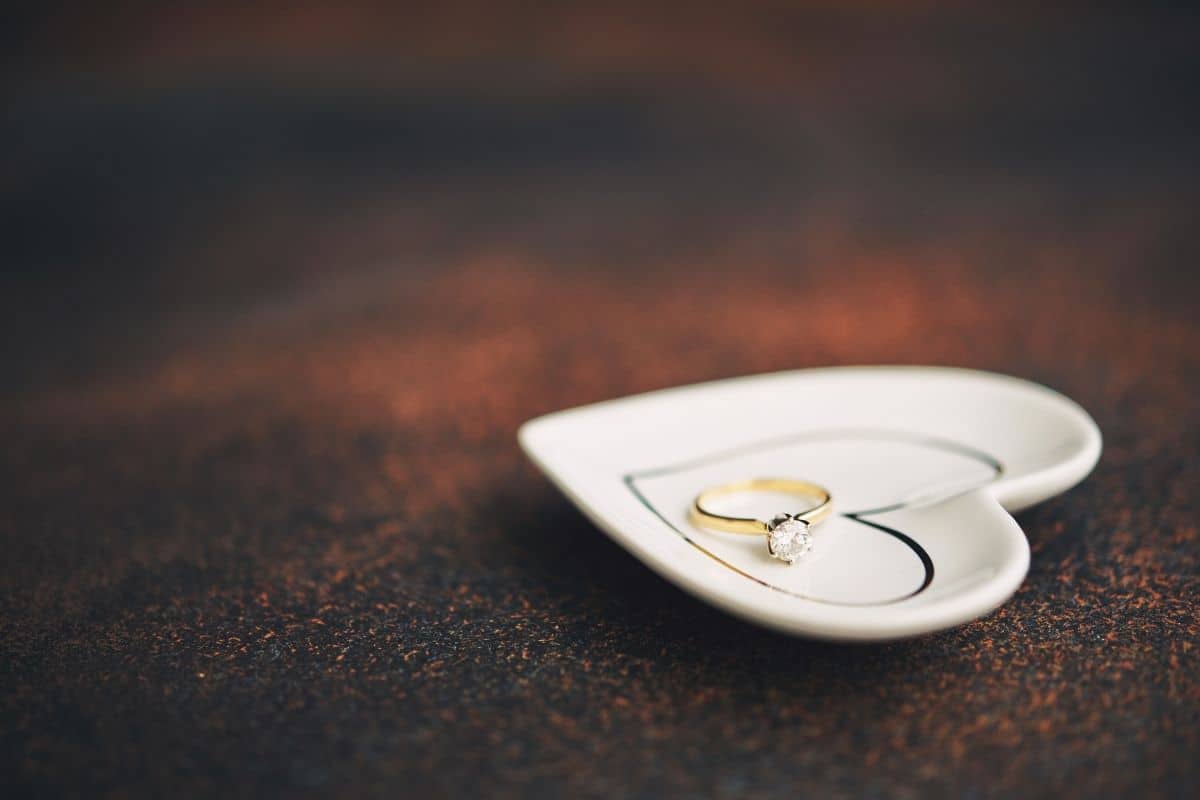 Few things are nicer at the end of the day than a glass of wine to calm the nerves and relax the mind.
However, what if the bride could enjoy their wine a little more by sipping on it from some custom glasses?
Luckily, thanks to Home Wet Bar, you can order a set of up to four wine glasses, and have them engraved with any message of your choice.
This way you can immortalize the bride's special day in a way that they will never forget!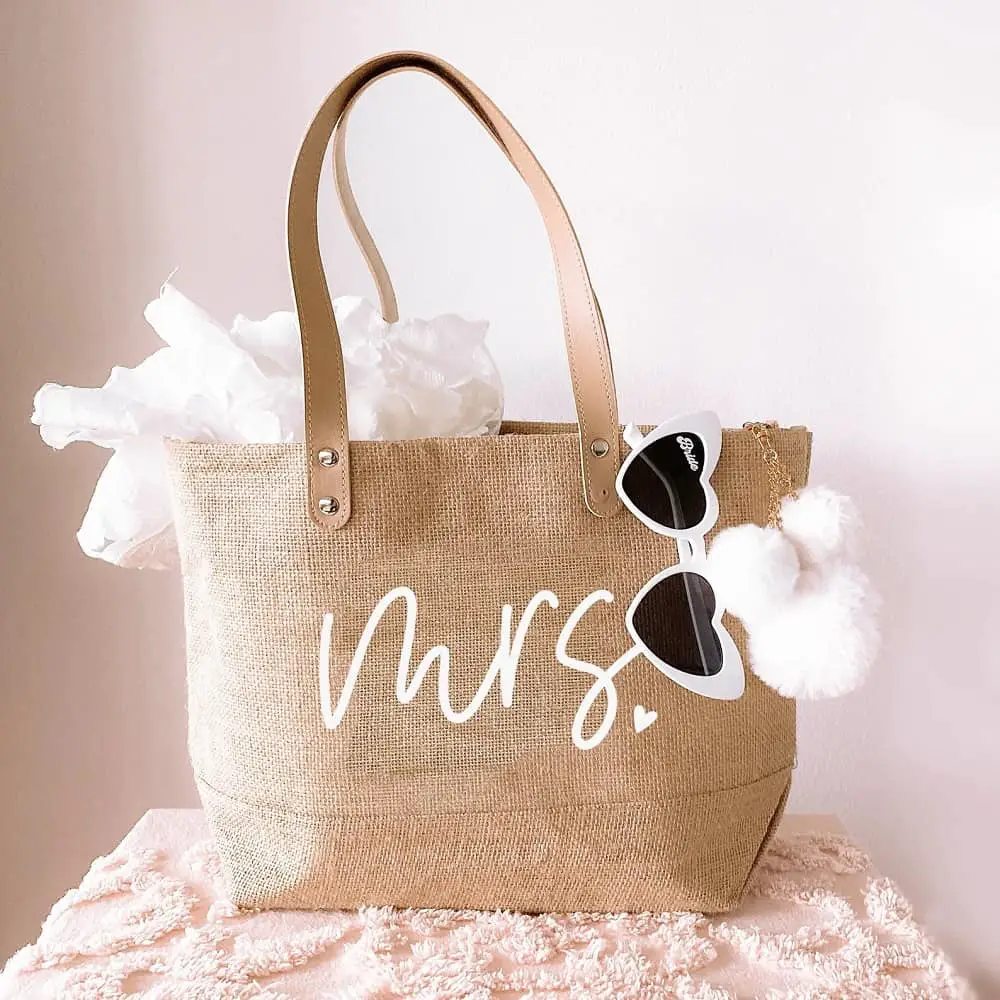 We just can't get over how amazing this Mrs. tote bag is.
It's such a simple concept, but it is delivered so perfectly that we know that the bride will be just as enthusiastic as we are.
This bag makes for a perfect gift because it will allow the bride to proudly show off their marital status while they are out and about, which will help them to feel even more like a fairytale princess.
This gift also won't break the bank and is incredibly useful, so you don't have to spend too much, and the bride receives a gift that is practical and beautiful!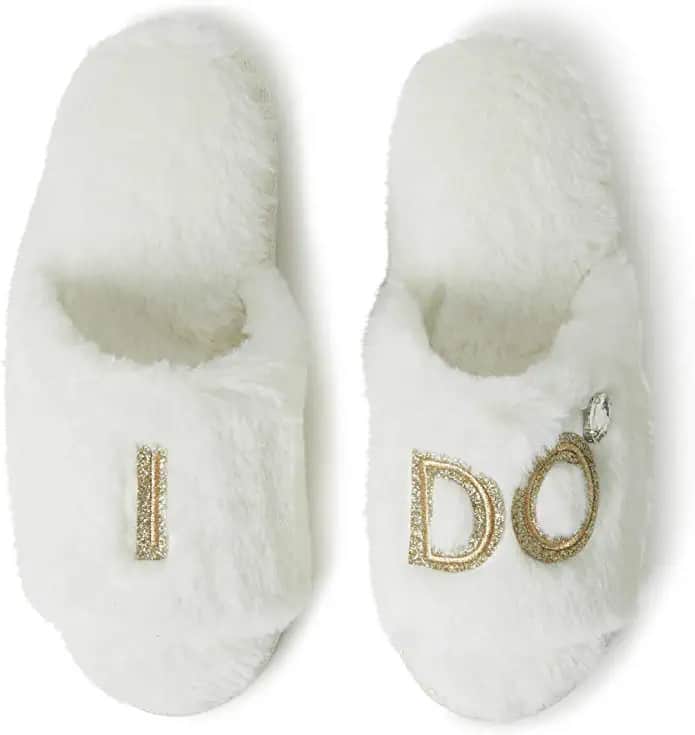 Let's end off this list with a slightly sillier, but still incredibly cute gift.
This pair of adorable slippers is adorned with a beautiful white and gold design, with the words "I Do" emblazoned in beautiful and glimmering gold right above the soft white material of the slipper. 
Not only will the bride look incredible while walking around the house, but their feet will also be incredibly comfortable! 
To Wrap Up
We hope that this list has proven useful and inspiring to you.
Remember not to fret too much about choosing the perfect gift for the bride, and instead dedicate your time to finding a gift that best represents the strong friendship that you both have! 
We feel that any one of the gifts we have talked about today would be absolutely perfect for any bride-to-be and that they will help to make the special day that little more special and magical!
Interested in more gift ideas for the bride? Don't forget to check out the following articles:

Latest posts by Jodie Messines
(see all)