If you're a bride to-be looking for something unique and special for your big day, then a Viking wedding dress is definitely something to consider. Not only will it add an extra element of fun to your wedding theme, but it also embraces the rich culture and history behind the Viking era.
One of the key elements of Viking-themed wedding dresses is the intricate embroidery work. This type of detailed craftsmanship can be seen on everything from floor-length gowns to shorter styles, with various patterns and colors available depending on your preference. Look for options that feature traditional designs, such as knotwork or runes, which add an extra touch of authenticity to your bridal look.
Let's explore some creative ideas for finding the perfect Viking wedding dress that will make you look and feel like a true warrior queen on your special day! 
Made from wool and leather, this long column white Viking tunic features vertical brown Viking designs. This is great for brides who want to keep the traditional white color in their wedding dress yet add a Viking twist. While the belt doesn't come with the dress, it can be added to create an A-line silhouette, particularly if you're a petite bride and would long to elongate your look.
Crafted using quality wool, Lycra and Viscose, this elegant and feminine dress features a high collar and beautiful decolleté with intricate Viking ornaments adorning the bodice along with long sleeves and a flowy train. The dress can be made in white by request.
This truly one-of-a-kind design highlights femininity while staying true to the theme. The deep neckline combined with the double slit, and the high waist create a lovely A-line silhouette. Long sleeves add an elegant touch and top off your regal Viking look.
This a slightly different version of the first dress in this listing. Beautifully unique and handmade, this dress has leather designs on the front and woolen handwork along the sides.
Made from faux fur and perfect for both Norse Vikings Warriors and Shieldmaidens alike, this Viking mantle will provide you with a beautiful piece of intricate costume detailing that is ideal for sealing off any authentically designed tunic, cloak or dress. If you are going to wear a plain Viking tunic or dress, you can add this to create an authentic detail.
this beautiful cream and burgundy gown offers an ethereal style for your wedding larp or warrior bride look. The overbust corset is made with traditional methods that include sprung and spiral steel bones, back satiny lacing, and a front busk plus a modesty panel behind the lacing to keep it comfortable. The long ruffle skirt comes in ivory rustic synthetic linen fabric, with a hidden zip closure on the side.
Made from upcycled wool blankets and human hair, this delicate mantle is an amazing add-on for a Viking look. This can be paired with a Viking tunic in a light or darker color of your choice to create an authentic look.
This wonderfully detailed Viking-inspired wedding dress is great for brides who prefer a bold color, open chests, and front-side slits. The flowy sleeves in addition to the shoulder bands add a glamorous touch.
If blue is your color, this lovely design features two shades of blue. The first piece is in lighter blue while the top piece in darker blue features Viking symbols. The wonderfully made sleeves and the open chest are a great design to make you stand out.
This black and red Viking dress is a bold choice for the romantic bride. With lovely band work on the front and back, this is surely a headturner.
If you're looking to mix medieval styles including Viking, this is a stunning design. Made from dense woolen fabric, this dress has handwork design around the neck and on the sleeves.
If you are looking for a simple, more natural option, we really like this dress. Made from a very special material, this dress is handcrafted with rosepetal fibre. There are two braids across the chest and the dress has open sides, which give a goddess feel.
Light, soft, and intricately handmade. If you're looking for a one-of-a-kind white Viking wedding dress, this is a great inspiration. With embroidery along the front and on the sleeves, this traditional design can be a lovely wedding dress.
Adding fantasy to a Viking style, this dress has a lot of detailing in gold, with parts in white. This gorgeous red dress has grand sleeves and a sophisticated neck design.
This dress features elegant lacing in both front and back along with adjustable sleeves, while it's bodice includes shape-enhancing boning as well. The upper part has been hand embroidered with beads for decoration along side flowers that sit delicately on top.
This dress is exquisitely made with 100% linen, constructed from a Silver grey medium weight outer layer and Parisian Blue lightweight inner layer. For extra elegance, the dress features tailored detachable sleeves as well as cords crafted from sumptuous cotton fabric. This luxurious three-piece ensemble ensures you'll make an unforgettable impression at every special occasion!
Final Thoughts
When it comes to creating the perfect Viking-themed wedding dress, there are plenty of options available—from detailed embroidery work to flowing silhouettes and long sleeves. By combining traditional elements with modern trends, you can create a unique bridal look that is sure to turn heads at your special day! So why not take inspiration from those bold Norse explorers who once roamed the seas in search of adventure? With these ideas in mind, you can craft your own unique bridal ensemble worthy of even Odin himself!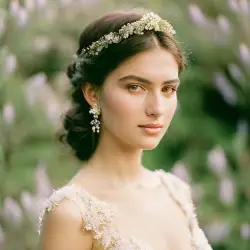 Latest posts by Rosie Liliy
(see all)