Navy blue is one of those universal colors that is forever popular and stylish, and for good reason!
It suits every skin tone, goes amazingly with both gold and silver accessories, and quite simply looks fantastic!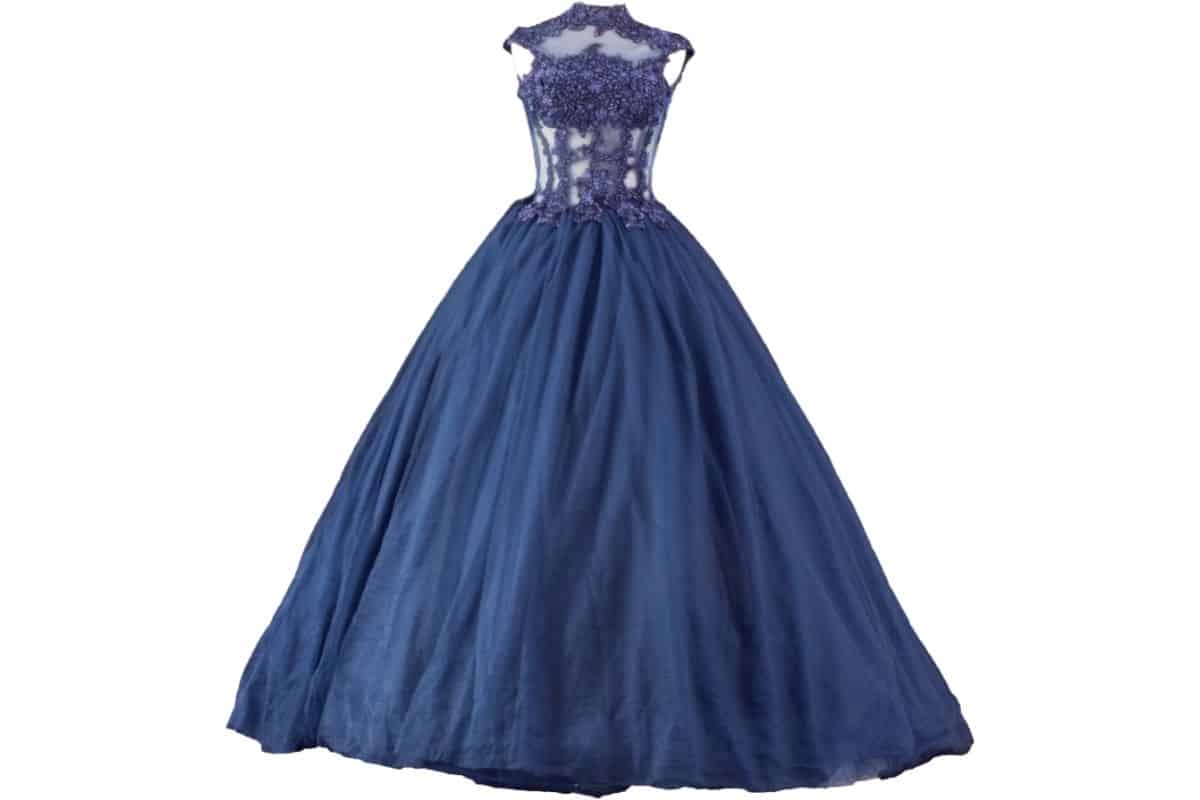 A navy blue dress is a perfect answer to what to wear to someone's wedding as it is timelessly elegant!
With the right accessories and style of dress, you can use this universally flattering color to attend virtually any style of a wedding there is!
Read on for our definitive guide on how to style a navy dress for attending a wedding! 
Simple and elegant, a navy blue dress can look stunning just by itself! With a pair of shoes and your preferred hairstyle, why not see what your navy blue dress looks like just as it is! 
The best part about a navy blue dress? It is easy to accessorize! You can easily match a navy blue dress with anything from jewelry to heels.
The key here is to choose pieces that are complementary to the color of the dress. If you have a navy blue dress, (see also:40 Fantastic Navy Blue Wedding Dresses)then you should be looking at coordinating jewelry and shoes in the same shade. 
Let's have a look at some easy combinations to style your navy blue dress for virtually any wedding occasion!
1. Suited Up Sailor 
The sailor look is a timeless classic for a navy dress and is always a great option for weddings. This outfit is simple yet sophisticated and works well with almost any type of wedding.
Pairing a navy blue dress with white or cream heels will make you feel instantly polished and put together. Wear a navy blue blazer over the top if you want to add an extra layer of sophistication.
It's a fine line between looking chic on the high seas versus looking like a member of a cabin crew, however, so you want to avoid looking like you're at a works-do! 
To do this, try to keep your accessories classy and minimal, or opulent with pearls and matching ribbons!
This look is at its absolute peak when dressed with a navy blue 50s style circle dress in our opinion!
Another thing to remember when accessorizing with white is to not go overboard – it's the unwritten rule of a wedding to not dress in white as you may overshadow the bride, so bear this in mind! 
2. Classic Gown & White Heels 
If you're going to a more traditional-style wedding, then this classic look will work perfectly for you.
Try pairing a navy blue dress with a white lace collar and a pair of nude or cream pumps. Add a navy blue fascinator or hat to complete the look.
3. Pop Of Color
If you're going for a contrasting or complementary color for your navy blue look, it can be hard to choose a color that works with navy blue without looking odd! 
Brown – Colors to avoid include brown, as it can age your look, and not in a good way!
Brown and navy blue are not a good combination which is why it's essential to pick out your shoes ahead of time, as you will not look your best if you end up stuck with a pair of brown shoes that don't suit your look!
Black – Black and navy blue are those colors that never go out of fashion and are a classic combination that will never date. We love this combo because it's both edgy and feminine all at once.
Again, be careful not to overdo the black for a wedding as it can send the wrong signals and come across as an insult to the bride and groom!
Gold – A gold belt would be a perfect accessory to wear with a navy blue dress. Not only does it give a pop of color but it also adds a touch of glamour to the outfit.
Yellow – Yellow and navy blue is another classic combination that looks amazing and is very flattering on most skin tones.
However, yellow tends to overpower other colors and can often clash with other shades, which is why we recommend just one or two pops of bright yellow in your look!
And if you're not feeling so bold, stick to neutrals such as gray, ivory, and even black for a more subtle look.
Green – Green is another great color to use with a navy blue dress and is a color that will compliment every skin tone.
It has a freshness about it that makes it stand out from other colors and is a favorite amongst wedding guests who are looking for something different.
4. Two-Toned Styles
For a simple yet elegant look, try wearing a navy blue dress with two-toned accessories.
You could opt for a navy blue fascinator paired with a navy blue clutch bag, or a navy blue headband paired with a navy blue scarf.
This look will make you feel like royalty and will add a touch of elegance to any wedding.
Think of different complimenting shades of blue you can wear with your dress – we're thinking Cinderella blue necklaces with matching baby blue shoes for a subtle yet coordinated look! 
Another great addition for a summer-appropriate wedding could be a beautiful pastel blue sun hat dressed up with a navy ribbon to tie your outfit together!
This two-toned approach doesn't just work for navy blue styles, it can also be applied to any dark colors like deep greens and purples too!
Choosing A Jewelry Theme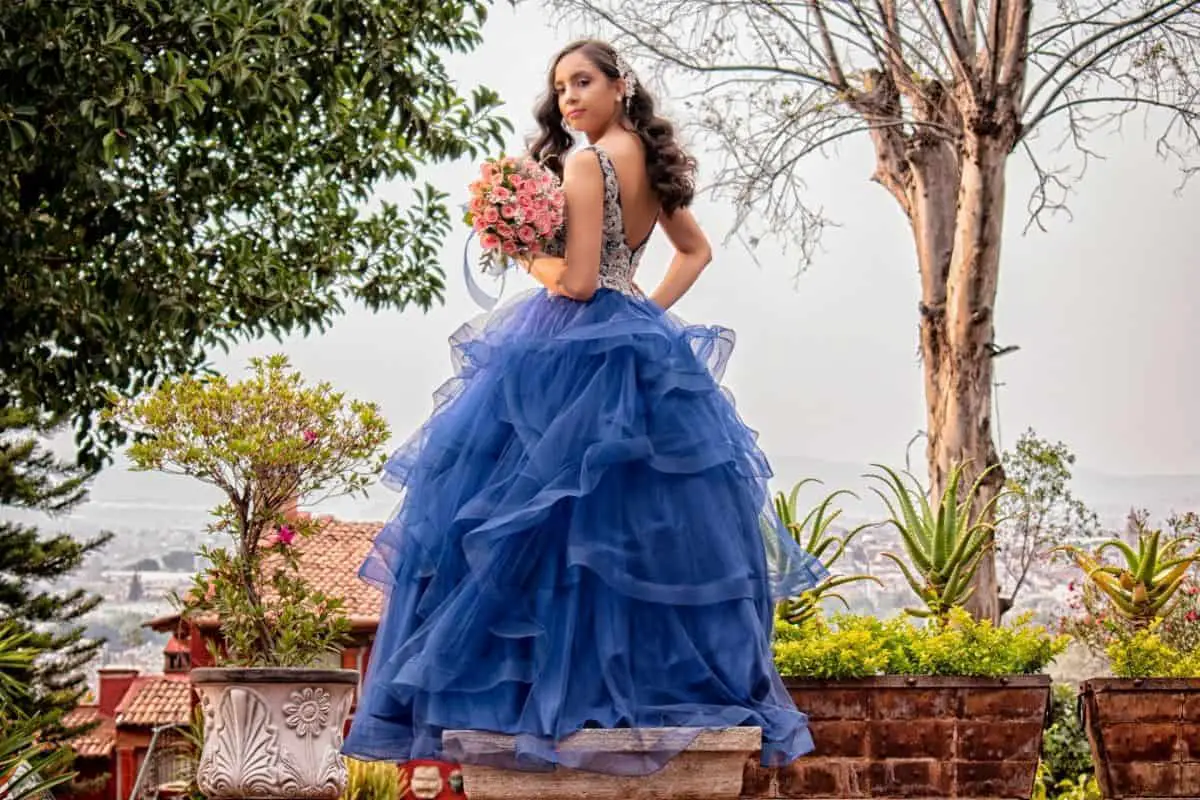 Jewelry is a great way to express yourself through your outfits, and there are many ways to incorporate jewelry into your bridal style. Here are some ideas to get you started:
1. Gold – The classic choice when it comes to jewelry, gold is always a safe bet. If you want to go for a more modern take on gold, then consider adding a few golden touches to your look.
Try pairing a gold necklace with a gold ring, or a gold bracelet with a gold belt.
Again, because yellows go so well with navy blue, this is always a winning combination.
2. Silver – Another popular option, silver is a versatile metal that can be worn alone or combined with other metals.
We love how a silver choker can complement almost any color while still being chic and sophisticated.
3. Gemstones – Adding gemstone jewels to your look is a great way to add interest without going overboard.
Think of stones like pearls, diamonds, rubies, and emeralds. They are timeless and will never go out of style.
4. Metals – From sterling silver to gold plated, there are plenty of options available when it comes to choosing a metallic finish.
Metallic finishes are especially good for people with darker skin tones since they help to balance out their complexion when wearing a darker shade such as navy blue. 
5. Mixed Metal – Mixing metals gives you the best of both worlds. When dressing for a wedding, this can look pretty messy and uncoordinated very easily if you are trying to pull a full look together.
So, for this occasion, we'd recommend staying away from mixing gold and silvers and just sticking to one or the other when dressing up a navy outfit!
6. Statement Pieces – A statement piece is a piece of jewelry that stands out from the crowd. It's something that helps to give you an edge in terms of fashion. These pieces should stand out and not blend in with the rest of your outfit.
When dressing up a navy outfit for a wedding, we'd suggest just sticking to one statement piece, and if it's in a bold or daring color, to choose one of the colors suggested above, and pair it with a similar (if not matching) pair of shoes or handbag. 
The answer to this question depends on what kind of wedding you're attending.
If you're planning a beach wedding, then sandals would probably be the most suitable footwear for you. But if you're looking at a formal event, then heels are the way to go.
If you're unsure which shoe type to wear, then here are our top three suggestions for navy dresses:
1. Sandals – If you're attending a casual wedding, especially one in the warmer months, then sandals are a perfect choice. You could even opt for flip-flops as long as they don't have a heel over 3cm high. 
2. Heels – If you're attending a formal wedding, then you'll need to invest in a pair of heels. While wedges can be the perfect choice for a fifties-style dress, you have quite a few options for a wedding, and pumps or stilettos are ideal.
3. Flat/Boots – Boots are another great alternative to heels. However, make sure that they don't have a thick heel over 3cm high so that they won't clash with your dress. 
There are a couple of things to bear in mind when choosing a pair of shoes to go with your navy dress.
Of course, this will depend a lot on the style of the event, such as a beach event or a formal dining experience, so always bear this in mind when you are planning your shoe purchase as we all know – shoes can make or break an outfit!
Do
Be comfortable! Make sure whatever shoes you decide to wear to your friend's wedding are comfortable enough to spend all day wearing them!
Keep it simple! Now is the time for some elegant shoes that don't draw too much attention to them. A pair of stylish black sling-backs, some simple stilettos, or a delicate pair of pumps. 
Coordinate your outfit. If you are going for a two-toned look or a sailor-themed outfit, stick to a similar if not identical shade of shoe and accessories. You can always mirror the colors you choose in your hair fascinators or your handbags to tie the look together. 
Don't
Go with print. Put those leopard print heels back in the closet! Unless this is an animal-themed wedding (do those exist?), now is not the time to showcase your daring footwear collection. Stick to elegant and timeless classics; your beautiful navy dress should do the talking anyway!
Boot the boots. But you want to be comfortable?! Well, not at the expense of style, sorry! Boots are rarely a good choice for a wedding, formal or not, so steer clear when making your shoe choices!
Overdo the Glitz. Silver or gold shoes can be stunning, especially when coordinated with matching jewelry! But, if you are going for a glamourous silver or gold shoe, stick to strappy sandals or small accents. Definitely not a fully blinged-out gold heel, please!
Ban the brown. Even for sandals or a beach wedding, get rid of those brown sandals. They dull down a navy blue dress in an instant and they simply don't go, even if they are your favorite pair! If you are set on brown shoes, think about wearing a blush pink or yellow dress instead as this goes far better than navy blue!
Final Thoughts: Be Yourself
Now, we know we've gone through a whole host of 'no's', but at the end of the day, you should make sure you are dressing in a way that shows off your personality and makes you feel your best!
When you are dressed in a way that you feel great in, you are far more likely to show up on top form and be the best version of yourself for the bride and groom.
At the end of the day, it's all about them, so if you can feel confident and comfortable you are more likely to give them the attention they deserve on their big day!
So, it's not selfish to be thinking about how you look and feel on someone's big day!
If being your most authentic self involves a big pair of statement earrings or some heels that make you feel like a million bucks, you should go right ahead and find a way to coordinate your outfit so that it works seamlessly!
We hope these tips and tricks have helped you style your navy dress, now go have a great night! 

Latest posts by Lisa Plaitt
(see all)