When it comes to a wedding, there are some colors that you should wear and there are some that you should really be avoiding.
It can depend on the time of year, theme or where the wedding is set that will affect the color that you decide to wear.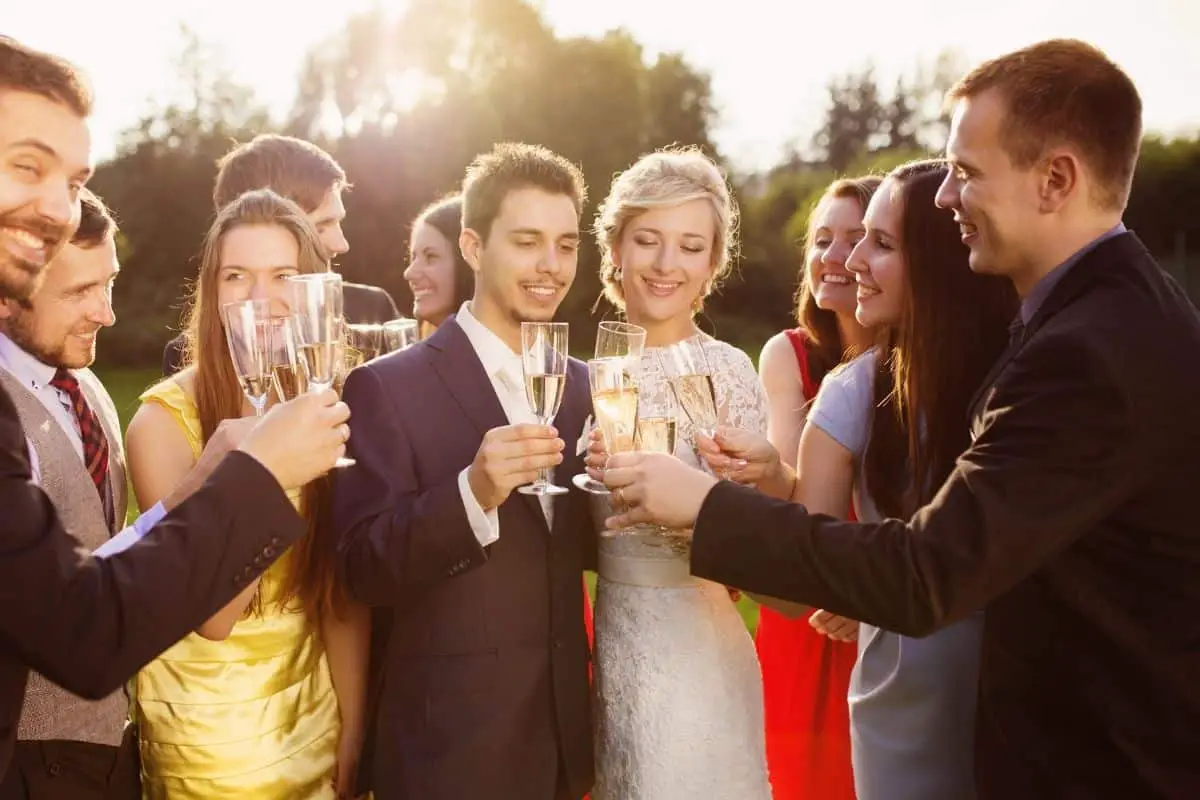 However, weddings are fun days of celebrations and a special day for everyone that is involved in it. From the happy couple to all the wedding guests that were invited.
If you are lucky enough to be invited to a friend or family member's wedding, then you need to be aware of what colors work best for a wedding and the colors you should be avoiding. 
This article will help you understand which colors you should be steering towards. Whilst also letting you know which color you shouldn't be wearing to a wedding any time soon. 
Colors You Can Wear To A Wedding
Ideally, you can wear pretty much any color to a wedding, as long as it fits the theme and the mood of the day.
Below, we have put together some of the best colors you should be wearing to a wedding, that show how much you care about the couple. 
Pink 
It is probably one of the obvious colors to choose, but it really works well at a wedding. Pink is the color that most people associate with romance, love, and femininity. 
There are various shades of pink that you can choose from as well. You could wear a soft pink, to beautiful shades of rose, or you go with a bright pink.
This is a beautiful color that is often worn to a wedding. This is because there is a variety of shades, and they all make the ideal wedding guest dress color.
It is actually common for brides to choose pink bridesmaid dresses. Some may even wear a light pink gown for their big day as well, as it just screams romance and love.
If you are aware that the bridal party has a pink theme, make sure you wear a different shade of pink.
This way you don't look like you should be part of the wedding party, yet you still will still look beautiful as a guest. 
Powder Blue
Powder blue is a versatile color that can work for both summer and winter weddings. It is a color that is quite pale, but it also gives off plenty of warmth.
Typically, this color is associated with serenity and comfort, especially as it matches with hues from a clear sky. This color isn't too bright or too dark, it's just right for any and every skin tone. 
You can make quite a statement by wearing a powder blue dress as a wedding guest. This is another common bridesmaid dress color.
However, a wedding guest can also rock this color as well. Paired with silver or white details, you could pull off a very classy and elegant outfit.
Navy blue is an incredibly popular choice. If you have been to many weddings before, you will have seen a large number of people wearing this color.
Navy blue is considered a very deep color, but also a very flattering color that suits all skin tones. 
You may be someone who doesn't like wearing bright colors. Hence, navy blue is the perfect option when you want to wear a darker color, but not black.
Green
Green is another versatile color that has various shades which you can choose from. This color is great for any wedding, no matter the season.
What also makes green such a good choice for a wedding is that it symbolizes harmony, growth and new beginnings.
All of these things are what the wedding day is all about. Alongside that, for some people, green is the color of luck. Thus, the couple have some extra luck as they start a new life together. 
As we have mentioned above, there are a wide variety of shades of green that a wedding guest can choose to wear.
Some of the more popular shades of green include emerald, mint and even moss green. 
To complete a green look, pair it with silver accessories. This will give off a delicate and attractive look. 
Yellow
Yellow has become a really popular choice to be worn at weddings recently. It can't be surprising, as yellow is such a happy color.
Not only does a yellow dress or outfit look amazing on you and in pictures. Yet also the color yellow lifts people's moods, so it provides you with more energy to really enjoy the day.
Some people have even said that the color yellow can make you look a lot younger as well. 
It is also really easy to accessories a yellow outfit, as it goes with a variety of other colors. You can keep it simple with a black or nude shoes.
Or you can add another pop of color like a blue or pink to your look. Yellow is a great color to be worn all year round to a wedding. 
Orange
When we say the color orange, we aren't talking about the striking bright color. We are suggesting muted tones and shades of orange such as marigold, carrot, and apricot. 
Often seen as a fall color, yet this color could be worn to a summer wedding as well. This is seen as the color of vitality and joy that brings a smile to everyone's face.
It is known that orange suits darker skin tones really well Also it is easy to pair this color with gold accessories, which makes you feel elegant.
Pastel Colors 
Pastel colors have become really popular for a long time now. It is quite easy to add some pastel to your outfit. Often seen as a very beautiful, calming and peaceful range of colors. 
When it comes to pastel colors, a lot of people choose a floral print or a solid color like peach or lavender.
You can make a real fashion statement with these colors, that also look gorgeous and feminine as well, just like the color pink. 
Colors To Avoid Wearing To A Wedding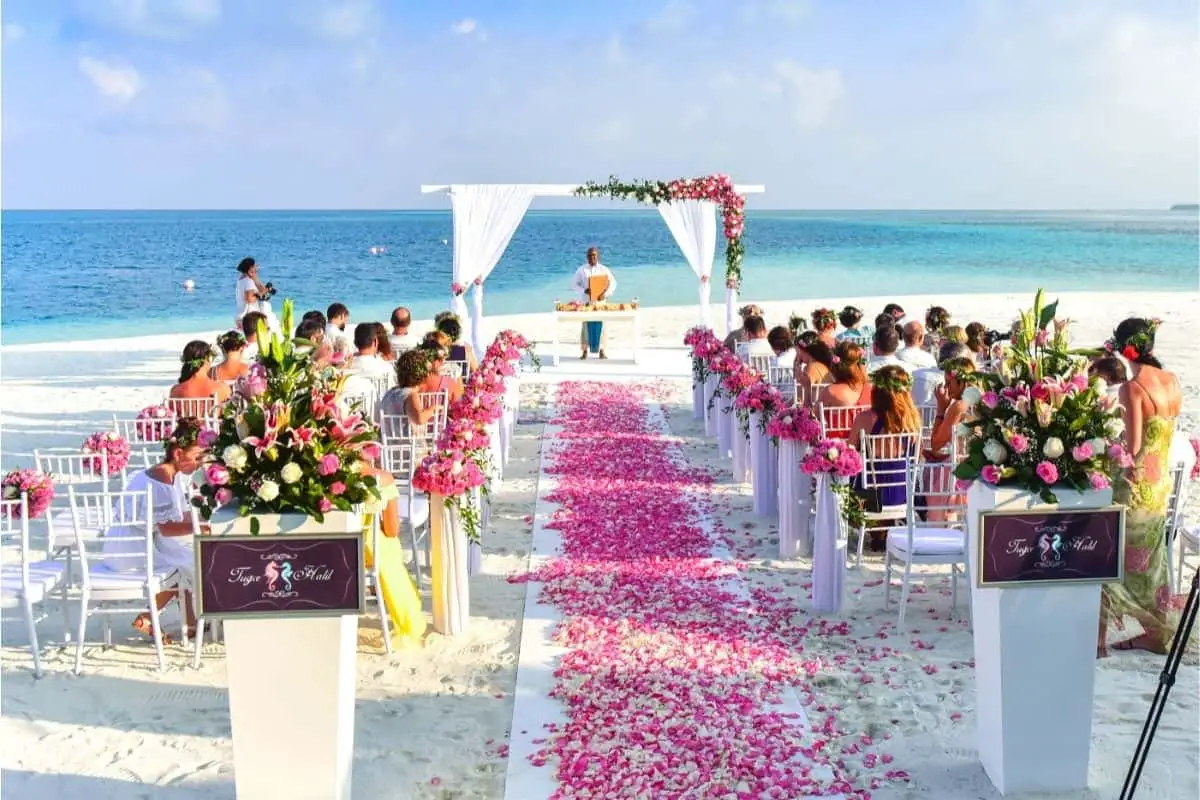 There are certain colors that you should try to avoid wearing when attending a wedding. Otherwise, you could upset the bride and groom on their big day. 
Ivory
White, including ivory, is a huge no for any wedding guest. The last thing you want to do is wear a color that could match the bride's dress.
It is best to leave any shades of white to the bride, so that they can feel special on their big day. 
Black
Black is starting to become a popular color for wedding dresses, but this depends on the style of the couple. However, for wedding guests, it's best to avoid this color. 
This is because black is often associated with death, which is the opposite of a wedding. A wedding is about celebrating new beginnings and love.
For some people, wearing black to a wedding is a sign of bad luck. 
Denim
Wearing denim to a wedding is frowned upon, as it is seen as too casual for such a formal event. By wearing denim you will really stick out, while all the other guests have made a real effort in their smart suits and dresses. 
For a wedding, you need to make a bit of effort for the bride and groom. By wearing denim, it can appear that you don't care about the couple, and you may be asked not to appear in any pictures.
However, for some country weddings, denim is appropriate, but only on those rare occasions could you get away with it. 
Golden And Glittery
A golden and glittery dress may look great and sound like a good idea. However, they are also very striking, thus you may grab everyone's attention away from the bride and groom.
Instead of wearing a golden and glittery dress, wear golden and glitter associates. For example, sparkly earrings or golden shoes or nail varnish.
There are other ways to wear this color without taking the attention away from the happy couple. 
Light Shades Of Beige
Typically, champagne or beige hues are left for the mother of the bride. We understand that gold and champagne are really tempting colors, as they look fantastic in pictures.
However, this color is usually reserved for the bride's mother.
Red
Red is often associated with love and romance, which is what weddings are all about. Yet, it is known that you should stay away from muted hues of red or even red printed dresses when attending a wedding. 
If you are attending an Asian wedding, then it's best to avoid the color red at all costs. This is because the color red in most Asian cultures is the color of the bride.
Therefore, it is the color that she will wear, so it's best to avoid the color so that the focus is on her. 
In western cultures, if you do want to wear the color red, then we suggest you keep it as subtle as possible. You can do this by wearing a light shade of red or wearing light red accessories.
Neon
At one point, neon was really popular. Yet, some people still wear these bright shades when they go out for a party. However, it isn't appropriate for a wedding. 
A neon dress or outfit, just doesn't work for any season, or theme for a wedding. It can make you stand out in the worst ways.
Also, the color could grab the attention away from the happy couple, which is the last thing you should want to do when attending someone's wedding. Thus, it's best to avoid it at all costs. 
Tips To Remember
Stay away from white unless the couple say otherwise.
Avoid really dark and deep colors and black.
Try to avoid wearing the same color as the bridal (see also: What Should I Wear To A Bridal Expo?)party, unless you are part of it. 
If you can, try to follow the colors and theme of the wedding, so that you don't stand out too much. 
Avoid wearing glittery dresses.
Think about what time the wedding is. This way, you should aim for lighter colors in the day and darker colors in the evening. 
Matching your hair color, eye color and skin tone with your outfit is important. It will help you to create a more unified look.
Think about the shoes you are going to wear. You want to be comfortable. Many women will wear heels, yet it is also worth bringing a pair of flats you will change into once you have had enough of the heels in the evening. 
Match your shoes to your outfit or accessories to make a really completed look.
Dress appropriately for the time of year and where the wedding ceremony is taking place. If it is a church wedding, then you need to be dressed appropriately. If it is an outside summer wedding, then wear something light and loose for ultimate comfort. 
Conclusion
There are various colors and combinations that you can choose from for picking your ideal wedding guest outfit.
The next time you need to choose an outfit for a wedding, try to choose to compliment your skin tone and what you like to wear. Sometimes the time of year or theme of the wedding will give you some ideas.
We hope we have helped you choose a color to wear when attending your next wedding. While also helping you know which colors you should be avoiding. 

Latest posts by Lisa Plaitt
(see all)