Wedding attire is always fun, but finding and picking out your outfit can be very difficult!
And it goes beyond just the appearance. It's never simple to choose your dress's color, especially for a special event like a wedding.
Green is fortunately a fairly adaptable choice. But how should it be styled?
A green dress can be accessorized with a variety of hues; blues, whites, and blacks in particular tones work well. Or you might keep things really uncomplicated and stick solely to green.
You can use any type of accessory you choose, from fasteners to gold pendant necklaces or dangly earrings, there is no limit on what kinds of accessories you can use.
The good news is that you have plenty of options, but there are some things you should avoid. To help you style your green wedding outfit, we've put together this handy guide so you can get planning. 
So let's get started!
Is Wearing A Green Dress At A Wedding Appropriate?
Let's start by saying that green is definitely fine to wear at weddings because it has no connotations. 
For example, wearing black at a wedding is considered a bad omen as it's usually a funeral color, wearing white is of course a huge no-no, and wearing red can imply that you've slept with the groom! That's definitely a rumor you want to avoid!
Black, white, and red accessories are fine, but wearing green as the primary color of your outfit is usually a safe and fashionable choice. 
Bright green attire should be avoided, however, especially if it makes you stand out from the crowd, because you shouldn't overshadow the bride.
Before you wear a green dress as a wedding guest, make sure that the bridesmaids or even the couple's mothers are not donning one.
When in doubt, go to the wedding invitation's color scheme. You can also ask the couple directly if green is an acceptable color for their wedding.
The Do's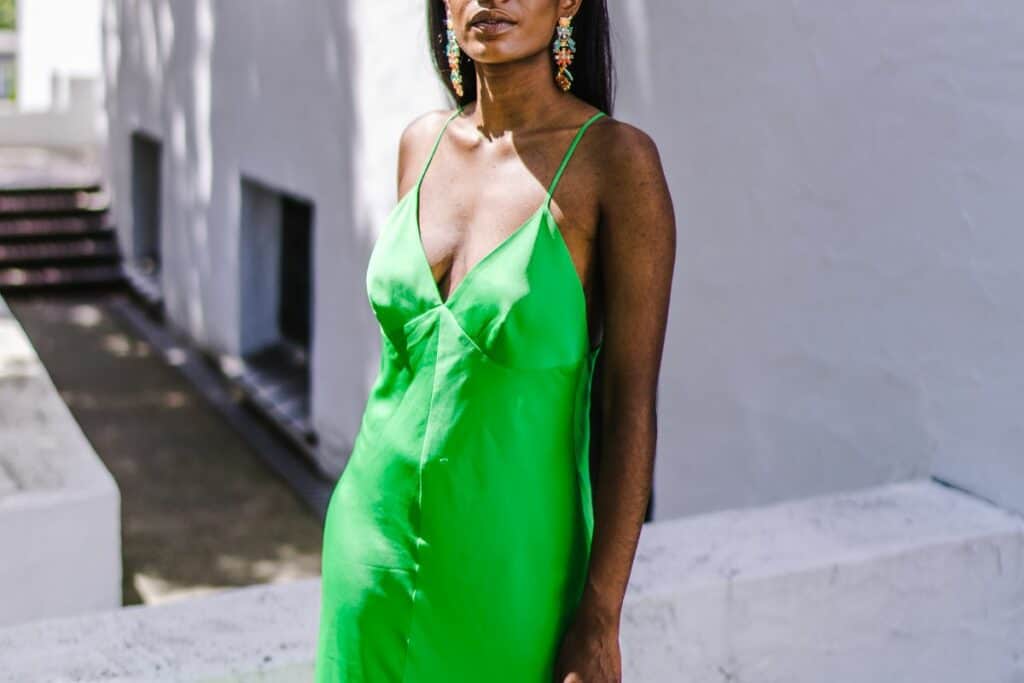 DO Be Bold
Brighter colors are a lot of fun, particularly in the summer and fall, and they work well with many other kinds of accessories.
Bright lime greens and yellows compliment one another beautifully and look especially stunning in the summer.
Depending on how the dress is designed, you could even include some blues. Consider a lime green dress, neon yellow stilettos, and blue accessories.
You can wear simple jewelry, such as a pendant necklace, or funky jewelry, such as dangly blue earrings. No matter if you are a blonde, brunette, or redhead, large gold hoops and bracelets also look very good.
DO Go Simple
The color green is equally lovely when kept understated. When you keep to one shade of green, they are all beautiful.
Imagine donning a gorgeous dark green woodland dress. You may finish the look by adding a fascinator and a pair of black heels.
It doesn't necessarily have to be dark just because it's bold. Light green can be attractive on its own as well, and light green and white complement each other brilliantly in the summer.
A white pair of heels and a sun hat would look wonderful, but you should be careful not to add too much white.
DO Choose One Jewelry
In terms of green, you should generally limit yourself to one set of jewelry. The only situation where this is not true is when silver or gold is combined with pearls.
Wearing a green dress and mixing silver and gold can start to appear a little overpowering.
This isn't necessarily due to the color of the dress, more so because only a select few colors can actually pull that off, and green isn't one of them.
The Don'ts
DON'T Mix Warm And Cool Colors
When deciding whether to remain with a particular motif, blend cool or warm hues with green. Both of them combined can appear untidy.
If you're having trouble deciding, mixing in cool colors eventually works better than warm colors for the more understated looks.
When striving to be wild and bold, warm hues work best. Additionally, dressing in red and green for a holiday wedding is perfectly acceptable.
DON'T Mix Too Much
We shouldn't stray from the course just because we can combine some cool tones of green with other colors. Pink and other vivid colors may truly work in some circumstances, but not in others.
When green is combined with too many other colors, it starts to resemble an 80s throwback theme – and not in a good way.
You can be brave without being overbearing. Take a vivid green dress with pink heels as an example. This is already a bit much. And then by adding a yellow fascinator and silver hoops later, you'll end up having a mess of an outfit.
It just doesn't look good.
It's important to limit your color choices to green plus one, or even plus two depending on the colors you choose.
What Color Accessories Complement Green?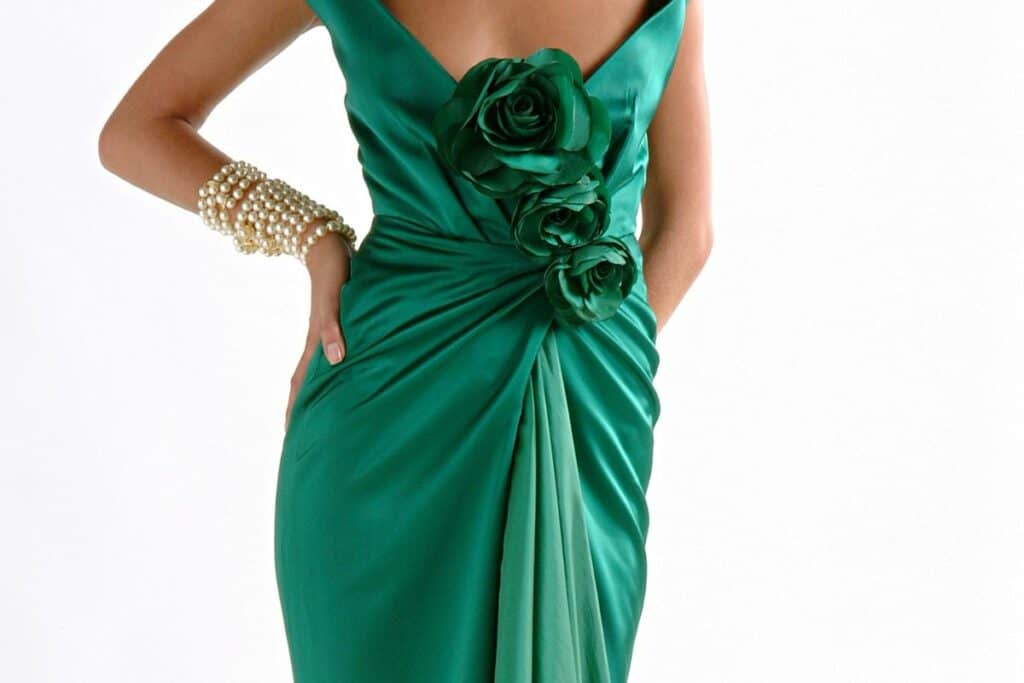 You already know that blues, white, and black play nicely together because a lot of the color pairings and blending are described above.
Let's take this opportunity to discuss what doesn't go well with green.
The good news is that virtually every color complements green. However, while lilac can be worn with green, purple is generally not recommended.
When wearing a green dress, the question changes from what colors don't go with green to what colors won't go together with the green.
It is therefore recommended to pick just one more color.
What Color Shoes Should I Wear?
When deciding which accessories to wear with a green dress, shoes may be both the simplest and most challenging.
That basically means that practically any color of shoe will go with a green dress. Knowing which shade of that color complements the green you have picked is the difficult part.
Green On Green
A green outfit goes well with green shoes. There are two ways to approach this.
You can get the exact color by being completely matchy-matchy. This is a strong statement.
Alternatively, you might use significantly lighter or darker green shoes. This will provide contrast and pop without detracting from the color scheme.
Black And White
It's obvious to say that any color dress goes well with black and white shoes.
In this instance, black contrasts poorly with green, whereas white does. This is due to the fact that white stands out a little more than black, which may blend a little too much.
Even if you like black, you can still wear these shoes, although most colors of green go better with white than with black.
The Possibilities Are Endless
As we previously stated, there isn't a color that won't complement what you are attempting to do. Wearing purple, blue, orange, or any other color also works since it's the shade that counts.
Patterns can be as varied as colors. Anything of the like, including snakeskin, velvet, and camouflage patterns, will work nicely.
What To Avoid
The no-nos are more concerned with the pattern than the color. In general, if it is one color, it will work; but, if it is various colors or has patterns, it may cause problems.
The following unfortunate scenarios would not be as effective as everything described above:
Polka dot – Specifically a pattern that adds two more colors to your look as well as your green dress. It simply won't work.
Glitter – A sparkling, bold color may cause too much distraction from your green dress. You wouldn't want your outfit to be overshadowed by glittery, neon yellow shoes!
A pattern that does not match the pattern of your dress – Obviously, snakeskin isn't going to look good with cow print, or camo with zebra print, especially if the colors don't match.
Top Tips For Dressing For A Wedding
Here's a quick rundown of what you should remember when choosing your perfect wedding outfit:
Consider the dress code – The wedding event could be black tie, formal, semi-formal, smart casual, or casual, so make sure your outfit is in line with the dress code.
Consider location and weather – You wouldn't want to be sinking into the mud in your heels at an outdoor wedding! Make sure you know where the wedding is and what the weather will be like so you can dress accordingly.
Wear layers – The wedding will likely be an all day event, so bring extra layers for when a warm day turns to a cold night.
Final Thoughts
A green wedding dress is practically foolproof.
With redheads, blondes, brunettes, olive skin tone, dark skin tone, and pale skin, green looks stunning. It's a color that simply looks good on everyone.
Oddly, despite the fact that it can occasionally be quite a powerful hue or a masculine color, it also complements almost every other color on the color wheel.
When matching your accessories to your dress, the color you choose to use becomes less important than the color's shade.
Light colors like light purple and light green, as well as dark colors like black, tend to look bold and mysterious when combined.
Although black and white are timeless hues that go with everything, white will prevail in this case as the dominant color. All shades of green tend to look better with it, and jewelry complements it nicely.
Green dresses are great because you can spice them up or keep them simple and elegant.
You only really need to keep an eye on yourself when you start experimenting with patterns.
And now that you know everything you need to know about styling a green dress, it's time to put on your heels and celebrate the big day!

Latest posts by Lisa Plaitt
(see all)