Wedding cakes are a big part of the wedding day, and they're also an important part of the cake decorating process.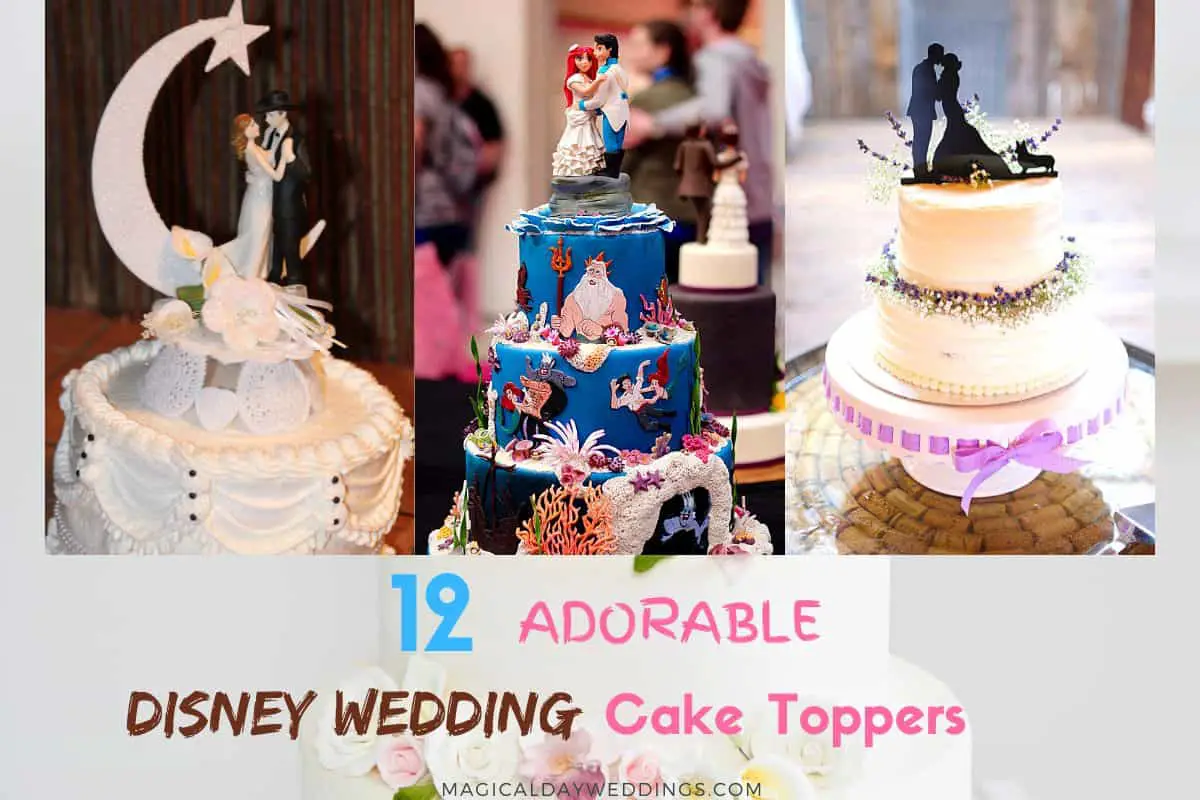 There is no shortage of inspiration out there for you to use when designing your wedding cake topper. You can find so many styles that it will be hard to choose which one to go with. 
If you want something more traditional, then you might want to look into using some classic images or characters from Disney movies.
Here we have compiled a list of adorable Disney wedding cake toppers that you could use on your wedding day. 
These cute little figures would make great additions to your wedding cake, especially if you're having a princess-themed wedding.
They'd add a touch of magic to your special day!
Disney Wedding Cake Toppers
The following list is some of the most adorable Disney wedding cake toppers we have found. They are all available from Etsy, and most of them are handmade! These cake toppers are the perfect addition to any Disney Lover's wedding! 
Cinderella is one of our favorite Disney princesses. She has such a sweet personality, and she always looks beautiful.
Her glass slipper would be the perfect topper on any kind of cake. It's simple enough to put together but elegant enough to stand out.
This is going to create a magical and beautiful cake that everyone will love.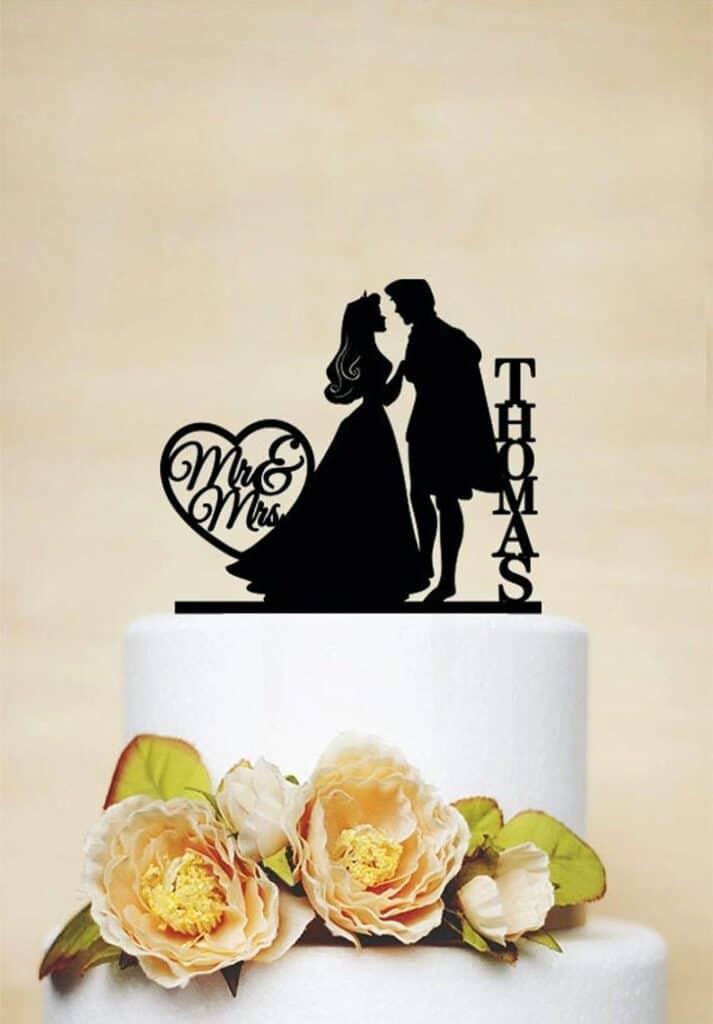 This beautiful cake topper is inspired by Princess Aurora from Sleeping Beauty and her ball gown.
The design is very delicate and feminine; it would work perfectly as a centerpiece on top of your wedding cake.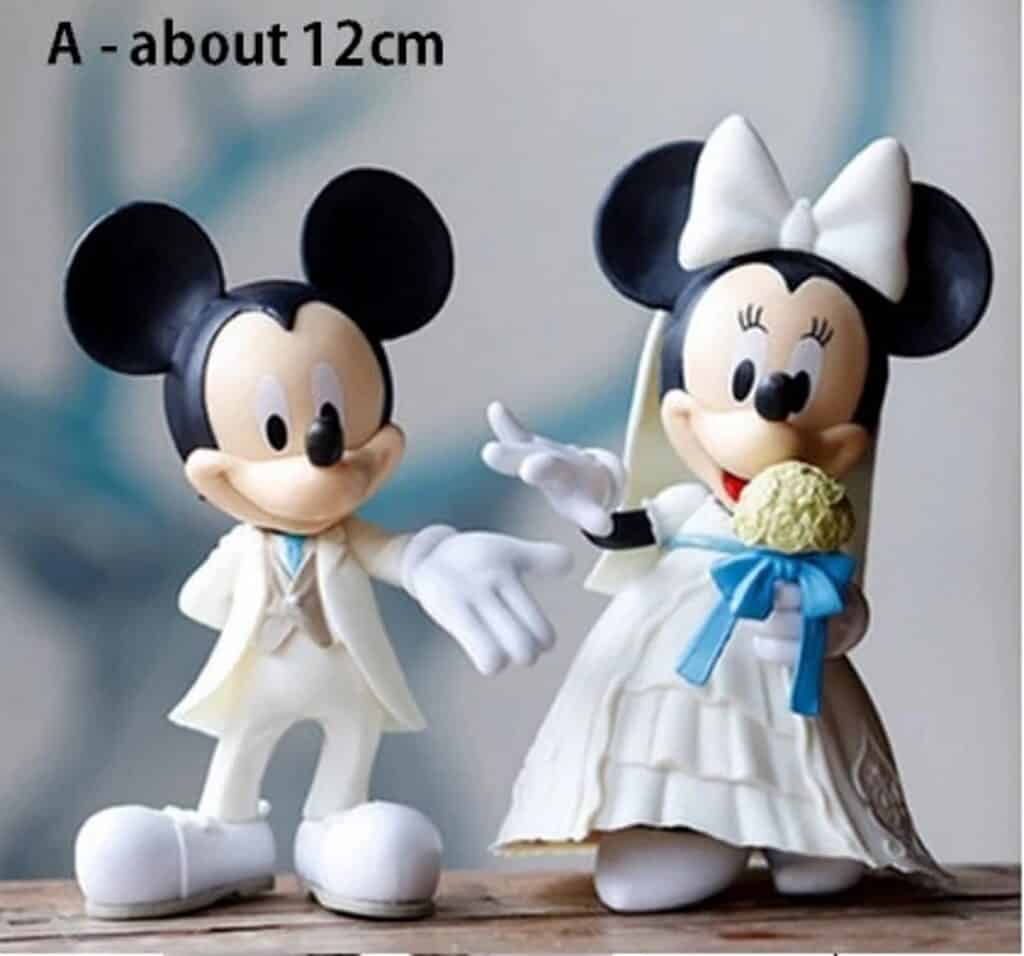 Mickey and Minnie are arguably the most iconic couple from Disney.
Their personalities are just too fun to not include them on your wedding cake.
This cake topper features the silhouette of both the characters leaning in for a kiss and is the perfect representation of the wedding couple!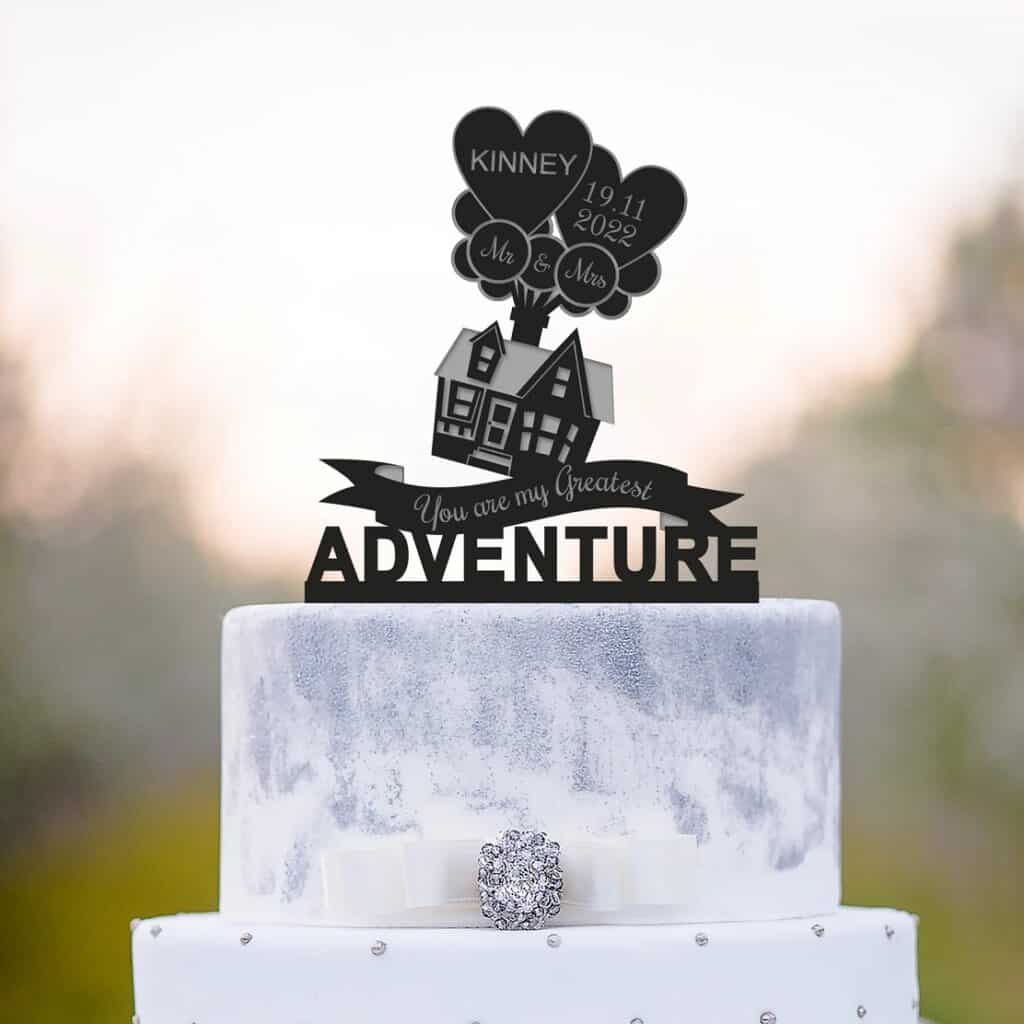 The 'Up' movie was created by Pixar Animation Studios and Walt Disney Pictures and is the perfect story to reference at your very own wedding.
This beautiful handmade cake topper features the iconic house floating with balloons and the quote 'our greatest adventure' written next to it.
This is the perfect decoration for any adventurous couple!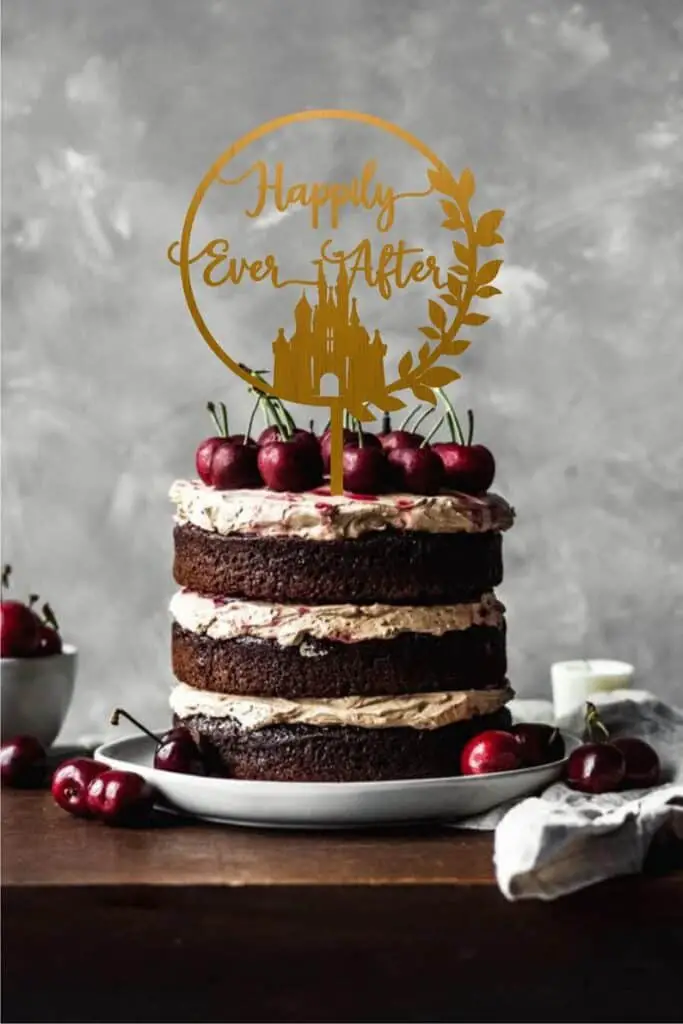 If you're looking for a castle cake topper, this one is perfect for you.
The castle is surrounded by fairy tale flowers and the words 'happily ever after' are written under it.
This is a wonderful way to represent your happy ending, like any perfect Disney movie!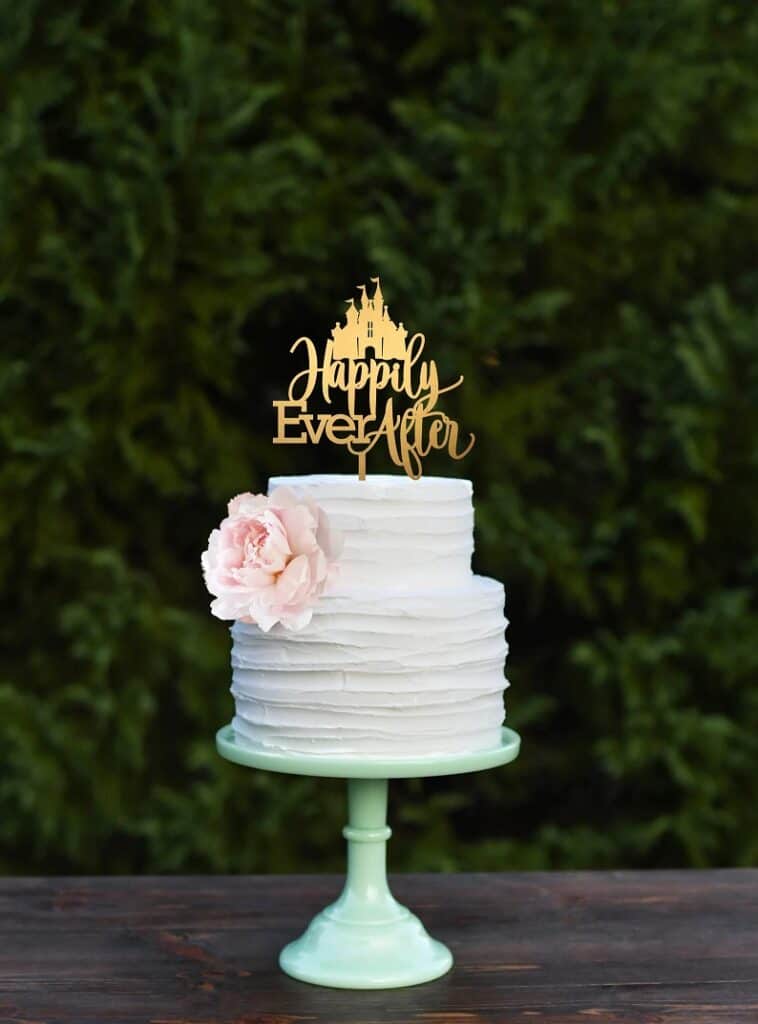 Another beautiful cake topper featuring Cinderella.
This time, however, the fairy godmother is holding a wand and the quote reads "so this is love" – the beautiful song from the movie soundtrack.
This is another fantastic addition to your wedding cake and would be the perfect finishing touch to represent your love. 
Beauty and the Beast are another one of our favorite Disney movies.
Belle is such a lovely character who represents true beauty and strength.
This cake topper shows off Belle's signature dress and of course the Beast himself. This is an iconic love story that is perfect for a wedding!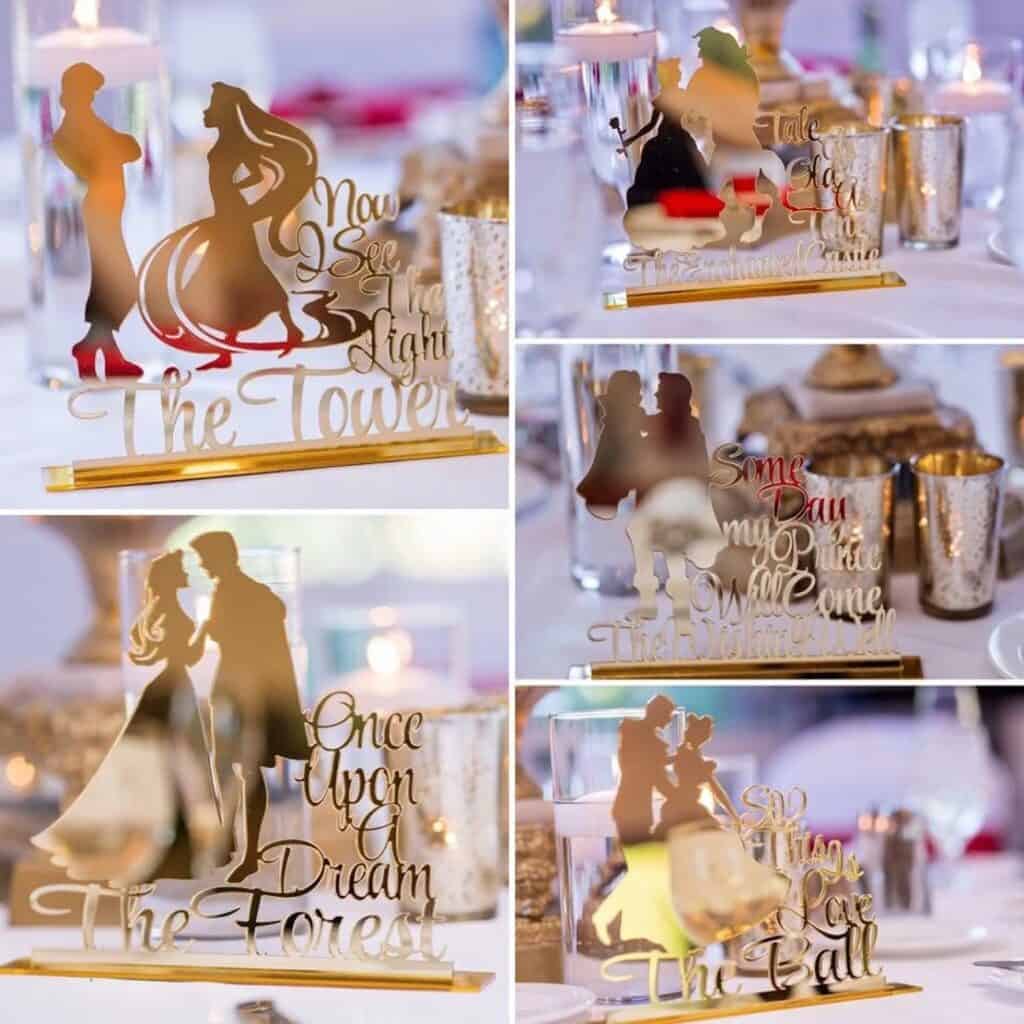 This cake topper can be customized to be any couple from your favorite Disney movie so that it perfectly matches yourself and your partner!
You could even have your names engraved underneath or add some other personal touches, such as the wedding date if you want.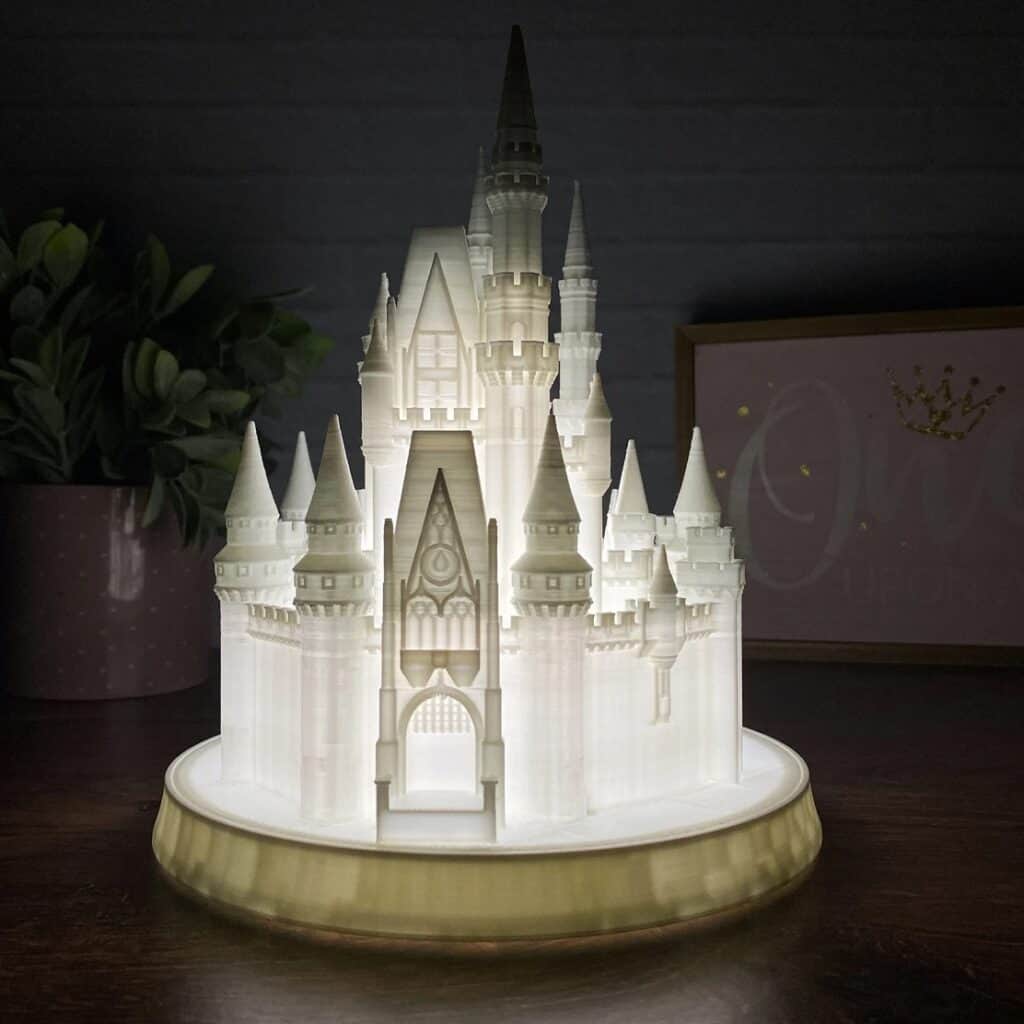 The Disney castle is one of the most well-known images of Disney. The castle is featured in their logo, before the movies, and of course at Disneyland!
So, what better way to decorate your wedding cake with a miniature version of the magical castle?
This cake topper found on Etsy is handmade and a direct recreation of the famous Disney castle. It would make an adorable addition to your wedding cake!
A simple touch to add to a wedding cake, this cake topper reads 'happily ever after' and has been written in the traditional Disney font.
This is a beautiful subtle nod to Disney without it being overpowering or 'too much' .
This cake topper is handmade and available in multiple different colors and glitters to match any wedding color scheme!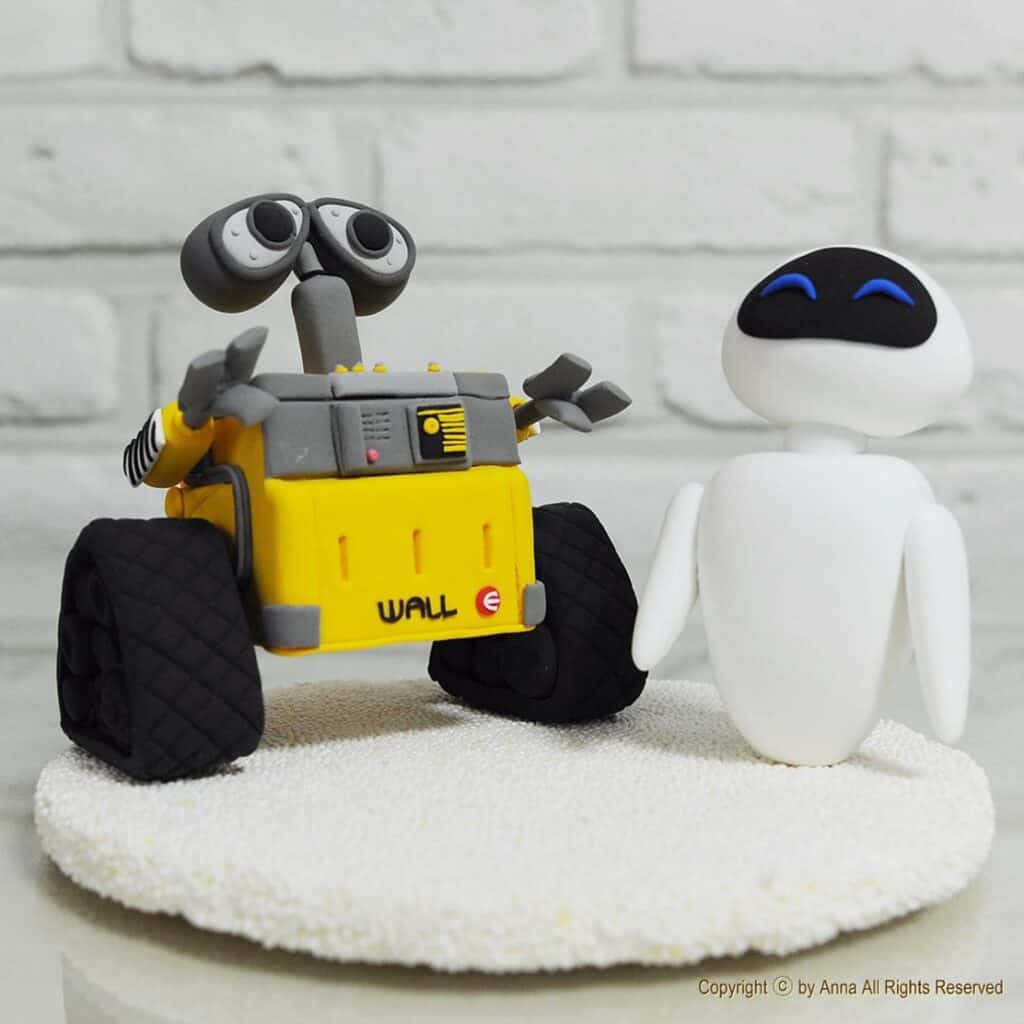 Wall-E is a wonderful film that is representative of inclusivity, not forgetting the sweet romance between Wall-E himself and the character EVE.
This cake topper is perfect for any couple who wants to show their love for each other.
This cake topper says 'for my whole life, which is a sweet sentiment to include on your wedding day.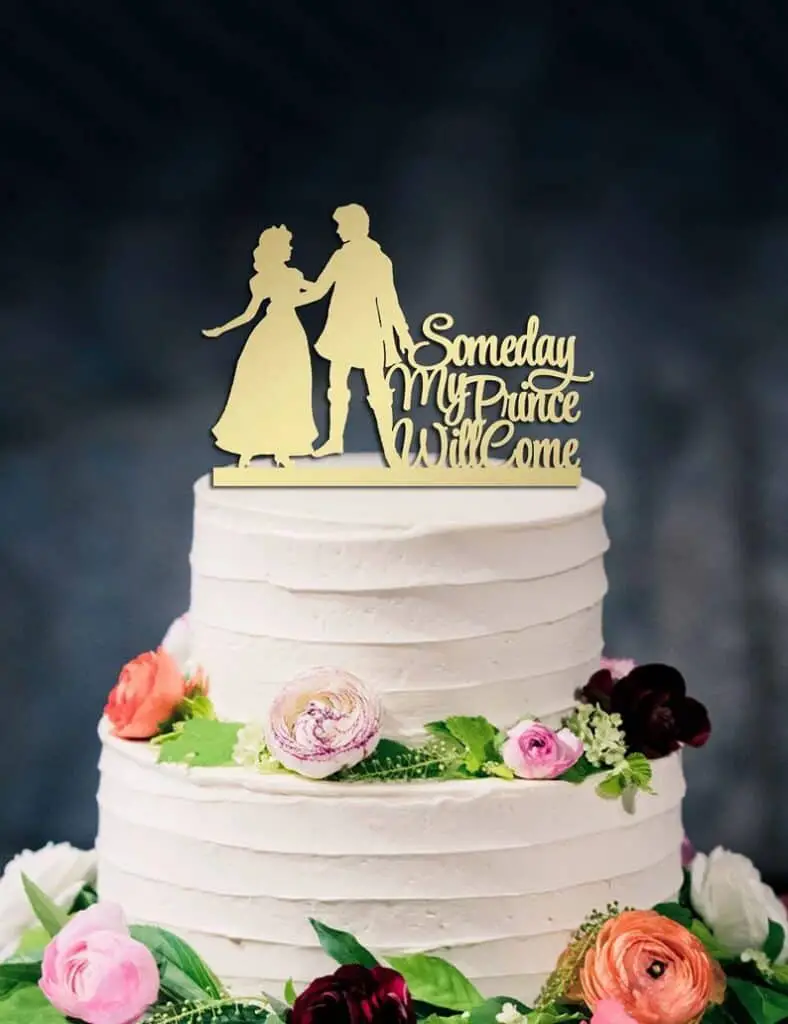 Snow White and Prince Charming are two characters that we grew up watching over and over again.
They were always portrayed as the perfect romantic couple. This cute cake topper features them kissing and is perfect for any bride and groom wanting a classic Disney feel.
Conclusion
If you are looking for the perfect Disney wedding cake topper, then hopefully you have found the one within this magical list!
There are so many ways you can incorporate the magic of Disney into your wedding and this is just one of them! 
You can take inspiration from any of your favorite Disney movies and characters and use them to help theme your wedding for the ultimate touch of personalization!
These cake toppers are all unique and most of them can even be engraved or customized so that they are especially unique and perfect for yourself and your partner for your big day!

Latest posts by Lisa Plaitt
(see all)