One of the most important parts of planning the Disney wedding of your dreams is what your bridesmaids will wear, how they will have their hair, and what their bouquets will look like.
However, the way that you style your bridesmaids can be a great way to incorporate more of your theme into your wedding.
In this article, we will look at 10 Beauty and the Beast bridesmaid ideas that will help create the Disney wedding that you've always dreamed of.
Floor Length Strapless Dress
If you were a fan of Beauty and the Beast as a little girl, chances are you fell in love with Belle's golden ball gown.
However, you may not want to stray from the traditional white wedding gown that you have been dreaming of since you were a child. That's where your bridesmaid dresses come in.
A simple, yellow, floor length dress can create a subtle homage to the famous ball gown from the movie.
If you wish to break up the yellow on the long dresses, you could add a thin royal blue ribbon to the waist or just under the bust if they feature an empire waistline.
The yellow of the bridesmaid dress will also provide a beautiful pop of color in contrast to the white of your wedding dress.
Short Belle Inspired Dress
If you want your bridesmaids to have a less formal, shorter dress, there are options that are heavily inspired by Belle's iconic ball gown.
It is possible to purchase bridesmaids' dresses that feature a knee-length skirt that is sewn in a meringue style like Belle's dress.
They can be strapless or soft tulle can be added to create a Bardot neckline that gives the dress an even bigger Beauty and the Beast feel.
These dresses also often feature a sweetheart neckline that adds to the feminine, princess feel.
Infinity Dress
One of the hardest parts of choosing a bridesmaid dress is finding something that will make all of your bridesmaids feel comfortable and look great.
There is a great way to overcome this problem and find a dress that pays a beautiful homage to your favorite Disney princess.
An infinity dress can be styled above the waist in a plethora of different ways. This allows your bridesmaids the freedom to choose a style that makes them feel most comfortable while maintaining uniformity between them.
There are plenty of options that provide a look that is reminiscent of Belle's famous ball gown. Because there is no tailoring involved with these dresses they are also more budget-friendly than other styles.
Blue And Yellow Bouquet
There are other ways aside from the bridesmaid dresses that can help bring your Beauty and the Beast theme to life.
While you might be carrying a beautiful bouquet of red roses down the aisle, your bridesmaids can be holding bouquets made of deep blue and yellow roses.
This color scheme provides a subtle, yet beautiful nod to both Belle and the Beast. It is also a great way to symbolize the bonding of your and your spouse at your wedding.
Alternative flowers to roses can be used in these bouquets, the main reference to the Beauty and the Beast theme is in the iconic colors of the Beast and Belle's outfits.
You could also use high-quality faux flowers if you want to give them to your bridesmaids as gifts to keep after the wedding.
Rose Bridesmaid Gift Necklace
Speaking of gifts, there are plenty of gorgeous Beauty and the Beast inspired gifts that you can present to your bridesmaids as a thank you for being there for you on your big day.
One option for a Beauty and the Beast inspired bridesmaid gift is a rose pendant necklace.
The pendant makes a beautiful reference to the iconic flower that plays such an integral part in the story.
Depending on the style of bridesmaid dress that you have chosen, they can also provide the perfect finishing touch on the day.
There are great options for the metal that you use for the chain and the pendant, from rose gold to platinum.
You can also choose to add diamonds to the petals if you want to bring an extra layer of glamor to the necklaces.
Red And Green Bouquet
An alternative option to the blue and yellow bridesmaid bouquet mentioned above is a bouquet that is just as beautiful and fitting for the Beauty and the Beast theme and contains red flowers and green foliage.
This is a great option if you do not have blue and yellow as part of your theme, or if you are reserving the iconic blue and yellow colors for you and your spouse.
For this bouquet, you will need red flowers, preferably roses to keep as close to the theme as possible, and leafy green foliage.
This combination will help to create the appearance of a small rose bush for each of your bridesmaids.
Depending on the type of foliage you use, you could create a waterfall effect that could be really beautiful.
Rose Bridesmaid Updo
The Beauty and the Beast theme is great for extending to the hairstyles your bridesmaids wear.
As the rose is such an iconic symbol of the movie and of true love and romance in general, it is a great option to include in the hairstyles of the bridal party.
If you wanted to, you could take the theme a little further and use the hairstyles featured in the animated and live-action movies to inspire the look of your bridesmaids.
The famous half updo that Belle wears when she is wearing her yellow ball gown can be an elegant option.
It is also possible for almost all lengths of hair to achieve this look. The updo can be adorned with either one large rose flower or multiple small roses to further accentuate the Disney theme.
Rose Bridesmaid Gift Bracelet
It is common practice to present your bridesmaids with a gift to thank them for their help and support in making your special day run without a hitch.
A Beauty and the Beast inspired gift can be a beautiful rose bracelet.
Again, this can make the perfect finishing touch to your bridesmaids' outfits on the day or can be presented in the evening after the ceremony.
There are so many options with a rose bracelet, although the more simple the better.
A thin chain with a single rose detail running along the length of the chain can be a timeless gift that all of your bridesmaids can wear for years to come, no matter where your lives take you all after the big day.
Alternative Bridesmaid Bouquets
If you want your bridesmaids to be holding something as they walk down the aisle but aren't big on flowers, there are a few alternatives that are a little more outside of the box that you could give them instead.
A great option that is in keeping with a fun Beauty and the Beast theme is to give each bridesmaid a different object that represents a character from the iconic Disney movie.
For example, one bridesmaid could hold a candelabra as she walks down the aisle to represent Lumiere, while another could be holding a small pendulum clock to represent Cogsworth.
You could get really creative with the enchanted characters that your bridesmaids carry.
Alternatively, each bridesmaid could hold a plush Beast toy or Belle toy down the aisle that they then get to keep as their bridesmaid gift.
There is no set right way to hold your wedding so feel free to be as creative as you want and have fun with it.
Dusty Pink Bridesmaid Dress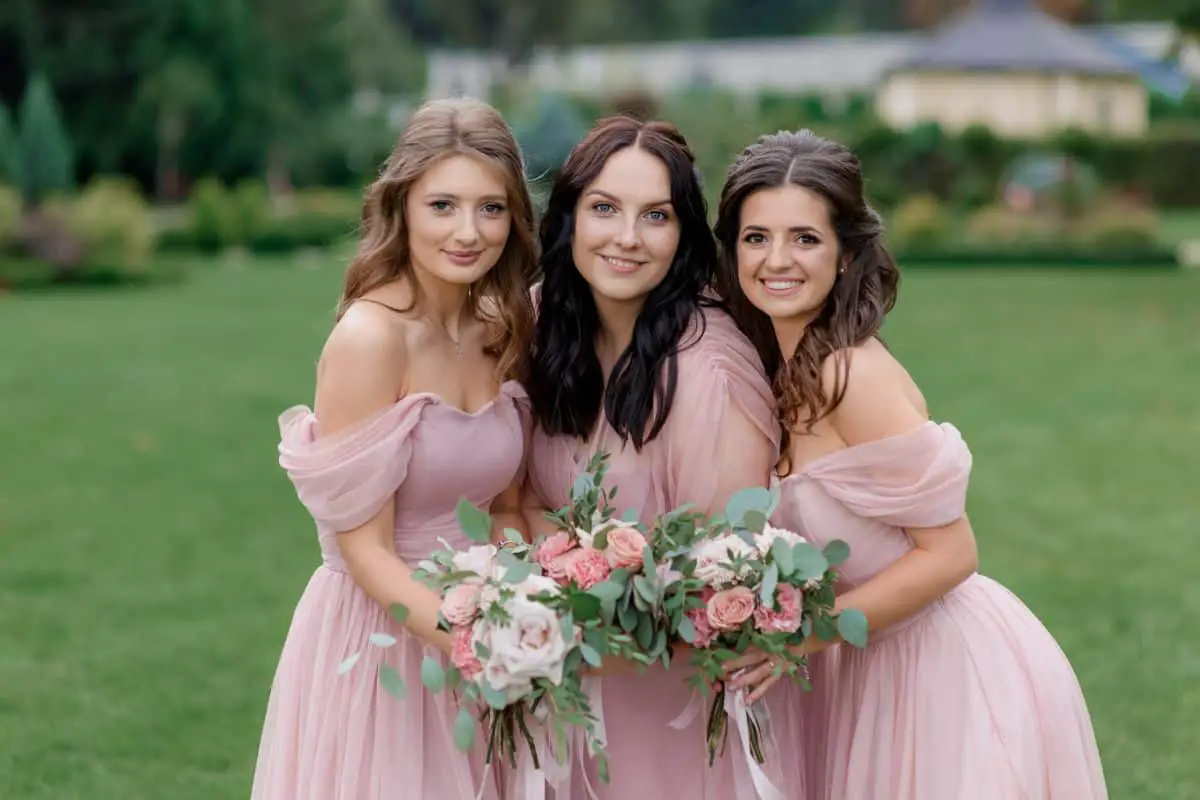 If the most common colors associated with Beauty and the Beast just aren't your style or you want the theme to be a little more subtle and low-key, dusty pink bridesmaid dresses are a brilliant choice.
Similarly, they are a great option if you are planning on wearing the Belle gown of your dreams during your ceremony or reception and yellow bridesmaid dresses may detract from that.
The dusky pink color is reminiscent of the dress that Belle wears during Christmas time in the Disney movies and is a more neutral color to include in your wedding.
Another positive of having bridesmaid dresses in this color is that it is very complimentary for many skin tones and can help to make sure all of your bridesmaids feel comfortable in their dresses.
Final Thoughts
There are so many ways in which you can incorporate your Beauty and the Beast theme into your bridesmaids' dresses and accessories.
No matter whether you want a subtle hint of the movie, an obvious color scheme homage, or want to have more fun with your bridesmaids' accessories, there is something for every taste.
However you choose to bring the Beauty and the Beast theme into your bridesmaid outfits, the Disney wedding of your dreams will be one to remember.

Latest posts by Lisa Plaitt
(see all)