Over the years, the world has seen some absolutely iconic wedding gowns that have made waves in the fashion industry.
However, have you ever wondered who was behind some of these incredible creations?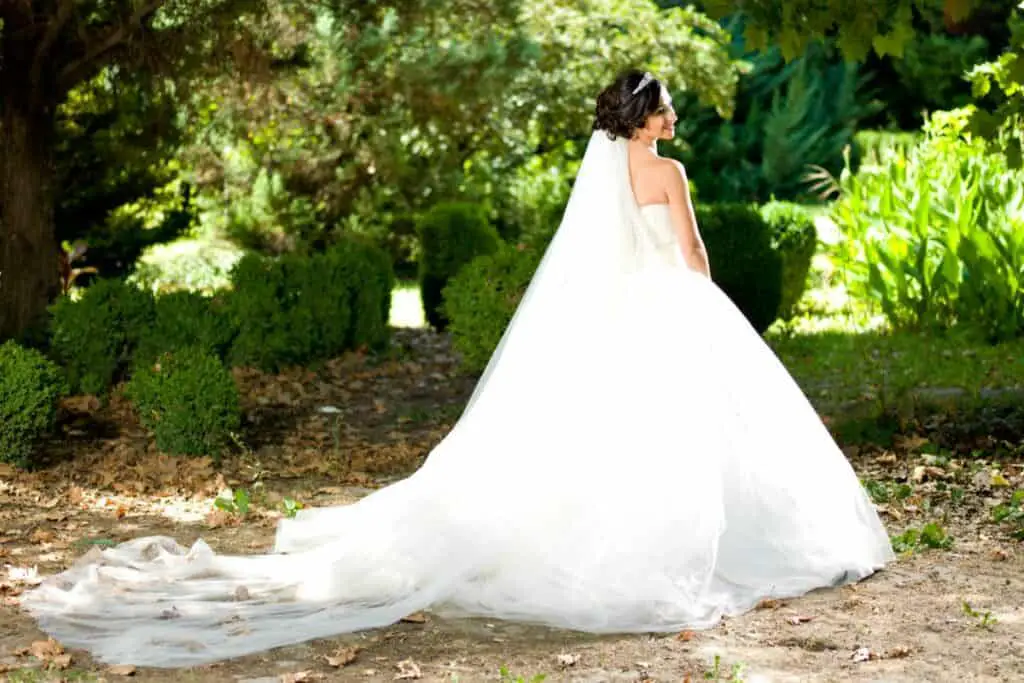 In this article, we've compiled a list of 15 bridal designers who have made history by creating some of the most amazing wedding ensembles the world has ever seen.
Yves Saint Laurent
Those who appreciate fashion will always remember the name Yves Saint Laurent.
The designer built an inspirational legacy while revolutionizing the industry and delivering magnificent aesthetics.
Bianca Jagger, 1971
Bianca Jagger was never likely to choose a traditional bridal look when she wed Rolling Stones singer Mick Jagger.
She asked decade-leading designer Yves Saint Laurent to create her iconic bridal outfit, and the result became bridal history and ignited a media frenzy.
One of the most iconic bridal ensembles of all time was created by Laurent's ivory Le Smoking jacket worn with a bias cut skirt and Bianca's decision to forgo her blouse.
Hubert de Givenchy
The last of this generation of French haute couture designers was Hubert de Givenchy.
Givenchy debuted his first collection in the 1950s, including one-of-a-kind, avant-garde designs that gave a fresh perspective on beauty through simplicity.
Midway through the 20th century, the French designer gained fame by producing custom attire for princesses and first ladies of high society.
Audrey Hepburn, 1969
Hepburn requested the expertise of her close friend and frequent collaborator Hubert de Givenchy for her second time as a bride.
Hepburn wore a Givenchy long-sleeved, funnel-neck minidress in a soft ballet pink to wed Andrea Dotti at a town hall wedding in Switzerland in 1969.
She accessorized the look with white tights and white ballet slippers.
Hepburn finished off her simple wedding day ensemble with a pair of gloves and a matching headband.
Christain Dior
The name-brand of Christian Dior is one that has thrived for years and still continues to.
Since its founding in the 1940s, Dior has been giving people all around the world some of the most exquisite clothing, whether it's haute couture, a gown for the red carpet, or an exquisite wedding dress.
Gwen Stefani, 2002
Gwen Stefani chose a non-white Dior wedding gown for her first nuptials to Gavin Rossdale, going for a traditional design but adding a twist with a stunning pink ombre skirt.
The No Doubt singer, one of the first famous brides to choose a more unusual path with a stunning flash of color, made history in her Christian Dior wedding gown.
Norman Hartnell
Norman Hartnell is one of the designers most closely linked to the British royal family.
It didn't take him long to achieve international success after leaving college to pursue fashion, catering to both high-society women and movie stars of the time.
Queen Elizabeth II, 1947
Fashion designer Norman Hartnell stated that he "wanted it to be the most beautiful dress I had so far designed" when creating the then-Princess Elizabeth's wedding gown.
Known for his love of grandeur, he created a stunning slender A-line dress in ivory silk and duchess satin with 10,000 pearls, silver flower embroidery, and a 15-foot train.
Cristobal Balenciaga
Cristobal Balenciaga, a Spanish fashion designer famous for his superb craftsmanship and avant-garde creations, was dubbed "The Master" of haute couture.
He continued to produce amazing high-fashion pieces and wedding gowns that are still worn by famous brides today.
Nicole Kidman, 2006
Nicole Kidman's wedding dress for her nuptials with Keith Urban, a country and western musician, was created by Nicholas Ghesquiere, creative director of Balenciaga.
He created an exquisitely romantic empire-line gown with soft puff sleeves made of lace and chiffon.
Stella McCartney
Wedding gowns by Stella McCartney have been worn by celebrities for almost 20 years.
In 2018, she made available to the public her debut bridal collection that had dresses that radiated complete simplicity with incredible elegance.
Madonna, 2000
Madonna wore a gown created by Stella for her marriage to Guy Ritchie in 2000.
A beautiful ivory strapless gown with a tight corset bodice and a lengthy train was designed by the fashion designer, who served as maid of honor during the wedding.
Madonna adorned the gown with Jimmy Choo heels, an Edwardian diamond tiara, and an antique veil embroidered with 19th-century lace.
Ralph Lauren
Since its founding in 1967, Ralph Lauren has been credited with virtually inventing the mainstream American style.
The firm started with classic designs as its foundation but later evolved them to reflect new fashion trends, including in the bridal industry.
Priyanka Chopra, 2018
Priyanka Chopra's wedding combined both Indian and Christian traditions.
She donned a lace Ralph Lauren celebrity wedding dress with a unique touch of a row of buttons at the front for the Christian wedding ceremony and an incredible red lengha dress for the Indian ceremony.
Zac Posen
The American-born fashion designer Zac Posen is well-known for his slick and elegant garments.
Zac Posen gained media attention, building up significant anticipation for his debut runway show, and received more critical acclaim and multiple awards for his creative design.
Portia de Rossi And Ellen DeGeneres, 2008
For Ellen DeGeneres and Portia de Rossi's wedding attire, Zac Posen was unquestionably the ideal choice.
While Ellen wore a sheer Zac Posen blouse, vest, and pants, Portia de Rossi dazzled in a halter-neck gown with a pale pink tulle skirt and a deep V-neckline, capturing the star's feminine and sophisticated style.
Alexander McQueen
Although he tragically passed away in 2010, Alexander McQueen's eponymous British design house continues today.
Numerous famous brides have dazzled in stunning Alexander McQueen wedding dresses on their special day.
Kate Middleton, 2011
The Duchess of Cambridge frequently went out in Alexander McQueen before the royal wedding in 2011.
The magnificent train worn by the Duchess of Cambridge, who opted for a tight Victorian-style bodice, was approximately nine feet long.
The Carrickmacross lace making process, which was invented in Ireland in the 1820s, was used to hand-engineer the lace design.
Ann Lowe
Anne Lowe was once labeled society's "best-kept secret" for her incredible designs that she received little recognition for.
While facing racial discrimination during her start in fashion design, her legacy has left a solid impression on the fashion industry.
Jackie Kennedy, 1953
Despite designing for affluent families like the Rockefellers, Roosevelts, and du Ponts, Jacqueline Kennedy was Lowe's most well-known client.
For the Kennedy wedding, Lowe was tasked with creating both the bride's gown and the bridesmaids' dresses.
The result was a stunning ivory tissue-silk gown with a portrait neckline, a bouffant skirt embellished with wax flowers, and a rose-point lace veil that belonged to the bride's family.
John Galliano
John Galliano, one of the most innovative and divisive designers in the industry, made his eagerly awaited comeback to fashion after being named creative director of Maison Margiela.
Kate Moss, 2011
When supermodel Kate Moss married her ex-partner, Jamie Hince, in 2011, she donned a magnificent wedding dress designed by Galliano.
A homage to the 1920s and 1930s, Kate's enchanting vintage-inspired dress included a sheer silk slip dress with gold sequins on the bodice and a wonderful combination of gold beading, embroidery, and rhinestones on the skirt.
Vera Wang
The go-to for A-listers getting married has long been renowned bridal designer Vera Wang.
She has become a well-known designer owing to the adoration of her gowns.
Mariah Carey, 1993
One of the most famous celebrity wedding dresses of all time is the extravagant princess dress Carey wore for her 1993 nuptials to Tommy Mottola.
She accessorized her sweetheart neckline ball gown with a glistening tiara and an amazing 27-foot train.
Helen Rose
With her stunning creations, Hollywood designer Helen Rose inspired women all over the world to look like movie stars.
Grace Kelly, 1956
Grace Kelly trusted Rose to take care of her wedding dress as she had helped with her wardrobe in four of the actress's movies.
It took months to make the dress, which had a high neckline, a fitted bodice, a silk taffeta skirt with thousands of hand-sewn pearls, and a three-foot train.
In the realm of bridal fashion, it has become legendary.
David And Elizabeth Emanuel
This husband and wife fashion design team, David and Elizabeth Emanuel, have created some incredible royal looks that have gone down in history.
Princess Diana, 1981
Princess Diana wore a record-breakingly expensive bridal gown created by the Emanuels.
She chose a lavish silk taffeta gown with vintage lace for her marriage to Prince Charles.
The dress featured the longest train in royal history, measuring 25 feet.
Norman Norell
American fashion designer Norman Norell was renowned for his tasteful dresses, suits, and precise silhouettes.
His creations for the Traina-Norell and Norell fashion houses rose to fame for their attention to detail, clean, classic lines, and expert tailoring.
Marilyn Monroe, 1956
The world-famous movie star Marilyn Monroe had Norman Norell design all three of her wedding dresses for each of her ceremonies.
He also designed some of her most iconic looks, including the dress she wore to John F. Kennedy's 40th birthday event.
For her third wedding in 1956, she wore a mid-length, figure-hugging gown with a pillbox hat and veil to marry playwright Arthur Miller.
Final Thoughts
There have been some incredible bridal ensembles throughout history, all thanks to the world's most genius designers.
Every person on this list has made an impact on fashion and is sure to leave an amazing legacy, if they haven't already.

Latest posts by Lisa Plaitt
(see all)