Although the words dresses and gowns are frequently used interchangeably, they are not the same type of clothing. A gown is a lined, long, floor-length formal garment.
They are often worn for special occasions like a wedding or balls. Women often wear gowns made of expensive materials. A dress is less pricey than a gown and may be tailored to fit any event.
Additionally, a dress can be formal or informal, long or short.
Therefore, there are many differences that set gowns and dresses apart from one another. It can become quite confusing, as all gowns are seen as dresses, but not all dresses are thought of as gowns. 
In this article, we are going to clear this confusion up. We will discuss the differences between dresses and gowns, so you can tell the two apart. 
History Of Dresses
The Tarkhan Dress is thought to be the first garment ever made. It was found in an Egyptian tomb 5000 years ago. Cleopatra was also rumored to have worn dresses encrusted with gold and semiprecious stones in 51 BC.
The dress has evolved over the last few centuries in more ways than just fashion. It is a reflection of social and political developments as well as a shift in lifestyle.
History Of Gowns
The first gowns are thought to have been worn by wealthy European women in the sixteenth century. These gowns were composed of the most expensive materials, including velvet, silk, and lace.
They were embellished with elaborate needlework, pearls, and precious stones.
While there are many different styles of dresses, there aren't as many varieties of gowns on offer. However, that doesn't mean you wouldn't be able to find one that suited you and your style today. 
When Do You Wear A Dress And Gown?
Even though their shapes can vary, gowns are frequently more of a formal attire. Balls, weddings, and other formal events are the ones where gowns are most frequently worn. However, dresses come in both formal and casual styles.
Thus, when it comes to when you should wear a gown or a dress, it depends on the event you are attending and their dress code.
While there are formal dresses available, a gown is considered the epitome of formal wear. Whereas, a dress depending on the style can be worn for various events and outings. 
Appearance Of Dresses And Gowns
The appearance of dresses and gowns difference quite a lot. This is the easiest way to tell the two apart. 
Gowns 
Over the past century, gowns have essentially not changed. Gowns are regal and magnificent, crafted from the softest materials like silk and satin. Thus, they are usually quite pricey. 
They are then delicately embellished with bead work, embroidery, and pearls.
The bodice is frequently, but not always, off the shoulder with a low cut neckline. While the skirt of the gown always reaches the floor. 
A floor-length skirt and a fitted bodice are the main characteristics of a gown.
Dresses
Gowns are known for being very formal garments. While you can have formal dresses, you can also see casual styles of dresses as well.
Thus making the dress a much more versatile item of clothing that you will see a lot of people wearing every day. 
Dresses come in a variety of lengths, including midi dresses and full-length dresses. A dress is a garment with a connected bodice and a skirt. 
It consists of a skirt that falls down at least partly over the legs, but the bodice can vary depending on the style. Any one-piece outfit with a skirt of any length qualifies as a dress.
Different Variations Of Gowns And Dresses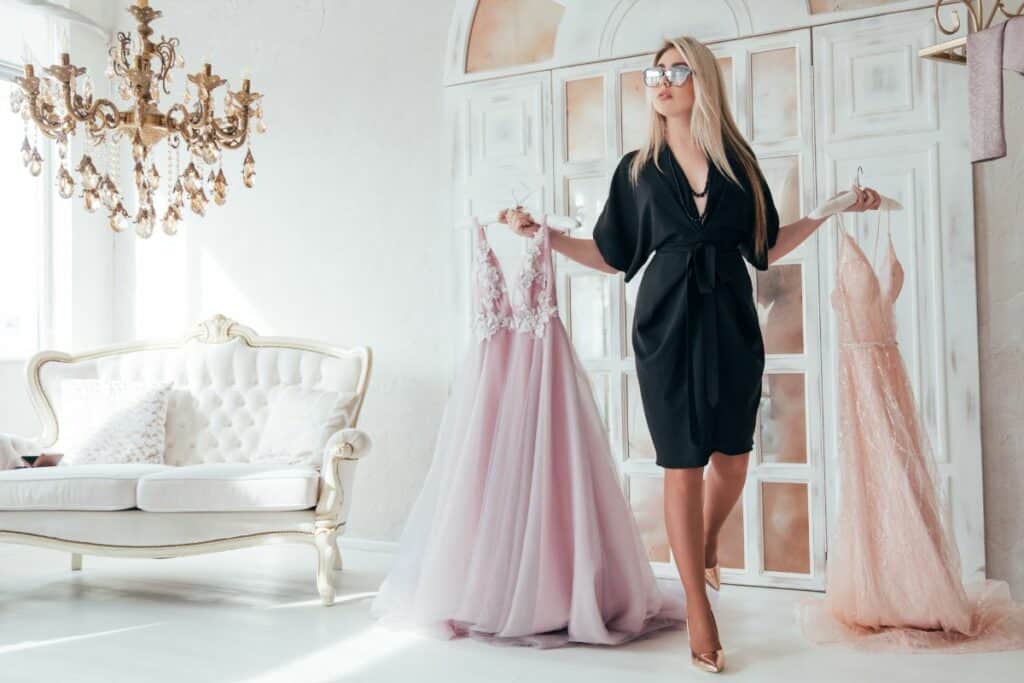 There is a broad range of different types of gowns and dresses to be worn at different events. 
Different Types Of Gowns
Wedding Gown
The most exquisite and gorgeous dresses are those worn during weddings. To wear a wedding gown, you don't have to be a bride.
Others may wear a wedding gown, for photography sessions or special events, depending on the style of the gown.  
However, wedding gowns typically feature a long train. While, veils are frequently worn with wedding gowns as well. 
Evening Gown
One of the classiest and most popular types of clothing for young people are evening gowns. Women like wearing evening gowns to practically every occasion, including weddings, evening gatherings, proms, and ball dances.
Ball Gown
Ball gowns are made specifically for dancing parties in the ballroom style. Think of Cinderella; they are full-length and frequently have a lot of tulle and flare. These are often fitted at the waist.
They can have trains or not, although the skirt of the garment is frequently long enough to do without one.
Different Types Of Dresses
Wedding Dress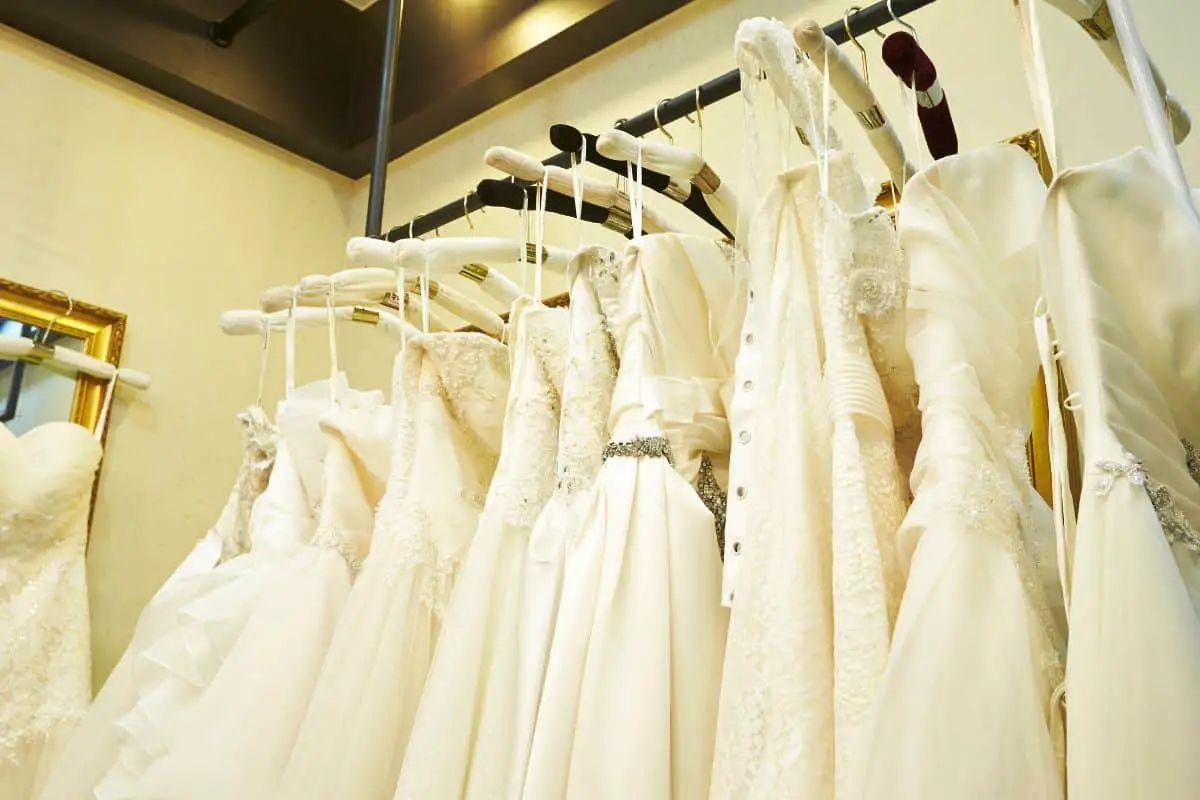 A wedding dress is a special outfit worn only at or in connection with a wedding. Depending on the venue, the bride and groom's preferences, and their traditions, the wedding dress' style, cut, and appearance can differ.
A wedding dress may be used for a variety of events, including pre-wedding picture shoots, the wedding day, and as a bridesmaid dress.
However, a wedding dress which has a fitted bodice and full length skirt, that is paired with veil and train could be considered a wedding gown.
As a result, depending on the style of your wedding garment, it is easy to get confused between a wedding dress and wedding gown.
In fact, a lot of people may call their wedding gown a wedding dress, when it is a gown and not a dress. 
Midi Dress
A midi dress is one that falls in between a full-length or mini dress and a maxi dress in length. The midi dress is just below the knee in length. This outfit works nicely for both formal and casual occasions.
It is one of the nicest styles of dress that will suit all body types. 
A-Line Dress
A-Line dresses are modeled after the well-known A-Line style, which has a tapered shape that sweeps outwards from the hips.
Early in the 20th century, the A-Line silhouette gained popularity and is still used today, particularly for formal events.
This design will highlight their lower portion of the body and showcase individuals' shoulders, making it ideal for curvier women, as it flatters the silhouette. 
The A-Line dress is an excellent option for both casual and formal wear because it typically has a fitted bodice but can have a variety of skirt lengths.
Body-Con Dress
Body-con dresses are shape-hugging garments. The silhouette is defined by the dress's tight fit. Body-con dresses are composed of stretchy material, making them easy to wear as tops as well.
They are frequently worn for when you want to make a seductive impression. Moreover, they are extremely popular among younger women.
Off-Shoulder Dress
The neckline of these gowns typically sweeps across the chest and rests on the side of your arms. It may have sleeves or be sleeveless. The sleeves on the off-the-shoulder gowns will begin just below the shoulder, at the neckline.
These outfits are often sophisticated and gorgeous. They are ideal for festivities, particularly for special occasions or events.
High-Low Dress
A high-low dress is a casual ensemble that is typically accessorized with a clutch and open-toed footwear. The dress is typically viewed as having a longer trailing skirt and an exaggerated bust line.
The length of the dress can vary depending on the particular design, however in general, the garment will have a higher front and a lower back flowing down.
Halter Dress
The upper bodice of this casual kind of dress can be strapless or sleeveless, which is tied behind the neck. In some form, material hangs around the neck to support the dress and neck.
This dress style would look best on those who want to show off their shoulders, but may not be suitable for those with wider shoulders.
Wedding Dress Or Wedding Gown?
Depending on the style of wedding garment you are going for will indicate whether you should get a wedding gown or a wedding dress. 
For a more informal beach wedding, you wouldn't want a lined and beaded wedding gown as it would be impractical. So a simple A-line wedding dress may be more appropriate. 
With that being said, you could wear a wedding dress to your formal themed wedding, depending on the style and detailing of the dress. It depends on your personal preference. 
Conclusion 
A gown typically costs extra because it is lined and made of pricey fabrics. It usually has a fitted bodice and a large skirt. While dresses use much less and cheaper materials, depending on the type and style. 
However, a key distinction to remember between dresses and gowns is that women can wear dresses in both formal and more casual settings. While gowns are only worn for the most formal occasions. 
It's now clear why these terms are used interchangeably for one another. We hope this article has helped you to tell the difference between dresses and gowns. 

Latest posts by Jodie Messines
(see all)