If you're planning a peacock themed wedding, then you'll want to make sure your gown is perfect for the occasion.
You can incorporate the bright colors of a peacock into your dress and look stunning on your special day. From feathery details to vibrant hues, there are plenty of bridal gown ideas that will have you feeling special.
When it comes to peacock themed bridal gowns, color is key! A classic white dress with multi-colored accents around the neckline or waist is a great way to tie in the theme without going overboard.
Or, if you're looking for something bolder, try choosing a brightly colored gown with accents like synthetic peacock feathers or jewelled beading tied in around the waistline or hem. Feathery details also work well as headpieces or veils! 
We have put together a list of dress ideas that will help you with a peacock wedding theme. PS: no peacock will be harmed in following our recommendations – as we have checked that no real feathers were used in any of the dresses below to the best of our knowledge.
this multi-coloured dress is the dress of your dreams. It's crafted from high-quality Italian silk, finished with exquisite hand-painted details that adds an elegance to this single-of-a kind gown.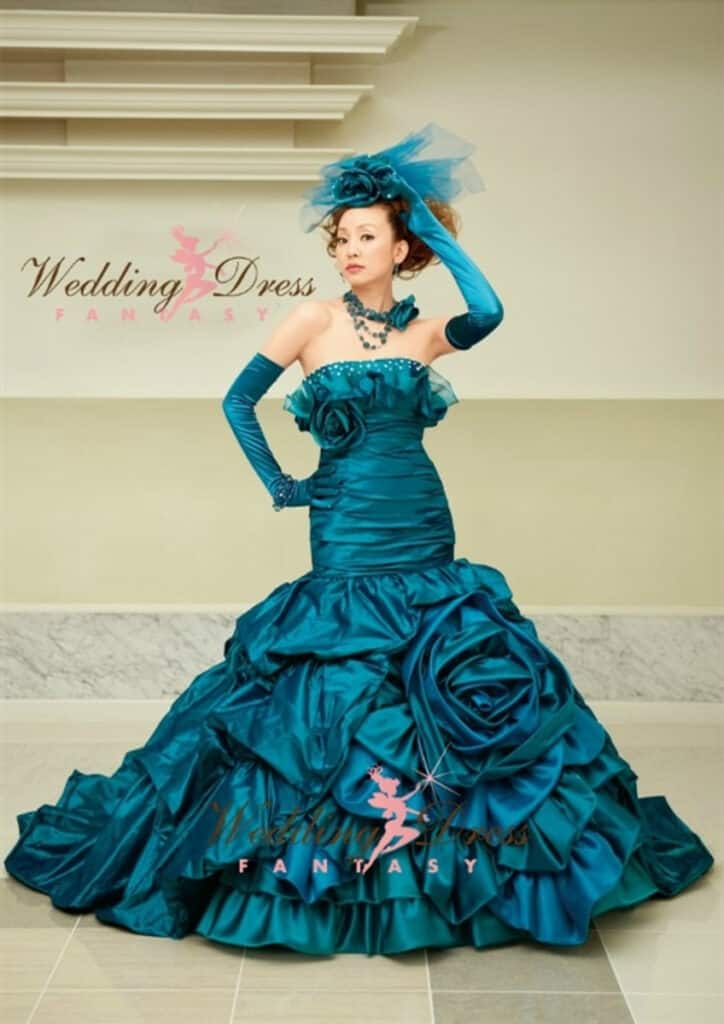 Glamour or glamour. Featuring a dramatic mermaid dress in peacock colours, this dress is custom made to fit you perfectly. If you're looking for something grand, this is a great option.
If you prefer a more traditional wedding dress with hints to a peacock colour palette, this is a great inspiration. Beautifully designed with intricate detailing, this is an absolute stunner.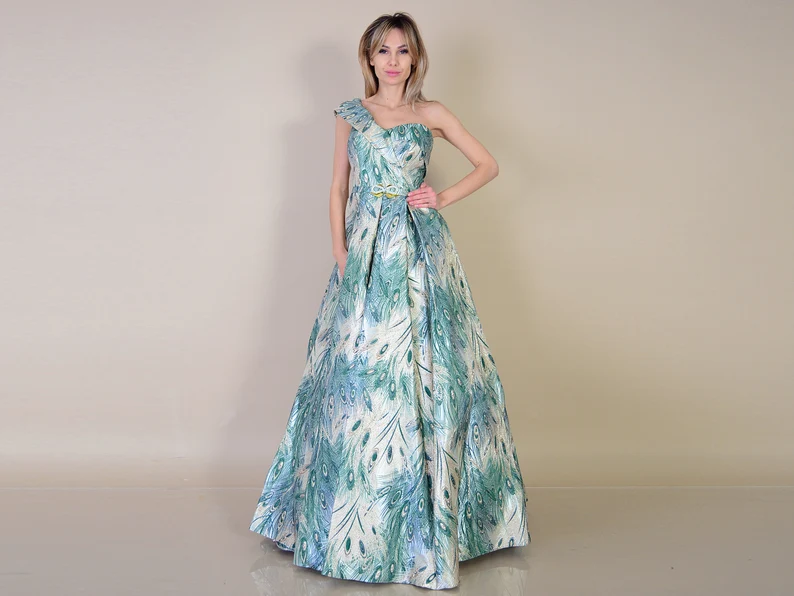 This stunning designer dress boasts an impressive peacock feather design, made from jacquard fabric. The one-shoulder silhouette accentuates its modern allure, while the belt adorned with crystals and a bow add a touch of classic sophistication.
While this dress is originally inspired by water lilies, we found the colours close to a peacock palette. This one-of-a-kind dress is perfect for the bold adventurous bride, as the designer envisioned it to be. Lovely lace work and colour mixing in this dress is hard to find elsewhere! Great for brides who want a mixture of white and colourful for their peacock-themed wedding.
Prepare to be swept away by this impeccable gown with a classic deep V-neckline with an alluring low open back. A mesmerizing basque waist cascades down to the tiered fringe beadwork skirt, completing your look with a stunning thigh-high slit and sweeping train for royal perfection.
Adorned with an eye-catching display of sparkling rhinestones, feathers and a fitted bodice featuring a sweetheart neckline and mid-open back, this iridescent chiffon ensemble features wide pleated insets gathered at the waist for added allure.
If you're after a peacock theme without the bold colours, you can opt for dresses that have peacock-inspired details instead of the traditional teal blue color palette. This gorgeous dress is an inspiration for an elegant A-line look that will elongate and flatter your body. The nude belt makes this dress a balanced piece with semi nude sleeves.

If you're looking for a figure embracing and sparkling peacock-inspired dress, you can't go wrong with this. With a mermaid shape and a low back, this dress is great for curves. Did we say that for a wedding, this might be the most budget friendly option without sacrificing glamour!
Look absolutely stunning in this vintage dress. With long fringe that gracefully moves as you walk and dance, the intricate decorative sequins and beads add a show-stopping touch to your graceful look. The elegant bobycon cut features a scoop neck both in front and back, complemented by a midi length skirt. 
Short and impressive. For non-conventional brides who'd love a short dress with a sweetheart neck, this black peacock dress is a fantastic idea.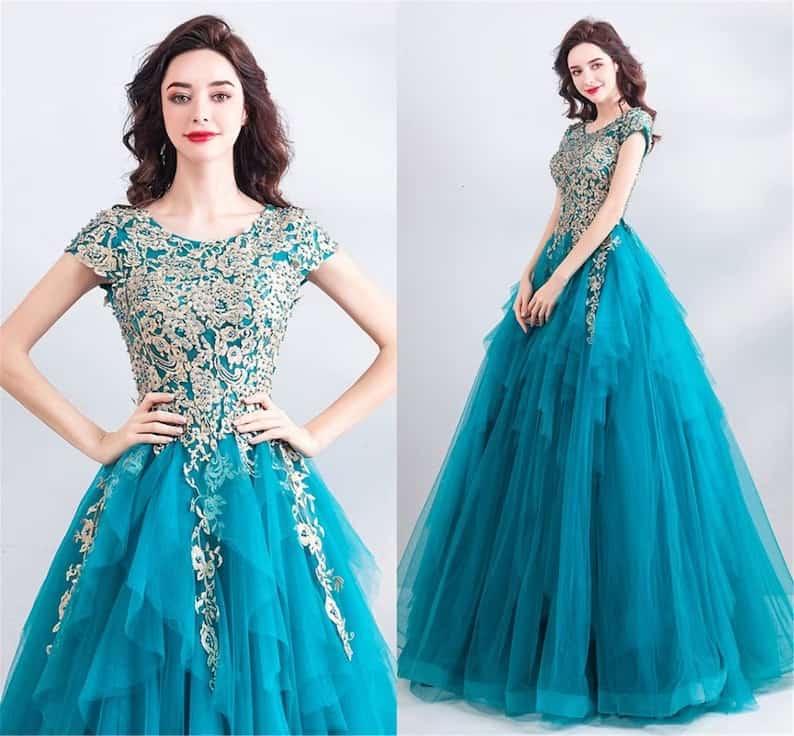 If you'd rather a princess-like gown in peacock colours, this lovely teal blue dress is just that and more. The gold detailing add glamour and luxury while the ruffled tulle perfects the look.
Magnificently designed, this breathtaking evening gown has a fitted bodice bordered with an illusion jewel neckline and slender long sleeves while its back cutout detail adds a touch of sophistication. Lace embroideries are embellished on the dress and beaded leaves create texture to complete its charming look. The sheath skirt extends from the waist down to full length finished with a sweep train for added gracefulness.
Prepare to dazzle in this exquisite evening gown. Featuring a lavish lace fabric accented with sparkling stone beadings and a high neckline, cut-in shoulders, fitted bodice with sheer mesh sides and full length skirt extending into an opulent sweep train for the ultimate mermaid silhouette. This ultra-glam look is sure to turn heads!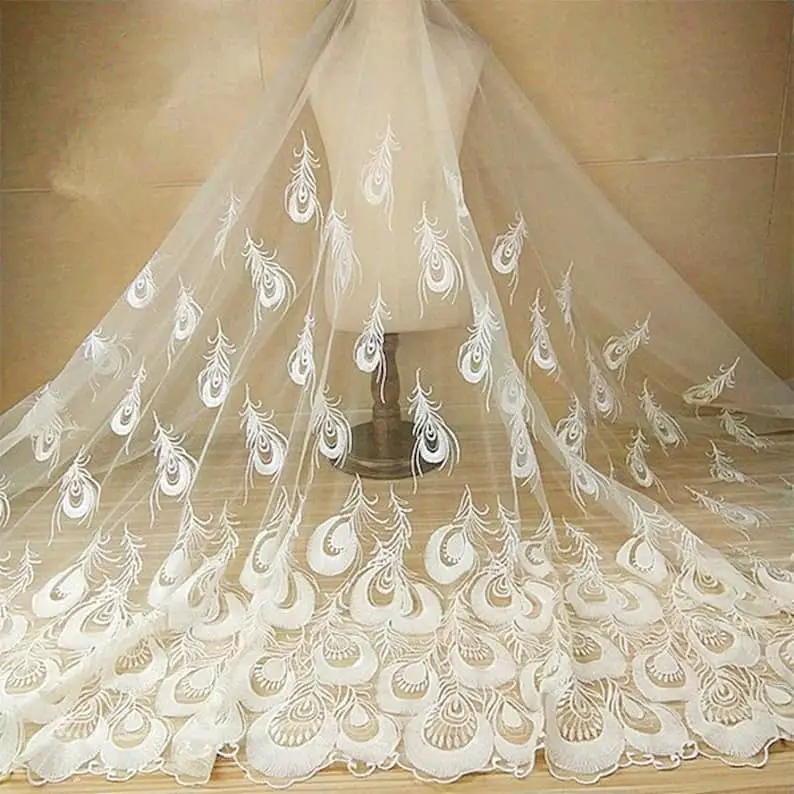 One way to add a peacock theme to your wedding dress or gown is to have a peacock-themed veil like this. This can be set with both white or peacock coloured gowns and add that beautiful touch.
For a very different look, this Chinese peacock wedding dress can be great for those who have Chinese heritage or want a more traditional modest option featuring intricate and luxurious details. The headpiece is of course optional or this can be worn with a different or no headpiece depending on your choice.
Final Thoughts
When it comes to finding the perfect wedding dress for a cruelty-free peacock themed wedding, there are so many options available! From vibrant colors and accessorizing to elegant shapes and silhouettes, you can find exactly what you're looking for with some thoughtful research and creative thinking. With these tips in mind, we hope you find just what you need to make your big day even more special!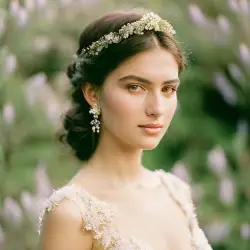 Latest posts by Rosie Liliy
(see all)