When we think tuxedos for women have gone as far as they can, we find different fits and combinations that make them an increasingly desirable dress item for formal occasions or weddings, so why not celebrate what we think is a versatile outfit?
However, you might wonder how this outfit works for you. If you have an awkward body type or need something plus-size, you want to feel confident and be ready to wow people wherever you are. 
Below you can find how you can style a tuxedo and the best places that can tailor a tuxedo for your needs, as you may be surprised by how easy it is to find these. 
How To Wear A Tuxedo
The great thing about women's tuxedos is that they can be used with different shirt, ties, and color combinations, and all you need to do is look up any guide, and you can see that it's like a new world has opened up for you.
For a wedding, whether same-sex or not, tuxedos can add an air of formality while ditching the bow tie that is seen as a staple of this outfit and having a blouse or clean white shirt with a pair of pumps and a few jewelry items.
The reason that tuxedos work well in this sense is that you can go beyond convention and wear just about any color you like so that you can go for subtle pastels, or you can go for daring colors like an earthy burgundy or a striking blazer blue. 
Best Places To Find Tuxedos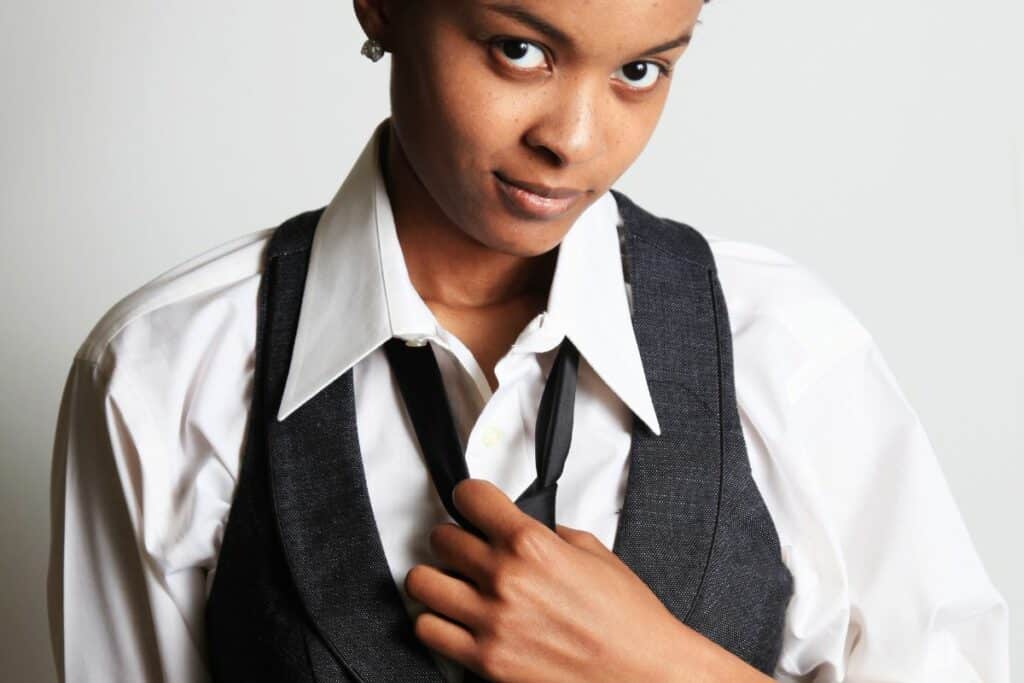 Let's face it, there's little chance that you can find the perfect fit tuxedo straight from the rack, as things like lapels, lining, jacket pockets, and the general fit, you might find, need some adjustment, so getting it tailor-made is usually the best way to go.
Below you can find stores and tailors with a good range of tuxedo options that can tailor for plus sizes and all body types, so you can find a tuxedo that you will treasure forever.
Whether you're a bride, prom girl, or bridesmaid, or want something you can dress down, you can find a great range of tuxedos that have been designed and made for women, with sizes going up to a 20, plus you can find tuxedos that have that tailored look.
If we look at the royal navy and black peak lapel tuxedo jacket, you find that it's fully lined with padded shoulders, besom pockets, 2-button closure, and a center back vent, and if you find your's isn't quite right, you can simply send it back within 30 days. 
With new sellers opening up daily, you won't find a shortage of manufacturers who not only give you size and color options but also have a personal touch where you can stay in contact with the designer to ensure it fits perfectly to your body type.
If you message the designer with a particular look that you're interested in, they can use this plus your requirements to make something that is functional and comfortable to wear, so the only thing you'll have to worry about is what to accessorize with it. 
Let's say perhaps you want a tom-boy look mixed with a pantsuit and want to go for darker colors, and if so, you can find some good options that also go up to a size 20, with excellent customer service who can answer any questions you have.
If you're still wondering about the material, this store allows you to compare swatches to see what colors and materials are right for you, and with some 12 colors to look through, you'll have plenty of samples to decide from. 
What we love about this tailor is that you can customize your own tuxedo, and you can pick from a simple suit to a 3-piece assortment, and you can choose the style, fabric, and choose from refinement options to make your tuxedo more personal. 
You can even add some notes for things like pocket sizes for specific items, so you're not made uncomfortable during the day, and if you have small wrists, not a problem, as the tailors can account for this as they're made to order. 
This clothing brand knows that not all suits and tuxedos need to follow a particular format, so you can start with a simple tuxedo canvas and work your way from here, as you can find around 203 fabrics, so there is plenty of choices when choosing your look.
You can even use different fabrics for the jacket and pants, so whether you're looking for a straight or cutaway hemline, you have the exact fit you need for that special occasion.
When you check out, you can make a measurement profile and mark your body type, so you can get accurate measurements that you can change at any time, so tuxedo shopping and fitting never were as easy as this. 
What we like about this tailor is that you can find different tiers, so you can see how much each part costs, and being able to choose from soft colors or luxury wools, there's bound to be something that piques your interest. 
If you can't go to Brooklyn to get fitted, you can submit a form and have your fitting from home so that you can give a target date you'd like the tuxedo to get to you and leave any notes you think will be helpful when having your appointment with friendly tailors you can select from. 
Some Tips For Finding the Perfect Tuxedo
We've taken a look at some of the best places to find a women's tuxedo, but once you visit these places, you may still want some help finding the perfect tuxedo for you. So here are some tips for finding the perfect tuxedo. 
Get Your Measurements Spot On
When it comes to women's tuxedos, the fit is even more important than it is for men. So it is vital that you get your measurements right to ensure that the tuxedo hugs you in all the right places. The best way to ensure that the measurements are correct is to get them taken by a professional. 
Buy, Don't Rent
It can be incredibly tempting to rent a tuxedo. If you're unsure if you'll wear the tuxedo again, you might be tempted by this. Likewise, if you want to save money, renting may be more appealing. However, buying is always the best option, even if it is more expensive. This will ensure that the tuxedo fits you perfectly and is as flattering as possible. 
Try a Few Different Fits
If you are wearing a tuxedo for the first time, then you won't know which fit is right for you. So the best thing to do is to try a couple of different styles of tuxedo to ensure you go for the fit that is right for you. Typically, tight fit tuxedos tend to look more flattering on women, but not everybody is the same. So try out a couple of different tuxedos to ensure you get the one that is perfect for you! 
Some Tips For Accessori

zing Your Tuxedo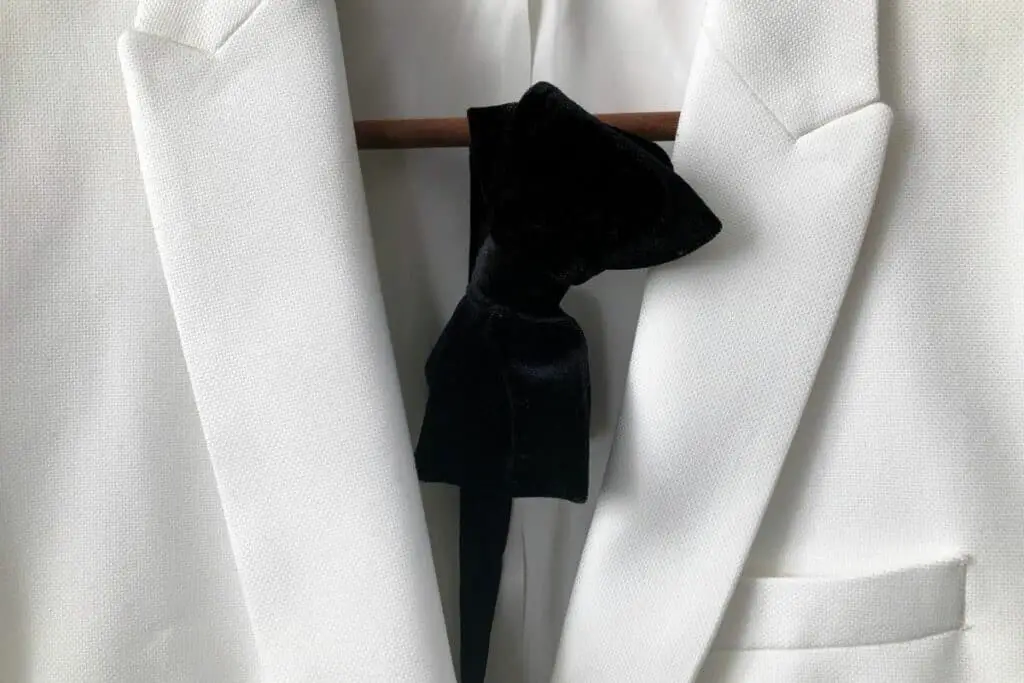 Now you know the best places and have your tuxedo all picked out. What about other aspects that may not have crossed your mind that could make your tux even better?
Below we look at some of these in more detail, and perhaps you can get the outfit of your dreams by making some simple changes. 
The Shirt
We've seen many tuxedos worn with a straight button-down shirt or an Oxford, as both of these are excellent, but you may consider a blouse or a patterned shirt that can be all things loud and interesting, so look at different options and see what you can find.
You could, for example, take a shirt or blouse from a suit collection and make it your own, and you can choose from flowery, geometric, or even one-color shirts that you could wear with a pussy bow so you can be as relaxed or as formal as you like.
Accessories  
Getting the right amount of jewelry on your outfit can seem like a natural choice for some, as in some cases, it can be down to what feels right, so wear all the gold and silver you like, but if you're keeping it reserved you may want to limit what jewelry is on show.
You can go with heels or pumps that can go from simple to wavy and wild, as there isn't a definitive guide to wearing these as long as you don't have something like a royal blue suit with bright red heels, as this may clash.
It's a good idea to try a few pairs on and see which ones give you the most comfort, and what's even better is that as they raise your profile, with the raised pant leg look, you make yourself look taller, which is a huge plus for your look and confidence. 
Keep It Simple 
If you're new to tuxedo shopping, you're not alone, and it can be overwhelming at times, but if you don't want something too loud, you go for black and white colors which suit any type of wedding, and when given a choice, you can get creative and have fun with it. 
Final Thoughts
Before you go compiling lists of tuxedos to try, make sure the place you're trying them out from considers your measurements, as it isn't rare to be in between sizes, which makes getting a standard tux much more difficult.
With this in mind, let your creativity be free and be as ambitious as you like, as you want to have something that you enjoy wearing and feel happy in.

Latest posts by Jodie Messines
(see all)