Are you looking to give your wedding the extra "wow" factor? Look no further than a Viking theme!
Who wouldn't be impressed by ancient swords, flaming torches, and Nordic decor featuring carved wooden runes? With just a few clever touches here and there you can transform any venue into an epic Norse celebration.
We've compiled epic ideas that will make your big day one to remember. From decorative armor and mead to long tables with wild boar feasts, there are countless creative ways to bring the unique culture of these legendary warriors into your special celebration.
So grab a horn of ale and gather round as we explore all the exciting possibilities for planning an unforgettable Viking wedding!
Leather Scroll Invitations fit for a warrior
When it comes to your Viking-themed wedding, the invitations set the tone for the epic celebration to come. Go for a rustic, handmade look with heavy cardstock and handwritten font. You could even add a touch of authenticity by sending the invitations out in a scroll, tied with a leather cord.
For the invitation wording, consider incorporating Norse phrases or references to Viking mythology. Some ideas could include "Join us as we sail into marriage, hand in hand as warriors" or "Together, we will conquer all as we pledge our love in the hall of the gods."
Tunics, cloaks and crowns
To create an authentic and genuine appearance at your wedding, it's important to have your bridal party dressed in attire that adds to the Viking aesthetic. The bride can consider an intricate dress with Celtic knotwork detailing for true Viking vibes. Or, you could go for a classic white gown paired with a headpiece or crown inspired by traditional Norse fashion!
As for the groomsmen, traditional Viking outfits complete with tunics, cloaks, and swords would make for an epic wedding day look. If that's not your style, you could also opt for suits with subtle Viking-inspired details, such as metallic tie clips or a set of metal cufflinks.
DIY Viking artifact decors
Make your Viking-themed wedding truly unique by incorporating DIY decorations! Start with centerpieces that possess a rustic allure, such as branches, pinecones and candles. Boost the vibrancy of the arrangement with wildflowers or vivid berries.
For an impressive ceremony backdrop, drape fabric or burlap while adding wooden beams or antlers to add rusticity. You could also design a captivating altar using logs and branches for some added Viking flair!
Sword exchange during the ceremony
For a truly epic and memorable moment in your Viking-themed wedding ceremony, consider exchanging swords instead of traditional wedding rings. This not only adds to the overall theme, but it also adds a touch of drama and significance to the exchange.
To incorporate the exchange of swords into your ceremony, you and your partner can each take a sword and place the other's wedding ring on the hilt. You could then hold the swords up together, symbolizing the joining of your lives and the commitment you are making to each other.
This moment can be accompanied by a meaningful reading or blessing, such as a passage from Norse mythology or a traditional Viking wedding vow. It's a unique and memorable way to exchange rings and seal your union.
Norse-inspired wedding vows
Add some depth and meaning to your wedding vows by incorporating Norse mythology and symbolism. You could reference the Norse gods, such as Odin and Frigg, who were the embodiment of love and marriage. You could also include references to the Viking concept of "fylgja," which represents the deep bond between two people.
Some ideas for Norse-inspired wedding vows could include: "I vow to be your fylgja, your companion through all of life's journeys," or "In the eyes of Odin and Frigg, I take you as my lawfully wedded spouse."
Gift your wedding party with epic Viking-themed presents
Thank your wedding party for their support with some unique and thoughtful gifts that fit with your Viking theme. For the bridesmaids, consider something practical yet beautiful, such as a personalized leather journal or a set of engraved silver bracelets.
For the groomsmen, a set of personalized drinking horns or a set of Viking-inspired beer mugs would be a great choice. You could also consider giving your wedding party members gifts that they can use during the ceremony, such as personalized cloaks or wooden shields.
A feast fit for Valhalla
No Viking-themed wedding would be complete without a feast fit for the gods. Consider serving traditional Viking cuisine, such as roasted meats, mead, and hearty stews on long tables. You could also add some modern twists, such as a build-your-own-bowl station with a variety of Scandinavian-inspired toppings.
For the wedding cake, consider a dessert that incorporates Viking symbols or motifs, such as a cake adorned with Celtic knotwork or a cake shaped like a Viking helmet.
Raise a horn of mead in honor of your union
Mead, a fermented drink made from honey, was a staple of Viking culture and played an important role in their celebrations. What better way to honor your union and embrace your inner Viking than by incorporating a mead ceremony into your wedding?
To raise a horn of mead in honor of your union, consider serving mead at your reception or including it as part of your wedding toast. You could even brew your own mead for a personal and meaningful touch.
You and your partner can each raise a horn of mead, symbolizing your commitment to each other and your shared love. You can then take turns pouring the mead into each other's horns, sealing your bond and toasting to a lifetime of happiness.
Entertain your guests with epic Viking-themed activities
Keep your guests entertained with some Viking-themed wedding entertainment. Consider hiring a group of Viking reenactors to give demonstrations of sword fighting or blacksmithing. You could also have a group of musicians play traditional Viking instruments, such as the lute or the harp.
For the reception, you could have a "Viking village" area set up, complete with games and activities such as archery or axe throwing. You could also have a photo booth with Viking-themed props, such as swords and helmets.
Norse mythology-themed wedding cake
A Norse mythology-themed wedding cake is a must have for any Viking-related celebration. If you want to get creative, think about decorating the cake with Celtic knotwork or in a design of a Viking helmet!
For those willing to go above and beyond, consider creating a multi-tiered masterpiece that represents different aspects of Nordic folklore and legends. For instance, imagine having Yggdrasil as the base layer followed by representations of Valkyries – female warriors who chose which fighters lived or died during battles – on another level!
Viking-themed wedding favors for guests
Send your guests home with a little piece of your Viking-themed celebration with some unique wedding favors. Some ideas could include personalized drinking horns or pewter Viking-themed keychains. You could also consider small bottles of mead or jars of honey, as honey was a valuable commodity in Viking culture.
For a more practical favor, consider giving out seed packets with wildflowers that are native to the Nordic region, such as foxgloves or poppies. This not only ties into your Viking theme, but it also gives your guests a reminder of your special day that they can plant and watch grow.
Journey back in time with Viking-style wedding venues
If you and your partner seek to add a unique, Viking-inspired touch to your marriage ceremony, why not hold it at one of the many ancient sites associated with these seafaring adventurers?
You could consider locations such as The Swan Barn Door Venue, Wisconsin or The Viking Longhall in Ohio which captures the essence of Viking culture and have beautiful outdoor areas that are perfect for a wedding ceremony and reception; or one-of-a-kind locations like Salvage, Texas with remarkable earth sculptures, caves and ponds perfect for a Viking-style photoshoot. Not only will this create an unforgettable atmosphere for all in attendance but also allow everyone to journey back in time together!
Viking-themed wedding photos
Make sure to capture the memory of your epic Viking-themed wedding with some unique and memorable photos. Consider taking some shots with Viking props, such as swords or shields, or have your wedding party dress up in traditional Viking attire for some group shots.
You could also incorporate the beautiful natural surroundings of a historic Viking site into your photos, with shots of you and your spouse surrounded by stunning landscapes or waterways.
Honeymoon ideas for the adventurous couple
After your Viking-themed wedding, consider planning an adventurous honeymoon that fits with the theme. Some ideas could include a trip to Scandinavia to explore the countries and cultures where the Vikings lived, or a trip to a location with strong Viking history, such as the Faroe Islands or Iceland.
For a more relaxed honeymoon, consider a cozy cabin in the woods, complete with a wood-fired hot tub and nature hikes through beautiful Nordic landscapes.
Epic Viking-themed playlist to set your wedding mood
Set the mood for your Viking-themed wedding with a playlist filled with epic and lively music. Some ideas for songs could include traditional Viking folk music, such as "Vikingarvel" or "Viking Longboat Song," or more modern tracks with a Scandinavian influence, such as "Viking Death March" by Sabaton or "Viking Blues" by Wardruna.
You could also include some instrumental tracks, such as "The Viking's Revenge" by Two Steps From Hell or "The Sword in the Stone" by Audiomachine. This will add some excitement and energy to your reception, as well as stay true to the theme.
In Conclusion
Overall, a Viking-themed wedding is the perfect choice for couples who want a unique and memorable celebration filled with history, culture, and adventure. With these 15 epic theme ideas, you'll be well on your way to planning the wedding of your dreams. So grab your sword, hop on your longboat, and sail into marriage with your partner by your side.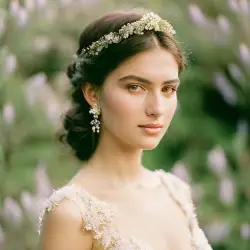 Latest posts by Rosie Liliy
(see all)